Cake cream, creme patissiere, vanilla cream, or pastry cream – we have lots of different names for this cream, but no matter what, it's just delicious! Many people may probably choose the easy powder pastry cream, but you can actually easily make it yourself from scratch as well. Read here and get our recipe for easy danish pastry cream with vanilla.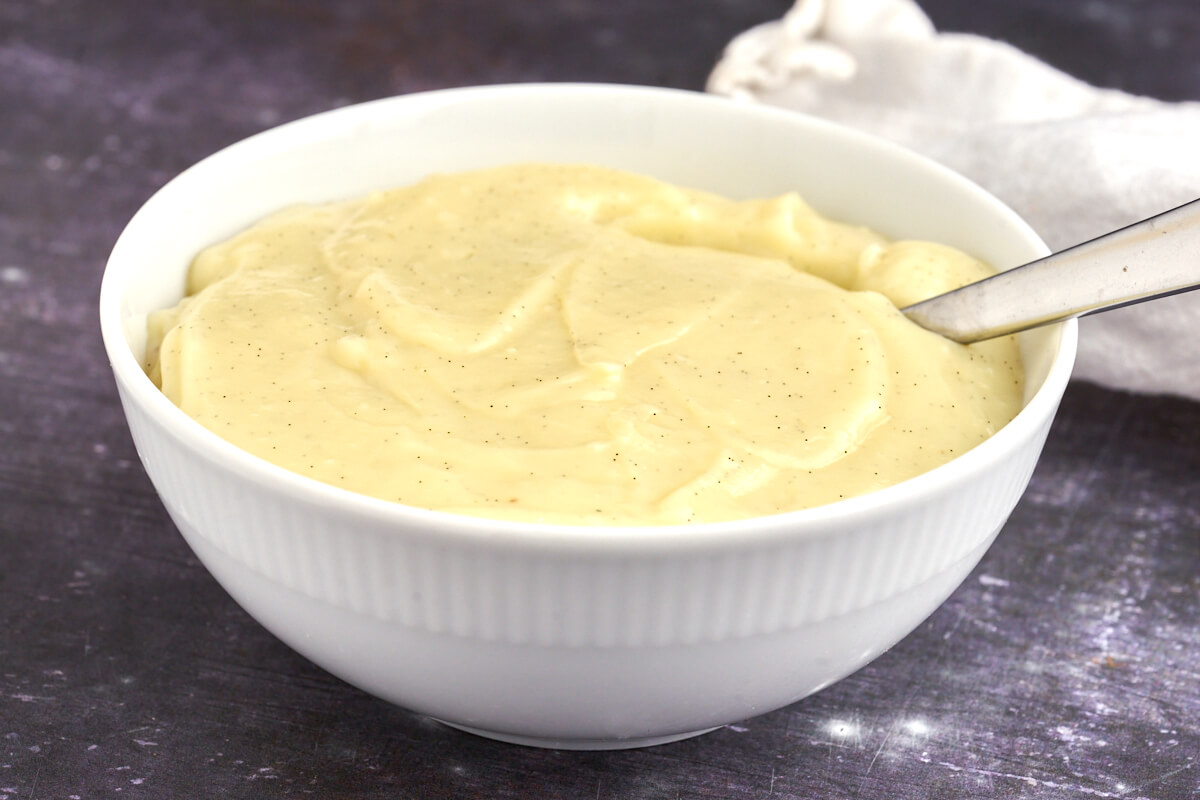 Vanilla cream for cakes and pastry
Classic pastry cream can be used for many different cakes, pastries, and desserts. The most famous is probably a classic danish birthday layer cake with vanilla cream inside. For layer cake, this cream is absolutely perfect

It can also be used in Danish choux buns (vandbakkelser), Shrovetide buns (add twice as much cornstarch to prevent it from flowing out while baking), or desserts with berries. It is perfect for a homemade strawberry tart, or other fresh summer cakes.

You can preferably make it the day before it is to be used in a cake or dessert, to give it time to set properly in the fridge. If you do not have time for that, then a few hours will do too.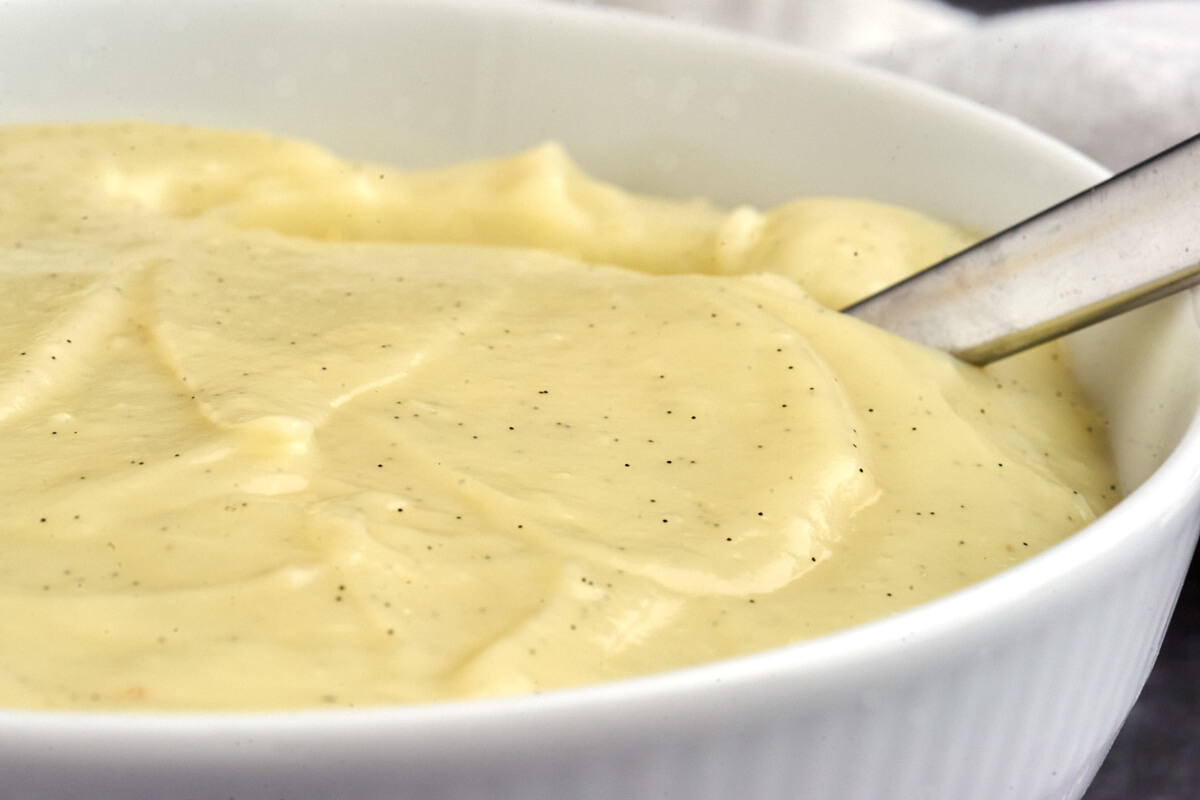 Ingredient notes
Sugar – Gives the sweetness we need.

Vanilla – You can use a vanilla bean or vanilla paste.

Eggs – Helps set the cream

Corn Starch – Is used to set the cream and make it nice and thick.

Whole milk – We need milk with some level of fat to make the right texture and consistency.
How to make danish pastry cream?
Many Danes buy a package of the vanilla cream mixture in the supermarket making a layered cake. It is not necessary at all, it is SO easy to make yourself, and it tastes much better.

It's really easy, all the ingredients just need to be put in a pan and heated to a boil. In a very short time, the cream will thicken and get a delicious consistency. Then it needs to get off the heat and cool down a bit before it gets in the fridge to set properly.

When the cream is to be used, it is whisked through once and then it is ready for use.

Find the full recipe further down this page.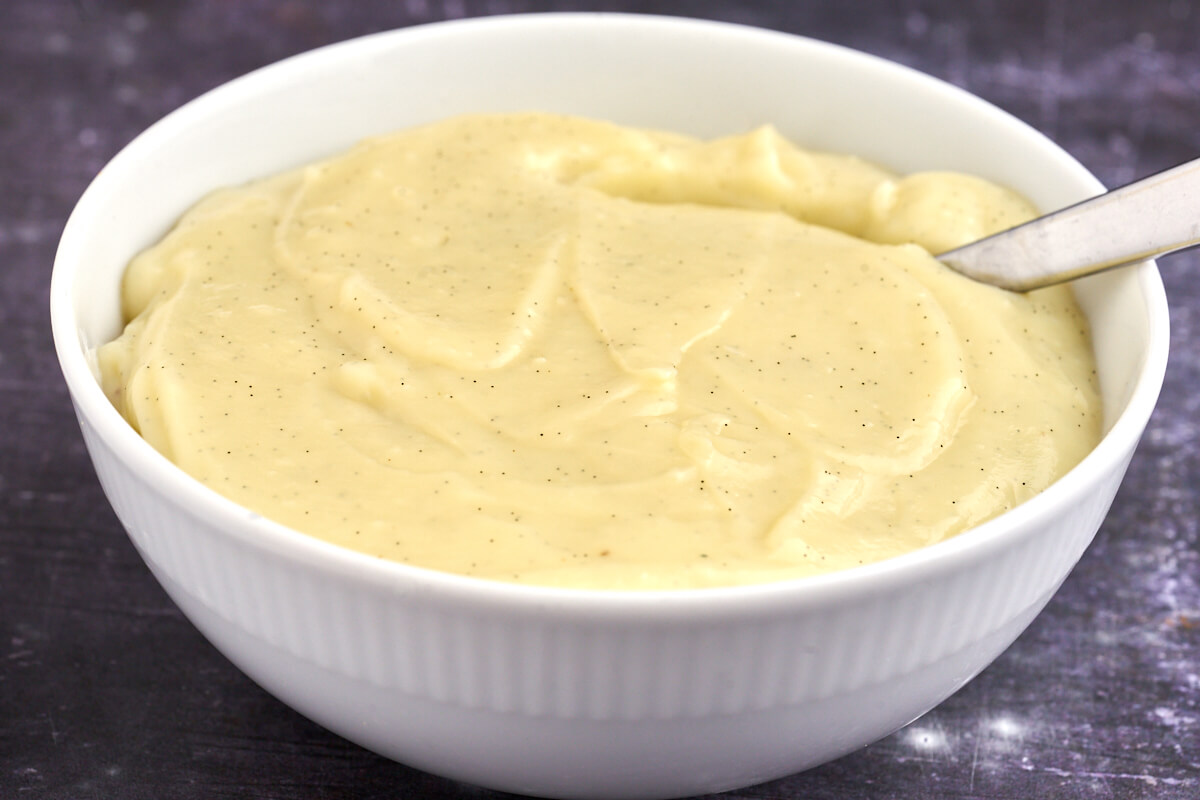 Frequently asked questions
Can the pastry cream be made ahead of time?
Yes, you can easily make it the day before it should be used, then it will have time to set properly.
How to store pastry cream?
The finished cream has to be kept in the fridge. It will last for a minimum of 3 days in here, probably more.
Other danish recipes you might like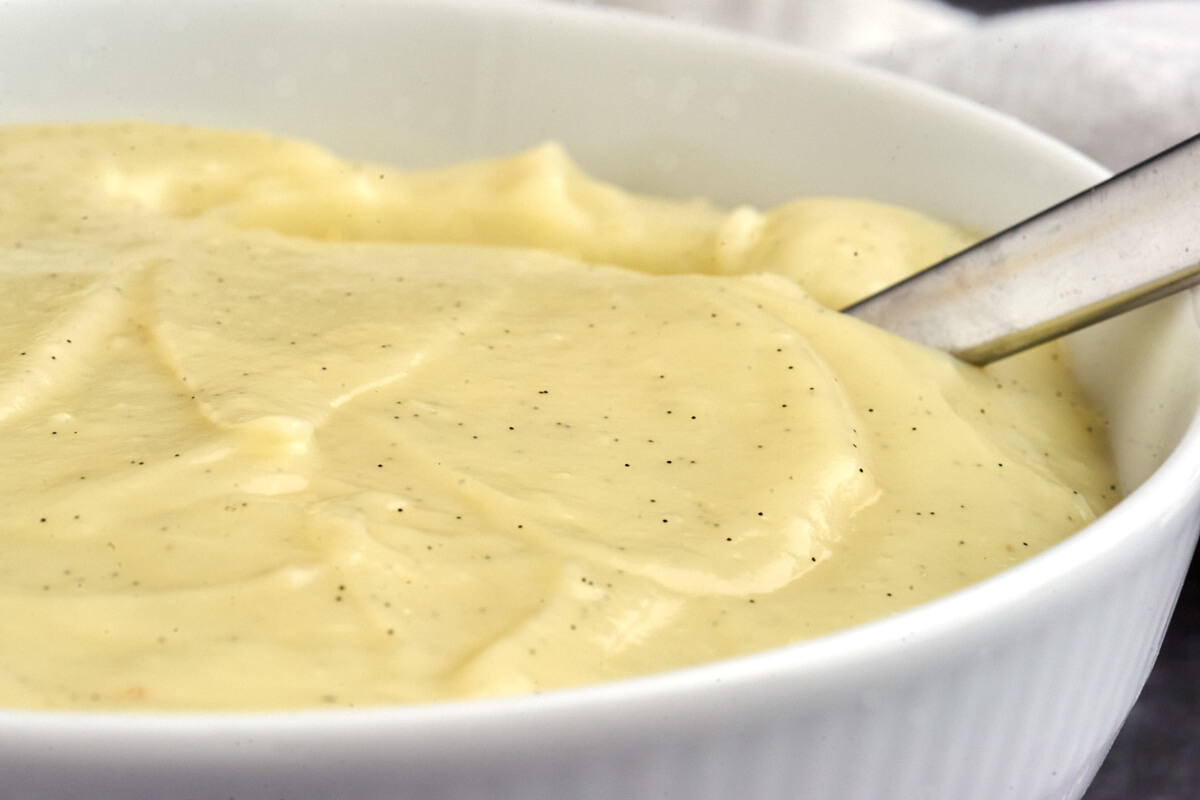 Recipe for danish vanilla cream for cakes and pastry
Here you get our easy recipe for classic pastry cream or vanilla cream as it is also called. It is so easy and tastes great.

I use whole eggs for cake cream. It tastes good and is just the easiest. If you want to make it only on egg yolks, you can use twice as many eggs, and then separate the whites and use them for something else.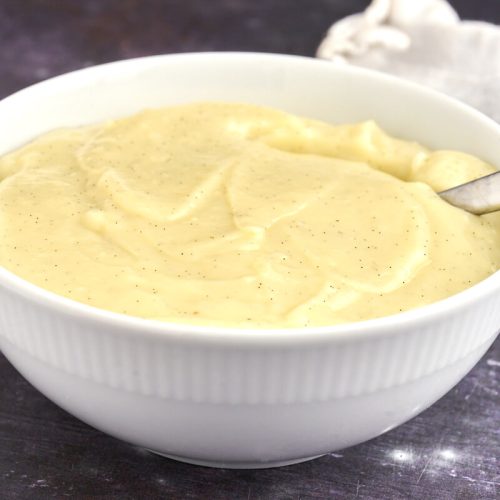 Danish pastry cream (kagecreme)
Recipe for danish pastry cream
It is easy to make your own pastry cream or vanilla cream. You can use it in layered cakes, pastries, desserts, or as you wish. You can preferably make it the day before you need it, so it can set properly before use.
Ingredients  
1

vanilla bean

75

g

sugar

2

eggs

2

tbsp

corn starch

5

dl

whole milk
Instructions 
Split the vanilla bean and scrape out the vanilla. Put the vanilla and the empty vanilla bean in a saucepan along with all the other ingredients.

Turn the heat on medium, and whisk constantly while boiling the cream. Turn it down slightly when it boils and let it cook for 2-3 minutes until it thickens and becomes smooth.

Then take the pan off the heat and pour the cream into another bowl so it can cool down. Remove the empty vanilla bean and then the cream is actually ready to use when it has cooled.

You can advantageously put the cream in the fridge, then it will set completely. Then plastic wrap over the cream and let it lie directly on top of the cream so that no skin comes on.

Before use, whisk the cream well through, and then it is ready to go in the layered cake or in the dessert or pastry.
Nutrition
How do you like the recipe?
Have you tried this recipe? We'd love to hear what you think of it. Leave a comment, add a number of stars to the recipe and share your photo on Instagram with #madformadelskere – We love seeing your dishes ♥️
Note: This recipe is a translation of our danish recipe "Kagecreme" which can be found on our danish food blog.
Also, sign up for our Facebook group where you can show pictures of the delicious food you make! You can find the Facebook group here