We have lots of nice rhubarb in our garden. Luckily, because we love to make rhubarb desserts. Today you get our recipe for a wonderful traditional danish rhubarb pudding, which is perfect as a good summer dessert. It tastes great with almonds on top and a dash of cream or milk.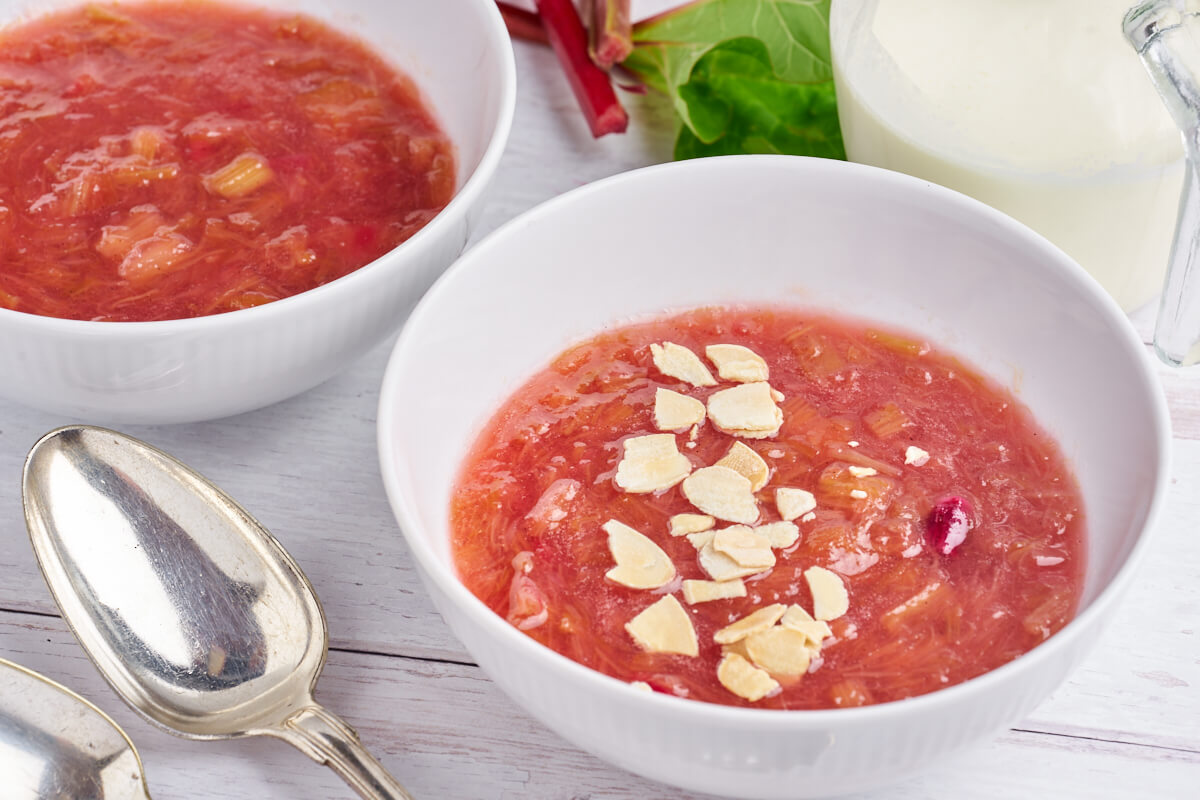 Summer dessert as grandma made it
Rhubarb pudding with almonds and cream is a real Danish spring or summer dessert. It's a real granny dessert that we are all guaranteed to have some kind of childhood memories with. My grandmother often made red berry pudding with different berries along with rhubarb. These are just wonderful summer memories that I also hope my own kids will have.

At least they love rhubarb pudding, and it's lucky that grandma lives so close, and has a garden full of delicious rhubarb. It is so easy and quick to cook a good pudding with rhubarb, and with some almonds on top and a little cream, then it is an absolutely fantastic dessert that just tastes of danish summer.

If you also have rhubarb in the garden, I think you should try to make a wonderful pudding from them. Either as here only with rhubarb, or with a mixture of other fruits or berries. It is just SO good. You can also freeze your rhubarb in slices, and then you always have rhubarb in the freezer for making pudding later in the year when the rhubarb in the garden has run out.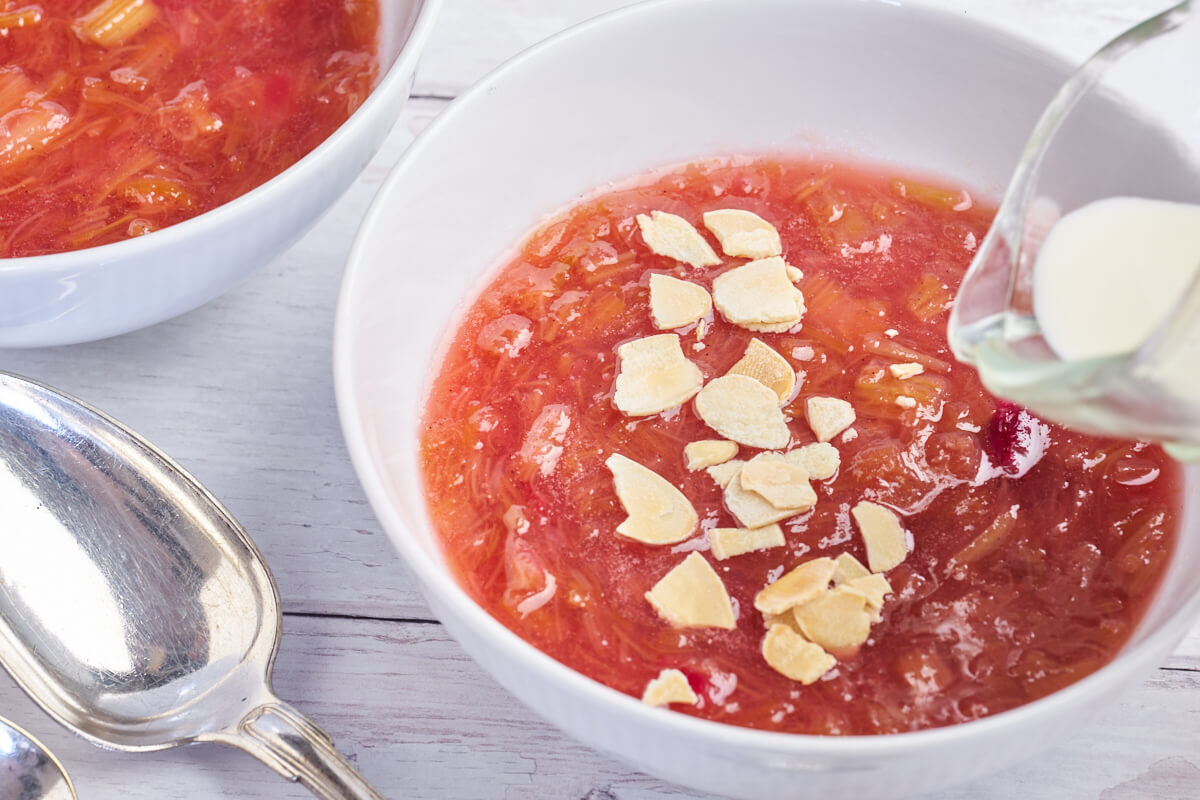 Ingredient notes
Rhubarb – The pudding will taste different depending on the variety of rhubarb you use. It can also have some effect on how much sugar you need to use. We used a mixture of different varieties of rhubarb.

Thickening with potato starch – We always thicken puddings like this with potato starch dissolved in a little water. It's easy, and not something you can taste in the pudding. You can also thicken your pudding with corn starch, then the pudding just has to be boiled really well so that you can not taste it in the finished pudding.
How to make danish rhubarb pudding?
Rhubarb porridge is super easy to make, and then it does not take very long.

First, cut your rhubarb into slices, and then place them in a saucepan and bring to a boil with water, sugar, and vanilla. Once the pudding has boiled for 20 minutes, it should be thickened with potato starch dissolved in cold water.

When the pudding is done, just cool it down, and then it is ready to be served with almonds and cream on top. It is a wonderful classic Danish summer dessert.

Find the full recipe further down this page.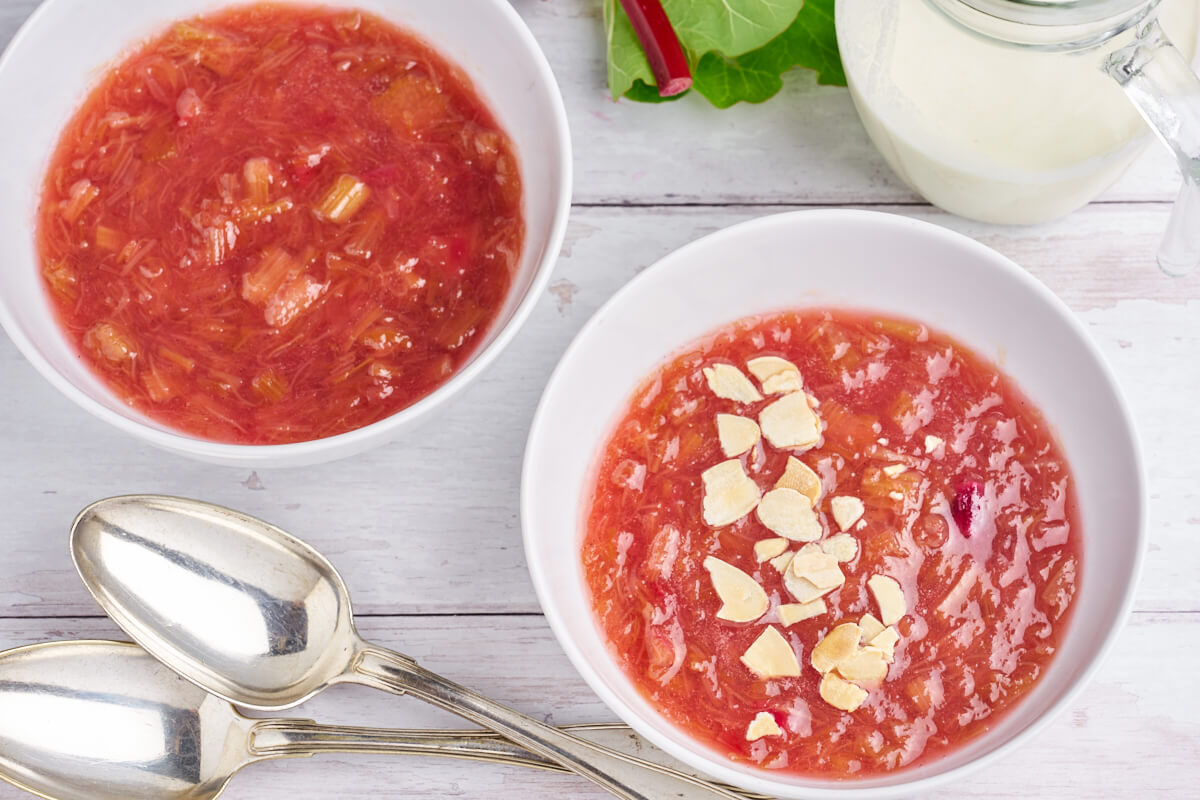 Frequently asked questions
How long will rhubarb pudding last?
Rhubarb pudding should be stored in the refrigerator. Here it can last a minimum of 2-3 days. If you need to store it for a longer period of time, we recommend that you freeze it.
Can the pudding be frozen?
Yes, you can easily freeze the finished rhubarb pudding, so you always have a wonderful dessert for later in the year where you may not have more rhubarb in the garden. You can also cut your rhubarb into slices and put them in the freezer so you can pick them up and cook rhubarb pudding later in the year.
Can I use frozen rhubarbs?
Yes, you can. You can just put them directly from the freezer in the pan.
What should I serve with danish rhubarb pudding?
The pudding tastes great with a little crunch on top. We eat it with almonds because it just tastes good with rhubarb. In addition, you need a little cream on top or milk if you like that better.
Other dessert recipes you might like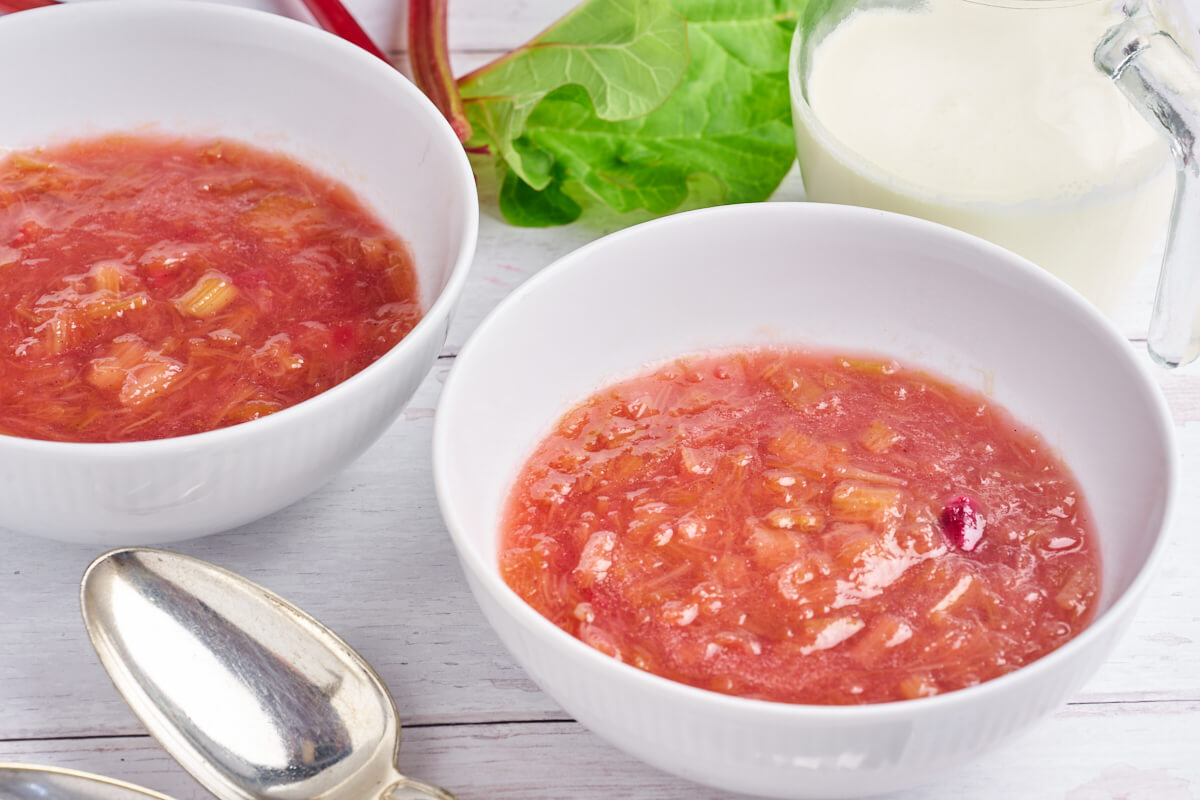 Recipe for the best danish pudding with rhubarbs
Here you get our recipe for the best rhubarb pudding. It is sweet and acidic, which is a lovely summer dessert with some almonds and cream on top. It tastes great, but you can also mix other fruits or berries in the porridge if you like. For example, try rhubarb porridge with apple or strawberry.

We hope you will try out the recipe and make a delicious pudding for your family.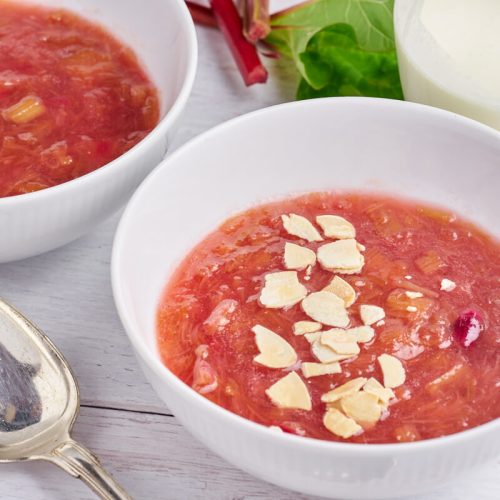 Danish rhubarb pudding
Recipe for danish rhubarb pudding
Rhubarb pudding is a wonderful classic Danish pudding of delicious rhubarb, preferably from the garden if you have one. You can serve the pudding with cream or milk and a sprinkle of crispy almond flakes on top. That is the taste of Danish summer. You can also use the pudding in an old-fashioned danish rhubarb cake.
Ingredients  
Pudding:
500

g

rhubarb

180

g

sugar

possibly more depending on the sweetness of the rhubarb

1

tsp

vanilla paste

1

dl

water
Thickening:
1

tbsp

potato starch

½

dl

water
Serving:
Whipping cream

Almond flakes
Instructions 
Pudding:
Wash the rhubarb and cut it into 1-2 cm slices.

Put rhubarb, sugar, vanilla paste, and water in a saucepan and bring to a boil.

Let the pudding cook under a lid for approx. 20 minutes. Taste and add more sugar if necessary.
Thickening:
Stir potato starch into water and pour it into the pudding while stirring. Add the thickener until you are satisfied with the consistency of the pudding. It will get a little thicker when it cools down.

Take the pudding off the heat, and let it cool in a bowl before putting it in the fridge. Sprinkle a little sugar on top so that it does not form a skin.
Serving:
Serve the cold pudding with almond flakes and cream or milk on top.
Nutrition
How do you like the recipe?
Have you tried this recipe? We'd love to hear what you think of it. Leave a comment, add a number of stars to the recipe and share your photo on Instagram with #madformadelskere – We love seeing your dishes ♥️
Note: This recipe is a translation of our danish recipe "Rabarbergrød" which can be found on our danish food blog.
Also, sign up for our Facebook group where you can show pictures of the delicious food you make! You can find the Facebook group here