Rhubarb meringue cake is a super delicious and quite easy cake. If you have a garden full of delicious rhubarb, then this cake is perfect for baking for the family. The combination of a juicy danish mazarine base, an acidic rhubarb compote, and a sweet burned meringue on top. Get the best recipe for rhubarb cake with meringue here!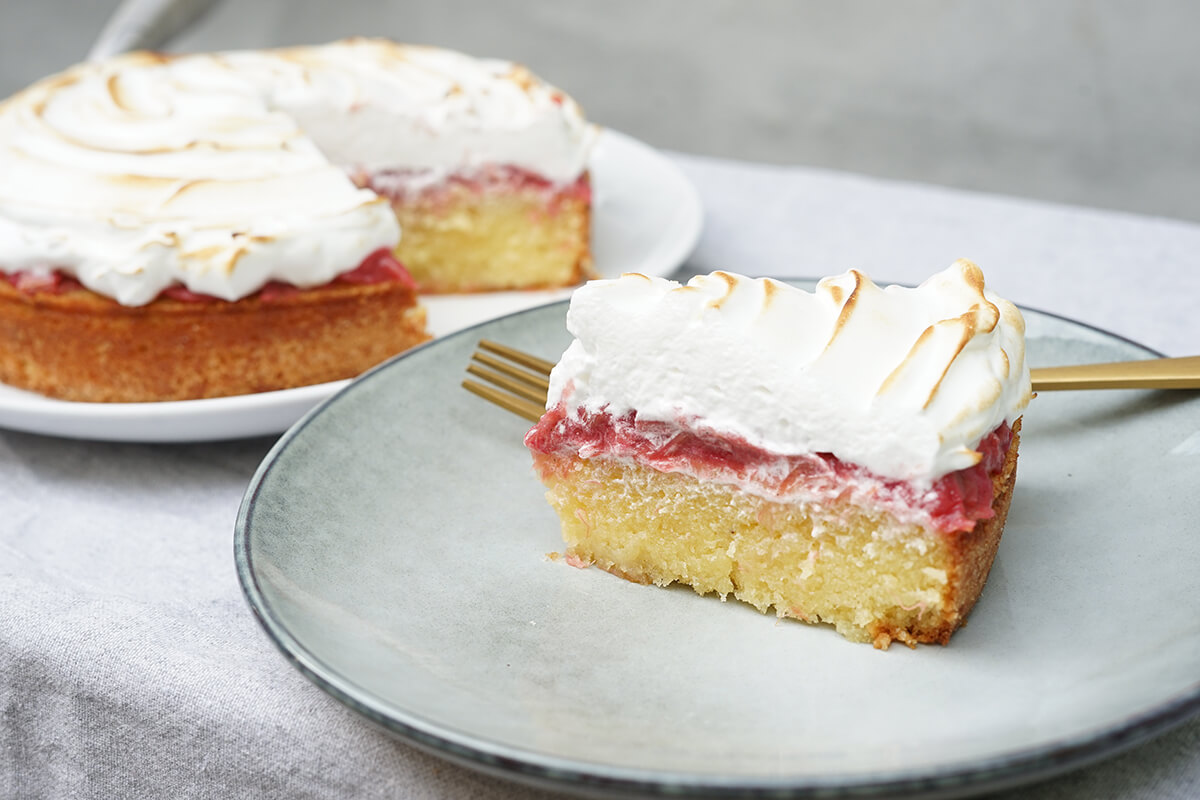 Delicious cake with rhubarb
My mother-in-law has many beautiful rhubarb in the garden, which is why it is always fun to find new ideas and ways to use rhubarb. I saw a rhubarb cake with meringue from Helle Rimmer, which looked absolutely fantastic, and here I have made my own version with great inspiration from Helle.

This rhubarb cake is a perfect combination of delicious spongy mazarine cake, acidic rhubarb compote, and sweet burned meringue on top. It doesn't get much better than that.

The cake can be served as a dessert or just in the afternoon with a cup of coffee or tea.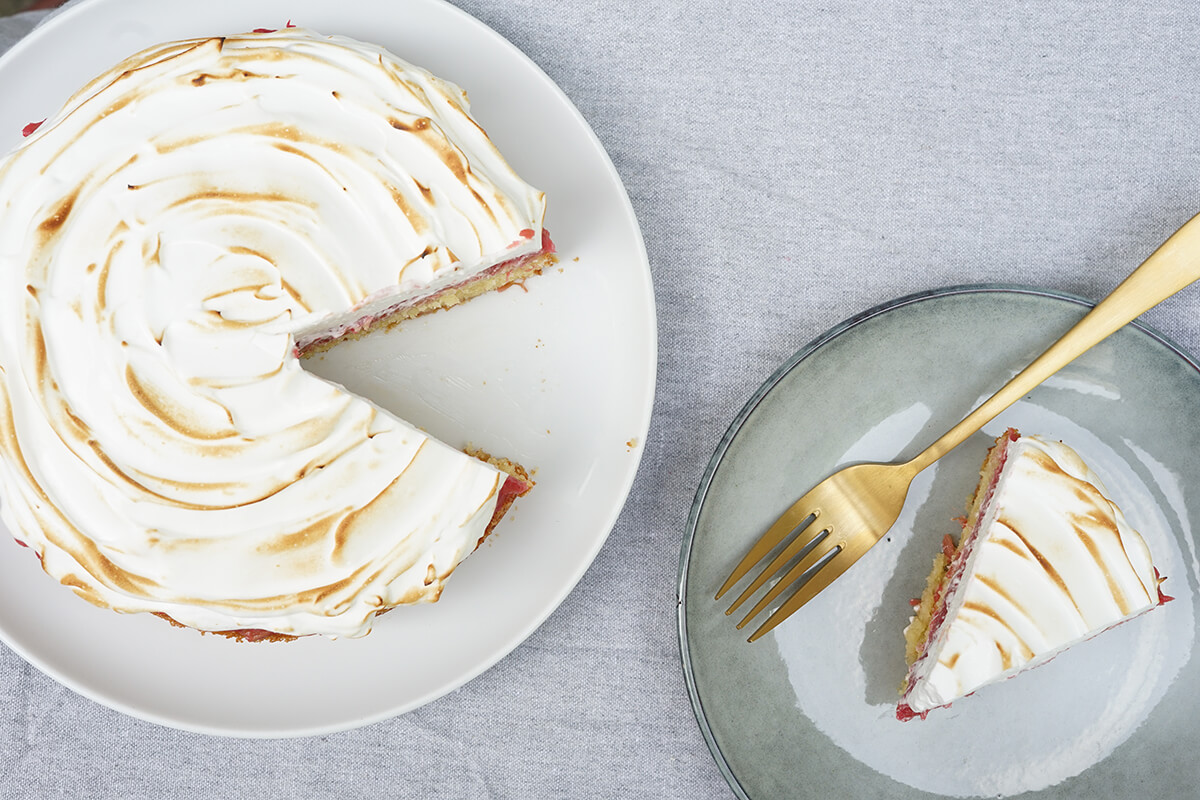 Ingredient notes
Rhubarb – If you have rhubarb in the garden, please use them for this cake. Otherwise, you can buy rhubarb in most supermarkets and at the greengrocer when they are in season in summer and spring. You can also replace the rhubarb and make the cake with a plum or apple compote.

Vanilla – We usually use vanilla paste as it is very easy. You can easily use seeds from a vanilla bean or vanilla powder instead.

Egg whites – For the meringue, use egg whites. You can use plain fresh eggs or pasteurized egg whites if you like. You decide for yourself.
How to make rhubarb meringue cake?
In the spring or early summer when the rhubarb peeks out of the ground, it's perfect to make this delicious cake. It simply tastes just like sun and summer.

The first thing you need to make is a mazarine base, it consists of Butter, Sugar, Marzipan, Eggs, and Flour.

Then you need to cook a rhubarb compote that needs to be on top. It must include Rhubarb, Sugar, Dark Rum, and Vanilla

Finally, there should be a sweet meringue on top. You must make it from Egg whites and Sugar.

Once the meringue is spread on top, burn it with a gas burner so that it settles and becomes beautifully light golden brown.

Find the full recipe further down this page.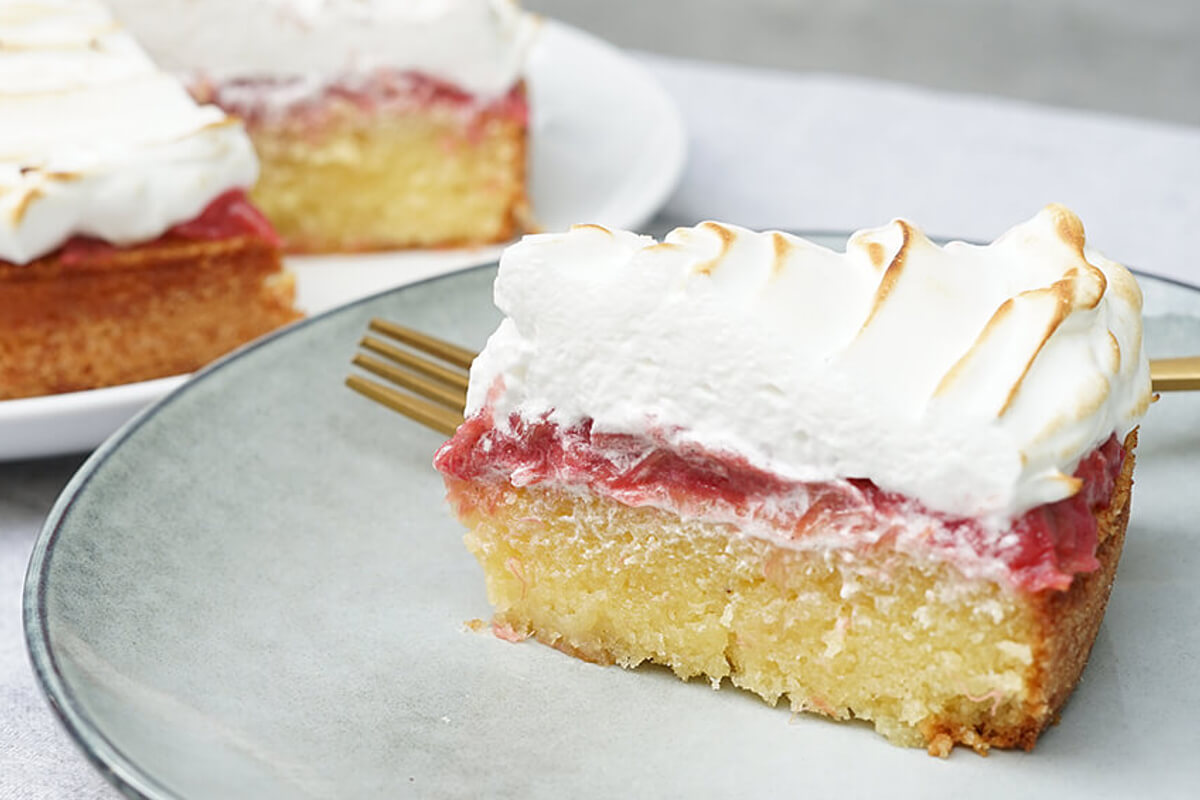 Frequently asked questions
Can I use anything else than rhubarb?
Yes. This cake can be made with other types of fruit compote or jam. Try, for example, with raspberry or blackberry jam or with a delicious apple compote instead of the rhubarb compote. Acidic jam or compote goes well with the sweet cake with meringue topping.
Can I burn the meringue in the oven instead of using a gas burner?
Yes. If you do not have a gas burner, you can put the cake in the oven shortly after you have added the meringue. You need to turn up the heat high, turn on the grill function, and put the cake in the top of the oven. Keep a close eye on it, it should not stay in the oven a long time.
Can I make the cake ahead of time?
I would recommend that you assemble the cake and burn the meringue shortly before it is to be served. Otherwise, the meringue may collapse. You can easily bake the bottom and make the compote ahead, and then just whip the meringue and assemble the cake when it is to be eaten.
Can I make the cake with frozen rhubarb?
Yes, you can easily cook the compote for this cake with frozen rhubarb. If you have some rhubarb in the freezer you need to use, then this cake is a good option.
Can I substitute the meringue with something else?
If you are not into the very sweet meringue, you can also make your rhubarb cake with whipped cream on top. It's probably even more Danish if you do it that way. Both work really well. Add if necessary a little vanilla sugar in your whipped cream if you like.
Other recipes you might like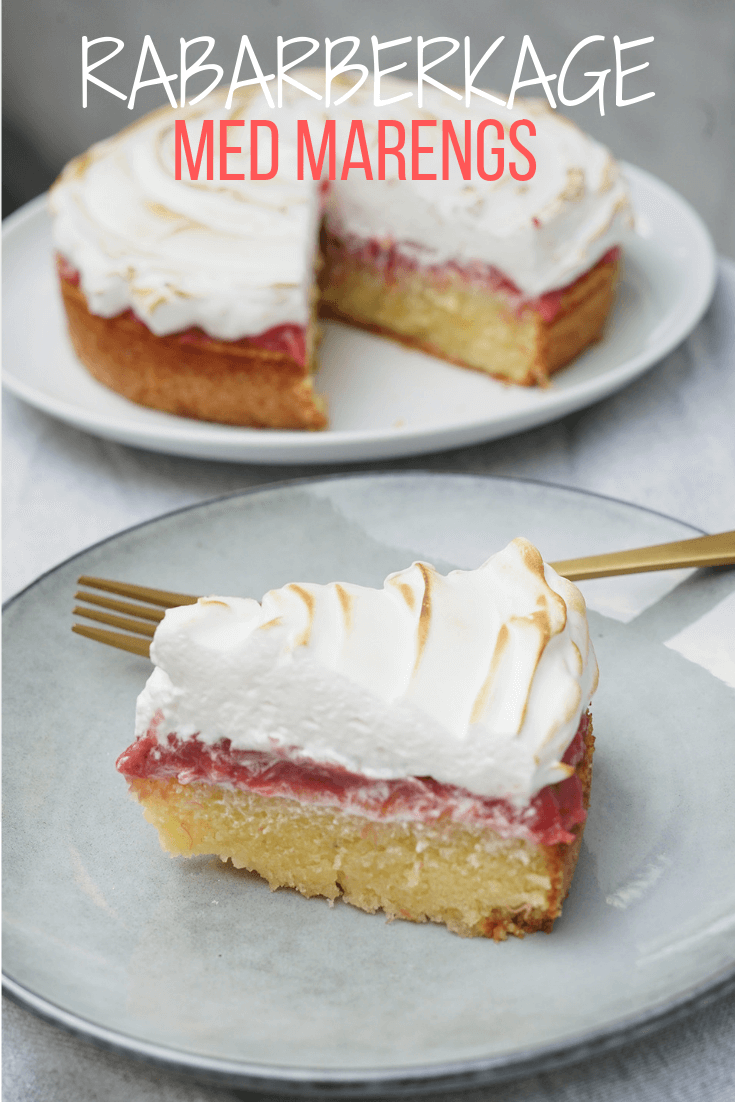 Tips and tricks for the recipe
Is the cake for adults? Then it's delicious with a little rum in the rhubarb compote. If you want to make it more child-friendly, the rum can be omitted. Also try to give the compote flavor with a little licorice powder or star anise.
Prepare the cake well in advance. You can easily make the cake base and the compote in advance, and then you just have to whip the meringue, spread it on top and burn it just before serving.
Try baking the cake as small rhubarb muffins with meringue. It's delicious, and kids more often find it more fun with a muffin. The small muffins should bake for about 20 minutes.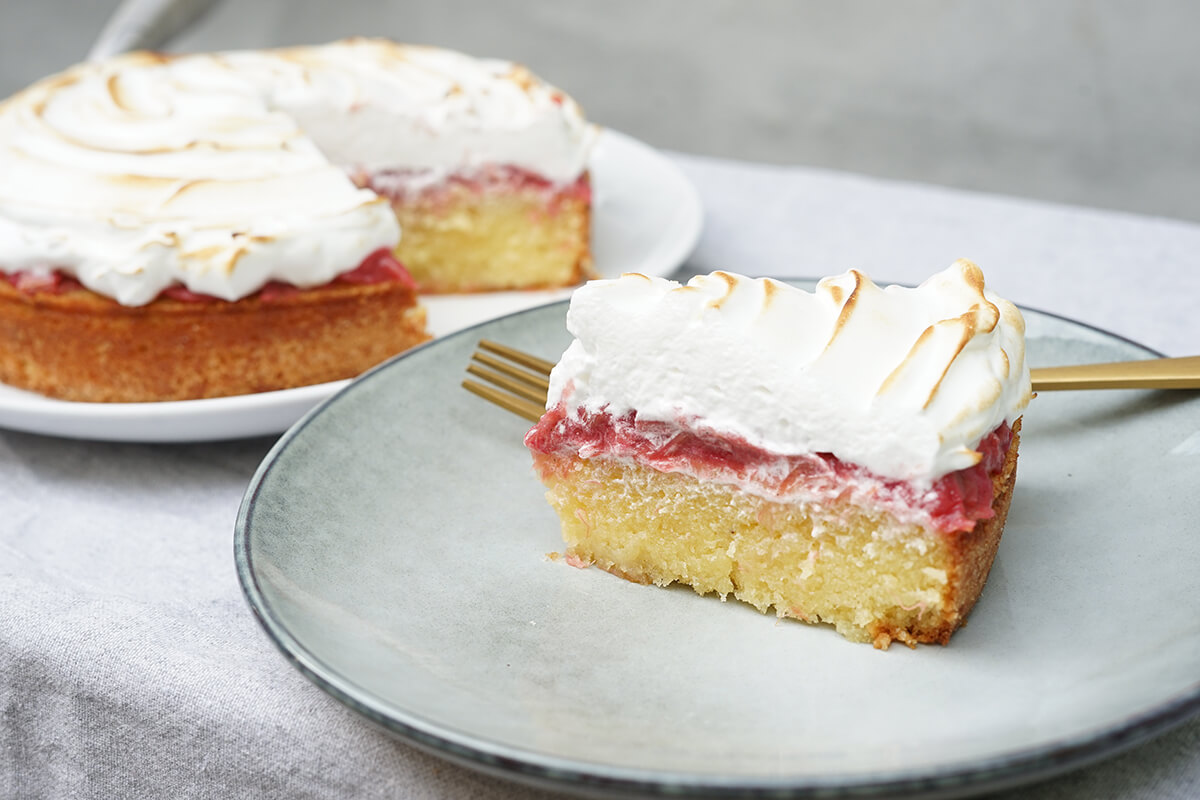 Recipe for the best rhubarb cake with meringue topping
Here is our version of a delicious recipe for a rhubarb meringue cake. In Denmark, we also call it Grandpa's beard with rhubarb. It is a perfect combination of spongy cake, acidic compote, and sweet meringue. The cake looks so beautiful and you are guaranteed to be able to impress your guests. We hope that you will try out the recipe.

Even though it looks a bit advanced, this rhubarb cake with marzipan and meringue is really easy to make. You can possibly bake the cake the day before and make the compote ready and put it in the fridge. Then just assemble the cake and whip the meringue before serving. To get the delicious finish on top, I used a gas burner to burn the meringue at the end. It should not be burned very long, and be careful not to set it on fire.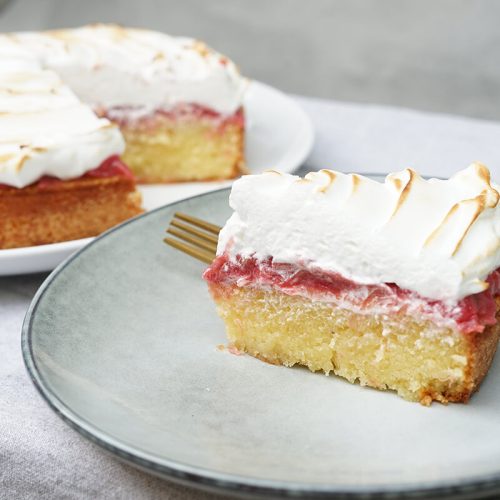 Rhubarb meringue cake
Recipe for rhubarb meringue cake
Soft danish mazarine cake with acidic rhubarb compote and sweet fluffy meringue on top. This cake is pretty easy to make and it tastes delicious. It is a great summer cake if you have rhubarb in the garden.
Ingredients  
Mazarine cake
150

g

butter

soft

150

g

sugar

150

g

marzipan

3

eggs

room temperature

50

g

all-purpose flour
Rhubarb compote
200

g

rhubarb

35

g

sugar

2

tbsp

dark rum

(can be omitted)

1

tsp

vanilla paste
Instructions 
Mazarine cake
Preheat the oven to 175 degrees Celcius normal heat.

Roughly grate the marzipan and whisk it together with the sugar and butter. Beat the eggs in the mixture one at a time. Finally, gently mix the flour into the dough.

Line the bottom of a springform pan (Ø22) with parchment paper, grease the sides, and sprinkle with sugar. Pour the dough into the pan and bake it for about 30 minutes. Stick in it with a fork and check that the cake is baked before taking it out. Take the ring off the springform pan and let the cake cool on a rack before taking the bottom off.
Rhubarb compote
Wash the rhubarb and cut them into slices of about 1 cm. Put rhubarb, sugar, rum, and vanilla in a saucepan and bring to a boil while stirring. Let the compote simmer for 5 minutes until the rhubarb is tender and slightly mushy. They should preferably not boil out completely. Take the compote off the heat and let it cool completely.
Meringue
Make your meringue when the cake and compote have cooled completely down.

Whisk the egg whites white and fluffy. Add the sugar while whisking, 1 tablespoon at a time. Whisk until the meringue is stiff and smooth.
Serving
Place the cake on the dish or plate you want to serve it on. Spread the rhubarb compote over the cake, and finally, add the meringue on top. You can use a piping bag if you want to pipe a nice pattern or smear it out with a palette knife. Burn your meringue with a gas burner until it turns light brown.
Nutrition
How do you like the recipe?
Have you tried this recipe? We'd love to hear what you think of it. Leave a comment, add a number of stars to the recipe and share your photo on Instagram with #madformadelskere – We love seeing your dishes ♥️
Note: This recipe is a translation of our danish recipe "Rabarberkage med marengs" which can be found on our danish food blog.
Also, sign up for our Facebook group where you can show pictures of the delicious food you make! You can find the Facebook group here