Danish Banana cake with chocolate is a delicious cake, that both kids and adults really love. It's a perfect way to use the overripe bananas, and then the bananas just make it a spongy and delicious mouthful. Read here and get our (or grandma's) recipe for Danish banana cake.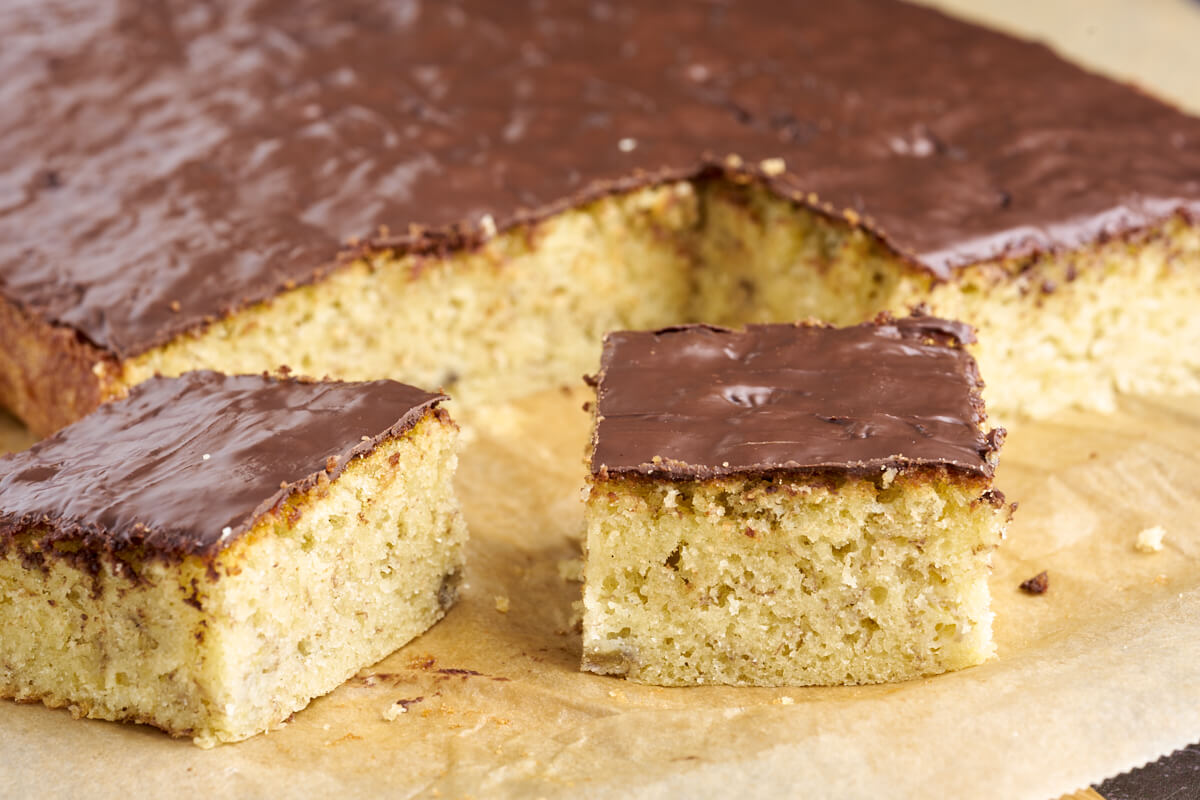 Like grandma makes it
My mother is the best in the world for many things… Baking banana cake with chocolate is no exception.

Here I have tried myself with a variation of her cake, however, there are small changes compared to her recipe. It is a wonderful and very easy banana cake that I would like to share with you here.

Danish Banana cake with chocolate is always a hit for both children and adults. It is a good and spongy cake that stays delicious for several days without getting dry. You can also try to make it with chocolate pieces in the dough, or bake it as small delicious banana muffins. The small muffins are great to hand out in kindergarten or school for children's birthdays. Possibly, garnish with a little candy if allowed.

It is a cake we often bake if we have some overripe bananas because the cake will be best if the bananas are really well ripened. The kids always ask for banana cake when they can see brown bananas in the kitchen.

But it also tastes really good!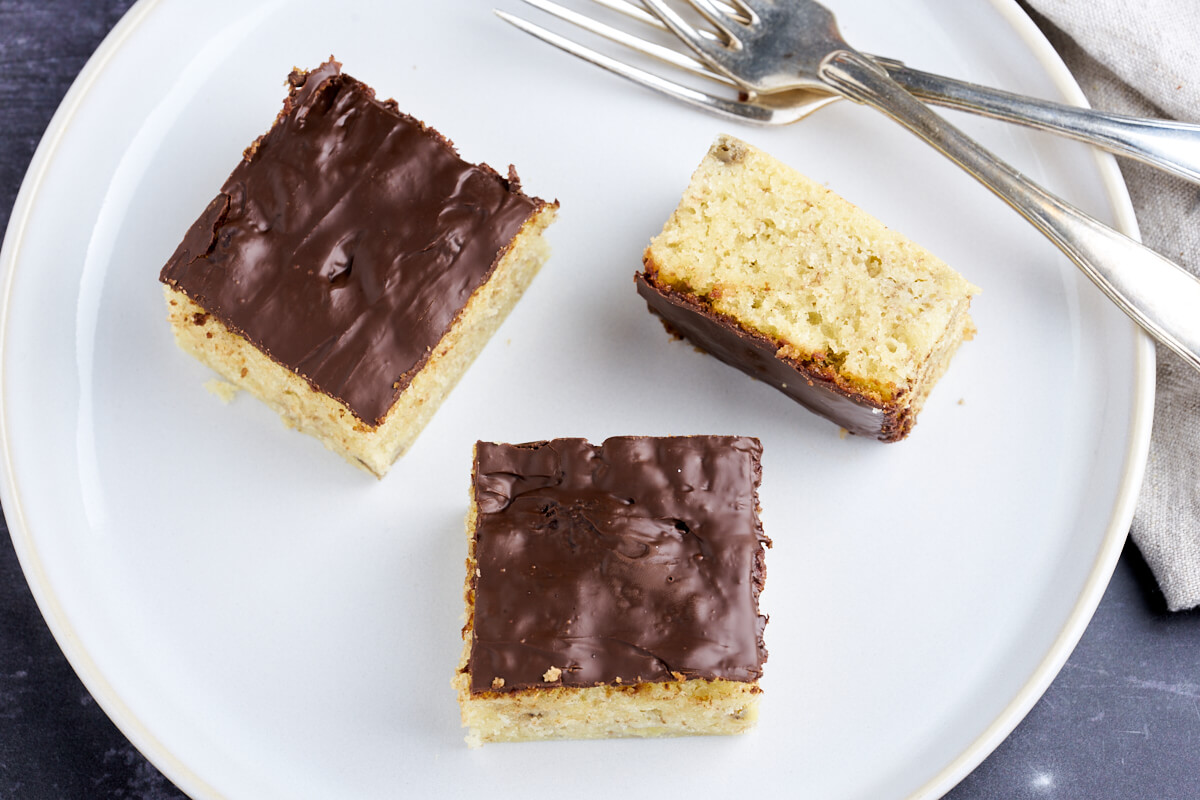 Ingredient notes
Bananas – Preferably overripe bananas, as they are sweeter and softer.

All-purpose flour – Just the normal kind.

Chocolate – Chop some chocolate or use chocolate drops.

Baking powder – Is important to make the cake moist and soft and rise when baked.

How to make Danish banana cake?
It is a super easy recipe, and here it is often the kids who bake the cake with a little help from an adult.

First, whisk eggs and sugar to an airy mixture, then whisk in the vanilla, and finally and the melted butter and wheat flour mixed with baking powder. Finally, mash the bananas with a fork and gently mix them in the dough.

The cake is baked in a baking pan, and when the cake comes out of the oven, spread chocolate drops or chopped chocolate on top. Then the chocolate melts because of the hot cake.

Grandma's tip is here to use Danish "pålægschokolade" if you have nothing else. Grandmothers always have pålægschokolade. But I think you can only get that in Denmark.

After the chocolate has been set, the cake is ready to serve.

Find the full recipe further down this page.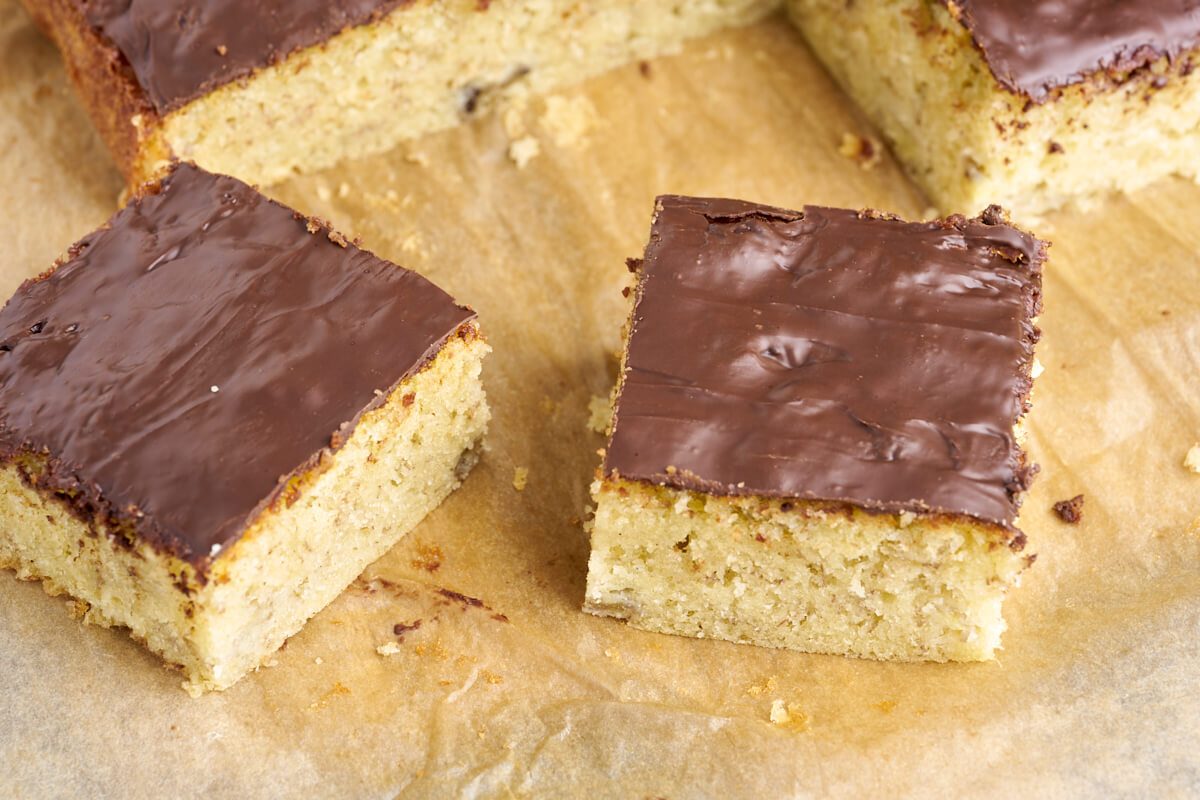 Frequently asked questions
What equipment will I need for this recipe?
The only thing you will need to bake this banana cake is something you can whip eggs and sugar with, and then a good tray to bake it in.

I always whip eggs and sugar together in the mixer – our Ankarsrum Assistant, but you can also use a regular hand mixer or a whisk if you have good arm muscles!

If you have a baking tray with a lid, it is super convenient to bake the cake in it if you need to bring it with you. Otherwise, all baking trays can be used, just remember to line it with baking paper before you pour the dough in, to make sure you can get the cake out of the tray, and that it will not get stuck and break. That would be so annoying!
Can the cake be frozen?
The cake can easily be frozen if you do not get to eat it all, also with chocolate on top. If you know in advance that you want to freeze it, you can possibly wait to put the chocolate on, as it can become a bit hard when frozen.
Can I bake it in another pan?
Yes, you can. You can also use this recipe in a springform pan about 22 cm in diameter, and the baking time is about the same. If you choose a larger springform pan, the cake will be lower, and you will probably need to reduce the baking time a bit.
Can I add anything else to the dough?
YES! Only the imagination sets the limit, but try a few handfuls of nuts, raisins, or chocolate pieces. You can also sprinkle nuts on top if you like.
Other danish recipes you might like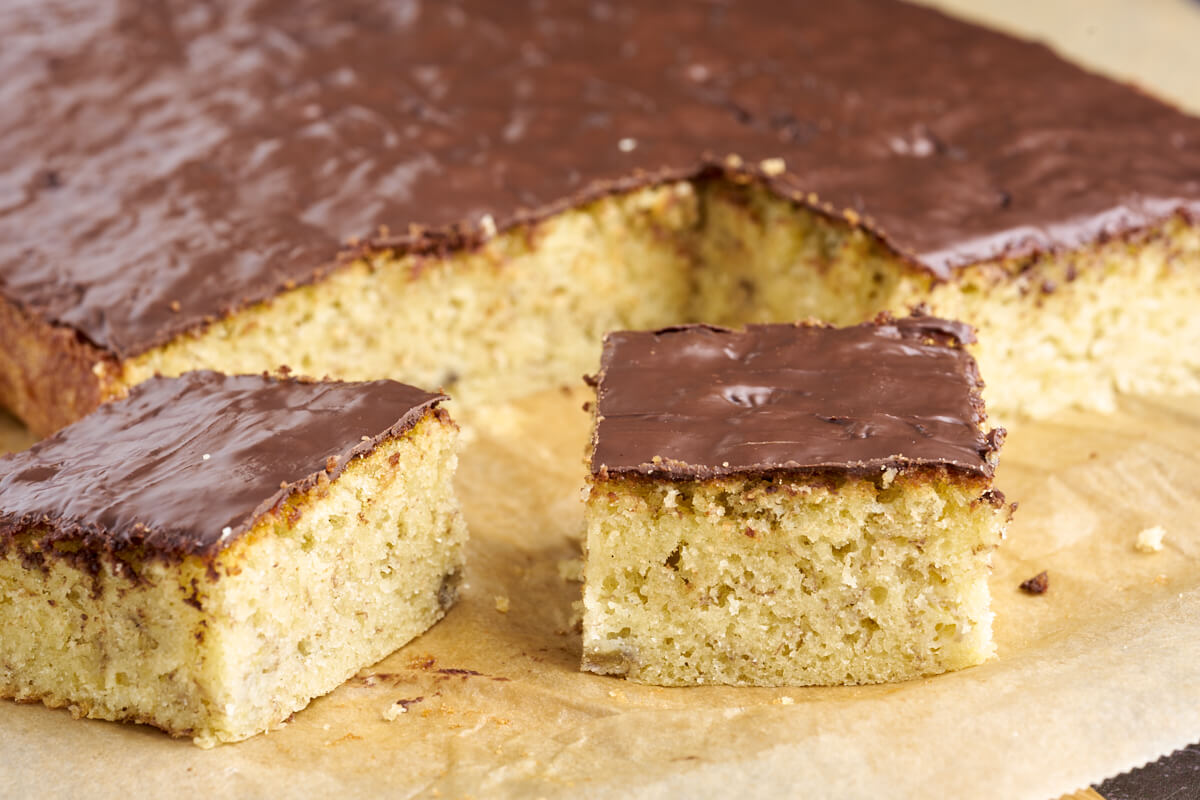 Tips and tricks for the best banana cake
Try mixing the chopped chocolate into the dough along with the bananas!
If you do not have chocolate drops, place danish pålægschokolade in a single layer on top of the cake just as it comes out of the oven. Then it melts because of the hot cake.
Bake the dough like small banana muffins. They are super good for handing out for children's birthdays or storing in the freezer for later. As muffins, they should be baked for 15-18 minutes at 175 degrees celcius.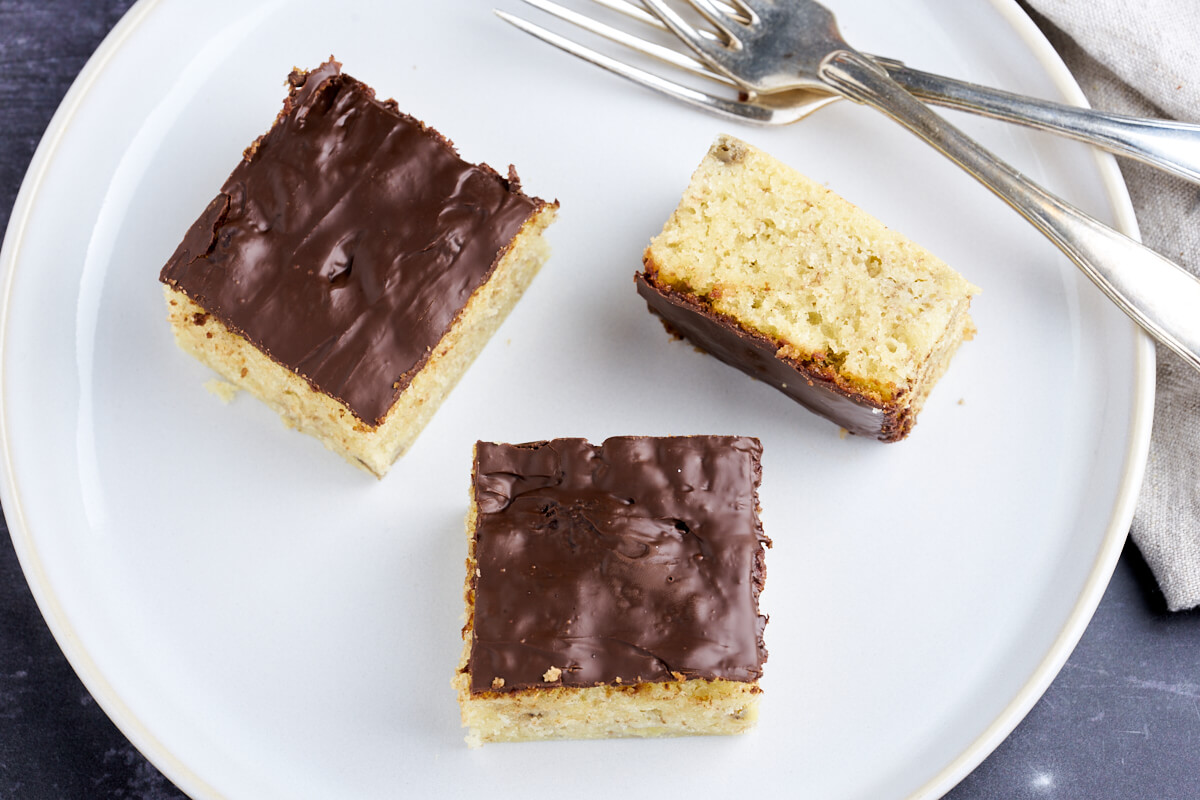 Danish recipe for cake with bananas
As I said, this is based on my mother's recipe, but it has been modified a bit so that it will be just the way we like it best. Most importantly, it's a very easy banana cake, so just take the kids to the kitchen.

We hope you will try out the recipe, and tell us if you like it in a comment underneath the recipe.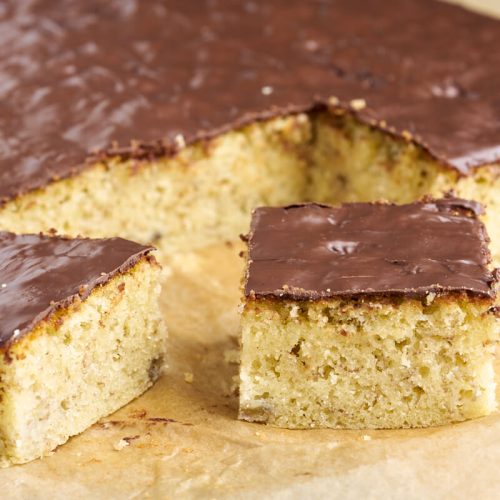 Danish banana cake with chocolate
Recipe for Danish banana cake with chocolate
Easy and delicious danish banana cake with chocolate on the top. It is a tray bake that you can easily take with you and share with others in school or at work.
Ingredients  
280

g

sugar

6

eggs

1

vanilla bean

150

g

butter

250

g

all-purpose flour

2

tsp

baking powder

3

bananas

preferably well ripened

150

g

dark chocolate

chopped or drops
Instructions 
Start by whisking sugar and eggs well so that it becomes thick and white.

Then add the seeds from the vanilla bean. Melt the butter in a pan, and sift flour and baking powder together. Alternately add flour/baking powder and melted butter.

When all is well mixed, mash the bananas with a fork, and mix gently into the dough.

The dough is then poured into a baking tray of approx. 25 × 33 cm lined with baking paper. Bake the cake at 175 degrees Celcius for 40-45 min. Stick a fork in the cake, if there is no dough hanging on, it is done.

As soon as the cake is taken out of the oven, sprinkle it with chopped chocolate or chocolate drops. Let the cake cool down and serve it to those you care about.
Nutrition
How do you like the recipe?
Have you tried this recipe? We'd love to hear what you think of it. Leave a comment, add a number of stars to the recipe and share your photo on Instagram with #madformadelskere – We love seeing your dishes ♥️
Note: This recipe is a translation of our danish recipe "Banankage i bradepande" which can be found on our danish food blog.
Also, sign up for our Facebook group where you can show pictures of the delicious food you make! You can find the Facebook group here