We love Greek food. Everything from stifado to Greek meat patties and of course tzatziki with bread. Greek flatbread is something you can serve for most things. You can eat them as bread or use them as Greek pita bread and fold them together with, for example, gyros inside. Read on here and get our easy recipe for bread for Greek food.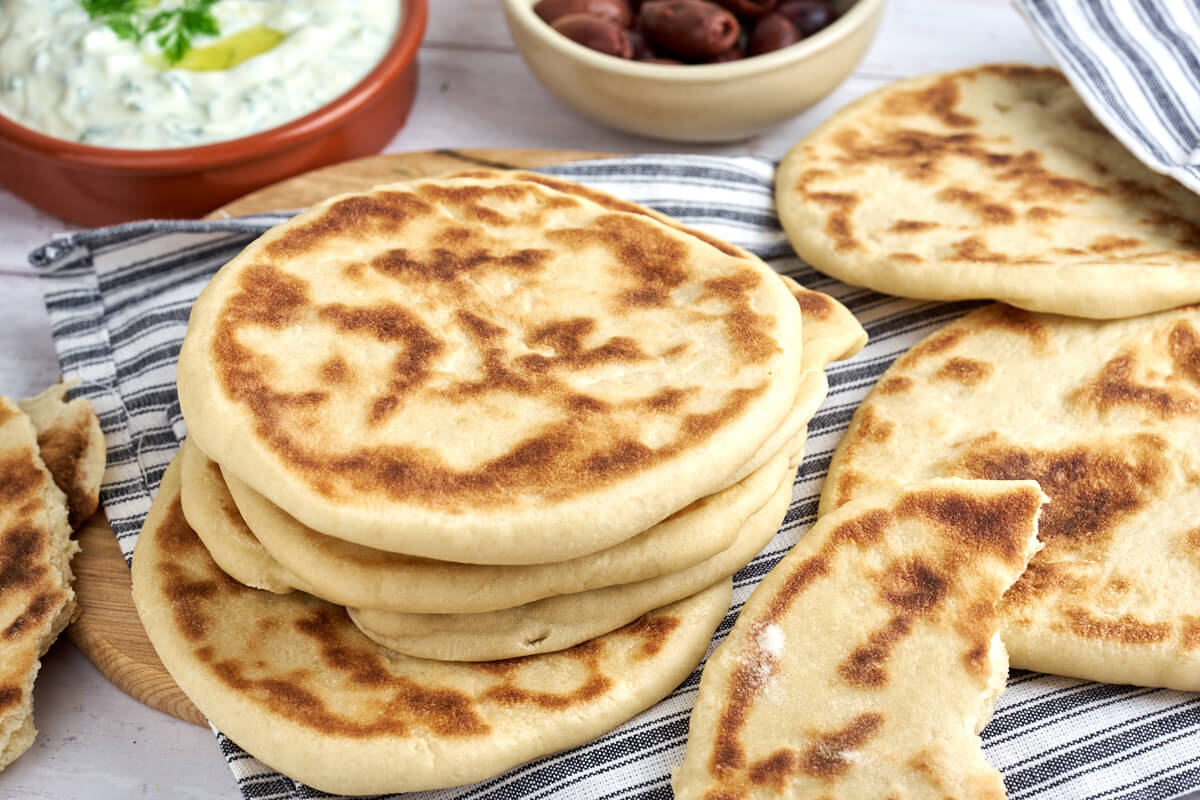 Easy Greek flatbread on frying pan
Here you get the recipe for delicious Greek pita bread. Or we might call them flatbreads because they are not hollow as we usually think of our pita bread.

The Greek pita bread is not filled with filling inside as we usually do with traditional Danish pita bread, but the filling is instead placed on top of the bread, which is then folded around the filling.

They are delicious with Greek souvlaki, Greek meatballs, or gyros.

The bread can also be used when serving Greek tzatziki, where you want to break the bread into pieces and dip it in the tzatziki.

So it's almost a must-have for the Greek dinner, but you can also serve it with all other stews and soups.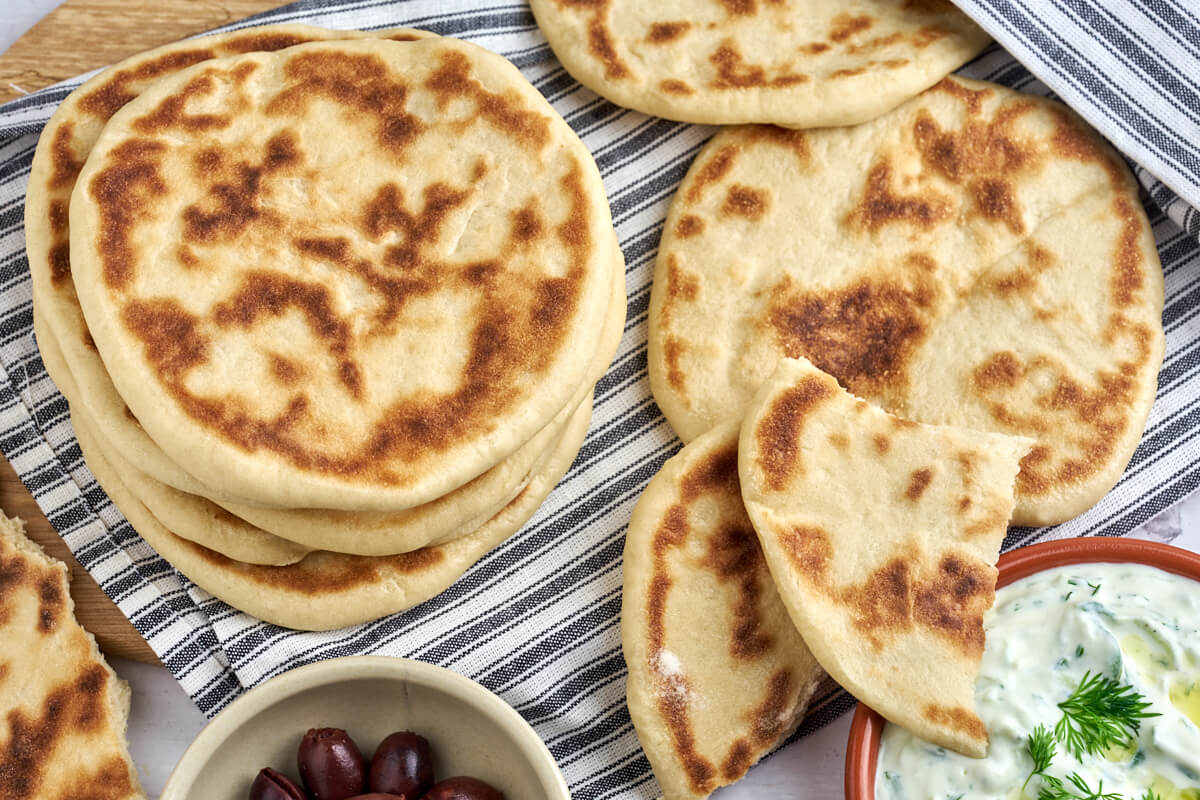 Ingredient notes
Yeast – We use plain fresh yeast in this recipe.

Oil – We usually use olive oil, but other types of oil can also be used.

All-purpose flour – We use ordinary wheat flour with high protein content. You can use other types of flour if you like, and you can, for example, replace half of the wheat flour with wholegrain flour.
How to make Greek pita bread?
Fortunately, it's super easy to make these delicious Greek pita bread.

First, we have to make the dough, we usually do this on the machine, as it handles all the hard work.

The yeast must be dissolved in the lukewarm water, and then salt, sugar, and oil are added before the flour is added a little at a time. The dough must then be kneaded before it has to rise for half an hour.

Once the dough has risen, divide it into 8 pieces, each of which is rolled out into flatbread. The rolled-out bread should rise slightly while the pan is heating up, and then you are ready to bake the bread on a dry frying pan.

The baked bread is wrapped in a tea towel and then they are ready to serve. They taste super good warm with wonderful tzatziki.

Find the full recipe further down this page.
Frequently asked questions
How to store Greek pita bread?
Once the flatbreads are baked, wrap them in a tea towel to make them stay delicious and soft. Once completely cooled, they can be stored in a plastic bag or another airtight package.
Can Greek pita bread be frozen?
Yes, the bread can easily be frozen if you do not eat them all.
Can I use another type of flour?
You can easily replace some of the wheat flour with wholegrain flour. You may need a little less flour depending on the type you use, so add the flour a little at a time.
Which dishes can I serve Greek pita bread with?
They are obvious to serve with Greek dishes such as stifado, gyros, tzatziki, or other food where you would like to serve bread. They also work super well for all types of stews and soups.
Other bread recipes you might like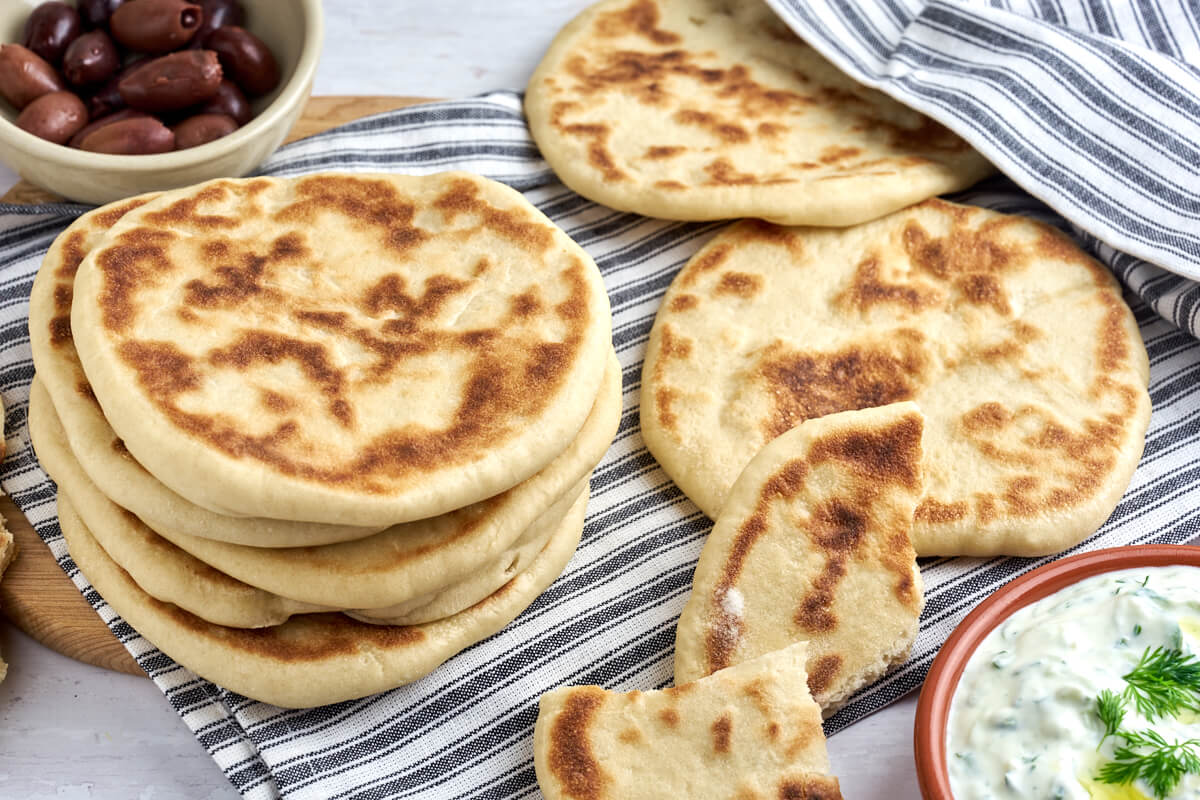 Tips and tricks for Greek pita bread
Wrap the baked flatbreads in a tea towel immediately. Then they hold on to the steam and remain delicious and soft.
If you want to prevent your flatbreads from puffing up too much during baking, they can be pricked with a fork on one side before baking.
Serving suggestions
Serve with Greek souvlaki skewers, which are the Greek form of kebab skewers.
Serve as bread to dip in stews such as the Greek Stifado.
Serve as bread to dip in hummus or Greek tzatziki.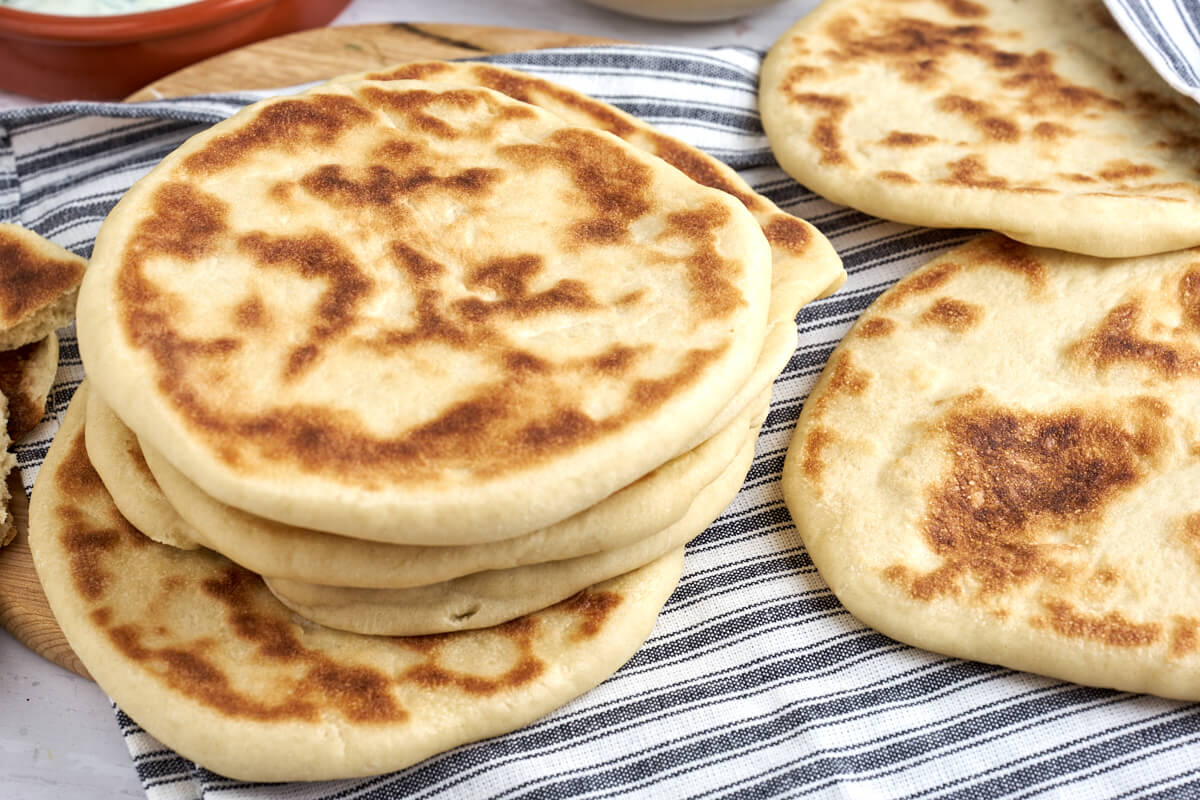 Recipe for Greek flatbread for gyros
Here you get our recipe for delicious soft Greek pita bread. They are easy to make and they work super well for everything from gyros and souvlaki to stifado and tzatziki. You can also serve them for all types of stews and soups.

We hope you will like to try the recipe and serve the wonderful pita bread for your family. At home, they are a hit with both kids and adults, and it is always a must when there is Greek food on the menu.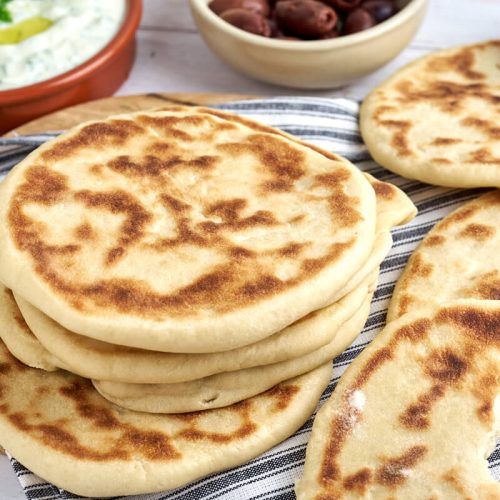 Greek pita bread
Recipe for Greek pita bread
Or Greek flatbread as many will also call them. They are obvious to serve with all types of Greek food, for example with fillings of gyros, lamb meatballs, or something else delicious. You can also serve them for stews like Greek stifado.
Ingredients  
2

dl

water

25

g

fresh yeast

1

tsp

salt

2

tsp

sugar

2

tbsp

olive oil

or other oil

360

g

all-purpose flour
Instructions 
Warm the water until it is about 37 degrees Celcius. Dissolve the yeast in the water. Add salt, sugar, and oil, and finally flour a little at a time. It is not certain that all the flour will be needed. The dough should be smooth and even, but should not be dry. Knead the dough for about 10 minutes.

Let the dough rise for about 30 minutes.

After rising, the dough is laid out on the table.

Divide the dough into 8 equal pieces. If you want to make the pitas a little bigger, you can just divide the dough into 6 parts.

Roll out each piece of dough into a flatbread 2-3 mm thick.

Let the pita bread rise for about 15 minutes. Meanwhile, preheat the non-stick frying pan up to slightly higher than medium heat.

Place one pita bread on the pan at a time, and bake it for about 3 minutes on one side.

Turn the bread over and let it bake for 2-3 minutes on the other side until golden and baked through.

Wrap the finished bread in a tea towel as they are baked. That way, they stay soft and warm until mealtime.
Nutrition
How do you like the recipe?
Have you tried this recipe? We'd love to hear what you think of it. Leave a comment, add a number of stars to the recipe and share your photo on Instagram with #madformadelskere – We love seeing your dishes ♥️
Also, sign up for our Facebook group where you can show pictures of the delicious food you make! You can find the Facebook group here