The ramsons, or wild garlic as they are also called, are here, and that means that many go out into the garden or into the woods to pick the delicious leaves. We love making wild garlic pesto at home, and with this recipe, it's a sure hit. It is easy to make and can be eaten with so many delicious dishes.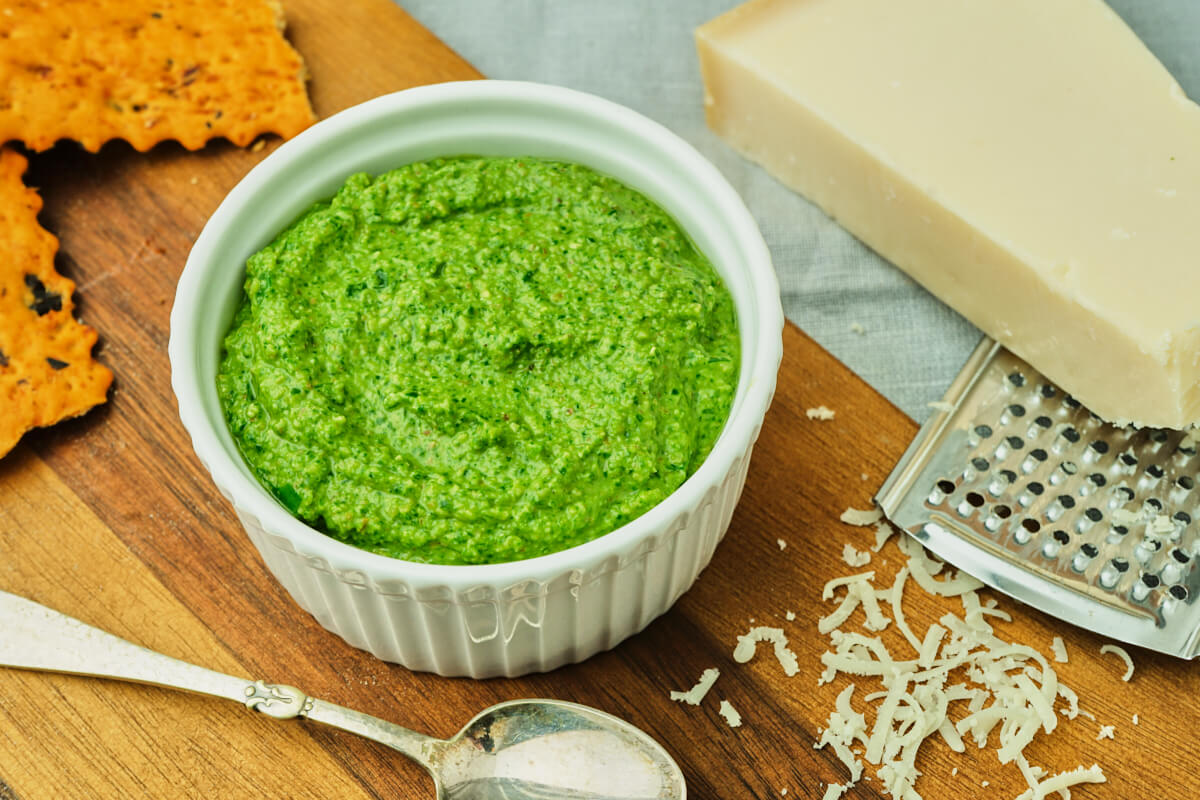 Easy pesto recipe with wild garlic
Spring has really arrived, and that means that it is overflowing with ramsons in the garden. Every year, some of our ramsons are transformed into a wonderful wild garlic pesto with walnuts and lots of delicious parmesan.

Ramsons are nature's garlic, which is probably why they are called wild garlic in English. However, the taste is a little milder than we know from ordinary garlic, but the taste may well vary depending on when in the season you pick your wild garlic.

Due to the mild garlic taste and the beautiful green color, ramsons are ideal for pesto. It is beautiful on every tapas table. Pesto with ramsons has a wonderful garlic-like creamy taste, and it tastes great of both wild garlic, cheese, and walnuts. YUM… We eat it for everything from a delicious chicken on the BBQ to bread and vegetable sticks for dipping in the pesto for tapas or in sandwiches.

It can go with many things, and then it really tastes like spring.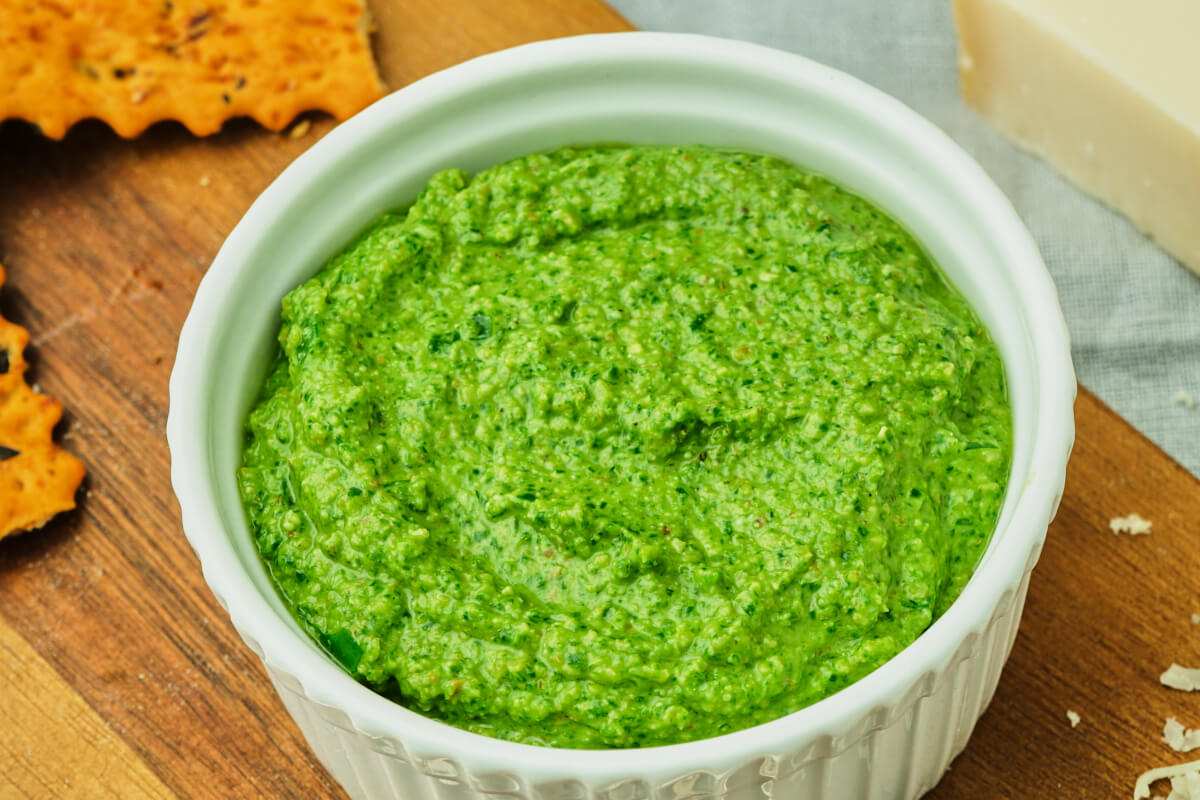 Ingredient notes
Ramson or wild garlic – We are so lucky to have them in the garden, but if you do not have them, then they can also be found in many of nature's forests here in Denmark.

Walnuts – Walnuts are just delicious in pesto! If you would rather use almonds, cashews, or sunflower seeds then you can easily do that too.

Cheese – Parmesan or Grana Padano is good in this pesto.
How to make wild garlic pesto?
All you need is a food processor or a blender. Then you are ready to make pesto.

It's a really easy process because you just put all the ingredients in the blender, and then you blend in until the pesto has the desired consistency. Some people want it fine, others like a slightly coarser pesto. You decide!

Find the full recipe further down this page.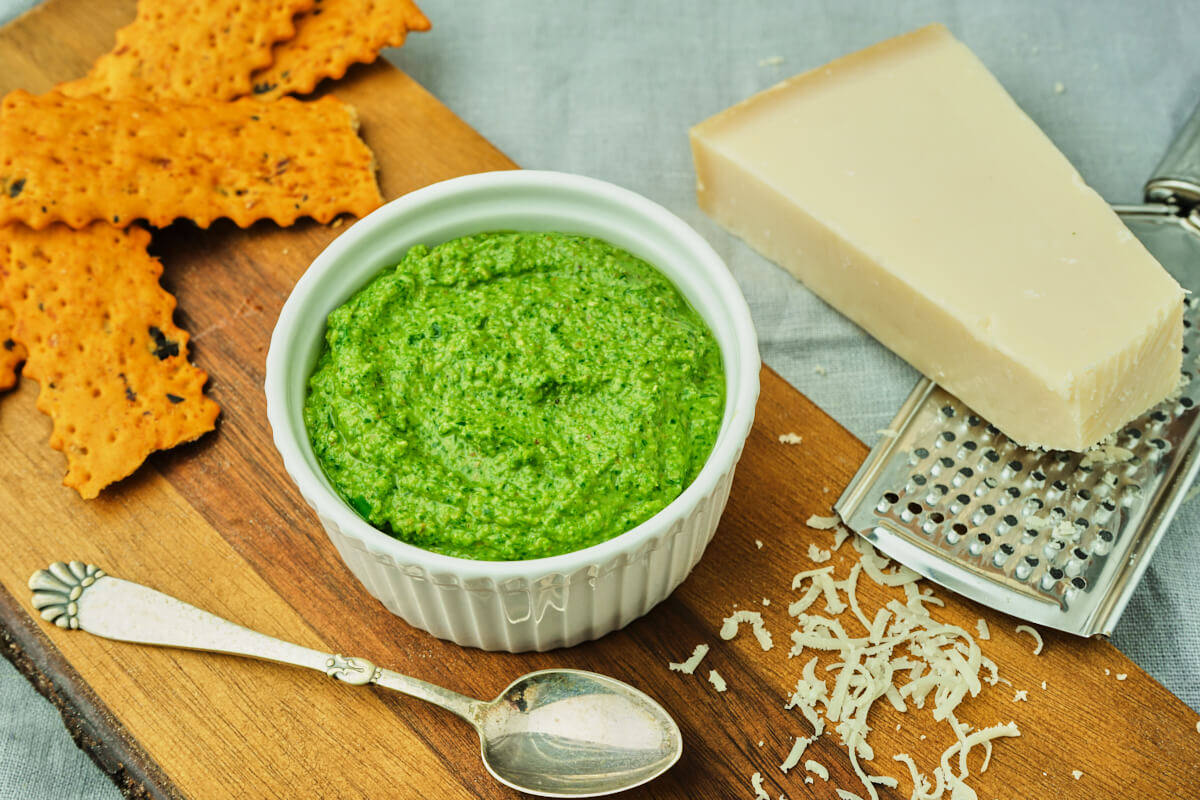 Frequently asked questions
Can wild garlic pesto be frozen?
Yes, you can easily freeze pesto. Also when made with ramsons or wild garlic. It is easiest in small plastic containers that fit approximately the size of what you can eat in your family. Then there is always delicious pesto when the appetite for tapas arises.
For how long can I store the pesto?
Store your pesto in a clean glass jar in the refrigerator. Cover the top of the pesto with a little extra oil. This way, your pesto can last up to a week. If it needs to last longer, we recommend that you freeze it.
Can I use anything else than walnuts?
Yes, you can. You can make your pesto with all kinds of nuts and kernels actually. Try replacing the walnuts with hazelnuts, almonds, cashews, pine nuts, or sunflower seeds.
Other recipes you might like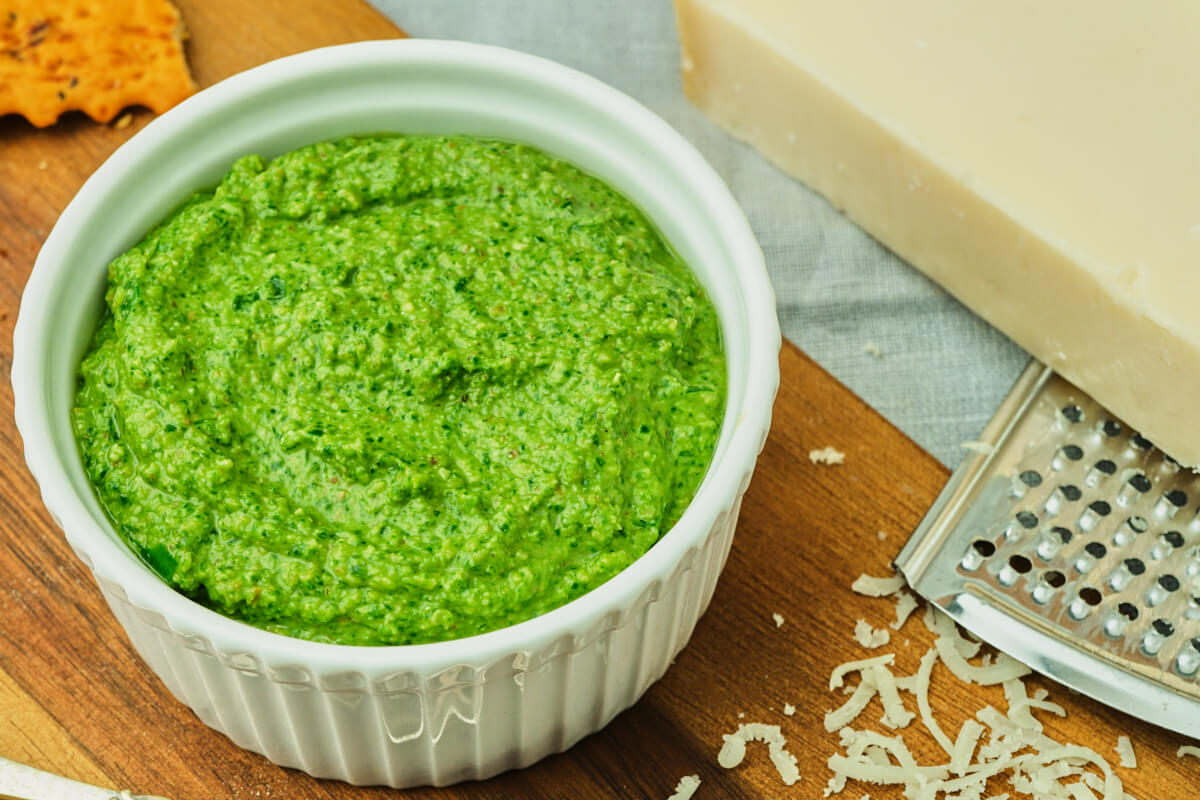 Serving suggestion
Eat for a grilled chicken with vegetables and bread.
Eat as a dish on the tapas table with a lot of other delicious small dishes.
Eat as a spread in a sandwich.
Turn freshly cooked pasta into the pesto.
Use pesto to marinate chicken, salmon or lamb before going on the grill.
You can use the wild garlic pesto in exactly the same way as you would use another type of pesto. Ramson pesto has a sharper taste than, for example, basil pesto, but if you like garlic, you are guaranteed to love it too.
Recipe for ramson pesto
Here is our delicious recipe for delicious pesto with wild garlic. As the taste of ramsons can vary, it is important to taste the pesto while making it. If they are very sharp, a little sugar may be needed, if they are milder you can omit the sugar. If they are very strong, it may also be advisable to replace half of the wild garlic with a milder herb, eg parsley or basil.

We use walnuts for this pesto, it gives a great taste. You can also easily make ramson pesto with almonds or sunflower seeds. Both will be super good.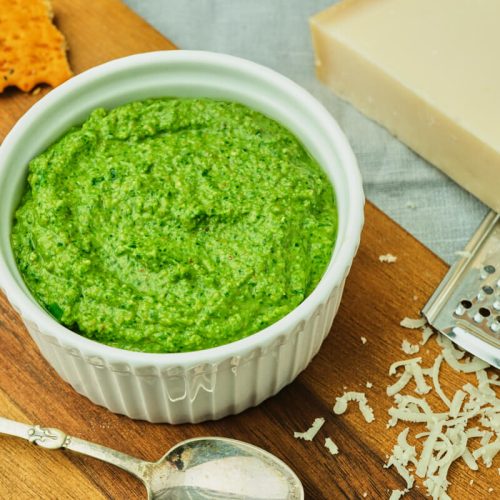 Wild garlic pesto
Recipe for wild garlic pesto
Easy recipe for delicious creamy pesto with ramsons and walnuts. It is perfect as a dish for tapas, and then it is a wonderful spring dish.
Ingredients  
50

g

wild garlic

40

g

walnuts

25

g

parmesan

grated

½

lemon

the juice

2

tbsp

olive oil

½

tsp

sugar

Salt

for flavoring

Pepper

for flavoring
Instructions 
Put all the ingredients in a food processor or a blender, and blend to a smooth mass.

Season with salt, pepper, sugar, and lemon until you have the desired taste and consistency.

The taste of ramsons can vary a lot, so it is important to taste along the way. Adjust the consistency with a little more oil if it is too thick.
Nutrition
How do you like the recipe?
Have you tried this recipe? We'd love to hear what you think of it. Leave a comment, add a number of stars to the recipe and share your photo on Instagram with #madformadelskere – We love seeing your dishes ♥️
Also, sign up for our Facebook group where you can show pictures of the delicious food you make! You can find the Facebook group here