Carrot cake with cream cheese frosting is a classic that we never get tired of at home. It is a spongy and delicious carrot cake with creamy cream cheese frosting and it just tastes great! It is a cake that both children and adults love, and then it is, fortunately, both easy and quick to make. Read on here and get our recipe for the best carrot cake.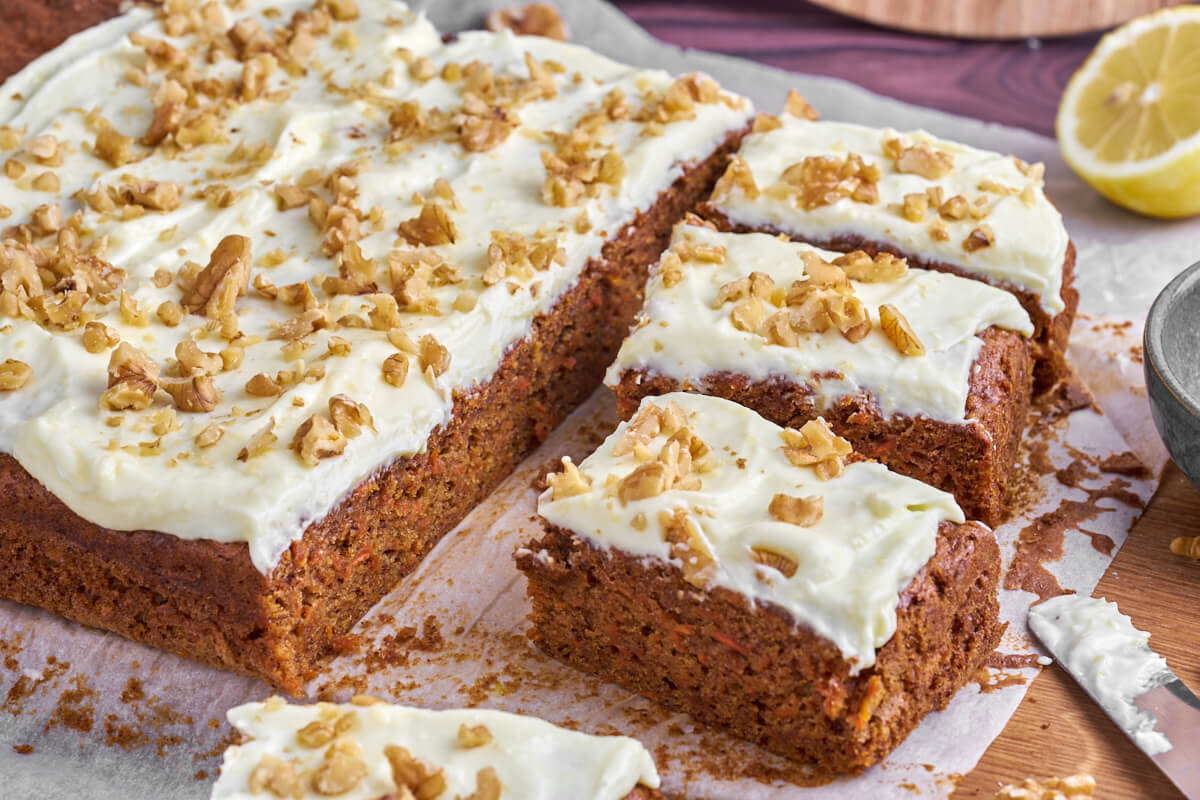 Easy and quick sheet cake
This carrot cake with cream cheese is easy and quick to make, and then it tastes great.

That it is also beautiful to look at is a big plus. If you want to delight and impress the family with a delicious cake, then this Danish carrot cake with cream cheese is a really good suggestion – Here it is always a hit with both children and adults.

The perfect carrot cake for me, is a fluffy and spongy cake, with a nice spicy taste and a soft slightly acidic cheese cream frosting on top. So that's the kind of carrot cake you get here.

The cake contains cinnamon, ginger, and vanilla, and the spicy taste fits perfectly with this cake with the slightly fat topping.

You can bake it in a square sheet pan or a round springform pan, it's entirely up to you what you think looks best and is easiest to handle.

Here the cake is topped with cream cheese frosting and sprinkled with walnuts on top, but you can also turn the walnuts in the dough or skip them altogether.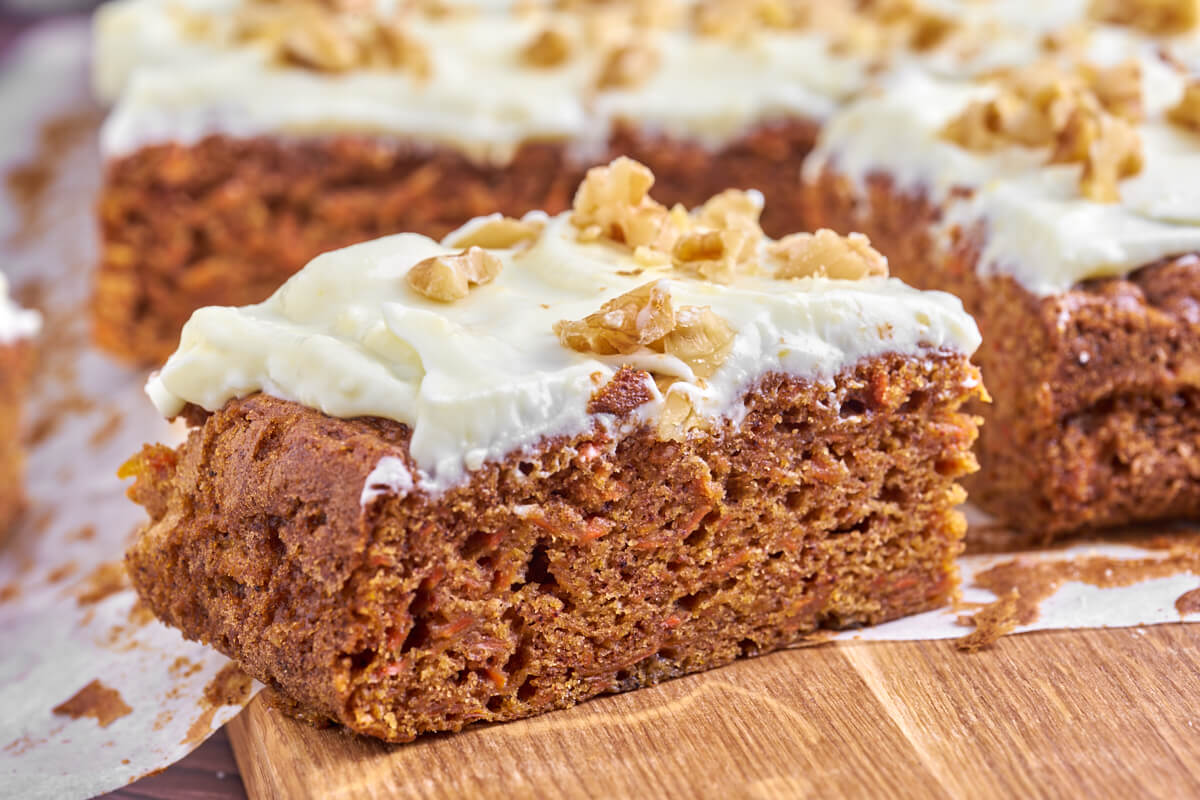 Ingredient notes
Carrots – You will need carrots, of course. There should be plenty of carrots in the cake, it helps to give a spongy and delicious cake that stays juicy for a long time.

Oil – Oil helps to give a juicy cake. You need to use taste-neutral oil like rapeseed or sunflower oil.

All-purpose flour – Use plain wheat flour.

Cream cheese – To be used for the frosting on top of the cake. You can choose the brand you want, but it is important that it is not a light product, then the cream will not get the right consistency.

Butter – I like to whip a little butter in the cream, it can be skipped if you do not want it in, but it helps to give a soft cream.

Lemon – I think there should be lemon in the cream cheese frosting. I use both a little zest and a little juice to give a good acidity.
How to make carrot cake with cream cheese frosting?
Fortunately, it is not at all that difficult to make this carrot cake with the best velvety soft frosting on top.

First, we must make the cake.

First, beat eggs, brown sugar, and oil until fluffy. Then mix all the dry ingredients together and sift into the mixture. Finally, grate the carrots on the coarse side of the grater, and turn it all together.

Now the dough should go in a sheet pan lined with parchment paper and be baked in the oven. When the cake is completely cold, you can put the frosting on.

It is made by whisking cream cheese and soft butter, and then adding icing sugar while whisking. The frosting is flavored with lemon zest and juice, and then it just needs to be spread on the cake.

Finally, you can sprinkle with chopped walnuts.

Find the full recipe further down this page.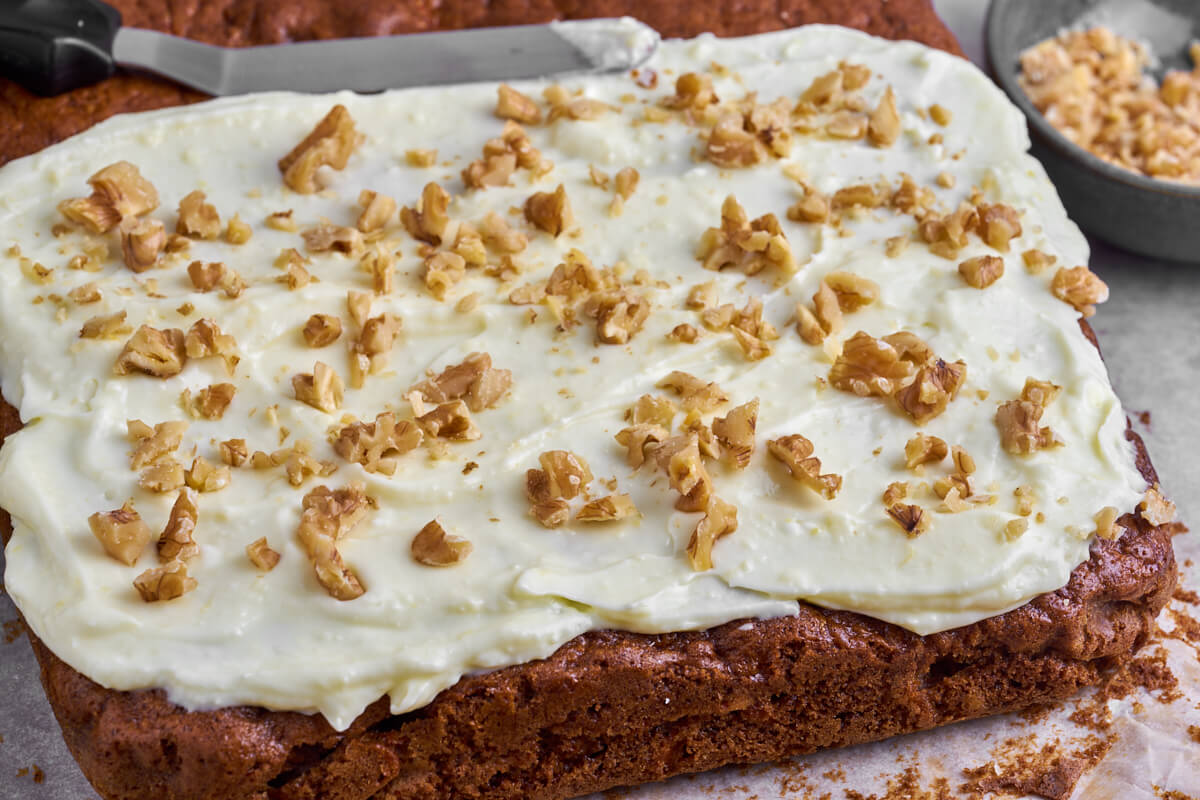 Frequently asked questions
What equipment should I use for this recipe?
You do not need any special equipment for this cake, but a good baking sheet pan or springform pan is preferable. For this recipe, a springform pan with a diameter of 28-30 cm is suitable or a rectangle pan of approximately 25 × 35 cm.

In addition, it is nice to have a good palette knife in steel to spread the frosting on top of the cake, but if you do not have it, you can easily use a regular butter knife.
How to store to cake?
I wait to put the cream cheese frosting on top until it is to be served. Until then, it can be stored airtight wrapped at room temperature. Once the frosting is on top, store the cake in the refrigerator.
For how long can I store the cake?
This cake is super moist. It can easily be left in the fridge for 2-3 days without becoming dry and boring.
Can I make the cream cheese frosting the day before?
Yes, you can. I keep it covered in a bowl in the fridge until it needs to go on the cake just before serving.
Can I use the recipe for muffins instead?
Yes, you can. Muffins should bake for about 15 minutes, but check if they are done baking by sticking in them before taking them out of the oven, as all ovens bake differently.
Can carrot cake with cream cheese frosting be frozen?
Yes, you can freeze the cake. Both with and without frosting on top.
Other Danish cakes you might like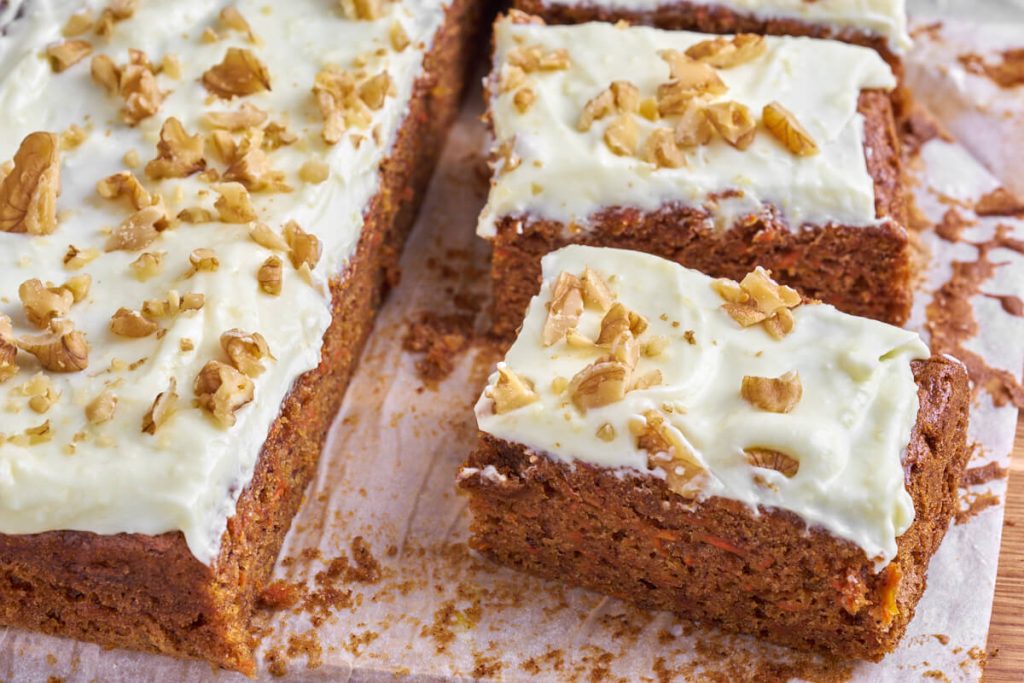 Tips and tricks for carrot cake with cream cheese frosting
Add the chopped walnuts to the dough along with the grated carrots. It gives a little crunch inside the cake.
Try adding a handful of raisins, it gives an even more spongy and delicious cake.
If necessary, bake the cake the day before, and wrap it until the next day. Before serving, you can put cream cheese frosting on top.
Serving suggestions
Decorate with flags and sweets and serve them for children's birthdays.
Cut it into smaller pieces and serve it as part of a cake tapas.
Serve in the afternoon with a good cup of coffee or tea.
It is a delicious autumn cake, which tastes great after a good walk in the windy weather.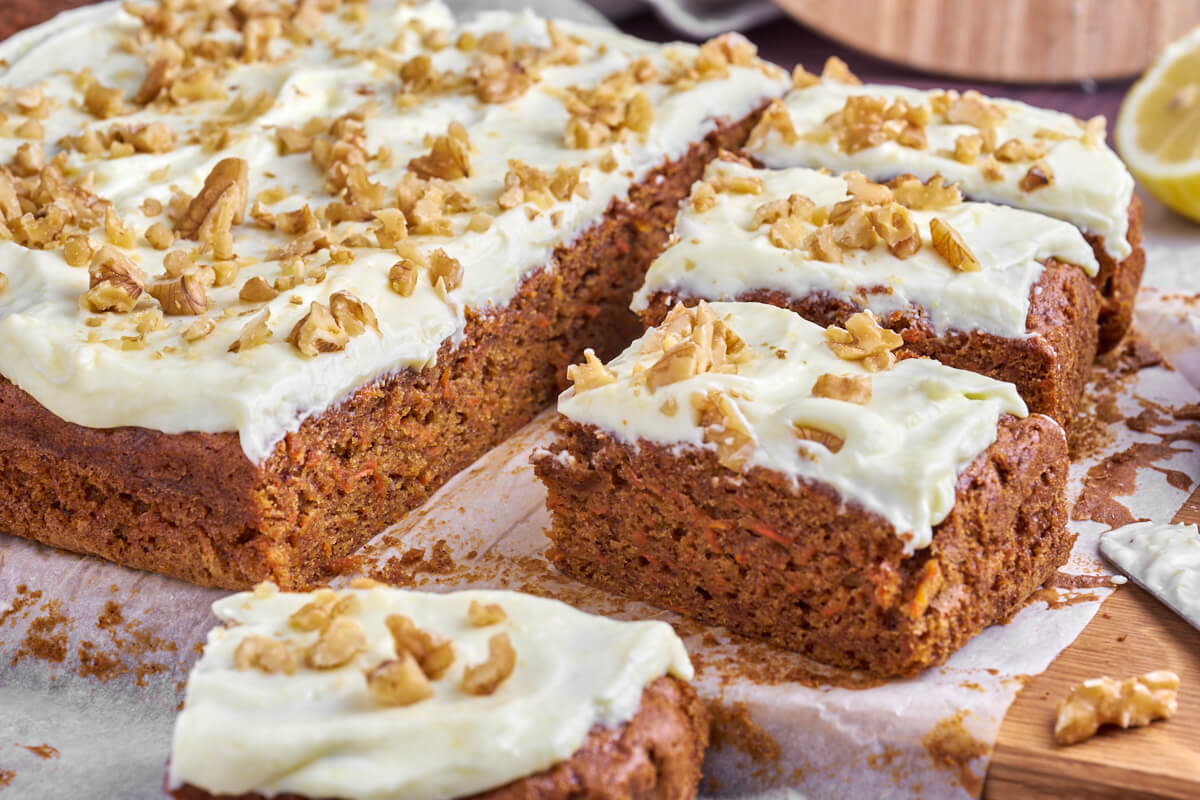 Recipe for spongy Danish carrot cake
I like acidic cream cheese frosting, which is why there is lemon juice and zest in the frosting, which makes it fresh and delicious. If you prefer sweeter frosting, you can add a little more icing sugar. The good thing is that you can taste the frosting along the way and add a little more lemon juice or icing sugar if you think it needs it.

We hope you enjoy trying our recipe for a delicious and spongy carrot cake and serve it to your family or others you care about.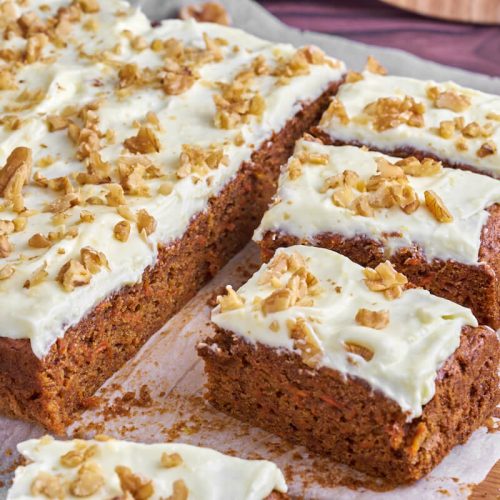 Carrot cake with cream cheese frosting
Recipe for carrot cake with cream cheese frosting
This nordic or Danish carrot cake is perfect for the whole family. It is a spongy and moist carrot cake with a sweet and acidic cream cheese topping. It is easy and quick to make, and it tastes amazing.
Ingredients  
Carrot cake:
270

g

brown sugar

4

eggs

2

dl

oil

sunflower or rapeseed

275

g

all-pourpose flour

1/2

tsp

salt

2

tsp

vanilla sugar

2

tsp

cinnamon

1/2

tsp

ginger powder

2

tsp

baking soda

1 1/2

tsp

baking powder

4

carrots

large
Topping:
200

g

cream cheese

100

g

butter

soft

100

g

icing sugar

1/2

lemon

juice and zest

50

g

walnuts
Instructions 
Carrot cake:
Whisk brown sugar, eggs, and oil until light and fluffy – I use my mixer with a whisk on.

Mix flour, salt, vanilla sugar, cinnamon, ginger, baking soda, and baking powder, and sift it into the bowl with the beaten egg, brown sugar, and oil.

Grate 4 large carrots and put them on top, carefully turn the dough with a spatula until the dough is completely smooth and without lumps of flour.

Put the dough in an ovenproof dish or a baking sheet with high edges of about 25 × 35 cm. Alternatively, you can use a springform pan of 28-30 cm in diameter.

Bake the cake in the middle of the oven at 180 degrees Celcius for 40-45 min.

Stick into the cake when the time has passed, so you are sure it is finished baking. There should be no dough hanging on the needle or knife when you pick it up.

Allow the cake to cool completely before adding the cream cheese frosting.
Cream cheese frosting:
When the cake is completely cooled down, the cream cheese is made.

Whip soft butter and icing sugar together with lemon zest and a little lemon juice. Then stir in the cream cheese and, season with more lemon if necessary.

Spread the cream cheese on the cake and sprinkle with chopped walnuts.
Nutrition
How do you like the recipe?
Have you tried this recipe? We'd love to hear what you think of it. Leave a comment, add a number of stars to the recipe and share your photo on Instagram with #madformadelskere – We love seeing your dishes ♥️
Also, sign up for our Facebook group where you can show pictures of the delicious food you make! You can find the Facebook group here