You will feel completely happy when the smell of Danish apple cake with cinnamon spreads in the house. My grandmother made the world's best apple cake, that's for sure. Here you get my version of a delicious apple cake with cinnamon that can be served warm or cold. It is super good with sour cream, vanilla ice cream, or whipped cream. Read along here and get our recipe.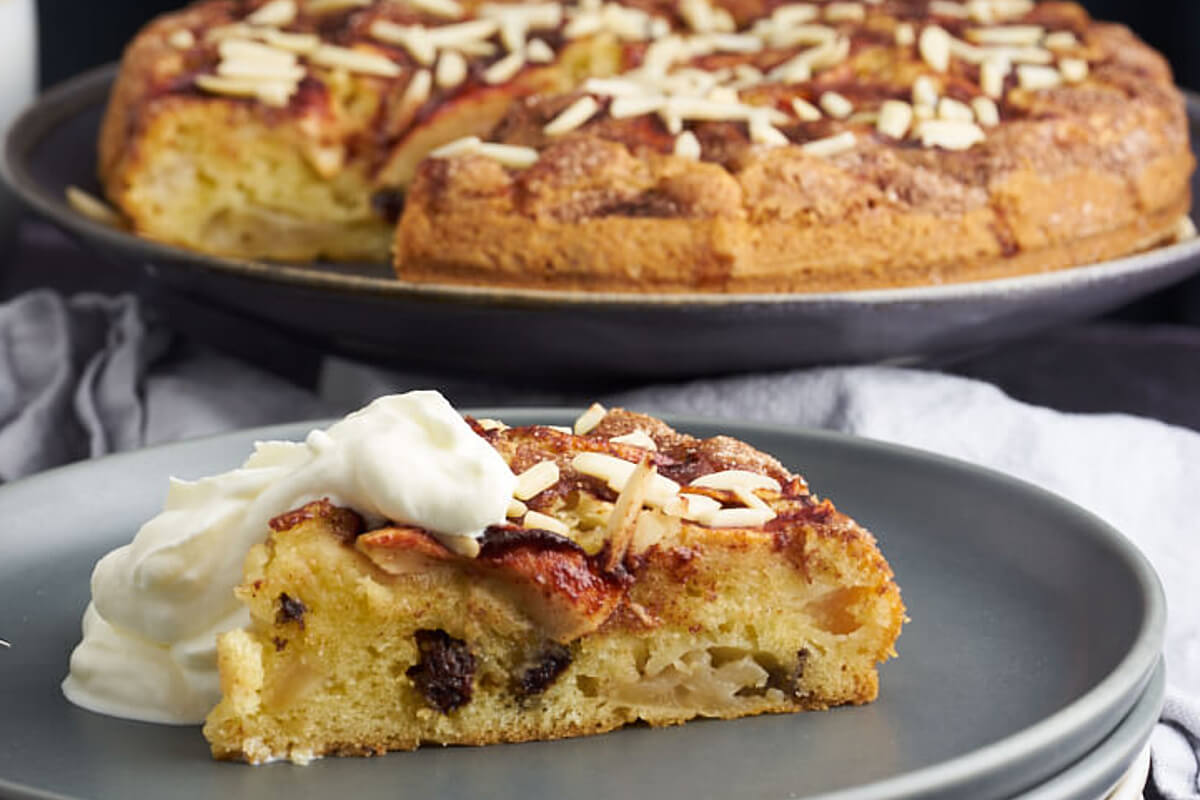 Cake with apples and raisins
You will almost always excite people when making apple cake. It is something most guests will appreciate, and also both children and adults. We love it, and so do the kids.

Our apple cake contains both apples and raisins, you can make it without raisins, but it gives a super delicious taste and moisture to the cake, so we will not bake it without them.

You can choose to sprinkle the cake with almond flakes or almond chips if you like, it gives a delicious crunch on top. But again, this is a matter of taste. We love almonds on top of a danish apple cake.

Such a cake usually fits about 8 people, but it obviously depends on how hungry the people are.

However, the cake is very suitable for freezing, so we are happy to freeze any leftovers if there are any. Then there is always a small piece of cake for the evening coffee if needed.

This cake is our go-to cake recipe. It is so easy to make, and then you can replace apples with all sorts of other types of fruit or berries. For example, it can be made with pears, plums, raspberries, blackberries, or something completely different.

So do yourself the favor of learning the recipe, then you can always mix up a delicious cake with what you have in the house or garden.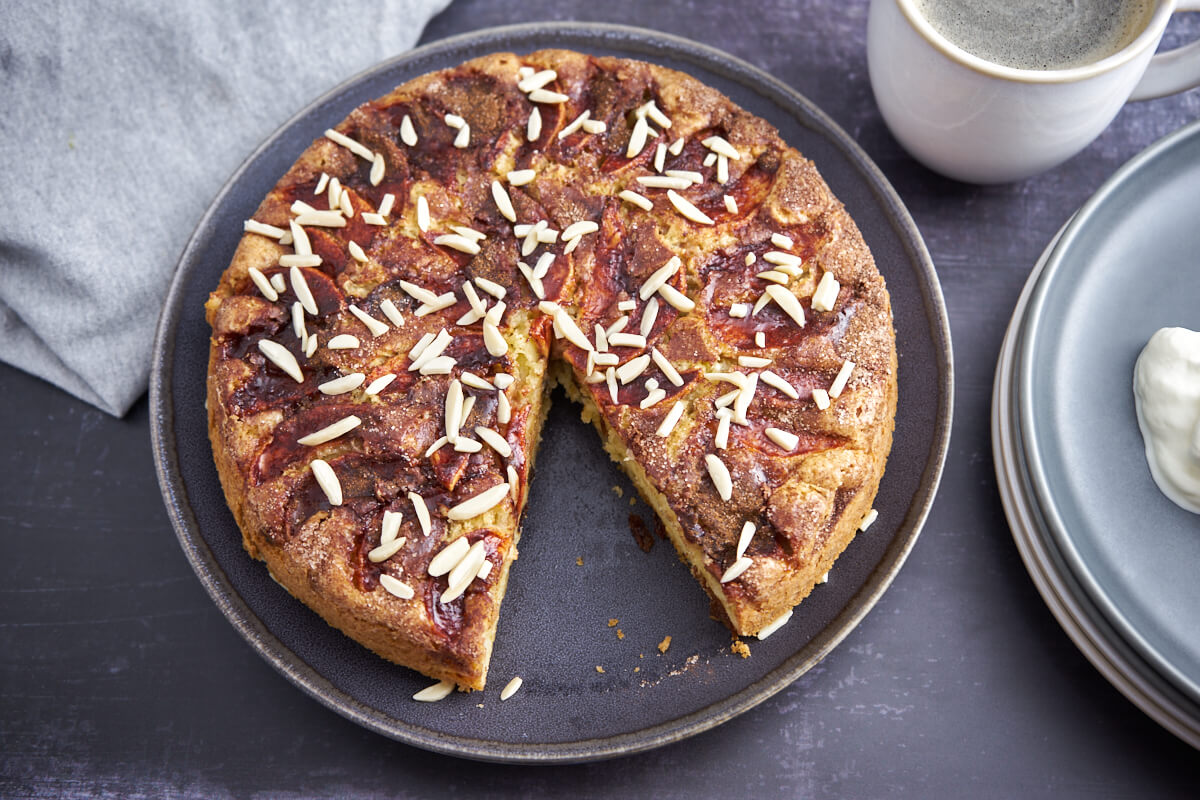 Ingredient notes
All-purpose Flour – Use the wheat flour you normally do.

Butter – Unsalted plain butter. Use real butter and not margarine or a mixed product, you can really taste it in the cake.

Vanilla – Use a vanilla bean if you have it, or vanilla powder or paste.

Vanilla essence – It just gives the vanilla flavor an extra boost.

Raisins – Gives a delicious and spongy cake, but can be omitted if you don't like them.

Apples – Preferably a little acidic for the sweet cake.

Cinnamon – The cinnamon should be mixed with sugar and sprinkled on top of the cake.

Almond flakes – Or almond chips, give a good crunch and a good taste to the cake.
How to make Danish apple cake?
This cake is a very easy apple cake. You can actually also use the dough for blackberry cake, pear cake, pineapple cake, or all sorts of other types of cakes. Only imagination sets the limit.

So this version is with apples, raisins, and cinnamon.

The procedure is really simple. Eggs and sugar are whipped together, then vanilla must be added. Then whip in the cooled melted butter, and finally sift baking powder and flour into the dough, which is again mixed until completely smooth. Apple pieces and raisins are put into the dough and it goes in a greased springform pan.

The cake is topped with apple slices, cinnamon sugar and almond flakes, and baked for about 40 minutes. Then the cake is ready to serve. It is delicious to serve warm, but it can also easily be eaten cold, and it stays nicely spongy until the next day.

Find the full recipe further down this page.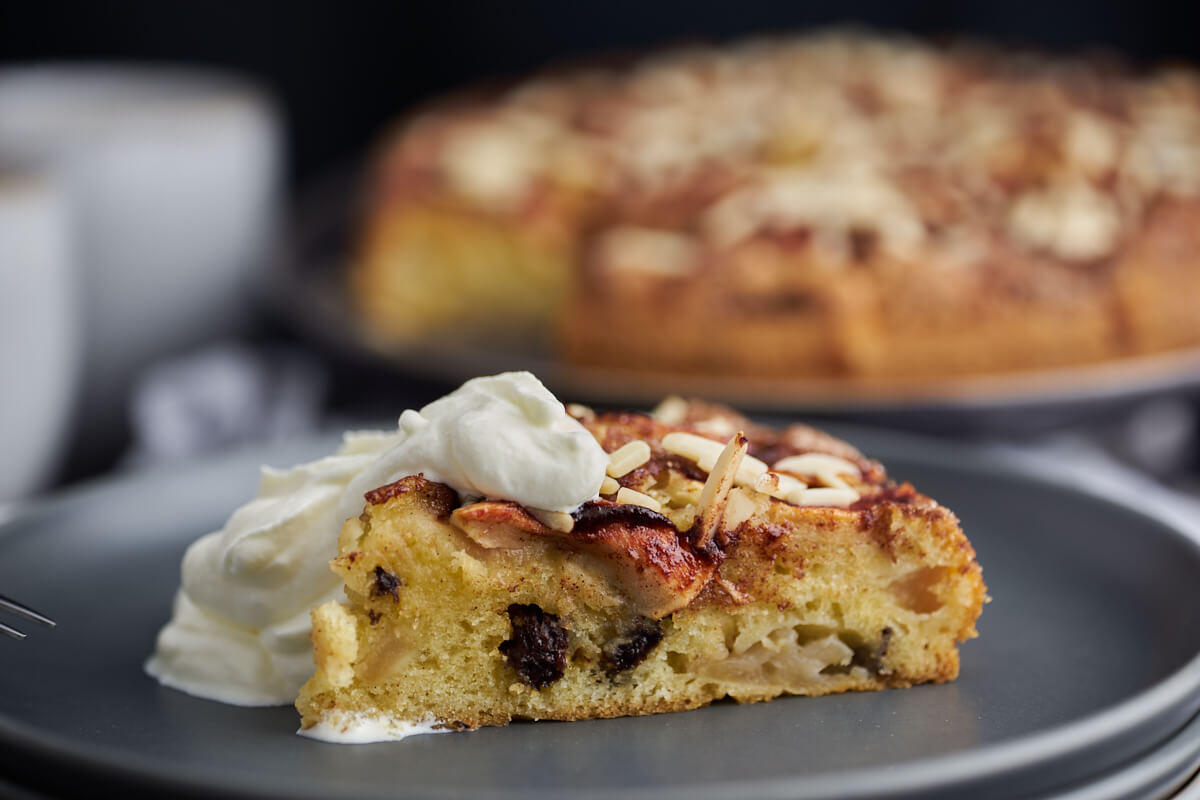 Frequently asked questions
Can the apple cake be frozen?
Yes, this apple pie is very suitable for freezing, so you can easily freeze any leftovers.
Can I bake the cake a day ahead?
Yes, you can easily bake the cake the day before, it easily stays delicious and spongy. Wrap it in airtight packaging when it has cooled down completely.
What to serve with danish apple cake?
It is delicious with a lightly whipped whipped cream, sour cream, or vanilla ice cream for an apple cake with cinnamon.
Other danish dessert recipes you might like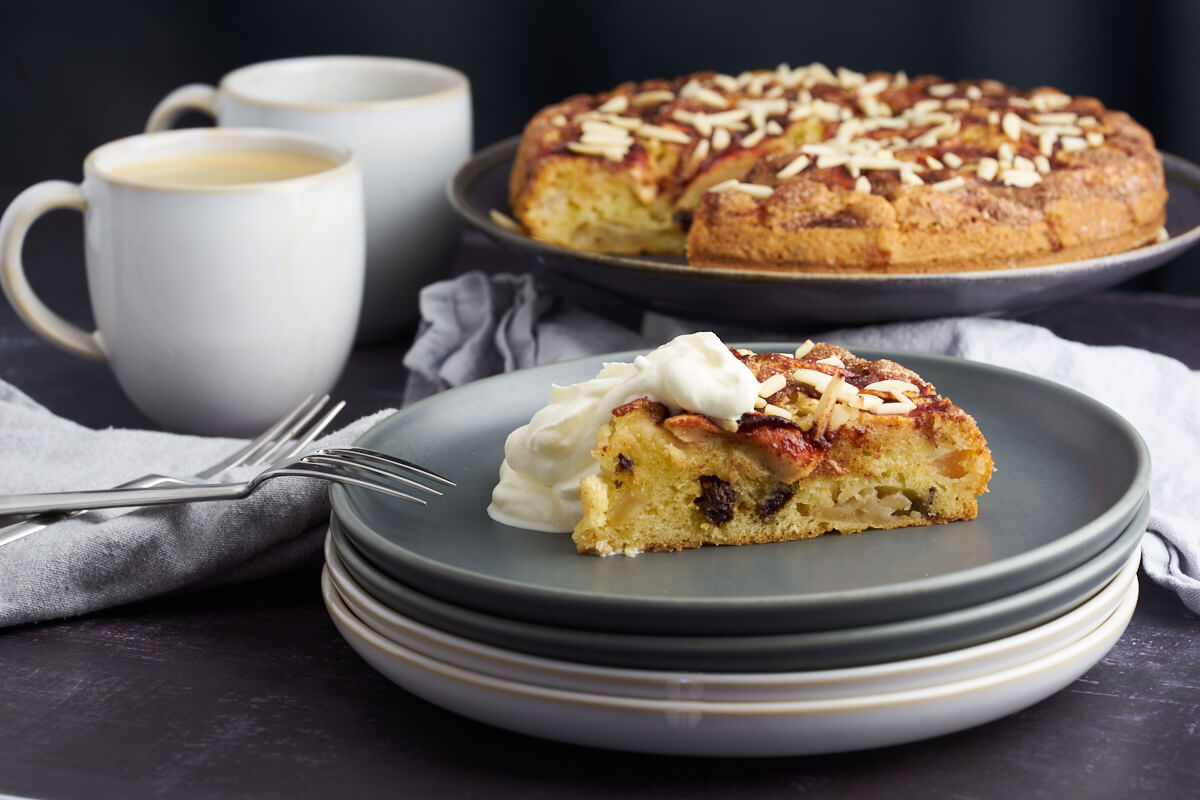 Recipe for moist baked apple cake
Here is our recipe for a classic Danish baked apple cake with cinnamon. It's super easy to make and it's done quickly.

It is also a nice child-friendly cake with mild flavors, and you can use it both for afternoon coffee or with a scoop of vanilla ice cream for a nice dessert. We hope you enjoy our apple cake recipe.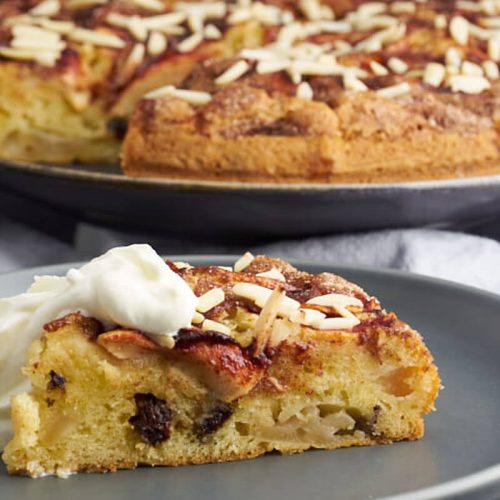 Danish apple cake with cinnamon
Recipe for baked danish apple cake with cinnamon
Baked apple cake is always a hit with the whole family. It is a super easy and delicious cake with apples and cinnamon as well as almonds on top. Serve it with whipped cream or sour cream for afternoon coffee or with a scoop of good vanilla ice cream as an autumn dessert.
Ingredients  
2

eggs

200

g

sugar

200

g

butter

1

vanilla bean

1

tsp

vanilla essence

1

tsp

baking powder

with top

200

g

all-pourpose flour

2

apples

1

dl

raisins

can be omitted
Topping:
2

apples

2

tbsp

sugar

1

tbsp

cinnamon

1

dl

almond flakes

can be omitted
Instructions 
Turn on the oven and heat it up to 180 degrees Celcius normal heat.

Put eggs and sugar in a bowl and beat until light, white and fluffy. Here it is an advantage with an electric whisk or a mixer.

Split the vanilla bean, scrape out the grains, mix it with a little sugar and beat it together with the egg mixture and the vanilla essence.

Put flour and baking powder in a sieve and sift it into the egg mixture, mix it again until it is a smooth dough.

Melt the butter in a saucepan and allow it to cool slightly. Then slowly whisk it into the dough.

Peel the apples and cut them into pieces approx. 1 × 1 cm. Put the apple pieces and raisins in the dough and mix it all together.

Pour the dough into a greased springform pan of approx. 22 cm in diameter.

Then the cake must be topped. Peel the last apples and cut them into thin slices. Put them on top, and press them a little into the dough.

Finish by sprinkling cinnamon and sugar as well as almond flakes over the cake.

Bake the cake for approx. 40 min in the preheated oven. Here it is important to check the cake along the way, otherwise, there is a risk that it will become dry. If there is still dough on the knife when you stick it in the cake, it should have a little more time in the oven. Take it out when it is done.

Let the cake cool a bit and serve it with sour cream or vanilla ice cream or just as it is.
Nutrition
How do you like the recipe?
Have you tried this recipe? We'd love to hear what you think of it. Leave a comment, add a number of stars to the recipe and share your photo on Instagram with #madformadelskere – We love seeing your dishes ♥️
Note: This recipe is a translation of our danish recipe "Æblekage med kanel" which can be found on our danish food blog.
Also, sign up for our Facebook group where you can show pictures of the delicious food you make! You can find the Facebook group here