Pulled chicken sous vide or shredded chicken is an easy way to turn a couple of boring chicken breasts into a tasty and delicious mouthful. It is super easy to prepare pulled chicken this way. You don't have to keep an eye on it in the same way as if you make it on the grill.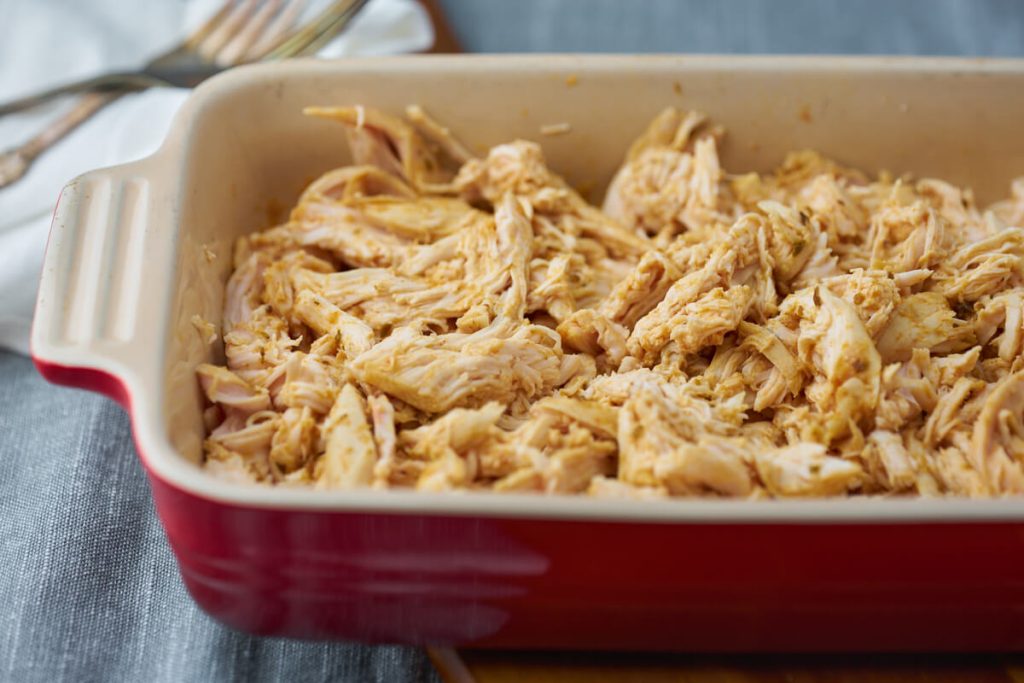 Easy and delicious shredded chicken sous vide
We are quite crazy about pulled pork on the bbq, and it is also quite another taste you get out of making your chicken this way in sous vide rather than on the grill.

You do not get the bark on the outside that is full of barbecue flavor, but chicken breast in sous vide really is something.

It is really easy to make super delicious shredded chicken sous vide without the chicken getting dry, which it often does if it is cooked in the oven.

The shredded chicken is perfect for serving in a sandwich, tortillas or tacos, or maybe in a delicious salad.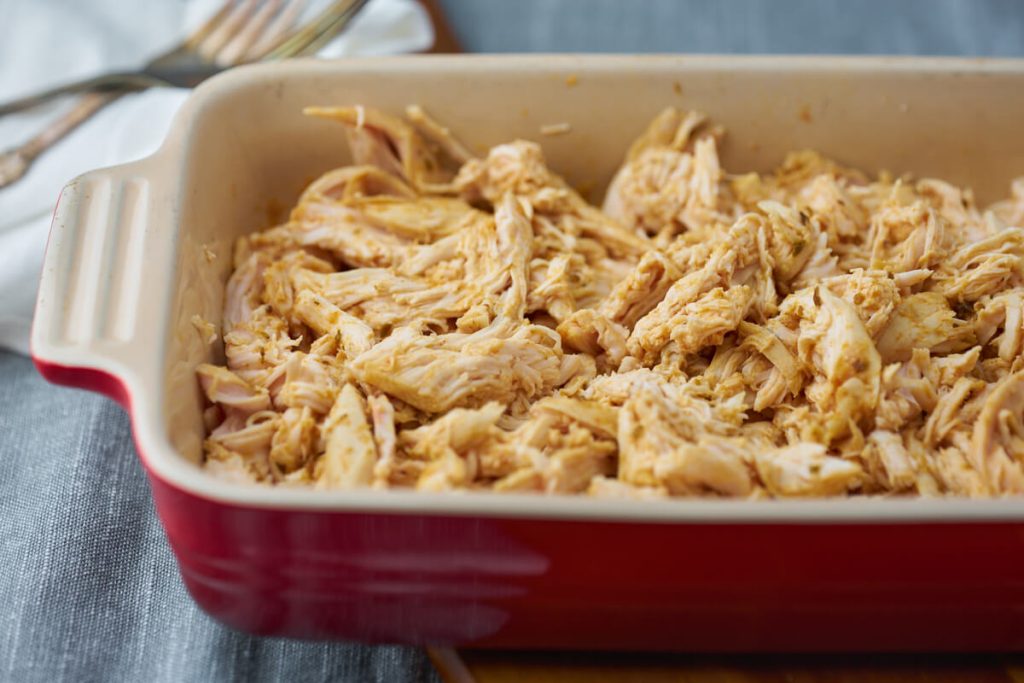 Frequently asked questions
Can leftovers be frozen
Yes, you can freeze leftovers if you cant eat it all.
How to serve shredded chicken sous vide?
– The chicken is lovely in a good burger with coleslaw.
– The chicken is really good for Mexican food, for example in taco shells or in tortilla pancakes. Here you can season the chicken with Mexican spices or choose a ready-made taco mix as an easy solution.
– Eat the chicken in a delicious salad with vegetables and a cream fraiche dressing. It's super good in the lunch box too.
Other recipes you might like
Recipe for pulled chicken sous vide
Here is our recipe for super delicious and juicy sous vide pulled chicken. The recipe allows you to vary slightly in terms of the spices you put on the chicken before it comes in the vacuum bag. Of course, it should preferably be adapted to the context in which you need the chicken when it's done.

In this recipe, you get to variations of delicious marinades you can use for the chicken, choose the one that best suits the dish you want to serve the chicken with. Either Tex Mex for Mexican food or American style for burger or sandwiched.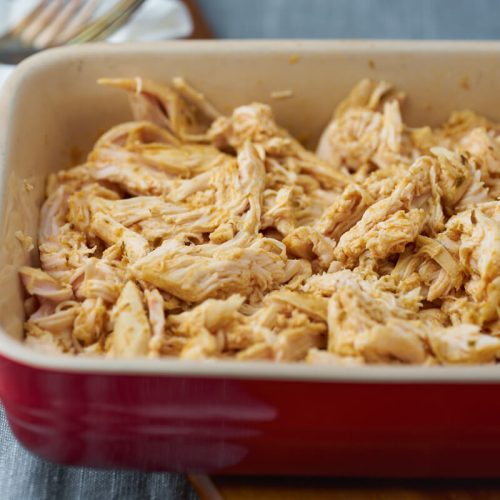 Pulled pork sous vide
Recipe for pulled pork sous vide
The best shredded chicken breast made in sous vide. It is easy to make, and you can serve it just the way you like. Try serving it in tacos or tortillas or in burgers, sandwiches or salads.
Ingredients  
Marinade tex mex style:
2

tbsp

ketchup

2

tbsp

olive oil

1

tsp

salt

1

tsp

garlic powder

1

tsp

onion powder

1

tsp

cumin

½

tsp

smoked paprika

1

tsp

brown sugar

1

tsp

oregano
Marinade american style
0.5

dl

cola

1

dl

ketchup

1

tbsp

white wine vinegar

2

tsp

soy sauce

1

tsp

onion powder

1

tsp

garlic powder

Salt and pepper

to taste
Instructions 
Preheat the sous vide bath to 65 degrees celcius (149 degrees F)

Put all the ingredients to the marinade you choose to make in a bowl and mix them thoroughly.

Put the chicken breasts in the marinade and turn it all together.

Put the chicken breasts in a vacuum bag with the remaining marinade. Vacuum the bag and seal it.

Bring the bag with the chicken breasts into the water and cook them for 4 hours at 65 degrees celcius (149 degress F)

When time runs out, the bag is picked up and the chicken is pulled into strips with two forks like pulled pork. Save the liquid from the bag and mix it in the chicken meat after you shredded it.

Serve in a burger, tacos, tortillas or in salad. Bon appetite!
Nutrition
How do you like the recipe?
Have you tried this recipe? We'd love to hear what you think of it. Leave a comment, add a number of stars to the recipe and share your photo on Instagram with #madformadelskere – We love seeing your dishes ♥️
Note: This recipe is a translation of our danish recipe "pulled chicken sous vide" which can be found on our danish food blog.
Also, sign up for our Facebook group where you can show pictures of the delicious food you make! You can find the Facebook group here