A traditional old Danish dish is elderflower fritters, which are fried elderflowers in pancake batter. They are also called something as beautiful as elder-lovers or "hyldekærester" in Danish. It is super delicious, and a sign of sun and summer at our house. It's great to go for a walk and pick the fragrant bunches, then come home and deep fry them on the terrace. Read along here and get our recipe.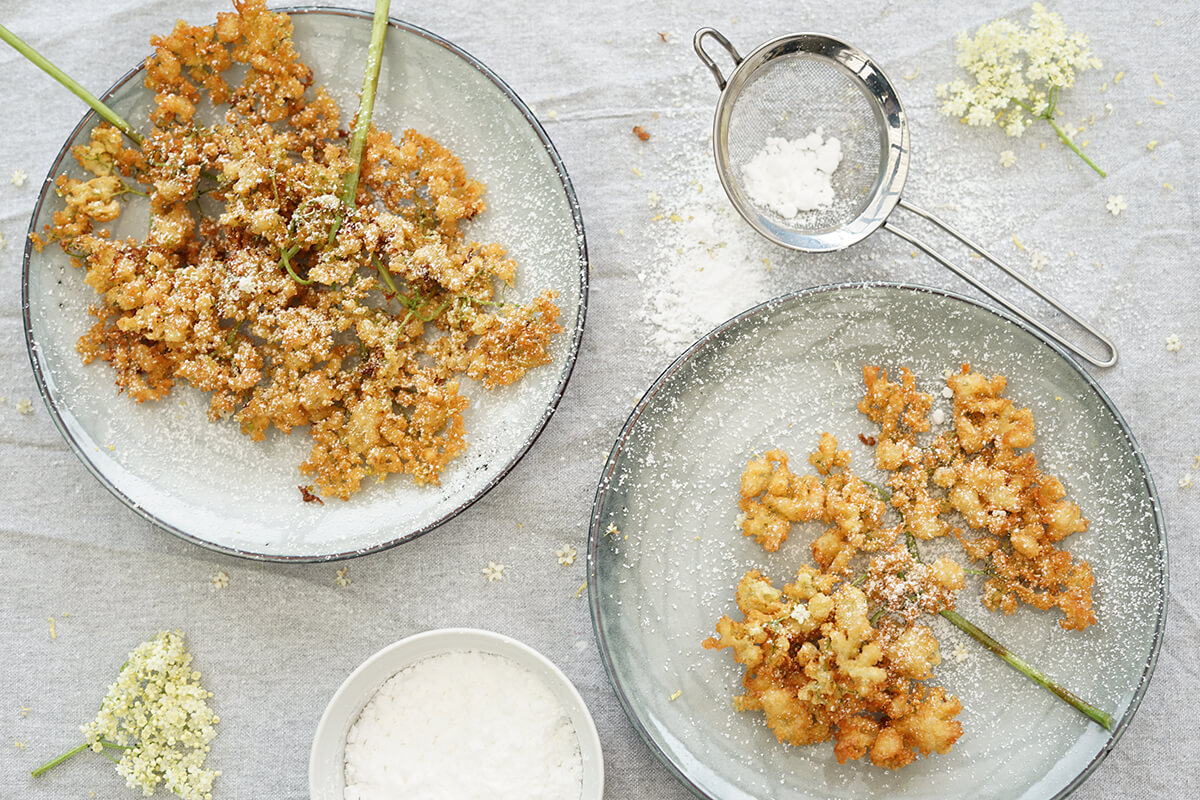 A nice family project
Weekend and new elderflowers on the trees of course means fried elderflower fritters in beer batter. It is a nice activity to pick the flowers with the whole family, and in this dish, our children are particularly fond of the large white screens.

When the elderflowers are dipped in the batter and fried crispy in the fryer, they just taste like summer. And sprinkled with icing sugar, they just get even better. If possible, pick some extra flowers so you can also make elderflower lemonade, because it also tastes great.

Here it has rained today, but we made fried elderflowers on the terrace, and despite the rain and thunderstorms, we really enjoyed ourselves – luckily the terrace is covered.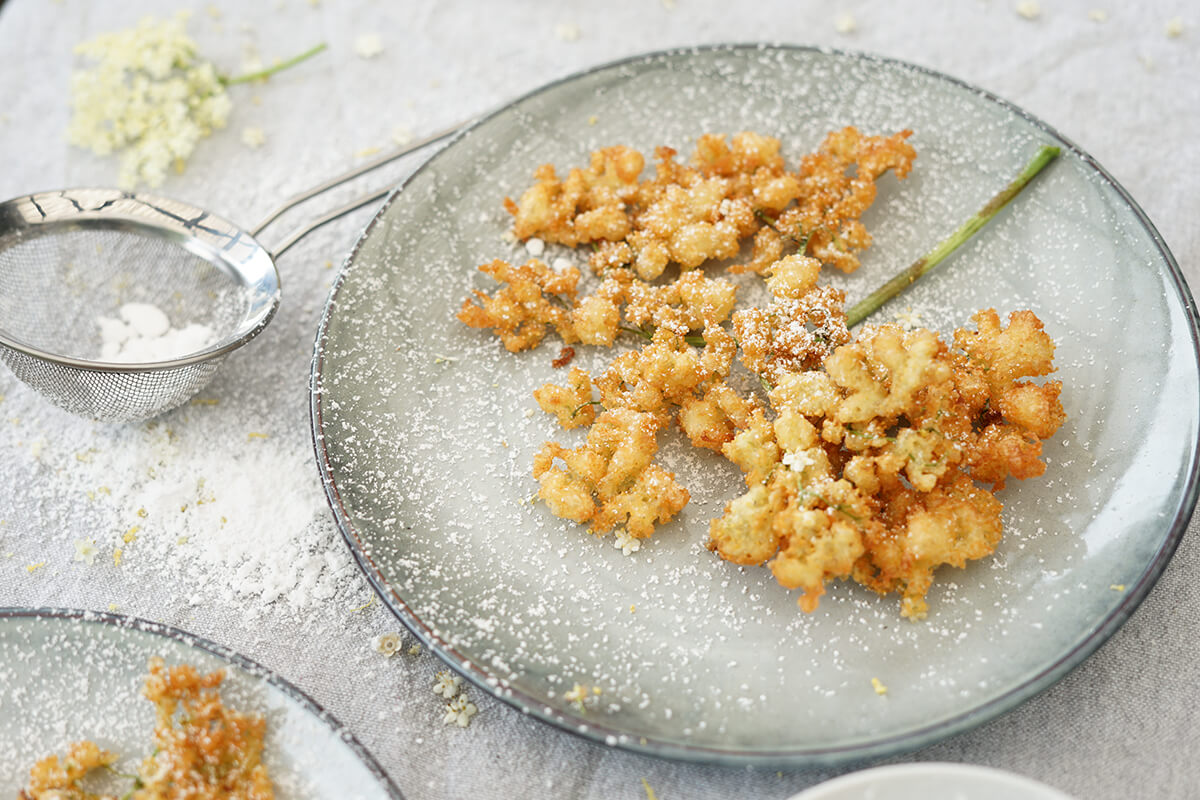 Ingredient notes
Elderflowers – Choose the largest ones you can find. The bigger, the more dessert, and the easier they are to fry.

Pancake dough – The dough here consists of milk, beer (can be replaced with water or elderflower juice), eggs, all-purpose flour, vanilla, and sugar. It is a fairly common pancake batter.

Sunflower oil – Sunflower oil or frying oil, should be used to fry the delicious elderflower fritters in.
How to make elderflower fritters?
The procedure is quite simple and it does not take long to make.

All the ingredients for the pancake batter are whisked well together, and then the dough has to rest a little in the fridge. Then dip the elderflowers in dough and deep fry in hot oil.

Let them drip off on a paper towel and serve them sprinkled with icing sugar.

Find the full recipe further down this page.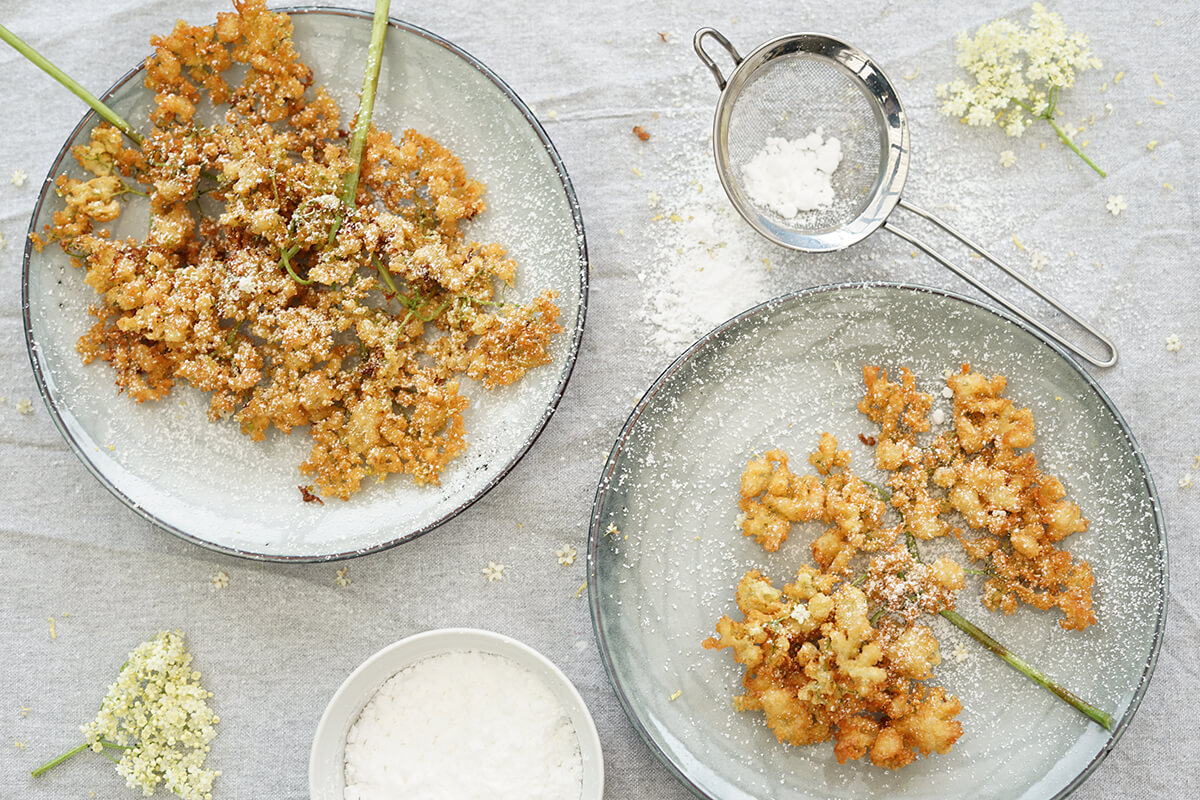 Frequently asked questions
What to serve with elderflower fritters?
A sprinkle of icing sugar is a must for these elderflower pancakes. You can also serve them with vanilla ice cream, as a nice dessert, or with a little sweet jam or fruit compote.
Can I make them ahead of time?
I would not recommend making them well in advance. When they come out of the frying oil and are dripped off but are still warm, then they are the very best. They should be crispy in the dough, and if they are left for too long, the dough will become soft.
Other danish dessert recipes you might like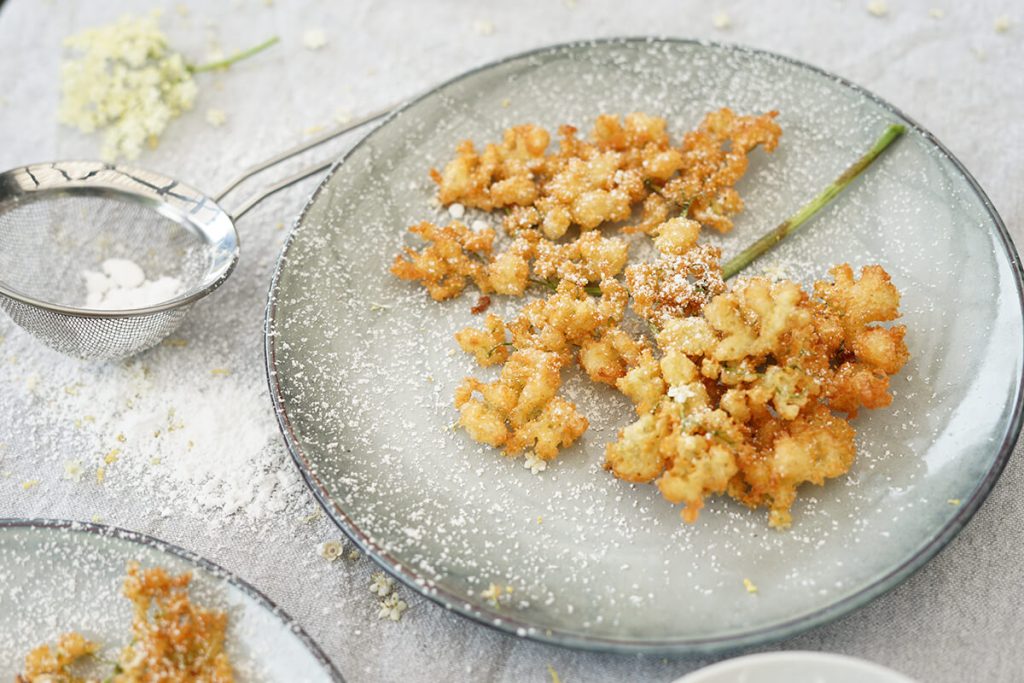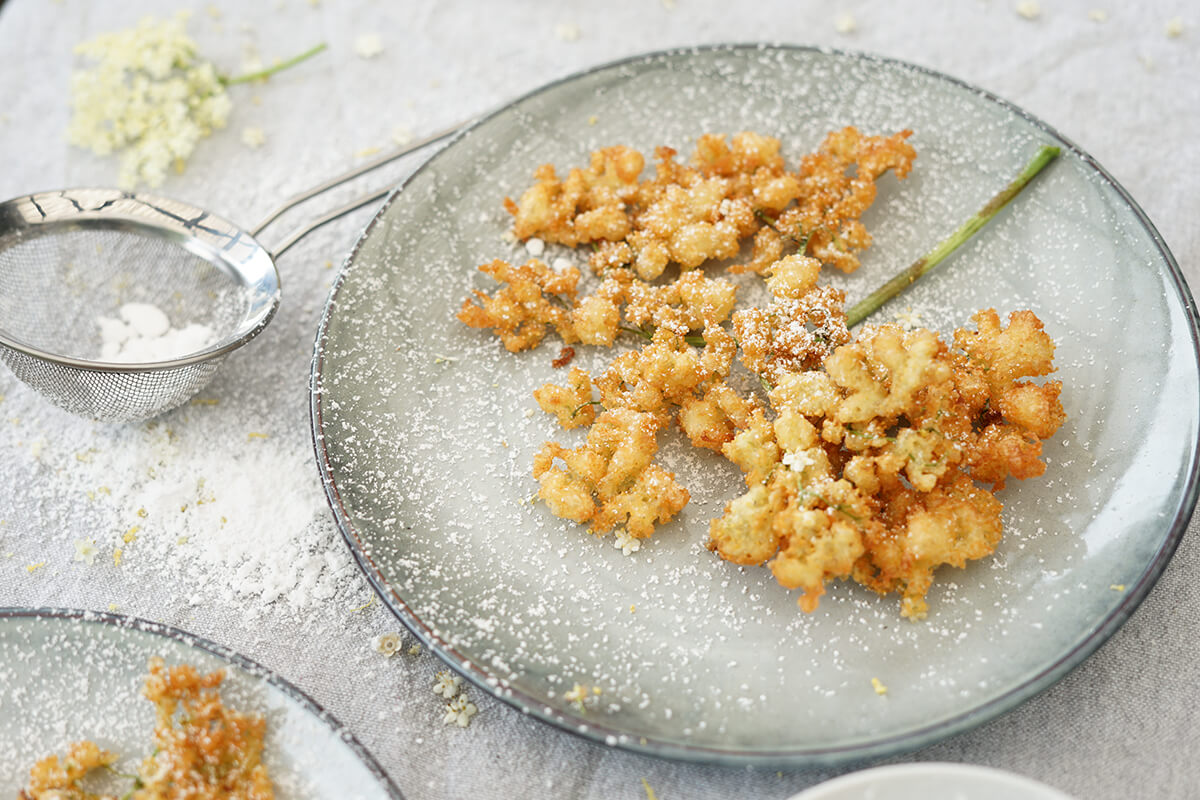 Recipe for the best fried elderflowers in pancake batter
Here is our recipe for deep-fried elderflowers in pancake batter. They are easy to make and they taste great. We like to stand outside and make it on a gas burner by our grill. This is because we are not so enthusiastic about the frying smell inside, but you can easily make them inside on the stove. Remember to turn on the hood!

In our recipe we use beer, we do the same when we make pancakes. But if you do not want to use beer in the recipe, you can replace it with water or if you have already made elderflower lemonade, you can use diluted elderflower juice to highlight the taste of elderflower.

When you need to make deep-fried elderflower fritters, pick them with a long stem. You need to use it to hold on to when they are fried. Maybe use a pair of pliers to hold on to the stem with when you get the elderflowers in the hot oil, and fry them one at a time. The oil may rise up when they get in, so be a little careful and keep the kids at a distance.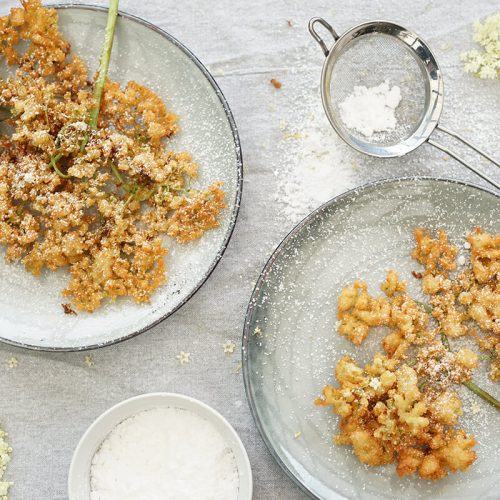 Elderflower fritters
Recipe for danish elderflower fritters
Crispy and great smelling elderflowers in pancake batter that are deep-fried are a wonderful summer dessert or snack. They are easy to make and then they taste great with a sprinkle of icing sugar on top. Just take the family out and collect elderflowers, then you can make elderflower pancakes in no time.
Ingredients  
Batter:
1

dl

milk

1,5

dl

beer

2

eggs

80

g

all-purpose flour

1

tsp

vanilla paste

2

tbsp

sugar
Instructions 
Whisk all ingredients for the batter well together. Refrigerate the batter for approx. 30 minutes.

Heat the oil in a pan. Check if the oil is ready with a toothpick made of wood. If it sews around the toothpick when you put it in, the oil is warm.

Fry one umbel at a time. Start by shaking it, so small animals fall out. Dip it in the batter and place it in the hot oil. Hold the stem with a pair of tweezers or a fork while fried golden and crisp in the oil. Then put it on paper to drip off. Continue until you have roasted all the flower umbels.

Sprinkle with icing sugar and serve right away.
Nutrition
How do you like the recipe?
Have you tried this recipe? We'd love to hear what you think of it. Leave a comment, add a number of stars to the recipe and share your photo on Instagram with #madformadelskere – We love seeing your dishes ♥️
Note: This recipe is a translation of our danish recipe "Friterede hyldeblomster i pandekagedej" which can be found on our danish food blog.
Also, sign up for our Facebook group where you can show pictures of the delicious food you make! You can find the Facebook group here