Delicious creamy scalloped potato with the perfect taste. Air fryer scalloped potatoes are an easy way to make a classic potato gratin. Served with some delightful meatballs or a grilled leg of lamb, it doesn't get much better. Read on for our recipe.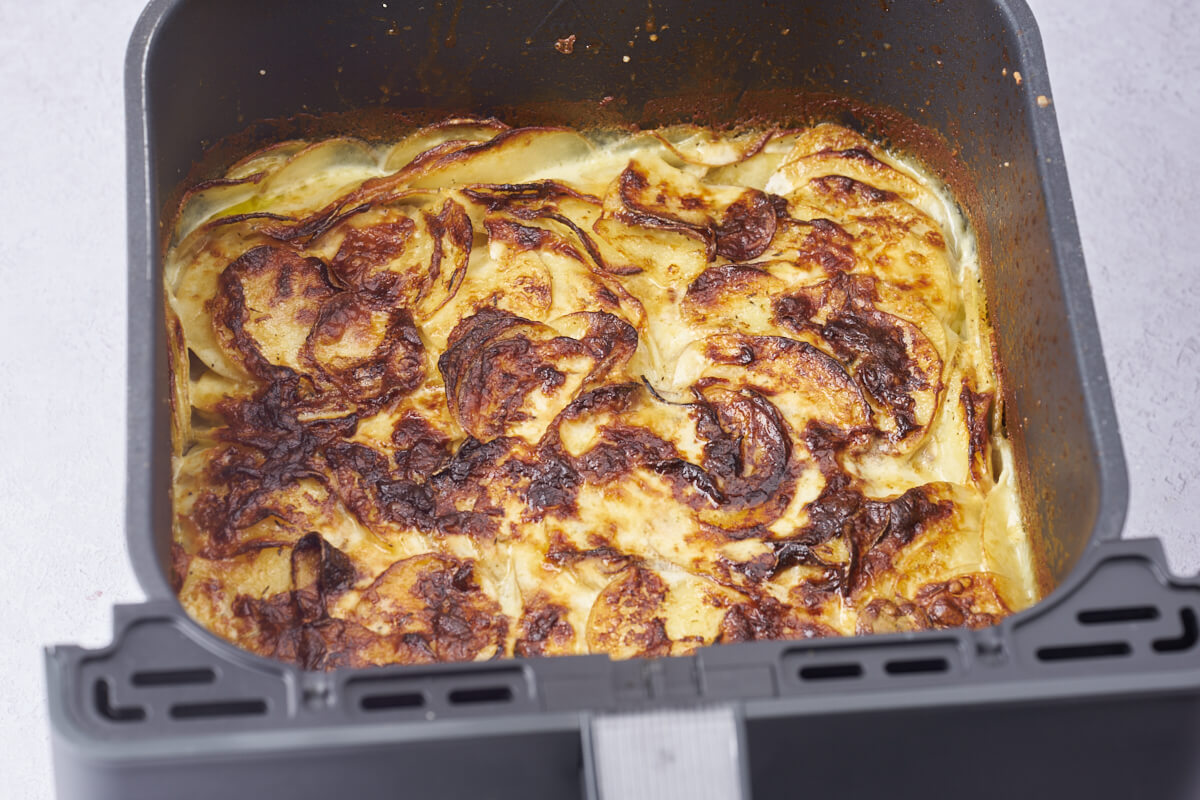 Dad's scalloped potatoes
If there's something that can make our son Johannes happy, it's when dinner is meatballs and scalloped potatoes, and it has to be dad's scalloped potatoes, otherwise, it won't do. There are many ways to make delicious creamy potatoes, but the cream is common to all recipes, of course.

It's not that complicated to make them from scratch, a little onion and spices, and you're good to go, and in an air fryer, it goes a little faster, and you also save on electricity. I usually use a mandolin slicer to cut the potatoes into slices, it makes it a little easier, but be careful with your fingers, it's not pleasant to cut yourself on one of those!

I usually heat the cream in a saucepan with spices, so you get some extra flavor out of the bay leaves before pouring everything over the potato slices and tossing them.

Then it's just a matter of sliding the basket in and waiting. It may be worth flipping everything over a couple of times during cooking. If you haven't tried making scalloped potatoes in an air fryer yet, I can only recommend it!

Remember that there is a difference in how different air fryers heat, so check the potatoes and feel if they are tender.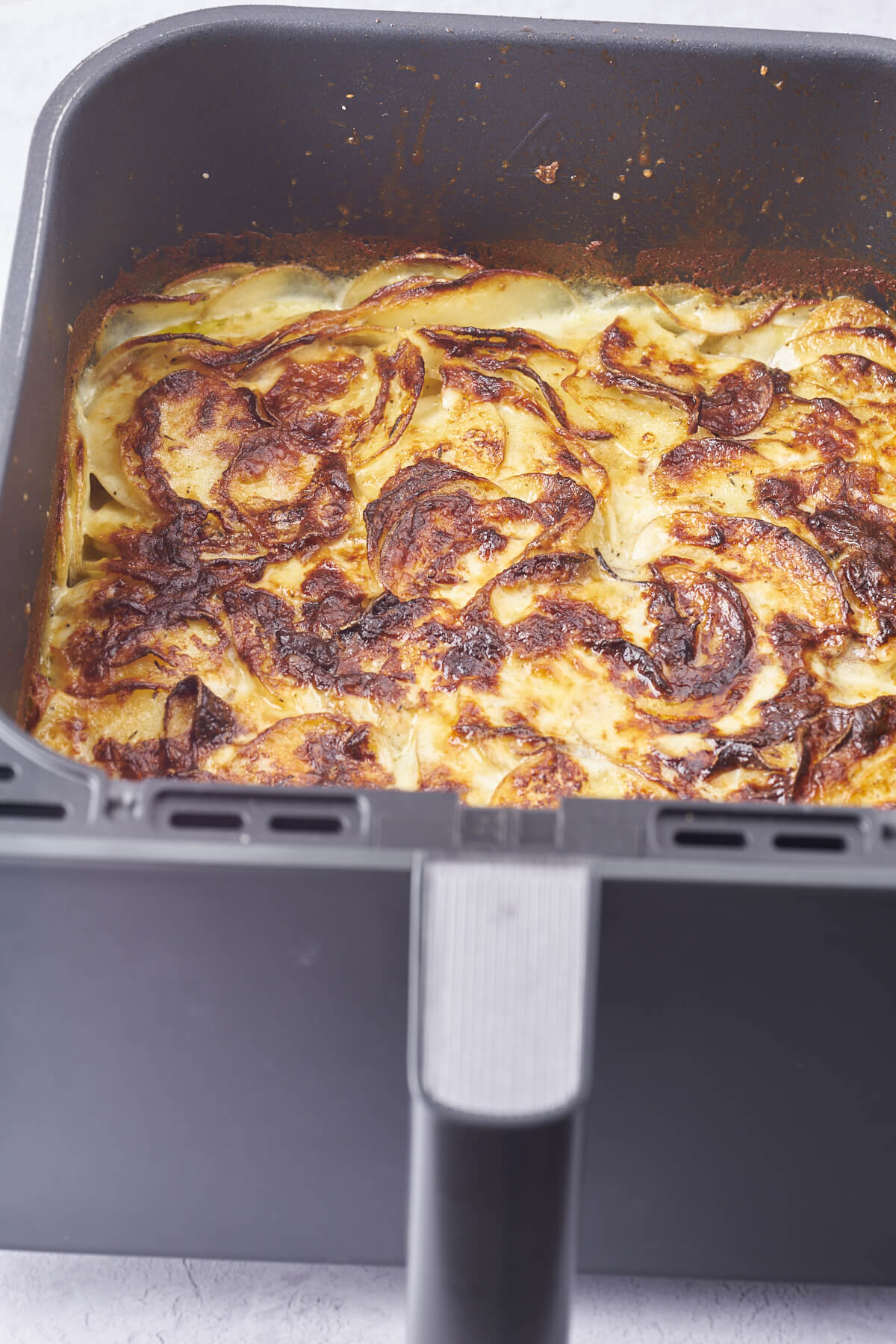 Ingredient notes
Potatoes – Regular potatoes, I don't always peel them, but then they need to be scrubbed and rinsed well before being sliced.

Onion – The onion gives a good flavor to the potato gratin, but it can be omitted if you don't like onions. You can also replace the onion with 1 tablespoon onion powder.

Garlic – Garlic gives a good depth to the potatoes, it can be omitted if you don't like garlic.

Cream – Here I use whipping cream at 38% fat.

Water – Water dilutes the cream a bit, and can also be replaced with milk.

Thyme – Thyme, or another fresh or dried herb.

Bay leaves – Bay leaves go well with scalloped potatoes.

Salt & pepper – Remember, salt and pepper!

Nutmeg – Ground or grated nutmeg gives a really good taste that you just notice on the back end.
How to make air fryer scalloped potatoes?
Here is a brief description of how to make air fryer scalloped potatoes from scratch. There is some preparation involved, but with preparation, the best scalloped potatoes in air fryer should be on the table in under an hour.

The already washed and cleaned potatoes are sliced thinly on a mandolin slicer or with a sharp knife. They are then placed in the air fryer basket.

In a saucepan, add grated garlic, cream, water, thyme, bay leaves, onion, salt and pepper, and grated nutmeg. Bring to a boil and then pour over the potatoes. Toss before pushing the basket in and turning on the air fryer.

Now, cook the potato gratin at 175 degrees Celsius (350 degrees F) until the potatoes are completely tender, flip everything over a few times along the way. When it has become delicious and golden on the surface and the potatoes are tender, the dish is ready.

Find the full recipe further down this page.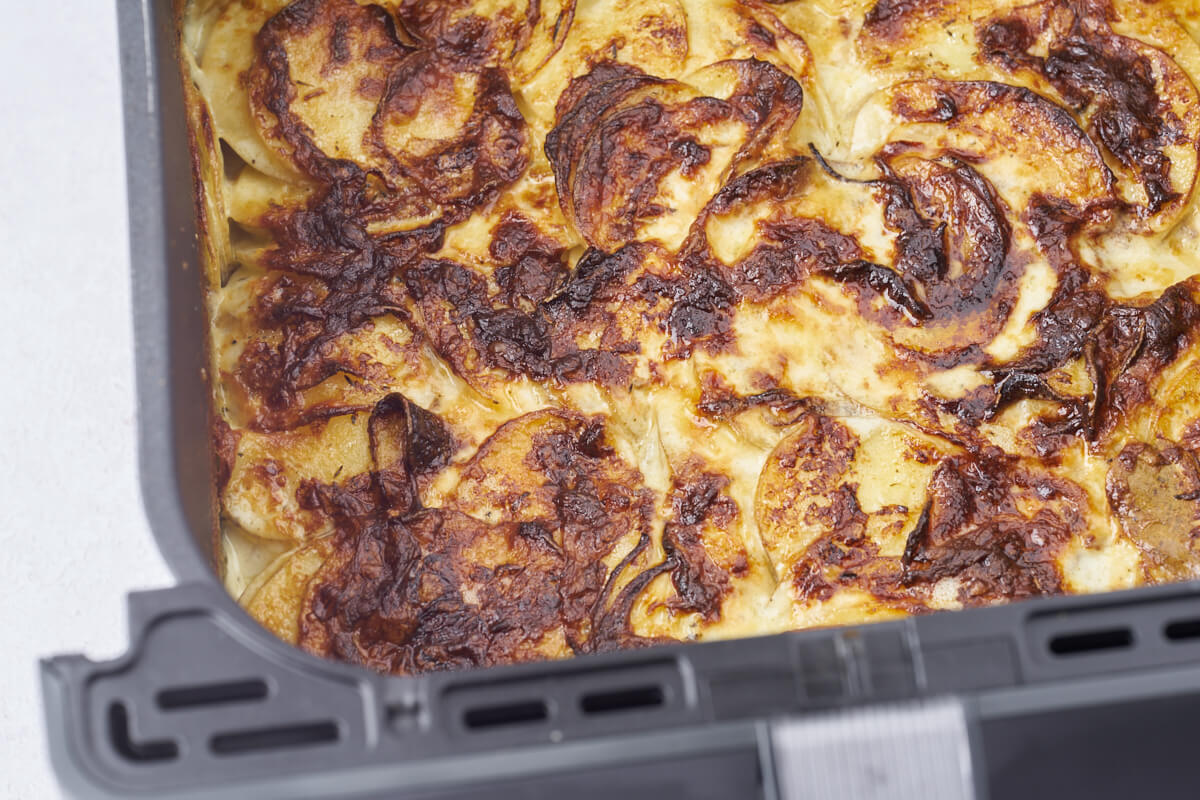 Frequently asked questions
How do you store leftovers?
Leftovers can be stored in the refrigerator for a couple of days or they can be frozen.
Can you freeze creamy potatoes?
Yes, you can. Put the leftovers in an aluminum tray or plastic container and put them in the freezer. That way, you'll always have delicious creamy potatoes ready to heat up.
Can I use something other than thyme?
Yes, try using parsley, lovage, rosemary, or sage.
Other air fryer recipes you might like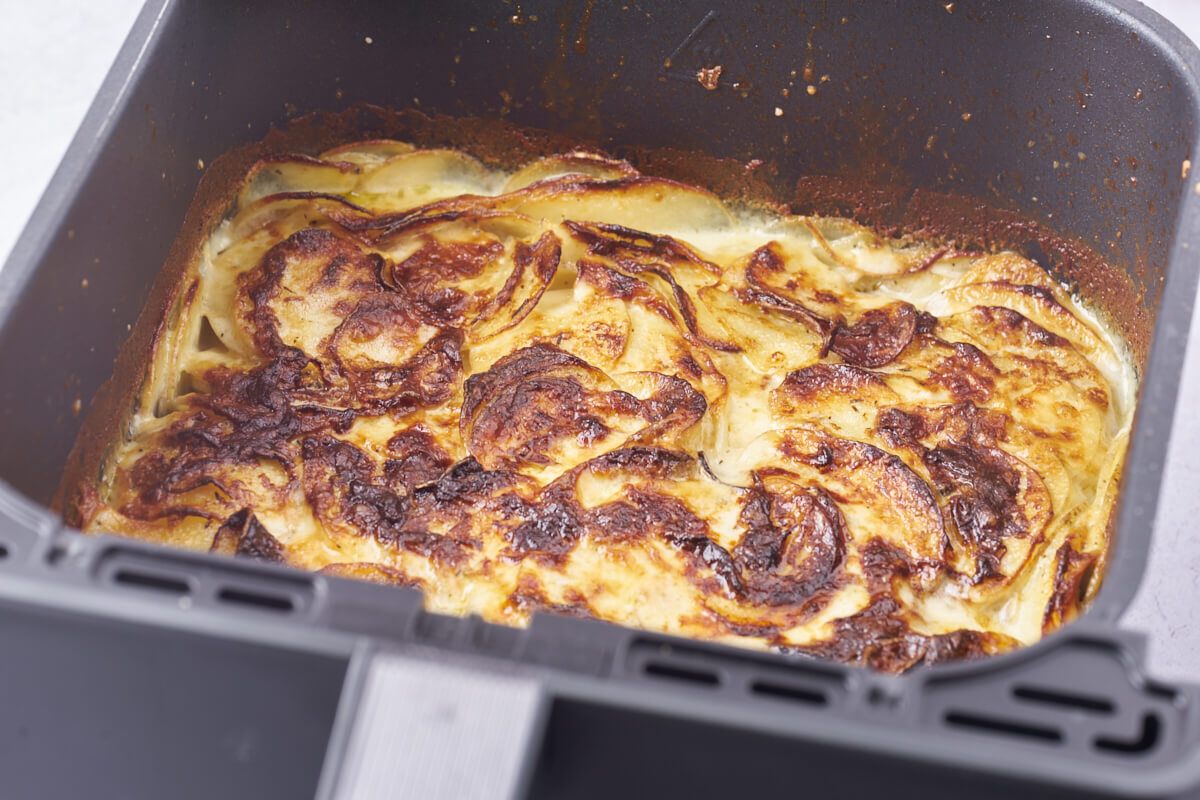 Tips and tricks for the recipe
Stir it a few times during cooking.
Try using different herbs.
Add cheese on top when ten minutes are left to make it deliciously gratinated.
Serving suggestions
Serve with sausage or other meat.
Serve with grilled leg of lamb.
Try mixing in ham and serving it as a standalone meal with a fresh salad or boiled green beans.
Do you love scalloped potatoes?

Then you should also try our recipe for Parmesan scalloped potatoes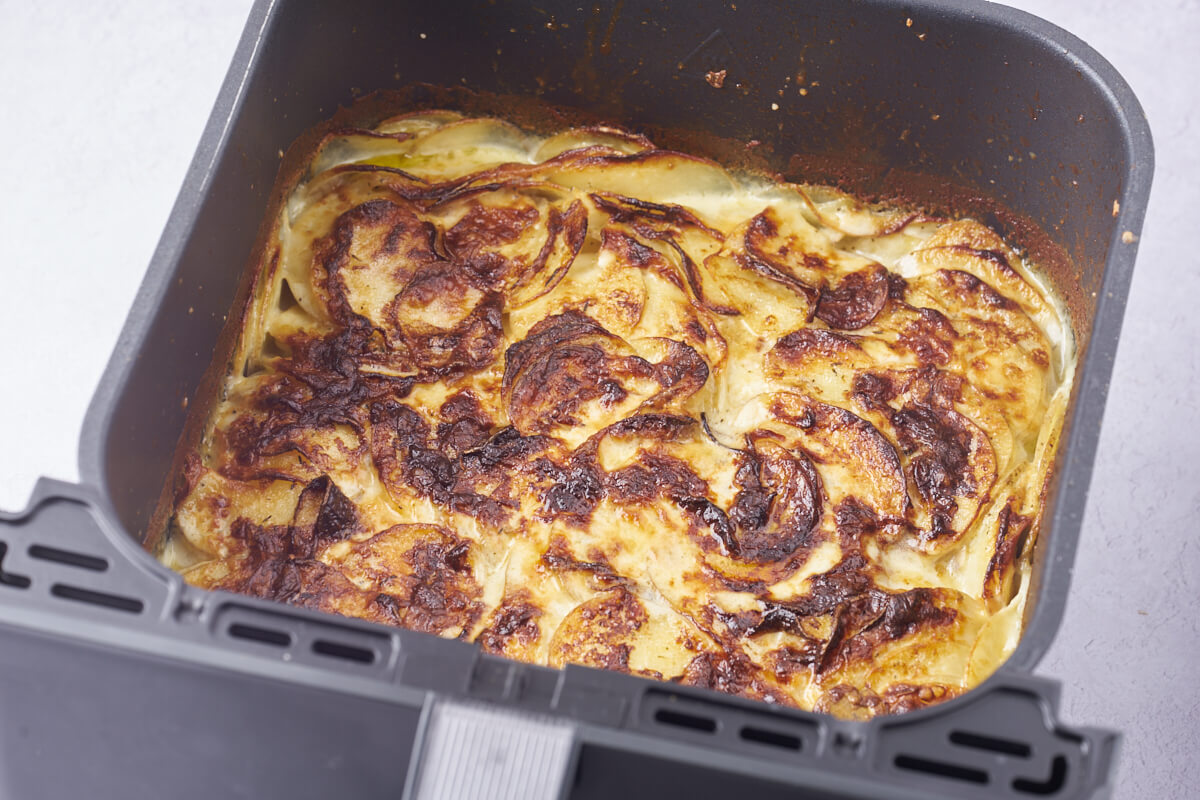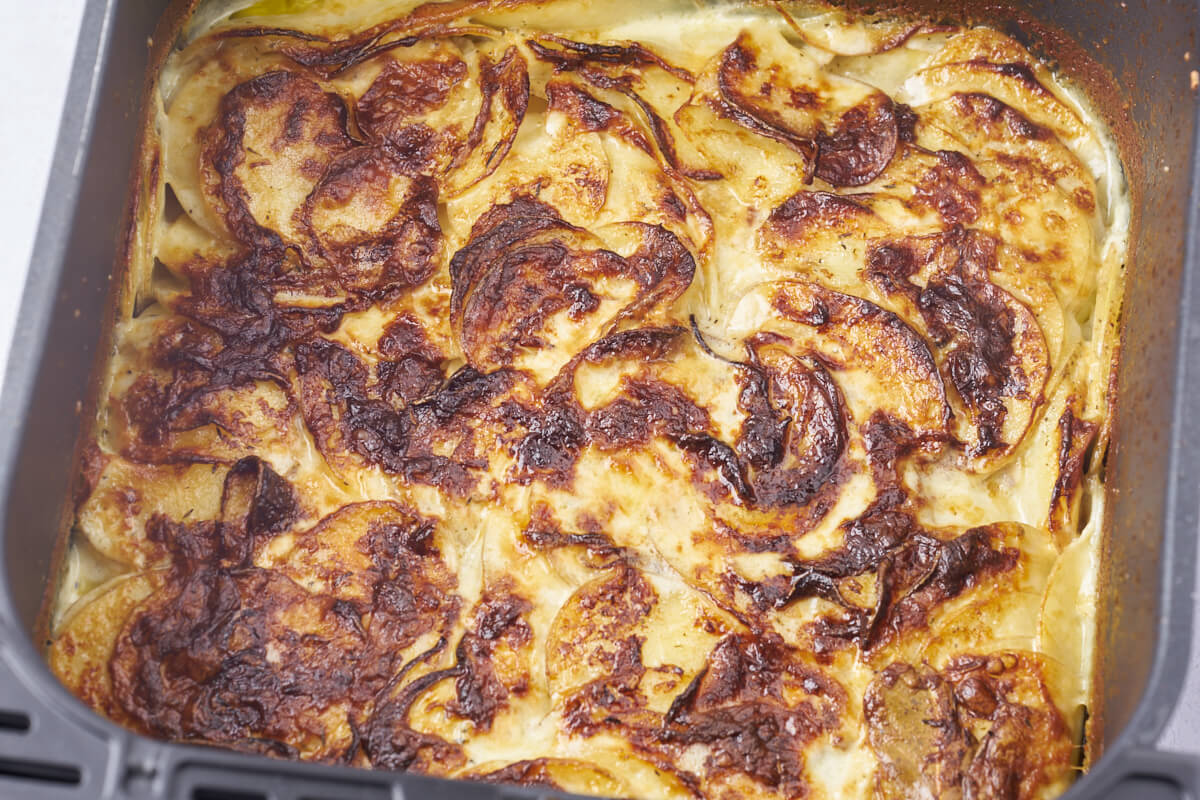 Recipe for creamy scalloped potatoes in air fryer
Here's my recipe for delicious and creamy potatoes with a really tasty flavor. They're perfect as a side dish for all kinds of meat, from chicken to beef.

If you have an air fryer and haven't tried making creamy potatoes, it's time to get started.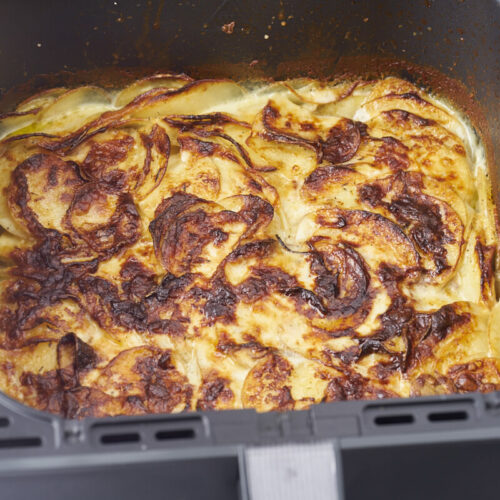 Air fryer scalloped potatoes
Recipe for air fryer scalloped potatoes
Delicious creamy potatoes made in an air fryer with the perfect flavor. Make your scalloped potatoes in less than an hour and serve them as a side dish to some delicious meatballs, ham, or grilled chicken.
Ingredients  
1.5

kg

potatoes

1

onion

3

cloves

garlic

grated finely (optional)

5

dl

whipping cream

1

dl

water

1

tbsp

fresh thyme

chopped finely

2

bay leaves

2

tsp

salt

or to taste

Pepper

to taste

1

pinch

ground nutmeg

can be omitted if you don't like the flavor.
Instructions 
The potatoes are washed in cold water and placed in a colander to drain. Then, slice them thinly using a mandolin slicer. Put them in the basket to the air fryer. I usually slice them about 3 mm thick. You can use potatoes with or without the skin.

Peel and slice the onion thinly using a mandolin slicer or a sharp knife.

In a large pot, bring the cream, water, salt, pepper, garlic, onion, bay leaves, nutmeg, and thyme to a slow boil. Remove from heat and pour the mixture over the potato slices.

3 cloves garlic,

5 dl whipping cream,

1 dl water,

1 tbsp fresh thyme,

2 bay leaves,

2 tsp salt,

Pepper,

1 pinch ground nutmeg

Toss everything around so the cream and seasonings are evenly distributed among the potato slices. Place the basket in the air fryer and cook the potatoes at 175 degrees Celsius (350 degress F) for about 45 minutes, or until the potato slices are completely tender.

– There is a big difference in how air fryers heat, so the time may vary if you use a different brand.

When the potatoes are tender, they are ready to serve.

Note: Different air fryer brands have different heating methods, so cooking times may vary. Use a sharp knife to check if the potatoes are tender before serving.
Nutrition
Serving:
1
person
Calories:
488
kcal
Carbohydrates:
49
g
Protein:
8
g
Fat:
30
g
Saturated Fat:
19
g
Polyunsaturated Fat:
1
g
Monounsaturated Fat:
8
g
Cholesterol:
94
mg
Sodium:
815
mg
Potassium:
1172
mg
Fiber:
6
g
Sugar:
5
g
Vitamin A:
1288
IU
Vitamin C:
53
mg
Calcium:
98
mg
Iron:
2
mg
How do you like the recipe?
Have you tried this recipe? We'd love to hear what you think of it. Leave a comment, add a number of stars to the recipe and share your photo on Instagram with #madformadelskere – We love seeing your dishes ♥️
Also, sign up for our Facebook group where you can show pictures of the delicious food you make! You can find the Facebook group here