It is easy and fast to make crispy bacon in an air fryer. Additionally, it creates less mess compared to frying it in a pan. If you have an air fryer and want to see how easy it is to make air fryer crispy bacon, then read on and get our easy recipe.
Cooking with hot air
An air fryer cooks food with hot air, which has many advantages. First, you avoid using oil when cooking, which doesn't matter when cooking bacon since you don't use oil anyway. As the bacon is cooked, the fat drips off and lands at the bottom of the air fryer, which is really convenient.

Furthermore, it is super quick to cook food in an air fryer, and it is cheaper in terms of electricity usage than an oven. So, it's a win-win situation.

Bacon is what we're cooking, and it's just nice to cook in an air fryer. No mess on the stove, and you don't have to stand there flipping bacon, but you can do something else instead.

As with many other appliances, there is a big difference in which machine you have. Here, the bacon is cooked in a Cosori Dual Blaze, so if you use other models, the cooking time may need to be adjusted slightly.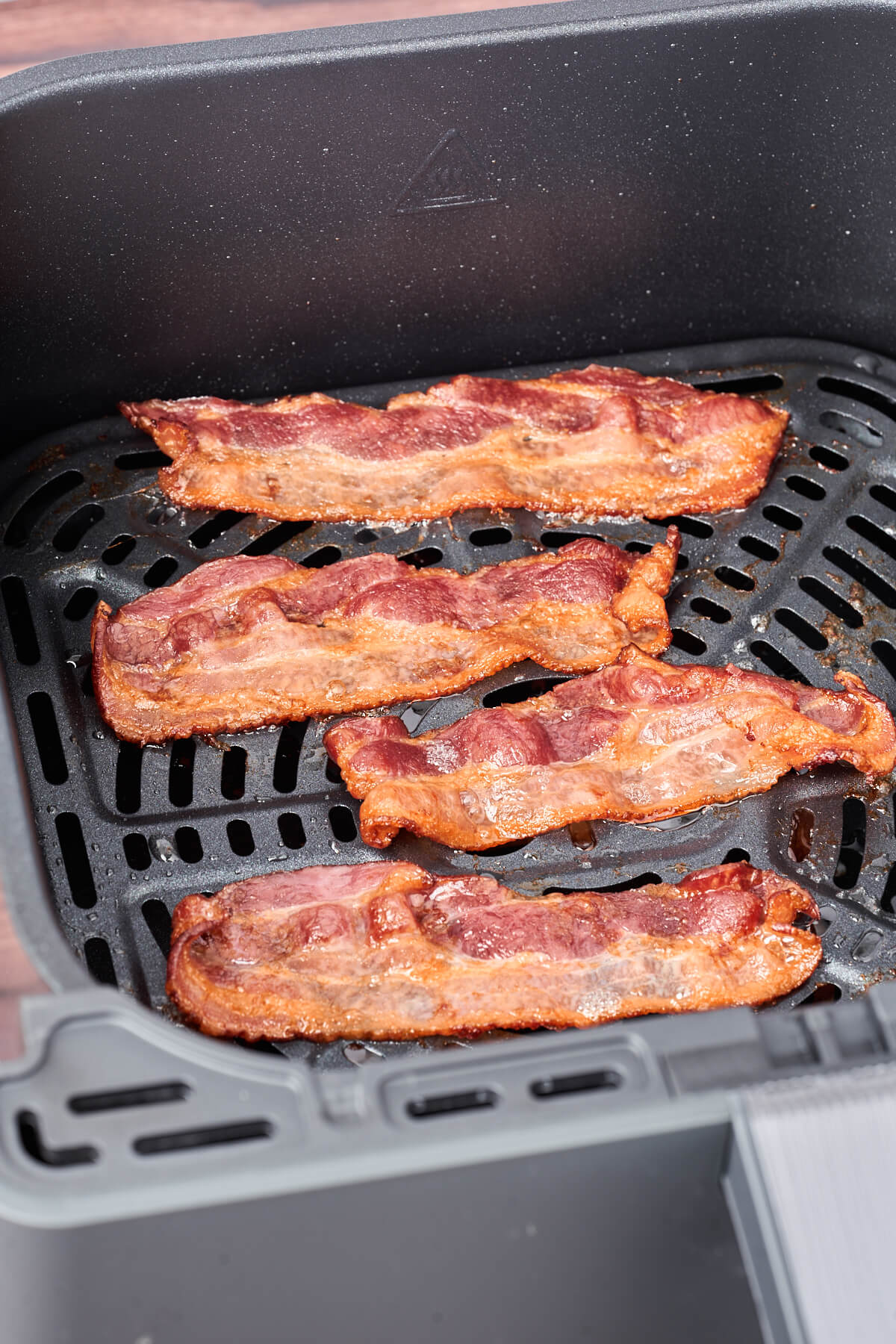 Ingredient notes
Bacon – Use the bacon you like best. Depending on the thickness of the slices, the cooking time may need to be adjusted a bit. You can use regular pork bacon or choose turkey bacon if you prefer.
How to make bacon in the airfryer?
Bacon is one of the easiest things to make in your air fryer. Simply lay the slices in a single layer in the basket, put it in, and turn on the machine. After 8-9 minutes, you have crispy and delicious bacon for breakfast or your sandwich.

Find the full recipe further down this page.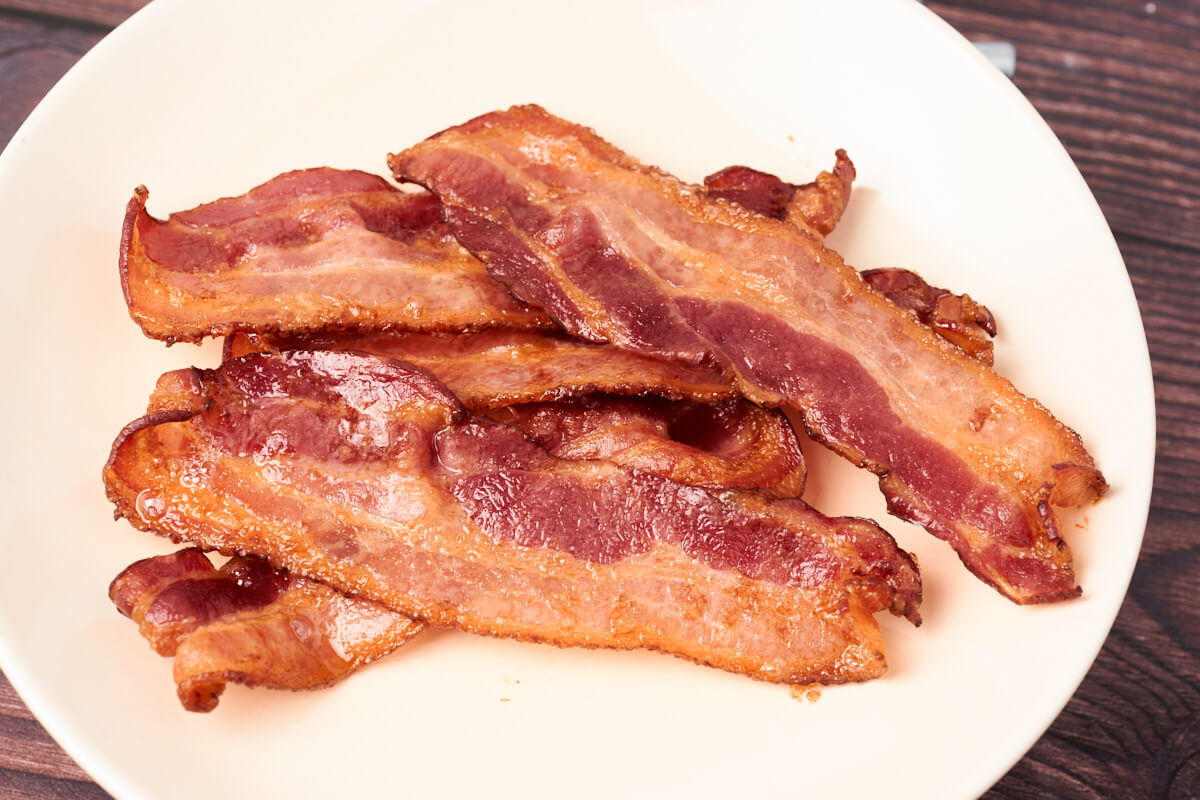 Frequently asked questions
Help, my bacon is over- or undercooked?
There is a big difference in the various air fryers on the market. So the first time you try a new recipe, it's important to keep an eye on it during cooking. Start with a little less time than indicated and add a little extra time if needed at the end. Once you've tried it once, you'll have a better idea of the cooking time in your machine. This recipe is made in a Cosori Dual Blaze.

Do I need to use oil when frying bacon in an air fryer?
No. There is so much fat in bacon that it is not necessary to add any kind of fat.
Other airfryer recipes you might like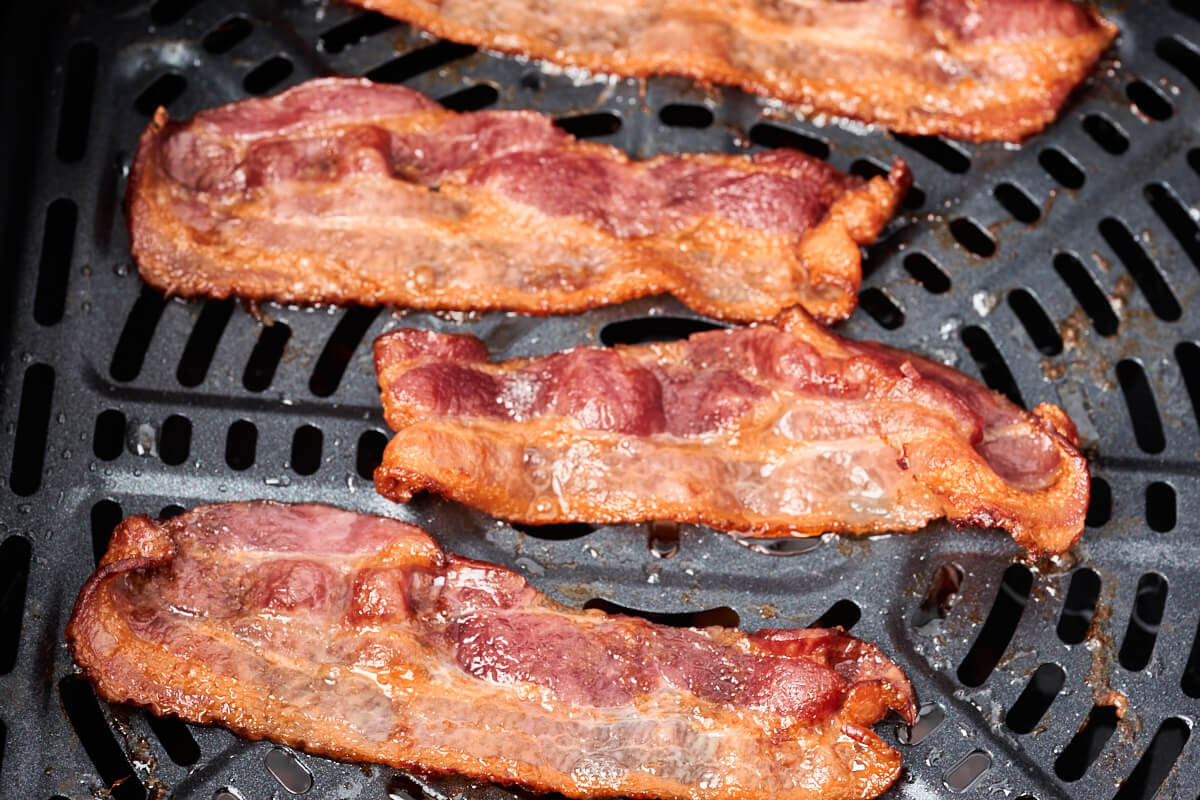 Tips and tricks for the recipe
Always lay the bacon in a single layer in the basket. Cut the slices to fit if necessary. In our air fryer, the regular packs of sliced bacon fit perfectly in the basket.
Serving suggestions
This way, you can quickly fry crispy bacon for your breakfast.
Do the kids need sandwiches for their lunch? Then some crispy bacon is always delicious.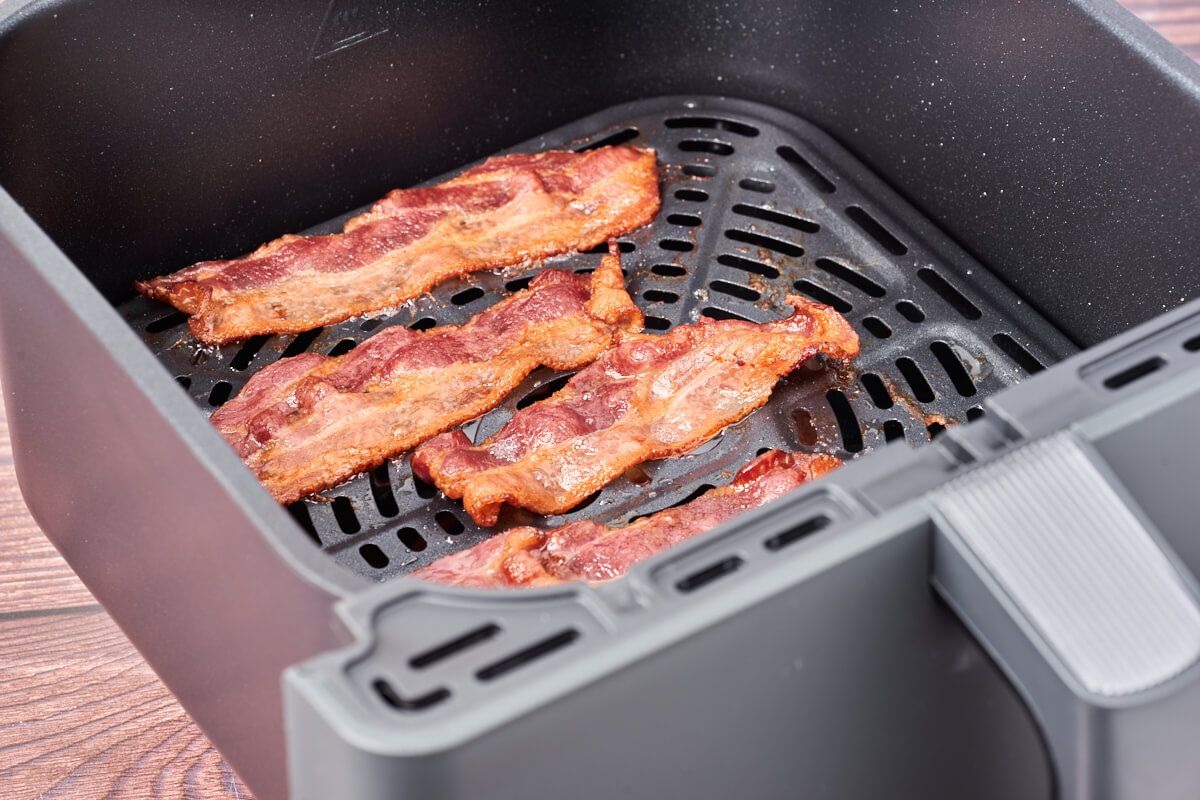 Crispy and easy bacon recipe
Here's our recipe for a really easy way to cook bacon in your air fryer. It takes a very short time, and you avoid the mess that can otherwise be made on the stove. We hope you feel like trying the recipe.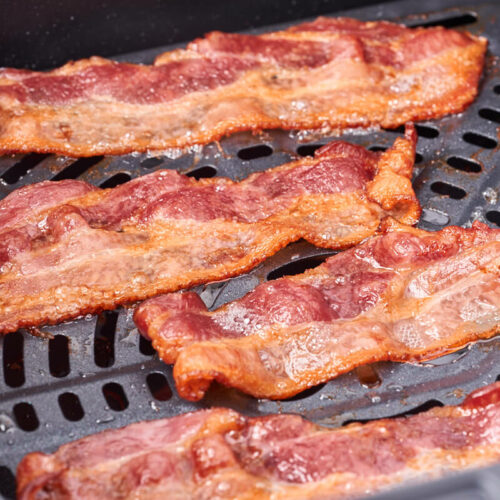 Air fryer crispy bacon
Recipe for air fryer crispy bacon
Crispy and delicious bacon in a short amount of time. It is a perfect way to cook bacon if you are serving it for breakfast or using it in your kids' sandwiches for their lunchboxes.
Instructions 
Place the bacon slices in a single layer in the basket of your air fryer. If needed, you can cut the bacon to fit in the basket.

Set the basket in the air fryer and cook the bacon at 175 degrees Celsius for 8-9 minutes.

Once finished, take out the basket and serve the crispy bacon immediately.

NOTE: Different air fryers have different heating capabilities. This recipe was developed using a Cosori Dual Blaze, so if you're using a different type, you may need to adjust the cooking time slightly. Always keep an eye on the cooking process the first time you try a new recipe, and start with a shorter time than stated in the recipe. You can always add more time if needed. The cooking time may also vary depending on the thickness of the bacon slices. We used "supermarket bacon" which was pre-sliced in packages. If you're using thicker slices of bacon, the cooking time will need to be extended a bit.
Nutrition
Serving:
1
slice
Calories:
92
kcal
Carbohydrates:
0.3
g
Protein:
3
g
Fat:
9
g
Saturated Fat:
3
g
Polyunsaturated Fat:
1
g
Monounsaturated Fat:
4
g
Trans Fat:
0.03
g
Cholesterol:
15
mg
Sodium:
146
mg
Potassium:
44
mg
Vitamin A:
8
IU
Calcium:
1
mg
Iron:
0.1
mg
How do you like the recipe?
Have you tried this recipe? We'd love to hear what you think of it. Leave a comment, add a number of stars to the recipe and share your photo on Instagram with #madformadelskere – We love seeing your dishes ♥️
Also, sign up for our Facebook group where you can show pictures of the delicious food you make! You can find the Facebook group here