We like a good hamburger or Danish beef patty as we call them. They are served both the classic Danish way with soft onions, or with all sorts of other kinds of side dishes. We really love to make air fryer hamburgers, it is easy and fast, and the cleaning is even easier. Get our recipe here.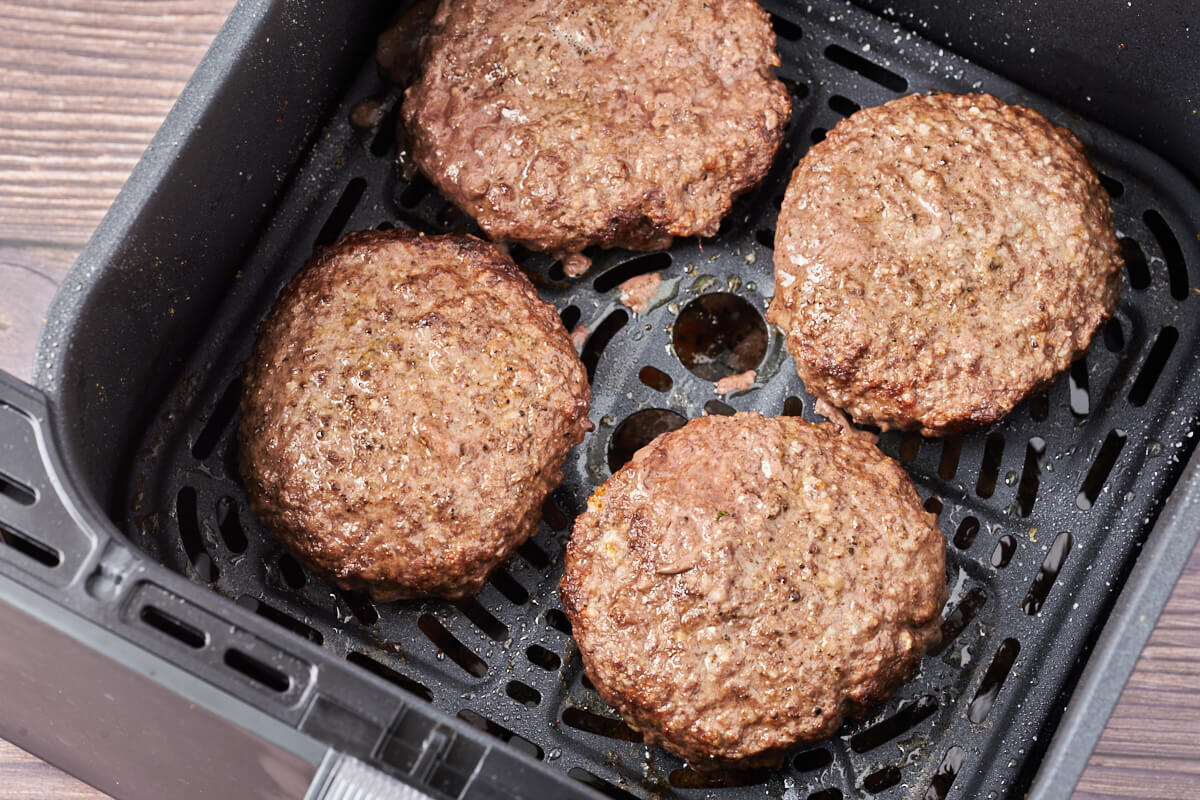 Quick and easy hamburgers in Air fryer
We like to eat Danish beef patties. It's something that all 4 of us really like, and you can vary the side dishes endlessly.

It's always nice to have a Danish beef patty with soft onions, but a with fries and béarnaise is also just lovely.

We are pretty excited about making hamburgers in our air fryer. Because it's just easy and they take care of themselves once they're put on.

In addition, it does not mess up the stove and surrounding walls, and it is easy to just throw the air fryer basket in the dishwasher.

So absolutely perfect everyday food for a busy family with children like ours.

In addition, the hamburgers are perfectly cooked every time, and you can easily fry them so that they are still pink in the middle if you also prefer to have a beef patty like that.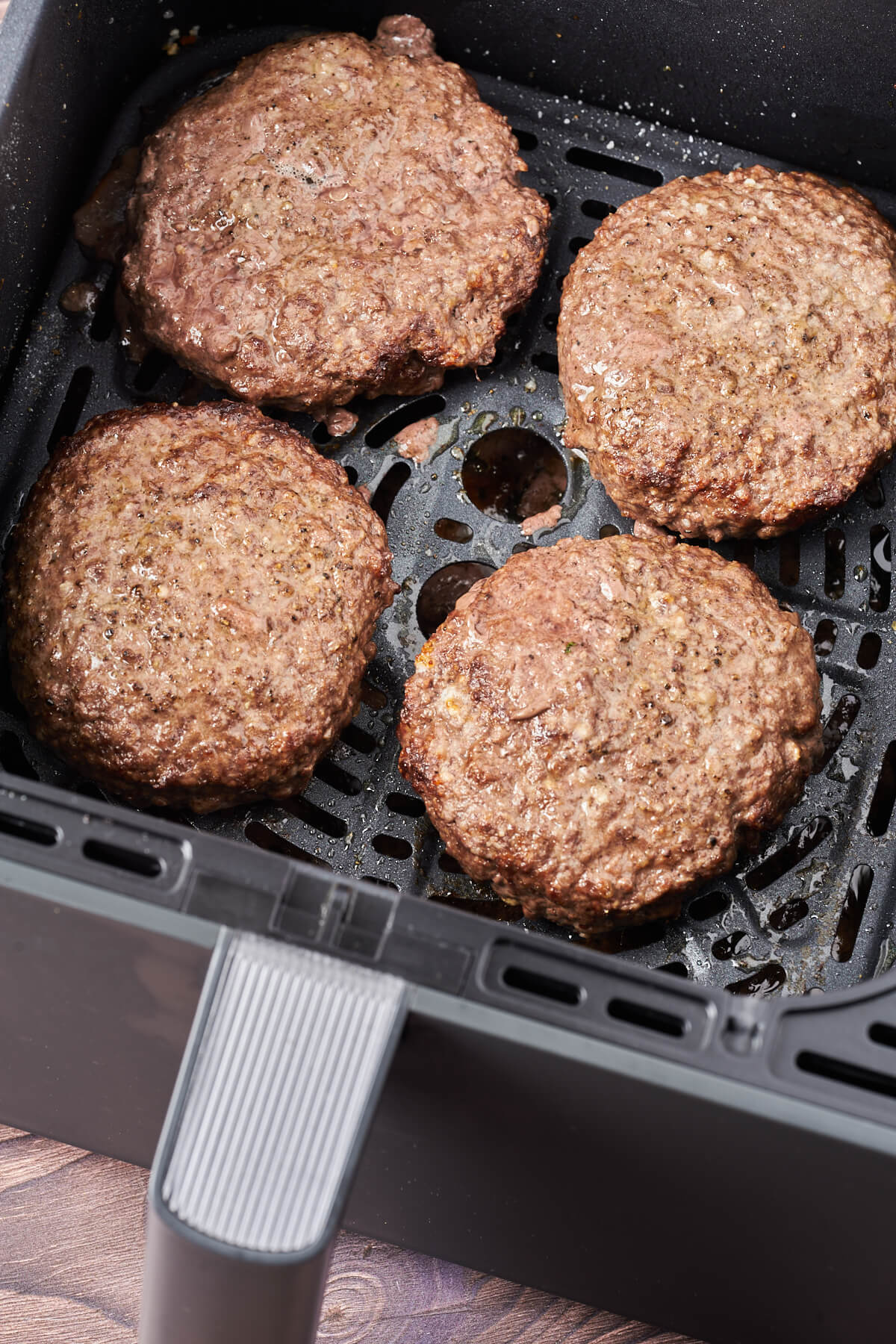 Ingredient notes
Beef – We must of course use minced beef. We usually choose something with some fat in it to get the juiciest steaks.

Salt and pepper – Classic patties just need to be well seasoned with salt and pepper, but you can of course experiment with other spices if you like.
How to make Air fryer hamburgers?
It is actually quite easy to make air fryer hamburgers.

First, of course, they must be shaped, and this is exactly the same as if you wanted to fry them in the frying pan.

After that, they get oil spray, and then they have to have salt and pepper before they are placed on the rack at the bottom of the air fryer basket.

Then the patties just need to be put in and the machine switched on, and then they need to have approximately 10 minutes at 180 degrees Celcius. Then they are as we would like them to be. Delicious and juicy. If you want them to be a little pinker, try to cook them for 8 minutes, to begin with.

It depends a lot on the type of machine you have, so the first time you make them, you have to experiment a bit until you find the right cooking time. Of course, it also depends on the thickness of the patties.

Find the full recipe further down this page.
Frequently asked questions
Can the hamburgers be frozen?
Yes, they can. If you have some hamburgs left, they can be stored in the fridge for the next day or frozen for an easy dinner another time.
Other recipes you might like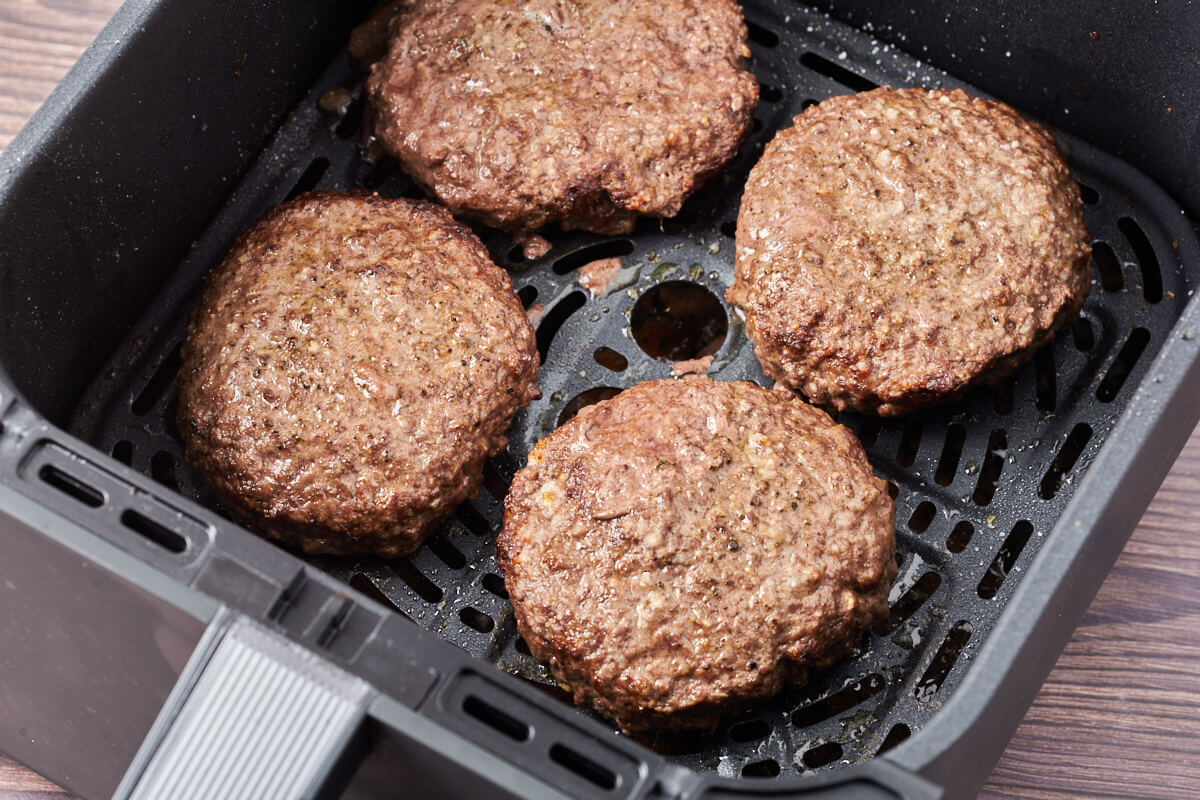 Tips and tricks for Air fryer hamburgers
The first time you try the recipe, you have to experiment a little with cooking time. It is because it is very different how air fryers heat. In ours, it is perfect with 10 minutes. But they may only need 8 in yours, or maybe 12. Once you hit the perfect time, it will be easier the next time you have to make the patties.
Serving suggestions
Serve your patties the classic Danish way with boiled potatoes, soft onions, and brown grawy, just like Danish beef patties with caramelized onions.
Serve with a nice salad, for example, a green salad with apples and cranberries and some root vegetables cooked in the oven.
Serve in homemade burger buns or your favorite way.
Do you love hamburgers? Try the recipe for Danish beef patties with caramelized onions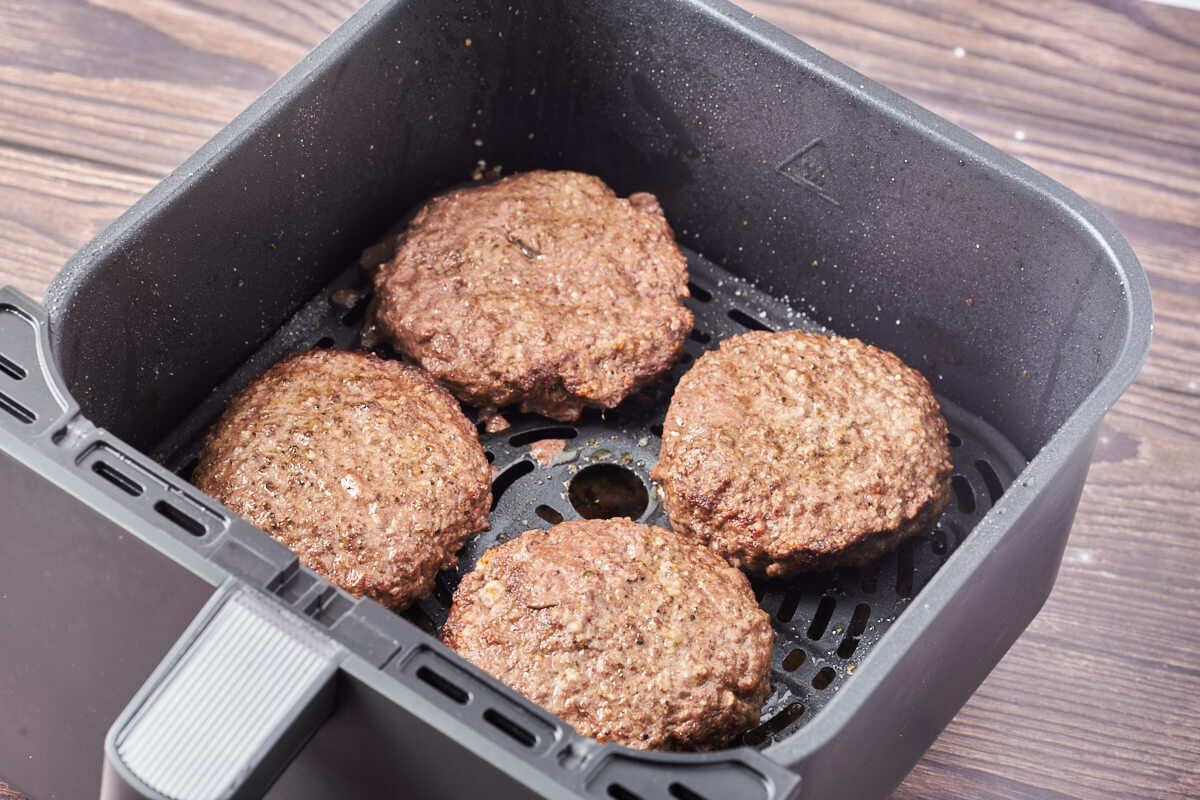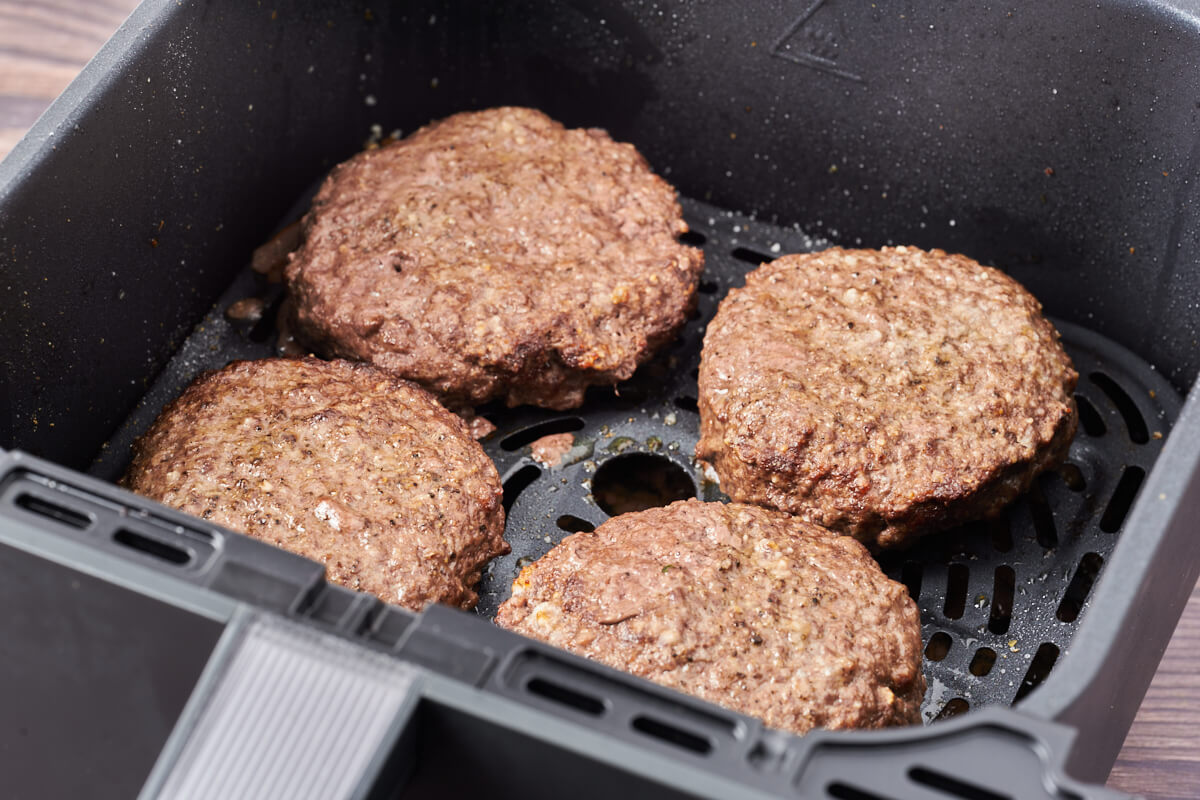 Recipe for Air fryer beef patties
Here you will get our recipe for delicious and juicy hamburgers made in the air fryer. It's an easy and quick way to make perfect beef patties, and then they take care of themselves when they're put in the fryer.

We hope you will want to try the recipe and make some delicious hamburgers for your family.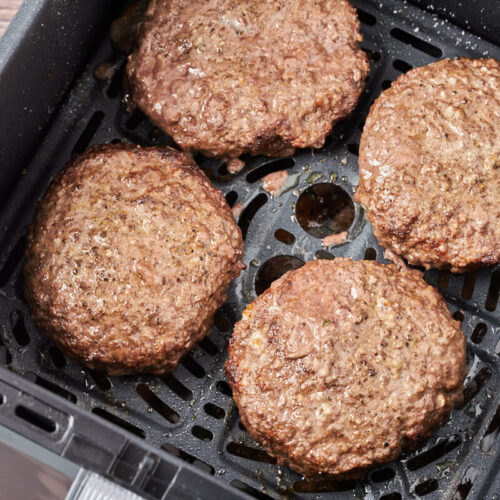 Air fryer hamburgers
Recipe for Air fryer hamburgers
Delicious Danish beef patties made in an air fryer. You can serve them with soft onions, potatoes and gravy or perhaps some lighter green side dishes. It is entirely up to you. In any case, it doesn't get much easier or faster to make delicious juicy steaks for dinner.
Ingredients  
800

g

ground beef

Olive oil

preferably a spray

Salt

to taste

Pepper

to taste
Instructions 
The ground beef is divided into portions of 200 g. Shape the meat into patties of approx. 2 cm in thickness.

– I use a steak press for that, it works quite well. You can buy them in many shops. They can also easily be shaped by hand.

The patties are sprayed with a thin layer of oil and seasoned on both sides with salt and pepper to taste.

Preheat your air fryer for a few minutes at a temperature of 180 degrees Celcius.

When the air fryer is hot, put the steaks on the rack and cook them for approx. 10 minutes at 180 degrees Celcius.

– If you want them to be slightly red, you only have to give them 8 minutes.

When the steaks are ready, take them out of the air fryer and serve them immediately.

Attention:

Not two air fryers heat the same way, so the first time you try the recipe, it is important that you keep an eye on the patties and adjust the time if needed. Our air fryer is a Cosori Dualblaze, and 10 minutes is perfect for that machine.
Notes
Storage
If you have leftovers, you can store the steaks in the fridge for the next day, or you can freeze them for another time.
Air fryer
We use a Cosori Dualblaze Air fryer, we are really happy with it, and it can only be recommended if you are looking for a user-friendly air fryer that cooks food quickly and is easy to clean.
Nutrition
How do you like the recipe?
Have you tried this recipe? We'd love to hear what you think of it. Leave a comment, add a number of stars to the recipe and share your photo on Instagram with #madformadelskere – We love seeing your dishes ♥️
Also, sign up for our Facebook group where you can show pictures of the delicious food you make! You can find the Facebook group here