When you're from the Danish island Fyn, you can't go through the apple season without getting apple pork once or twice. And right now the apples are good and perfect for this dish. In this version, the apples are boiled out a little more than many might want to do, and then it is made with bacon. Read along here and get our recipe for apple pork with bacon, which is actually grandma's recipe.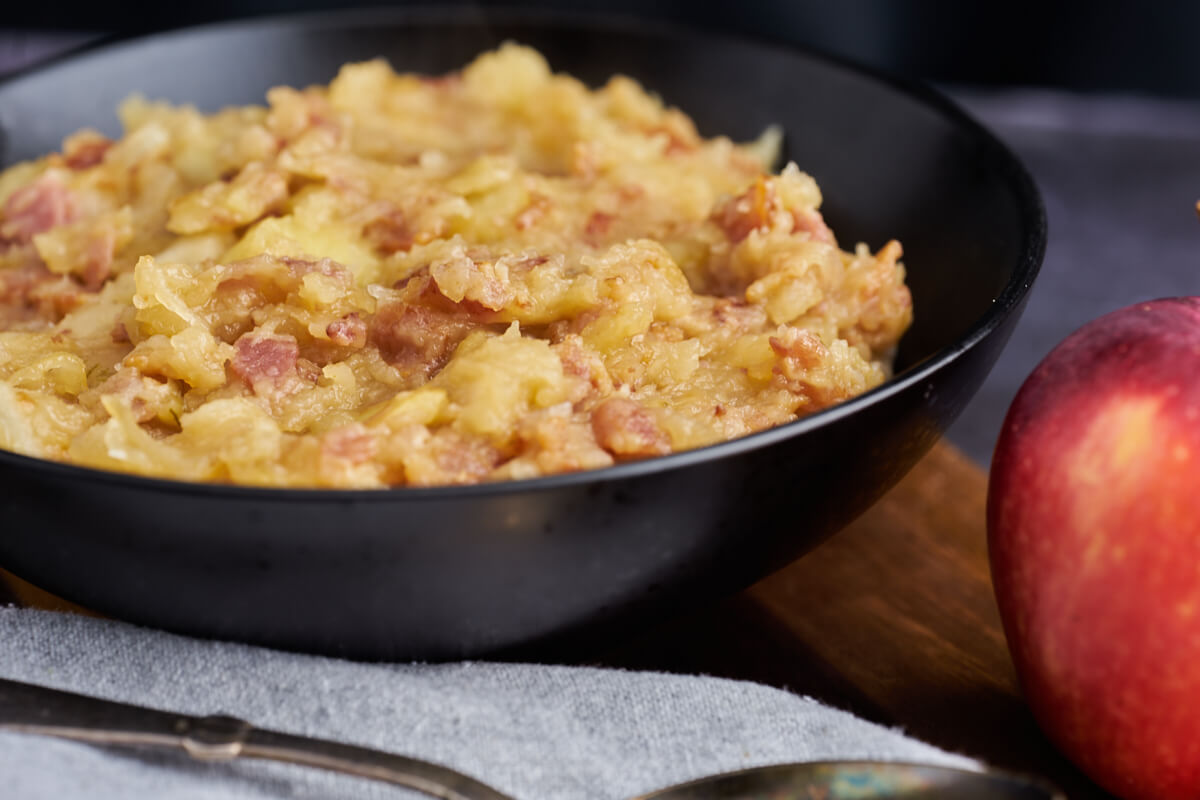 Apple pork with bacon
There are several advantages to making apple pork with bacon over, for example, pork breast. It's often cheaper to get hold of, easier to access for most people, and it's just easy and quick to work with.

This dish includes diced bacon because the bacon must be mixed into the apple pork. That's the way my mom makes it and the way I grew up with apple pork with bacon. It is super delicious on a piece of rye bread, both here in autumn or for Christmas lunch later in the year.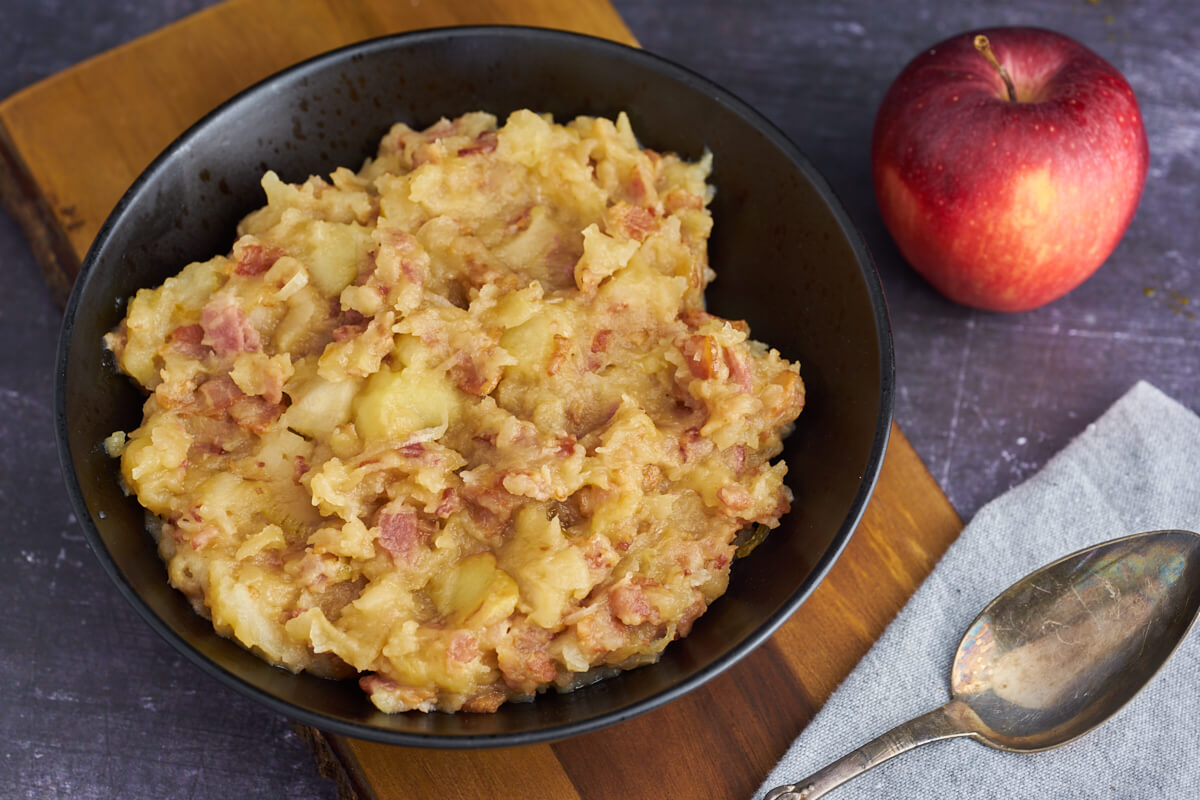 Ingredient notes
Apples – Preferably acidic apples.
Bacon – Thin slices, diced, or a whole piece of bacon you cut out in cubes yourself.
Onion – Onions give a good taste to the dish.
Sugar – Just a little to give a little sweetness and the right caramelization.
How to make Danish apple pork?
It's a bit of a religion, and it probably also depends on where in the country you come from, but here is my mother's recipe, which I grew up with and which I associate with apple pork.

The dish is quite simple to make. Start by frying the bacon cubes in the pan until they are golden, then add thinly sliced ​​onions. Finally, the apple cubes are added to the pan, sprinkled with a little sugar, and the dish simmers on the flame until the apples boil. There should be some apple pieces left.

Serve apple pork on a piece of Danish rye bread (rugbrød).

Find the full recipe further down this page.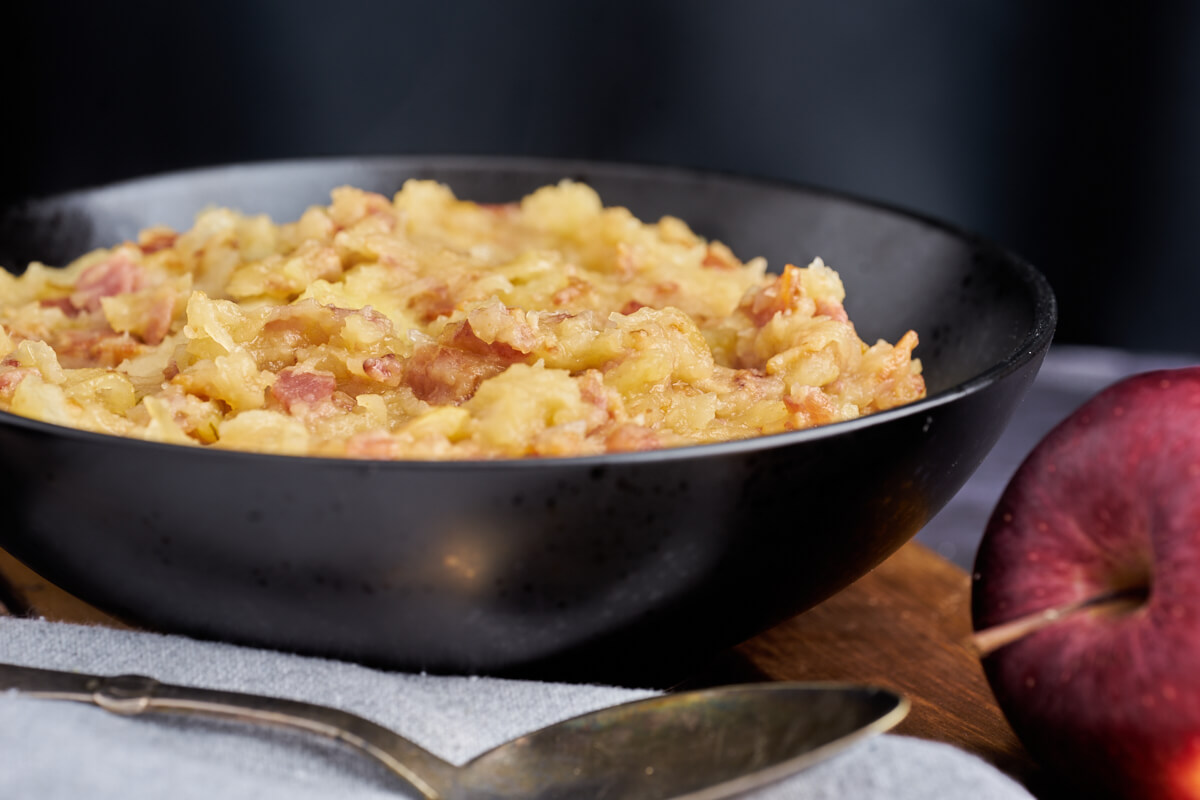 Other recipes you might like
Recipe
Here you get grandma's recipe for apple pork with bacon. It is an easy dish that tastes great and that both children and adults love at home. It is a must for a good autumn lunch or on the table for the Christmas lunch.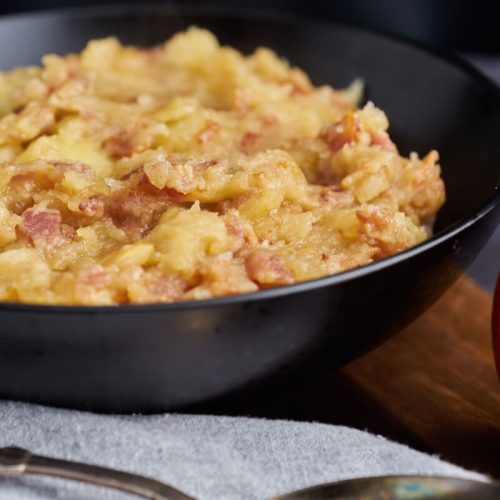 Danish Apple Pork with bacon (Æbleflæsk)
Recipe for Danish Apple Pork with bacon
Traditional recipe for Apple Pork maked with diced bacon and onion. Serve on a piece of rye bread for lunch.
Ingredients  
200

g

bacon

diced

1

onion

500

g

apples

diced, peeled weight

2

tbsp

sugar
Instructions 
Place the bacon cubes on a frying pan over medium heat and cook until golden.

Split the onion lengthwise and cut it into thin slices. Add the onions to the pan along with the bacon, and turn the heat down slightly. Fry until the onions collapse and become clear.

Add the apple cubes and sprinkle with sugar. Let the apples simmer in the pan until they are soft and slightly cooked. There should be some apple pieces left so that it doesn't become completely mush. Taste and add more sugar if needed.

500 g apples,

2 tbsp sugar

Serve warm with a piece of good rye bread.
Nutrition
Serving:
1
person
Calories:
308
kcal
Carbohydrates:
26
g
Protein:
7
g
Fat:
20
g
Saturated Fat:
7
g
Polyunsaturated Fat:
3
g
Monounsaturated Fat:
9
g
Trans Fat:
0.1
g
Cholesterol:
33
mg
Sodium:
333
mg
Potassium:
273
mg
Fiber:
3
g
Sugar:
20
g
Vitamin A:
87
IU
Vitamin C:
8
mg
Calcium:
16
mg
Iron:
0.4
mg
How do you like the recipe?
Have you tried this recipe? We'd love to hear what you think of it. Leave a comment, add a number of stars to the recipe and share your photo on Instagram with #madformadelskere – We love seeing your dishes ♥️
Also, sign up for our Facebook group where you can show pictures of the delicious food you make! You can find the Facebook group here