There are so many beautiful apples in the gardens and roadside right now, so it's the perfect time to make delicious apple jelly. The jelly can be eaten on a freshly baked bun and gives a great oomph to a delicious sauce. Read along here and get our recipe for apple jelly.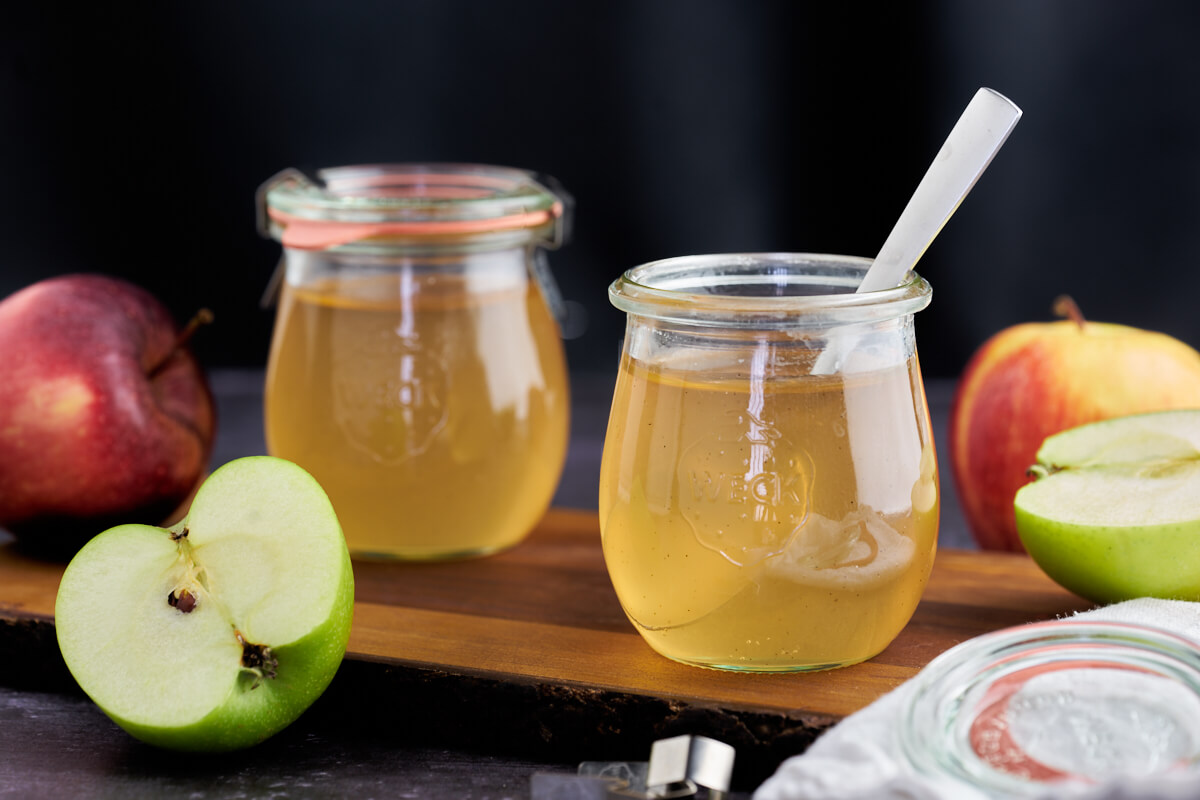 Help my apple jelly does not thicken
Apple jelly can be made without pectin powder if you have an apple with enough pectin in it. It's pectin that makes the gel set. There is typically more pectin in the unripe apples, and therefore you can use the apples that are unripe, and that you do not want to eat.

If, contrary to expectations, your gel does not set, you can easily heat it up again and add what is called pectin powder for jelly, which can be purchased in most supermarkets. It will thicken your jelly even if your apples do not contain enough pectin. My jelly didn't have to, though, it thickened fine by itself.

In addition, it is important that you do not put the lid on the jelly immediately. It should sit at room temperature and overnight after you have made it. Place a tea towel over the glasses with jelly once it has cooled down and leave them on the table for a day or so before putting the lid on so that it has time to thicken.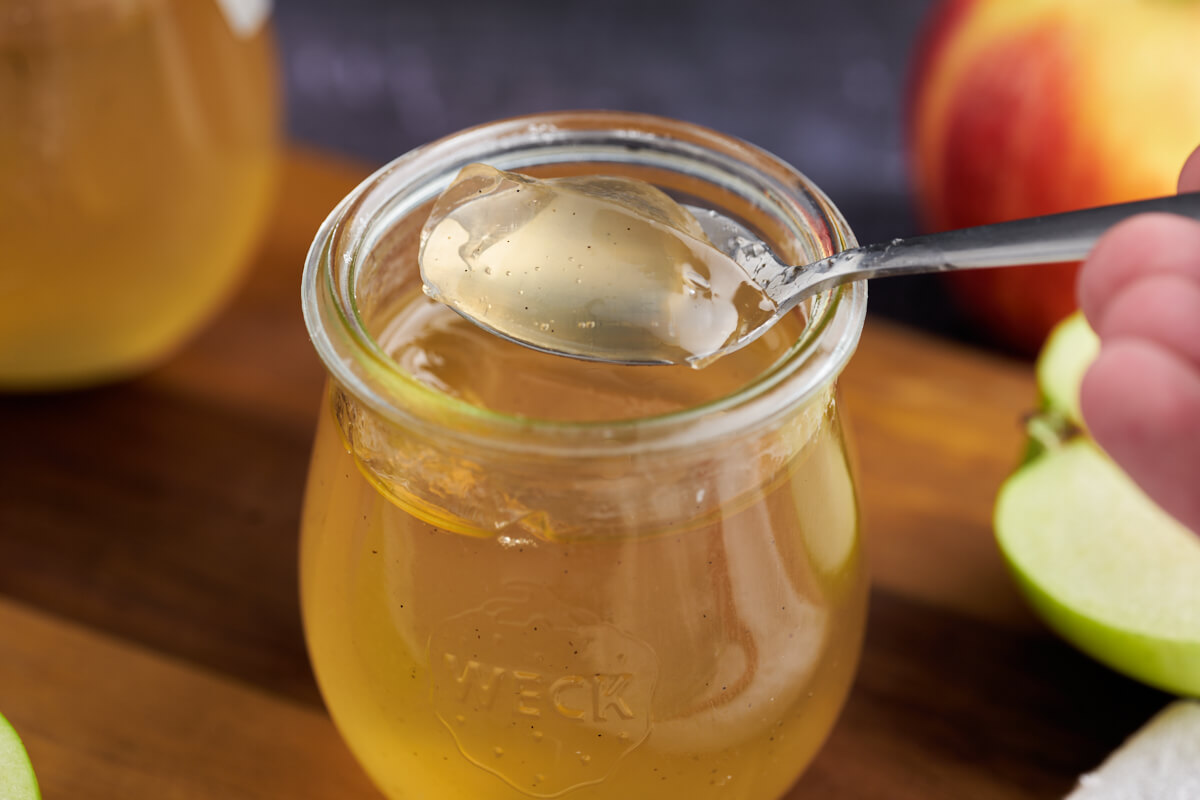 How to make apple jelly?
Apple jelly just tastes delicious. It can be used as jam on a cheese sandwich or for a cheese platter, on top of old-fashioned apple cake, or as an oomph in a delicious gravy.

You don't need many ingredients, only:
Apples, preferably immature roadside apples.
Water
Vanilla, I use vanilla paste, a vanilla bean can also be used.
Sugar
Atamon, to rinse the glasses in.
The first thing to do is to make juice of apples and water. Apple cubes and water are put in a saucepan and it is cooked under a lid for half an hour. Then the juice is strained through a clean cloth, let it possibly stand, and drip off overnight to bring all the juice out. If you have a juicer you can also use it to boil the juice in.

Once you have the pure apple juice, put it back in a clean pan. Measure the juice and add 100g of sugar per deciliter juice. I got 3 deciliter juice and added 300 g of sugar. Also, add the vanilla and bring to a boil. Let the juice boil for 5-10 minutes and take up a little bit of juice on a spoon. Let it cool and see if it sets. If it does, the jelly is ready. Remove the foam on top and pour the jelly on sterilized jars.
Find the full recipe further down this page.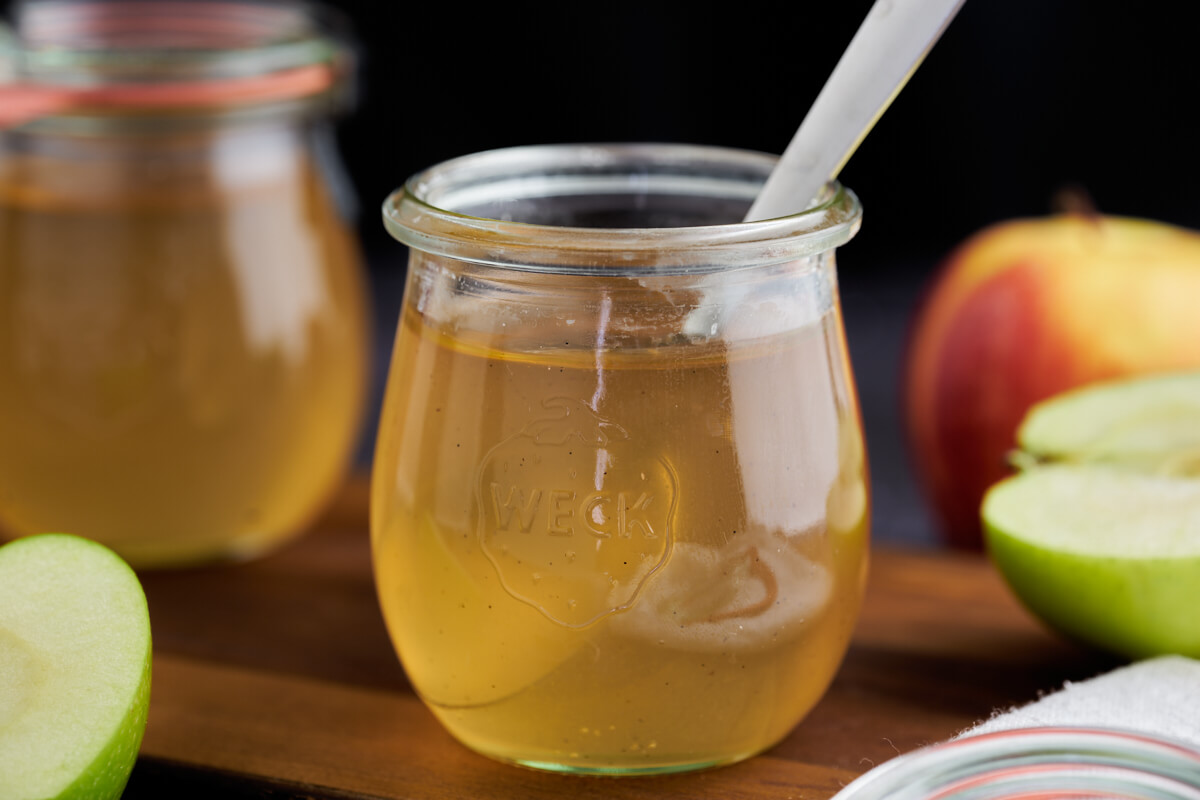 Other apple recipes you might like
Apple jelly recipe
Here you get our recipe for delicious apple jelly. It's easy to make, and perfect for all the autumn apples, so you can enjoy them all winter too.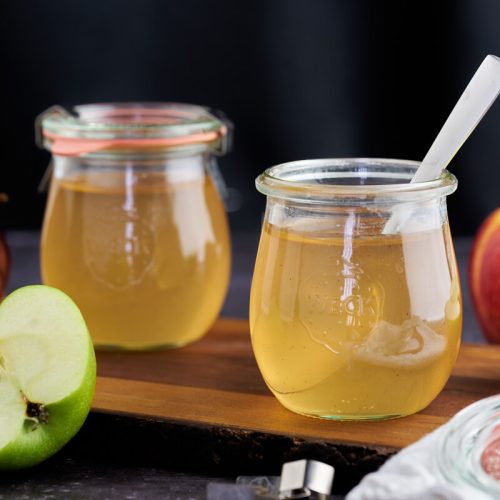 Apple jelly
Recipe for apple jelly
How to make the best apple jelly with the lovely apples from the garden. Traditional Danish apple jelly to use like jam, in cakes, pancakes, or as you wish to.
Ingredients  
1

kg

apples

4

dl

water

1

tsp

vanilla paste

300

g

sugar
Instructions 
Remove the stem and flower from the apples, and cut them into coarse cubes. The core does not need to be removed.

Put apple cubes and water in a saucepan and bring to a boil. Let the apples cook for 30 minutes under a lid.

Strain the apple juice through a cloth into a clean pan. It should stand and drip off for a few hours or until the next day.

When the apple juice has dripped off, measure it out and add 100 g sugar per dl liquid. I got 3 dl of this portion and therefore 300 g of sugar. In addition, add vanilla paste and bring the liquid to a boil.

Boil the jelly liquid for 5-10 minutes under a lid, then take a small amount up on a spoon. Let it cool and see if it thickens. If it does, the gel is done. Remove the foam on top of the jelly with a spoon, and then pour it onto sterilized jars.

Leave the jars of apple jelly on the kitchen table without a lid until the next day to give the jelly time to set. Once they have cooled down, you can put a clean tea towel over them.

The next day, the lids can be put on the jars.
Notes
The apple jelly thickens due to the pectin in the apples. Unripe apples contain the most pectin and are therefore best for jelly. If your gel unexpectedly does not set, you can boil it again, and add pectin powder, which you can buy in the supermarket.
Nutrition
Serving:
1
jar
Calories:
848
kcal
Carbohydrates:
220
g
Protein:
1
g
Fat:
1
g
Saturated Fat:
0.1
g
Polyunsaturated Fat:
0.3
g
Monounsaturated Fat:
0.04
g
Sodium:
17
mg
Potassium:
538
mg
Fiber:
12
g
Sugar:
203
g
Vitamin A:
270
IU
Vitamin C:
23
mg
Calcium:
38
mg
Iron:
1
mg
How do you like the recipe?
Have you tried this recipe? We'd love to hear what you think of it. Leave a comment, add a number of stars to the recipe and share your photo on Instagram with #madformadelskere – We love seeing your dishes ♥️
Also, sign up for our Facebook group where you can show pictures of the delicious food you make! You can find the Facebook group here