Oatmeal cookies with buttercream are a classic danish cookie, that most of us love. A crispy and slightly chewy oatmeal cookie with a velvety buttercream filling that just melts on the tongue. Read along here and get our recipe for the delicious little cake.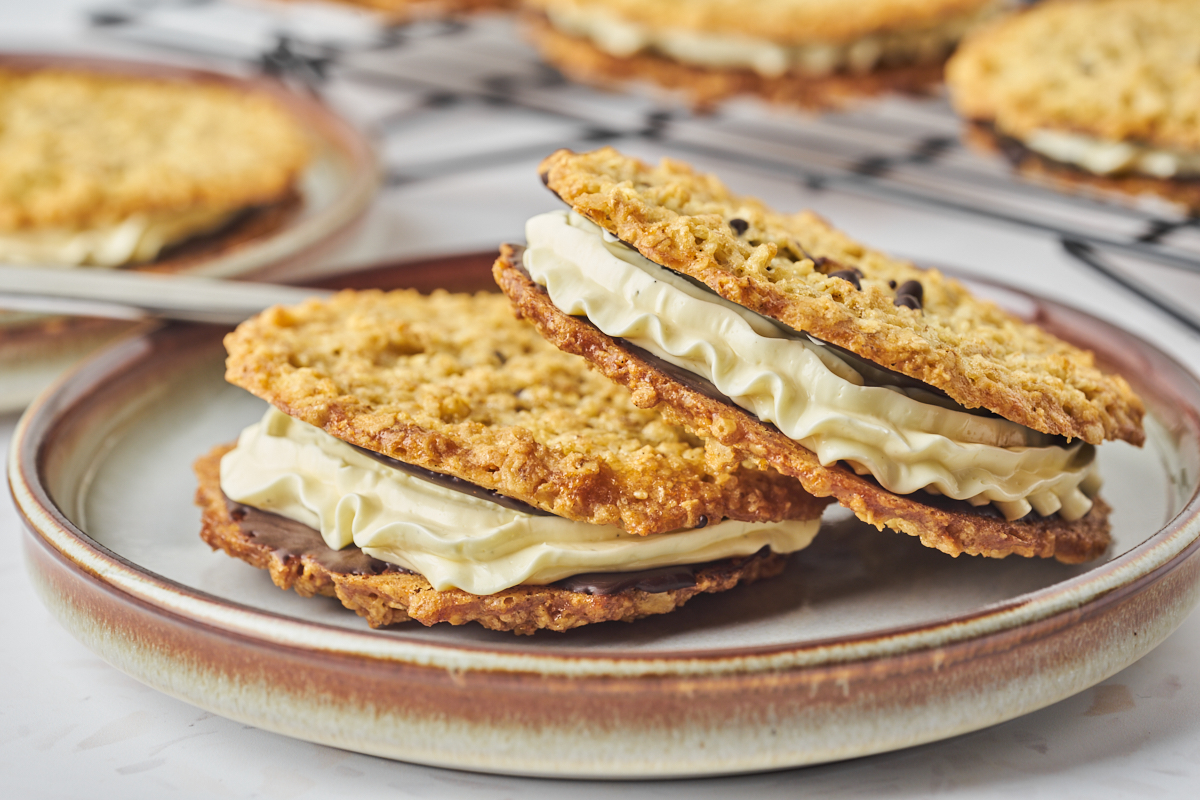 Oatmeal sandwich cookies
In Denmark, we call this "Havregrynskager med smørcreme", which translates to oatmeal cookies with buttercream.

This cake is the perfect combination of a delicious crunchy oatmeal cookie with the most velvety buttercream imaginable.

It is simply a mouthful of heaven.

You can bake your oatmeal cookies ahead of time, for example, the day before, and then you can put them together just before they are to be eaten. If they are not all eaten, they can also be stored in the fridge, but then the crispiness of the oatmeal cookies will be a little less. However, they still taste great.

You have to say that it is such a mouthful that contains it all. Crispness, softness, sweet, caramelized taste, and most important of all, lots of deliciousness.

It's the kind of cookie you want to serve to guests with a good cup of coffee, but also the kind you want to enjoy under the blanket on the sofa with a good movie on the TV. So it does it all.

At home, it is also a cake that both adults and children are happy with. And the grandparents are also satisfied when they are offered one. A nice treat for the whole family.

Fortunately, it is quite easy to make, it takes a little time, as the cookies must first be baked and cooled before you can add chocolate, and then the chocolate must dry before they can be filled with soft buttercream.

But it's worth the wait, and the individual steps in the recipe aren't too difficult to make.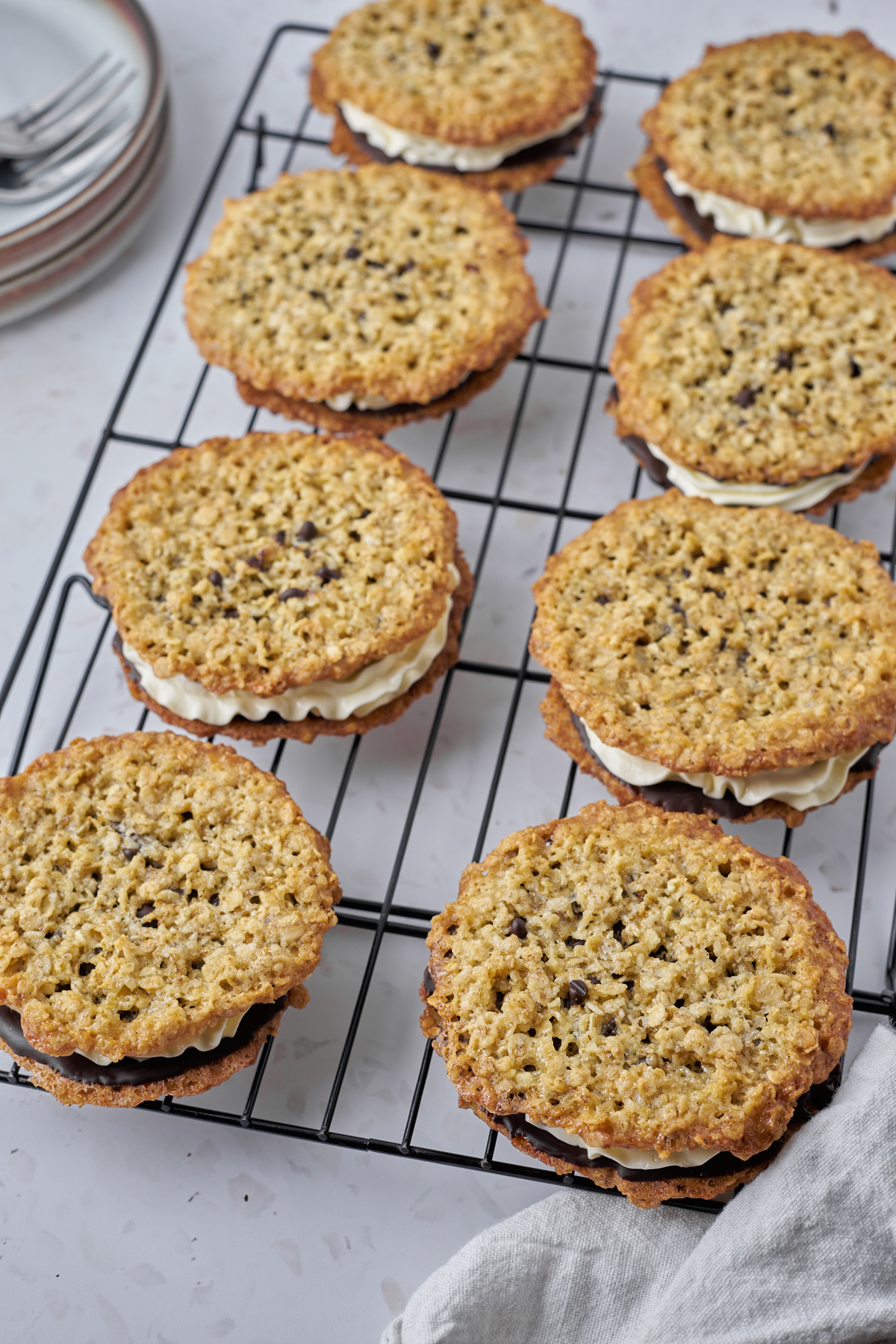 Ingredient notes
Oatmeal – I use fine organic oatmeal for these cookies. It usually gives a super good result.

Baking powder – You need a little bit of baking powder in the oatmeal cookies to make them perfect.

All purpose flour – There are recipes where there is no flour at all, but I think the cookies are best with a little bit of flour, to bring the dough together.

Vanilla – I usually use vanilla paste as I always have it at home, but you can also use seeds from a vanilla pod or vanilla powder instead.

Eggs – You need a few eggs for the cookies themselves, and then you need an additional egg yolk in the buttercream. I usually use a fresh egg yolk, but pasteurized also works fine if you prefer to use it.

Sugar – Plain white sugar.

Butter – You need melted butter in the dough for the cookies. You can use salted butter. There must also be butter in the buttercream, of course, and here it is important that the butter is completely soft, so take it out of the fridge in good time ahead.

Dark chocolate – Use good dark chocolate with a minimum of 70% chocolate. It should be able to be tasted and contribute a little bitterness through the sweet buttercream.
How to make oatmeal cookies with buttercream?
This recipe is not that difficult. The oatmeal cookies are really easy to make and the dough takes a maximum of 5 minutes to make. When they have cooled, they must be brushed with tempered dark chocolate, and finally, the buttercream must be whipped and filled into the cakes.

The dough for the oatmeal cakes is made by melting butter and then mixing it together with the other ingredients. You can just let the dough stand for 15 minutes if it feels very sticky, as the oatmeal absorbs the liquid. The dough is divided into 16 balls, which are placed on a baking sheet and pressed flat. Bake them for 8-10 minutes. They must then be cooled.

When they are cooled, the chocolate must be tempered. I do it in the microwave. I melt 2/3 of the chocolate, then stir in the last 1/3 of finely chopped chocolate. Then brush the underside of the cakes.

The buttercream is made by first making a sugar syrup from water, sugar, and vanilla that is boiled until the sugar has melted. It must then be removed from the heat and cooled. Then whisk the butter and egg yolk really well until it becomes light and foamy. Then pour in the cooled sugar syrup in a thin stream while still whisking. The finished cream is put on a piping bag and the cookies are filled and put together.

Find the full recipe further down this page.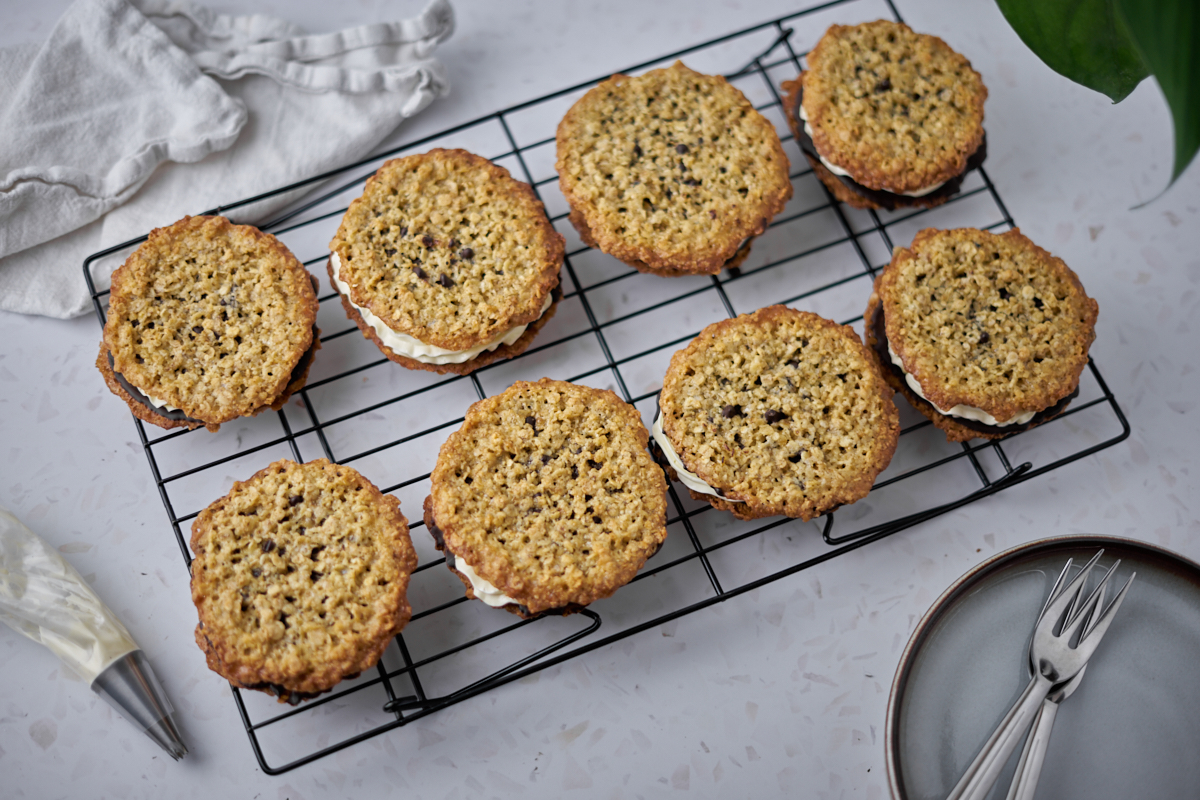 Frequently asked questions
How to store the cookies?
Once the oatmeal cookies are filled with buttercream, they should be eaten immediately or stored in the refrigerator until ready to eat. I recommend that they are served within a few hours of being assembled, otherwise, the cookie will lose some of its crispness.
Can I make the cookies a day ahead?
You can easily bake the oatmeal cookies the day before, and also brush them with chocolate. I recommend that the cakes be assembled on the day they are to be eaten, and preferably no more than a few hours before serving to keep the cookie crisp.
Can I fill the cookies with anything else than buttercream?
You can easily fill the cakes with other creams or mousses. You can also make a lemon buttercream or one with orange if you like.
Other recipes you might like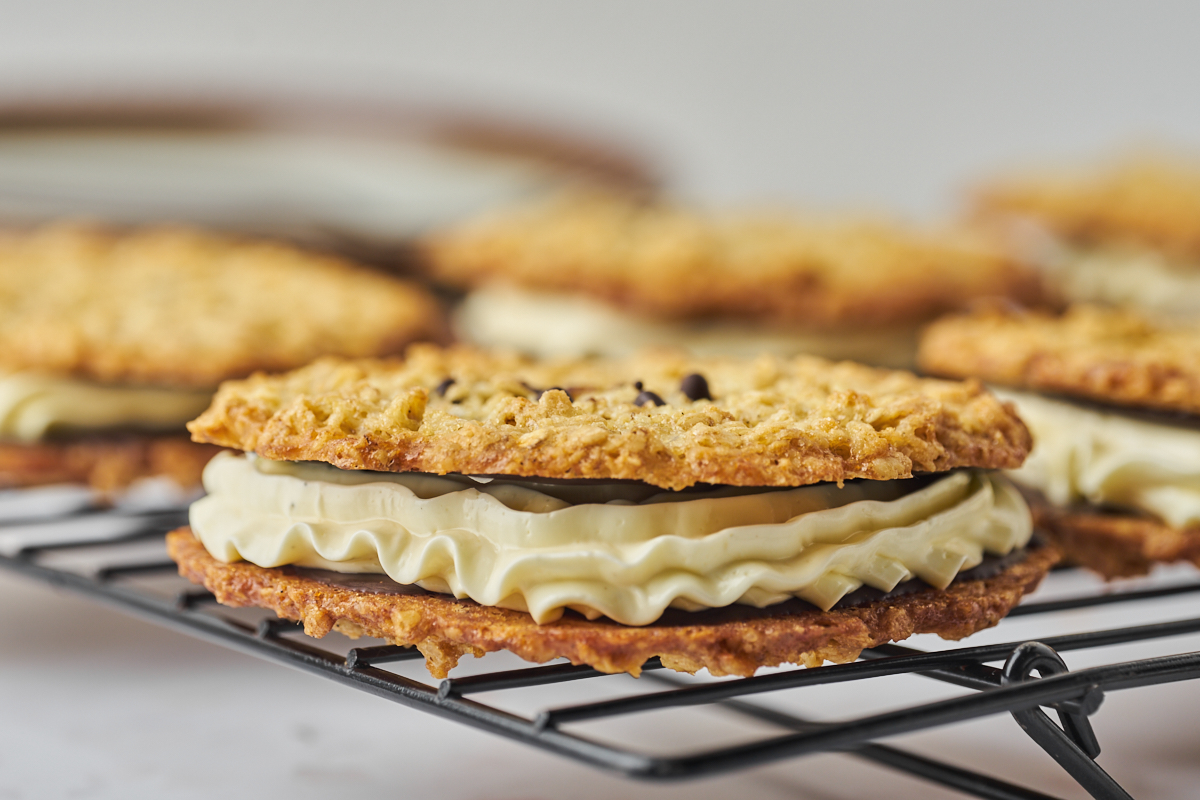 Tips and tricks for the recipe
If necessary, bake the oatmeal cookies the day before they are to be served. Then you just have to fill them with buttercream before serving.
Try adding a little orange peel and juice to the buttercream, it tastes great.
Feel free to use dark chocolate, which can give a little bitterness to the otherwise very sweet cake.
Serving suggestions
Serve with a cup of coffee as a nice afternoon cake.
Serve as a dessert on top of a good meal.
Eat a cake on the sofa on an autumn evening with a good movie.
Do you love to bake cookies? Try our recipe for Danish kammerjunkere (double-baked biscuits)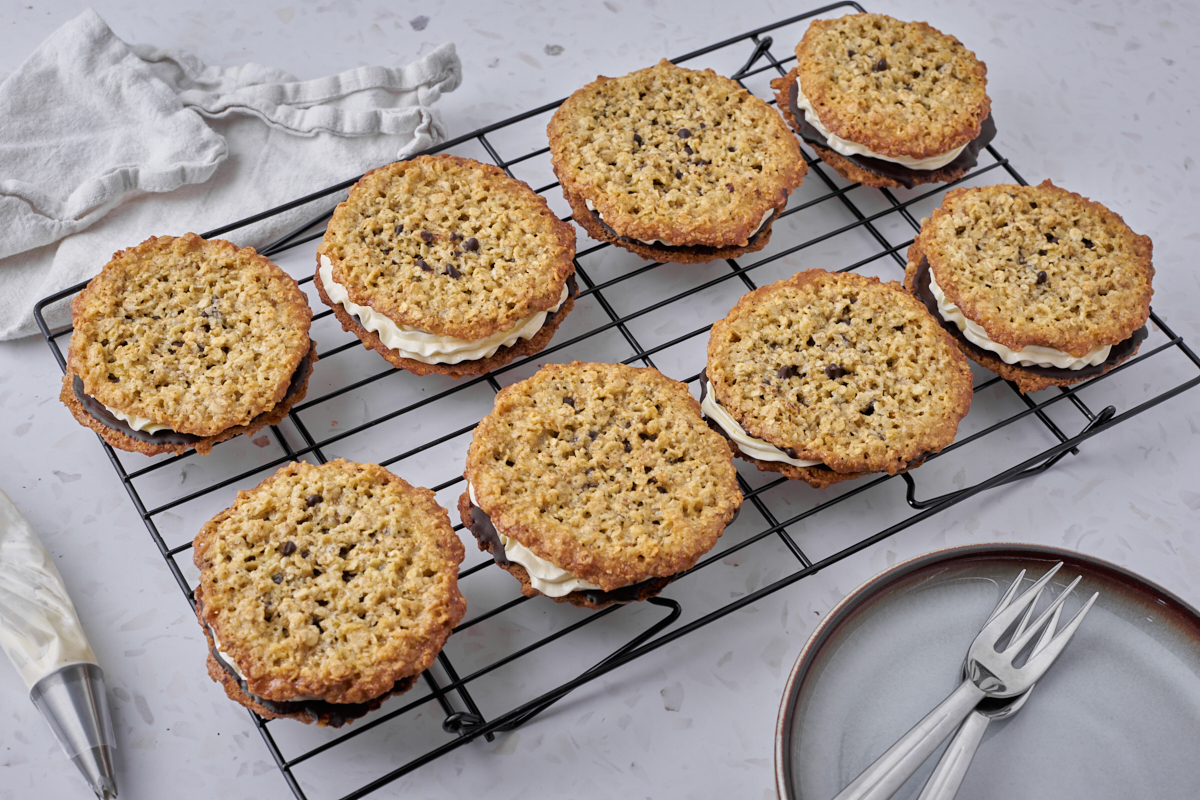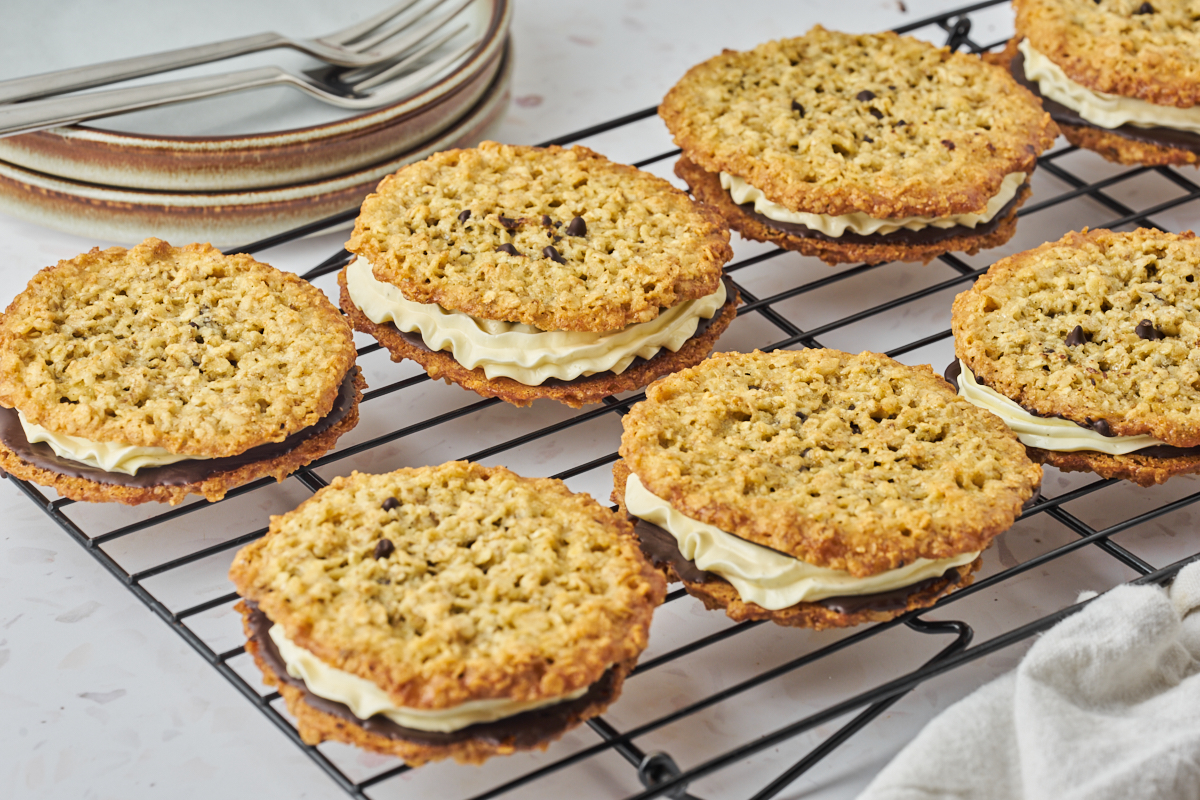 Recipe for oatmeal cream pies
Here you will find our recipe for delicious oatmeal cookies with buttercream. It is a delicious cake that goes perfectly with a good cup of coffee on an autumn day.

We love the cakes, both adults and kids here at home. We hope you will too, and that you will want to try the recipe and bake the cookies for your family.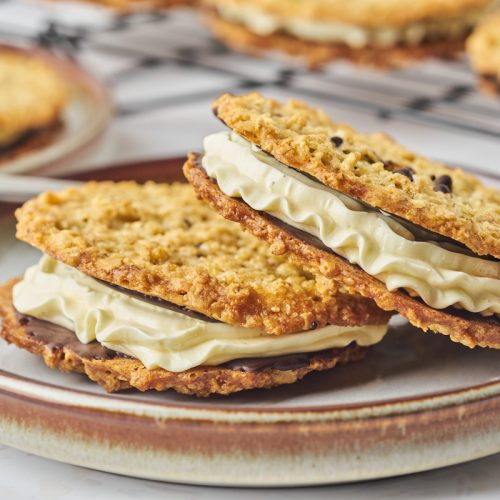 Oatmeal cookies with buttercream
Recipe for Oatmeal cookies with buttercream
Crisp and chewy oatmeal cookies layered with soft buttercream. It is a lovely cake that you can serve with a good cup of coffee or tea. The oatmeal cookies can be baked the day before, and put together with buttercream before serving.
Ingredients  
Oatmeal cookies
150

g

butter

250

g

oatmeal

250

g

sugar

1

tsp

vanilla paste

2

tsp

baking powder

2

tbsp

all purpose flour

2

eggs
Buttercream
125

g

sugar

0.5

dl

water

1

tsp

vanilla paste

150

g

butter

soft

1

egg yolk
Instructions 
Oatmeal cookies
Turn on the oven at 175 degrees Celcius, convectional heat.

Melt the butter in a pan. Then take it off the heat.

Mix the oatmeal, sugar, vanilla, baking powder and flour in a bowl and add the eggs and the melted butter. Stir the dough together with a spoon until it is smooth.

250 g oatmeal,

250 g sugar,

1 tsp vanilla paste,

2 tsp baking powder,

2 tbsp all purpose flour,

2 eggs

If the dough feels very wet, you can leave it for 15 minutes before moving on, and the oatmeal will absorb some of the liquid.

Make balls of the dough, about 1 tbsp. dough per ball. Place them well apart on a baking sheet and press them slightly flat with a spoon or the palm of your hand. You can fit 8 balls on a regular baking sheet.

Bake the oatmeal cookies at 175 degrees Celcius with convectional heat for 8-10 minutes or until the edges are brown.

Allow the cookies to cool slightly on the baking sheet before moving them to a wire rack where they must cool completely.
Chocolate
When the cakes are completely cold, temper the chocolate. I use the microwave for that, you can also do it over a water bath in a pot.

Chop 2/3 of the chocolate coarse and 1/3 of the chocolate finely. Place the coarsely chopped chocolate in a microwave-safe plastic bowl and melt the chocolate in 30-second intervals. Stir every 30 seconds until completely melted. Then add the finely chopped chocolate and stir until all the chocolate has melted.

Brush the underside of the oatmeal cookies with melted chocolate.
Buttercream filling
Put water, sugar and vanilla in a saucepan and boil until all the sugar has dissolved. Remove the pan from the heat and let the syrup cool down.

125 g sugar,

0.5 dl water,

1 tsp vanilla paste

Beat soft butter and egg yolk together really well. Use a mixer. It needs to be whisked until fluffy and white, it takes about 10 minutes on my machine. Then add the cooled sugar syrup in a thin stream while still whisking. When all the syrup is in, you stop whisking and the cream is filled into a piping bag with a star tip.

Spread the cream on top of the chocolate on half of the oatmeal cookies, and then close them with the remaining cookies.

Now the cakes are ready to serve.
Nutrition
Serving:
1
piece
Calories:
656
kcal
Carbohydrates:
65
g
Protein:
5
g
Fat:
43
g
Saturated Fat:
26
g
Polyunsaturated Fat:
2
g
Monounsaturated Fat:
12
g
Trans Fat:
1
g
Cholesterol:
147
mg
Sodium:
371
mg
Potassium:
230
mg
Fiber:
3
g
Sugar:
54
g
Vitamin A:
1039
IU
Calcium:
99
mg
Iron:
4
mg
How do you like the recipe?
Have you tried this recipe? We'd love to hear what you think of it. Leave a comment, add a number of stars to the recipe and share your photo on Instagram with #madformadelskere – We love seeing your dishes ♥️
Also, sign up for our Facebook group where you can show pictures of the delicious food you make! You can find the Facebook group here