A good steak requires a good sauce. Delicious and creamy mushroom sauce with just the right intense taste of mushrooms. It fits perfectly with a deliciously tender steak or a piece of delicious meat from the bbq. If you want to see the recipe for the best mushroom sauce, read along here.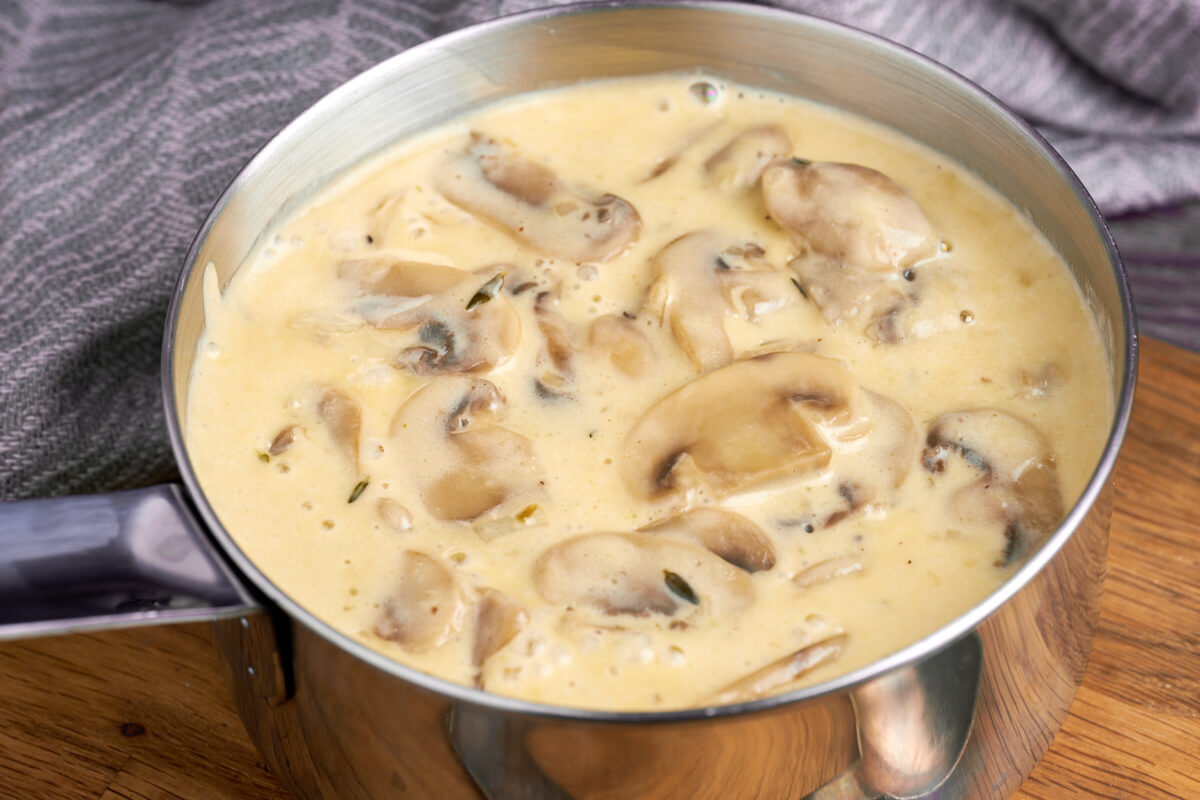 The perfect mushroom sauce
I like gravy, I don't think it's a secret. Ranging from the traditional brown gravy to more advanced sauces. Gravy is just good, and every home cook should have the recipes lying on your spine, so you can conjure up a sauce that tastes so the birds sing at any time.

The mushroom sauce is one of my favorites, it is perfect for the steak, the roast, or for that matter a delicious grilled chicken. And as with so many other sauces, it's really easy to make.

It's all about mushrooms, of course. Great looking white or brown mushrooms, and lots of them. Because when you make gravy, it's about "stuffing" as much flavor into the sauce as possible.

Mushrooms love butter, and it is therefore important that the base of the homemade mushroom sauce is sautéed in butter to get the right taste out. In combination with fresh herbs, a bit of shallot and some other good stuff, it's the setting for the best mushroom sauce in the world.

Now taste that sauce. And I think there are a lot of people who don't taste the food during cooking, and that's a mistake.

The taste changes continuously and it is therefore important that you constantly adjust the flavors with salt, sugar, and lemon juice when cooking, also gravy.

The perfect balance of sweet, salty, and sour along with the intense mushroom flavor is what makes a mushroom sauce so delicious. Together with the fatty cream that boils in and becomes creamy, you can't actually wish much more in a sauce.

You can consider our recipe for homemade mushroom sauce as a basic recipe for the mushroom sauce, and then you can try other mushrooms if you have the courage to do so.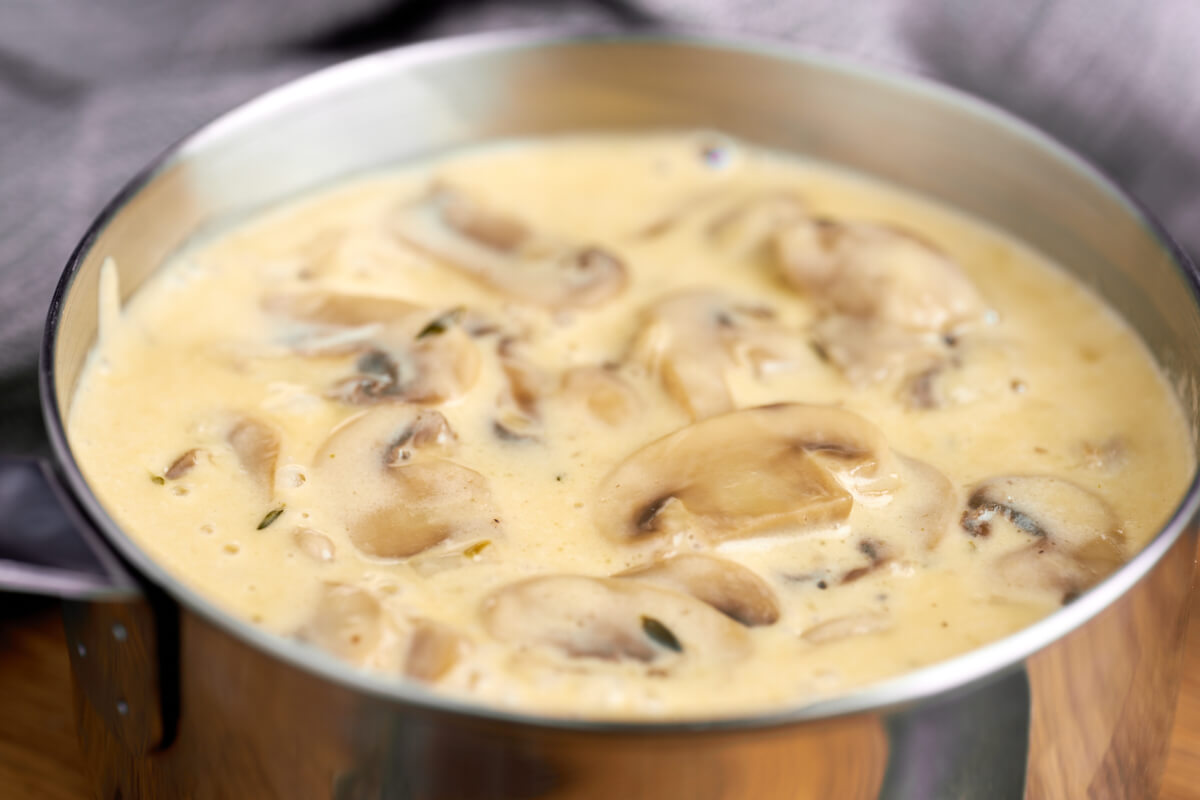 Ingredient notes
Mushrooms – You can use white or brown button mushrooms.

Dried rosemary – Rosemary just goes well with mushrooms. If you can grab some fresh rosemary, then use it, but dried can also do it. If you use fresh, use twice as much as if you used dried.

Dried Thyme – It is in the same way as with rosemary, thyme helps to give just the right taste to the sauce. Here you should also use double the dried amount if you use fresh herbs.

White wine – The white wine helps to give the sauce a good depth of taste. You don't need to use an expensive white wine but find a good dry one.

Chicken stock – I write chicken stock, but please just use a stock cube stirred up in water for convenience. A cube usually gives 5 dl and you need 2 dl here in the recipe.

Cream – The whipping cream cannot be emitted. It's a cream-based mushroom sauce, and please use whipping cream so the sauce gets delicious and creamy.

Lemon juice – The lemon juice gives it a slightly sour edge and plays up against the sweet and the salty. If you do not have lemon juice, then you can replace it with the same amount of white wine vinegar, or red wine vinegar.
How to make mushroom sauce?
Here's a quick roundup of how to learn the best homemade mushroom sauce. You can easily prepare the ingredients in advance, so it's just getting started.

In a pan, melt butter and add herbs and onions until the onions become clear. The mushrooms are put on the pan and sautéed until almost all the moisture has evaporated. Add the wine and reduce it to half, then put the rest of the ingredients on the pan. Simmer until the sauce boils in and becomes creamy.

Serve the mushroom sauce in a preheated sauce bowl or pan.

Find the full recipe further down the page here.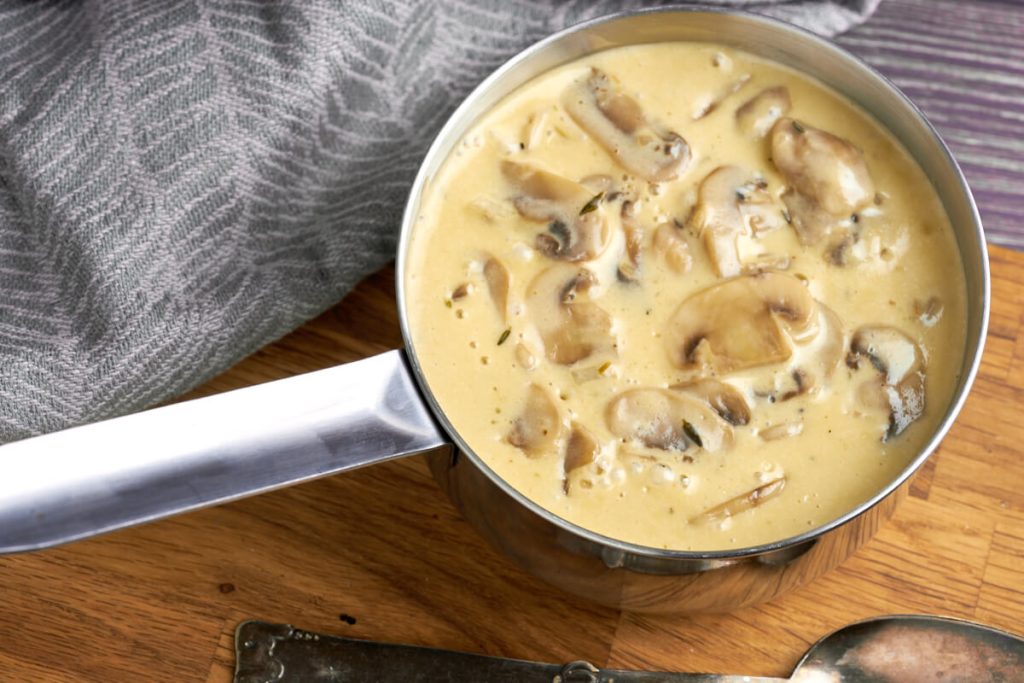 Frequently asked questions
How to store mushroom sauce?
Remnants of the sauce can be refrigerated for a few days before it needs to be frozen if it needs to be stored for a longer period of time.
Can I use anything other than mushrooms?
Yes, you can use all kinds of mushrooms. They all have their very own taste and will give a delicious mushroom sauce.
Other autumn recipes you might like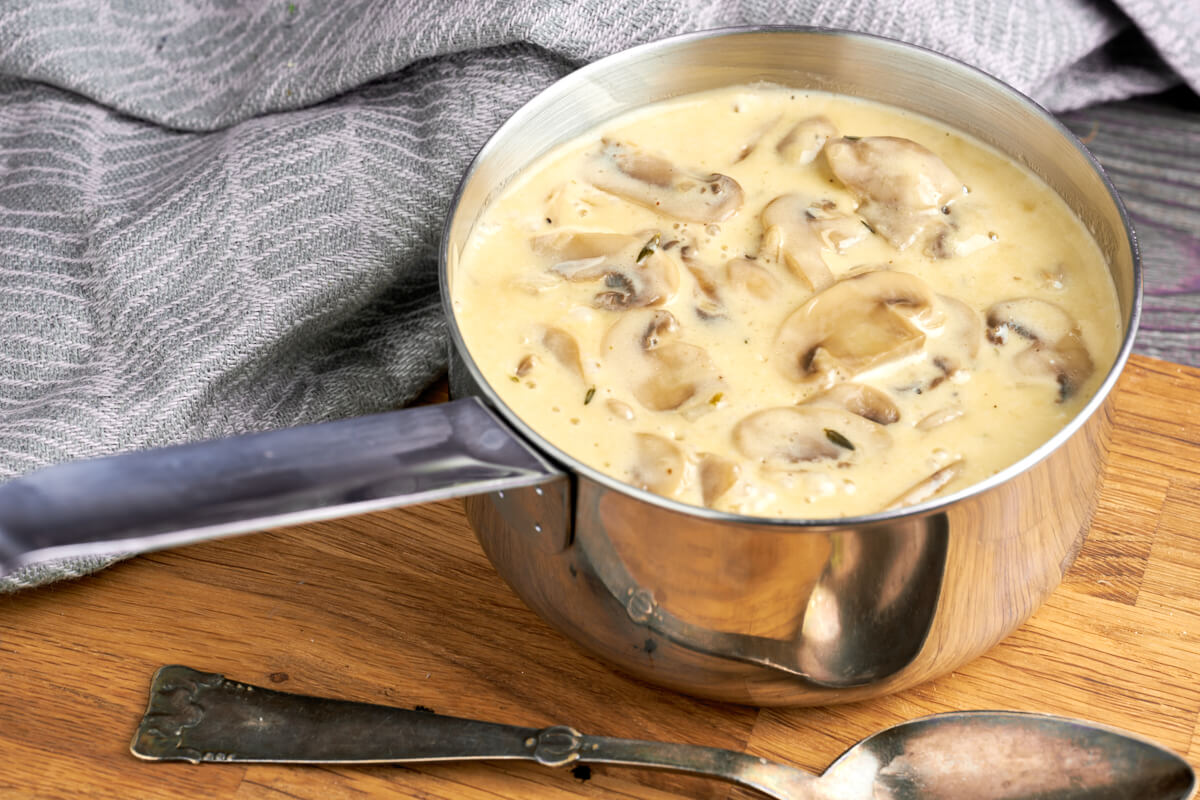 Recipe for homemade mushroom sauce
Here you get our recipe for the perfect gravy with mushrooms. There's plenty of good mushroom flavor, and it's perfect for a nice steak, a delicious grilled culotte roast, or for chicken.

If you like, try using mushrooms other than white button mushrooms, you can also mix different kinds of mushrooms. We hope you will want to try the recipe at home.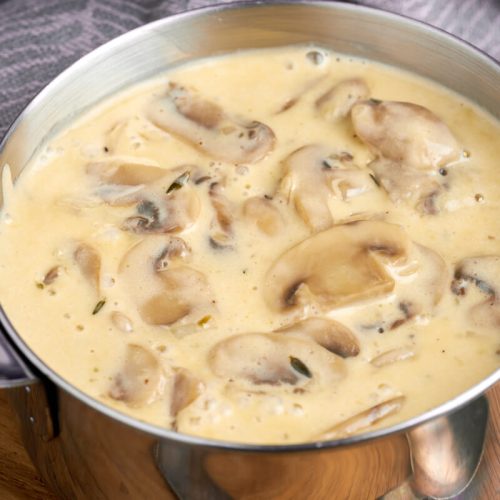 Mushroom sauce
Recipe for white button mushroom sauce
Here you get our recipe for the perfect mushroom sauce that never fails. The taste is full and perfectly suited to a delicious red steak from the grill or Danish frikadeller.
Ingredients  
40

g

butter

½

shallot

½

tsp

dried rosemary

½

tsp

dried thyme

400

g

white button mushrooms

or other mushrooms

1

dl

white wine

2

dl

chicken stock

3

dl

whipping cream

1

tsp

sugar

1

tsp

salt

¼

tsp

black pepper

1

tsp

lemon juice
Instructions 
The mushrooms are cleaned of soil residues. They are cut into slices and set to the side.

In a pan, melt the butter over medium heat. Add dried rosemary as well as thyme and then a finely chopped shallot. Fry it together until the onions become clear.

Then add the cleaned mushrooms and fry them until almost all the liquid has evaporated.

Put the white wine in and let it reduce to half is left. Then add the stock, cream and salt, sugar and lemon juice.

Let the sauce reduce until the desired consistency is reached.

Season with salt and pepper and extra lemon juice if necessary.

Serve the sauce in a preheated sauce bowl or pan.
Nutrition
How do you like the recipe?
Have you tried this recipe? We'd love to hear what you think of it. Leave a comment, add number of stars to the recipe and share your photo on Instagram with #madformadelskere – We love seeing your dishes ♥️
Also sign up for our Facebook group where you can show pictures of the delicious food you make! You can find the Facebook group here