It is both easy and delicious to make grilled chicken breast. It is a lovely dinner on a warm summer evening, and it tastes wonderful. For example, serve the chicken with a good potato salad or summer vegetables. Read on and get our recipe for juicy grilled chicken breast with barbecue.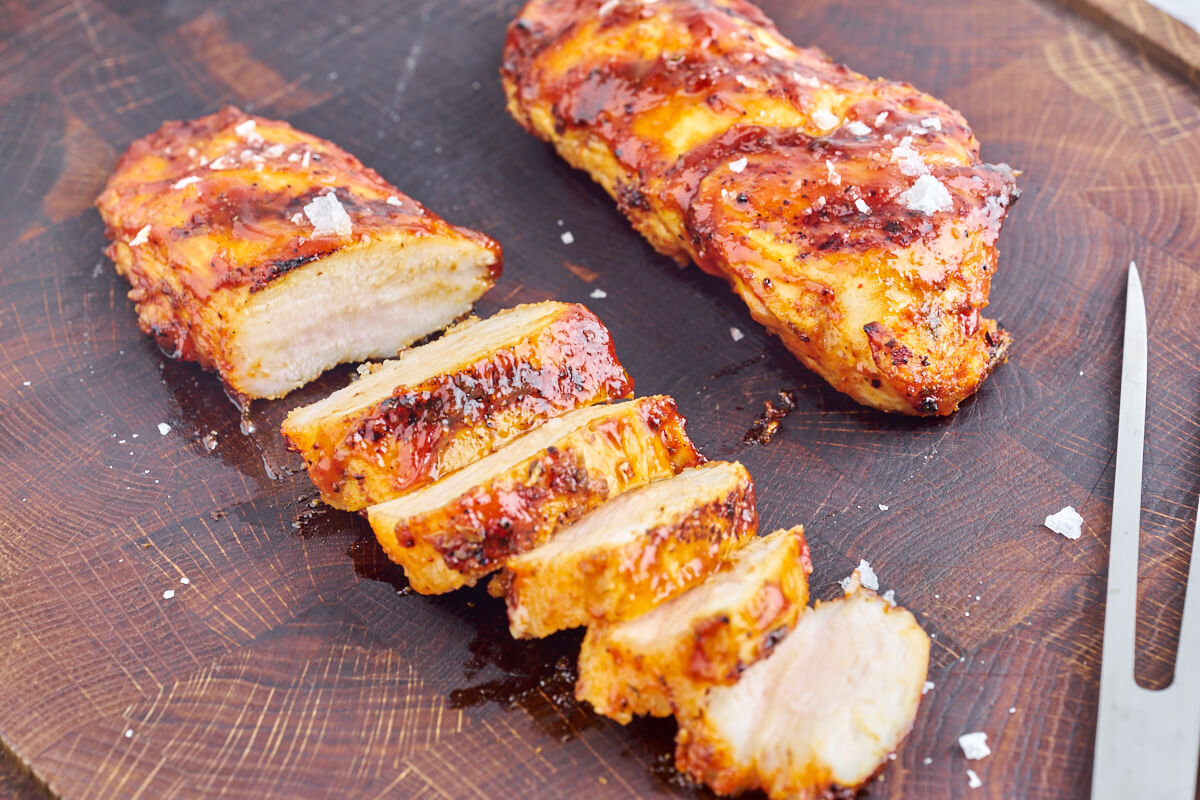 BBQ chicken fillet
Ahh… the sweet bbq season!

I love it and all the lovely summer evenings ahead with delicious grilled food and good company.

Chicken can be a dull affair if not cooked properly; due to its low-fat content, it tends to become dry and boring if overcooked.

Grilled chicken breast is a sure winner with the kids; perhaps because it is so wonderfully uncomplicated to eat, with no bones or tendons to worry about, and the flavor is just top-notch.

Grilled chicken breasts can be used in so many different ways. They can be used in a tasty club sandwich, in a barbecue Caesar salad, or as delicious, flavorful toppings in a packed lunch.

When we make grilled chicken with barbecue, we almost always serve it with a fresh green salad, some grilled corn cobs, and a baguette; not much else is needed.

I usually use a rub to season the chicken breasts when I make grilled chicken. You can mix your own spices, or buy a ready-made product.

The barbecue seasoning is important and adds a lot of flavor to the chicken breasts. It's a good idea to season them the day before so that the flavors can really penetrate the otherwise somewhat tasteless chicken meat. Together with the sweet barbecue sauce, it gives the grilled chicken breasts a delicious glazed surface.

So, it's the combination of everything that makes the best grilled chicken breasts.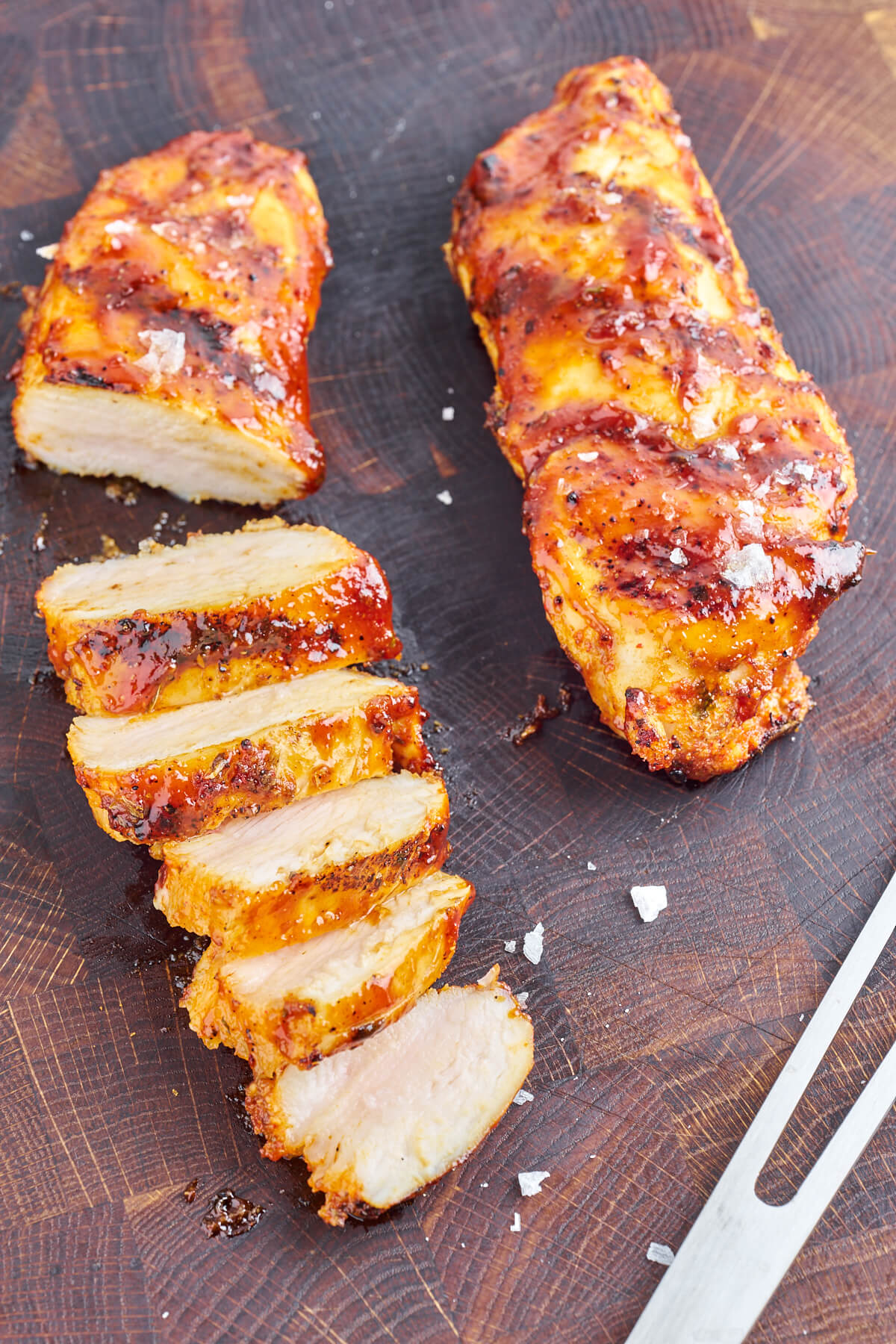 Ingredient notes
Chicken breast – Find some large, beautiful chicken breasts, preferably organic and not pumped with saline solution.

Quick barbecue sauce for chicken – A good barbecue sauce can be quickly made at home, and the recipe can be found below. Alternatively, you can also buy many good ready-made products. For a quick and easy barbecue sauce, I use ketchup (Heinz), Worcestershire sauce, brown sugar, salt, onion powder, garlic powder, and a little smoked paprika.

Barbecue seasoning for chicken – Barbecue seasoning can be purchased ready-made, but it won't be as good as a homemade blend.
How to make grilled chicken breast?
Here's a brief description of how you can make the best and juiciest chicken fillets on the grill.

When grilling chicken breasts, you should use both direct and indirect heat; that's how I do it, and it works for me. Chicken breasts should have a core temperature of 70 degrees Celsius (158 degrees F) when they are done. You shouldn't go below that, but a couple of degrees above won't make much of a difference.

The prepared chicken breasts are coated with oil and seasoned with barbecue seasoning. They are then grilled on both sides over direct heat on a preheated grill. Once they are grilled on both sides, they are coated with barbecue sauce and moved to indirect heat. When the core temperature is reached, they are taken off the grill and should rest uncovered before being sliced and served.

Find the full recipe further down this page.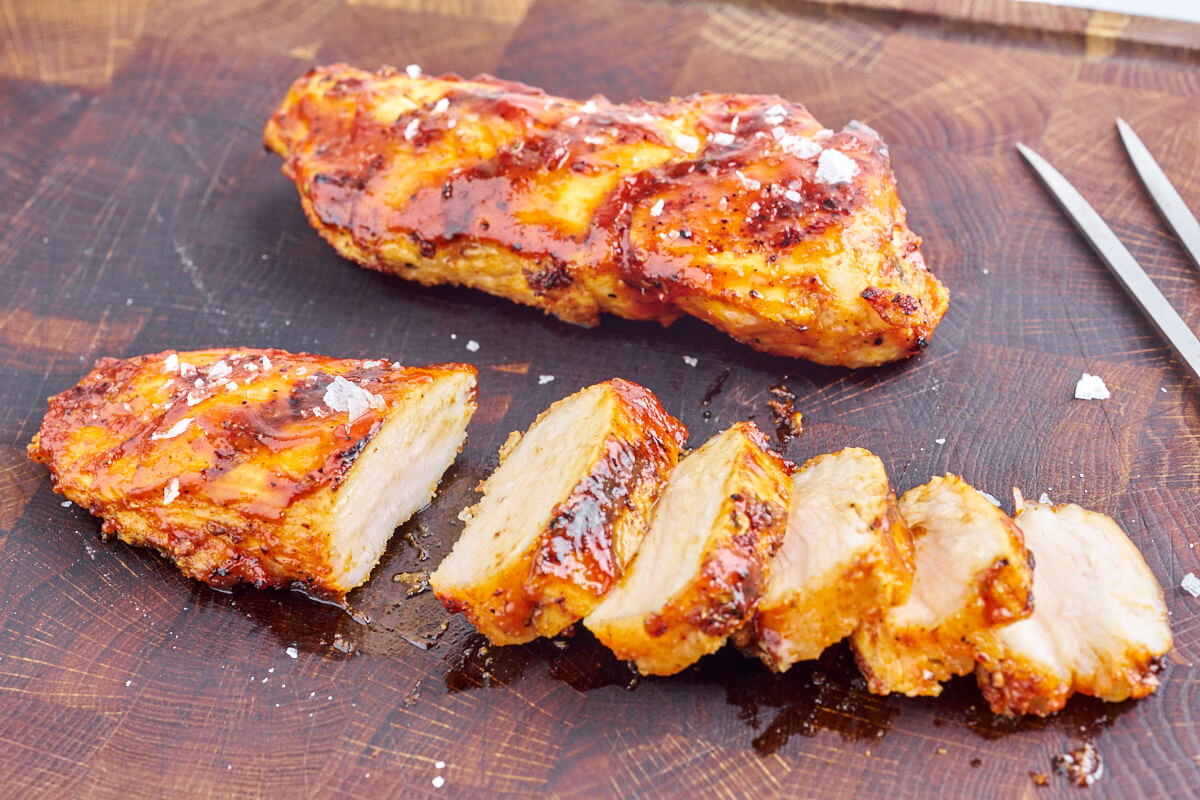 Frequently asked questions
Can the chicken be frozen?
Yes, you can easily freeze the leftovers and save them for later.

Can I use a store-bought barbecue sauce for grilled chicken breast?
Yes, use the barbecue sauce you like best. I can recommend Sweet Baby Ray's if you don't want to make your own.
What side dishes should I serve with grilled chicken breast?
You can serve chicken with almost any kind of side dish. For example, you can serve it with a fresh green salad, baguette, and grilled corn cobs.
Other chicken recipes you might like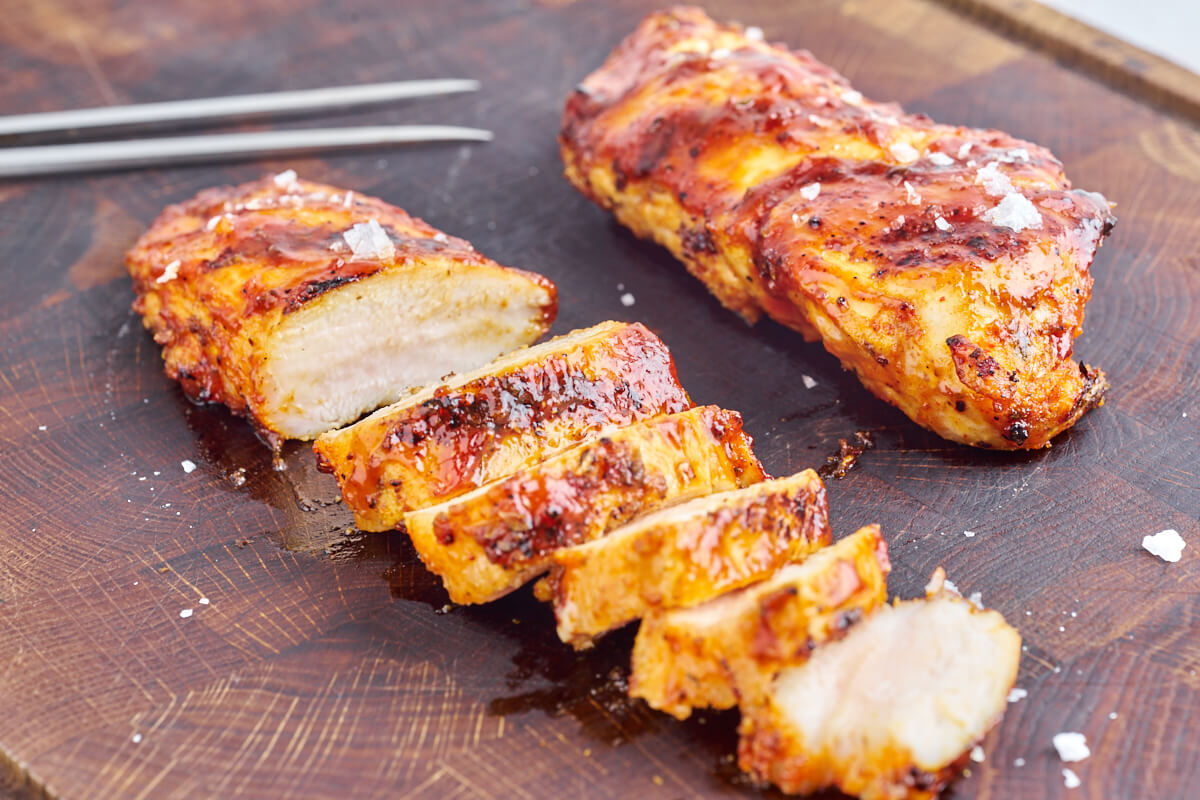 Tips and tricks for the recipe
Coat them with barbecue seasoning the day before, so they can absorb plenty of flavor in the refrigerator overnight.
Always let them rest before slicing. This way, the juices will stay inside and won't run out when you cut them.
Serving suggestions
You can serve grilled chicken breast with green salad, baguette, and grilled corn cobs.
Serve grilled chicken fillets with danish potato salad.
Serve the chicken breasts with scalloped potatoes and grilled green asparagus.
Do you love chicken?

Then you should try our recipe for Danish chicken meatballs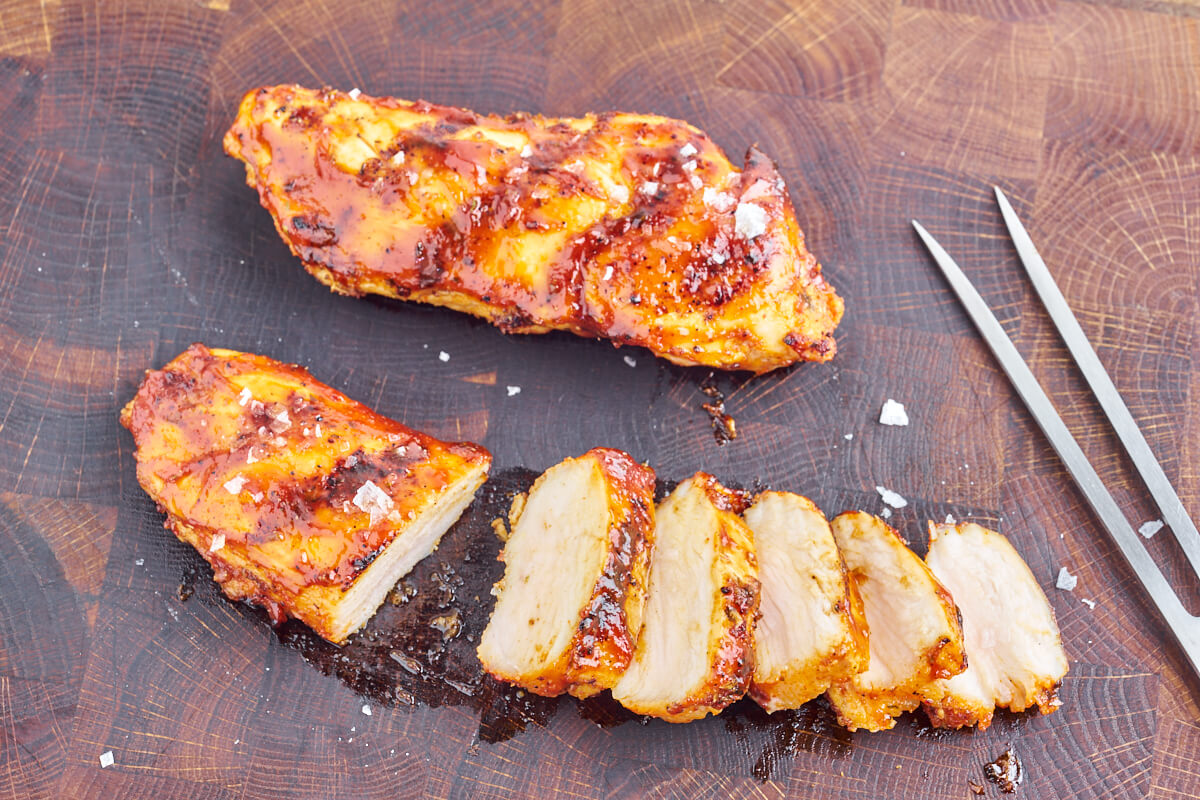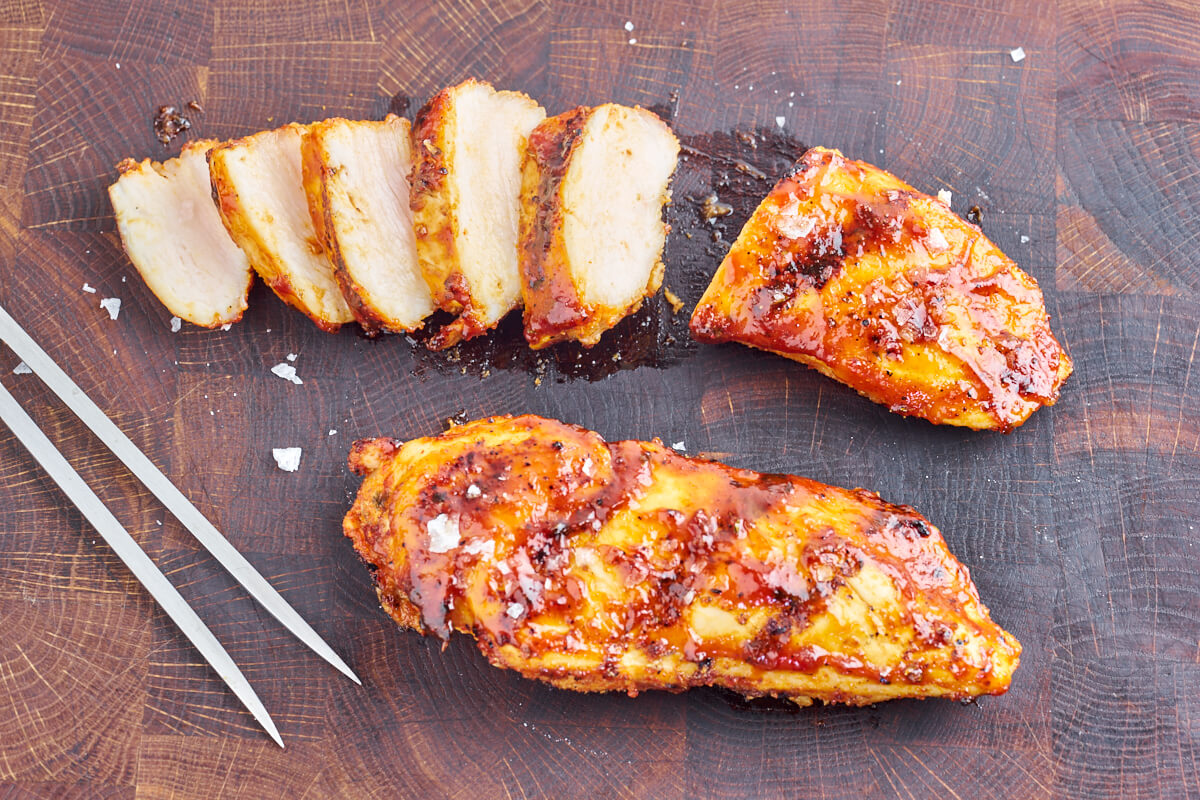 Recipe for bbq chicken breast
Here's the recipe for the best and juiciest grilled chicken breasts. Serve them with your favorite side dishes and use the leftovers in a delicious barbecue Caesar salad, as sandwich fillings for packed lunches, or in a chicken pasta salad.

We hope you feel inspired to try the recipe and grill chicken for your family. It's always a hit when we have chicken on the grill at home.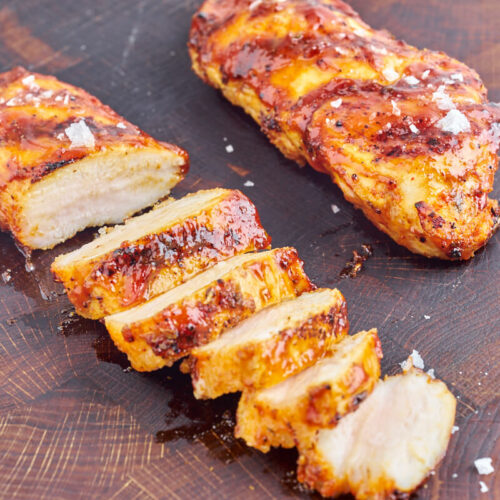 Grilled chicken breast
Recipe for grilled chicken breast
Chicken fillet or chicken breast is a delicious and lean piece of meat. It tastes wonderful grilled with a good barbecue sauce, and it's really easy to make.
Ingredients  
600

g

chicken breast

1

dl

barbecue seasoning

2

tbsp

olive oil
Barbecue sauce
1

dl

ketchup

1

tbsp

Worcestershire sauce

2 ½

tbsp

brown sugar

½

tsp

salt

1

tsp

onion powder

½

tsp

garlic powder

½

tsp

smoked paprika
Instructions 
Preheat the grill to 200℃ with both direct and indirect heat.

Mix all the ingredients for the barbecue sauce in a small saucepan and heat them until the sugar dissolves. Taste and adjust the seasoning if needed. Set it aside.

1 dl ketchup,

1 tbsp Worcestershire sauce,

2 ½ tbsp brown sugar,

½ tsp salt,

1 tsp onion powder,

½ tsp garlic powder,

½ tsp smoked paprika

Trim the chicken breasts of any tendons or excess fat. Place them in a bowl. Pour the olive oil over them and toss well to coat.

600 g chicken breast,

2 tbsp olive oil

Sprinkle the barbecue seasoning over the chicken breasts and toss again to distribute the seasoning.

– This step can also be done a day in advance to allow the flavors to penetrate the meat.

Place the marinated chicken breasts on the preheated grill over direct heat and cook for about 4 minutes on each side over direct heat.

Once the chicken breasts are grilled on both sides, brush them with the barbecue sauce and move them to indirect heat. Let them cook for approximately 5 minutes.

– Chicken breasts should be cooked to an internal temperature of 70℃ to be done. Use a thermometer to check the temperature. The cooking time also depends on the size of the chicken breasts, so it's a good idea to check the temperature.

Once the desired internal temperature is reached and the barbecue sauce has caramelized slightly, the chicken breasts are done. Let them rest for 5 minutes before slicing and serving.
Nutrition
Serving:
1
person
Calories:
370
kcal
Carbohydrates:
32
g
Protein:
35
g
Fat:
13
g
Saturated Fat:
3
g
Polyunsaturated Fat:
2
g
Monounsaturated Fat:
7
g
Trans Fat:
0.02
g
Cholesterol:
96
mg
Sodium:
756
mg
Potassium:
855
mg
Fiber:
3
g
Sugar:
14
g
Vitamin A:
958
IU
Vitamin C:
7
mg
Calcium:
274
mg
Iron:
10
mg
How do you like the recipe?
Have you tried this recipe? We'd love to hear what you think of it. Leave a comment, add a number of stars to the recipe and share your photo on Instagram with #madformadelskere – We love seeing your dishes ♥️
Also, sign up for our Facebook group where you can show pictures of the delicious food you make! You can find the Facebook group here