The perfect taste of delicious chicken, bacon, and butter-fried mushrooms. Homemade Danish chicken salad with bacon is simply the best! Served simply on a slice of good rye bread, or in a crispy croissant, I'm in heaven. If you want to see how easy it is to make the best homemade chicken salad with bacon, read on and get our recipe.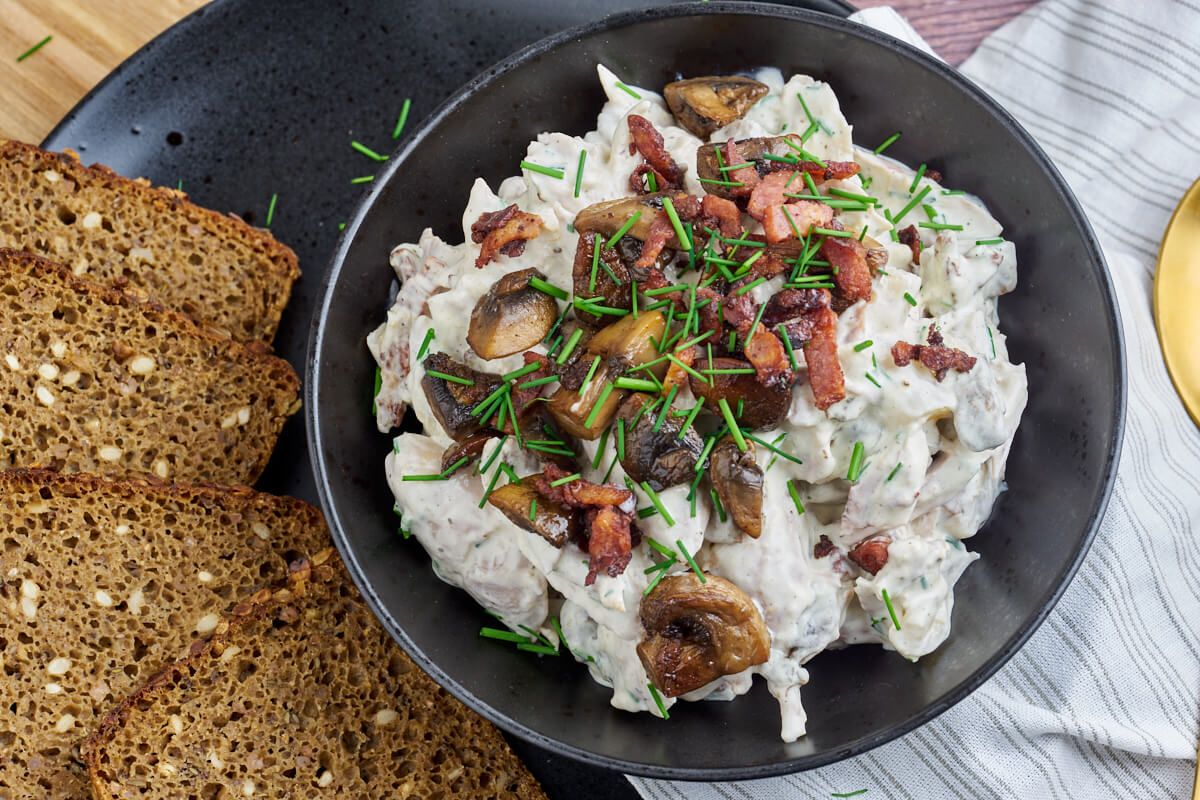 Chicken salad with lots of flavors
On a traditional Danish lunch table, there are just a few things that have to be there, and for me, classic chicken salad is definitely one of them. Additionally, there's some herring, a warm liver pâté, and a few other small things. I don't need more. This applies both to Christmas lunch and Easter lunch.

Chicken salad is a true classic. We've bought chicken salad for many years, but it's not worth it! There's a world of difference in taste and texture, and the best part is that you can "twist" the flavor exactly in the direction you want.

Our recipe for chicken salad with bacon is the completely traditional Danish one with crispy bacon, asparagus, and butter-fried mushrooms. That combination is just something special and combined in a delicious creamy mild dressing, it doesn't get any better.

You can serve chicken salad as a delicious topping for lunch during Christmas, at the breakfast table on a piece of toasted bread, or in a delightful crispy croissant as a lunch dish.

All Danes know chicken salad served as an appetizer on a slice of pineapple, which was a big thing in the 70s/80s, but it still tastes good, and even better if you make it yourself from scratch.

In our recipe, chicken legs are used, but they can easily be replaced with breast meat. I just think there's more flavor in the leg meat, and it doesn't get as dry. Because the cooking time for the legs is relatively long, it's worth preparing them in advance and then taking the meat out of the refrigerator when it's needed.

In fact, you can also advantageously roast the mushrooms and bacon in advance, as it all needs to be completely cooled down before being mixed in the dressing.

If you boil the chicken legs yourself, just remember to save the stock that's left in the pot, it can be used advantageously in soups or sauces afterward.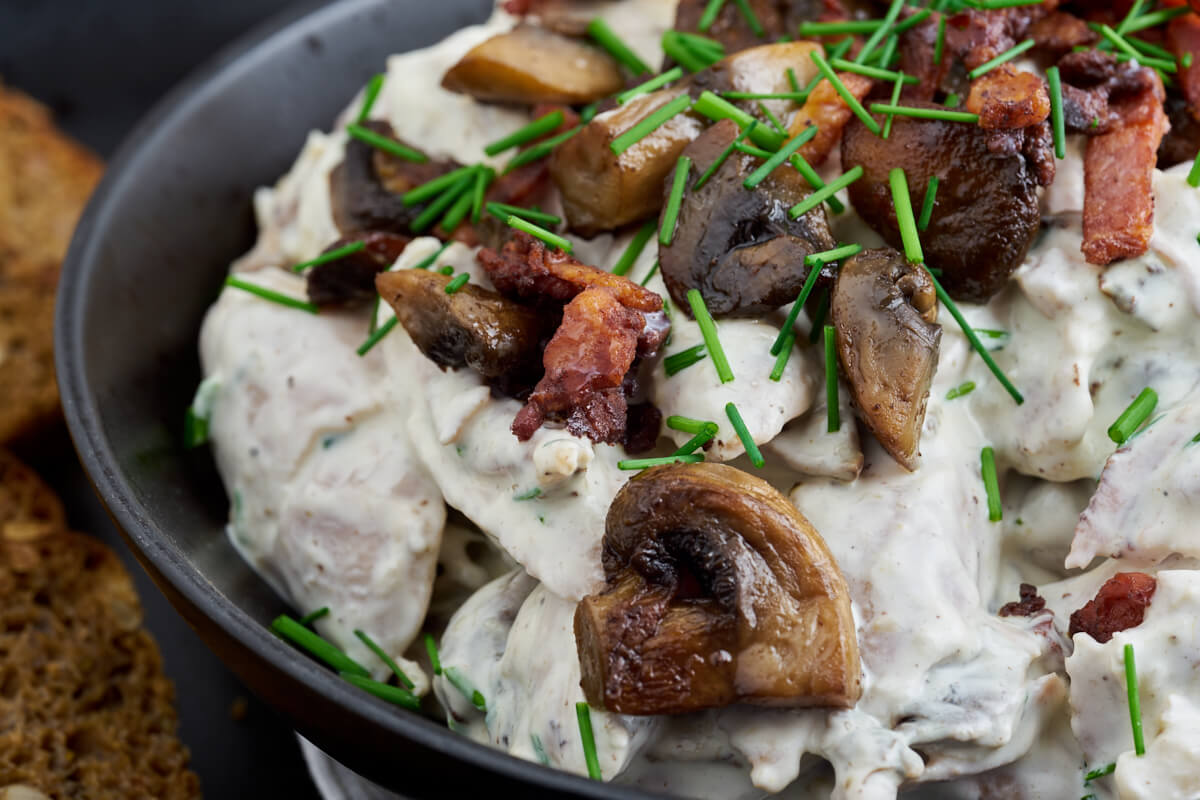 Ingredient notes
Chicken legs – Can be replaced with chicken breast if that is your preference.

Bacon – In my opinion, bacon is a must-have ingredient in a classic chicken salad. It adds that delicious salty, smoky flavor to the salad.

Mushrooms – Butter-fried mushrooms are just great and should be included in the salad. You can easily use other types of mushrooms instead, such as chanterelles, oyster mushrooms, or portobello mushrooms.

White asparagus – White asparagus from a jar is fine, but you can also use green asparagus. Just give them a quick boil first. They also add some more texture to the chicken salad compared to the soft white asparagus from the jar.
How to make Danish chicken salad with bacon?
Here's a brief overview of how to make the world's best chicken salad with bacon at home.

Assuming you have cooked and cooled the chicken, crispy bacon, and sautéed mushrooms are ready to go, here's what you need to do:

In a large bowl, mix together sour cream, mayonnaise, and Dijon mustard. Finely chop the chives and add them to the dressing along with the chicken meat, crispy bacon, mushrooms, and asparagus. Season with salt, pepper, sugar, and lemon juice, and mix thoroughly.

Taste the chicken salad and adjust the seasoning as needed with additional salt, sugar, pepper, or lemon juice.

Serve the chicken salad immediately, or chill it until ready to serve.

Find the full recipe further down this page.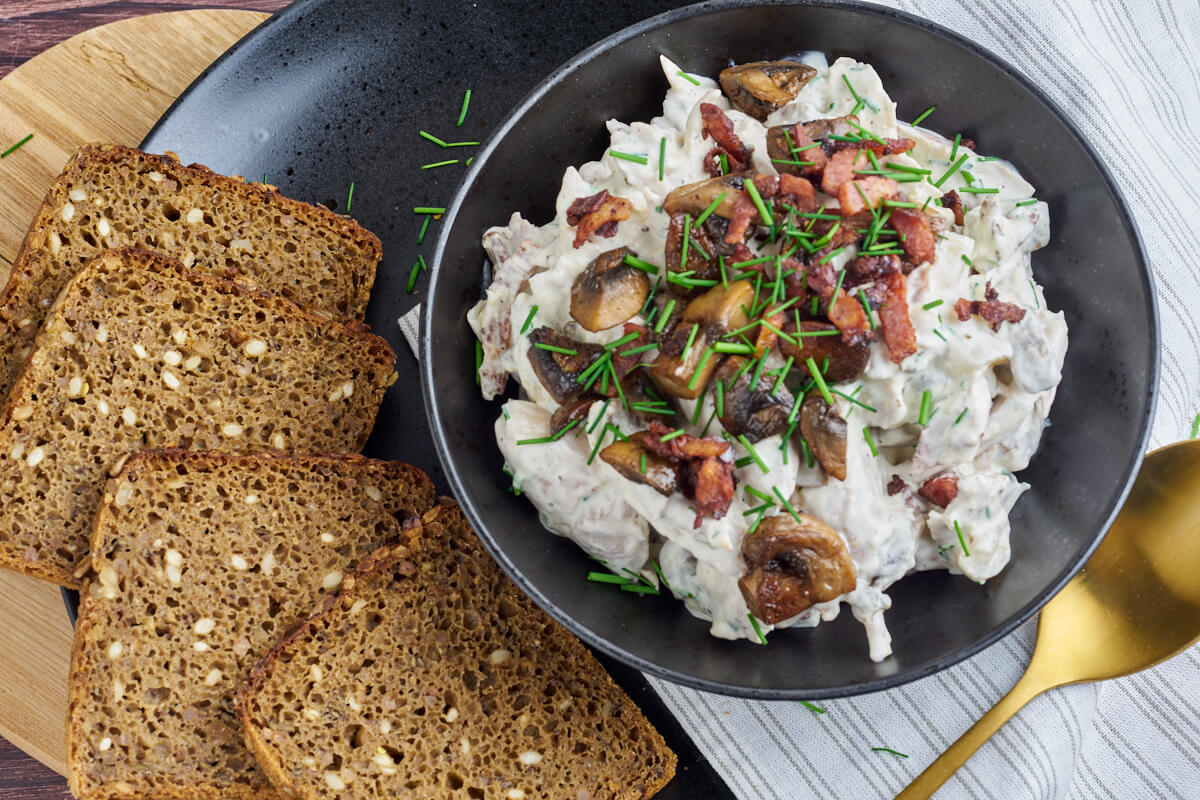 Frequently asked questions
How do you store the salad?
Chicken salad can be stored in the refrigerator for a few days.
Can the salad be frozen?
No, it is not suitable for freezing. You can freeze the chicken meat before mixing it with the dressing.
Can I use something else instead of chicken legs?
Yes, you can easily substitute with thighs or chicken breast. It also shortens the cooking time as breasts do not need to be boiled for as long. You can also use leftover chicken meat if you have any from dinner.

Other Danish lunch recipes you might like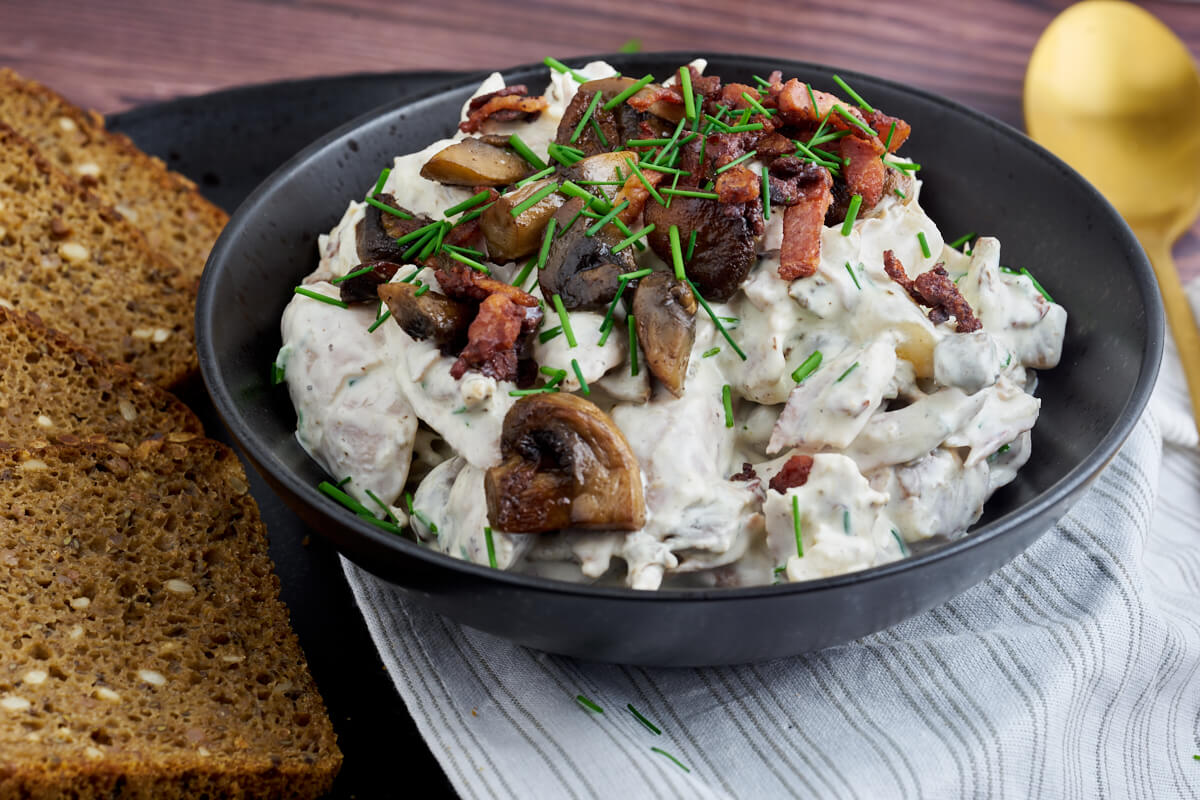 Tips and tricks for the recipe
Cook the chicken, bacon and mushrooms in advance, so they are completely cooked before making the salad.
Serving suggestions
Serve for a Danish easter lunch or Christmas lunch.
Serve for lunch for your family on rye bread.
Do you love this salad?

You should also try our recipe for Danish herring salad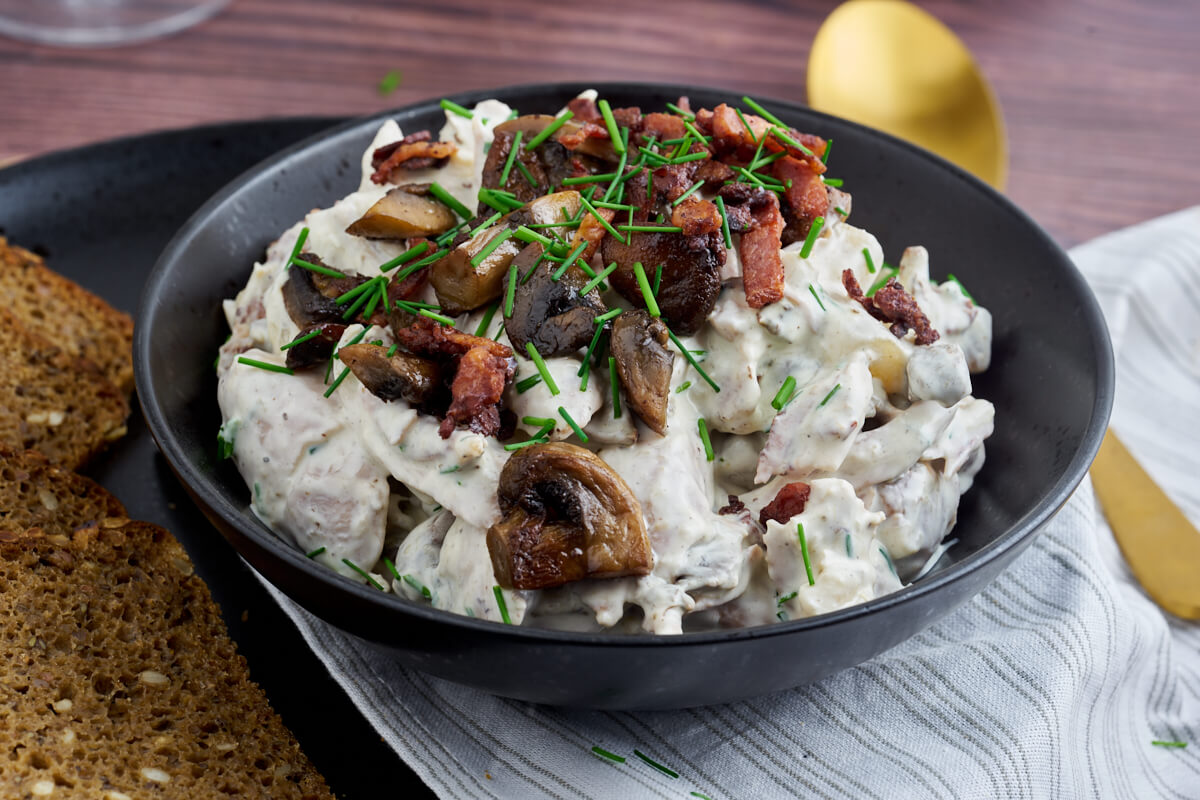 Recipe for the best chicken salad
Here is our recipe for the best chicken salad with bacon and sautéed mushrooms. It's packed with flavor and you may want to make a big batch because it will disappear quickly!

You can serve homemade chicken salad for Christmas lunch, as a starter, or just for a casual lunch with the family. We hope you feel inspired to try out the recipe.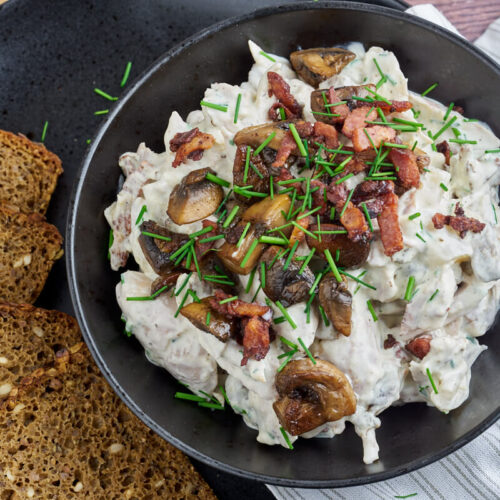 Danish chicken salad with bacon
Recipe for Danish chicken salad with bacon
Homemade chicken salad is a must-have on the table for Christmas or Easter lunch. It's easy to make and tastes fantastic. In this version, you get a chicken salad with bacon, mushrooms, white asparagus, and chives.
Ingredients  
12

chicken legs

equivalent to

400

grams of chicken meat

1

stalk

celery

1

onion

1

carrot

Water

1

tbsp

dried thyme

2.5

tbsp

salt

Pepper

1

chicken stock cube
Chicken salad
30

gram

butter

350

gram

mushrooms

200

gram

bacon

1

dl

mayonnaise

2

dl

sour cream

1

dl

chives

1

tsp

lemon juice

0.5

tsp

Dijon mustard

125

gram

white asparagus

canned

0.5

tsp

sugar

1

tsp

salt

Pepper
Instructions 
Preparation
Slice the celery, halve the onion, and slice the carrot. Place them in a large pot with the chicken legs and cover with cold water.

12 chicken legs,

1 stalk celery,

1 onion,

1 carrot,

Water

Add dried thyme, salt, pepper, and chicken stock to the pot. Place the pot on the stove and bring the water to a boil. Reduce the heat to a simmer. Remember to skim the surface regularly in the beginning.

1 tbsp dried thyme,

2.5 tbsp salt,

Pepper,

1 chicken stock cube

The chicken legs should simmer for approximately 40 minutes.

When the meat is tender, remove the chicken legs and shred the meat. Let the meat cool completely before using it in the chicken salad.

Remember to strain the stock from the pot through a sieve and save it. It can be used as a base for a good soup.

While the chicken simmers, prepare the bacon and sautéed mushrooms.

Clean the mushrooms and cut them into quarters or appropriate bite-sized pieces. Melt the butter in a pan. Add the mushrooms and sauté until all the liquid has evaporated. Then set them aside to cool completely.

30 gram butter,

350 gram mushrooms

Dice the bacon and fry it in a large pan until it is golden and crispy. Drain off the fat and set the bacon aside to cool.
Chicken salad
In a bowl, mix the sour cream and mayonnaise together with Dijon mustard.

1 dl mayonnaise,

2 dl sour cream,

0.5 tsp Dijon mustard

Chop the chives and add them in. Add salt, pepper, sugar, lemon juice, and mix the dressing thoroughly.

1 dl chives,

1 tsp lemon juice,

1 tsp salt,

Pepper,

0.5 tsp sugar

Cut the white asparagus into bite-sized pieces and add them to the dressing along with the chicken meat (approximately

400

grams), bacon, and mushrooms.

Mix the chicken salad together and taste it. Adjust seasoning as needed.

Serve the best chicken salad with a slice of rye bread, in a croissant, or classic on a slice of pineapple as an appetizer.
Nutrition
Serving:
1
person
Calories:
713
kcal
Carbohydrates:
14
g
Protein:
22
g
Fat:
64
g
Saturated Fat:
21
g
Polyunsaturated Fat:
17
g
Monounsaturated Fat:
21
g
Trans Fat:
0.4
g
Cholesterol:
142
mg
Sodium:
5815
mg
Potassium:
829
mg
Fiber:
4
g
Sugar:
7
g
Vitamin A:
4542
IU
Vitamin C:
23
mg
Calcium:
135
mg
Iron:
4
mg
How do you like the recipe?
Have you tried this recipe? We'd love to hear what you think of it. Leave a comment, add a number of stars to the recipe and share your photo on Instagram with #madformadelskere – We love seeing your dishes ♥️
Also, sign up for our Facebook group where you can show pictures of the delicious food you make! You can find the Facebook group here