Danish herring salad is an underrated dish! It tastes absolutely fantastic and it's easy to make. You can serve homemade herring salad for Easter lunch or Christmas lunch, or just on a piece of rye bread if you want to make something extra delicious for lunch. Read on and get our recipe with beets and apple.
Perfect for easter or Christmas lunch
A good salad is always nice when we have Easter lunch or Christmas lunch. Everything from chicken salad to seafood salad and of course, egg salad.

Herring salad is a bit underrated here in Denmark, there don't seem to be many people eating it anymore. That is a big mistake because it tastes so good and it's easy to make.

In Sweden, large amounts of Swedish herring salad are still being eaten, which is apparently made with potatoes. The Danish kind of herring salad is pretty close to the german herring salad, so if you like that, you should try our recipe.

Here you get our version of a more fresh and light salad with herring, beets, and apples in a sour cream dressing. It's super easy to make and perfect for an Easter lunch or a delicious spring lunch.

It's delicious on rye bread with some cress on top.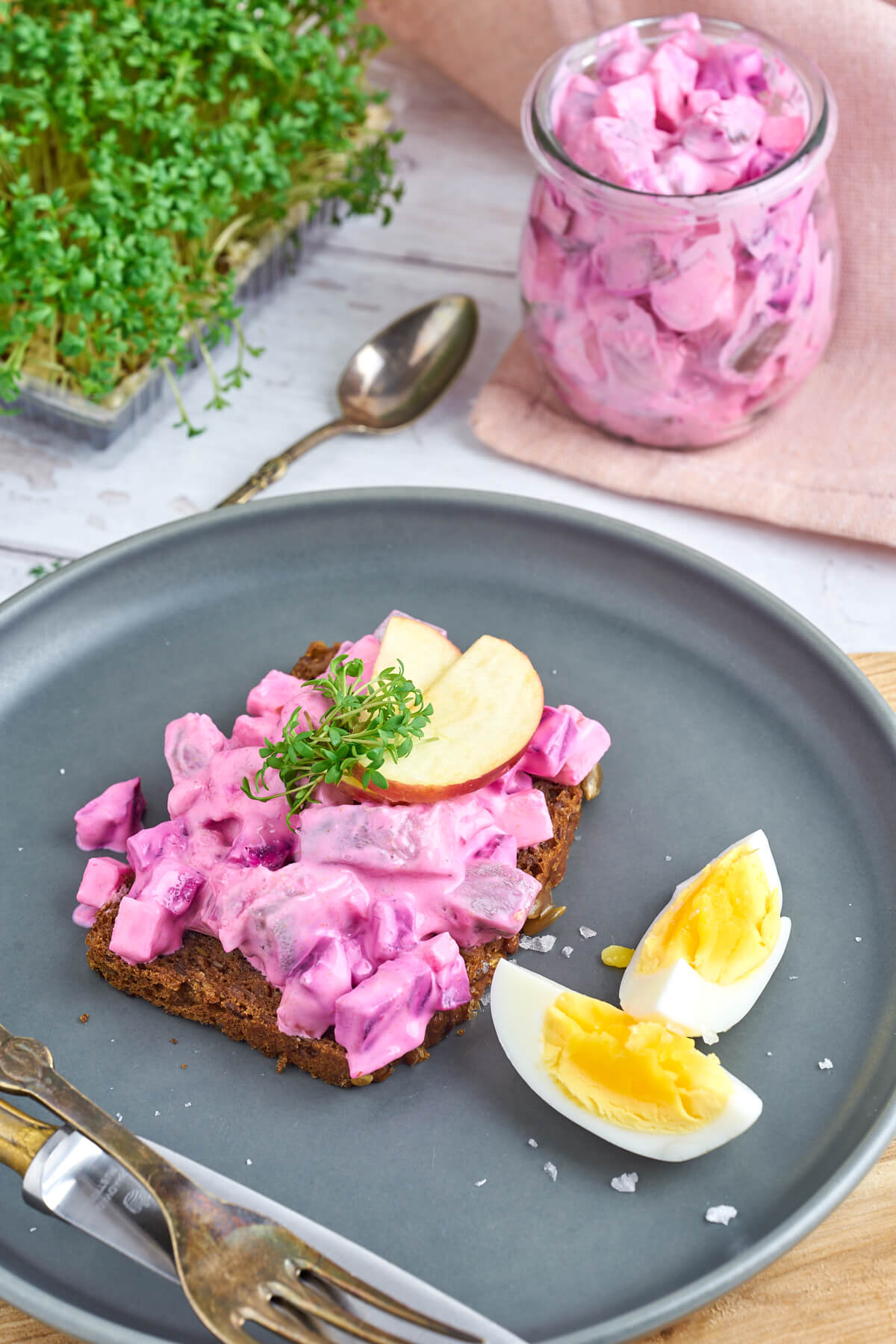 Ingredient notes
Pickled herring – Pickled herring can be bought in most supermarkets. We buy whole fillets and cut them into the size we want.

Sour cream – The salad is made with sour cream dressing, which gives a fresh and tangy dressing.

Pickled beets – Pickled beets provide good flavor and also give a beautiful color.

Apple – The diced apples are fresh and go really well with the rich pickled herring.
How to make Danish herring salad?
It's not difficult at all to make homemade herring salad.

Take the pickled herring fillets and let them drain well, then cut them into cubes.

Make the dressing with sour cream and mustard, which are seasoned with salt, sugar, and pepper. Finally, mix in diced apples, beets, and herring, and it's ready to serve.

Serve it as part of lunch for Easter or Christmas, or simply enjoy it on rye bread as a delicious weekend lunch.

Find the full recipe further down this page.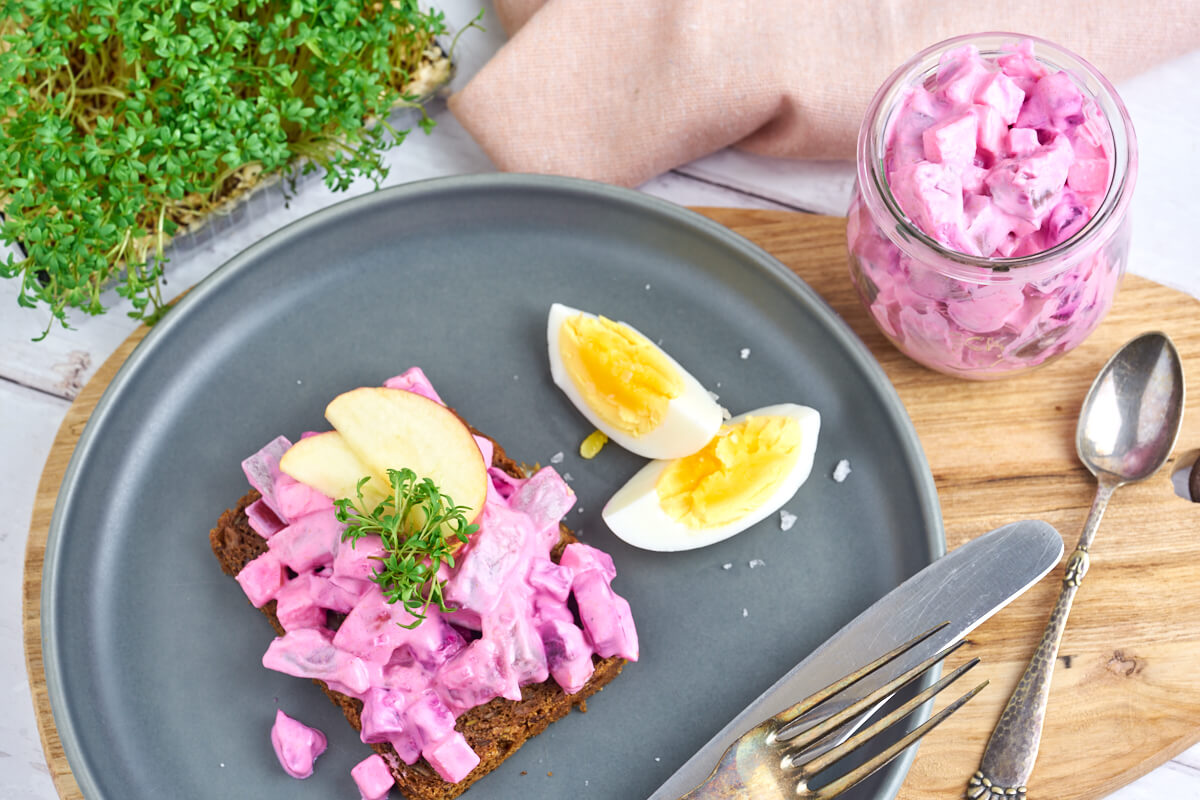 Frequently asked questions
How to store the salad?
The salad should be stored in the fridge
For how long can I store herring salad?
The salad can be stored in the refrigerator for 2-3 days. The color may change slightly if it sits for a while, but when it's stirred before serving, it helps with the color.
Other Danish lunch recipes you might like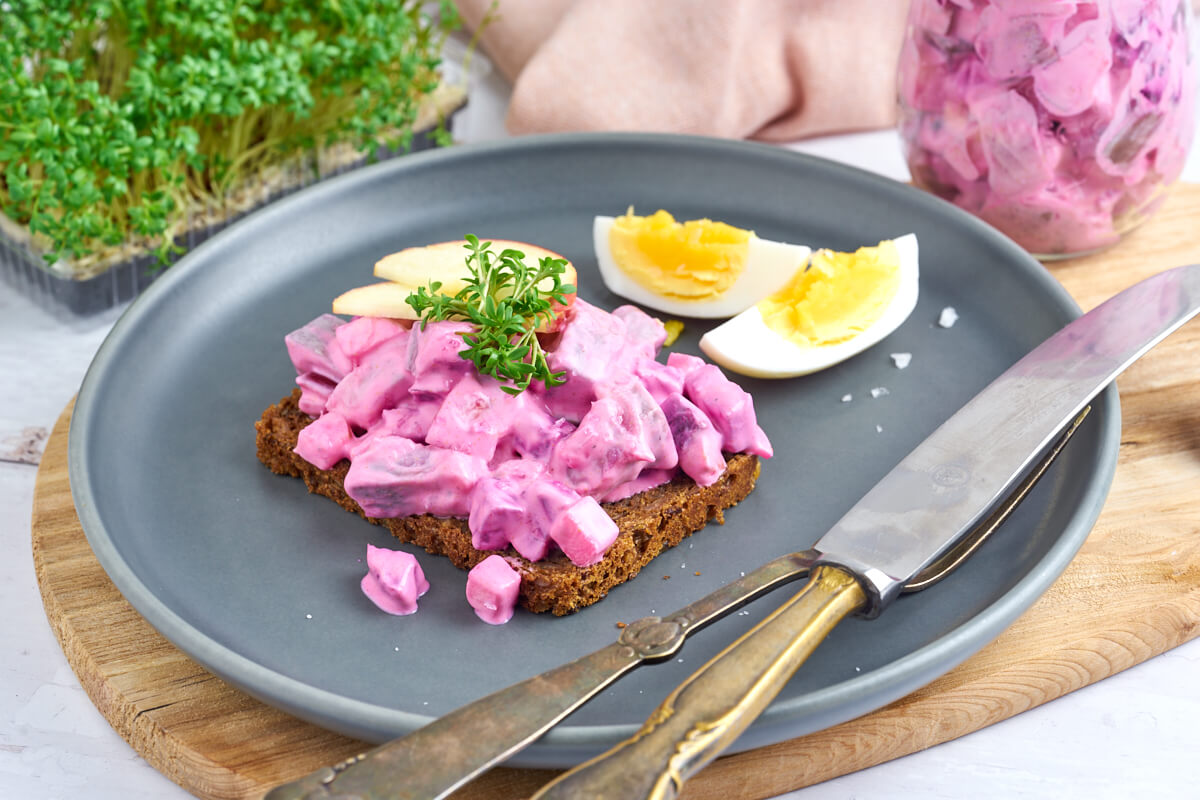 Tips and tricks for the recipe
If you want a richer dressing, you can replace some of the sour cream with mayonnaise. However, it's not necessary, and the fatty herring goes well with the tangy sour cream dressing.
Serving suggestions
Serve your herring salad with freshly baked rye bread and boiled eggs, topped with a little bit of cress.
Serve the salad for Easter lunch or Christmas lunch as part of a larger lunch with warm and cold dishes.
Do you love herring?

Then you should also try our recipe for Pickled herring in mustard sauce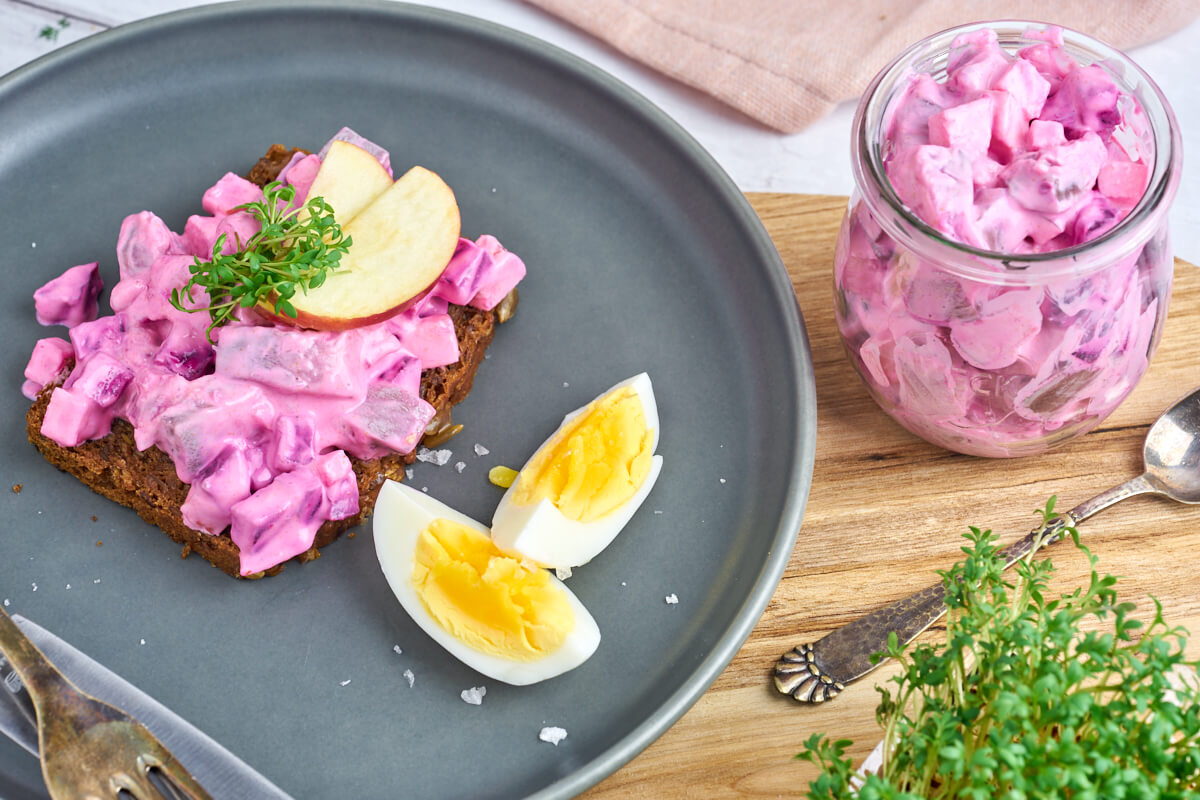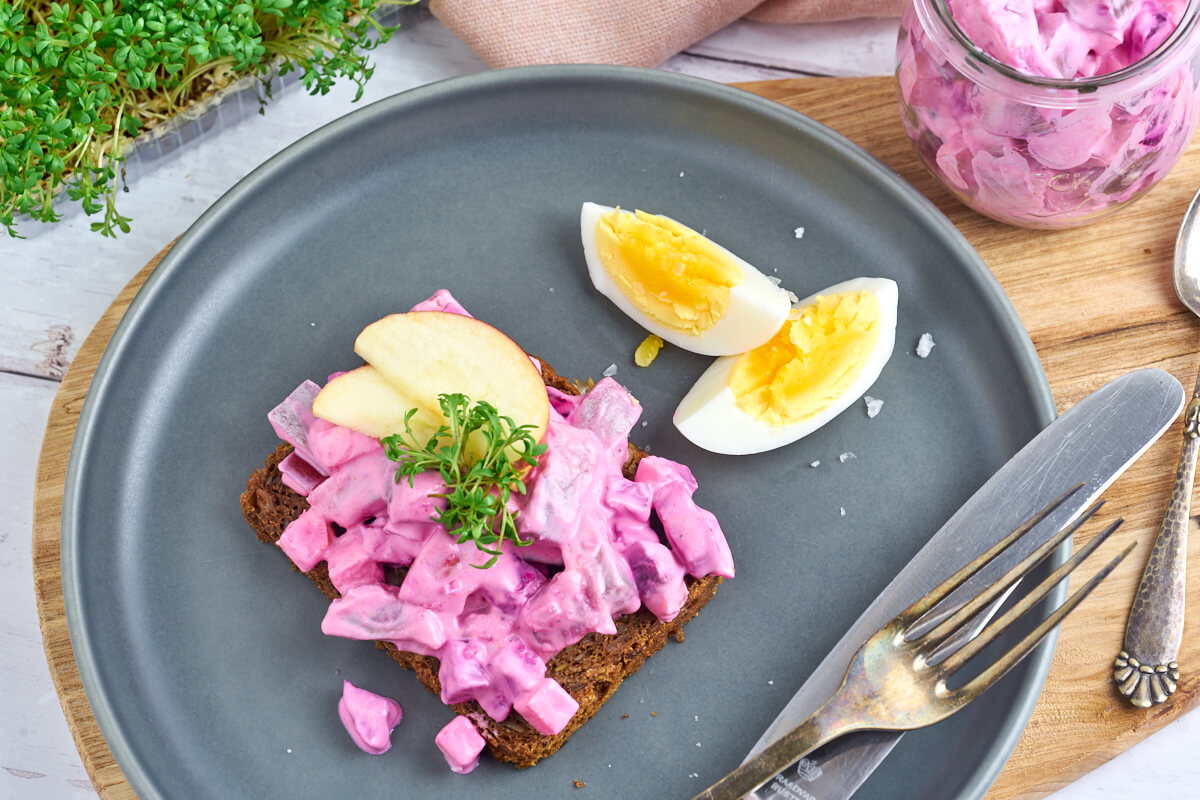 Recipe for home made herring salad
Here you get our recipe for an easy and delicious herring salad with beets and apples. It's a fresh and tasty salad that is great as a topping on rye bread open sandwich, or as a guaranteed crowd-pleaser at Easter lunch.

We hope you feel like trying to serve the salad for your family. It's really easy to make, and it's both a beautiful and delicious salad.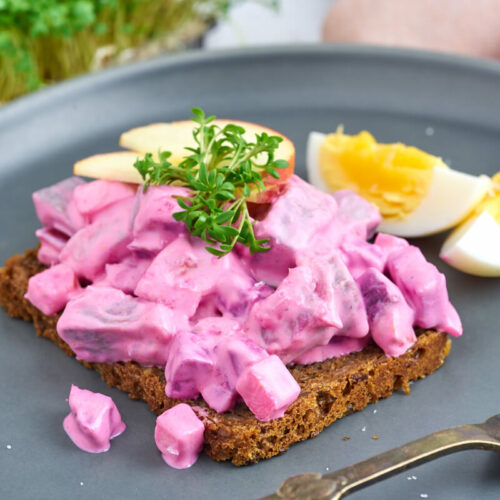 Danish herring salad
Recipe for Danish Herring Salad
Homemade sandwich spread with herring, beets, and apples. It is small pieces of herring in a sour cream dressing with beet and apple cubes, and it is delicious on a piece of rye bread. It is suitable for serving at Easter lunch or Christmas lunch.
Ingredients  
4

pickled herring fillets

approximately 300 grams

100

grams

pickled beets

1

apple

2

dl

sour cream

1

tbsp

sweet french mustard

1

tsp

sugar

½

tsp

salt

Pepper

Cress

for garnish
Instructions 
Take the pickled herring fillets out of the brine and let them drip off on a piece of kitchen paper.

4 pickled herring fillets

Cut the pickled beets and apple into small cubes. Cut the herring fillets into small cubes.

100 grams pickled beets,

1 apple

Mix the sour cream with mustard. Season with salt, pepper, and sugar.

2 dl sour cream,

1 tbsp sweet french mustard,

1 tsp sugar,

½ tsp salt,

Pepper

Mix the herring, beets, and apples in the dressing, and garnish with some cress before serving.
Nutrition
Serving:
1
person
Calories:
257
kcal
Carbohydrates:
12
g
Protein:
15
g
Fat:
17
g
Saturated Fat:
7
g
Polyunsaturated Fat:
2
g
Monounsaturated Fat:
5
g
Cholesterol:
75
mg
Sodium:
554
mg
Potassium:
394
mg
Fiber:
2
g
Sugar:
9
g
Vitamin A:
412
IU
Vitamin C:
4
mg
Calcium:
100
mg
Iron:
1
mg
How do you like the recipe?
Have you tried this recipe? We'd love to hear what you think of it. Leave a comment, add a number of stars to the recipe and share your photo on Instagram with #madformadelskere – We love seeing your dishes ♥️
Also, sign up for our Facebook group where you can show pictures of the delicious food you make! You can find the Facebook group here