Pickled herring in mustard sauce, or Mustard herring as we call it, is one of our favorites for Christmas lunch or Easter lunch, but we actually like to eat it all year round. You can easily make your own pickled herring in mustard sauce. Read on here and get our best recipe for homemade mustard herring which is a Danish and Swedish classic way of serving marinated or pickled herring.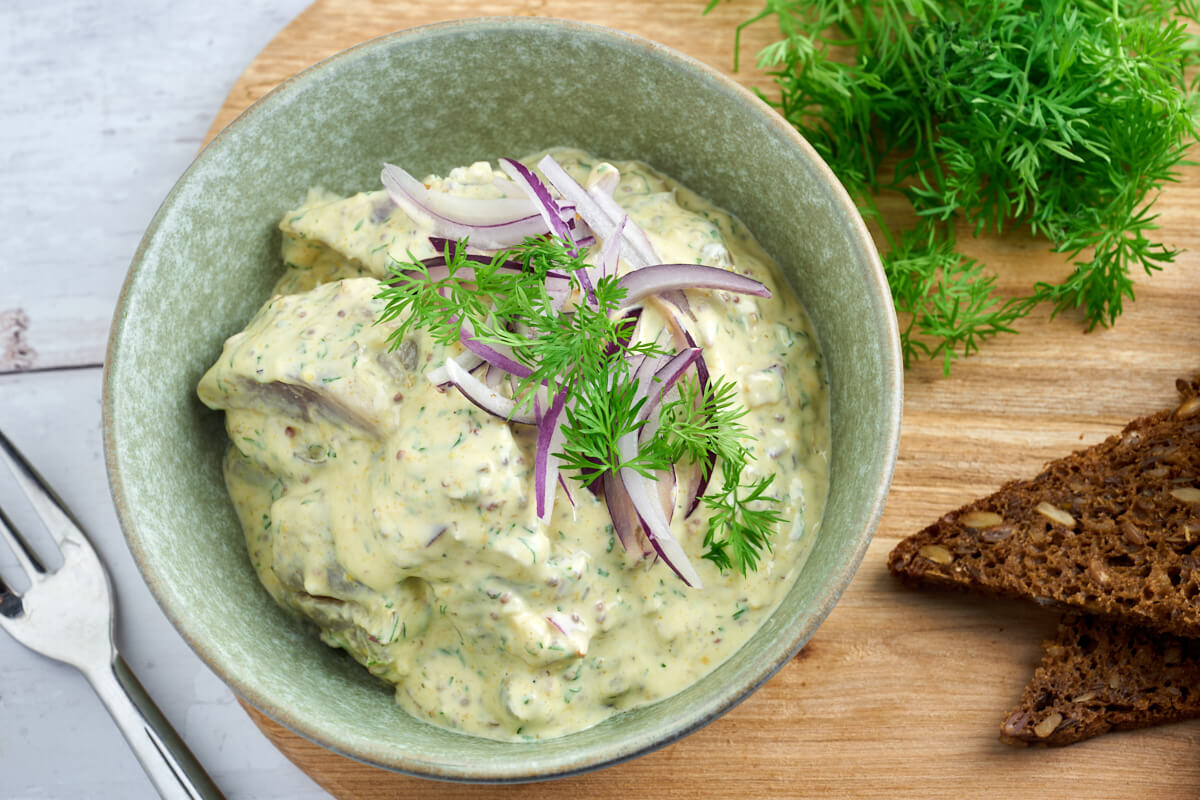 Danish and Swedish herring in mustard sauce
Herring is both healthy and delicious!

We love herring in our family, and our daughter Ellen is also quite fond of them. Especially mustard herring which is pickled herring in mustard sauce.

We can buy them ready-made in the supermarket here in Denmark and also in Sweden and Norway I think. They are absolutely excellent, but there is nothing that beats a batch of homemade mustard herring.

So when you need to make some extra good food, or for Christmas or Easter, they must be homemade.

For Christmas lunch or Easter lunch, herring is a must in Denmark. We love to serve pickled herring in mustard sauce, because they just taste good, and most people like them.

Fortunately, they are easy to make yourself, if you buy marinated herring, then only the dressing they are in needs to be made.

Of course, there must be mustard in, and we use a mixture of different kinds of mustard to get the right taste. You can use the kind of mustard that you like best.

In addition, capers, dill, and red onion must be added. This helps to give the herrings a good taste and makes the dressing extra delicious.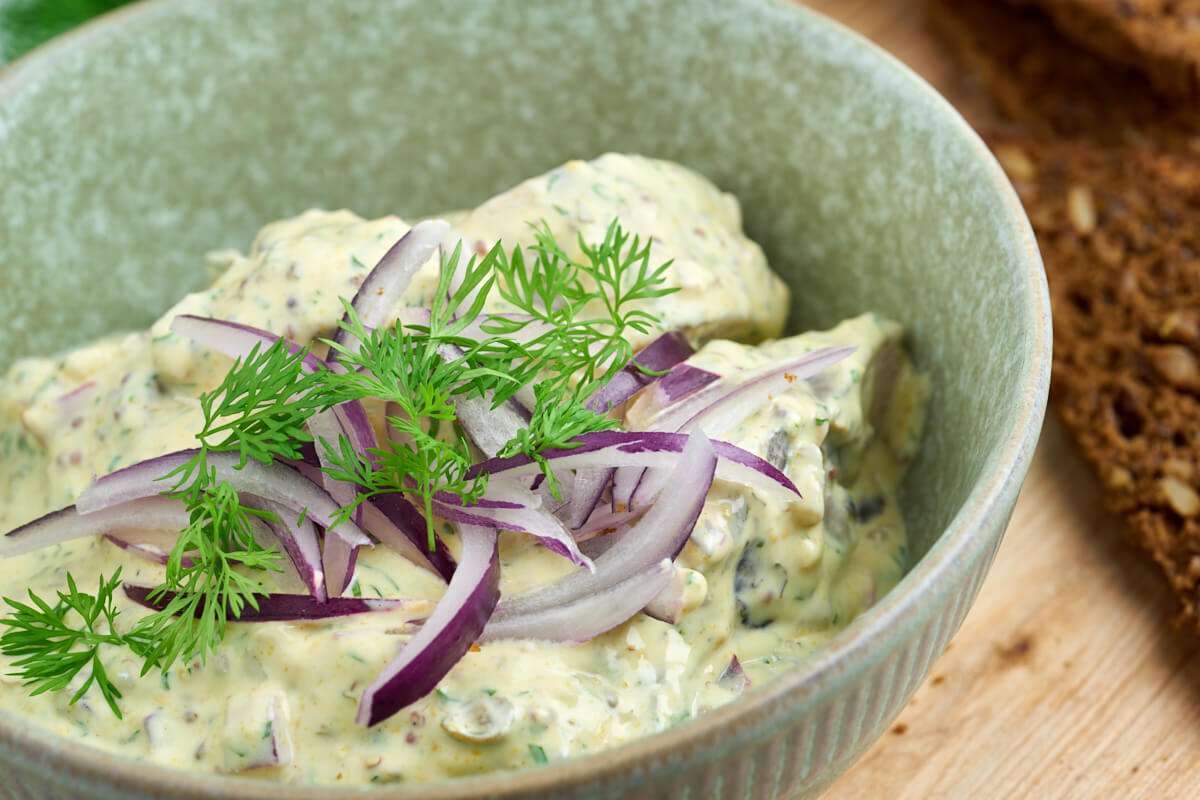 Ingredient notes
Marinated (pickled) herring – You can buy whole marinated herring fillets in most supermarkets in Denmark. Then you can cut them yourself to the size that suits you.

Mustard – Mustard is of course needed when we make mustard herring. We use a mixture of sweet mustard, Dijon mustard, and whole grain mustard. Then we get a little sweetness, strength, and the delicious acidic mustard grains.

Red onion – Onions and herring just taste great together. We use red onion as it is not quite as sharp in taste as regular onions. You can also use shallots instead if you do not have red onions. Half of the onion is finely chopped and comes in the dressing, while the other half is used for garnishing on top of the herrings.

Capers – Capers in the dressing give an acidic note to the otherwise slightly fat herring. It's super delicious, but you can omit it if you don't like capers, or you can replace them with chopped gherkins.

Dill – Dill, and fish are great together. Alternatively, you can use chives or cress, but we like it best with dill.

Sour cream – Use the one you like best. Here the sour cream is at 18% fat.
How to make danish pickled herring in mustard sauce?
Luckily, it's really easy to make your own Danish or nordic mustard herring.

First, mix the dressing of sour cream, mayonnaise, chopped red onion, dill, chopped capers, and the different kinds of mustard. Then season the dressing with salt, pepper, sugar, and possibly more mustard if you like.

When the dressing is ready, the marinated herrings are dripped off before they are cut into slices of about 2 cm, which are turned around in the dressing.

Serve the herrings in a bowl with dill and red onion on top, and serve them with a good piece of rye bread.

Find the full recipe further down this page.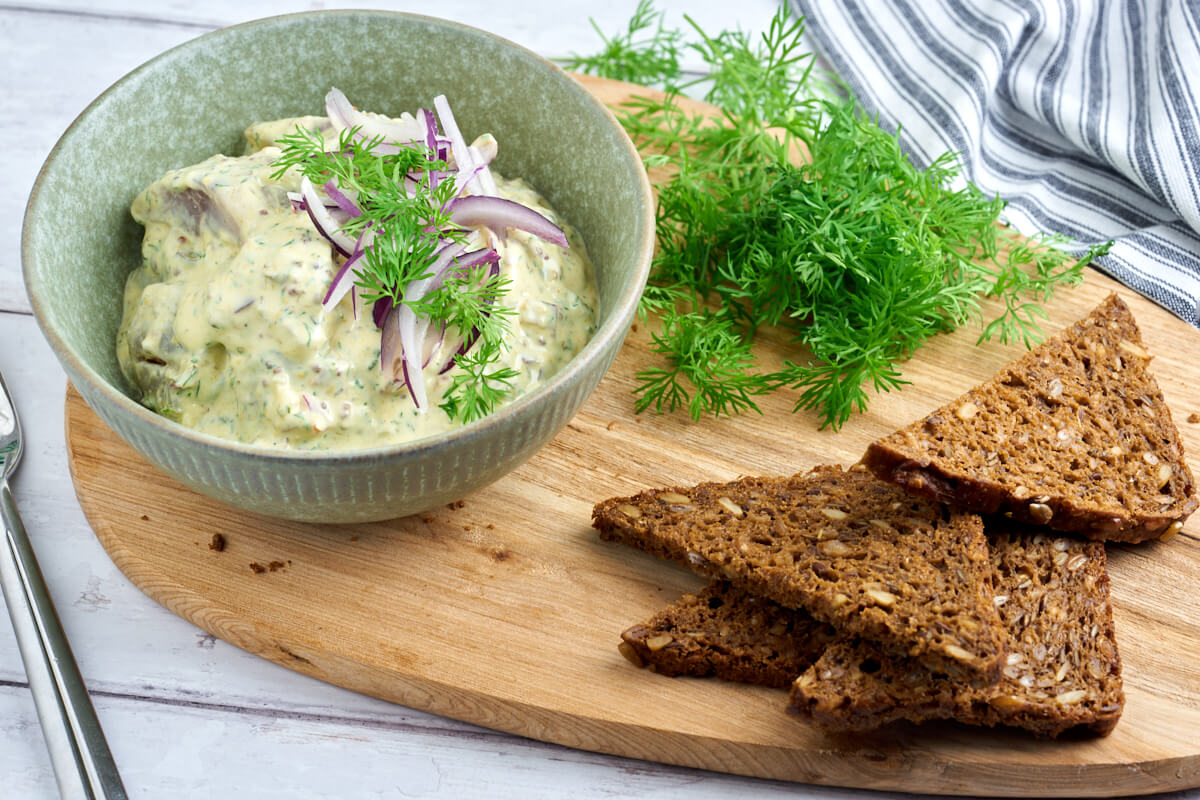 Frequently asked questions
How to store pickled herring in mustard sauce?
The herrings in the mustard sauce should be stored in the fridge until served.
For how long can I store the herring in the sauce?
Once the herrings are in the dressing, they can stay in the fridge for 2-3 days. But don't worry, they will probably be eaten soon.
What can I substitute capers with?
If you are not crazy about capers, you can also use chopped gherkins instead.
What can I substitute dill with?
We love dill in mustard herring, but you can also try with cress or chives instead.
Other danish lunch recipes you might like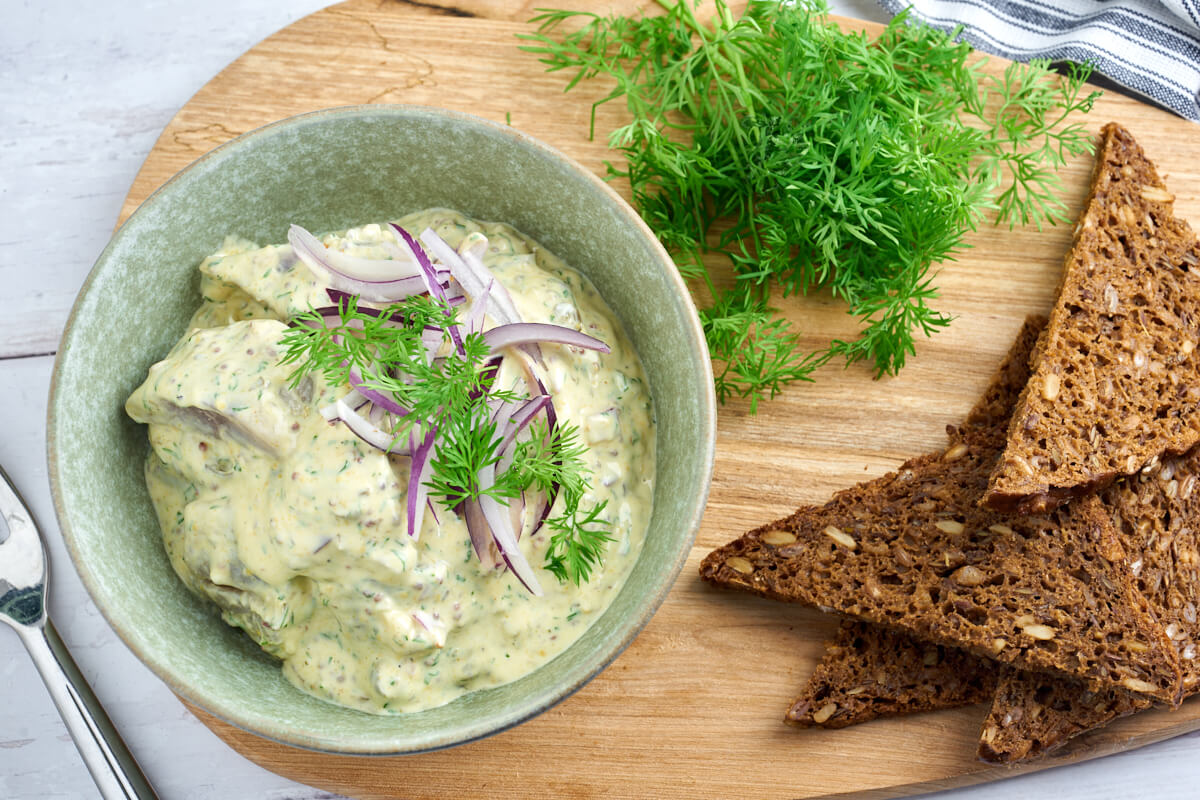 Tips and tricks for danish mustard herring
Taste the dressing before you add the herring pieces. You may need to add a little more mustard, salt, sugar, or pepper.
Try other herbs, such as cress or chives.
Serving suggestions
Serve on the table for Easter lunch with home-baked Rye Bread
Serve for Christmas lunch with schnapps and beer, of course.
Eat for lunch or dinner on a piece of rye bread.
When serving this dish you need Danish rye bread to put it on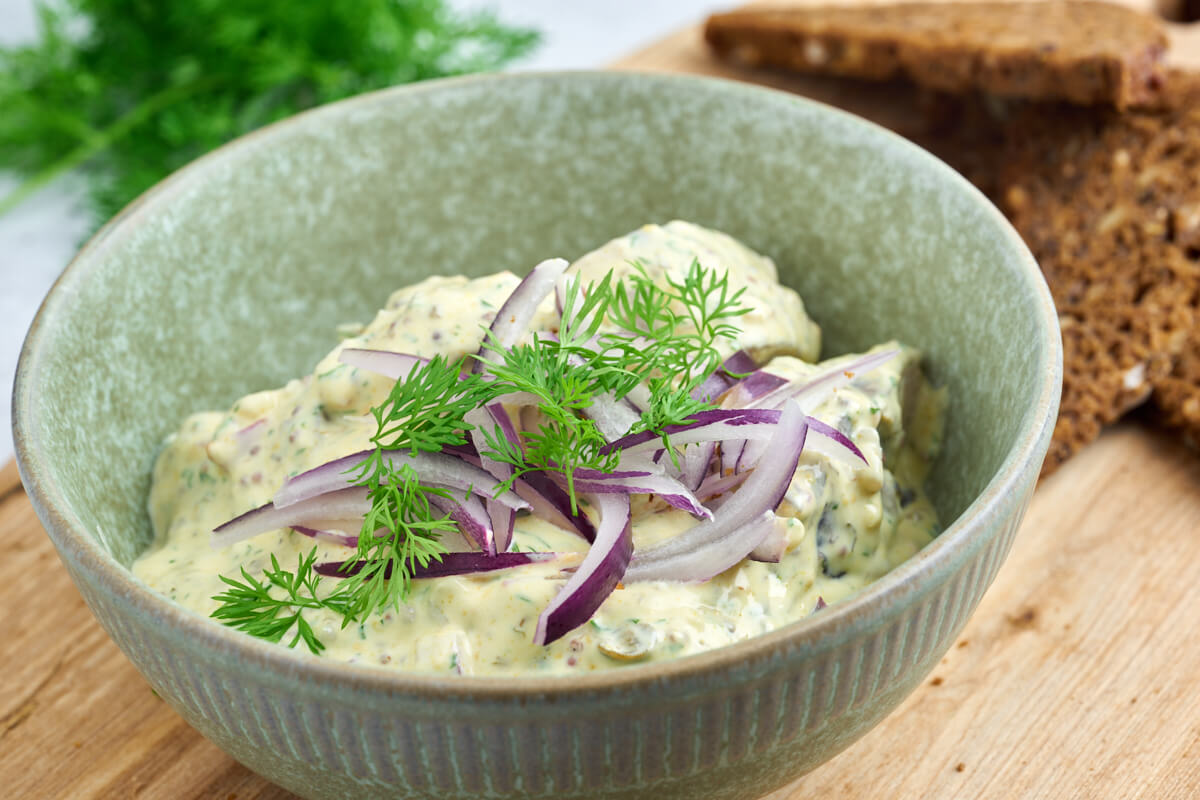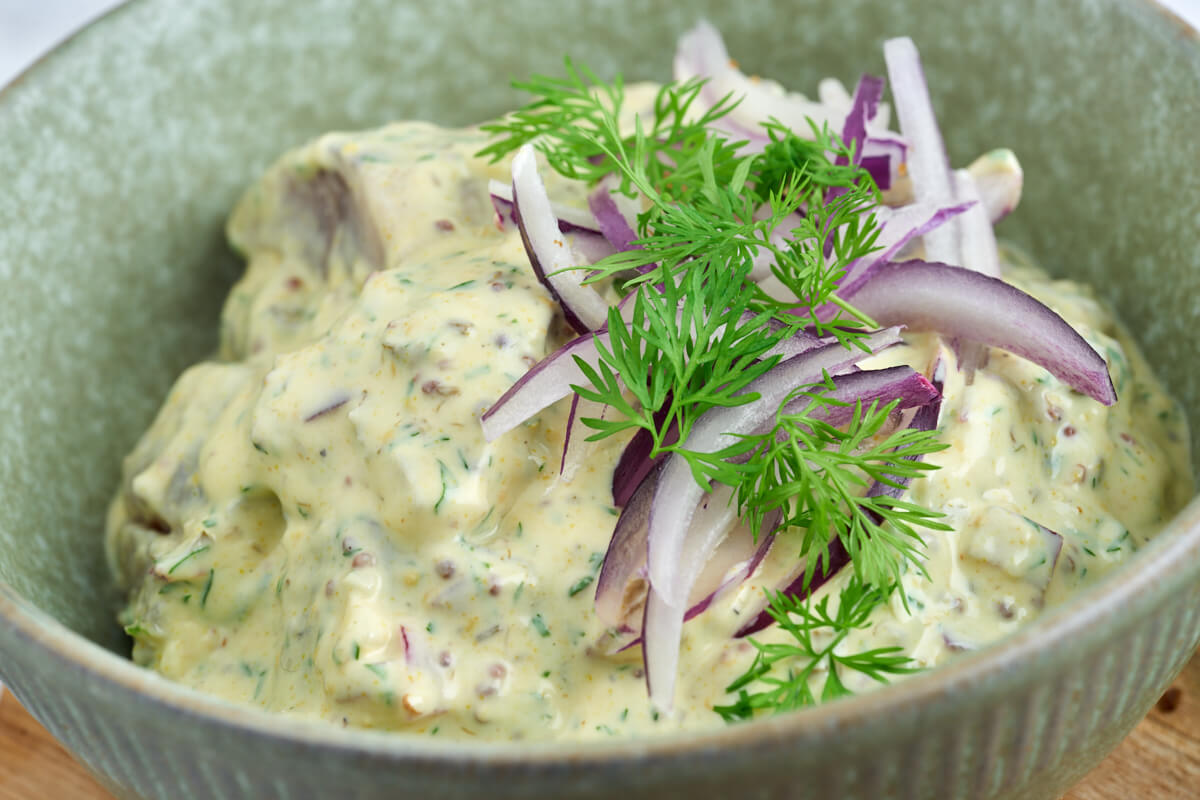 Recipe for the best marinated herring with mustard
Here you get our recipe for delicious homemade mustard herring which you can serve for Easter lunch or Christmas lunch. It is traditionally served in Denmark, Norway, Sweden, and probably more nordic countries.

We hope you enjoy trying the recipe and serving delicious herrings with mustard dressing to your family or friends. They are easy to make and taste great on a piece of rye bread.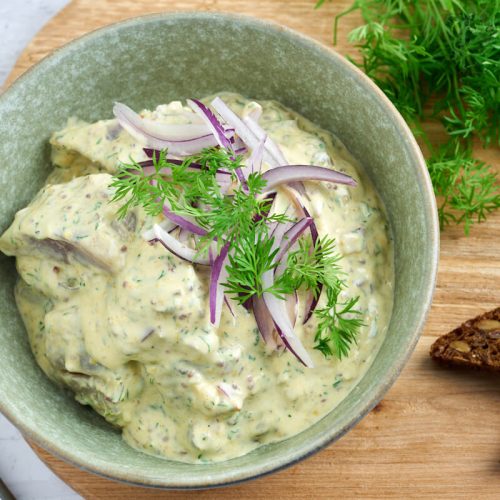 Pickled herring in mustard sauce
Recipe for pickled herring in mustard sauce
Homemade mustard herring with dill, red onion, and capers is wonderful on a piece of rye bread for Easter lunch or Christmas lunch. They are easy to make and they taste amazingly good.
Ingredients  
4

pickled herring fillets

about

300

grams

1

dl

sour cream

4

tbsp

mayonnaise

1

red onion

half for garnish

2

tbsp

capers

½

dl

fresh dill

2

tbsp

whole grain mustard

2

tbsp

sweet mustard

2

tbsp

dijon mustard

1

tsp

sugar

½

tsp

salt

Pepper
Instructions 
Take the marinated herring fillets out of the brine and let them drip off on a piece of paper towel.

Finely chop half of the red onion. Chop capers and chop dill. Save the other half of the red onion and a little of the dill for garnish.

Mix sour cream with mayonnaise and the different kinds of mustard. Add chopped red onion, capers, and dill, and season with salt, pepper, and sugar.

Cut the drained pickled herring fillets into smaller pieces of about 2 cm. Turn the herring pieces in the dressing, and garnish with red onions in thin slices and dill.
Nutrition
How do you like the recipe?
Have you tried this recipe? We'd love to hear what you think of it. Leave a comment, add a number of stars to the recipe and share your photo on Instagram with #madformadelskere – We love seeing your dishes ♥️
Also, sign up for our Facebook group where you can show pictures of the delicious food you make! You can find the Facebook group here