One of the big summer hits at our house is kofta or Köfte kebab as they are also called. It's always a hit with the kids, and we adults love them too. Read along here and get our best recipe for kofta meatballs on skewers for your next BBQ.
Family-friendly kofta kebab
These kebabs are really a hit with both adults and children at our house, and the children can easily eat 3-4 each, and it's just great to see. We here serve the skewers with nice homemade roti bread, fattoush salad, and a nice raita dip.

Something near the perfect meal if you ask me. Light, delicious, and full of good taste. So you do not have to be nervous about baking your own roti, it is actually really easy and they are so good for these kebab skewers.

We like to grill kofta kebabs. It gives this completely crispy and delicious crust, which makes them absolutely perfect.

Remember to oil the grill well with oil, so that the meat does not stick when grilled. If you do not have access to a grill, then a pan with olive oil can also easily do the job.

We probably think of köfte as a Turkish dish, but they are actually eaten in large parts of the world, both in Albania, Bulgaria, India, Greece, and lots of other countries.

Of course, there are differences in the recipes, depending on which country you visit, and there are also differences in the types of meat you traditionally use.

Here it is kofta with beef, but they can also be easily made with lamb, chicken, or pork.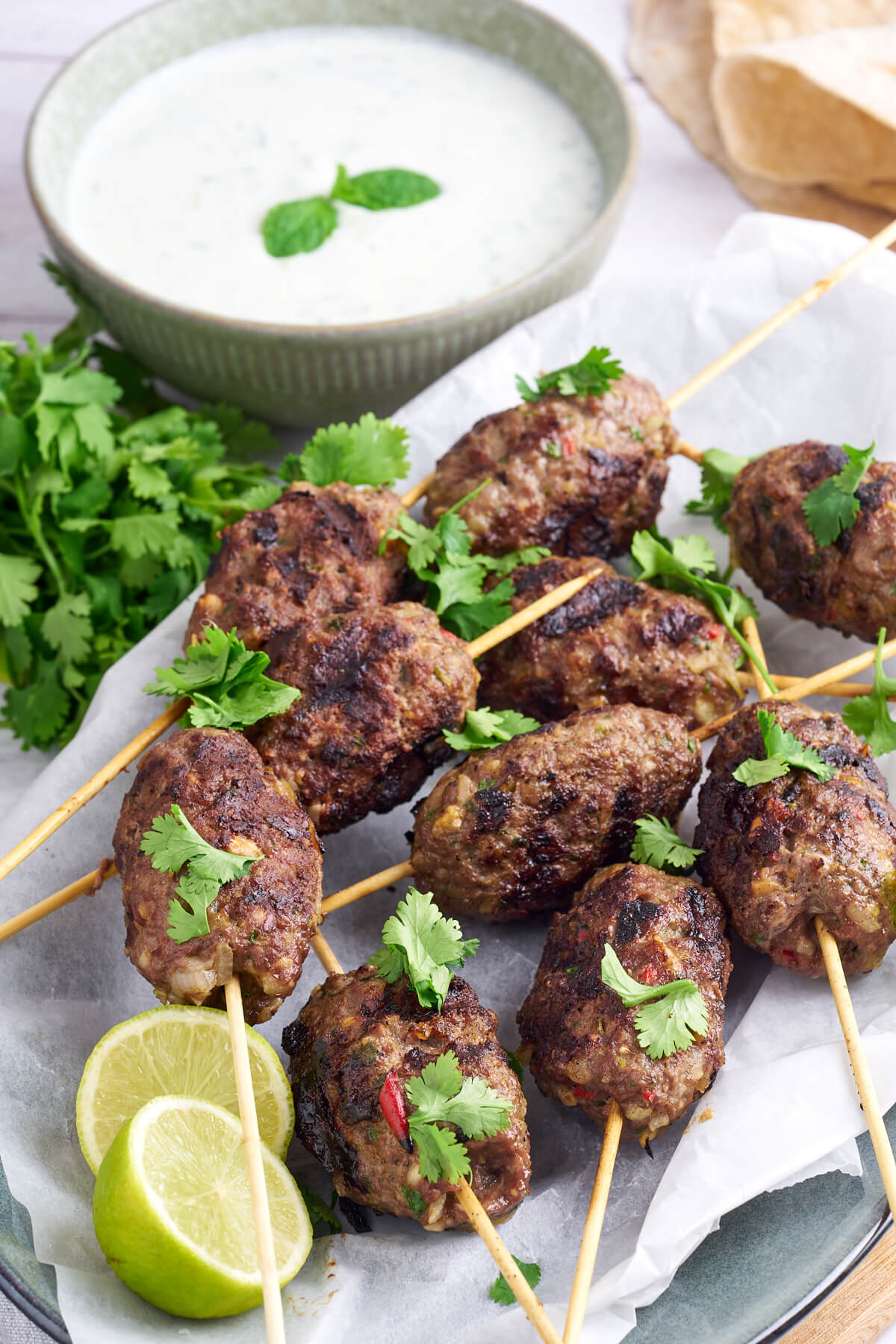 Ingredient notes
Beef – We use something with 8-12% fat. You can also use lamb.

Onions and garlic – Gives good taste.

Chili – Gives a little bit of warmth, but they are not strong and the kids can easily eat them.

Ginger – Gives a wonderful taste.

Cilantro, parsley, and cumin – Contributes to the perfect Middle Eastern flavor.

Pine nuts – Chopped and added to the mince. Contributes good texture to the delicious meat skewers.

Eggs – Helps to get a good cohesive kebab.
How to make kofta kebab?
It is quite simple to make the most delicious kofta kebabs yourself. First, the meat mixture must be prepared.

Finely chop onion, garlic, chili, parsley, and cilantro. The ginger is finely grated, and then all the ingredients are mixed into a smooth and even mixture. Then it should just rest in the fridge for an hour before it can be shaped around the skewers.

Grill your kebabs on a grill greased with oil, or fry them on the pan. Serve with a good salad and some bread. If there are leftovers, they are also good for the packed lunch the next day.

Find the full recipe further down this page.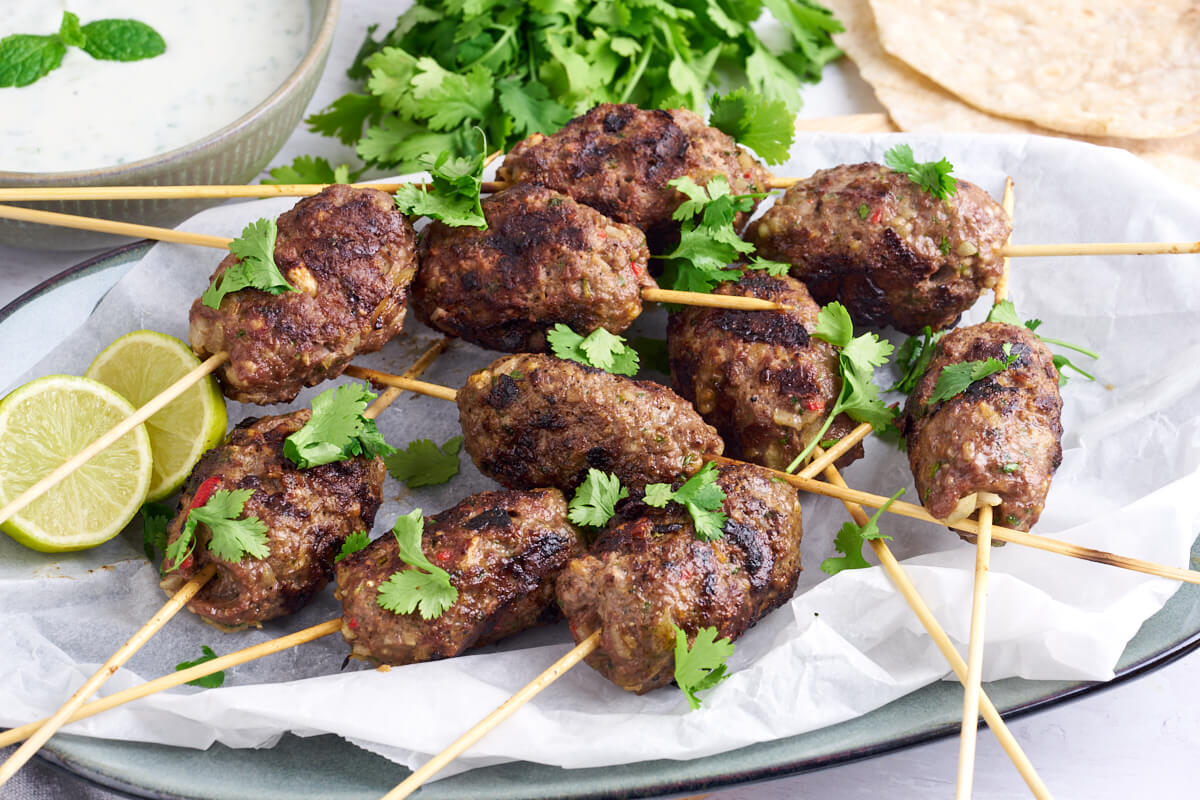 Frequently asked questions
Can I use anything else than beef?
Yes. There is a big difference in how kofta is made around the world. You can use minced beef, minced lamb, minced pork, or minced chicken.
Can kofta be frozen?
Yes, you can easily freeze the ready-made koftas. Take the skewer out and pack them in freezer-suitable packaging.
What can I substitute cilantro with?
Some people just don't like cilantro or fresh coriander leaves. We love it though. But if you do not like it, you can replace it with parsley.
Can I make kofta without the skewers?
Yes, you can easily just make them as slightly elongated meatballs and fry them on the pan or grill. The skewers are really practical when grilling them, but they are not a requirement for the dish to be delicious. In addition, children usually love eating everything on skewers.
Other dinner recipes you might like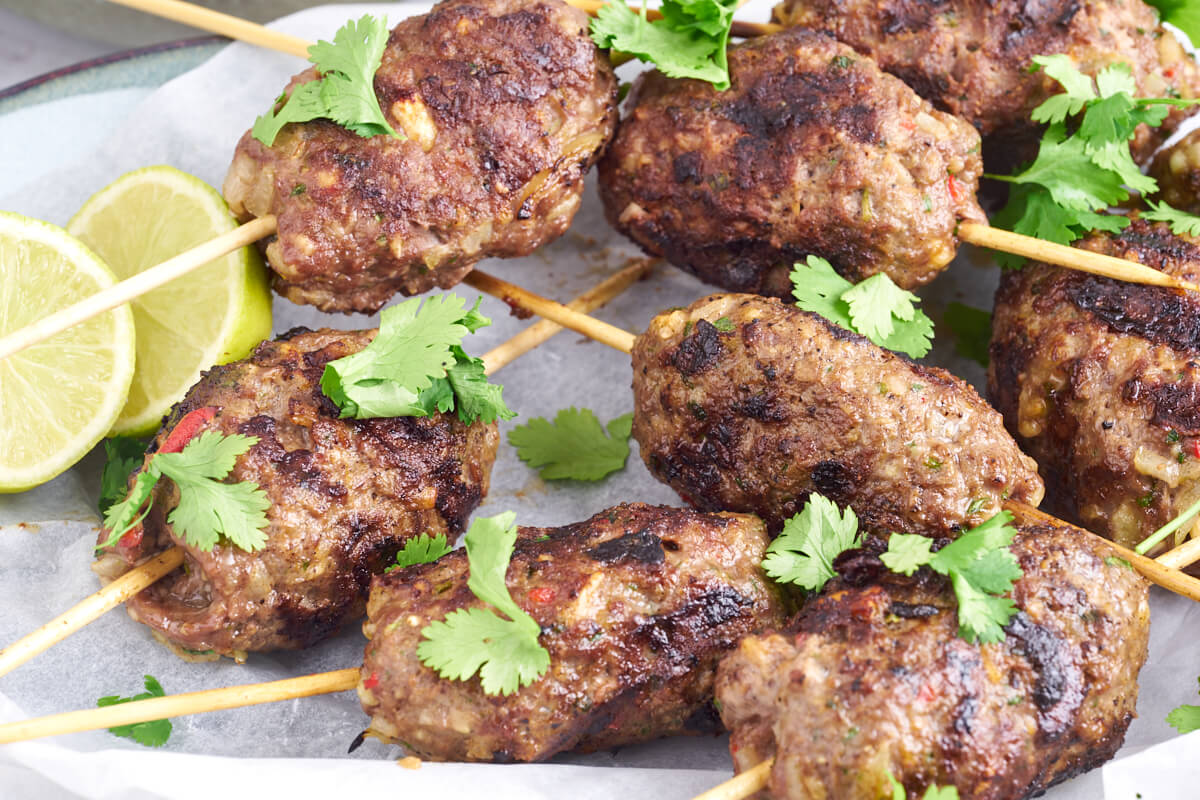 Tips and tricks for kofta
Try making them with other kinds of meat for example minced lamb or chicken.
If you do not like cilantro, you can replace it with parsley.
Serving suggestions
Serve köfte with Chapati bread and a classic Raita.
Serve with a nice Middle Eastern salad with baked carrots
Eat with roasted potatoes with parsley and a Tzatziki
Save the leftovers and give them to the kids on the packed lunch the next day.
Do you like meatballs? You have to try Frikadeller – Danish meatballs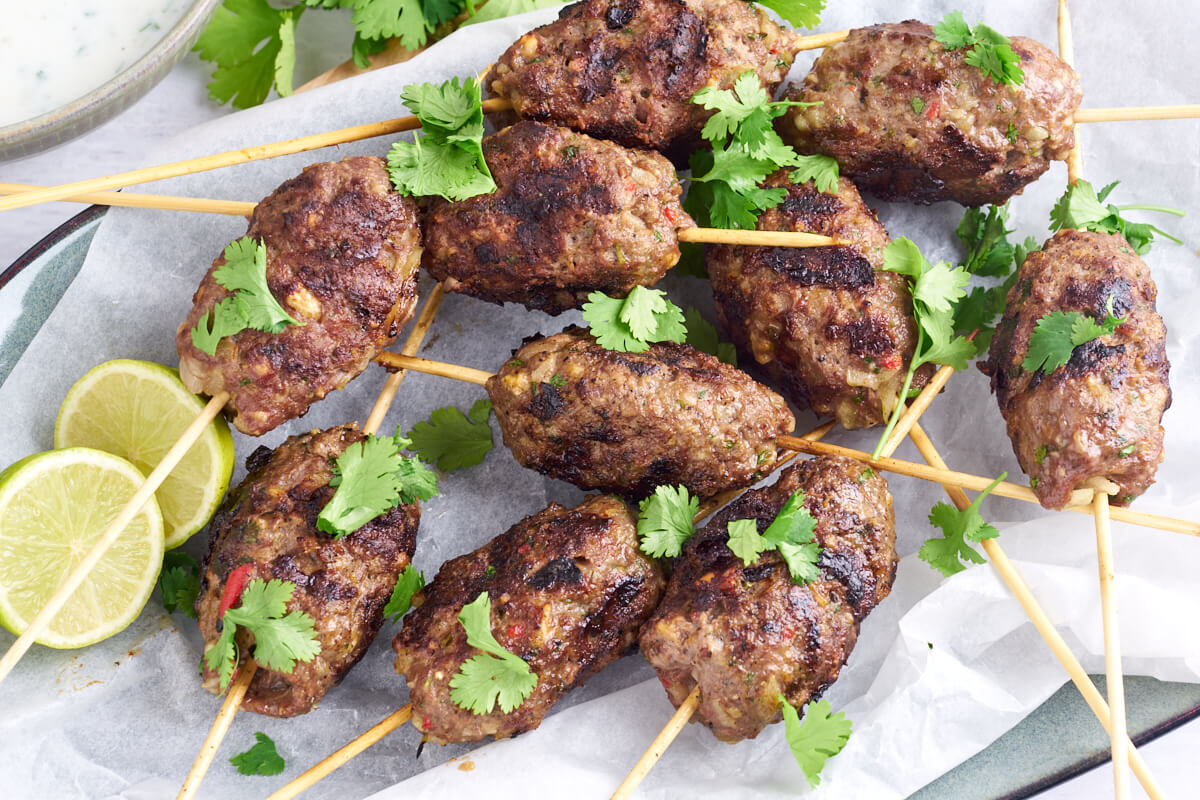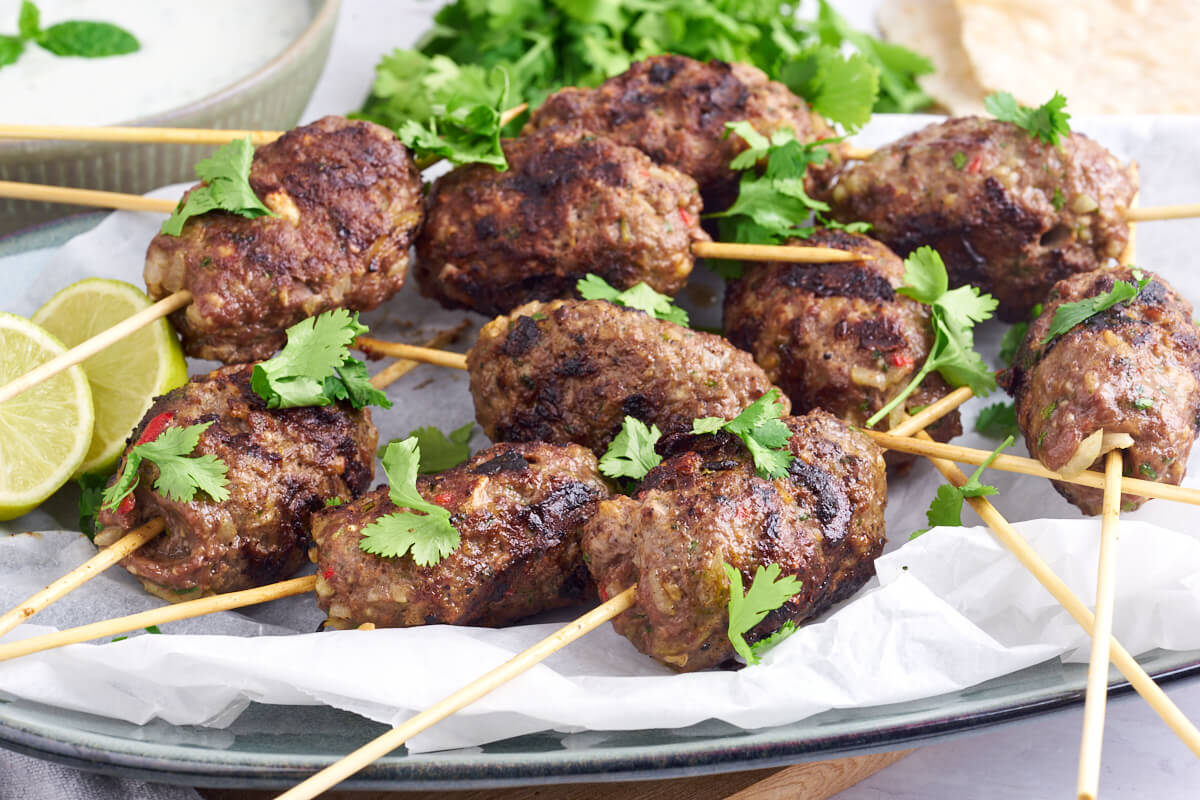 Recipe for homemade köfte skewers
Here is our take on delicious kofta kebab skewers – If you do not like the skewers, they can of course be made as ordinary elongated meatballs as well.

In this recipe, we use minced beef, as it is easy and relatively inexpensive to grab for most people. If you have some minced lamb, it can also be used. Kofta with lamb is also incredibly delicious, so if you want you can replace minced beef with minced lamb.

In the recipe, there is fresh cilantro. We love coriander leaves, but some people can't take the taste at all – if you are one of them, then you can replace it with parsley.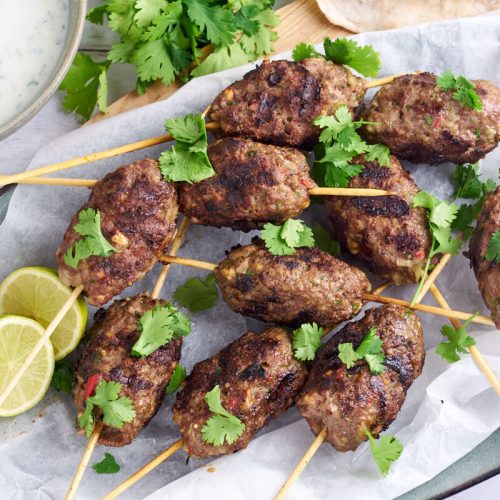 Kofta
Recipe for kofta
Kofta kebabs as seen in Turkey, Greece, India or many other Middle Eastern countries. These are delicious beef meatballs with a good spicy mince, but they can also be made with lamb. Serve with raita or other dressing, some bread, and a salad.
Ingredients  
500

g

ground beef

40

g

pine nuts

1

egg

1

onion

finely chopped

3

cloves

garlic

finely chopped

1

red chili

finely chopped

1

tbsp

fresh ginger

finely grated

½

dl

fresh cilantro

finely chopped

½

dl

parsley

1

tsp

crushed coriander

1

tsp

crushed cumin

1 1/2

tsp

salt

Pepper
Instructions 
Lightly toast the pine nuts on a pan, then chop them.

Mix the pine nuts with all the other ingredients together to a smooth mixture. Leave it in the fridge for an hour before moving on.

Shape the meat mixture around the skewers and press it firmly. This portion gives 10-12 skewers depending on size.

Grill the skewers on a well-greased rack on the grill. They should be grilled until they are well done and have a delicious crispy crust.

Alternatively, they can be fried on the pan in olive oil over medium heat.
Nutrition
How do you like the recipe?
Have you tried this recipe? We'd love to hear what you think of it. Leave a comment, add a number of stars to the recipe and share your photo on Instagram with #madformadelskere – We love seeing your dishes ♥️
Also, sign up for our Facebook group where you can show pictures of the delicious food you make! You can find the Facebook group here