Grilled BBQ chicken legs, or drumsticks, are something the whole family loves, and during the summer they are often made on the grill with plenty of barbecue sauce. It's simply delicious and a lovely summer meal, even on hot days. Read on and get our recipe for the best grilled chicken legs.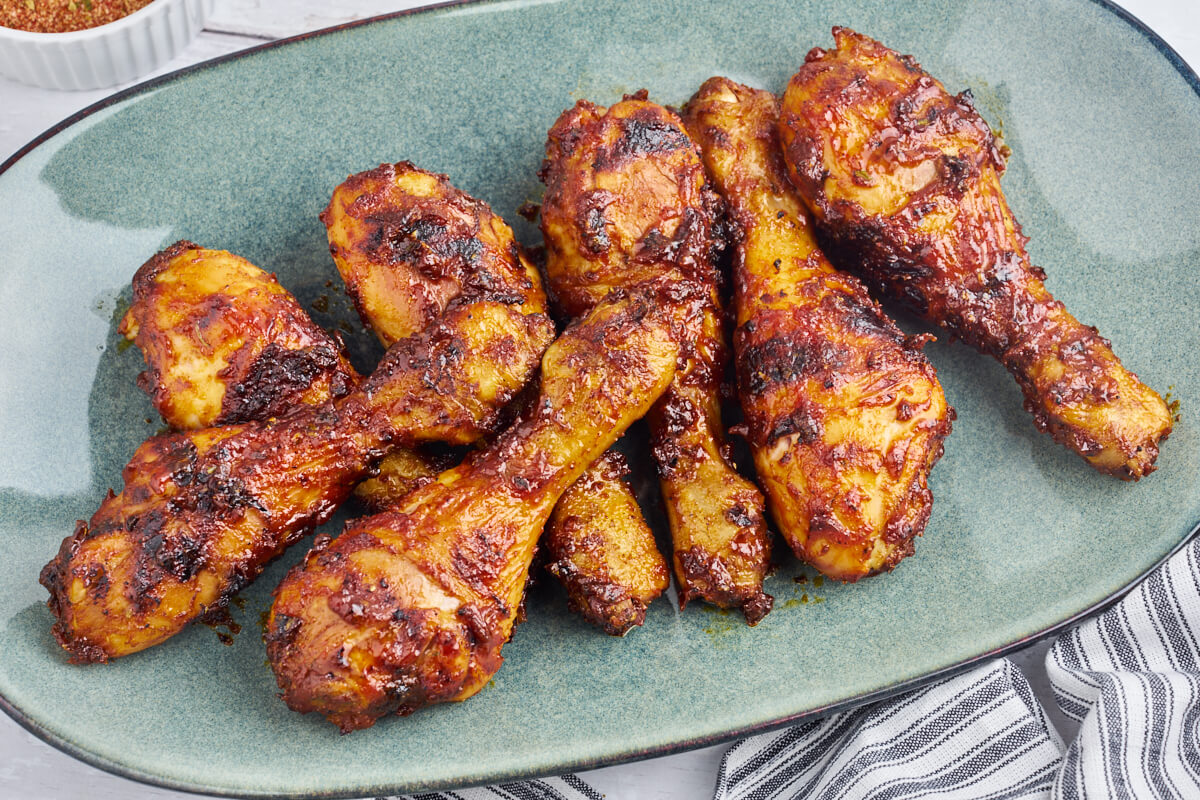 Juicy chicken drumsticks on the grill
Chicken drumsticks are always a hit when it comes to family meals. Children especially enjoy the bite-sized chicken legs that can be easily eaten with their hands.

We love making chicken drumsticks on the grill during the summer, slathered in barbecue sauce. They can be a bit messy, and the sweet and lightly spiced barbecue sauce is something both adults and children love to eat. It's a bit like eating ribs on the grill.

You can serve various side dishes with chicken legs, such as grilled corn on the cob, other vegetables, baked potatoes, or a good salad. A nice bread is also great to serve with them.

You can also make these chicken legs, let them cool down, and pack them cold in a picnic basket when you go on an outing. They're perfect for that! Just remember to bring wet wipes for greasy little fingers.

When we make grilled food, we often make our own spice blends and barbecue sauces. That way, we can tweak the flavor to our liking. Of course, you can also choose the easier option and buy pre-mixed spices and BBQ sauce at the supermarket.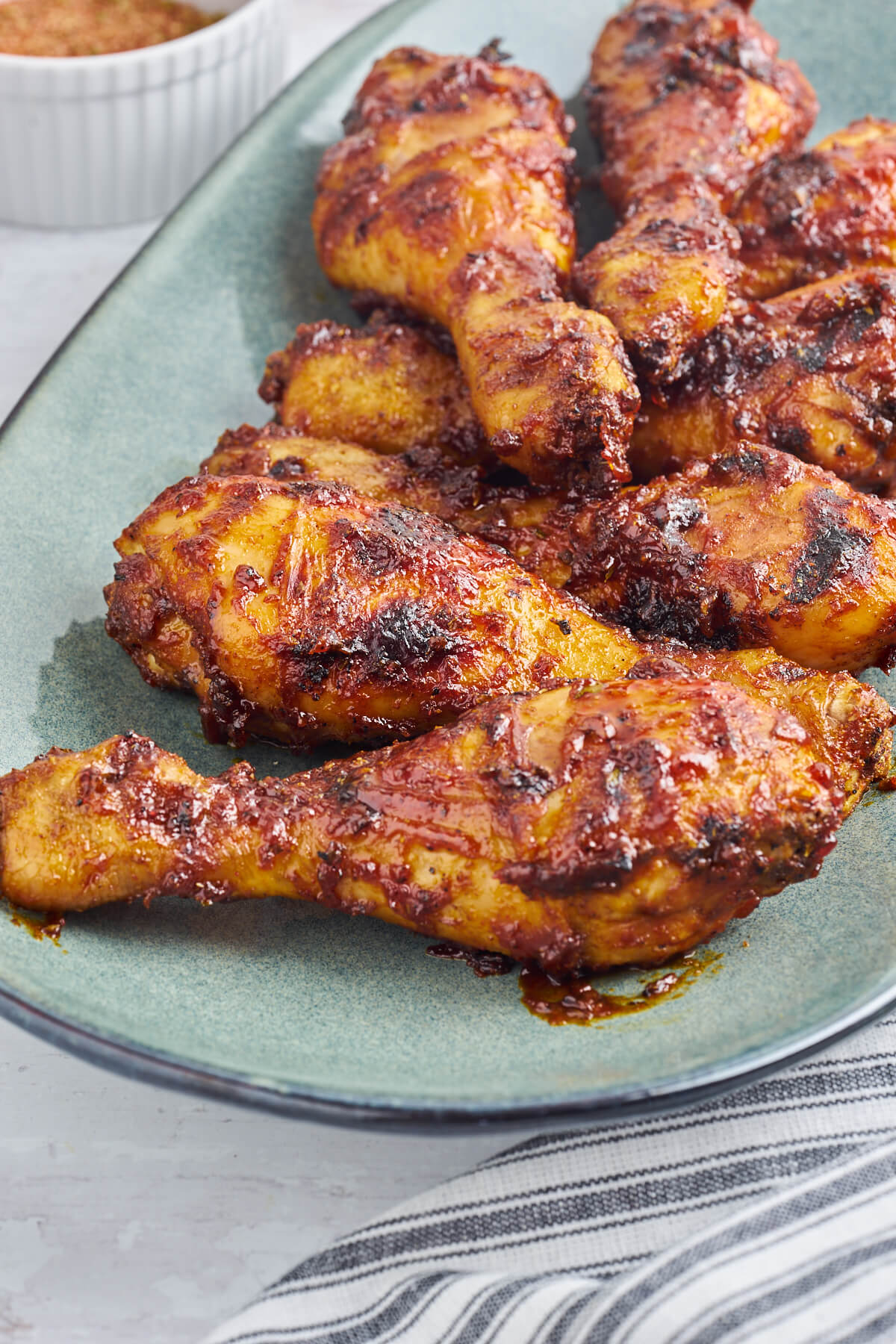 Ingredient notes
Chicken legs – In this recipe, we use "drumsticks," which are chicken legs. Find good-sized ones. They can be purchased at most supermarkets.

Chicken barbecue seasoning – Here we have used our own recipe for chicken barbecue seasoning. You can also buy a pre-mixed spice blend.

Ketchup – Ketchup is the base for the barbecue sauce. I always use Heinz; it has a good balance of acidity and sweetness.

Worcestershire sauce – Worcestershire sauce contributes its distinctive flavor to the final barbecue sauce.

Brown sugar – Brown sugar is an important ingredient in the barbecue sauce. It adds sweetness, and the deep syrupy flavor of brown sugar works best.

Salt – Salt is necessary to balance out the sweetness.

Onion powder – I use onion powder a lot in rubs and barbecue sauces. It provides a nice onion flavor.

Garlic powder – I also use garlic powder instead of fresh garlic. It imparts a good garlic flavor, and it has the added advantage of not burning when the barbecue sauce is applied to the meat on the grill.
How to make grilled BBQ chicken legs?
In a small saucepan, mix the ingredients for the barbecue sauce. Heat them while stirring until all the sugar is dissolved. Taste it and set it aside. Rub the chicken legs with a little oil and then season them with the barbecue rub.

On the preheated grill, cook the chicken legs over direct heat for about 5 minutes on each side. When they are browned and have nice grill marks, brush them with barbecue sauce and transfer them to direct heat. Grill them with the lid on until the internal temperature near the bone reaches 70 degrees Celsius (158 degrees Fahrenheit).

Remove the chicken legs from the grill and serve them with your favorite side dishes.

Find the full recipe further down this page.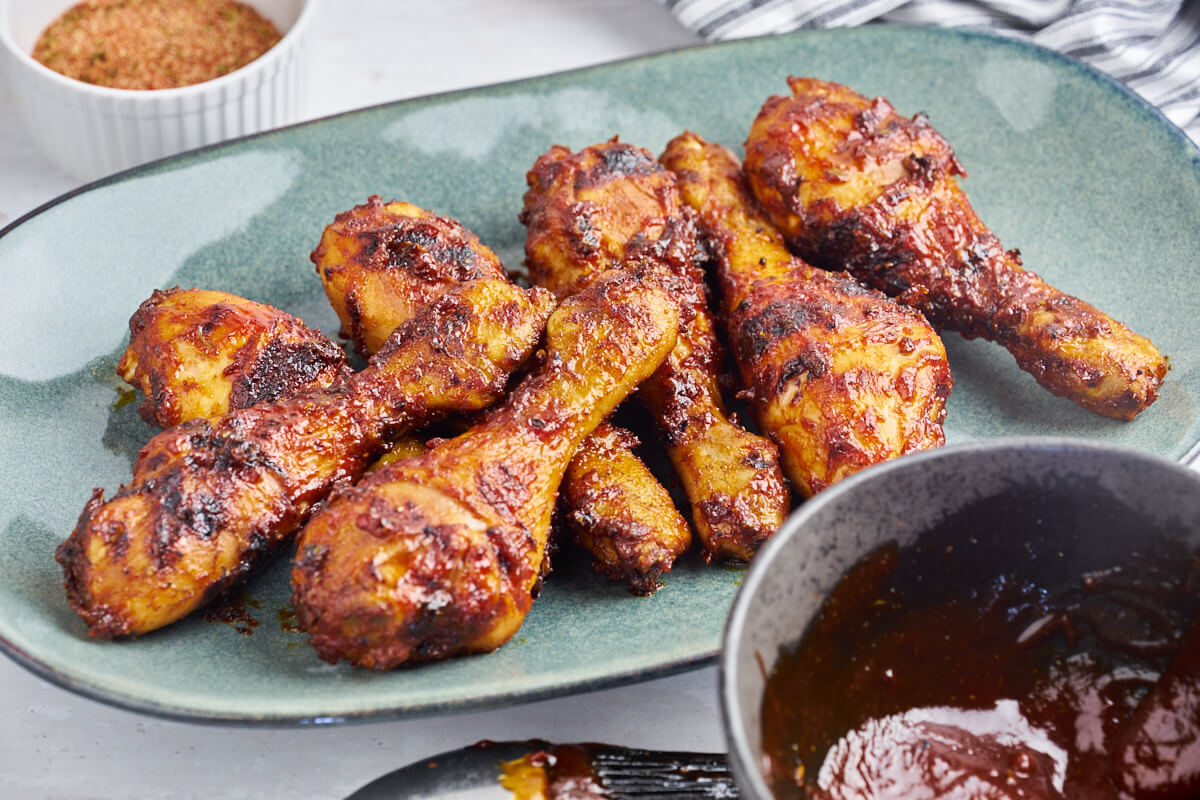 Frequently asked questions
What can I serve as side dishes with grilled chicken legs?
You can serve almost anything you like with grilled chicken legs. It's delicious, for example, with a baked potato and grilled corn on the cob or other vegetables. You can also choose to make a potato salad or pasta salad.
Can I save the leftovers?
Yes, you can definitely do that. If there are any chicken legs left, you can store them in a plastic container in the refrigerator for the next day. They are also delicious cold in a packed lunch.

Can grilled chicken legs be frozen?
Yes. If you don't eat them all, you can freeze the cooked chicken legs to save them for later.
Can I use a store-bought barbecue sauce?
Yes, you can. We love making our own barbecue sauces so we can give them the exact flavor we want, but if you're short on time, you can definitely buy a ready-made sauce at the supermarket.
Other BBQ recipes you might like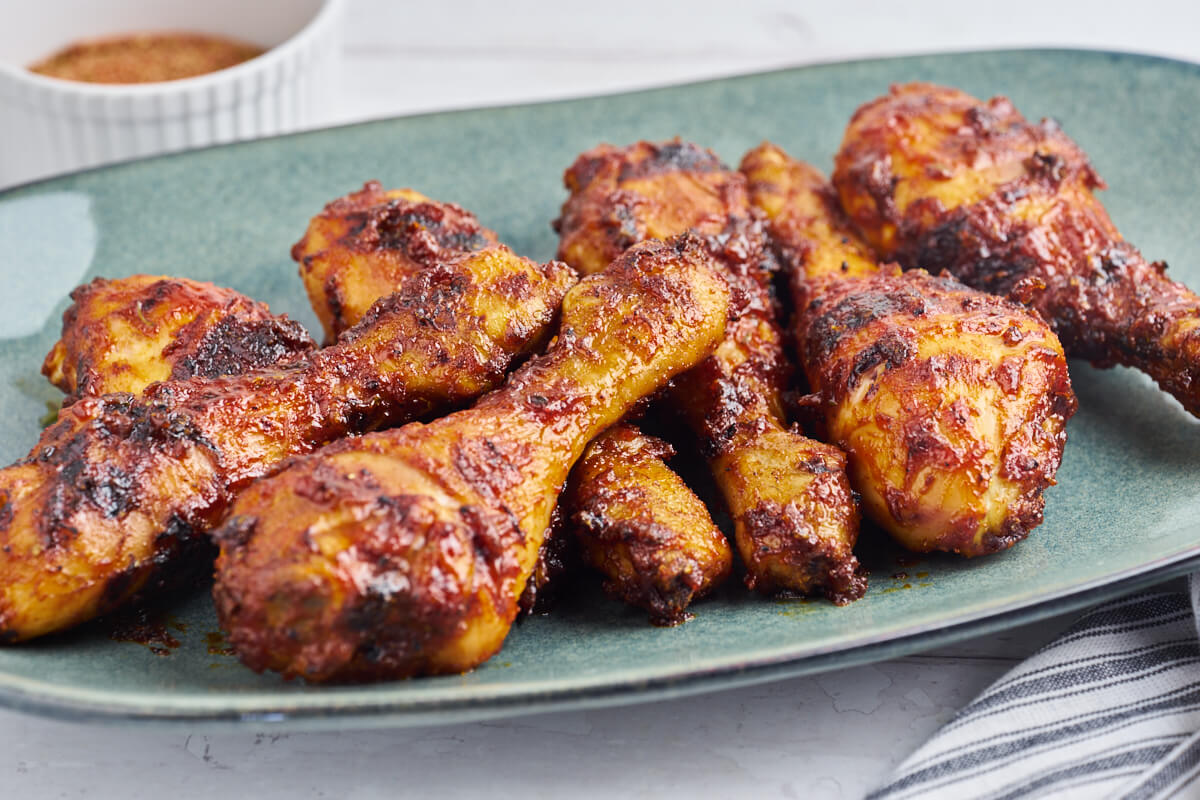 Tips and tricks for the recipe
Marinate them in barbecue seasoning the day before to enhance the flavor. You can even put them in a vacuum bag to intensify the taste.
Make a large batch and freeze some, so you always have an easy dinner option in the freezer.
Serving suggestions
Serve with Marinated Potato Salad or Greek Pasta Salad.
Serve with grilled vegetables, such as Grilled Cabbage, Grilled Corn, or Sweet Potatoes on the grill.
Pack cold chicken legs in your lunchbox or picnic basket along with some Snack Veggies.
Do you love grilled chicken?

Try our recipe for Grilled chicken breast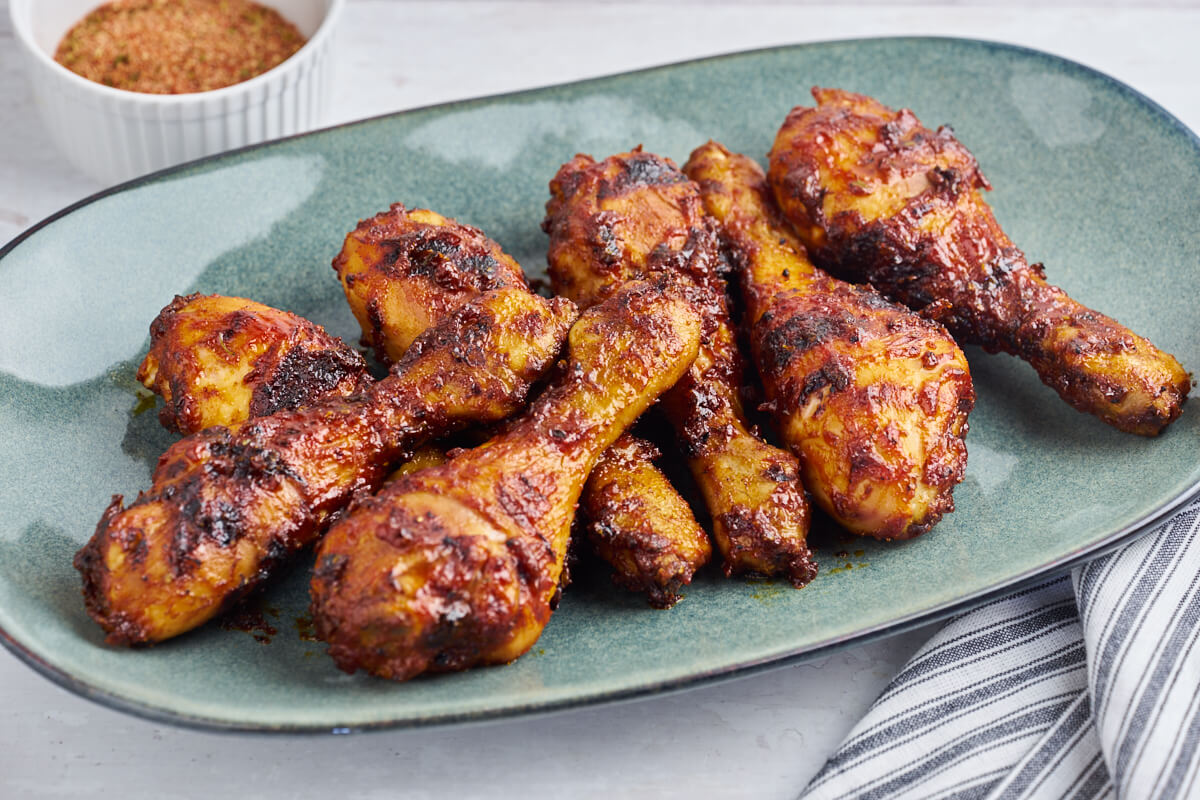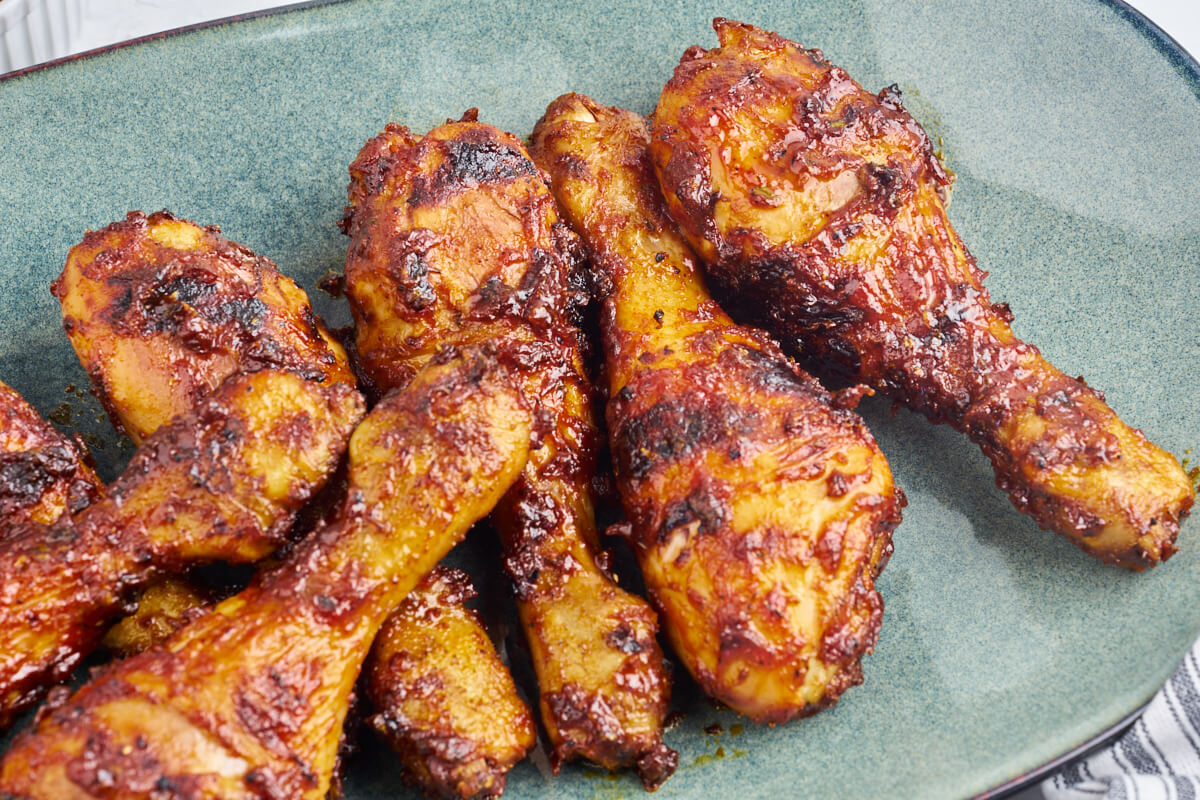 Recipe for chicken drumsticks with barbecue sauce
Here's our recipe for delicious grilled BBQ chicken legs. It's a favorite at home for both children and adults, and fortunately, they're not difficult to make.

We hope you feel inspired to serve grilled chicken legs to your family; they simply taste fantastic with some simple green side dishes.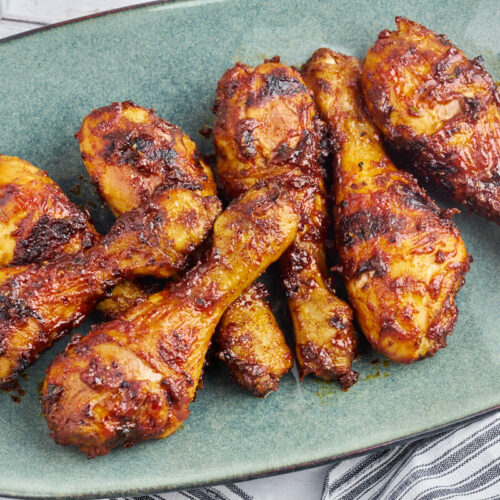 Grilled bbq chicken legs
Recipe for grilled bbq chicken legs
Grilled chicken drumsticks are a hit with both kids and adults. They make the perfect summer meal and can be enjoyed with potato salad, pasta salad, grilled corn on the cob, or other green side dishes. You can even make grilled chicken drumsticks and pack them for the kids' lunchboxes.
Ingredients  
8

chicken legs

1

dl

barbecue seasoning

2

tbsp

olive oil
Barbecue sauce
1

dl

ketchup

1

tbsp

Worcestershire sauce

2 ½

tbsp

brown sugar

½

tsp

salt

1

tsp

onion powder

½

tsp

garlic powder

½

tsp

smoked paprika
Instructions 
Preheat the grill to 200 degrees Celsius (392 degrees Fahrenheit), setting it up for both direct and indirect heat.

In a small saucepan, combine all the ingredients for the barbecue sauce. Heat them up until the sugar is dissolved. Taste and set aside.

1 dl ketchup,

1 tbsp Worcestershire sauce,

2 ½ tbsp brown sugar,

½ tsp salt,

1 tsp onion powder,

½ tsp garlic powder,

½ tsp smoked paprika

Place the chicken drumsticks in a bowl. Pour the olive oil over them and toss to coat evenly.

8 chicken legs,

2 tbsp olive oil

Sprinkle the chicken drumsticks with the barbecue seasoning and toss again to distribute the seasoning.

This step can also be done the day before to allow the flavors to penetrate the meat more.

Now, place the marinated chicken drumsticks on the preheated grill over direct heat and cook for about 5 minutes on each side until they are browned.

Once the chicken drumsticks are browned on all sides, brush them with the barbecue sauce and move them to indirect heat. Close the lid and cook for approximately 10-15 minutes.

Chicken legs should reach an internal temperature of 70 degrees Celsius (158 degrees Fahrenheit) at the thickest part near the bone. Use a meat thermometer to check the temperature. Cooking time will also depend on the size of the drumsticks, so it's a good idea to check the temperature.

Once the desired temperature is reached and the barbecue sauce has caramelized slightly, the chicken drumsticks are ready. Let them rest for 5 minutes before serving.
Nutrition
Serving:
1
person
Calories:
440
kcal
Carbohydrates:
32
g
Protein:
29
g
Fat:
23
g
Saturated Fat:
6
g
Polyunsaturated Fat:
4
g
Monounsaturated Fat:
11
g
Trans Fat:
0.1
g
Cholesterol:
139
mg
Sodium:
740
mg
Potassium:
638
mg
Fiber:
3
g
Sugar:
14
g
Vitamin A:
982
IU
Vitamin C:
5
mg
Calcium:
282
mg
Iron:
10
mg
How do you like the recipe?
Have you tried this recipe? We'd love to hear what you think of it. Leave a comment, add a number of stars to the recipe and share your photo on Instagram with #madformadelskere – We love seeing your dishes ♥️
Also, sign up for our Facebook group where you can show pictures of the delicious food you make! You can find the Facebook group here