Delicious flavorful Italian vegetables in the air fryer. Prepare the vegetables in the air fryer next time you need a side dish for a good steak or a tasty grilled chicken. It's quick, saves electricity, and the taste is certainly not lacking. Read on and see how easy it is to make a healthy vegetable blend in your air fryer.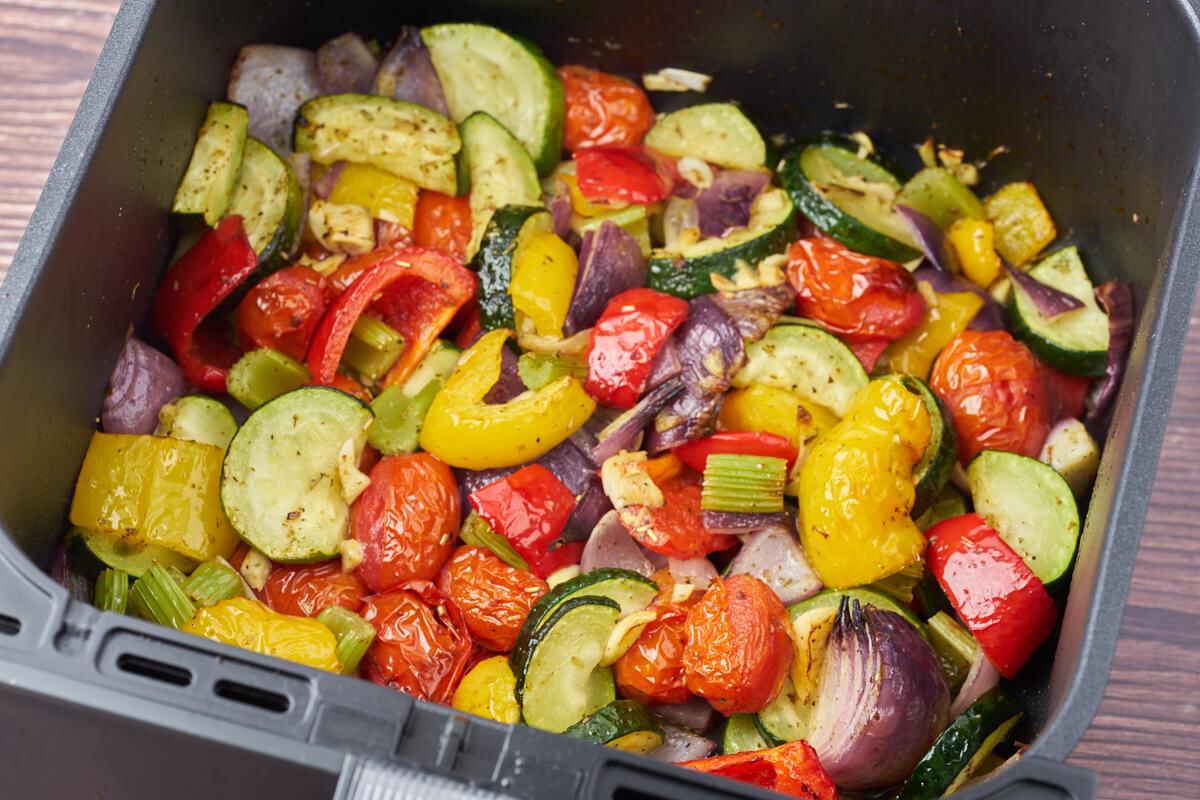 Mixed vegetables in the air fryer
Now, it shouldn't all be about cooking meat in the air fryer; it's actually super easy to make a delicious and tasty blend of Italian vegetables.

Our air fryer is almost in use daily; we make everything from vegetables to meat. It's much faster than a traditional oven, and you also save on electricity.

I have a weakness for the vegetables we usually find in many Italian/Mediterranean dishes, and this blend leans a bit towards the flavor of ratatouille, and it's actually quite good.

Many of the first things we tried in the air fryer were, of course, meat preparations, and it works really well, but it can do so much more. When you're making vegetables in an air fryer, only your imagination sets the limits, but there are certainly some experiences I've had that I'd like to share.

Oil, either in the form of a spray or a tablespoon that you toss the vegetables in along with spices. The oil ensures they get "fried" in the hot air circulating in the air fryer.

Another good tip for vegetables in the air fryer is to season them well. Salt, pepper, and possibly fresh or dried herbs. In our recipe, I used oregano, which gives a really good flavor, and you can easily add more herbs or a couple of bay leaves.

The vegetables can have a bit of a crunch, if you ask me, but if you prefer them a bit softer, give them an extra 5-10 minutes.

Below is our recipe for mixed Italian vegetables made in the air fryer. Use it as inspiration and add your own favorites.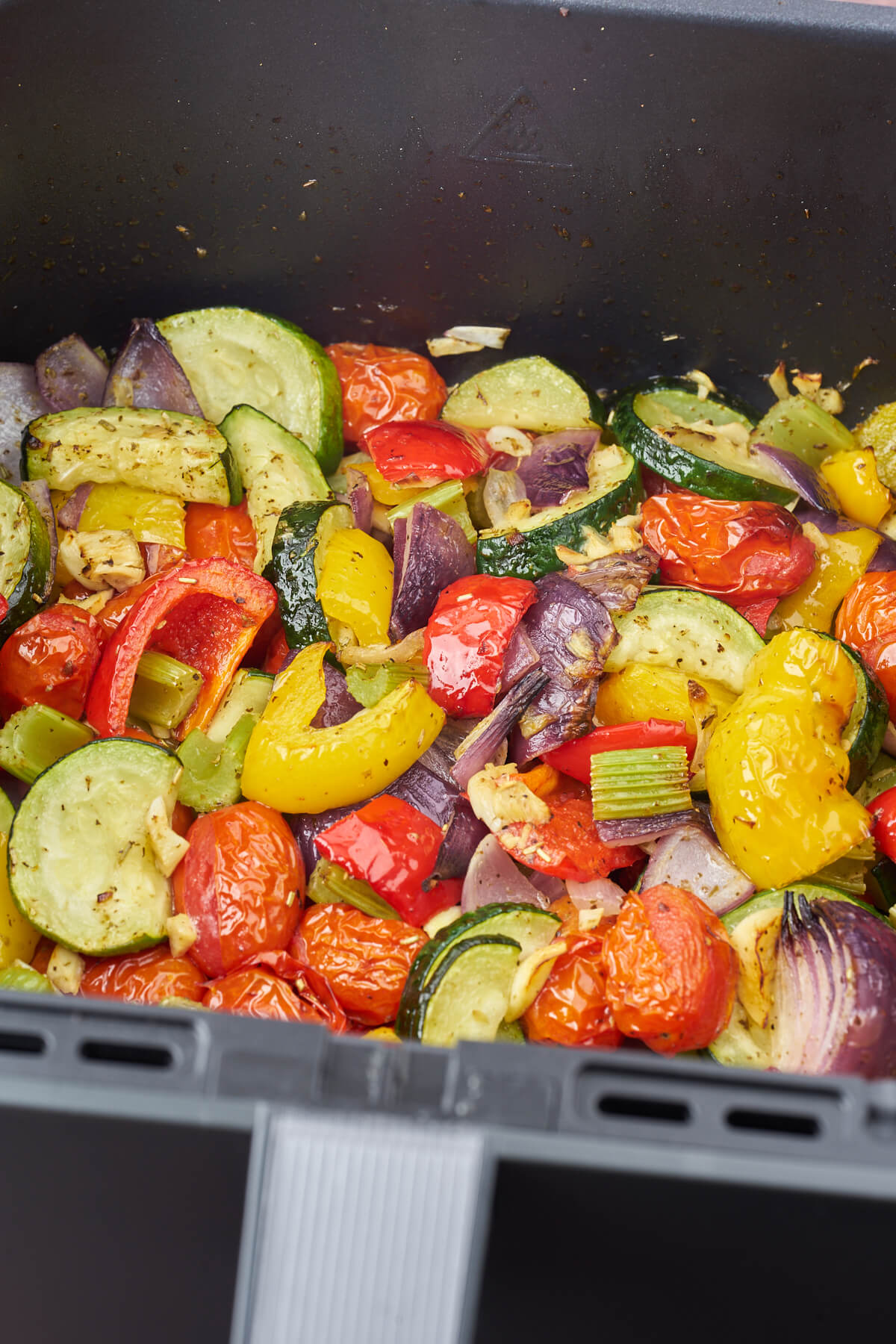 Ingredient notes
Squash – I love squash; it's not because they have a strong taste, but they do have something special. They can be replaced with eggplant.

Red onion – Red onion or regular onion, it doesn't matter much. Onions add a really good flavor to the vegetable blend.

Bell pepper – I use a mix of red and yellow bell peppers, but you can easily use other varieties.

Cherry tomatoes – Tomatoes add a burst of flavor to the vegetable blend.

Garlic – Of course, there should be garlic; it adds plenty of flavors and is healthy too!

Olive oil – Olive oil, either as a spray or 1 tablespoon to toss the vegetables in.

Dried oregano – I love oregano, and it goes well with this blend. But feel free to try other herbs according to your own preferences.

Salt & pepper – Season with salt and pepper, of course.
How to make air fryer Italian vegetables?
Here's a brief overview of how to make some really delicious and flavorful Mediterranean vegetables in the air fryer.

Toss the pre-prepared vegetables together with oil and spices in a bowl. Then place the vegetables in the basket of your air fryer and cook at 180 degrees Celsius (356 degrees Fahrenheit) for about 20 minutes.

Remember to toss the vegetables a couple of times during cooking to ensure even cooking.

Once the time is up, or the Italian vegetables have the desired texture, remove them and transfer to a dish or bowl. Serve immediately.

Find the full recipe further down this page.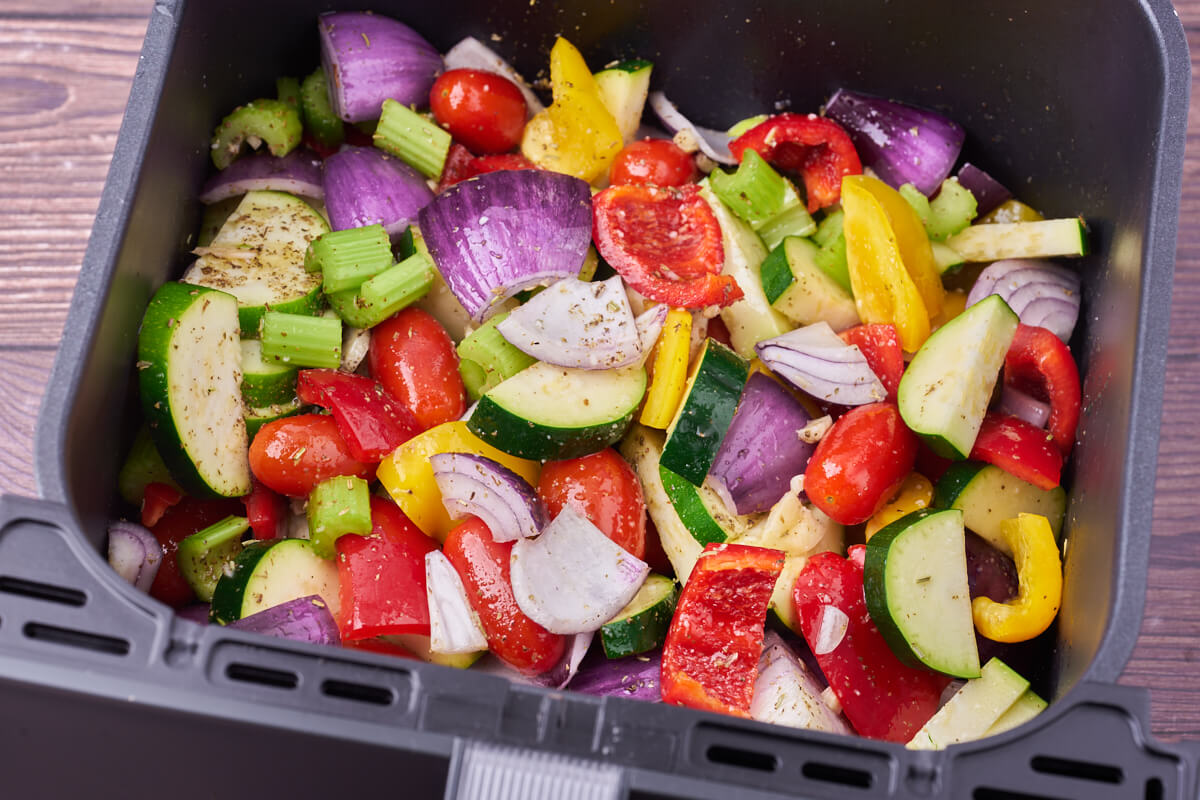 Frequently asked questions
How do you store air fryer vegetables?
Leftover Italian vegetables can be refrigerated for up to 3 days.
Can the leftovers be frozen?
Yes, you can freeze the leftovers; put them in a plastic container and directly into the freezer.
Can I use something other than squash?
You can actually use any vegetables you like; just be aware that if you use root vegetables, they will need to be cooked a bit longer.
Other air fryer recipes you might like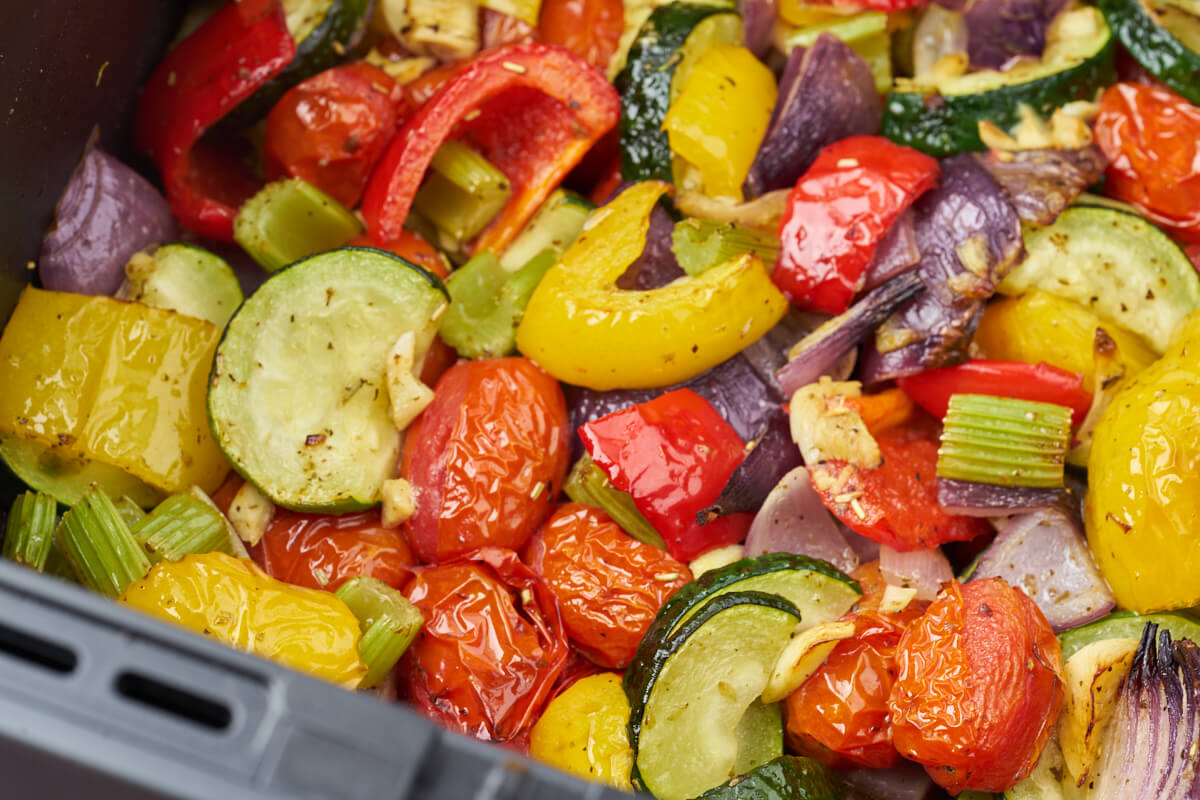 Tips and tricks for the recipe
Remember to season well with salt and pepper.
Feel free to use fresh herbs if you have them.
Vary your choice of vegetables and use up leftovers from your refrigerator.
Serving suggestions
Serve the vegetables as a filling for homemade pita bread or an Italian sub sandwich.
Serve them with grilled chicken breast alongside some homemade bread rolls.
Use them in salads or as a side dish for meat dishes.
Want to try another delicious side dish in your Air fryer?

Try our recipe for Air fryer scalloped potatoes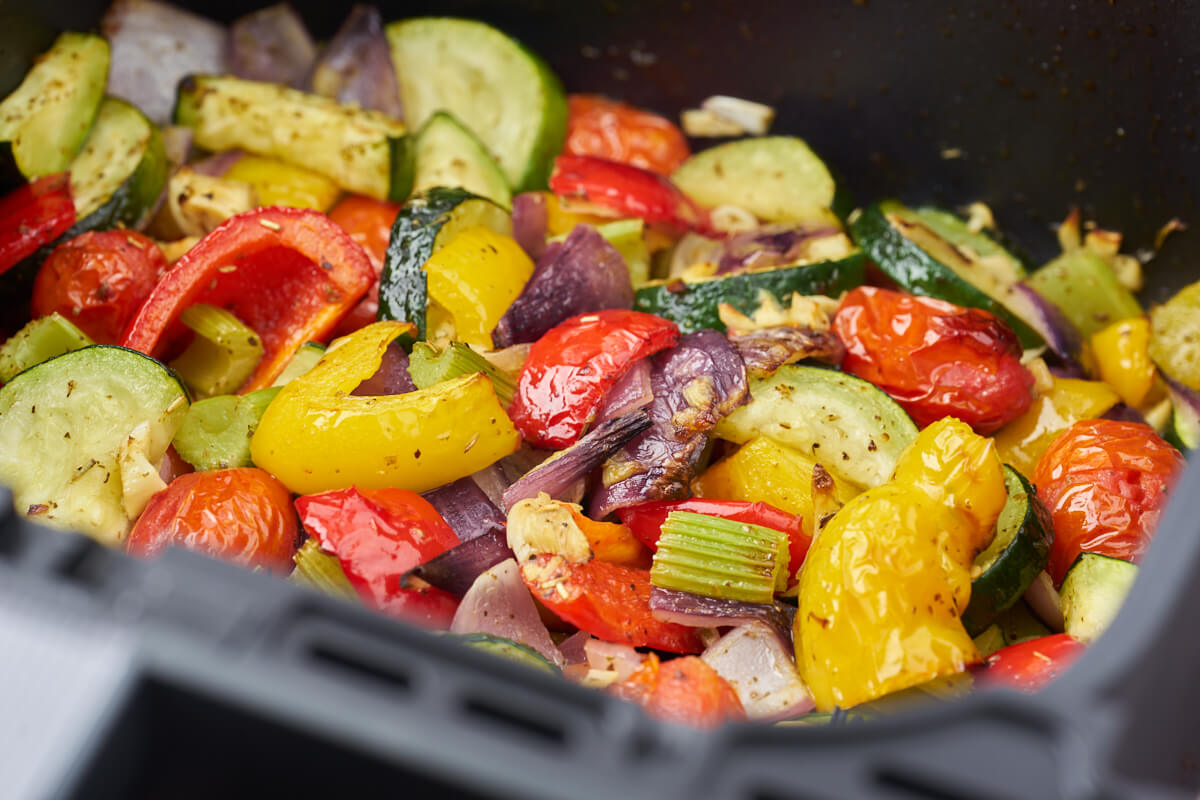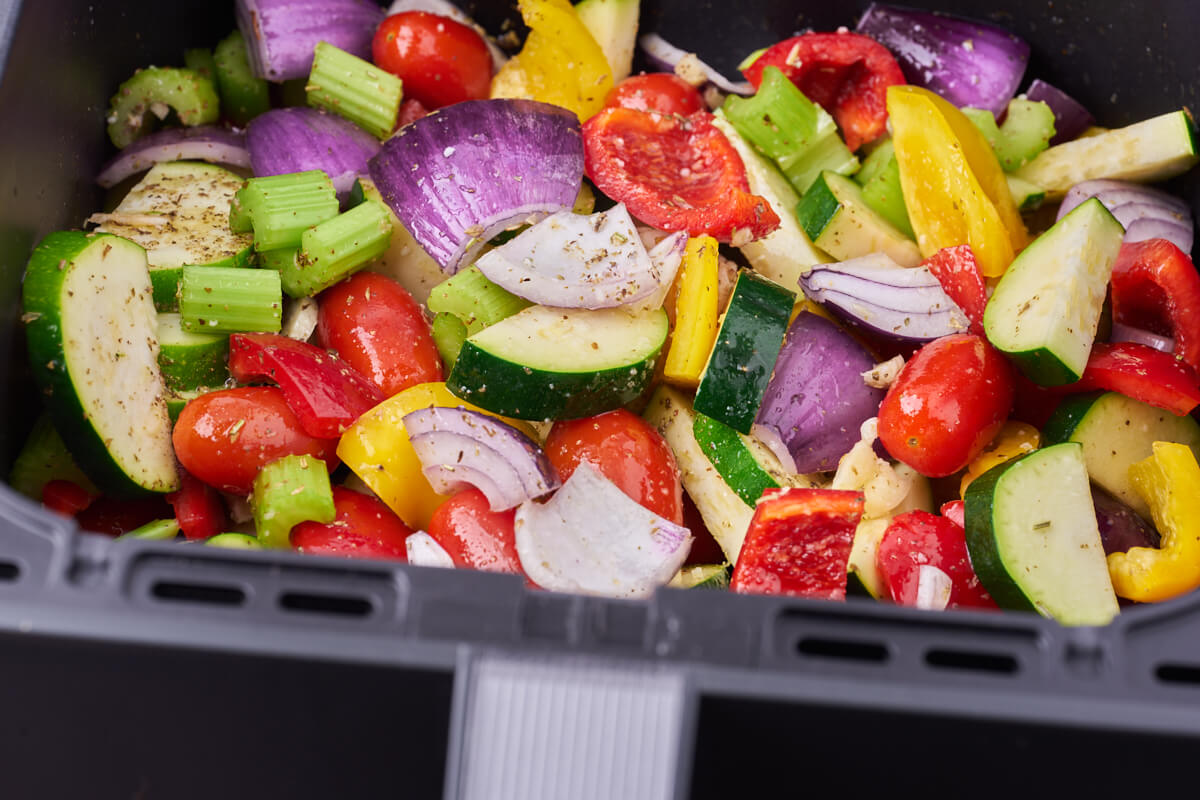 Recipe for Mediterranean-inspired vegetables
Here's our recipe for delicious mixed Italian-inspired vegetables in the air fryer. It's a tasty and easy way to make a quick side dish for dinner, whether you're serving chicken or meat.

We hope you feel inspired to try the recipe; you can easily add the vegetables you have on hand in your vegetable drawer, or you can replace vegetables if you prefer. It's completely up to you.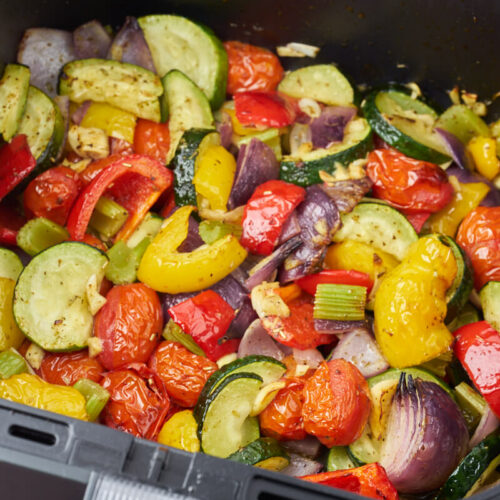 Air fryer Italian vegetables
Recipe for air fryer Italian vegetables
A delicious Mediterranean-inspired vegetable blend prepared in the air fryer. Serve the vegetables with chicken or meat dishes or enjoy them with whatever you fancy.
Ingredients  
1

squash

2

red onions

2

celery

1

red bell pepper

1

yellow bell pepper

200

g

cherry tomatoes

5

cloves

of garlic

1

tbsp

olive oil

½

tbsp

dried oregano

1

tbsp

salt

Pepper
Instructions 
First, prepare the vegetables. Trim the ends of the squash, then cut it in half lengthwise and slice it into approximately 1 cm thick pieces.

Peel and dice the red onions into large cubes, and the celery into pieces.

Remove the seeds from the bell peppers and cut them into large cubes.

1 red bell pepper,

1 yellow bell pepper

Rinse and drain the cherry tomatoes.

Next, place all the vegetables in a large bowl. Add finely grated garlic, olive oil, dried oregano, salt, and pepper. Toss everything together until well coated, then transfer it to the basket of your air fryer.

5 cloves of garlic,

1 tbsp olive oil,

½ tbsp dried oregano,

1 tbsp salt,

Pepper

Cook the vegetables at 180 degrees Celsius (356 degrees Fahrenheit) for about 20 minutes, flipping them a couple of times during cooking to ensure even heat distribution.

Once the time is up, transfer everything to a serving bowl and enjoy immediately.
Nutrition
Serving:
1
person
Calories:
172
kcal
Carbohydrates:
35
g
Protein:
4
g
Fat:
4
g
Saturated Fat:
1
g
Polyunsaturated Fat:
1
g
Monounsaturated Fat:
3
g
Sodium:
1778
mg
Potassium:
1050
mg
Fiber:
7
g
Sugar:
9
g
Vitamin A:
21269
IU
Vitamin C:
149
mg
Calcium:
139
mg
Iron:
2
mg
How do you like the recipe?
Have you tried this recipe? We'd love to hear what you think of it. Leave a comment, add a number of stars to the recipe and share your photo on Instagram with #madformadelskere – We love seeing your dishes ♥️
Also, sign up for our Facebook group where you can show pictures of the delicious food you make! You can find the Facebook group here