If you have an air fryer at home, there are almost no limits to what you can make in it. We have found that it is really easy to make cookies in an air fryer. Read on and get our easy recipe for chocolate chip air fryer cookies.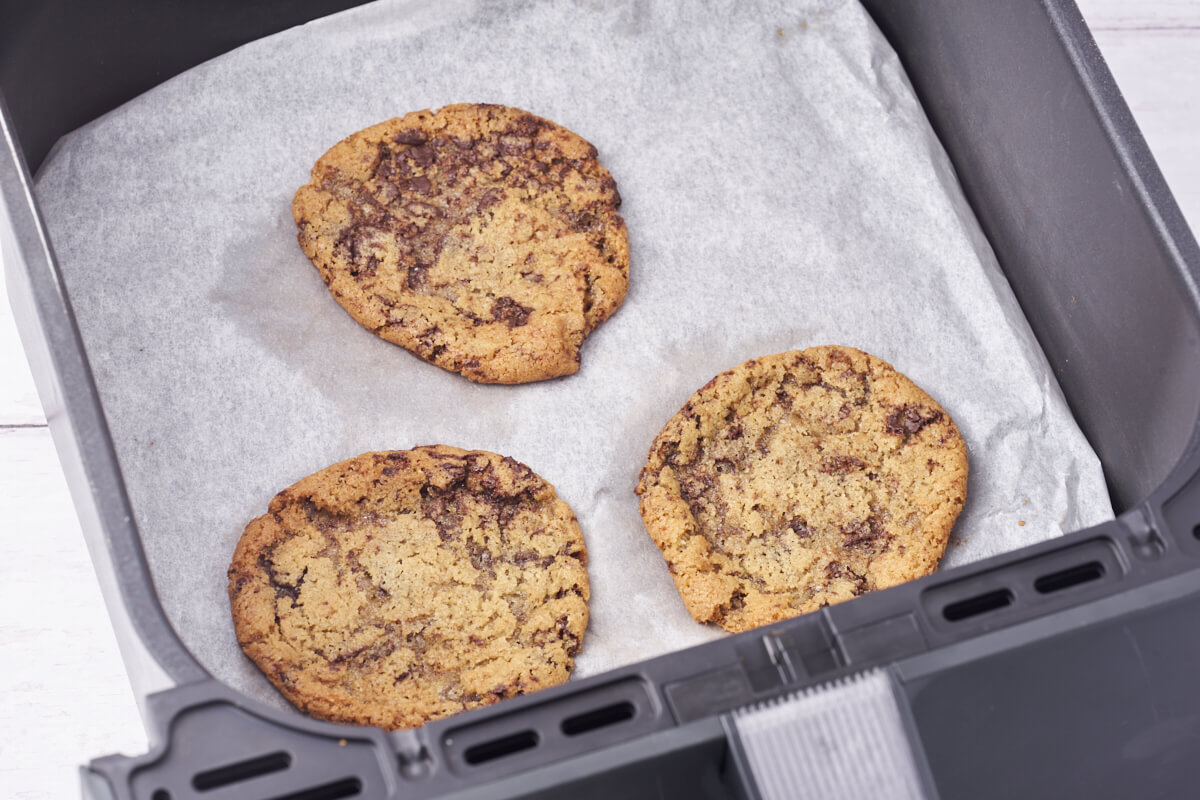 Always freshly baked cookies
It's pure luxury to be able to make some delicious cookies in 10 minutes when the craving hits.

And you can do that in your air fryer if you make sure to have the dough ready in the refrigerator. Then it's really fast to make cookies when the kids come home and ask for a snack, or in the evening when they are tucked in bed and you want something tasty.

I think my cookies turn out just as delicious in the air fryer as in the oven, the only difference is that you need to press the dough a little flat before putting them in the air fryer, as they need less time than in the oven and don't spread as much.

The end result is just as good!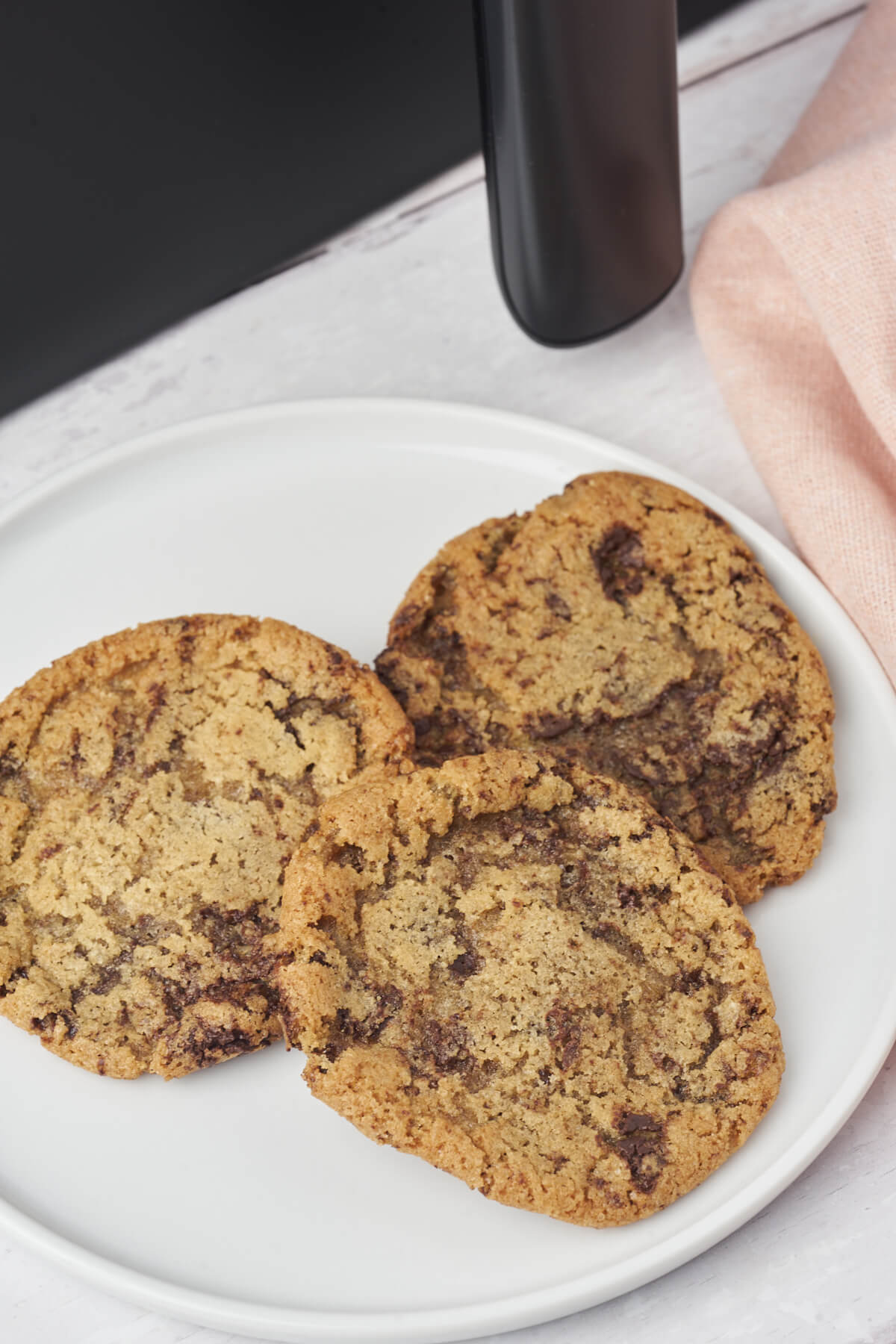 Ingredient notes
Butter – No cookies without butter! They simply turn out best when made with real butter.

Brown sugar and granulated sugar – A combination of sugar and brown sugar gives a delicious caramelized flavor to the cookies. That's how we like them best.

Baking soda and baking powder – A combination of the two gives the right crispy outer shell with a soft and chewy center.

Chocolate – Here we use dark chocolate, but you can easily use other types of chocolate instead.
How to make air fryer cookies?
The first thing you need to do is prepare the dough for your cookies. You do this by creaming together softened butter, sugar, and vanilla, and then beating in the eggs. Then add flour, baking soda, and baking powder, and finally fold in chopped chocolate.

You can either make your cookies right away or refrigerate the dough for a while before proceeding. Roll balls of dough and place 3 dough balls in your air fryer. I have the bottom rack in, which I wrapped with a piece of parchment paper. That's a smart move to avoid the parchment paper from blowing up into the heating element at the top. Flatten the dough balls a bit before inserting the tray because they won't spread as much as they do in the oven since they cook for a shorter time.

We have tried different times and temperatures, but the best result we get is at 160 degrees Celsius for 9 minutes in our Cosori Dualblaze air fryer. If you're using a different model, they may need a little more or less time.

Let your cookies cool down and become crispy before removing them from the tray to prevent them from breaking.

Find the full recipe further down this page.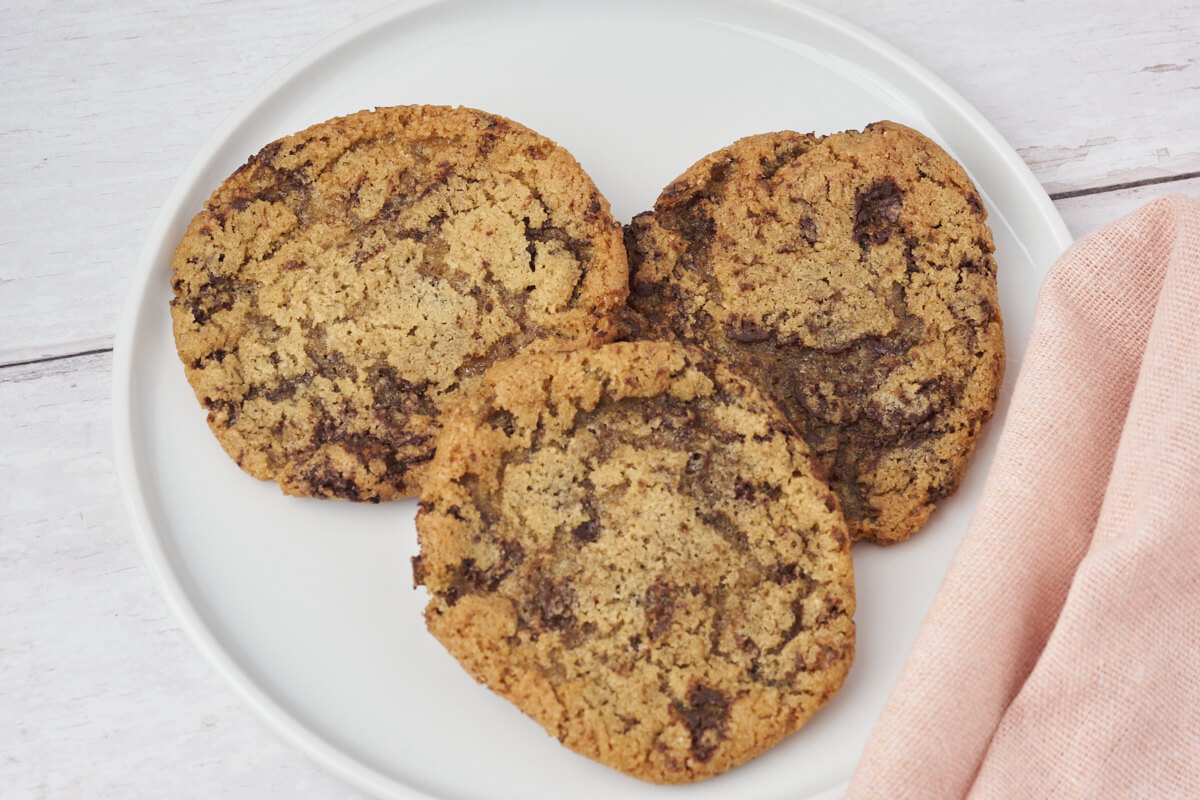 Frequently asked questions
How should the finished cookies be stored?
Cookies should be stored in an airtight container, such as a cookie jar, plastic container, or similar.

How long can cookie dough last in the refrigerator?
You can keep the dough in the refrigerator for 3 days and bake some cookies whenever you feel like it. It's also convenient for the kids to bake a few pieces themselves if the dough is already prepared in the fridge.

Can I freeze the cookie dough?
Yes, you can. I recommend freezing the dough in balls, so they're ready to bake. Let them thaw for at least 15 minutes before putting them in the air fryer.
Can I use something other than chocolate?
Yes, of course. You can also make your cookies with nuts, almonds, or other types of chocolate such as white chocolate, Daim, or M&M's.
Other air fryer recipes you might like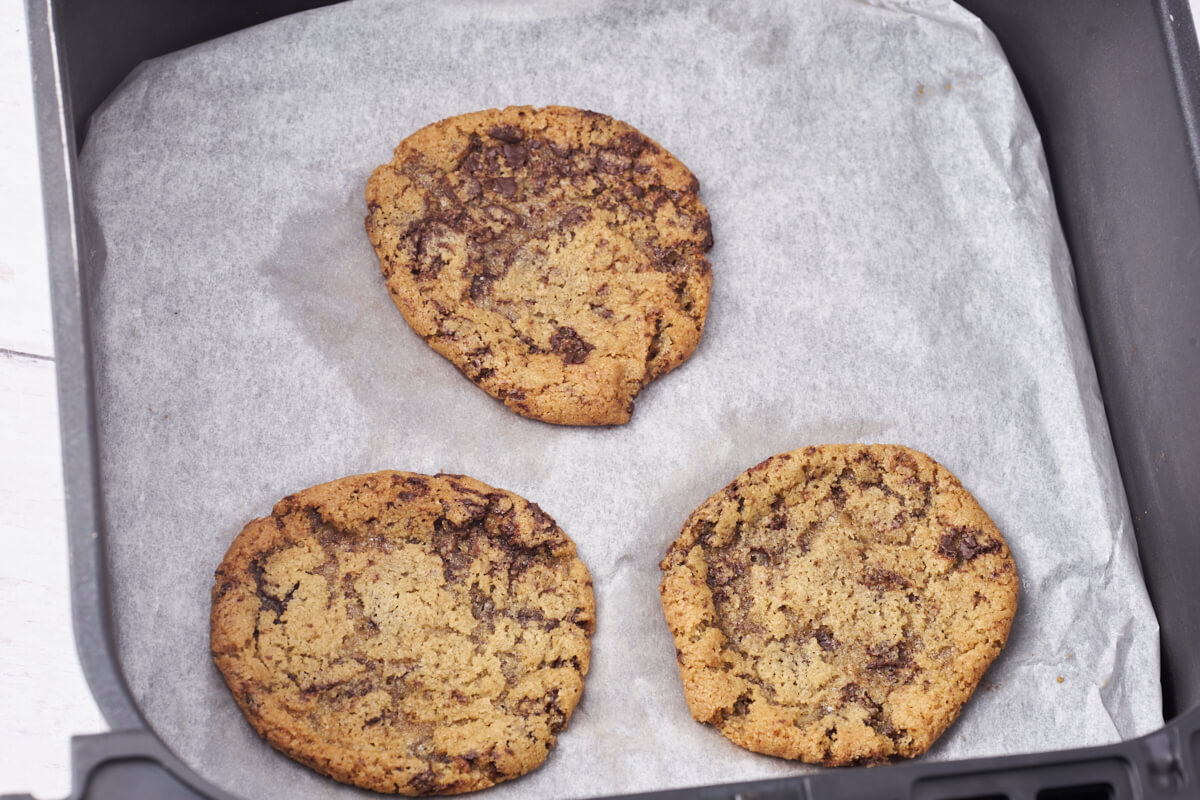 Tips and tricks for the recipe
Make a batch of dough and put it in the refrigerator or freezer. You can shape the dough into balls, so they're ready to bake whenever you crave freshly baked cookies.
Try making them with chopped nuts, almonds, milk chocolate, M&M's, or your own favorite additions.
Serving suggestions
Serve them to the kids with a glass of cold milk. It's always a hit.
Enjoy them yourself in the evening with a cup of tea after the kids have gone to bed.
Do you love cooking in your air fryer?

Try our recipe for Air fryer fried eggs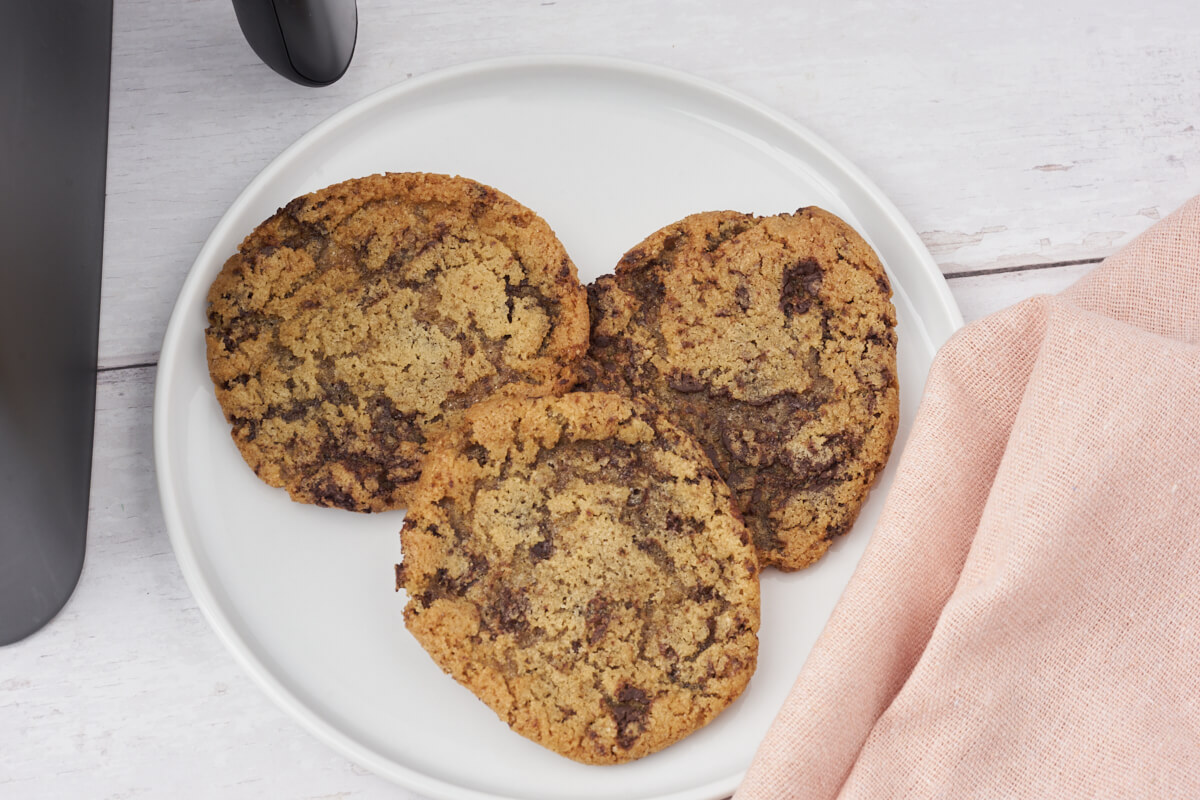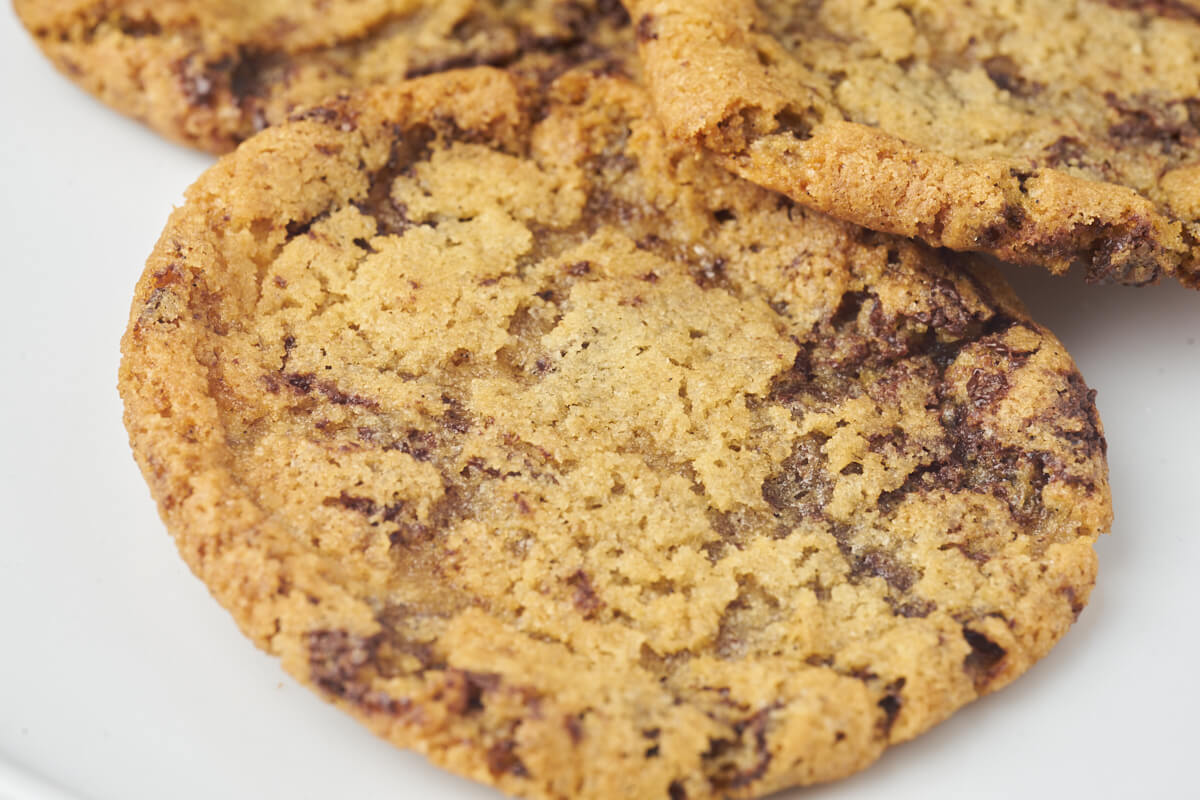 Recipe for cookies in air fryer
Here's our version of delicious cookies baked in an air fryer. It's really easy once you've made the dough, dangerously easy actually.

We hope you feel tempted to try them and maybe serve them to your family.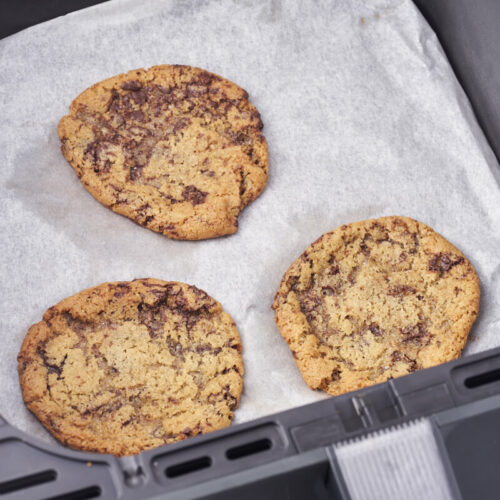 Air fryer cookies
Recipe for airfryer cookies
Crispy cookies with a chewy center. Homemade chocolate chip cookies made in the air fryer. If you keep the dough in the refrigerator, it's always easy to whip up a few quick cookies.
Ingredients  
150

g

butter

softened

135

g

sugar

100

g

brown sugar

1

vanilla bean

1

egg

180

g

all-purpose flour

1

tsp

baking soda

1

tsp

baking powder

½

tsp

salt

100

g

dark chocolate
Instructions 
Beat softened butter, sugar, brown sugar, and the seeds from the vanilla bean together very well using a hand mixer or a stand mixer with a paddle attachment.

150 g butter,

135 g sugar,

100 g brown sugar,

1 vanilla bean

Then add the egg and beat well again.

Mix flour, baking soda, baking powder, and salt together, and stir it into the dough.

180 g all-purpose flour,

1 tsp baking soda,

1 tsp baking powder,

½ tsp salt

Roughly chop the chocolate and add it to the dough. Stir the dough until it is smooth and the chocolate is evenly distributed.

You can refrigerate the dough for about 1 hour for easier handling, but you can also proceed immediately.

Roll the dough into balls, using about 1 tablespoon of dough per ball. Place the balls on the bottom rack of your air fryer. It should be lined with parchment paper, and it's a good idea to fold the paper around the rack to prevent it from flying up during cooking. Leave enough space between the balls, so only bake 3-4 at a time. Press the dough balls lightly to flatten them before inserting the tray into the air fryer.

Bake the cookies at 160 degrees Celsius (320 degrees Fahrenheit) for 9 minutes (Air Fryer setting). Then let them cool until they are firm enough to transfer to a wire rack. Don't move them immediately, as they may break. Give them some time to firm up.

Note: All air fryers heat differently, so if you're using a different model, you may need to adjust the time slightly. We use our Cosori Dualblaze, and 160 degrees Celsius for 9 minutes works perfectly for us.
Nutrition
Serving:
1
cookie
Calories:
184
kcal
Carbohydrates:
23
g
Protein:
2
g
Fat:
10
g
Saturated Fat:
6
g
Polyunsaturated Fat:
0.4
g
Monounsaturated Fat:
3
g
Trans Fat:
0.3
g
Cholesterol:
27
mg
Sodium:
209
mg
Potassium:
63
mg
Fiber:
1
g
Sugar:
14
g
Vitamin A:
224
IU
Calcium:
27
mg
Iron:
1
mg
How do you like the recipe?
Have you tried this recipe? We'd love to hear what you think of it. Leave a comment, add a number of stars to the recipe and share your photo on Instagram with #madformadelskere – We love seeing your dishes ♥️
Also, sign up for our Facebook group where you can show pictures of the delicious food you make! You can find the Facebook group here