Juicy and full of flavor with a hint of chili. Grilled shrimp skewers are one of the summer favorites at our home and served with good bread and a few grilled vegetables, it doesn't get any better! Read on and see how to make the best marinated shrimp skewers on the grill with our recipe.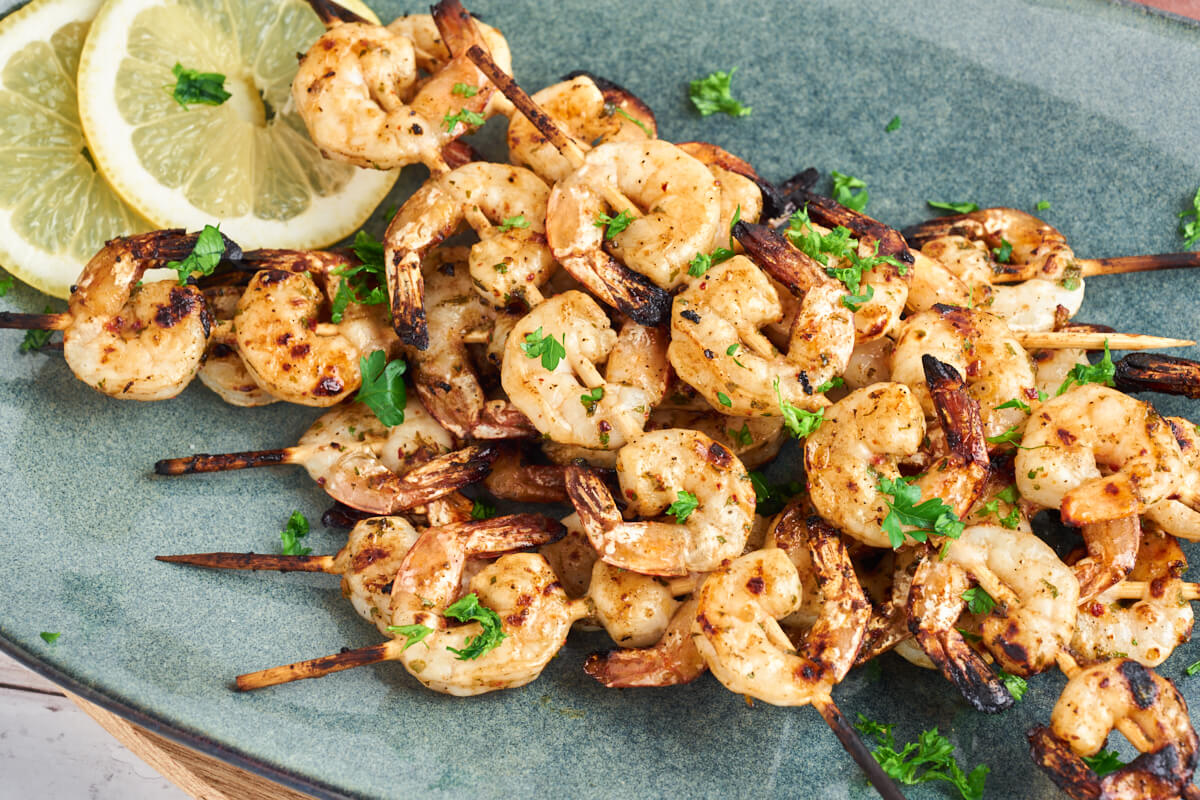 Grilled shrimp, the easy way
I love shrimp and seafood in general. Shrimp are a staple on the menu during grilling season, and they simply taste great.

They are really easy to make, and even though they are a bit spicy, our kids enjoy them with great pleasure.

Shrimp, prawns, Norwegian shrimp, all kinds of shrimp. Mmm… just the thought of it makes me hungry. You can find large shrimp in most supermarkets, and they actually taste really good.

In our recipe, we brush them well with a delicious sweet and sour marinade. And then onto the grill, so they get that delicious grilled flavor, and it doesn't hurt that the flames dance around them while grilling.

When we make grilled shrimp skewers, we usually serve them with homemade baguettes, and some tasty grilled vegetables, nothing more is needed, except maybe butter… You can also make a delicious pineapple salsa to add a fresh touch to the taste and complement the chili in the marinade.

Shrimp should be grilled over direct high heat, that's just the way it is, and as I mentioned before, it's okay if the flames "kiss" the shrimp when you brush them with the marinade. When you need to turn the skewers, use small grill tongs so you don't burn your fingers.

A good tip to use is to soak the wooden skewers in cold water for a couple of hours before making the skewers. This way, the skewers won't char as much when they go on the grill.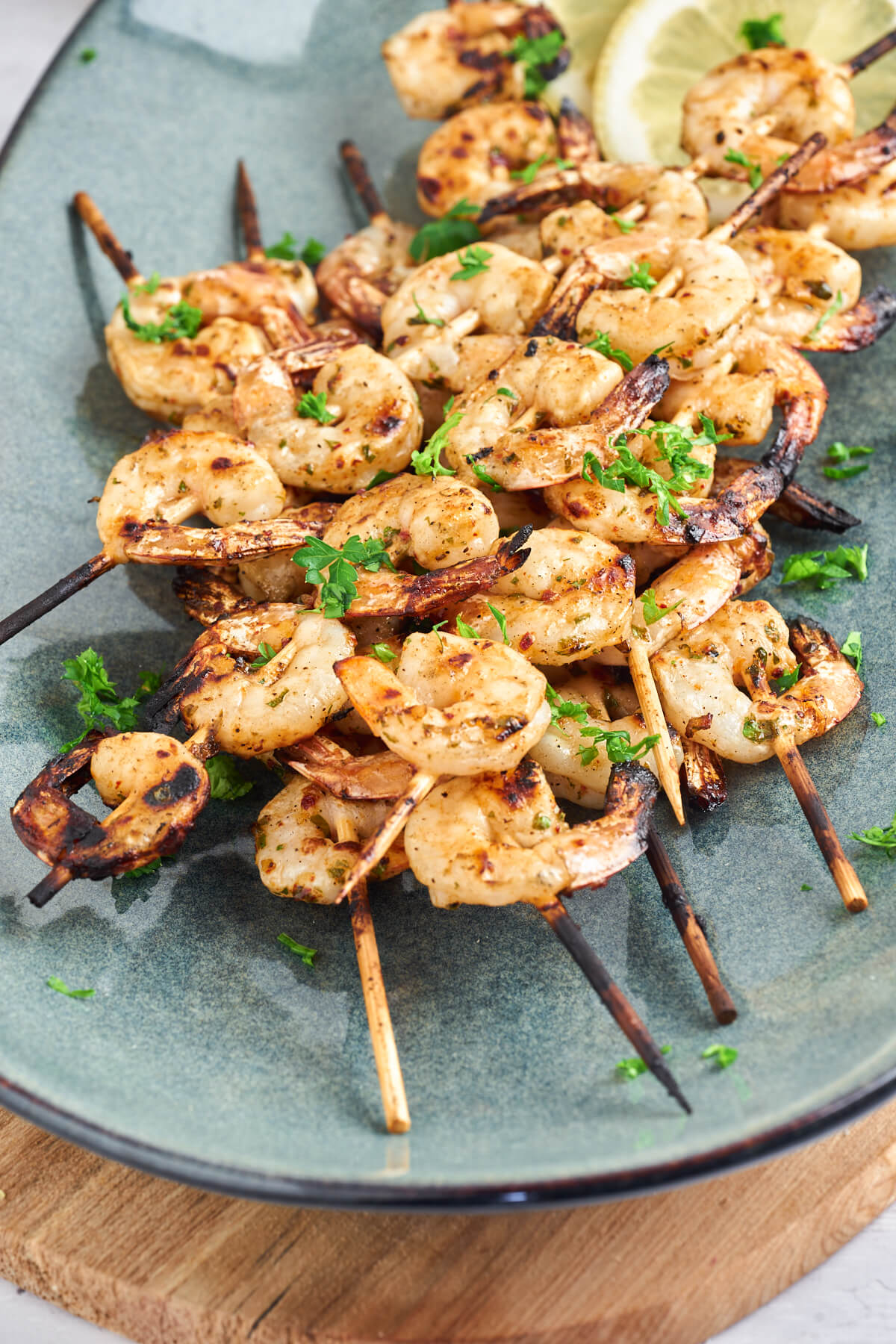 Ingredient notes
Large shrimps – Shrimp taste really good. Look for those that come from good farming. We use raw shrimp with tails on for this recipe. We buy them without shells but with tails from the supermarket.

Marinade for grilled shrimp – A simple marinade for shrimp is always good to have on hand. Our recipe consists of olive oil, liquid honey, lemon zest, lemon juice, garlic, salt, pepper, smoked paprika, fresh parsley, and chili flakes. Together, they create a really delicious and easy marinade that pairs well with fish and seafood.
How to make grilled shrimp skewers?
Here's a brief overview of how to make the best shrimp on the grill. Preheat the grill and prepare the shrimp. Put them onto skewers and then brush them with the pre-prepared marinade.

Now, the shrimp skewers should be placed on the grill over direct heat. Grill them for about 4 minutes on each side, and remember to brush them with the marinade as you go. When the skewers have a nice golden color and are cooked through, remove them from the grill and they are ready to be served.

Find the full recipe further down this page.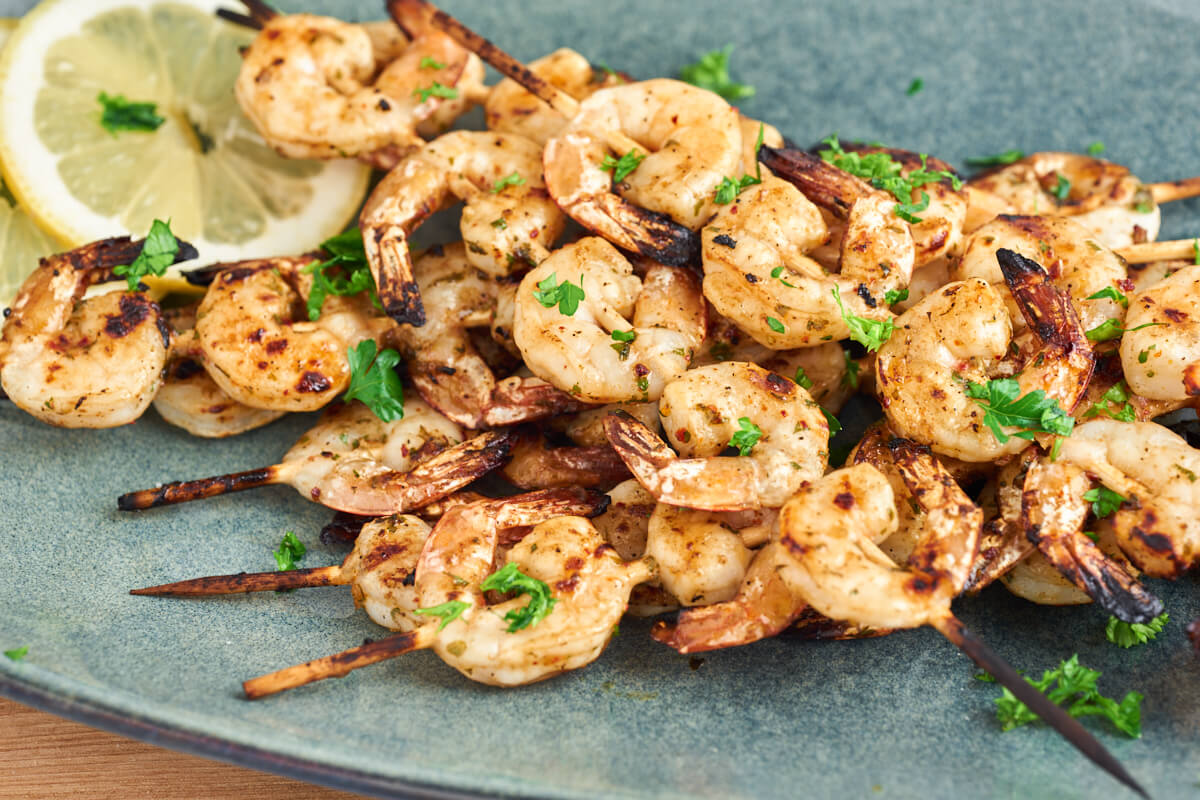 Frequently asked questions
How to store cooked shrimp?
I would recommend eating the shrimp on the same day and not storing them.

Can they be frozen?
No, discard the leftovers.
Other BBQ recipes you might like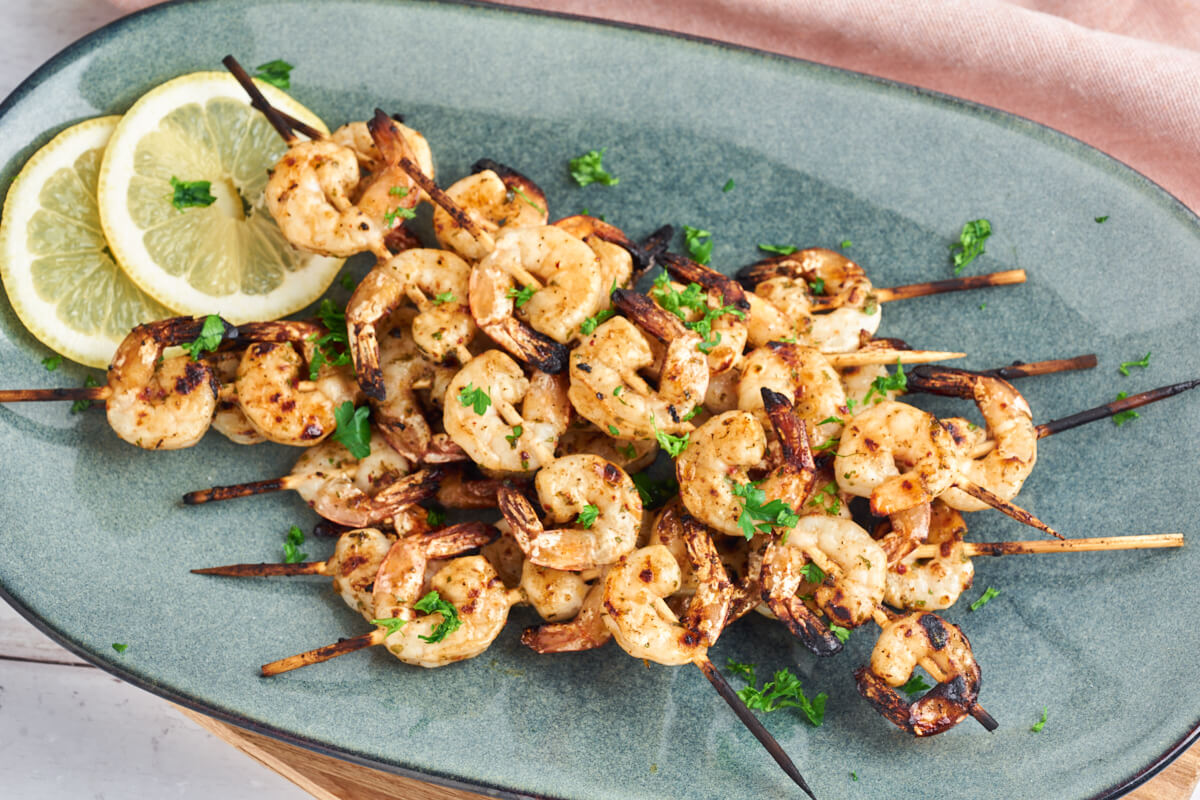 Tips and tricks for the recipe
Make sure to taste the marinade as you go, it's always easier to add more flavor rather than overdoing it.
Brush the shrimp skewers with the marinade as you grill them. The more flavor you can add, the better they will be.
Remember to soak the bamboo skewers in water before using them, this will help them hold up better to the heat.
Serving suggestions
Serve grilled shrimp with a delicious homemade baguette and fresh pineapple salsa.
Serve them together with grilled vegetables.
Do you love this recipe?

You should also try our recipe for Gambas pil pil – Prawns in garlic and chili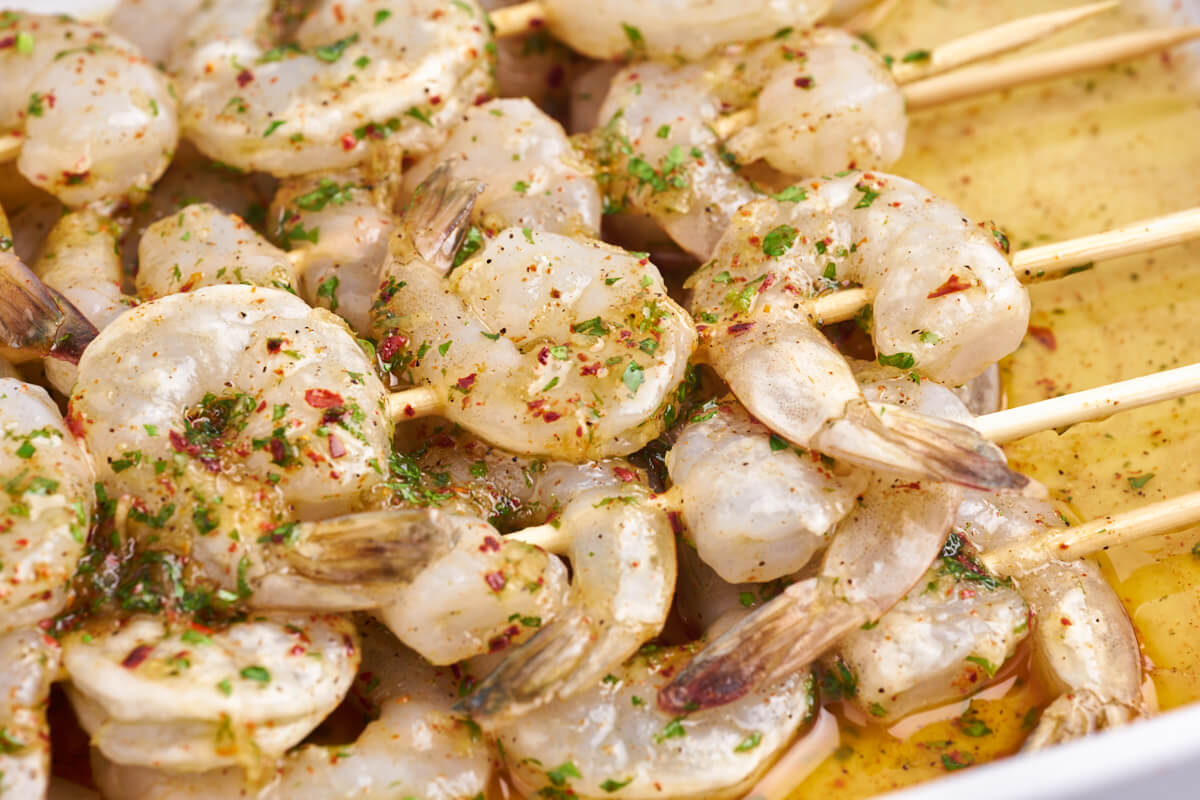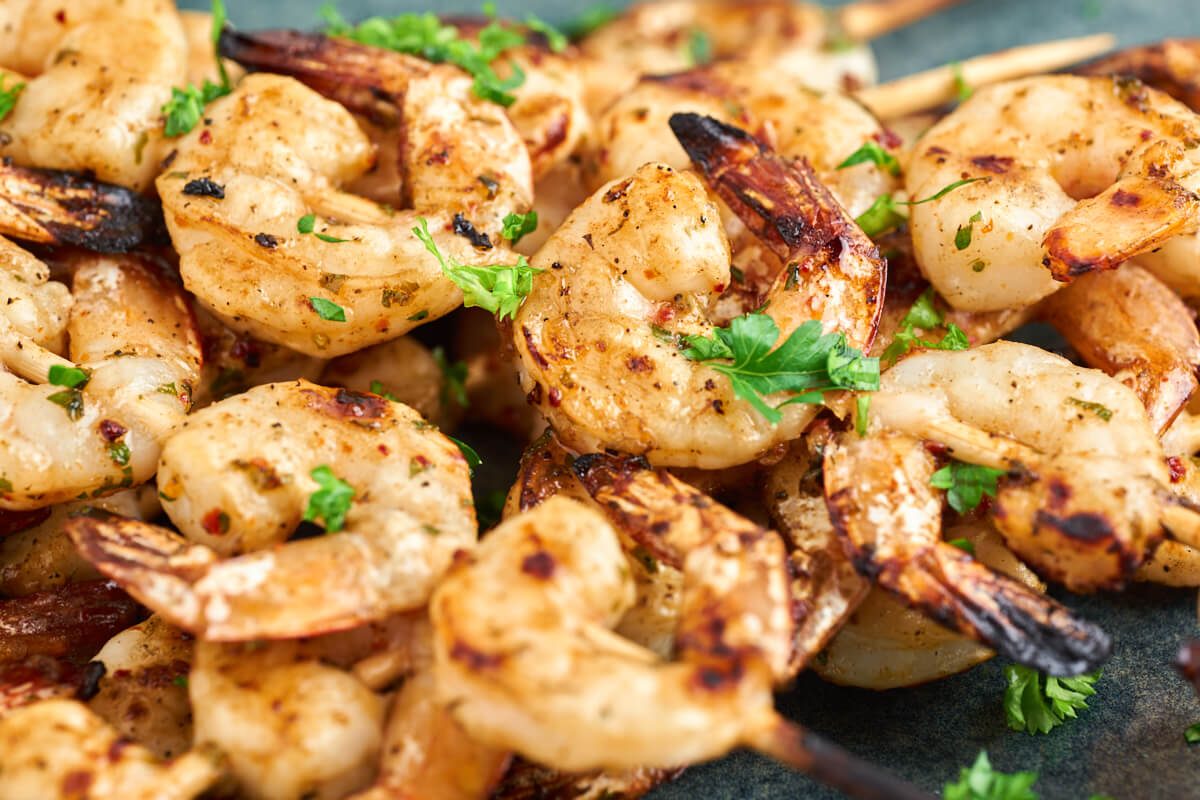 Recipe for grilled marinated prawn skewers
A delicious and easy recipe for grilled shrimp with an explosion of flavor. Tasty and juicy shrimp with the perfect taste of grill and summer.

Serve them with delicious fresh salsa and a crispy homemade baguette. We hope you feel inspired to try the recipe, in our home, the whole family loves these delicious shrimp.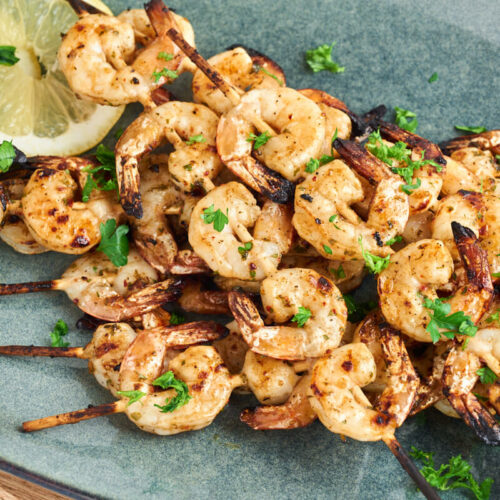 Grilled shrimp skewers
Recipe for grilled shrimp skewers
Grilled shrimp is a wonderful summer dish. Serve them as a delicious appetizer, lunch, or a light dinner with vegetables and good bread. The shrimp are grilled and brushed with a sweet, tangy, and slightly spicy marinade that the whole family loves.
Ingredients  
Marinade:
4

tbsp

olive oil

1

tbsp

honey

1

lemon

zest and juice of half

2

cloves

garlic

finely grated

½

tsp

salt

or to taste

½

tsp

smoked paprika

¼

tsp

pepper

1

tbsp

fresh parsley

finely chopped

½

tsp

chili flakes
Instructions 
Preheat the grill to approximately 200 degrees Celsius (400 degrees Fahrenheit) set up for both direct and indirect heat.

Thoroughly mix all the ingredients for the marinade in a small bowl and whisk together until the honey is dissolved.

4 tbsp olive oil,

1 tbsp honey,

1 lemon,

2 cloves garlic,

½ tsp salt,

½ tsp smoked paprika,

¼ tsp pepper,

1 tbsp fresh parsley,

½ tsp chili flakes

Put the shrimp onto bamboo skewers and brush them with the marinade.

Now place the shrimp skewers on the preheated grill over direct heat. Grill them for 4-5 minutes on each side.

Brush the shrimp skewers with marinade while they are over direct heat. Once they are done, move the cooked skewers to indirect heat to keep them warm while grilling the remaining skewers.

When all the shrimp skewers are done, they are ready to be served.
Nutrition
Serving:
1
person
Calories:
226
kcal
Carbohydrates:
8
g
Protein:
18
g
Fat:
15
g
Saturated Fat:
2
g
Polyunsaturated Fat:
2
g
Monounsaturated Fat:
10
g
Trans Fat:
0.003
g
Cholesterol:
141
mg
Sodium:
546
mg
Potassium:
293
mg
Fiber:
1
g
Sugar:
5
g
Vitamin A:
288
IU
Vitamin C:
16
mg
Calcium:
69
mg
Iron:
1
mg
How do you like the recipe?
Have you tried this recipe? We'd love to hear what you think of it. Leave a comment, add a number of stars to the recipe and share your photo on Instagram with #madformadelskere – We love seeing your dishes ♥️
Also, sign up for our Facebook group where you can show pictures of the delicious food you make! You can find the Facebook group here