Grilled pointed cabbage is one of the side dishes we keep coming back to when the grilling season starts. We simply love cabbage at home, and when it's accompanied by a generous dollop of butter and leisurely grills on the barbecue, it doesn't get much better. Except, perhaps, if we top it off with a little Parmesan cheese.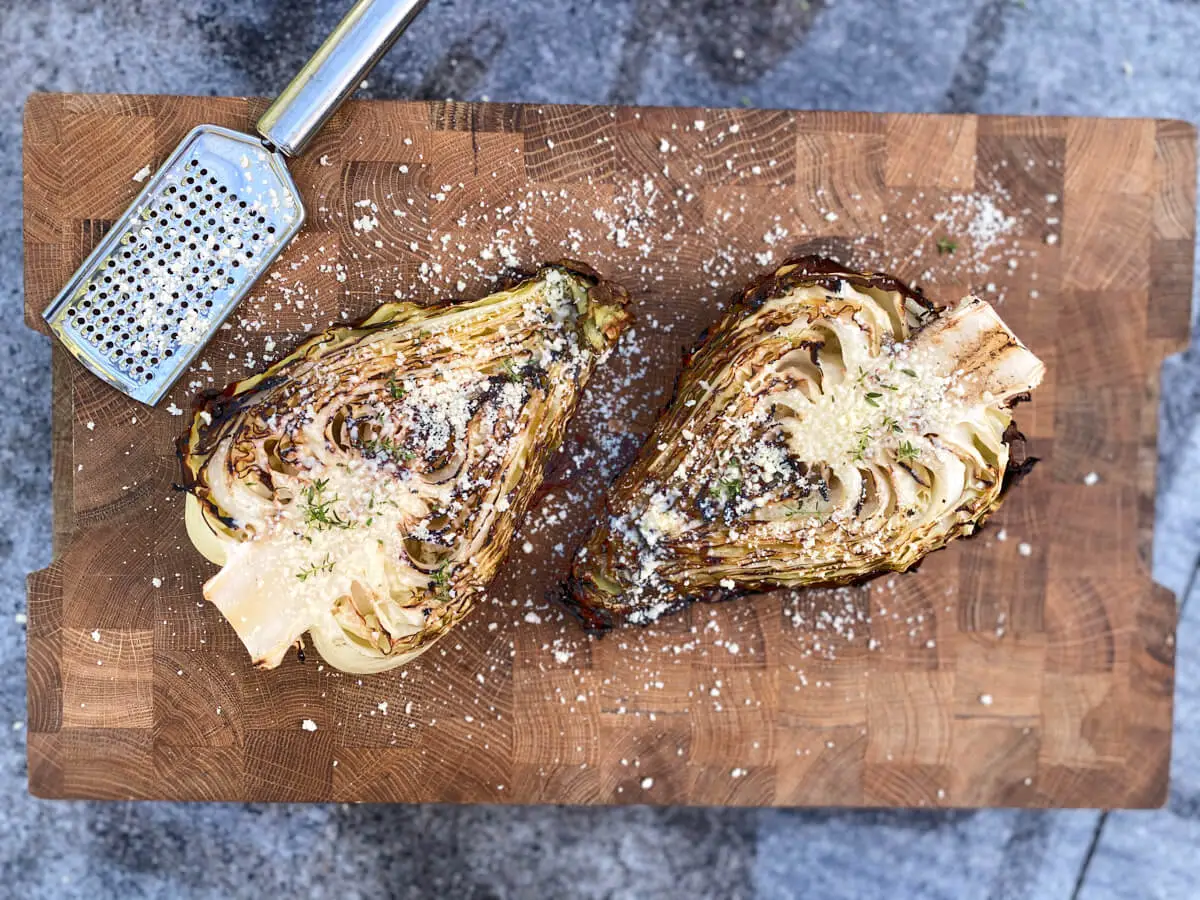 Grilled cabbage is an easy barbecue side dish
Grilled cabbage with Parmesan is simply delicious. If you've never tasted it, you're really missing out.

Fortunately, it's really easy to make.

Once you've fired up the grill, it's not difficult to throw some halved cabbage on it, give them some love in the form of butter, salt, pepper, and optionally Parmesan, and let them cozy up on the grill until they're nice and tender.

Sometimes it can be a challenge to come up with side dishes for barbecue meals, and often we end up with the classic corn on the cob and tomato salad.

Those are also nice, but this pointed cabbage is a winner and so easy. You'll find the recipe further down the page.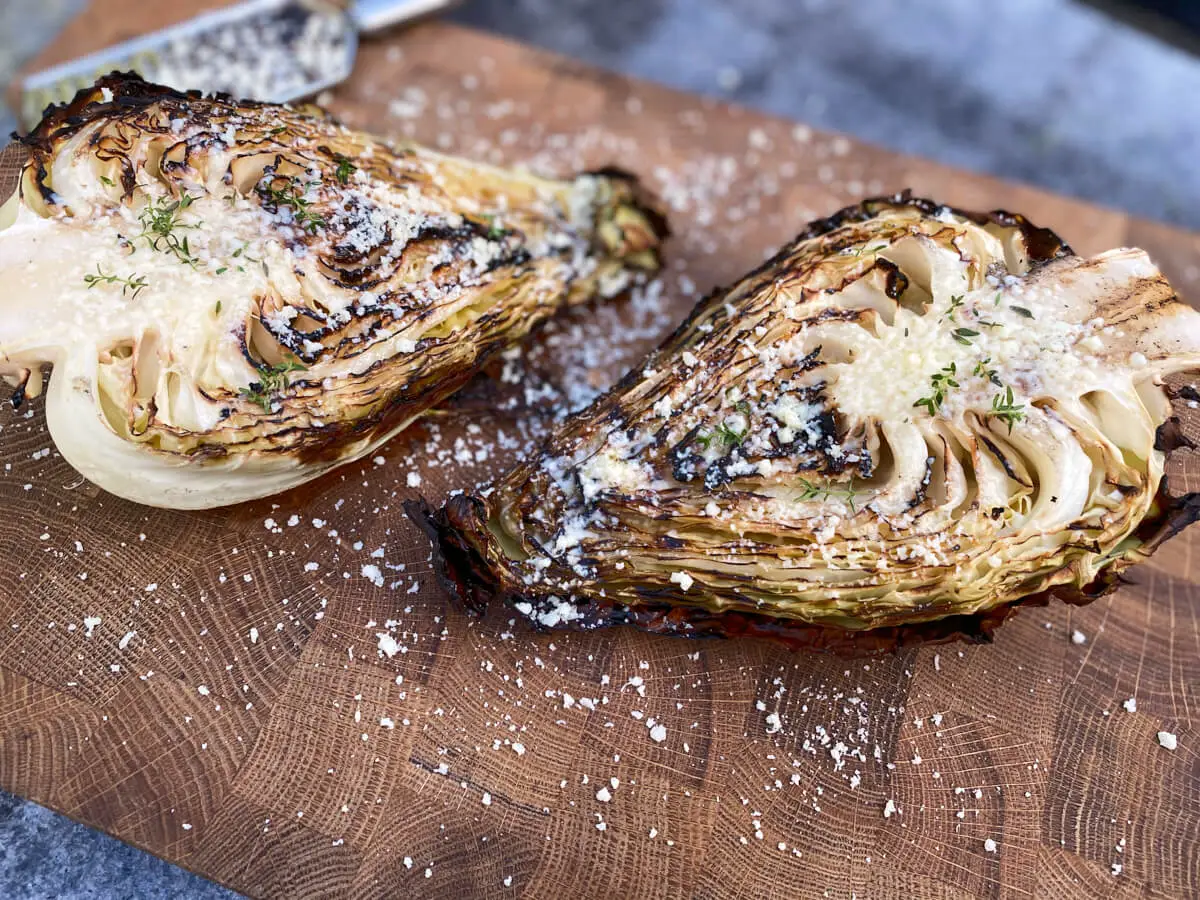 Ingredient notes
Pointed cabbage – You can buy pointed cabbage in almost any supermarket. It's both cheap and healthy, so there's no excuse to skip them in the produce section.

Butter – Butter adds a great flavor to the cabbage that can't be replicated in other ways.

Olive Oil – Used to coat the cabbage before it goes on the grill. It prevents sticking to the grill grates and helps retain salt and pepper.

Salt and Pepper – They should be well seasoned!

Parmesan – Optional, but it adds a wonderful taste.

Thyme – Optional, but it pairs well with cabbage.
How to make grilled pointed cabbage?
This is probably one of our simplest recipes, but also one of the most delicious! Simple is often incredibly tasty when it comes to cooking. Don't overcomplicate things. With a few good ingredients, you can make heavenly food.

First, the cabbage should be cut in half (or quarters if you prefer, but halves are easier to handle on the grill). Rinse the cabbage under the tap and let it drain.

Now, the flat side should be brushed with a little oil and seasoned with salt and pepper before placing it on the grill to cook on both sides. Once they have some color, they should be flipped flat side up and generously topped with butter.

They can be wrapped in foil to keep the butter in. Now, they should grill with the lid on until they are tender and delicious. Finally, sprinkle them with Parmesan and thyme, and they are ready to be served.

Find the full recipe further down this page.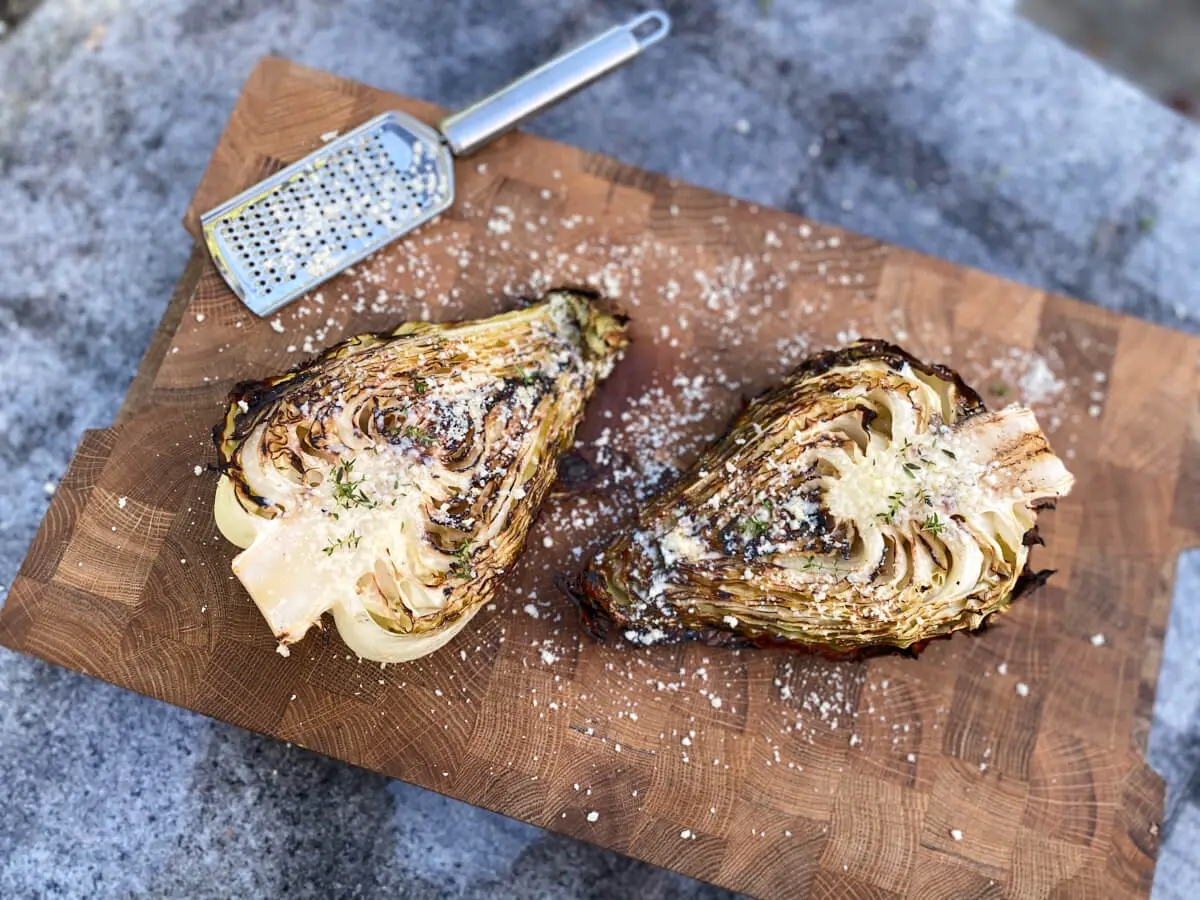 Frequently asked questions
What can I serve with grilled cabbage?
This dish goes well with all kinds of grilled meats, fish, and poultry. For example, you can serve the cabbage with grilled chicken thighs or a good grilled ribeye steak.
Other grilling recipes you might like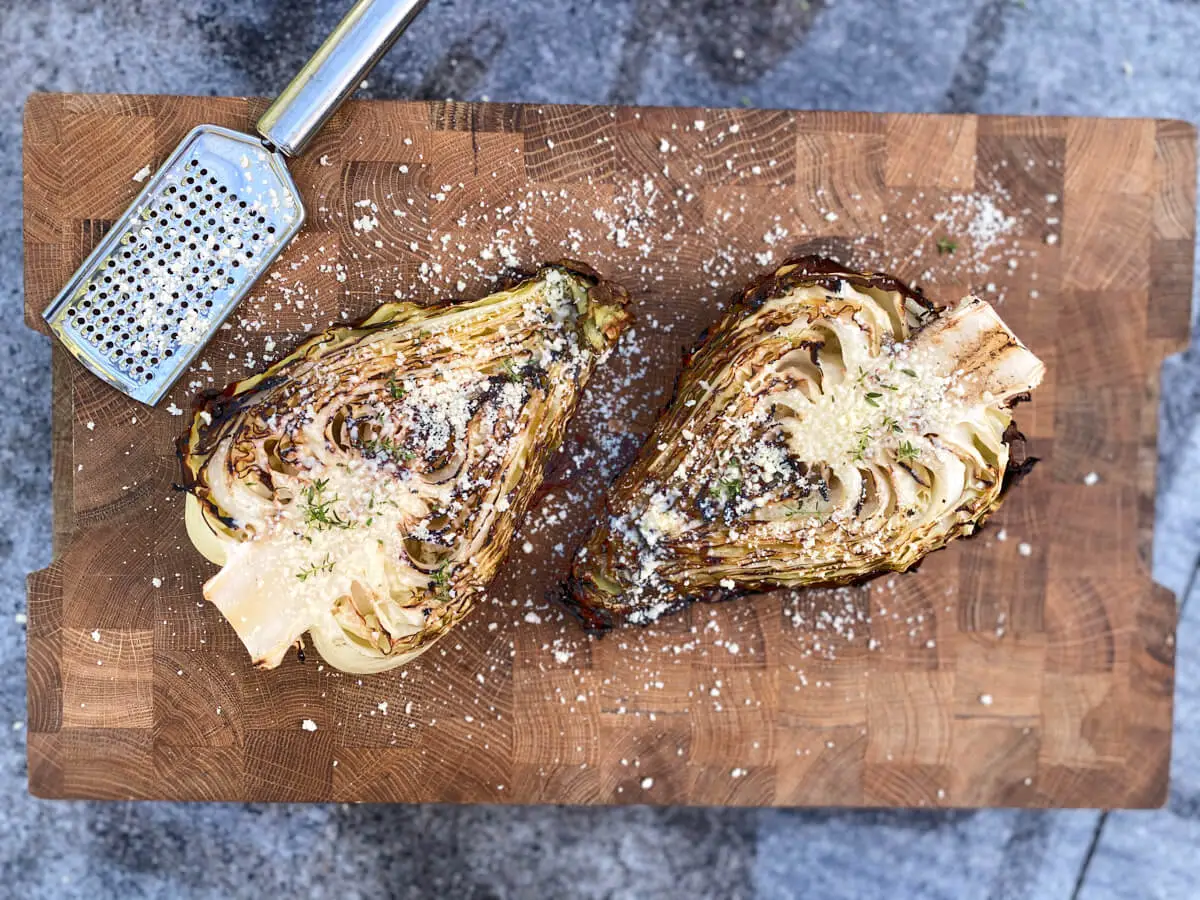 Tips and tricks for the recipe
Plenty of butter! Cabbage loves butter, and a generous dollop of butter on top works wonders.
Wrap the cabbage in foil when it has enough color. This keeps the butter in and allows it to melt and tenderize the cabbage inside the foil package.
Sprinkle with Parmesan and thyme when your cabbage is fully cooked. It adds an amazing flavor. You can also experiment with other herbs.
Serving suggestions
For example, enjoy grilled cabbage as a side dish with ribs or roast pork on the grill.
As a side dish to grilled chicken.
Do you love grilling vegetables?

Try our recipe for spring onion on the grill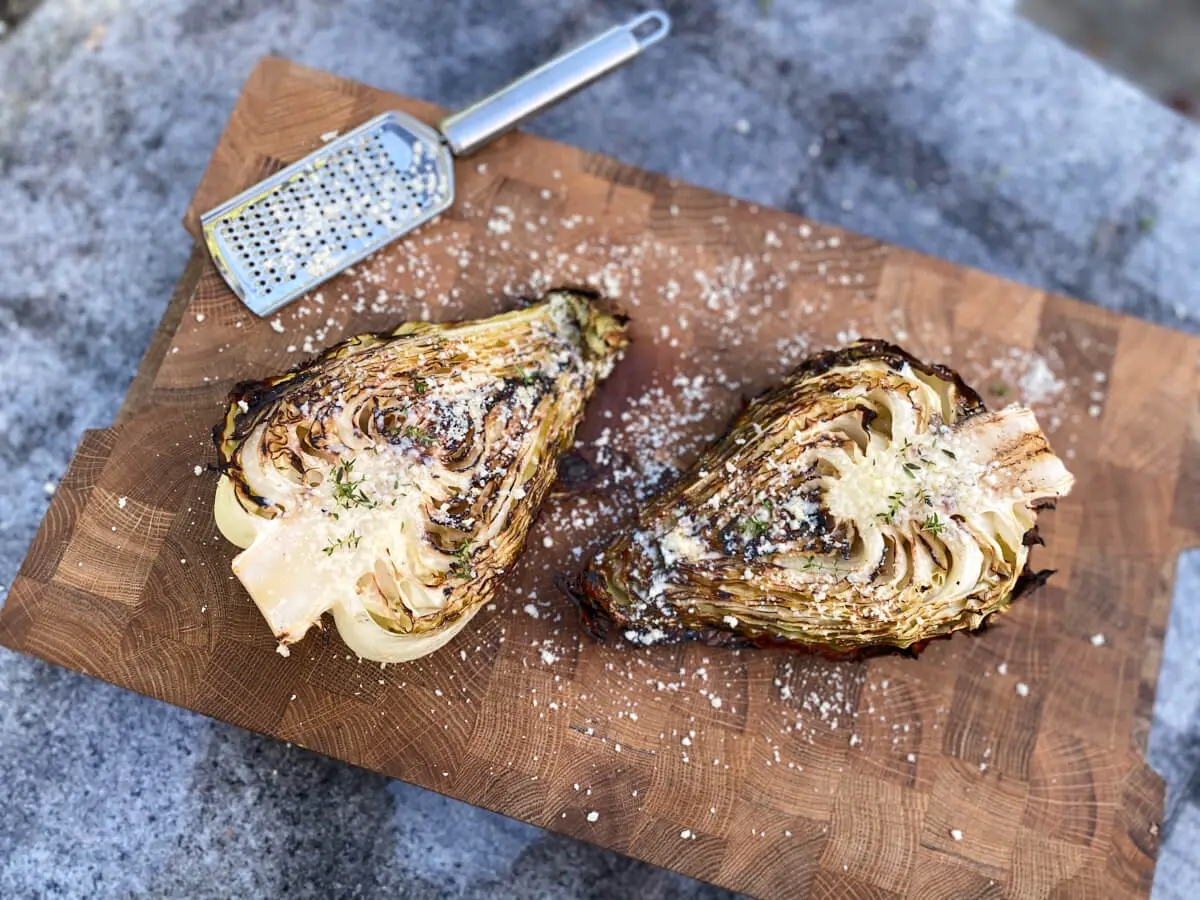 Recipe for pointed cabbage on the grill
Here's our recipe for grilled pointed cabbage. You can also make your cabbage in a pan, and if you have a grill pan, you'll even get those nice grill marks. But that grilling flavor really does wonders for the cabbage, so that's our preference. In general, we eat a lot of cabbage as a side dish, but this version is one of our favorites during the grilling season.

After cooking, you can add some extra love to the cabbage with Parmesan, thyme, or your favorite herbs. It's especially nice if you have fresh herbs from your garden. We hope you feel inspired to try the recipe.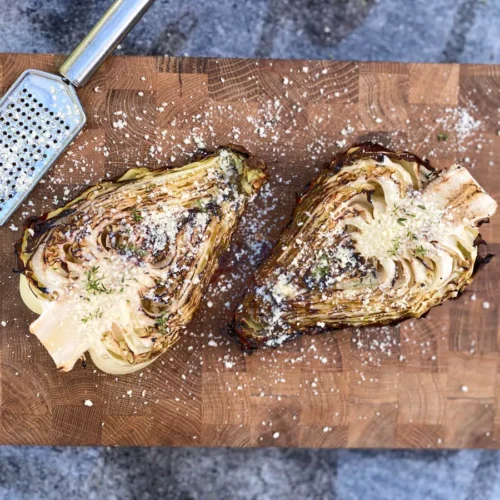 Grilled pointed cabbage
Recipe for grilled pointed cabbage
Grilled cabbage with Parmesan and thyme is simply delicious. Serve the cabbage as a side dish for grilled food, including meat, fish, and poultry.
Ingredients  
2

pointed cabbage

approximately 1/2 per person

Olive oil

Salt

Pepper

100

g

butter

50

g

parmesan cheese

grated, optional

Fresh thyme

optional
Instructions 
Split the cabbages lengthwise and remove any loose outer leaves. Rinse the cabbage heads thoroughly under cold running water and let them drain.

Brush the flat side with a little oil and season with salt and pepper.

Grill them over direct medium heat on the flat side until they develop color, then flip them and grill the other side until it also gets some color.

Place a couple of knobs of butter on the flat side and move them to indirect heat. Let them cook until tender with the lid closed. You can wrap them in foil after they develop color; it helps retain the butter and juices.

Once they are tender and delicious, they are ready to be served. If you're a fan of Parmesan cheese, try sprinkling some on top and let it melt before serving. You can also choose to sprinkle some fresh thyme on top or your favorite herb.

50 g parmesan cheese,

Fresh thyme
Nutrition
Serving:
1
person
Calories:
261
kcal
Carbohydrates:
1
g
Protein:
5
g
Fat:
27
g
Saturated Fat:
15
g
Polyunsaturated Fat:
1
g
Monounsaturated Fat:
9
g
Trans Fat:
1
g
Cholesterol:
62
mg
Sodium:
943
mg
Potassium:
30
mg
Fiber:
0.3
g
Sugar:
0.1
g
Vitamin A:
806
IU
Vitamin C:
3
mg
Calcium:
162
mg
Iron:
0.4
mg
How do you like the recipe?
Have you tried this recipe? We'd love to hear what you think of it. Leave a comment, add a number of stars to the recipe and share your photo on Instagram with #madformadelskere – We love seeing your dishes ♥️
Also, sign up for our Facebook group where you can show pictures of the delicious food you make! You can find the Facebook group here