It's barbecue season, and that also means delicious bread to accompany the meal. This garlic herb bread tastes absolutely fantastic, looks beautiful, and is easy to make. Read on to learn how to make the most delicious swirled bread with garlic and herbs.
Great bread for barbecues
We love garlic bread. And we love herbs; we have a lot of lovely ones in the garden.

This bread with garlic and herbs has become a new favorite for barbecues. It's really delicious and easy to make. Plus, it looks fantastic when served on the table.

We've used parsley, chives, thyme, and coriander here, but you can use a combination of your favorite herbs or perhaps the ones you have in your garden. In spring, it's fantastic to make it with wild garlic, for example.

The bread is twisted, which not only looks fantastic but also adds to the flavor and texture. It creates crispy flakes on the edges, and it's wonderful to tear apart and dip into a good pesto or tzatziki.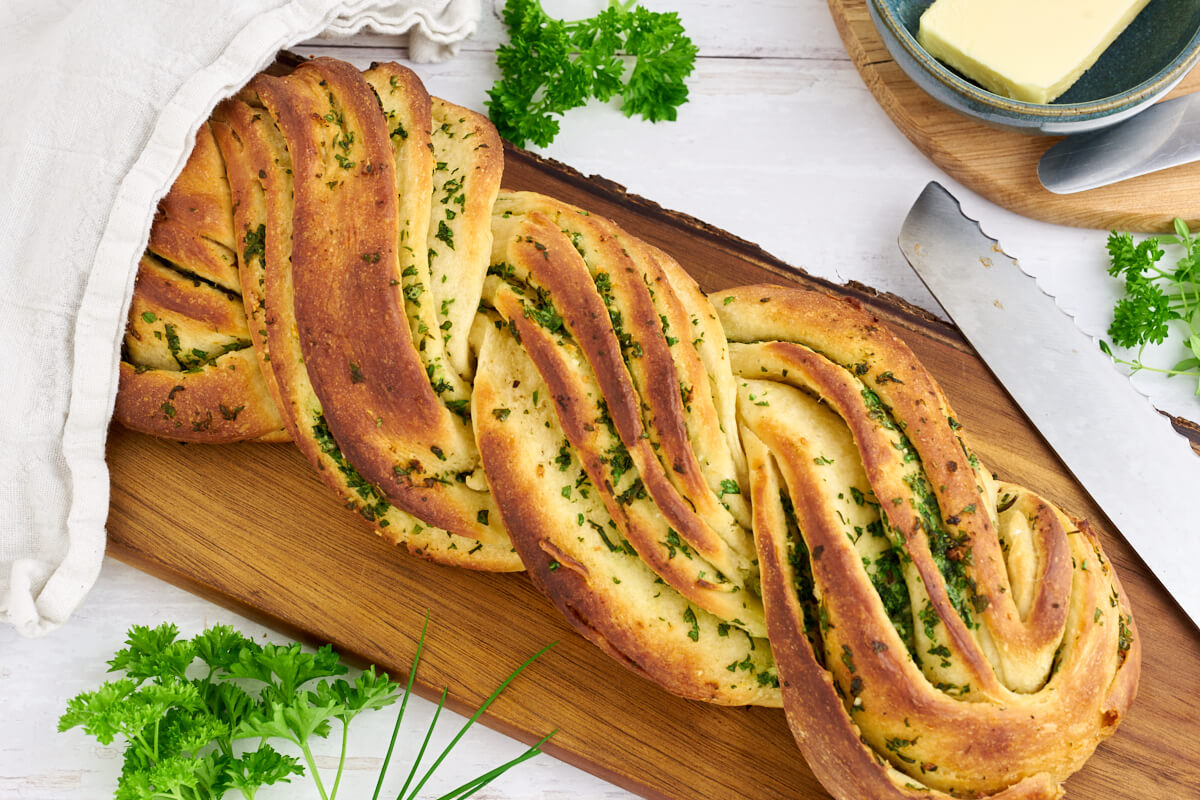 Ingredient notes
Herbs – You can use a good combination of herbs that you like best. Here, we've used a mixture of parsley, chives, coriander, and thyme. Fortunately, we have plenty of herbs in the garden, so we just went out and picked a good handful.

Garlic – Such a bread calls for garlic. The amount here is well-balanced, but you can add more if you really love the taste of garlic.
How to make garlic herb bread?
The first thing you need to do is make the dough. It's quickly done if you have a stand mixer available. Once the dough is well kneaded, let it rise for 30 minutes.

Then, roll out the dough into a rectangle and spread it with garlic/herb butter. Roll the dough into a log, divide it in half, and twist the halves together.

The twisted bread needs to rise again before baking.

When it's baked to a lovely golden color, it's ready to be served.

Find the full recipe with step-by-step photos further down this page.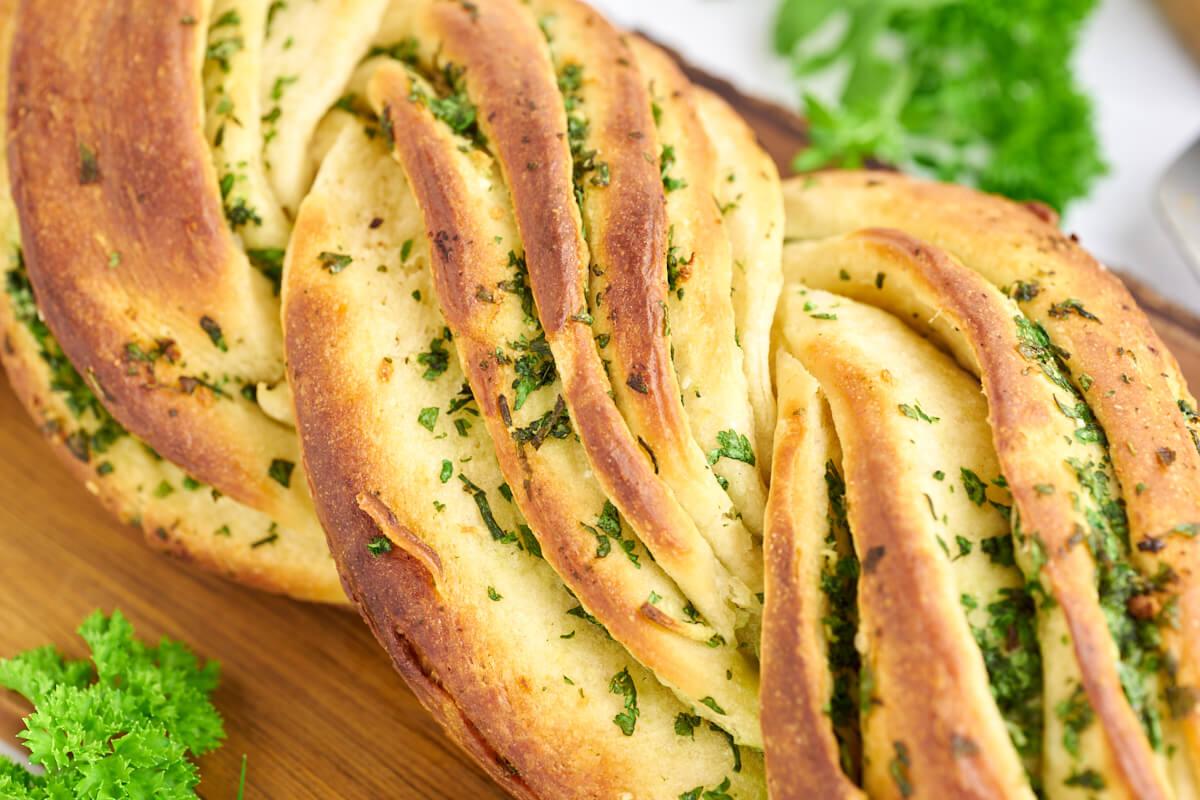 Frequently asked questions
Can the garlic bread be frozen?
Yes, you can easily freeze the finished garlic bread. Put it in a freezer bag and place it in the freezer.

Can I use store-bought herb butter?
Yes, you can certainly do that. If you don't want to buy many different types of herbs, you can simply use parsley, which gives a wonderful flavor.
Other bread recipes you might like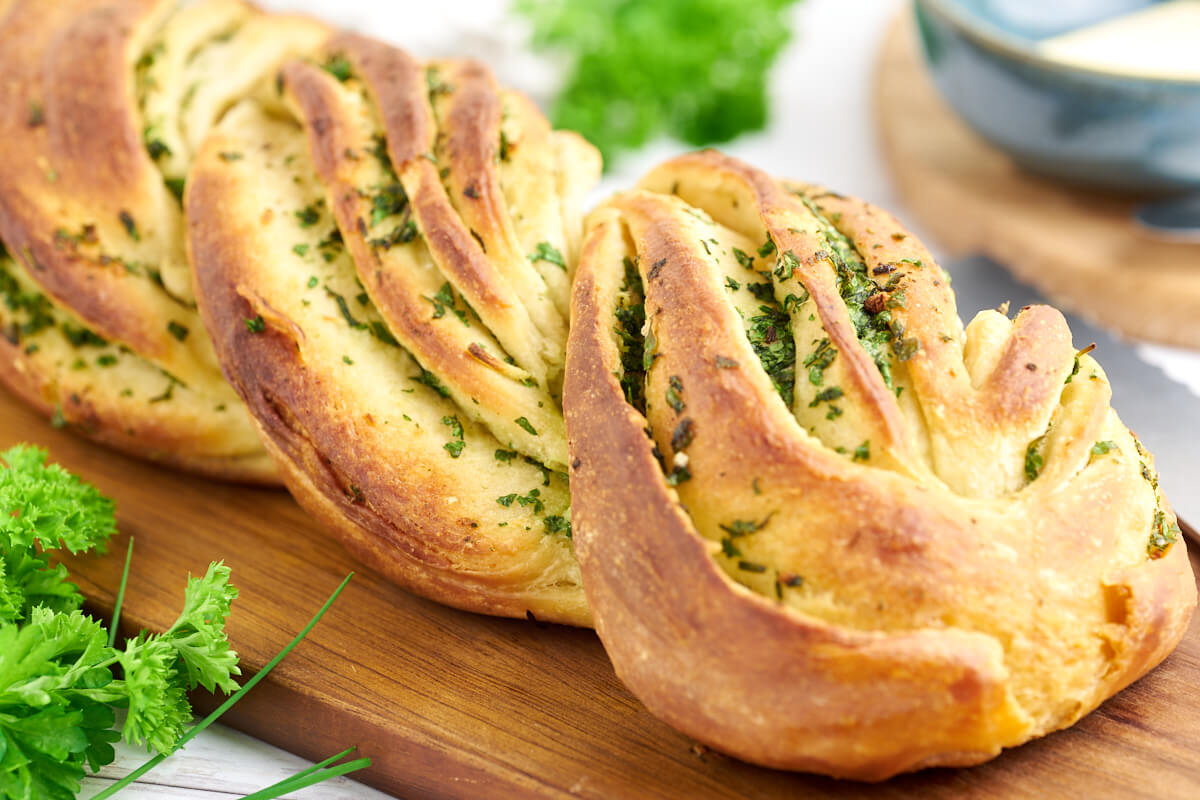 Tips and tricks for the recipe
Use the herbs you like best and perhaps the ones you already have in your garden.
Make a couple of loaves at once and freeze one for another occasion.
Serving suggestions
Serve the bread with barbecues on the terrace.
Enjoy it with a delicious soup, such as Tuscan soup.
Do you love a good garlic bread for dinner?

Also try our recipe for pull apart garlic bread with cheese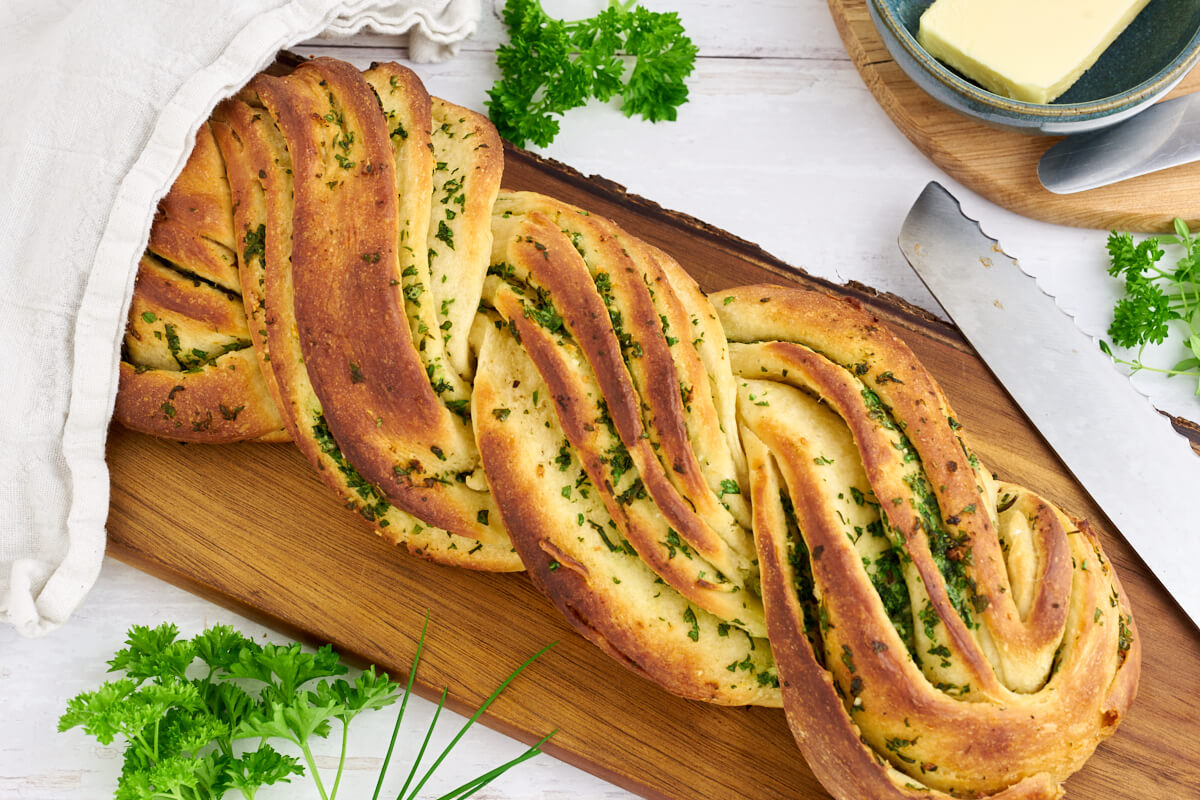 Recipe for the best bread with garlic
Here's our recipe for beautiful and delicious twisted garlic bread with lots of garden herbs.

It's easy to make and tastes absolutely fantastic.

For example, try serving it as an accompaniment to barbecues or as bread for a casserole or soup.

We hope you feel inspired to try the recipe next time you want to serve delicious garlic bread to your family.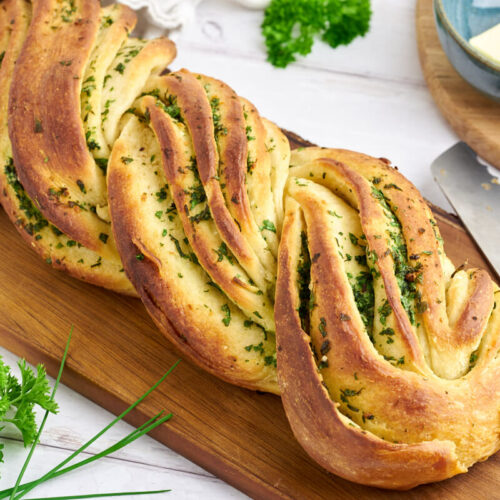 Garlic herb bread
Recipe for garlic herb bread
The best bread with garlic and plenty of herbs. It's easy to make, and it's the perfect accompaniment to barbecues. Garlic bread is something the whole family loves, and you can use the herbs you like best or the ones you have in the garden.
Ingredients  
Dough:
2

dl

milk

25

g

fresh yeast

1

tsp

salt

1

tsp

sugar

325

g

all purpose flour
Garlic/Herb Butter:
80

g

butter

2

cloves

garlic

1

dl

herbs

mixed
Instructions 
Dough:
Warm the milk slightly in the microwave until it is lukewarm.

Dissolve the yeast in the milk and add salt and sugar.

25 g fresh yeast,

1 tsp salt,

1 tsp sugar

Gradually add the wheat flour while kneading the dough in a stand mixer. Knead for about 10-15 minutes until the dough is smooth and elastic.

Let the dough rise in a warm place for 30 minutes while you proceed with the garlic/herb butter.
Garlic/Herb Butter:
Put butter, chopped herbs, and minced garlic in a bowl. Mix them together with a fork until you have a smooth garlic butter.

80 g butter,

2 cloves garlic,

1 dl herbs
Shaping the Bread:
Once the dough has risen for 30 minutes, roll it out into a rectangle, about ½ cm thick.

Spread the garlic/herb butter evenly over the dough.

Roll the dough from the short side into a log.

Cut the log in half, but leave it attached at one end.

Twist the two ends together, with the openings in the dough facing upward. Press the ends together firmly.

Cover the bread with a kitchen towel and let it rise again in a warm place for 30 minutes. Preheat the oven to 225 degrees Celsius normal heat(437 degrees Fahrenheit) during this time.

Bake your garlic bread in the oven at 225 degrees Celsius (437 degrees Fahrenheit) for about 15-18 minutes.

Serve warm or cooled.
Nutrition
Serving:
1
bread
Calories:
1183
kcal
Carbohydrates:
248
g
Protein:
34
g
Fat:
3
g
Saturated Fat:
1
g
Polyunsaturated Fat:
1
g
Monounsaturated Fat:
0.3
g
Sodium:
7
mg
Potassium:
348
mg
Fiber:
9
g
Sugar:
1
g
Calcium:
49
mg
Iron:
15
mg
How do you like the recipe?
Have you tried this recipe? We'd love to hear what you think of it. Leave a comment, add a number of stars to the recipe and share your photo on Instagram with #madformadelskere – We love seeing your dishes ♥️
Also, sign up for our Facebook group where you can show pictures of the delicious food you make! You can find the Facebook group here