These chocolate cupcakes with buttercream are a sure hit when the kids have a birthday or when we just want to enjoy a little extra on the weekend. Read on and get our recipe for moist chocolate and banana muffins with a lovely multicolored buttercream on top.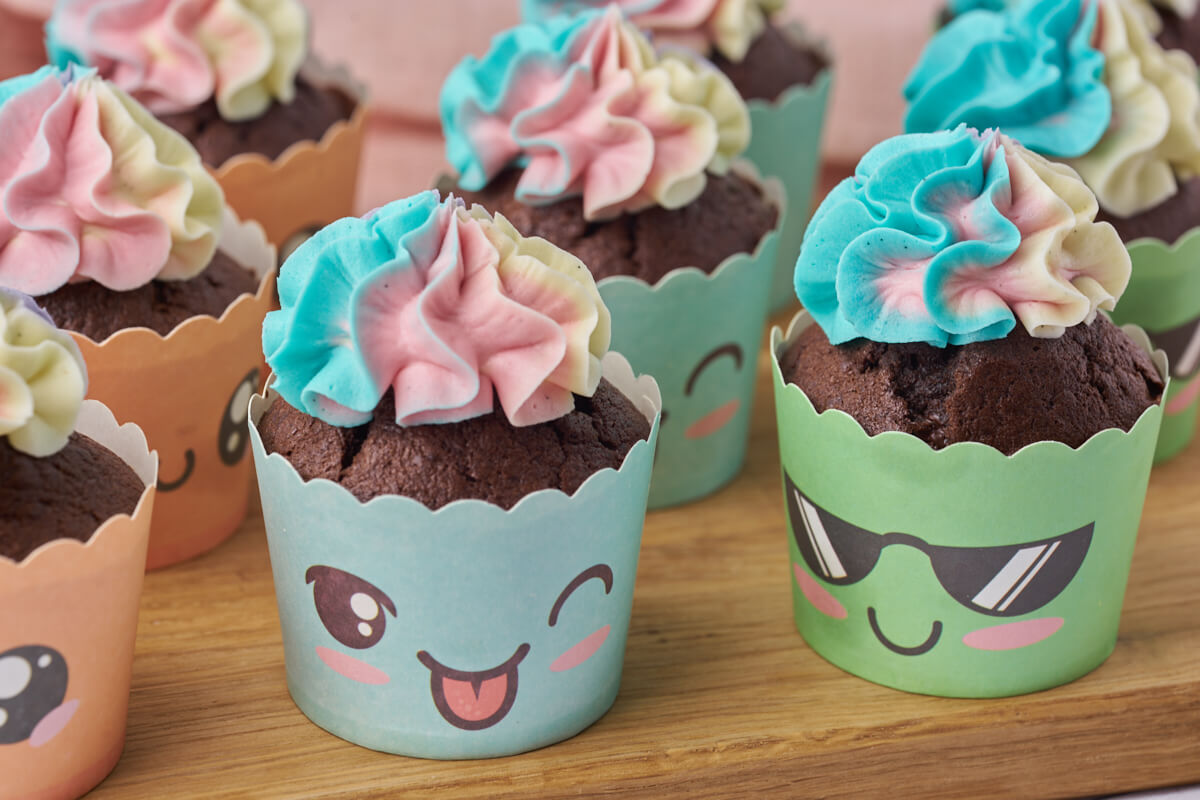 Cupcakes with Multicolored Buttercream
These cupcakes were ones we made for Ellen's 7th birthday. She had requested chocolate cupcakes with buttercream and had seen how it could be colored in multiple colors.

So, of course, we had to try it. We made them blue, red, yellow, and purple, and we baked the muffins in some fun muffin liners we had bought a while ago but never used. I think we found them at Føtex.

You can color the buttercream however you like. We simply used regular food coloring and made four different bowls with different colors. We then placed them in stripes on a piece of plastic wrap, rolled it up, and put it in a piping bag with a star tip.

When you pipe out the buttercream, it creates a beautiful appearance. It's actually not that difficult.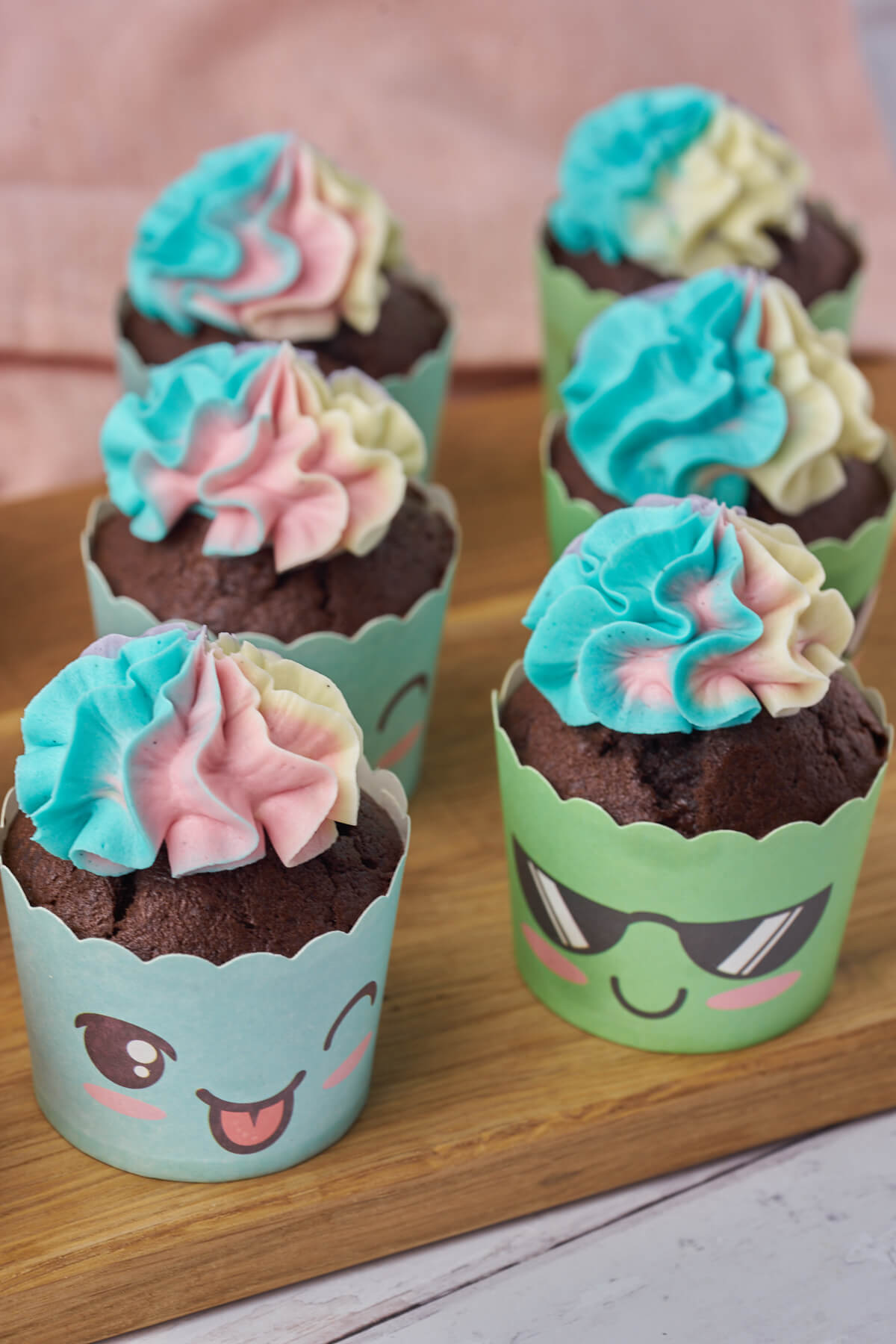 Ingredient notes
Butter – You'll need a good amount of butter for this recipe, both for the muffins and the buttercream. Remember that the butter for the buttercream should be soft when you need it.

Bananas – The bananas help sweeten the cakes and give them a good flavor. They can be very ripe for a sweeter taste.

Chocolate – We use dark chocolate here, but other variations can also be used.
How to Make Chocolate Cupcakes with Buttercream?
There are two steps to making these delicious cupcakes. First, you need to make the muffins themselves, and then they are decorated with buttercream.

To make the batter for your muffins, you need to whisk eggs, vanilla, and sugar. Then add the dry ingredients and melted butter. Finally, add the chocolate and bananas before pouring the batter into muffin liners and baking in the oven.

Once they have cooled, you can decorate them with buttercream. Make the buttercream by whisking softened butter well and adding vanilla and powdered sugar. I chose to color the buttercream in four different colors before putting it into a piping bag and piping it onto the cakes, but it's entirely up to you what color you prefer.

Once the buttercream is on, the cakes are ready to be served.

Find the full recipe further down this page.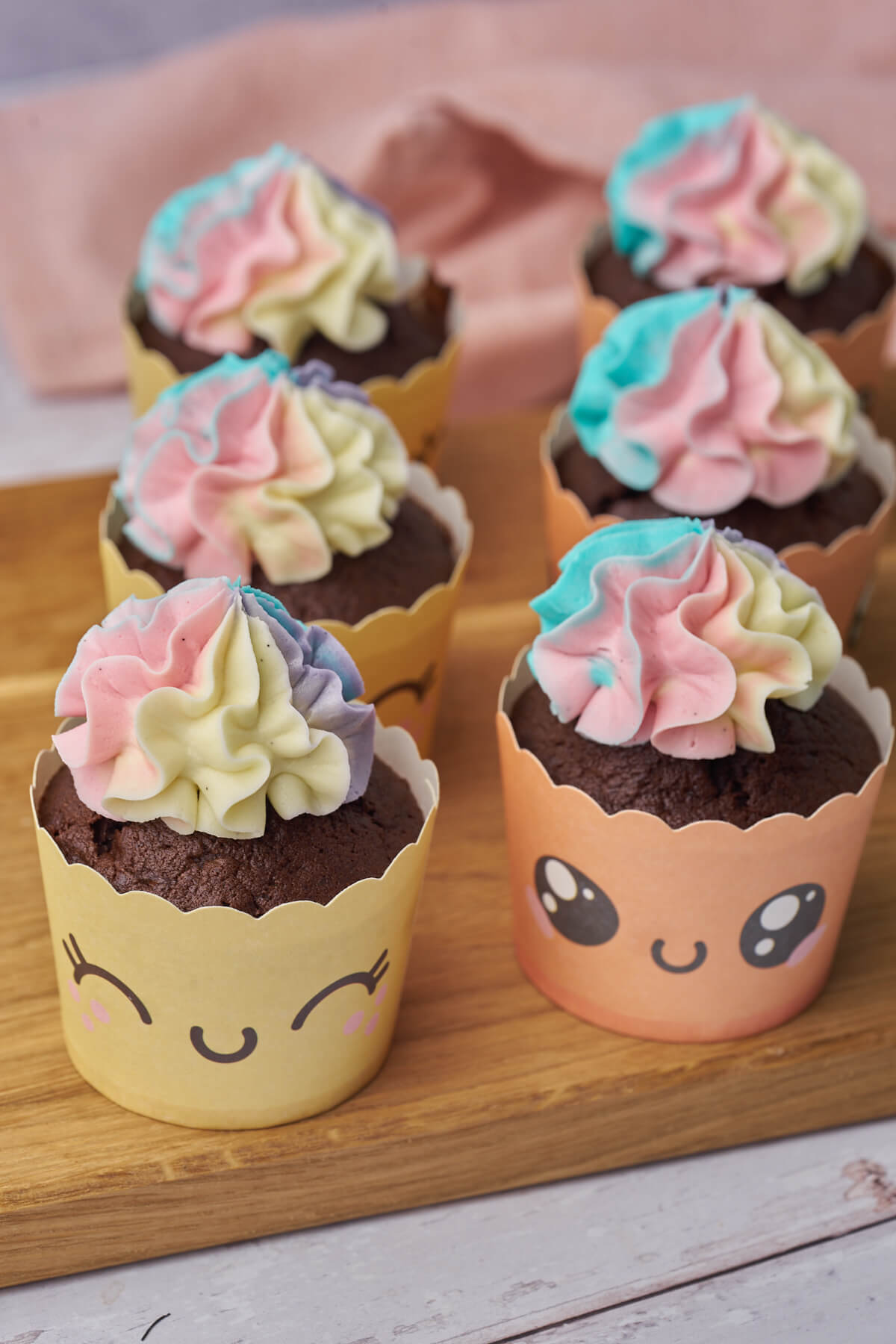 Frequently asked questions
How do you store cupcakes?
When there is buttercream on them, your cupcakes should be refrigerated. Take them out 30 minutes before serving, so the buttercream isn't too cold.

Other recipes you might like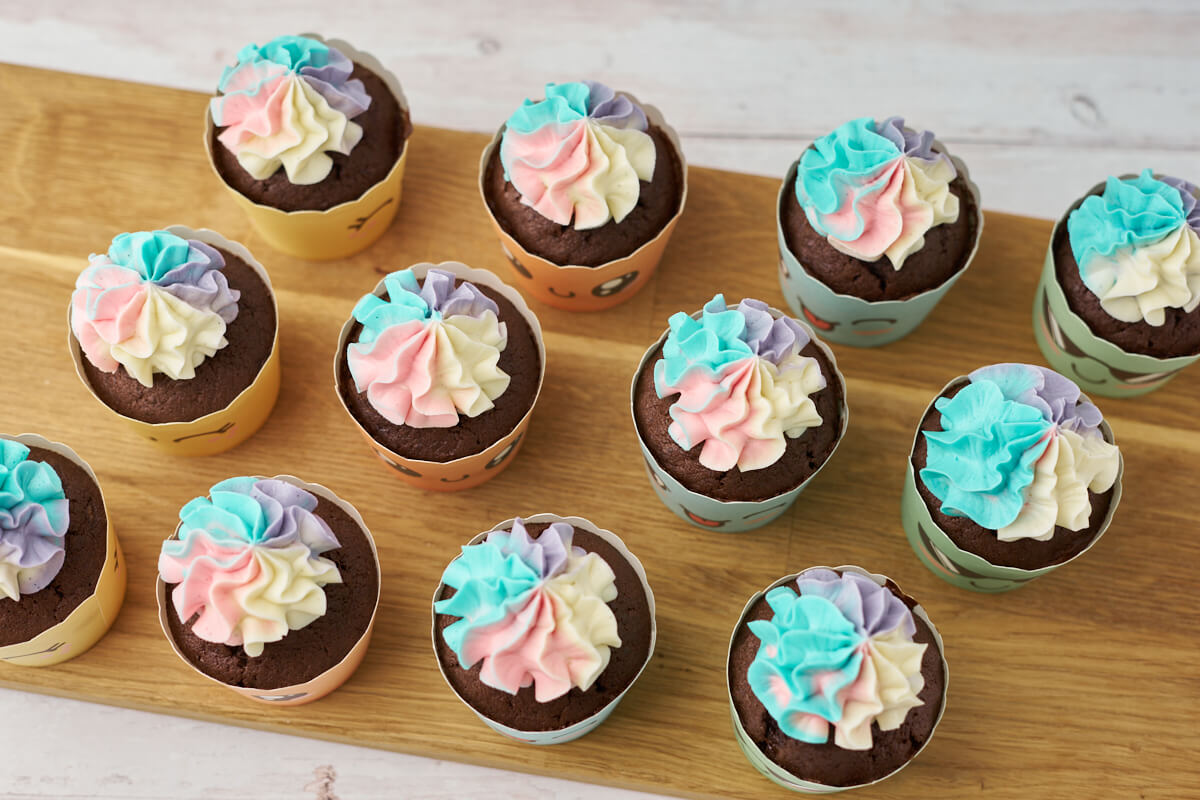 Tips and tricks for the recipe
Take your cupcakes out of the fridge about 30 minutes before serving, so the buttercream isn't too hard or cold.
Color the frosting as you wish. It doesn't have to be in multiple colors like here, but you can use the colors you like best at home or the colors that fit the theme of the party or occasion you're using them for.
Serving suggestions
Serve as a delicious cake for a children's birthday party. The buttercream can be colored in the child's favorite colors.
Use them for christenings, wedding parties, or other festive occasions, and choose one or more colors that match the color theme of the party.
Do you love cakes with banana and chocolate?

Try our recipe for delicious Danish banana cake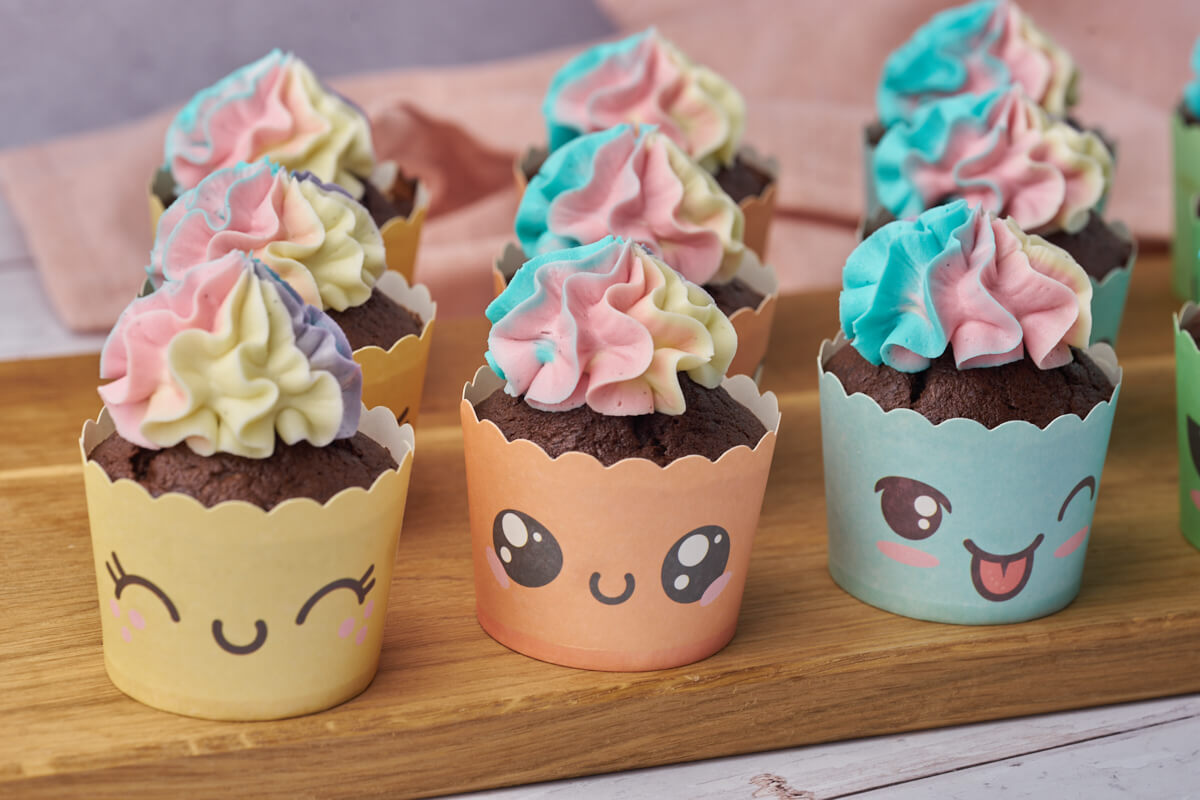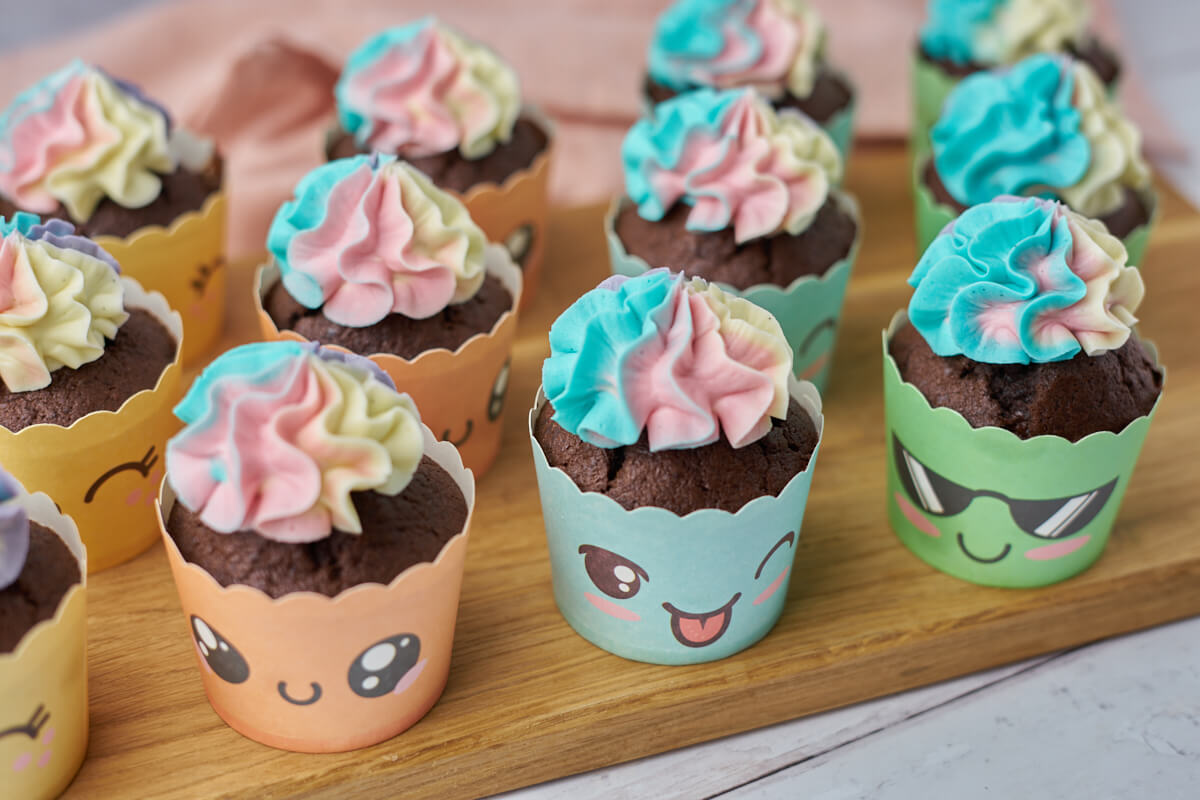 Recipe for Muffins with Rainbow Frosting
Here's our delicious recipe for chocolate muffins with rainbow frosting. We used them for a children's birthday party, but they taste really good and work for any occasion.

We hope you feel inspired to try the recipe and perhaps make these delicious cakes for your child's next birthday.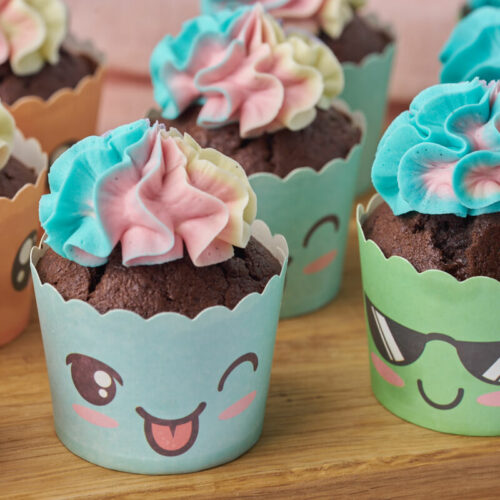 Chocolate cupcakes with buttercream
Recipe for Chocolate cupcakes with buttercream
Delicious and moist chocolate and banana muffins with silky smooth multicolored buttercream. They are perfect for a children's birthday party or when you want to treat your family a little extra.
Ingredients  
Muffins:
70

g

butter

3

eggs

2

tsp

vanilla paste

120

g

sugar

140

g

all-purpose flour

1 ½

tsp

baking powder

1

pinch

salt

35

g

cocoa powder

3

bananas

75

g

dark chocolate
Buttercream:
180

g

butter

180

g

powdered sugar

2

tsp

vanilla paste

Food coloring

optional
Instructions 
Muffins:
Preheat the oven to 180 degrees Celsius (350 degrees Fahrenheit) on conventional mode.

Melt the butter and let it cool down.

Whisk together the eggs, sugar, and vanilla paste until fluffy.

3 eggs,

2 tsp vanilla paste,

120 g sugar

Add the all-purpose flour, baking powder, salt, and cocoa powder to the batter and mix it together. Then add the melted butter to the batter.

140 g all-purpose flour,

1 ½ tsp baking powder,

1 pinch salt,

35 g cocoa powder

Roughly chop the chocolate and mash the banana with a fork. Fold them into the batter and mix until smooth.

3 bananas,

75 g dark chocolate

Divide the batter into 12 muffin liners, filling them about 2/3 full as they will rise slightly during baking.

Bake the muffins for 20-25 minutes at 180 degrees Celsius (350 degrees Fahrenheit) until the batter is cooked through and does not stick when a toothpick is inserted into the middle of a muffin and pulled out.

Let them cool down before decorating.
Decoration:
Once the muffins have cooled down, prepare the buttercream. Remember to take the butter out of the refrigerator well in advance, so it is soft when you need it.

Whisk the butter until fluffy using a stand mixer or an electric hand mixer.

Add the vanilla paste and then gradually add the powdered sugar. Beat until the cream is completely white and fluffy; it should be beaten for quite a while and with vigor.

2 tsp vanilla paste,

180 g powdered sugar

Add food coloring if desired. For these muffins, I divided the buttercream into 4 different portions and colored each portion with yellow, purple, blue, and pink respectively.

Transfer the buttercream to a piping bag fitted with a star tip and pipe the buttercream onto your muffins.

Serve immediately or store in the refrigerator until 30 minutes before serving.
Nutrition
Serving:
1
cupcake
Calories:
382
kcal
Carbohydrates:
46
g
Protein:
4
g
Fat:
21
g
Saturated Fat:
13
g
Polyunsaturated Fat:
1
g
Monounsaturated Fat:
6
g
Trans Fat:
1
g
Cholesterol:
86
mg
Sodium:
209
mg
Potassium:
228
mg
Fiber:
3
g
Sugar:
31
g
Vitamin A:
601
IU
Vitamin C:
3
mg
Calcium:
52
mg
Iron:
2
mg
How do you like the recipe?
Have you tried this recipe? We'd love to hear what you think of it. Leave a comment, add a number of stars to the recipe and share your photo on Instagram with #madformadelskere – We love seeing your dishes ♥️
Also, sign up for our Facebook group where you can show pictures of the delicious food you make! You can find the Facebook group here