Italian ciabatta bread is a light bread with large air holes. It is perfect as a tapas bread or for a delicious sandwich. It's a bread that requires a long rising time to achieve the airy dough, but it's certainly not difficult. The dough doesn't need to be kneaded, just mix it together and let it sit and take care of itself. Read on and learn how to make the best ciabatta.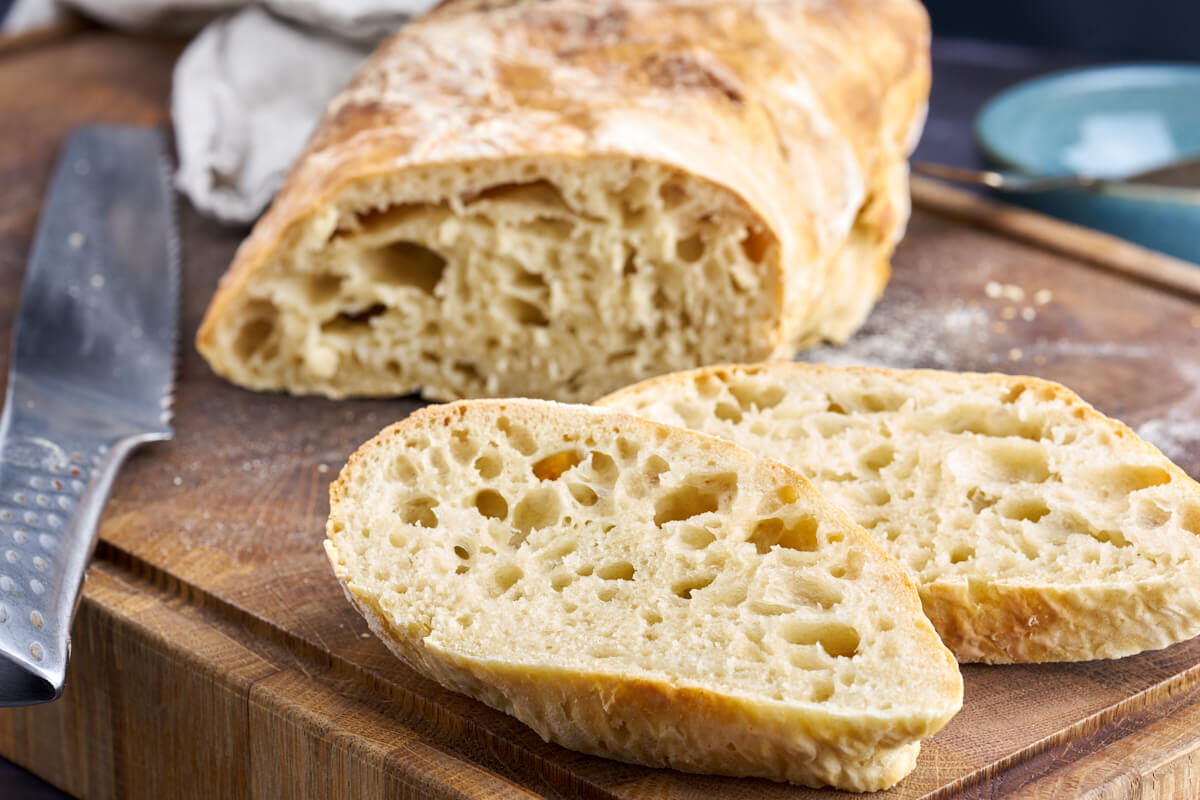 Easy bread for tapas or panini
Ciabatta bread is one of those bread we bake over and over again.

Mostly because it's so incredibly easy, and it tastes absolutely delicious.

We like to bake it when we're having a nice tapas because it goes so well with pesto, ham, and the like. Rubbing a slice of toasted ciabatta bread with a little garlic makes it even better!

We also like to use the bread to make sandwiches or paninis. It works really well for a panini with pesto, ham, and fresh mozzarella – Yum!

The fact that it's so easy to make is just a bonus, and the dough can be mixed together in 2 minutes in the morning and then be ready to bake in the late afternoon.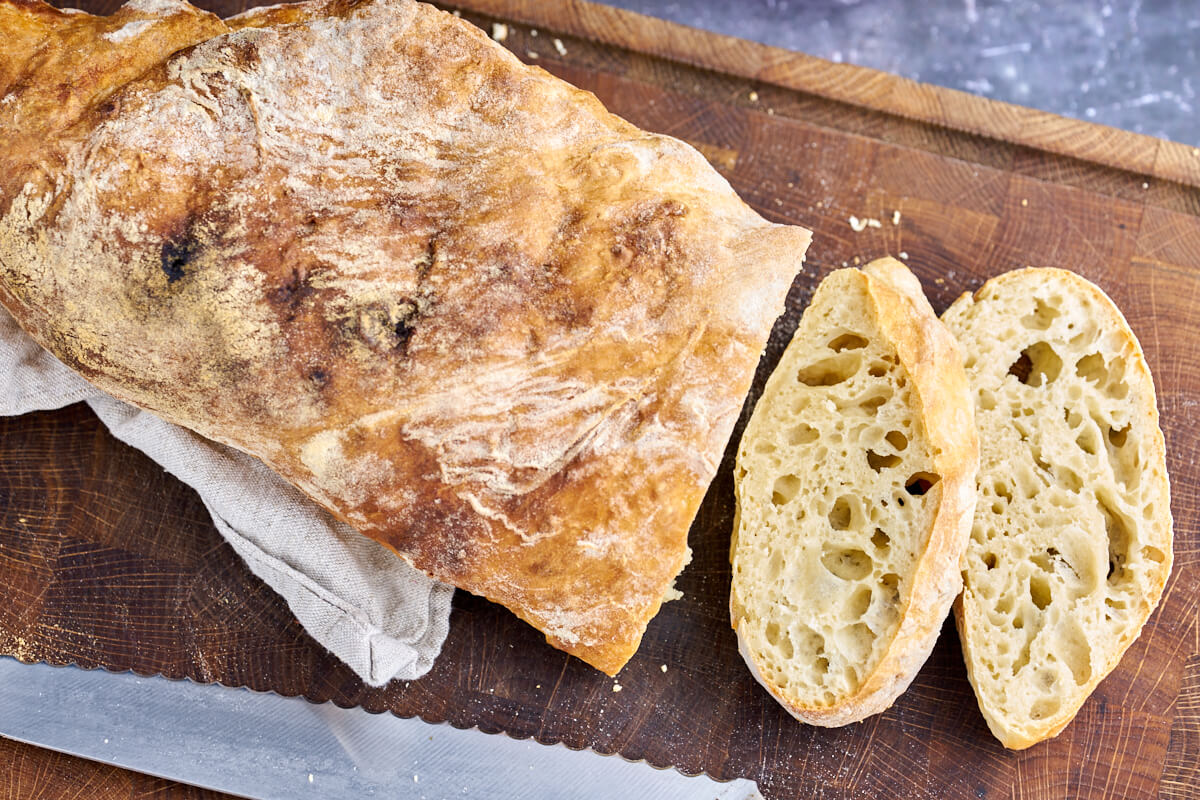 Ingredient notes
Water – Plain tap water.

Yeast – We usually use fresh yeast. Dry yeast can also be used, but you need to use a very small amount, and it can be tricky to measure.

Salt – Salt is important for good flavor.

Sugar – You don't need much, just enough to give the yeast something to work with.

Wheat flour – Preferably high-protein wheat flour, such as Manitoba flour.
How to make ciabatta bread?
The process for this bread is as simple as it can be, and you only need 5 ingredients to bake this wonderful bread.

It's a no-knead bread, so forget about kitchen appliances. You just need to mix water, yeast, salt, and sugar together first, and then add the flour. Stir the flour into the liquid until all the flour is wet, and then let the dough rise for about 8 hours.

After that, the bread is ready to be turned out onto the table, shaped, and baked in a preheated oven. Once the bread has cooled down, it's ready to be sliced and served.

Find the full recipe further down this page.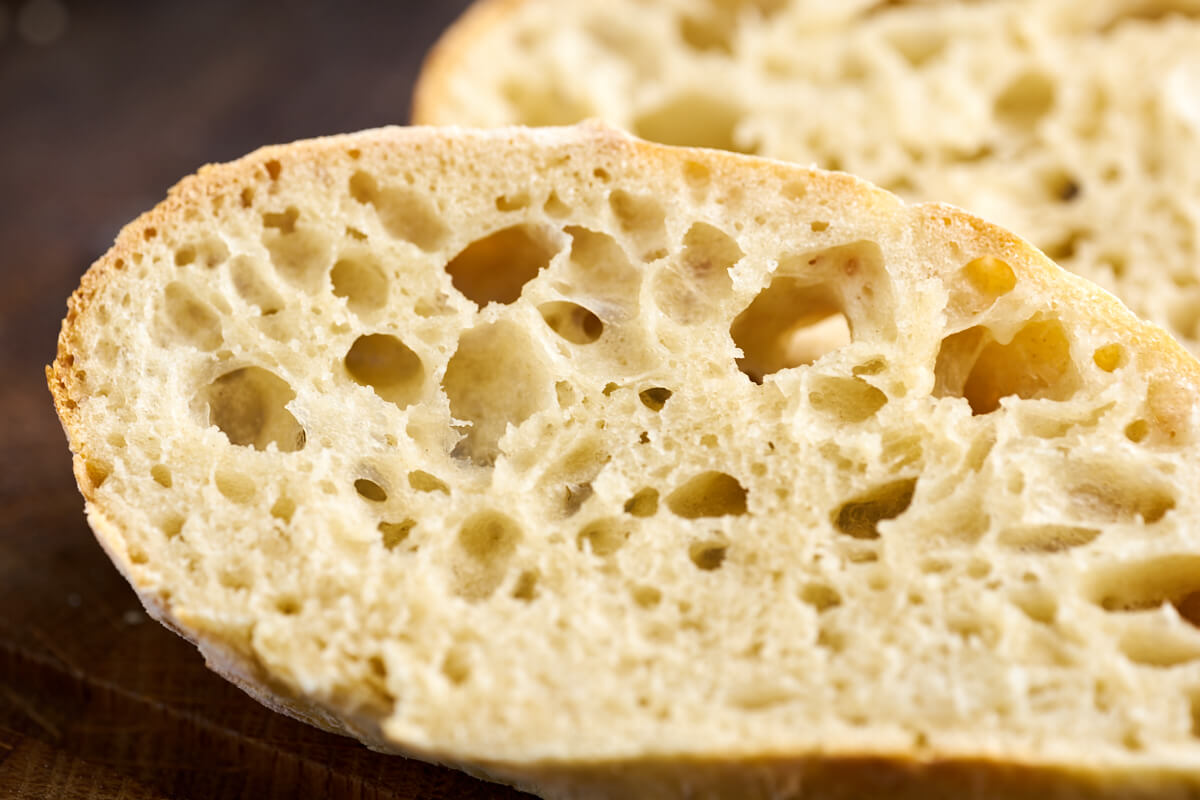 Frequently asked questions
Can I use Manitoba flour for this recipe?
Yes, you can definitely use it. It works really well, and we often use it ourselves.

Can the bread be frozen?
Yes, it freezes very well too. So, if you don't eat it all or if you make several loaves at once, you can easily put them in the freezer.
Other bread recipes you might like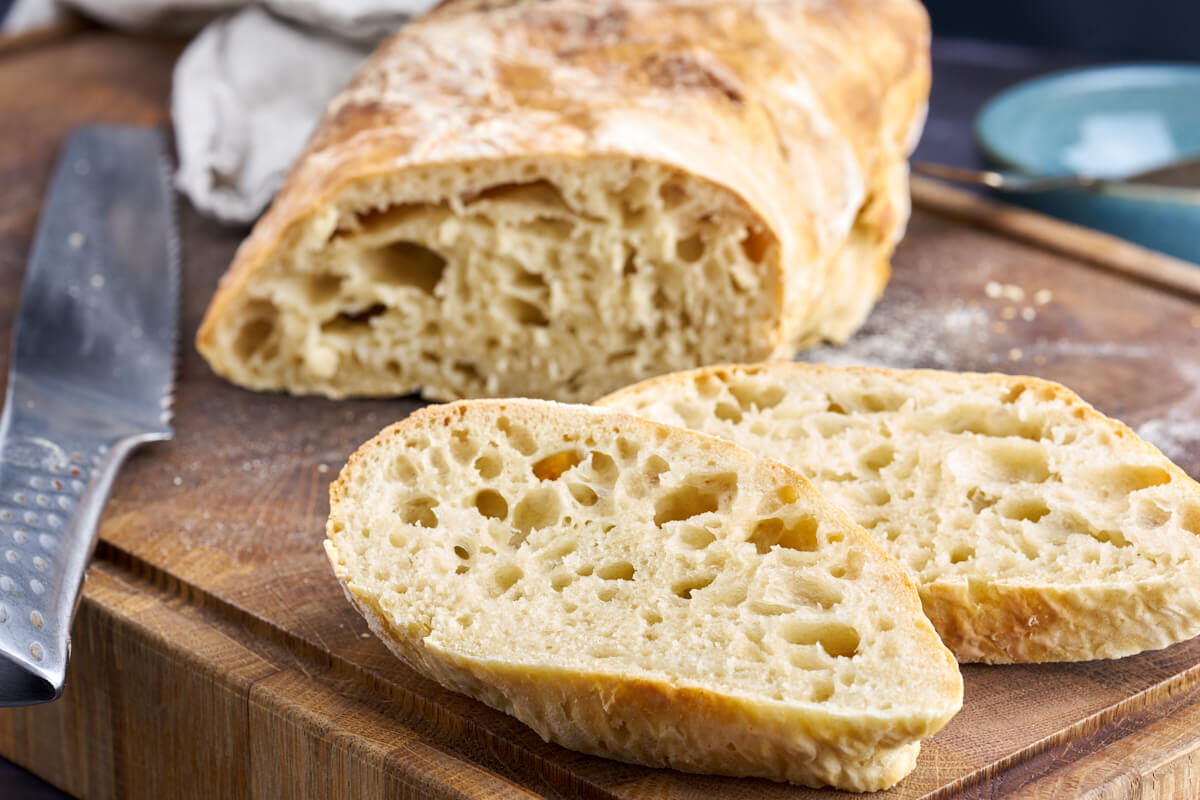 Tips and tricks for the recipe
To achieve the best result and the best rise during baking, we recommend baking your bread on the second-bottom rack in the oven. It's also very important that the oven is properly preheated before you put the bread in – the same goes for the baking sheet.
Furthermore, we recommend using a type of wheat flour with a high protein content, preferably over 12%. It is our experience that you get the best air pockets by using good-quality wheat flour. For example, a good Manitoba flour with 14% protein.
We always make the dough for this type of bread in one of those large plastic containers with a lid from IKEA; they are absolutely fantastic for this purpose. Besides that, you don't need anything else except an oven, and we recommend a good baking sheet, preferably a perforated one.
Serving suggestions
Serve the bread with a delicious tapas spread or use it as an accompaniment to bolognese or lasagna. It's also great for making a tasty sandwich.
Love this bread?

Try making the bread as ciabatta rolls instead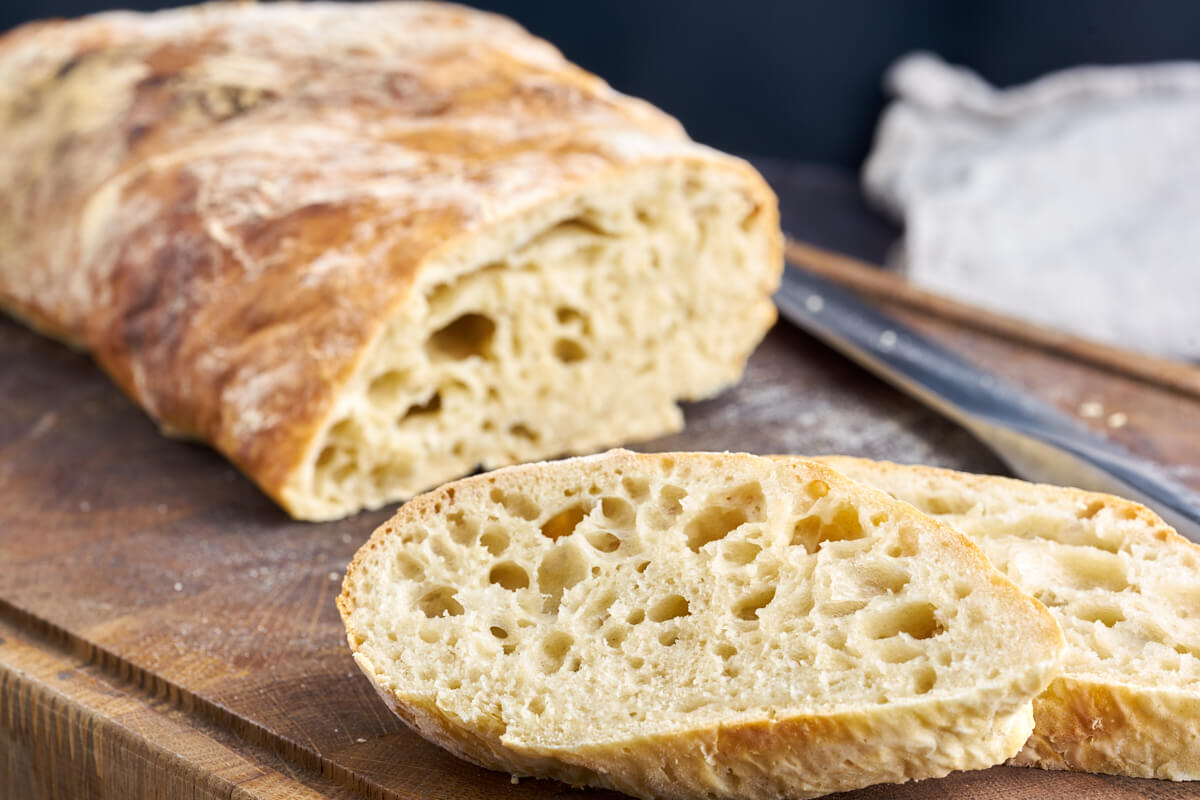 Recipe for the best Italian bread
Here is our recipe for ciabatta bread. It's simple and easy to make, but it requires a bit of patience due to the long rising time. You can make it before going to bed and bake the bread in the morning, or let it rise while you're at work and then bake it in the afternoon before preparing dinner.

We hope you feel inspired to try the recipe and bake the bread for your family.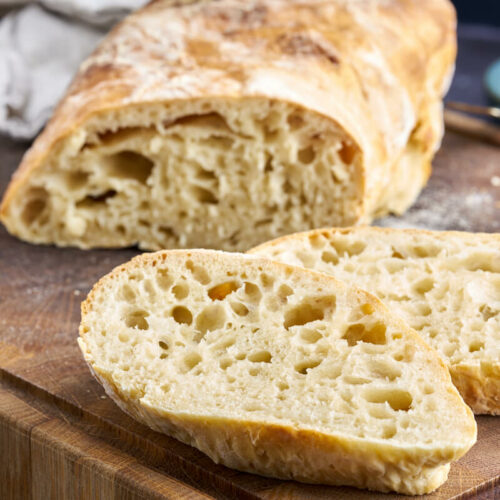 Ciabatta bread
Recipe for ciabatta bread
Homemade delicious and airy ciabatta with large holes. The bread is the perfect tapas bread to enjoy with pesto and ham or for a sandwich.
Ingredients  
350

g

water

25 degrees Celsius

11

g

fine salt

3

g

sugar

3

g

fresh yeast

400

g

wheat flour

preferably with high protein content, such as Manitoba.
Instructions 
Mix water, salt, sugar, and yeast in a bowl and stir until everything is dissolved.

350 g water,

11 g fine salt,

3 g sugar,

3 g fresh yeast

Add the flour and mix until all the flour is wet. It's important not to knead the dough; just gently fold the flour into the mixture until it's fully incorporated.

Cover the bowl with a lid or plastic wrap and let it rise until doubled in size. This should take around 7-9 hours.

Preheat the oven to 275 degrees Celsius (525 degrees Fahrenheit), preferably an hour before baking, and place a baking sheet in the oven to heat up.

When the dough has risen, generously sprinkle flour onto a work surface and transfer the dough onto it. The dough is very wet, so make sure to wet your hands. Fold the dough twice: first, fold it completely over in one direction, and then fold it in the opposite direction.

Now, transfer the dough onto the preheated baking sheet. Place parchment paper on the sheet and quickly lift the dough onto it. It can be a bit challenging as the dough is quite liquid, so you may need to practice a few times to get the technique right. Speed is key.

Place the baking sheet on the second-bottom rack in the oven and bake the bread at 275 degrees Celsius (525 degrees Fahrenheit) for 18-20 minutes. The bread should have the classic dark blisters on the surface.

Remove the bread from the oven and let it cool on a wire rack before slicing and serving.
Nutrition
Serving:
1
bread
Calories:
1471
kcal
Carbohydrates:
309
g
Protein:
42
g
Fat:
4
g
Saturated Fat:
1
g
Polyunsaturated Fat:
2
g
Monounsaturated Fat:
0.4
g
Sodium:
4290
mg
Potassium:
447
mg
Fiber:
11
g
Sugar:
4
g
Calcium:
74
mg
Iron:
19
mg
How do you like the recipe?
Have you tried this recipe? We'd love to hear what you think of it. Leave a comment, add a number of stars to the recipe and share your photo on Instagram with #madformadelskere – We love seeing your dishes ♥️
Also, sign up for our Facebook group where you can show pictures of the delicious food you make! You can find the Facebook group here