It is both delicious and refreshing to have a cold popsicle on a hot summer day, and in most families with children, quite a lot of them are consumed during the warm months. That's why it's also nice to make your own healthier versions, such as these healthy blueberry popsicles.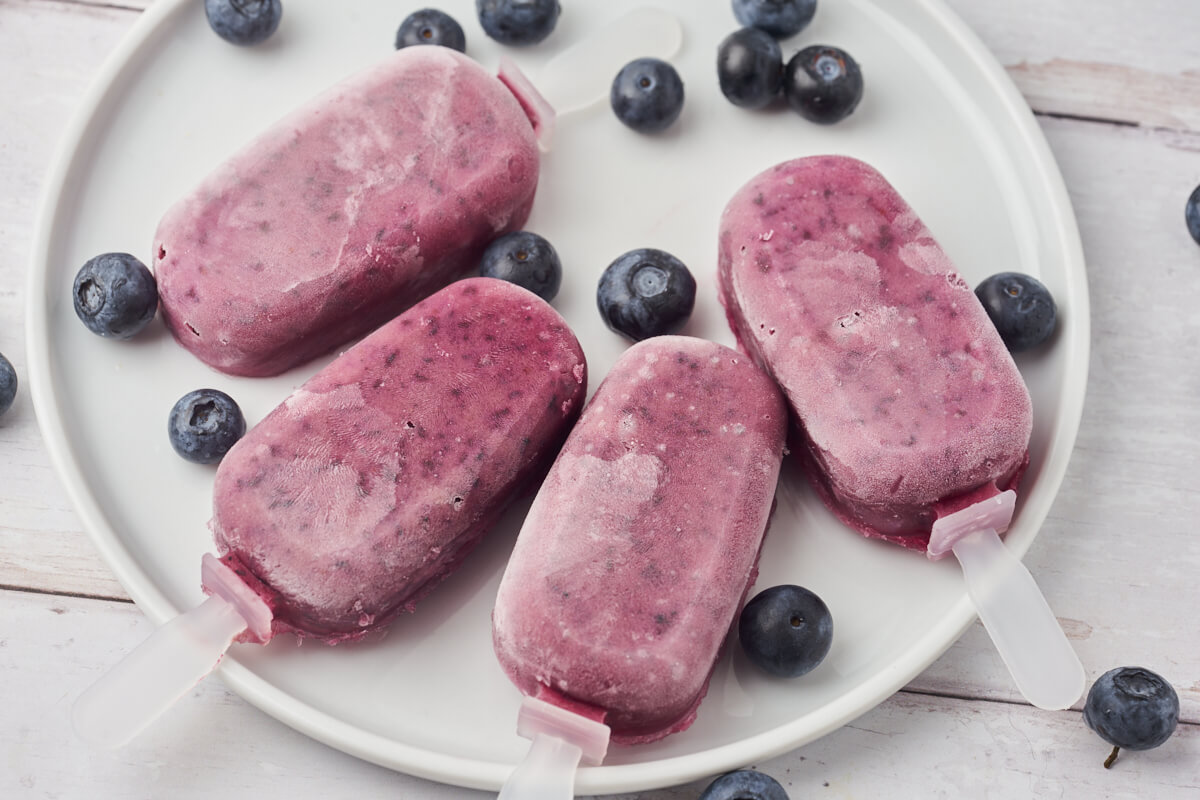 Homemade healthy popsicles
Our children love popsicles, as do most kids.

Buying them from the supermarket can be fine, but it's a bit expensive in the long run, and you don't always have control over what's in them. They often contain a lot of sugar or other ingredients you might want to avoid.

Luckily, it's easy to make your own delicious but healthy popsicles.

You can use fruit or berries, and here we've used skyr, but Greek yogurt would work too.

Our kids love these popsicles, and they can enjoy them without any unhealthy ingredients.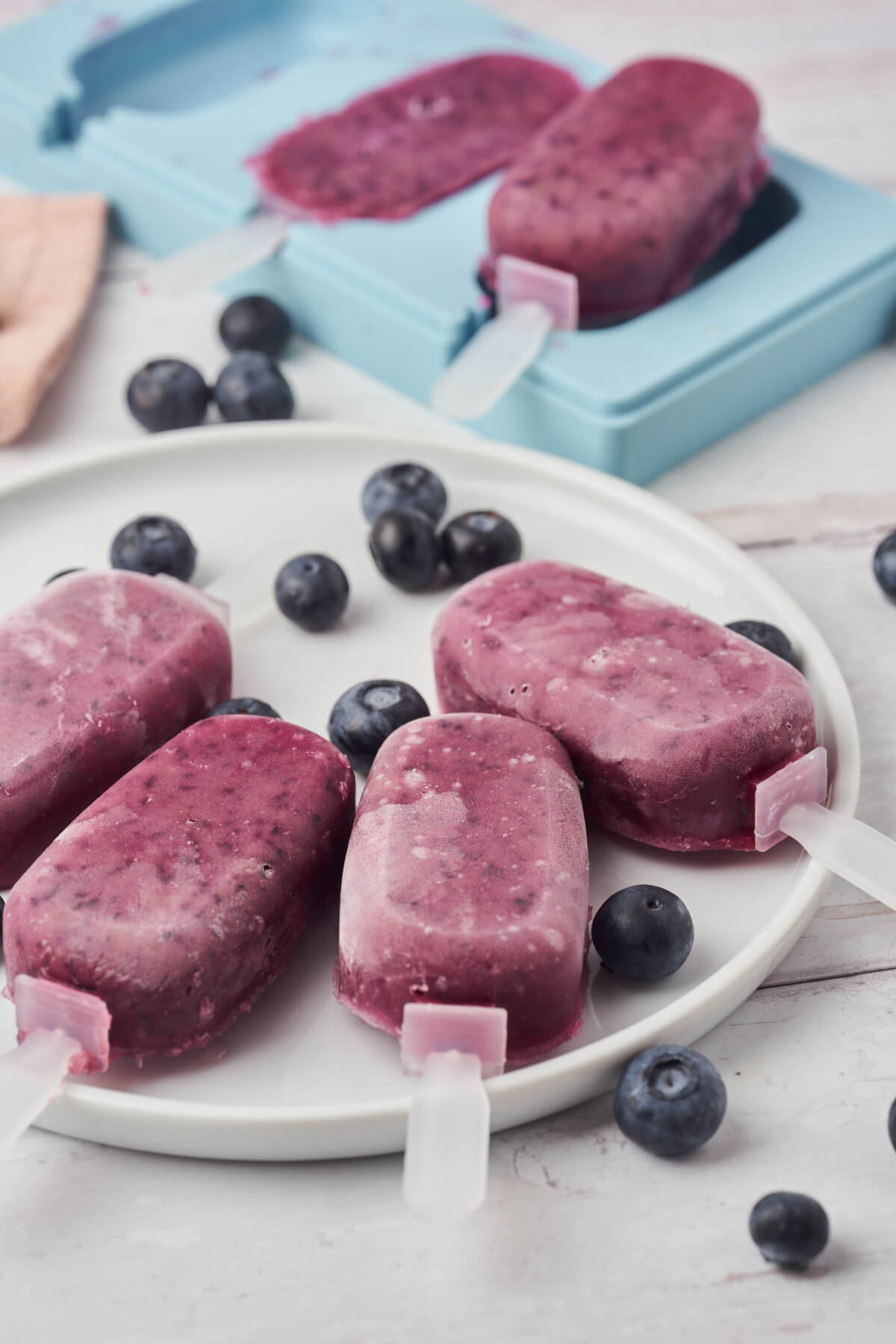 Ingredient notes
Blueberries – Regular fresh blueberries. You can also use frozen berries.

Skyr – We use skyr here, but you can also use Greek yogurt.
How to make healthy blueberry popsicles?
Making these delicious popsicles is really easy. First, blend the blueberries and skyr together. I use an immersion blender. Once blended, distribute the mixture into popsicle molds, and then put them in the freezer for at least 3 hours, depending on the size of the molds you're using.

When the ice creams are frozen, they're ready to eat.

Find the full recipe further down this page.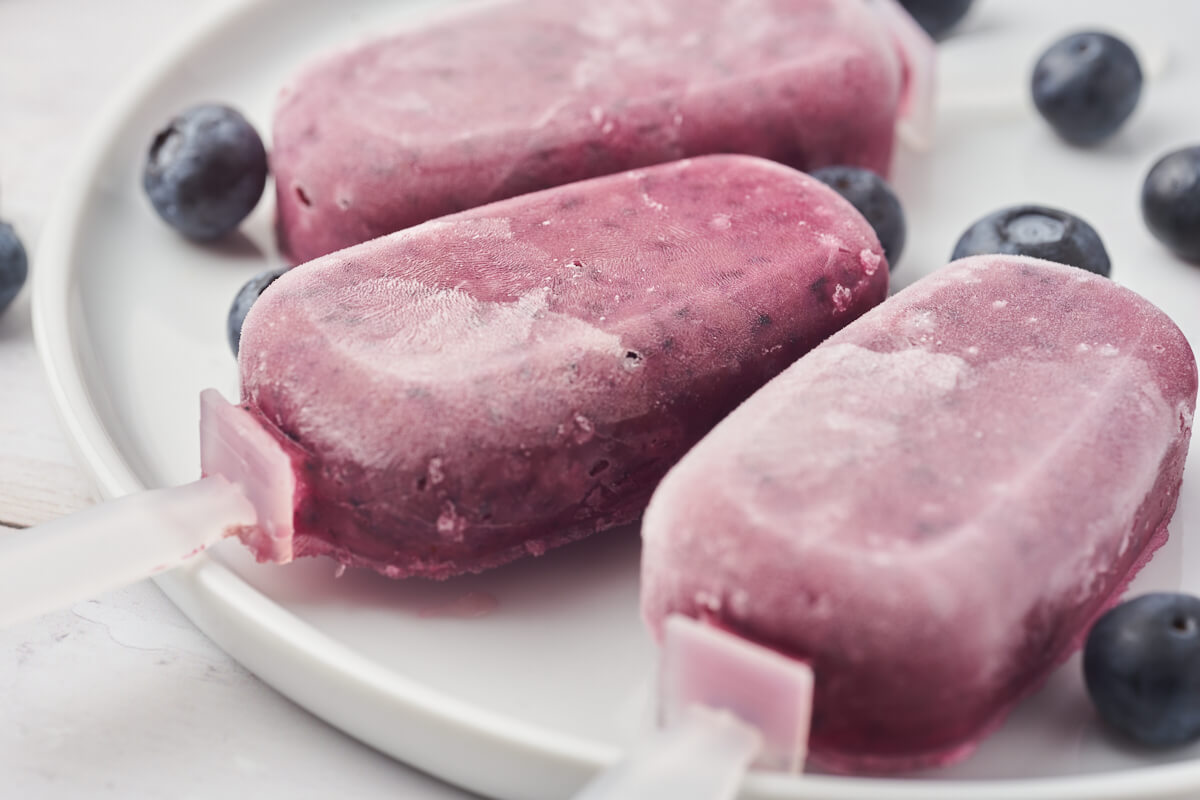 Frequently asked questions
Can I use something other than blueberries?
Yes, you can use any kind of fruit or berries that you can blend. Once blended, mix it with skyr and freeze it in the molds. For example, try using strawberries, raspberries, bananas, or other types of berries or fruit.

Other recipes you might like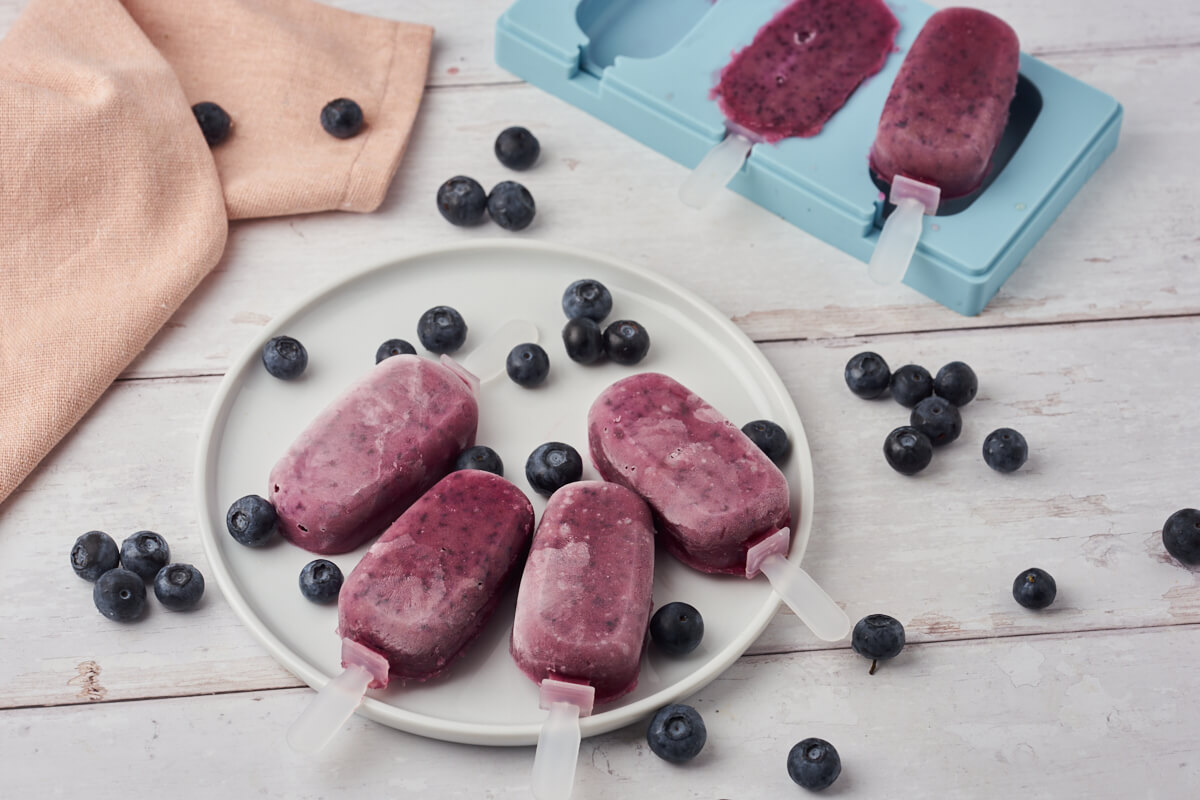 Tips and tricks for the recipe
We simply blend the blueberries in the skyr and pour it directly into the molds. We don't mind if there are some pieces of skin, but if you prefer your popsicles completely smooth, you can strain the mixture before pouring it into the molds.
These popsicles are fresh and slightly tangy, and we love that. If you want to add a touch of sweetness, you can add a spoonful of honey along with the other ingredients.
Serving suggestions
Serve to your family on a hot summer day as a snack or dessert.
Do you want to try another healthy dessert?

Try our recipe for Pineapple with mint sugar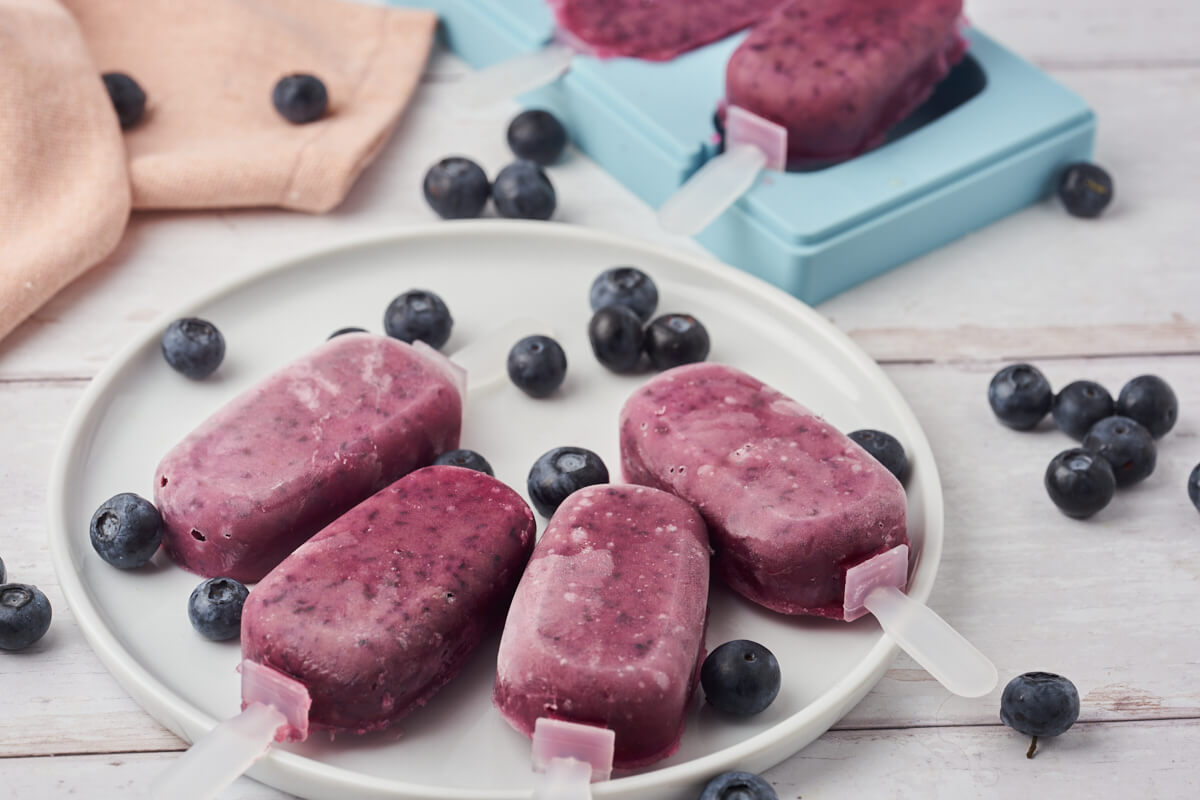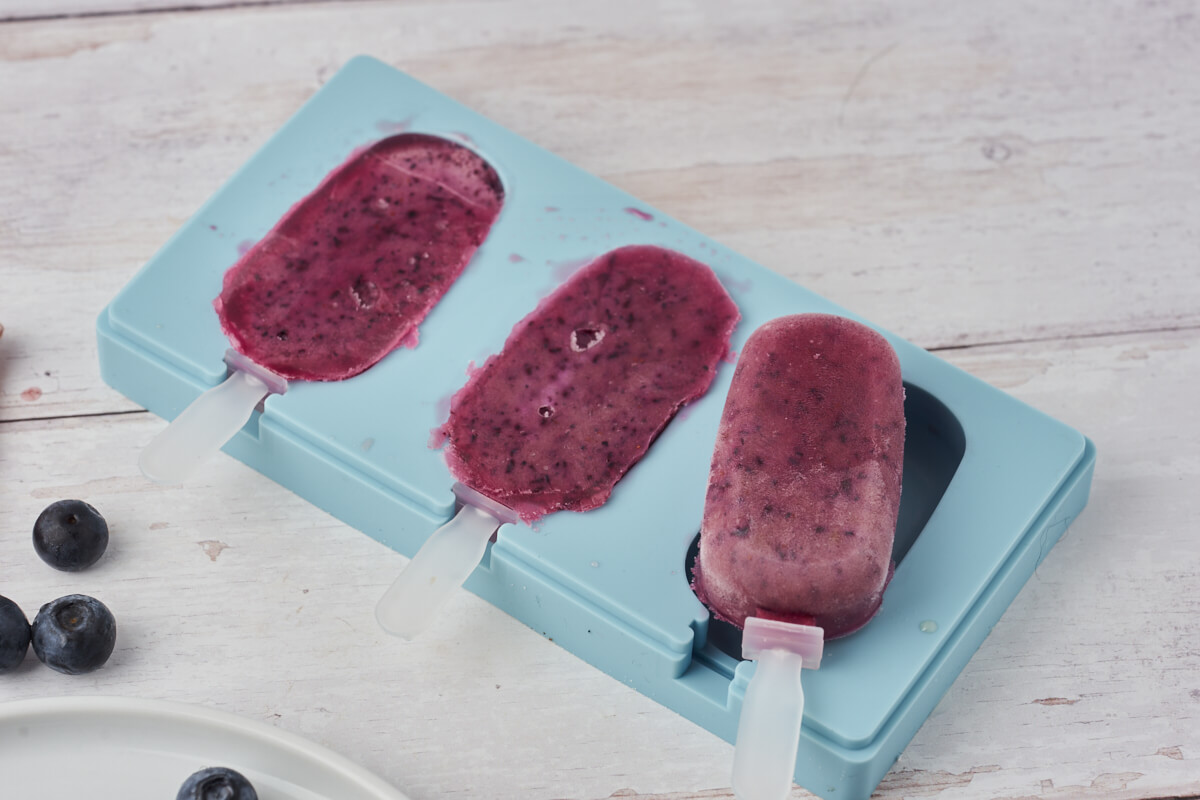 Recipe for homemade popsicles with blueberries
Here's our recipe for easy and delicious blueberry popsicles in a slightly healthier way. They only consist of two ingredients, and it's easy to substitute blueberries with other fruits or berries if you want to.

We hope you feel inspired to try the recipe and make healthy popsicles for your family.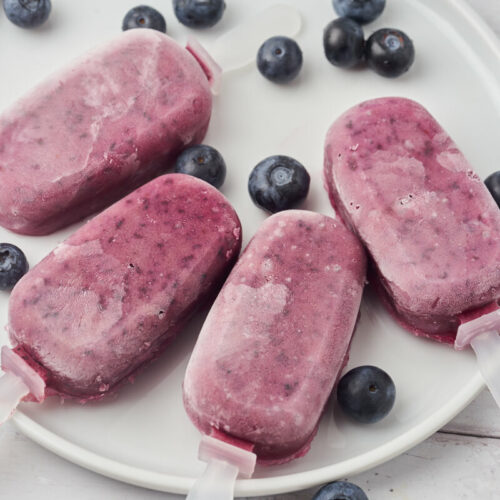 Healthy blueberry popsicles
Recipe for healthy blueberry popsicles
Easy and healthy blueberry and skyr popsicles. They are quick to make and put in the freezer, and then there are popsicles that children can enjoy with a clear conscience.
Ingredients  
150

g

blueberries

150

g

skyr or Greek yogurt
Instructions 
Put blueberries and skyr in a blender jar and blend them together well. I use an immersion blender.

150 g blueberries,

150 g skyr or Greek yogurt

Pour this blueberry skyr mixture into popsicle molds and place the molds in the freezer for at least 3 hours. After that, the ice creams are ready to be enjoyed.
Nutrition
Serving:
1
popsicle
Calories:
30
kcal
Carbohydrates:
5
g
Protein:
3
g
Fat:
0.2
g
Saturated Fat:
0.03
g
Polyunsaturated Fat:
0.04
g
Monounsaturated Fat:
0.02
g
Trans Fat:
0.002
g
Cholesterol:
1
mg
Sodium:
9
mg
Potassium:
55
mg
Fiber:
1
g
Sugar:
3
g
Vitamin A:
15
IU
Vitamin C:
2
mg
Calcium:
29
mg
Iron:
0.1
mg
How do you like the recipe?
Have you tried this recipe? We'd love to hear what you think of it. Leave a comment, add a number of stars to the recipe and share your photo on Instagram with #madformadelskere – We love seeing your dishes ♥️
Also, sign up for our Facebook group where you can show pictures of the delicious food you make! You can find the Facebook group here