Meringue nests with whipped cream and fresh berries are one of my favorite desserts in spring and summer, and for Easter, I have made them as Easter nests. Of course, you can decorate your nests as you like. Read on for the easy recipe.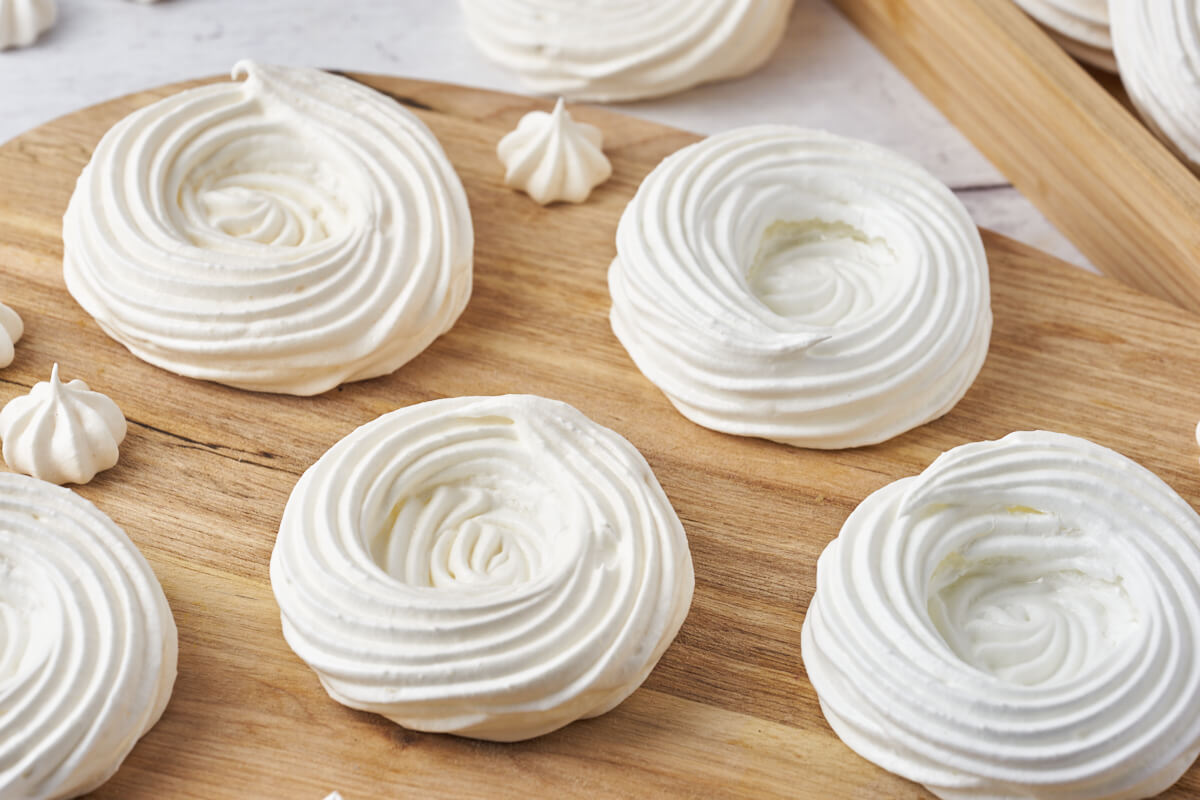 Easy dessert with meringue
These nests are easy to make and bring joy to most people, both children and adults. It's just a regular meringue, piped out as a bird's nest and baked in the oven. Then they need to cool down, and they can be filled with whatever you desire.

Bird's nests made of meringue are also a sure winner when the first strawberries come. Such a simple nest with fresh strawberries sprinkled with sugar and perhaps a little whipped cream is absolutely fantastic.

It tastes like summer to me, and it is a dessert we can eat many times during the season.

They can also be filled with different types of creams, fresh fruits, and berries, or whatever you can think of. It's up to you.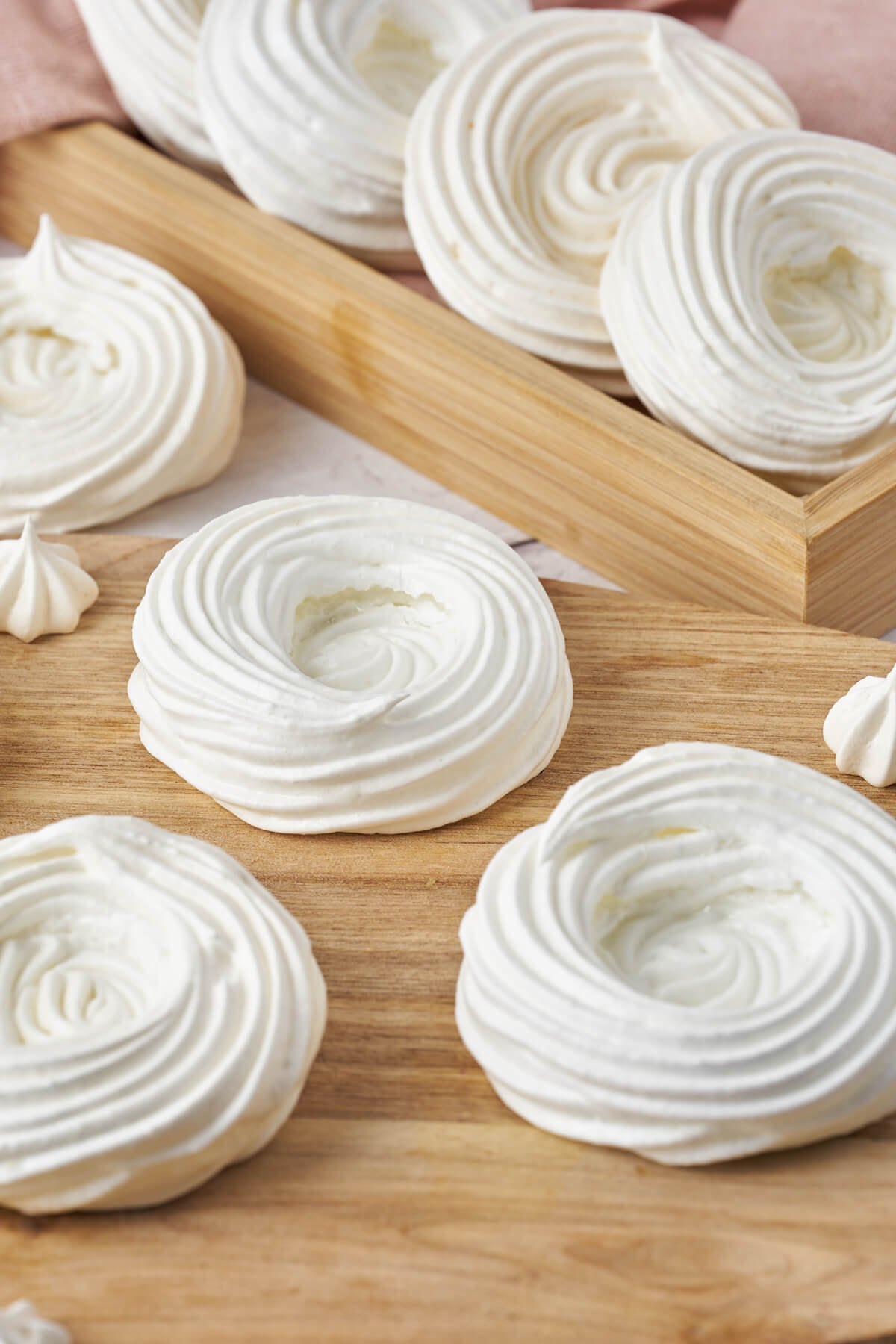 Ingredient notes
Egg whites – You can use egg whites from fresh Danish eggs or you can buy egg whites in cartons or jars in many supermarkets if you don't want to be left with a lot of egg yolks. If you use fresh eggs, for example, you can use the egg yolks to make a delicious Lemon curd that you can fill in your bird's nests.

Sugar – Regular white sugar.

Lemon juice – A little lemon juice in your meringue helps to make it extra stable so it becomes firm and keeps its shape when piped out in nest form.
How to make meringue nests?
It is really easy to make delicious meringue nests yourself. Furthermore, it is much cheaper than buying the finished ones in the supermarket, and then you can get them in exactly the size you want when you make them yourself.

First, the meringue mixture is whipped. We do this by adding egg whites and lemon juice to a mixing bowl, and whisking it well until it becomes a white foam. Then we start adding the sugar one tablespoon at a time while still whisking. When all the sugar has been added and the meringue is firm, shiny, and holds its shape, it is put into a piping bag with a star tip.

The meringue nests are piped out onto a baking sheet lined with parchment paper, and then put in the oven and dried until they are dry and released easily from the parchment paper. It takes between one and one and a half hours depending on the size of your nests.

Then the oven is turned off and the meringues are left to cool down in the oven. After that, they can be filled with whipped cream, fruits, berries, or whatever you want to serve in them.

Find the full recipe further down this page.
Frequently asked questions
How to store meringue nests?
You can store the meringue in an airtight container. Here, they can last almost indefinitely if they don't absorb moisture and become soft.

Other dessert recipes you might like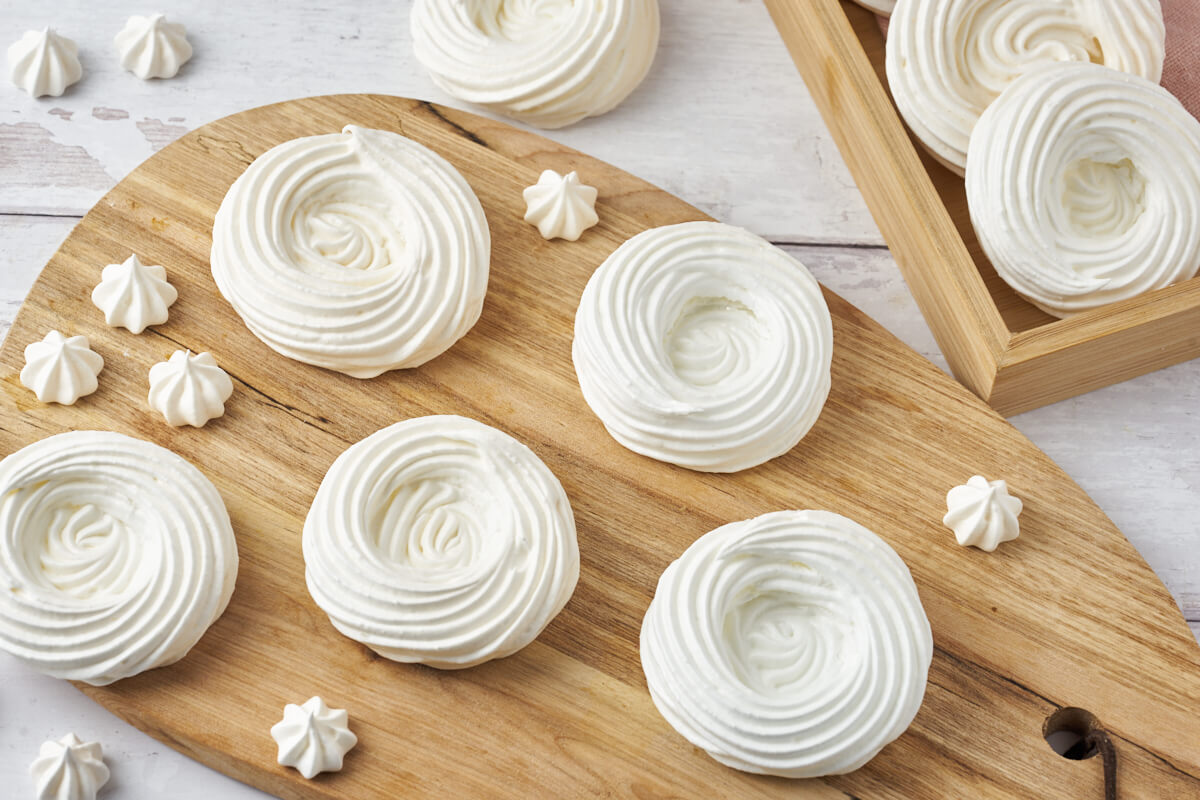 Tips and tricks for the recipe
Use a stand mixer with a whisk attachment or a hand mixer when making meringue. It is almost impossible to get it whipped properly by hand.
Make sure to whisk the meringue long enough so it becomes completely firm, and smooth, and holds its shape. Otherwise, it will spread out, and you won't get such sharp nests with the marking from the piping tip.
Serving suggestions
Server Meringue nests with Whipped Cream and Strawberries
Serve with whipped cream, and lemon curd, and decorate with Easter eggs as an Easter dessert.
Do you have extra meringue mixture left over?

Make some small meringues next to the nests on the baking sheet. They are delicious to have when the craving for something sweet strikes, or they can be used as decoration on cakes or desserts.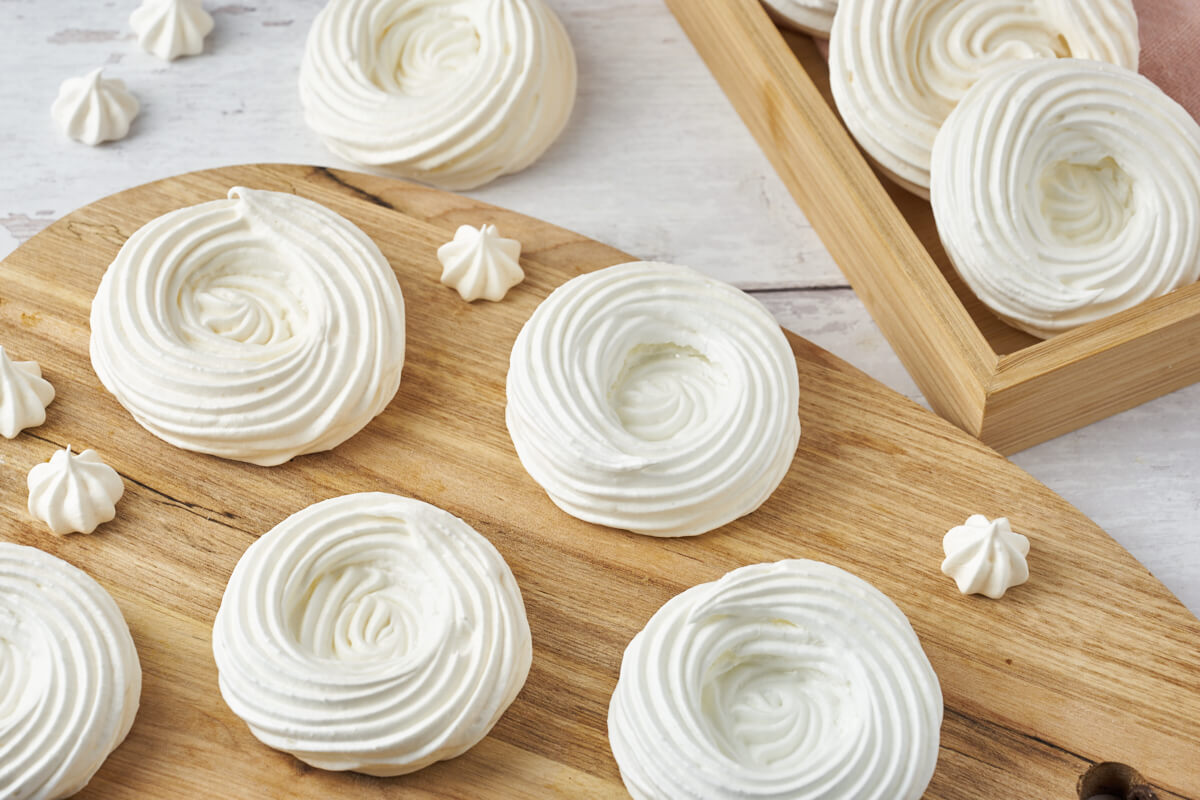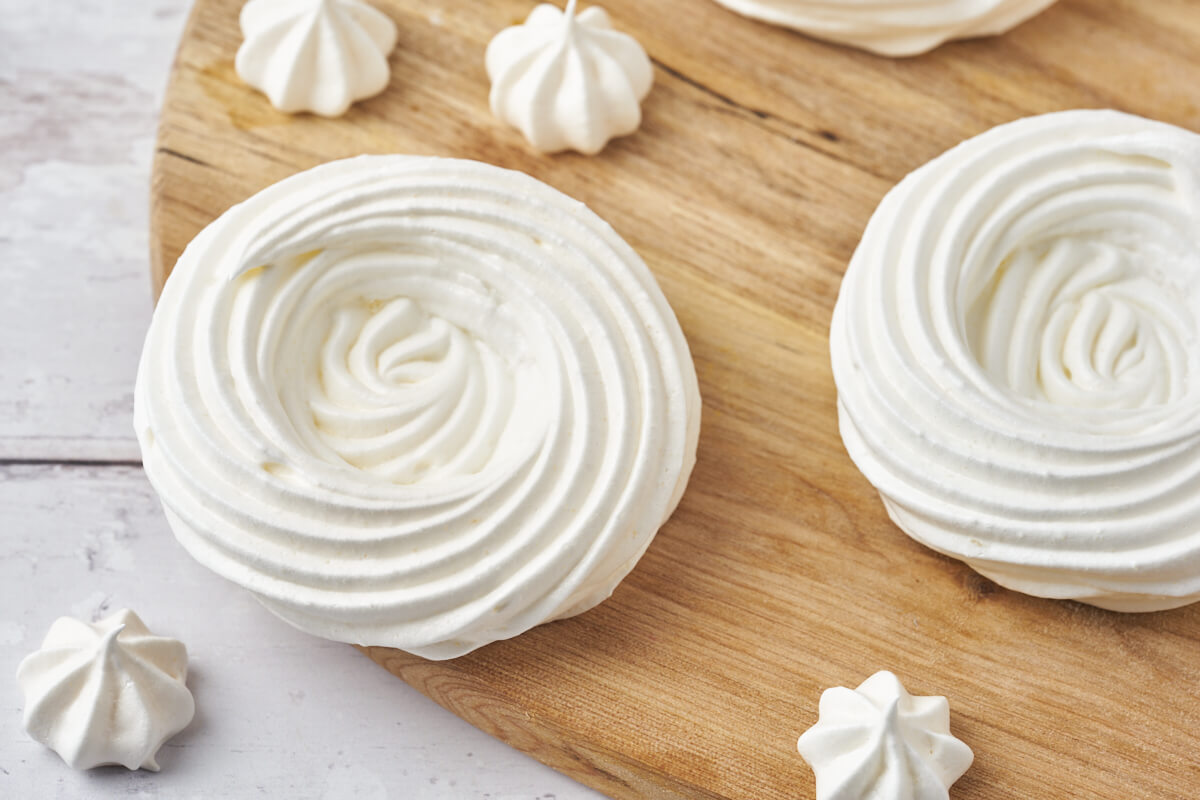 Recipe for homemade bird nests
This recipe is extremely easy and requires only a few ingredients. It is important to maintain a low temperature in the oven and bake them for a long time at a low temperature to get the right crispiness on the outside and chewiness inside. Just like a meringue should be.

If you don't need 10 bird nests, you can easily turn the rest of the mixture into meringue kisses as we call them, or whatever shape you prefer. The shape isn't that important as they taste delicious no matter what.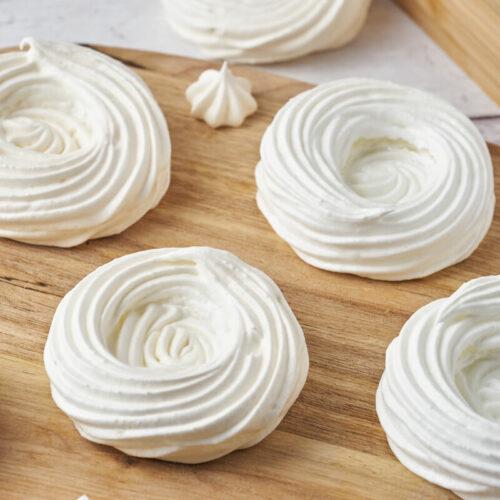 Meringue nests
Recipe for meringue nests
Delicious crispy meringue birds' nests with soft chewy meringue in the center! Fill them with delicious creams, whipped cream, fresh berries, and Easter eggs, or whatever you fancy. It's an easy dessert that both kids and adults love.
Ingredients  
125

g

egg whites

250

g

sugar

1

tsp

lemon juice
Topping
Whipped cream

Fresh berries

Easter eggs

or other fillings of your choice
Instructions 
Place egg whites and lemon juice in a mixing bowl. Beat until egg whites are stiff.

125 g egg whites,

1 tsp lemon juice

Add sugar one spoonful at a time while continuing to beat. Beat for a couple more minutes until the meringue is smooth, shiny, and the sugar has completely dissolved.

Transfer the meringue mixture to a piping bag with a star tip, and pipe 10 bird's nest shapes onto a baking tray lined with parchment paper.

Bake the bird's nests at 110 degrees Celsius for 60 minutes. If they start to brown, reduce the heat slightly.

Allow the bird's nests to cool on a rack.

Fill the bird's nests with Easter eggs or whipped cream and fresh berries, or any other fillings of your choice.
Video
Nutrition
Serving:
1
nest
Calories:
103
kcal
Carbohydrates:
25
g
Protein:
1
g
Fat:
0.1
g
Sodium:
21
mg
Potassium:
21
mg
Fiber:
0.001
g
Sugar:
25
g
Vitamin A:
0.03
IU
Vitamin C:
0.2
mg
Calcium:
1
mg
Iron:
0.02
mg
How do you like the recipe?
Have you tried this recipe? We'd love to hear what you think of it. Leave a comment, add a number of stars to the recipe and share your photo on Instagram with #madformadelskere – We love seeing your dishes ♥️
Also, sign up for our Facebook group where you can show pictures of the delicious food you make! You can find the Facebook group here