Naan is an Indian bread that is eaten as an accompaniment to stews, soups, and meat dishes. Naan bread is consumed in many parts of the world, including West and South Asia, Myanmar, and the Caribbean. Naan is baked in the oven or cooked on a griddle, and they can also be made perfectly in a pizza oven if you're fortunate enough to have one.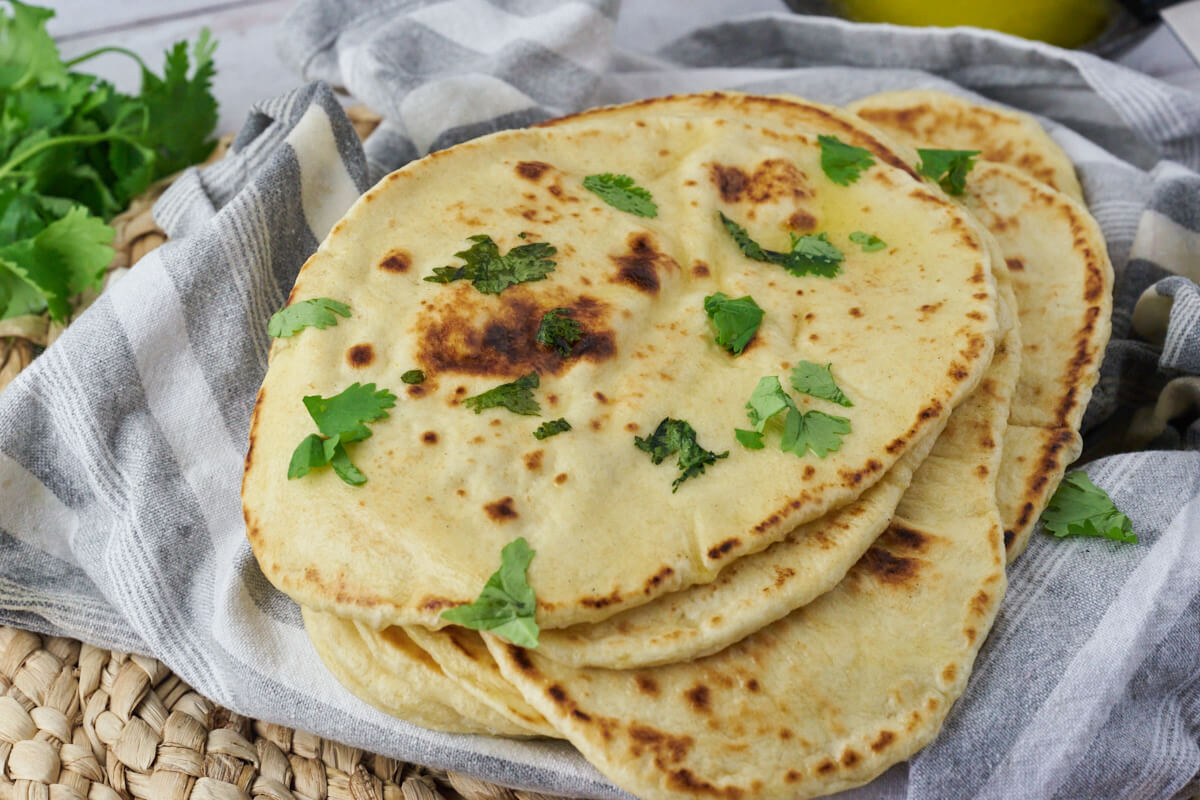 The Best Accompaniment for Indian Food
We love Indian food at home—both children and adults do, actually. And now we can add homemade naan to the list of favorite Indian recipes. All 12 were devoured—so I probably don't need to say much more.

If you're not sure what to serve them with, we absolutely adore them with dhal, which is an Indian lentil stew. It's fantastic! And with these breads for "scooping" up the dhal, you're all set.

When we have Indian food, we like to prepare various small dishes that we can sit and nibble on. These breads go well with all types of dips, stews, and soups, and they're always a must when we're eating Indian.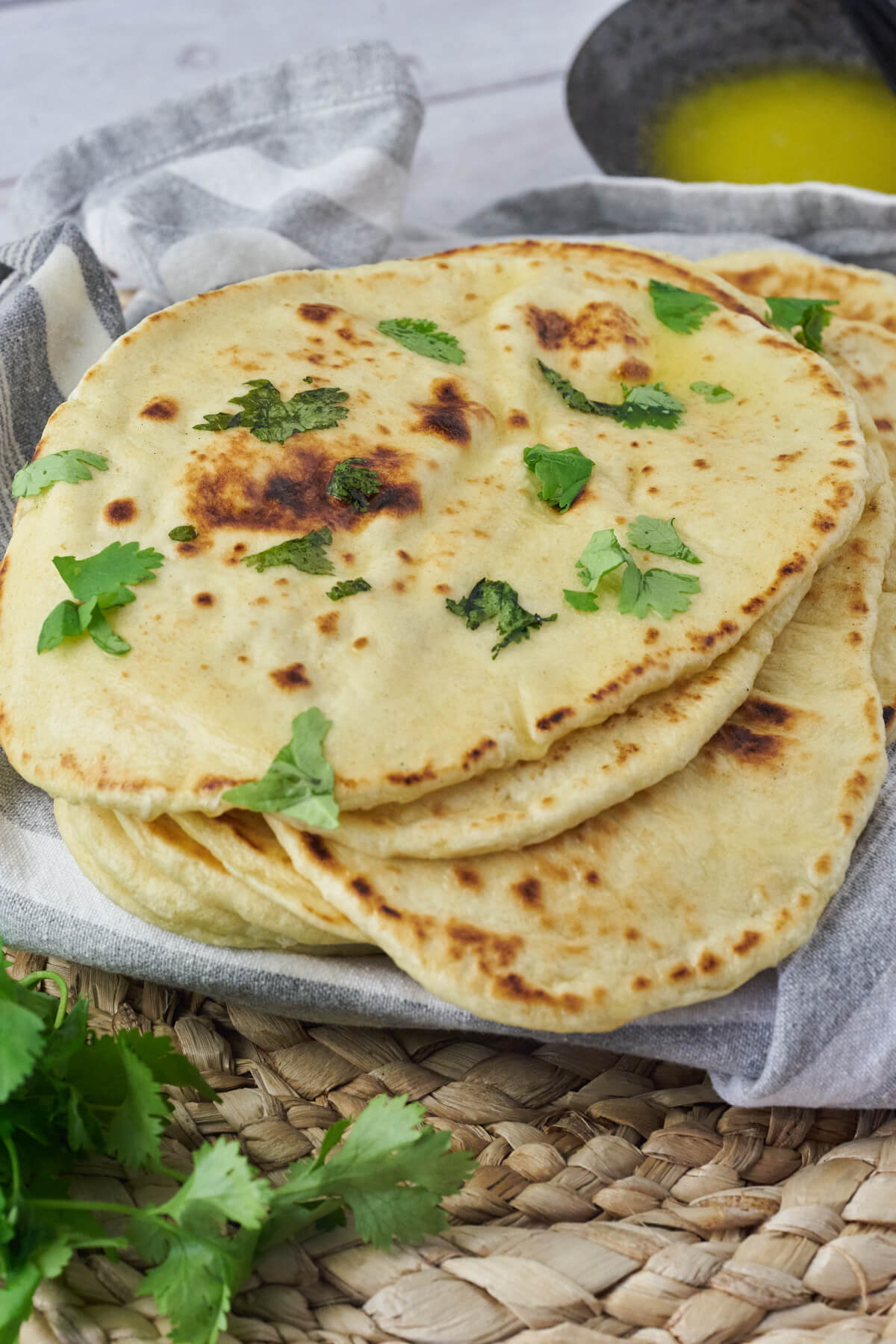 Ingredient notes
Milk – Milk is needed in the dough as the liquid. Warm the milk before adding the yeast.

Yogurt – Plain regular yogurt. Alternatively, you can use Greek yogurt.

Salt and Sugar – Important to provide the yeast with something to work with and to achieve the right taste.

Dry Yeast – Easy to work with.

Cardamom and Turmeric – To provide the right flavor and a slightly golden color.

Wheat Flour – Regular all-purpose flour or Manitoba wheat flour.

Melted Butter – For brushing when they come off the griddle or out of the oven.
How to make naan bread?
Although we love baking bread, naan bread is something we hadn't tried until a few years ago. I'm not really sure why—it turns out that making homemade naan is incredibly easy. They taste even a thousand times better than the ones you can buy—well, that's just my opinion.

First, the dough needs to be prepared, which is super easy if you have a stand mixer to knead the dough. Then, let it rise for 1-1.5 hours.

Next, divide the dough into 12 portions and let it rise again before rolling it out and baking it on a griddle or in a very hot oven or pizza oven. It takes just a few minutes to bake the naan bread, and when they come out of the oven and are still warm, brush them with melted butter and stack them to keep them soft and delicious until it's time to eat.

Find the full recipe further down this page.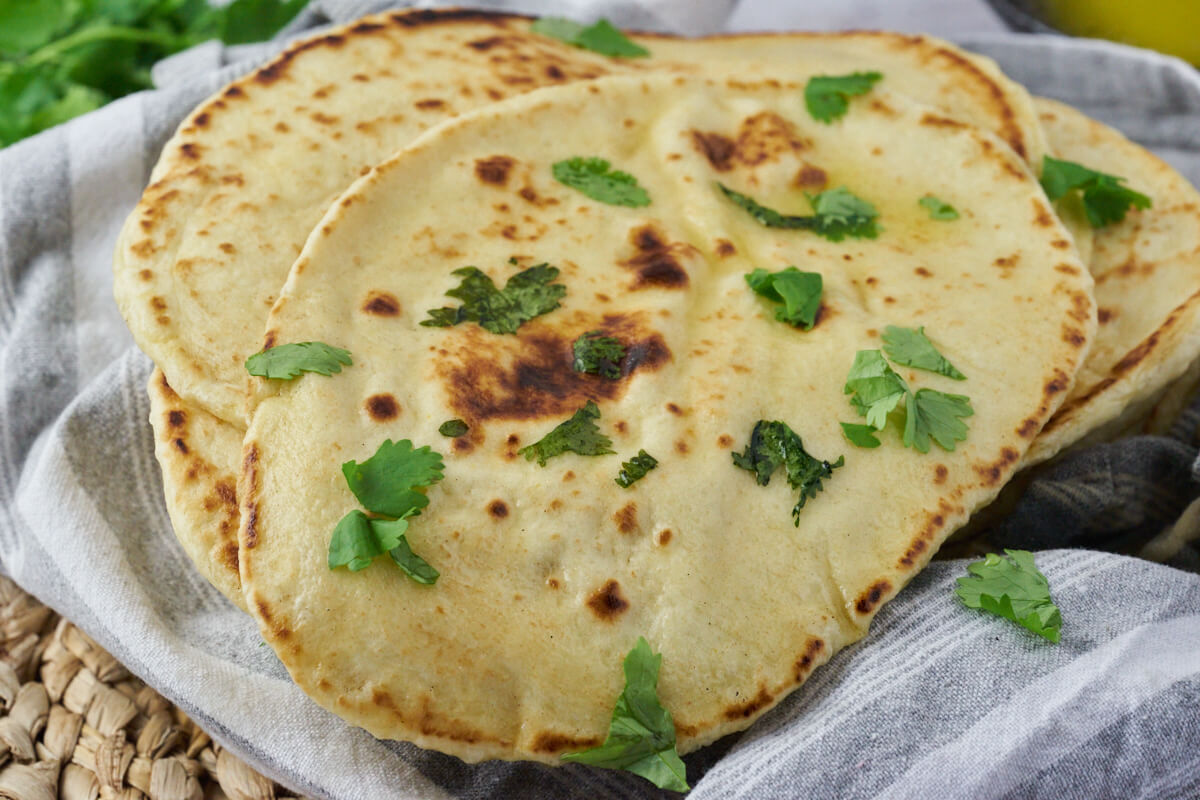 Frequently asked questions
What do you serve naan bread with?
You can serve the bread with all Indian stews, soups, or other dishes that you want a bit of bread with. For example, Chicken Korma, Butter Chicken, or something completely different.

Can I use something other than yogurt?
Yes, you can replace yogurt with something like skyr, buttermilk, Greek yogurt, or sour cream.

Can I store naan bread?
The naan bread can be kept for a couple of days in an airtight container or bag. Give them a spritz of water and warm them in the oven before serving if they're not freshly baked. If you want to store them longer, freeze them and warm them in the oven before using them.

Other recipes you might like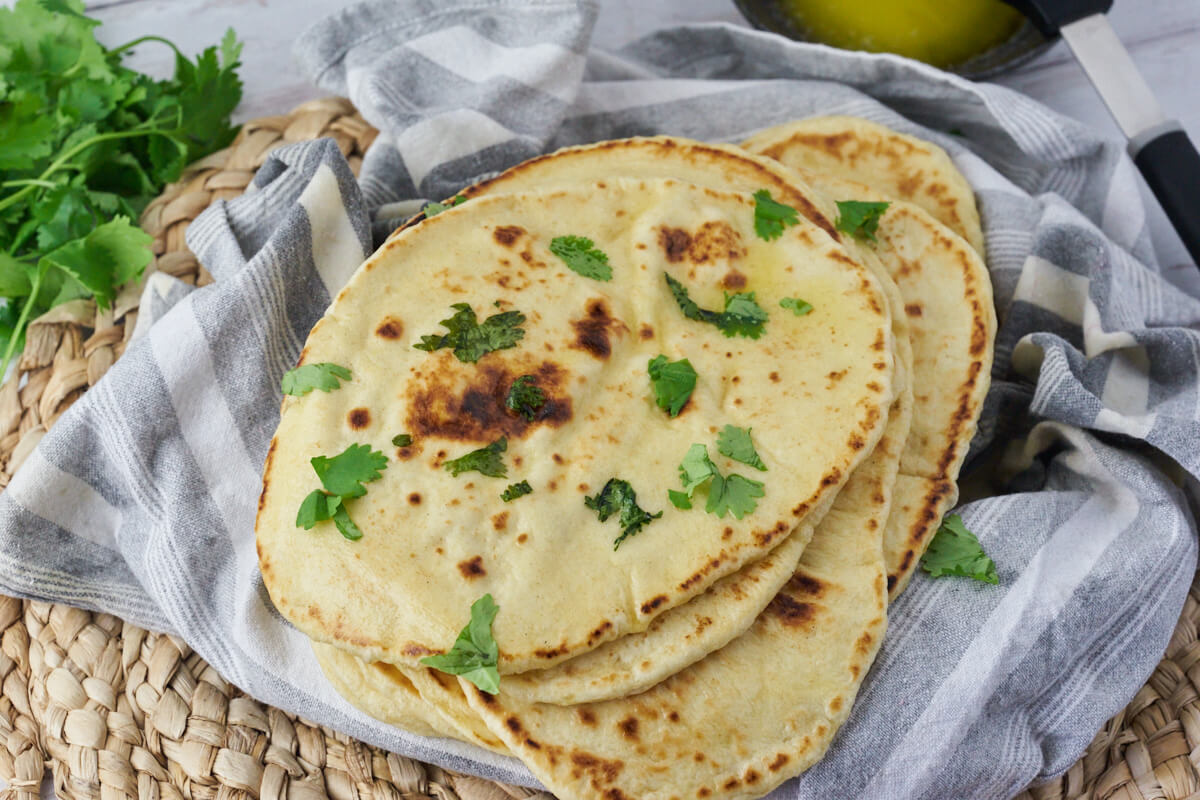 Tips and tricks for the recipe
Make plenty! They just disappear super quickly. At home, we easily eat 2-3 pieces each for a meal when they're freshly baked.
If you're not a fan of coriander, you can skip it or sprinkle a little fresh parsley instead.
Make sure your oven (and pizza stone) or pizza oven is fully preheated before you start baking. Preheat in plenty of time.
Keep a close eye on your bread during baking. They can get dark spots, but they shouldn't be burnt.
Try making garlic naan bread by pressing garlic into the melted butter you use to brush your naan with. It's incredibly delicious.
Serving suggestions
Serve with Indian dishes, such as Chicken Korma, Butter Chicken, or Indian Dhal.
Serve with soups or stews.
Make a naan kebab by putting shawarma on naan bread with raita dressing.
Do you love homemade naan?

Also try our recipe for Garlic naan bread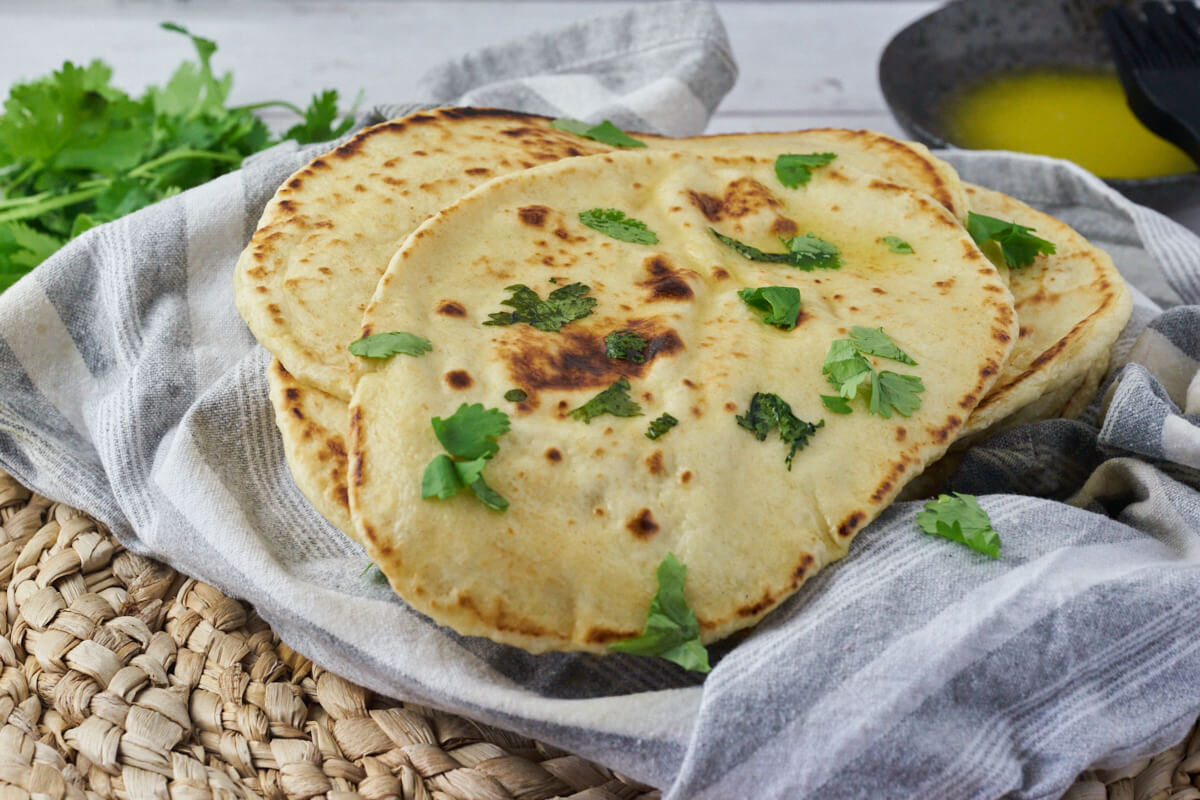 Recipe for traditional Indian flat bread
Here's our recipe for delicious Indian soft naan bread. We bake our naan in our fantastic pizza oven, but if you're not lucky enough to have one, you can also easily bake them in the oven or on a griddle.

We've described all methods below. If you're baking in the oven, we recommend using a pizza stone or baking steel to bake them on.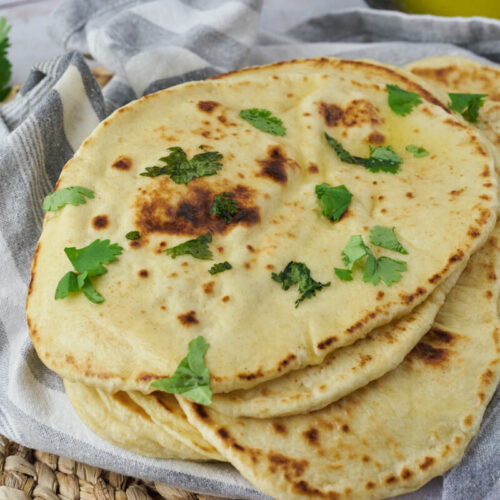 Naan bread
Recipe for naan bread
Soft and delicious Indian bread. They can be cooked on a griddle, in the oven, or in a pizza oven. They are easy to make, brushed with melted butter, and sprinkled with fresh coriander for extra flavor.
Ingredients  
3

dl

milk

0.5

dl

plain yogurt

1

tsp

salt

1/2

tsp

dry yeast

1

tsp

sugar

1

pinch

cardamom

1

pinch

ground turmeric

500

g

all purpose flour

approximately

4

tbsp

butter

melted

Fresh coriander

optional
Instructions 
Mix the milk and yogurt together and warm it slightly. I use the microwave, but a saucepan works too. It should just be lukewarm. Pour the liquid into the mixing bowl of the stand mixer, and add salt, sugar, yeast, cardamom, and turmeric. Mix it together, and then add about half of the flour.

3 dl milk,

0.5 dl plain yogurt,

1 tsp salt,

1/2 tsp dry yeast,

1 tsp sugar,

1 pinch cardamom,

1 pinch ground turmeric,

500 g all purpose flour

Run the dough with the dough hook, and gradually add more flour. Continue until you have a smooth dough that gathers and releases from the sides of the bowl. It should still be slightly sticky when you touch it. Knead the dough for 5 minutes using the stand mixer.

Place the dough in a greased bowl and let it rise at room temperature for 1-1.5 hours.

Pour the dough onto a floured surface and divide it into 12 equal portions. Roll them into balls and let them rise under a cloth for an additional 30 minutes.

After 30 minutes, roll the dough portions into round breads, about 12-15 cm in diameter and slightly elongated.
Cooking on a griddle
Brush the griddle with a small amount of oil and heat it to medium-high heat.

Cook one bread at a time, first 1-2 minutes on one side, then flip it and cook for 1-2 minutes on the other side. The bread should develop some dark spots, but it shouldn't burn.

Remove the finished bread from the griddle and brush it with melted butter immediately. Optionally, sprinkle with fresh coriander. Cook the next bread, and when it's done, place it on top of the first one. Continue stacking the finished naan, and cover with a cloth to keep them soft and warm.

4 tbsp butter,

Fresh coriander
Baking in the oven
While the dough is rising, preheat the oven to 250-275 degrees Celsius (480-530 degrees Fahrenheit). Place a pizza stone on the bottom rack of the oven or simply use a baking sheet.

Bake one bread at a time on the pizza stone. Before placing the bread in the oven, spray it with a little water. Quickly close the oven and bake your naan for 2-3 minutes until they puff up slightly and develop characteristic dark areas. Flip the bread and bake for another approximately 2 minutes until the bread is fully baked.

Remove the bread from the oven and brush it immediately with melted butter and sprinkle with fresh coriander. Bake the next bread now, and when it's done, place it on top of the first one. Continue stacking the finished naan, and cover with a cloth to keep them soft and warm.

4 tbsp butter,

Fresh coriander
Baking in a pizza oven
When your pizza oven is hot and you're ready to bake the first naan, spray it with a little water and place it in the hot pizza oven. Keep a close eye on the bread; depending on the temperature, it shouldn't take more than 1-3 minutes. Turn the bread in the oven to ensure even baking.

When the bread puffs up slightly and develops small dark blisters, take it out and immediately brush it with melted butter and sprinkle with fresh coriander. Stack the finished bread on top of each other and cover with a cloth until serving.

4 tbsp butter,

Fresh coriander
Nutrition
Serving:
1
naan
Calories:
204
kcal
Carbohydrates:
34
g
Protein:
5
g
Fat:
5
g
Saturated Fat:
3
g
Polyunsaturated Fat:
0.3
g
Monounsaturated Fat:
1
g
Trans Fat:
0.2
g
Cholesterol:
14
mg
Sodium:
236
mg
Potassium:
91
mg
Fiber:
1
g
Sugar:
2
g
Vitamin A:
161
IU
Vitamin C:
0.03
mg
Calcium:
43
mg
Iron:
2
mg
How do you like the recipe?
Have you tried this recipe? We'd love to hear what you think of it. Leave a comment, add a number of stars to the recipe and share your photo on Instagram with #madformadelskere – We love seeing your dishes ♥️
Also, sign up for our Facebook group where you can show pictures of the delicious food you make! You can find the Facebook group here