Smash burger tacos, Big Mac tacos, or tortilla burgers. A beloved child has many names, and oh my, does it taste good, and they are easy to make. The kids love them, and so do we! If you've never served burger tacos before, then read on and see how easy it is to make.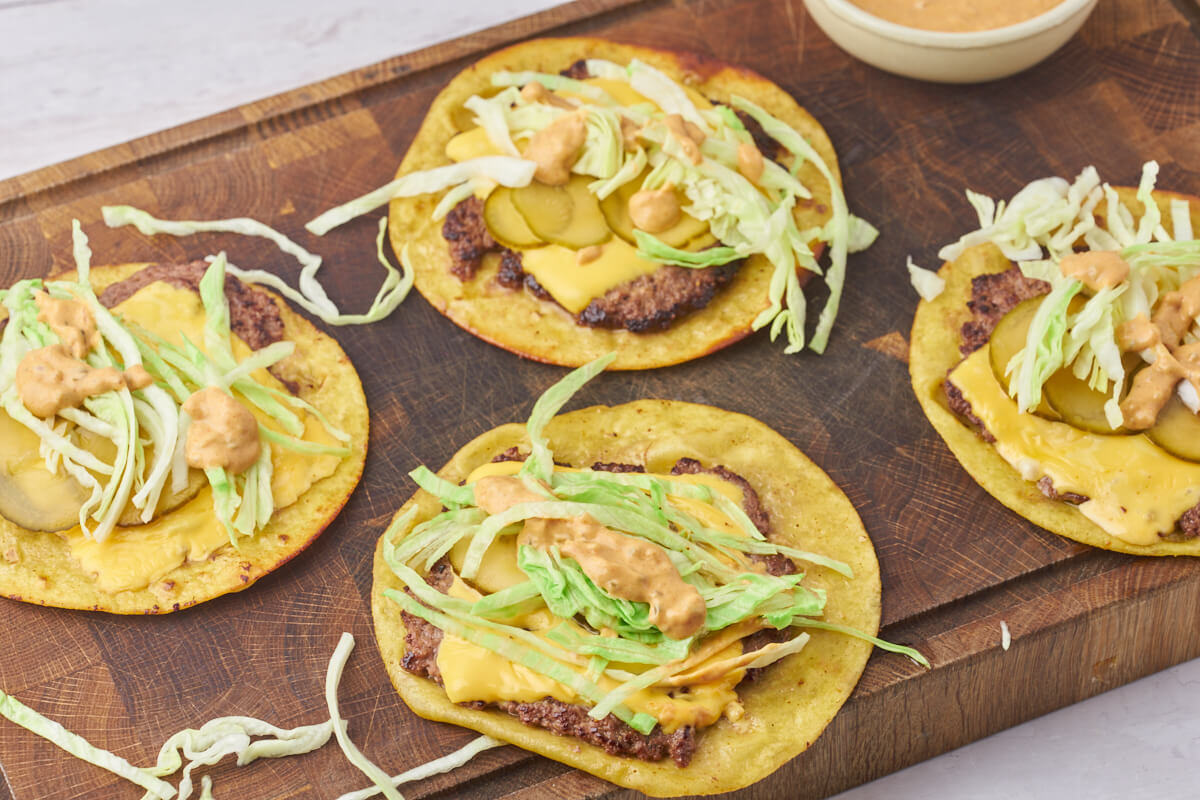 Burger or taco – The best from both worlds
We're all familiar with TikTok by now, whether you're an active user or just a bystander. But regardless, every now and then, really good ideas come up that just have to be tried.

Smash Burger Tacos have been one of those "Viral" videos that spread like wildfire across the internet, and there's a good reason for it. A tortilla with burger fillings, what could go wrong? The kids are crazy about it; they're certainly crazy about regular burgers too, but there's something about these that they find fun.

In terms of work, it's pretty much the same as making regular burgers. For us, it's usually Friday or weekend food, so we sit down and enjoy Taco burgers while watching a good movie and having a nice time.

I'm a fan! There's not much more to say about it, except that if you haven't served them at home for your family, then it's time to get started, and remember to make some crispy fries to go with them.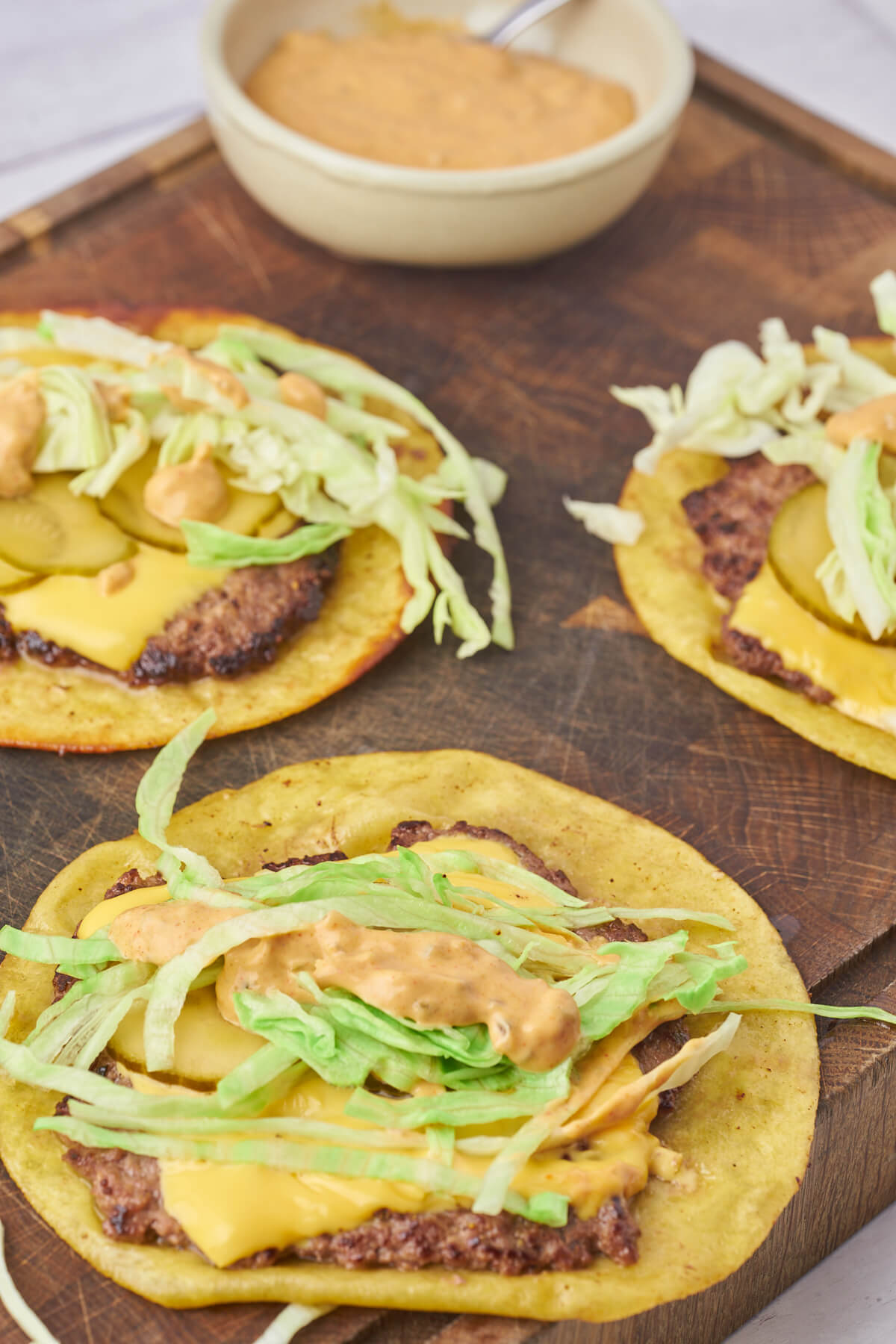 Ingredient notes
Ground beef – Ground beef, preferably with a little fat for flavor.

Tortillas – These are the small tortillas, either wheat or corn.

Iceberg lettuce – In thin strips or diced.

Cucumber salad – Plain danish cucumber salad, either homemade or a store-bought version.

Cheese – Cheddar or another cheese suitable for burgers.

Burger dressing – I would make my own burger dressing, but you can also buy pre-made burger dressings that taste just fine. (Heinz) makes a really good one.
How to make smash burger tacos?
Here's a brief description of how to make the best homemade taco burgers.

Shape the ground beef into small balls, place them on the small tortillas, flatten them with your hand, and season with salt and pepper. Fry them in a bit of oil in a pan with the meat side down, then flip them and briefly fry on the other side. When flipping, place a slice of cheese on the cooked meat.

Once they're all cooked, add cucumber salad, followed by iceberg lettuce and burger dressing.

Serve them immediately, possibly with some crispy french fries.

Find the full recipe further down this page.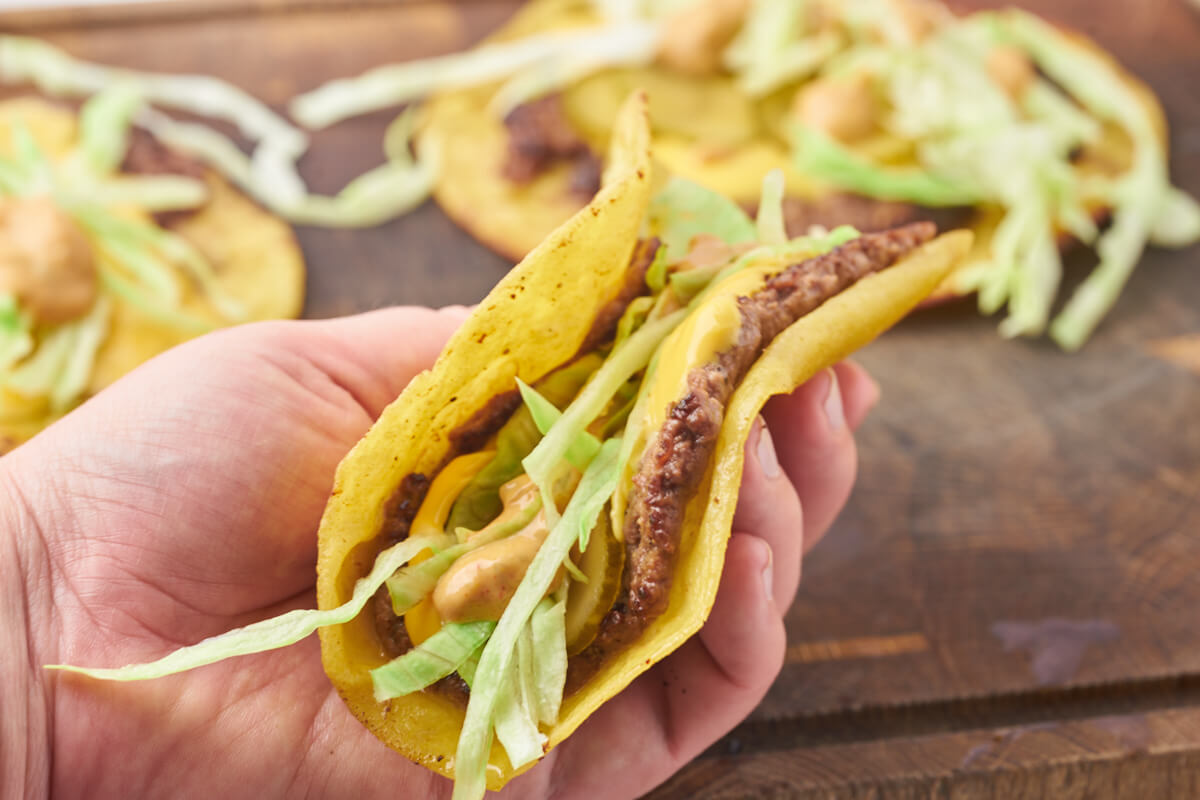 Frequently asked questions
How do you store the leftovers?
Those that aren't eaten can be stored in the fridge for a couple of days.

Can I use something other than ground beef?
You can try thin strips of cooked steak or kebab.
Other quick dinner recipes you might like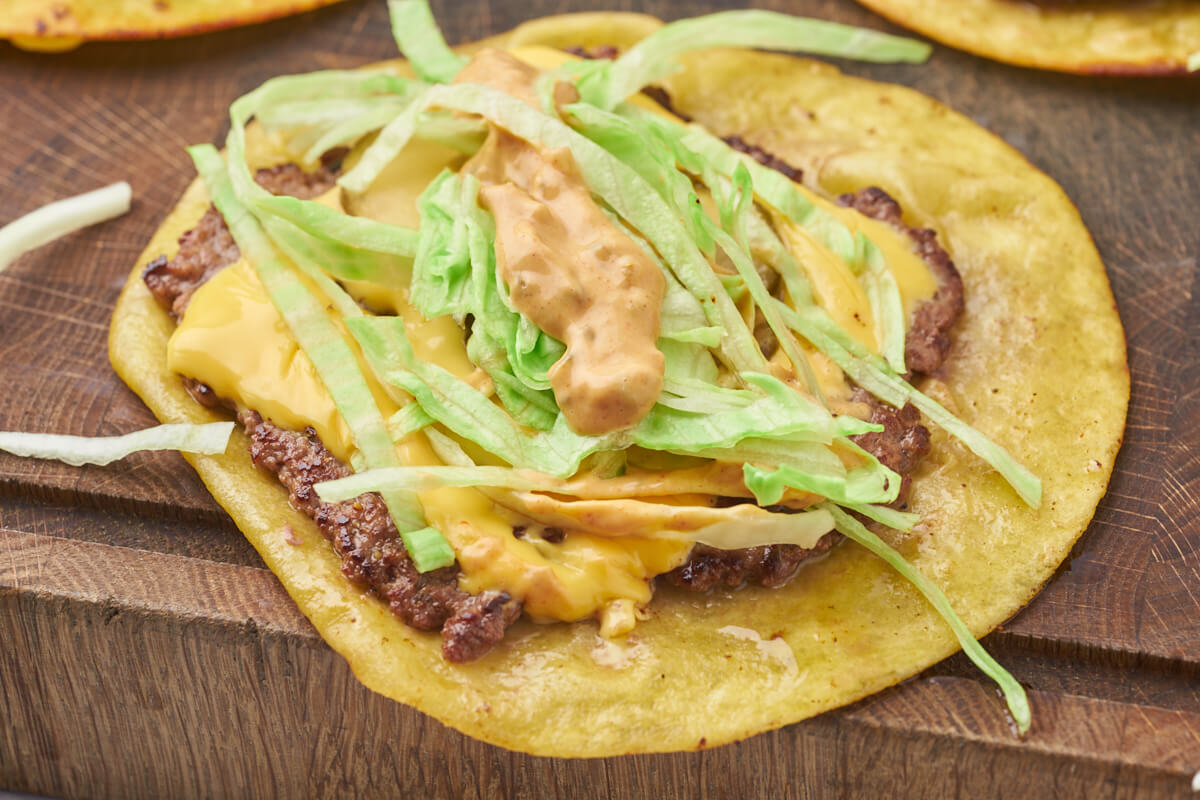 Tips and tricks for the recipe
Try sprinkling with finely chopped onions; it also adds good flavor.
Skip the lettuce and swap the dressing for ketchup, and you'll have a taco cheese burger.
Serving suggestions
Serve in the classic way with crispy french fries and an ice-cold cola.
Use them as a tasty surprise in the kids' lunchboxes.
Place them on the table without fillings and let the guests choose their own fillings.
Do you love burgers?

Try our recipe for Mexican burger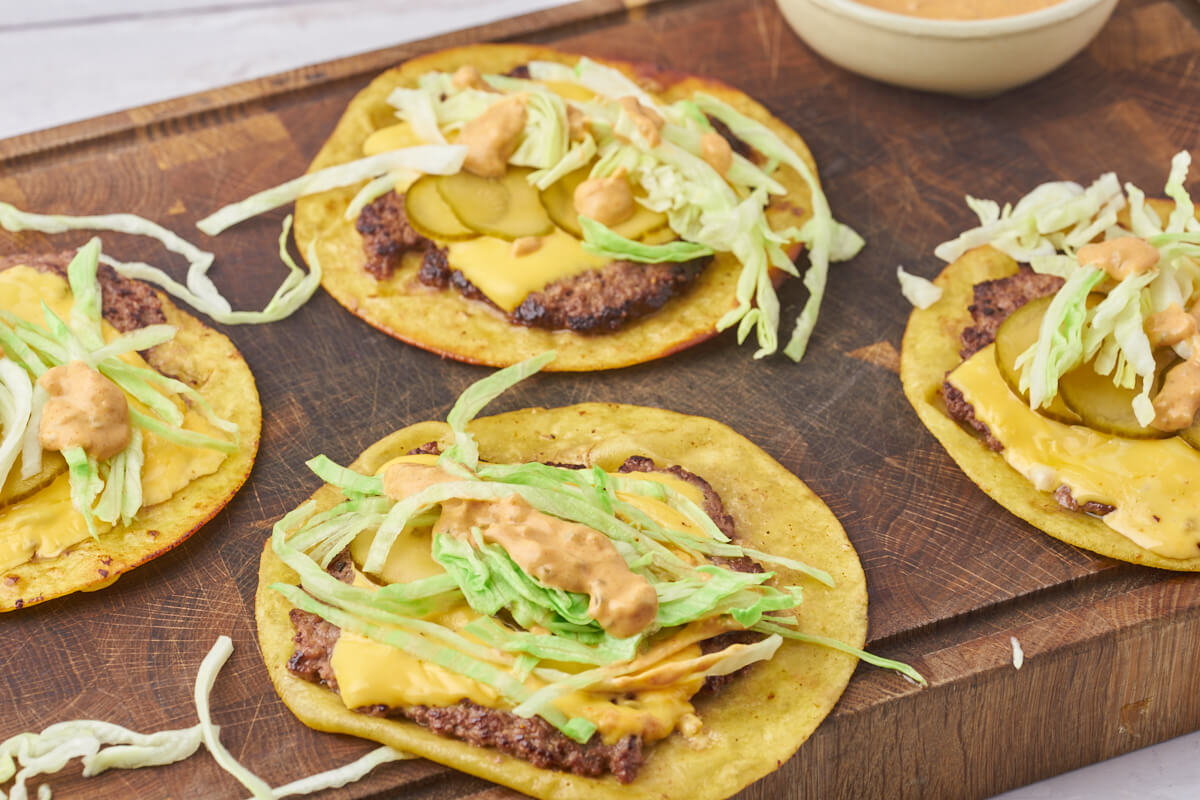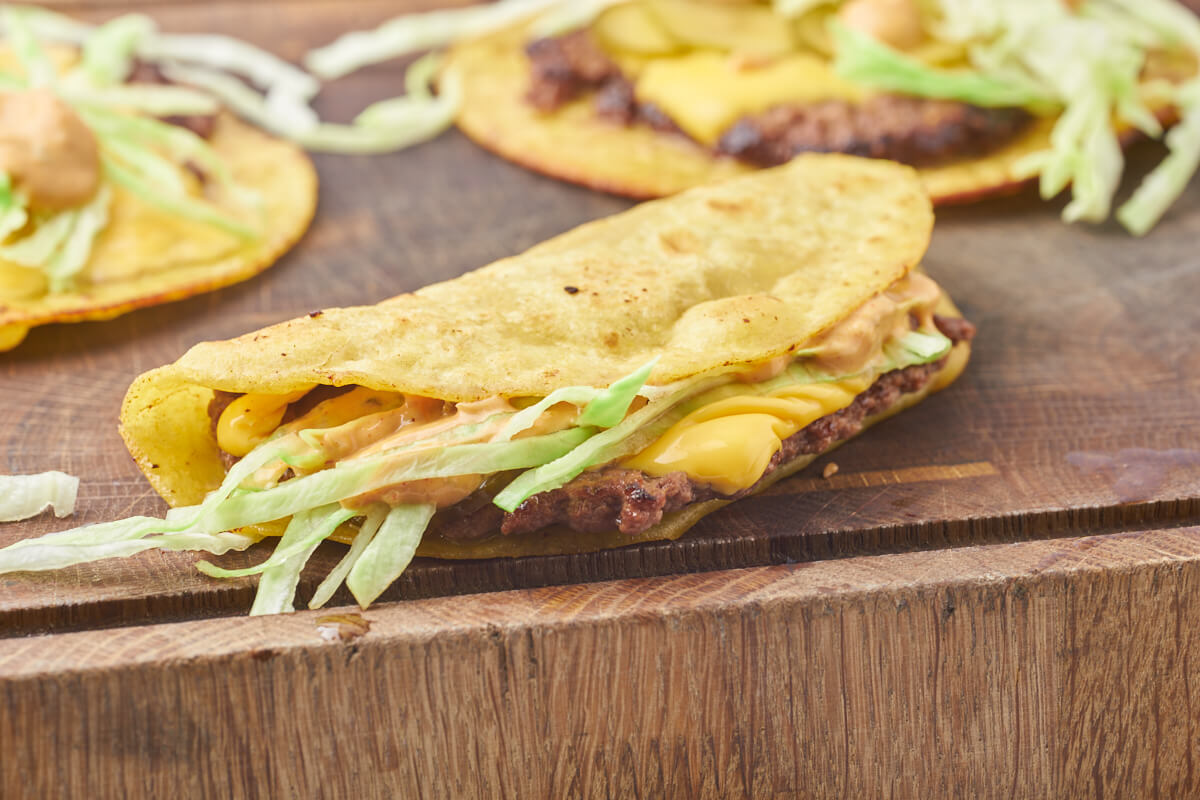 Recipe for Taco Burgers
Here's our recipe for a really delicious bite: smash burger tacos. They're really easy to make and taste really good.

So if you're in the mood to try an alternative way of making burgers, this is a great way to do it. We're sure your family will love them!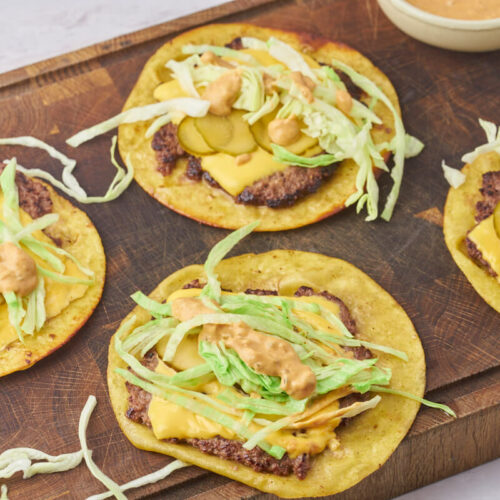 Smash Burger Tacos
Recipe for Smash Burger Tacos
The popular recipe for taco burgers that many know as TikTok burgers. Delight your family with a delicious dinner that doesn't take too long to make.
Ingredients  
600

g

ground beef

8

soft tacos

2

tbsp

olive oil

8

slices

cheese

preferably cheddar

Cucumber salad

to taste

¼

lettuce

thinly sliced

1

dl

burger dressing

Salt

Pepper
Instructions 
Divide the ground beef into 8 equal portions and shape them into small balls.

Place your soft tacos on a cutting board and now spread the meat onto each tortilla, so they are almost fully covered with the meat. Season with salt and pepper to taste.

8 soft tacos,

Salt,

Pepper

Heat olive oil in a pan over medium heat. Fry the tortillas with the meat side down for 2 minutes before flipping them and frying for about 1 minute on the other side. When flipping the tortilla, place 1 slice of cheese on the cooked meat.

2 tbsp olive oil,

8 slices cheese

Repeat the process until they are all cooked.

Place cucumber salad (about 3 slices), followed by shredded lettuce and burger dressing on each tortilla.

Cucumber salad,

¼ lettuce,

1 dl burger dressing

Serve them immediately with the same sides as regular burgers.
Nutrition
Serving:
1
person
Calories:
1148
kcal
Carbohydrates:
57
g
Protein:
41
g
Fat:
82
g
Saturated Fat:
20
g
Polyunsaturated Fat:
7
g
Monounsaturated Fat:
23
g
Trans Fat:
2
g
Cholesterol:
147
mg
Sodium:
1404
mg
Potassium:
515
mg
Fiber:
3
g
Sugar:
5
g
Vitamin A:
643
IU
Vitamin C:
1
mg
Calcium:
278
mg
Iron:
17
mg
How do you like the recipe?
Have you tried this recipe? We'd love to hear what you think of it. Leave a comment, add a number of stars to the recipe and share your photo on Instagram with #madformadelskere – We love seeing your dishes ♥️
Also, sign up for our Facebook group where you can show pictures of the delicious food you make! You can find the Facebook group here