Delicious and fresh raspberry tart with frangipane and a crispy shortcrust pastry base – it doesn't get much better than this. Read on here to see how you can easily make a delicious raspberryfrangipane tart for your family.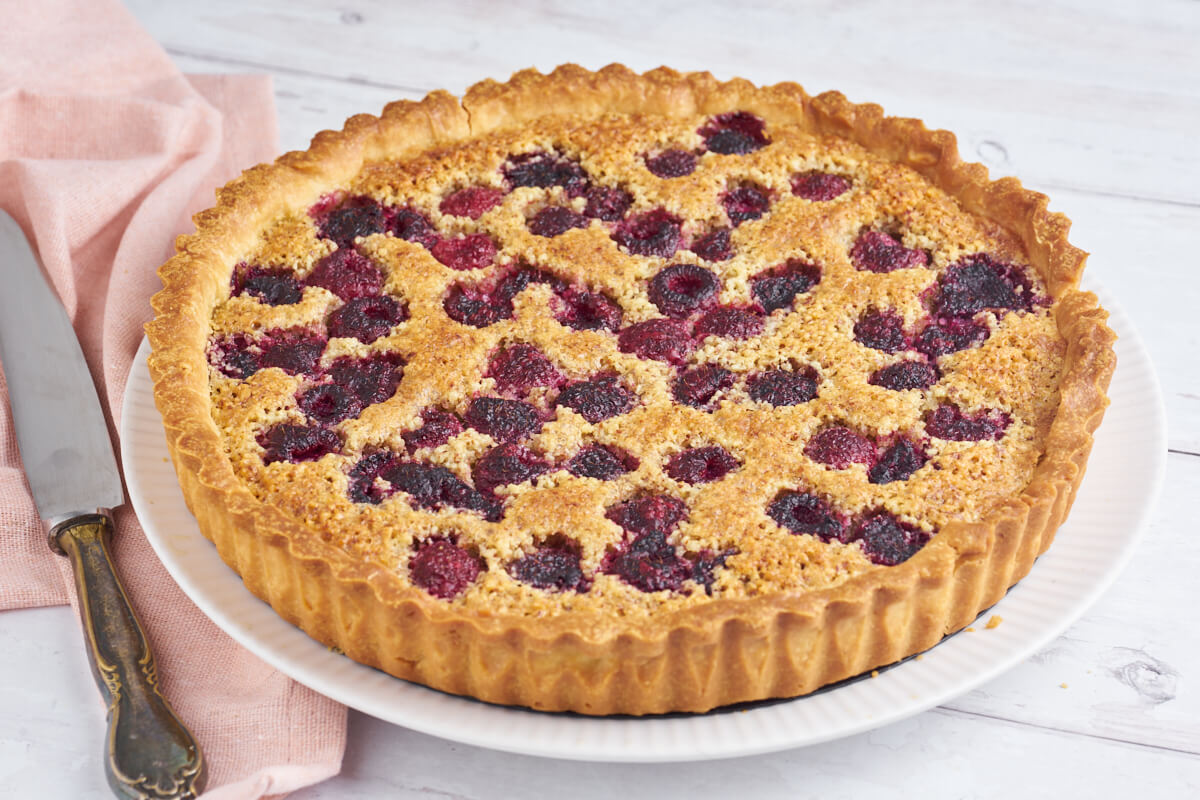 Easy Raspberry Tart
This tart is really easy to make, and it tastes absolutely fantastic.

The sweet and slightly spongy frangipane pairs so well with the delicious raspberries and, of course, the crispy shortcrust pastry base, not to be forgotten.

This is the kind of tart we make again and again because it's just easy and really good. It can be made with all sorts of different fruits and berries, so if you don't have access to raspberries, it can easily be made with other berries instead.

For example, try it with blackberries or blueberries – yum!

You can enjoy it as it is or serve it with a scoop of vanilla ice cream, crème fraîche, or whipped cream, it's entirely up to you.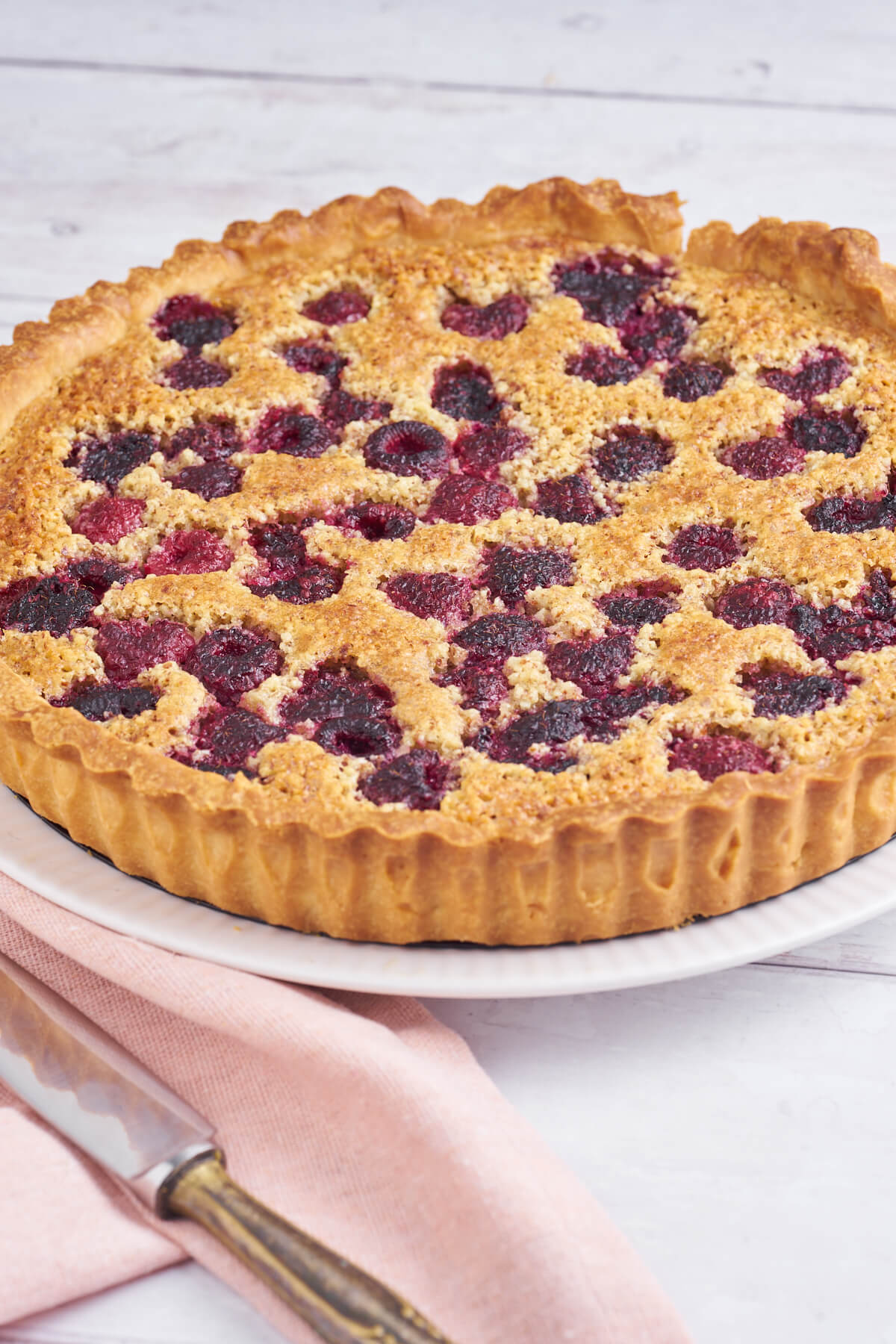 Ingredient notes
Raspberries – If you're lucky enough to have raspberries in your garden, they should definitely be used. Alternatively, you can buy raspberries at the supermarket, or the tart can be made with other berries as well.

Almonds – Frangipane is made with finely chopped almonds or alternatively almond flour. You don't need to blanch the almonds first; it's perfectly fine to leave the brown skin on.

Shortcrust Pastry – Shortcrust pastry is easy to make from scratch, but if you're short on time, you can also use store-bought pastry from the supermarket.
How to make raspberry frangipane tart?
The first thing you need to do is make the shortcrust pastry. It's easy and quick if you have a food processor, but it can also be done by hand. The butter should be crumbled into the flour, and then powdered sugar and salt are added, and the dough is formed with an egg.

Roll out the dough and chill it, so it doesn't shrink too much when it's baked.

First, blind-bake the tart base with baking beads or dried beans, while preparing the frangipane mixture.

To make the frangipane, chop almonds with vanilla, and mix this almond meal with butter and sugar that have been whipped to a creamy consistency, and add eggs.

When the base is ready, spread the frangipane mixture and raspberries on top, then return it to the oven to finish baking. It's ready to be served after that.

Find the full recipe further down this page.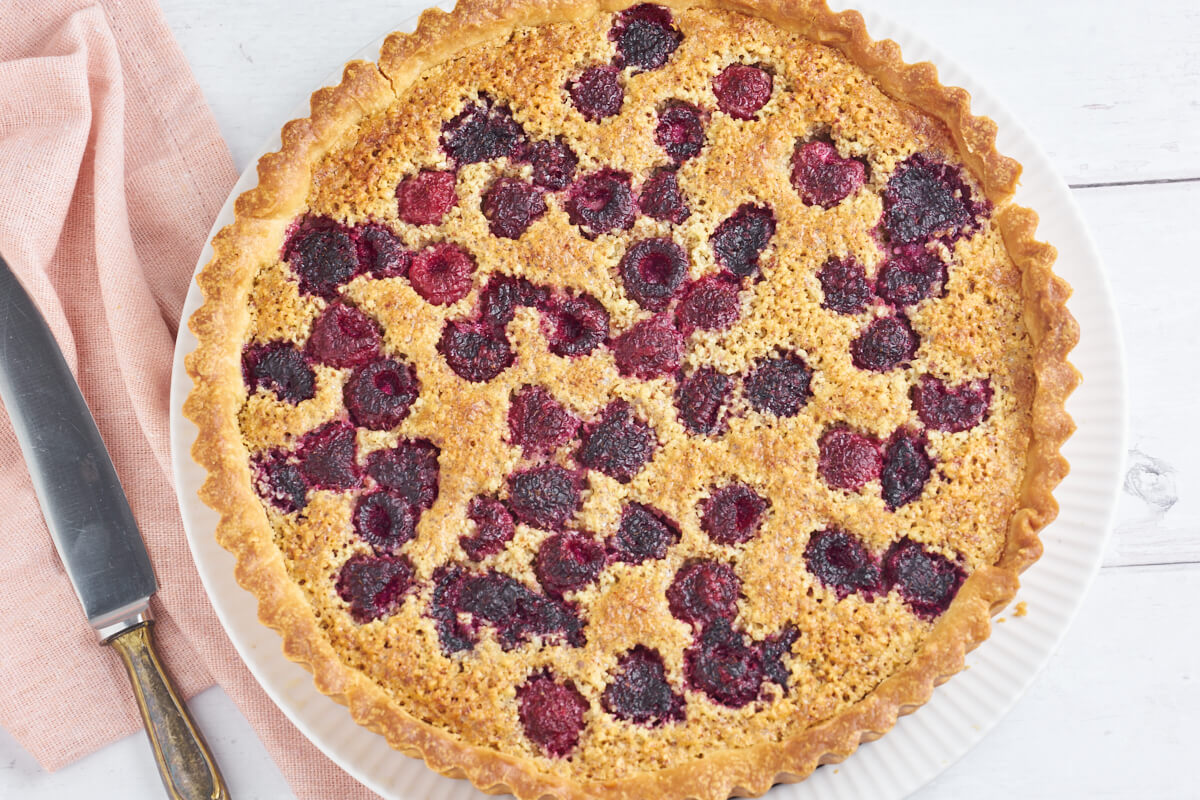 Frequently asked questions
Can the tart be frozen?
Yes, it can. You can freeze the fully baked tart or bake it for 10 minutes less, then finish baking the last 10 minutes when you take it out.

Can I use something other than raspberries?
Yes, you can! Try making the tart with apples, blackberries, blueberries, or plums.
Other recipes you might like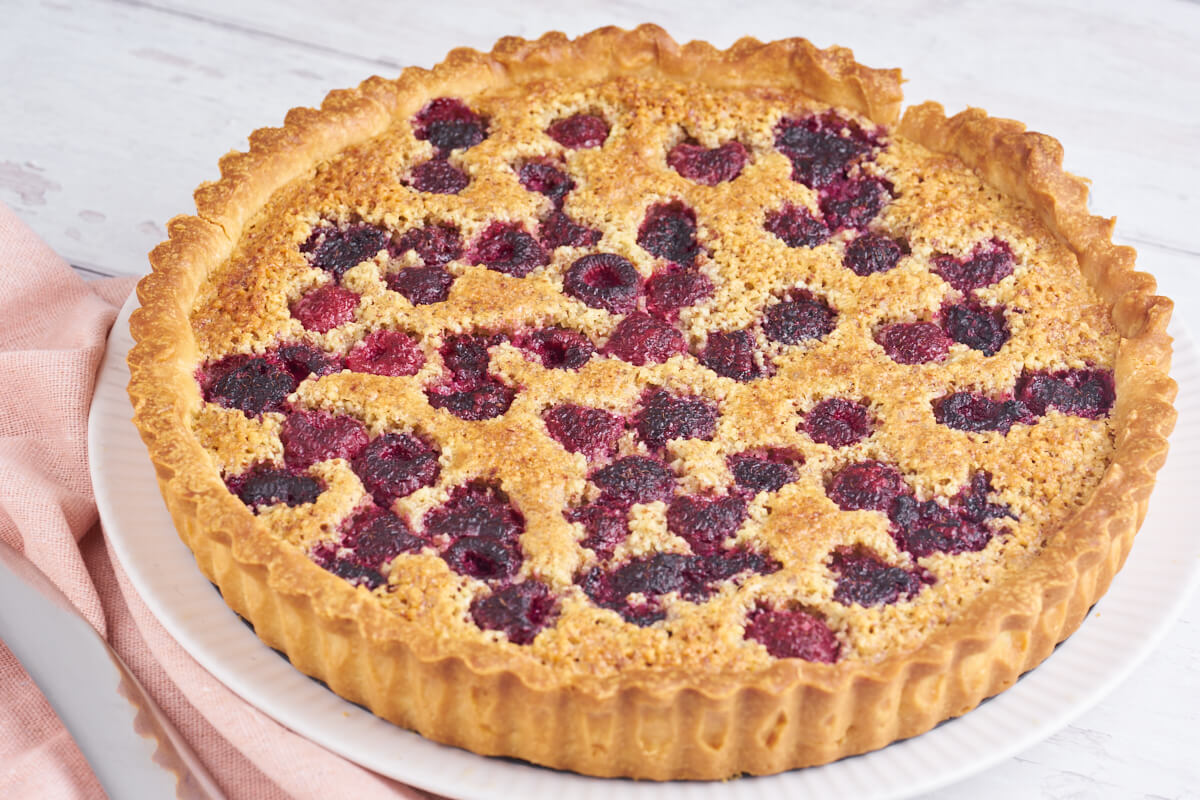 Tips and tricks for the recipe
It's best to use fresh berries as they don't contain as much liquid. If you're using frozen berries, you should thaw them and let them drain in a sieve before adding them to the tart.
Serving suggestions
Serve the tart as is or with a scoop of vanilla ice cream, crème fraîche, or whipped cream.
Want to try another delicious dessert?

Try our recipe for Danish red berry pudding (rødgrød med fløde)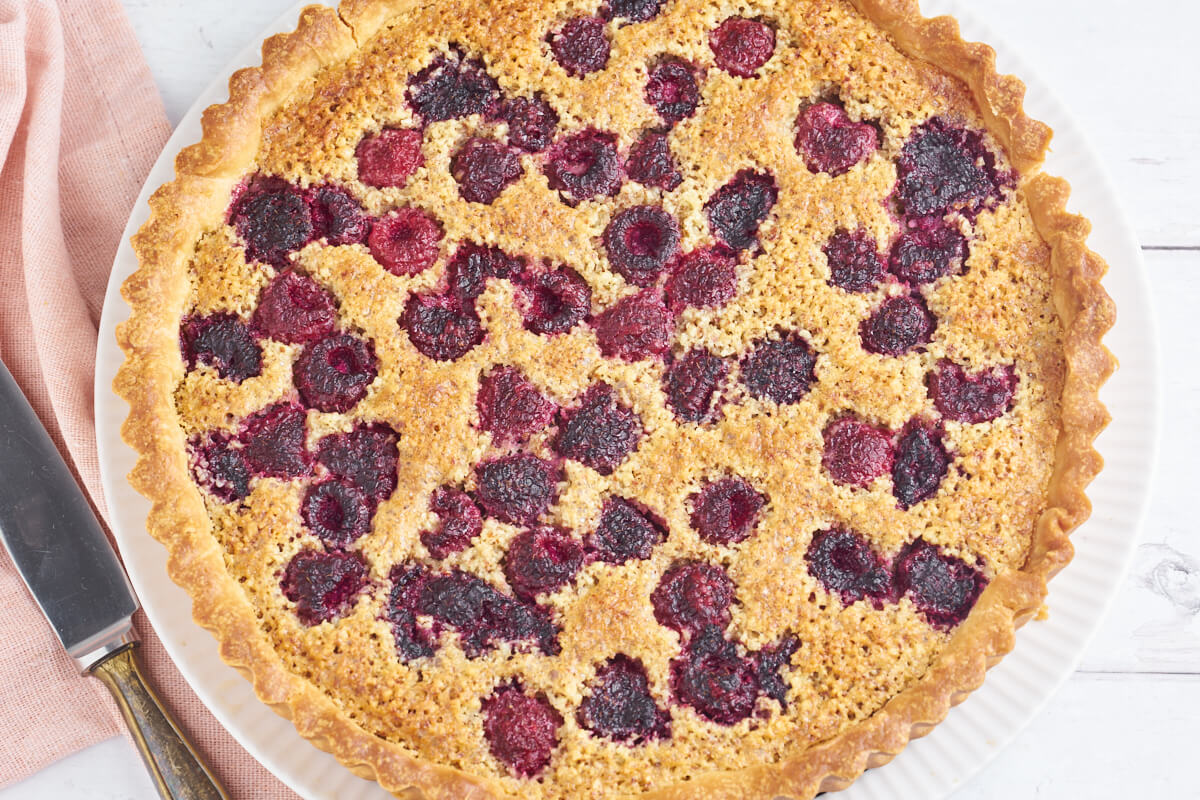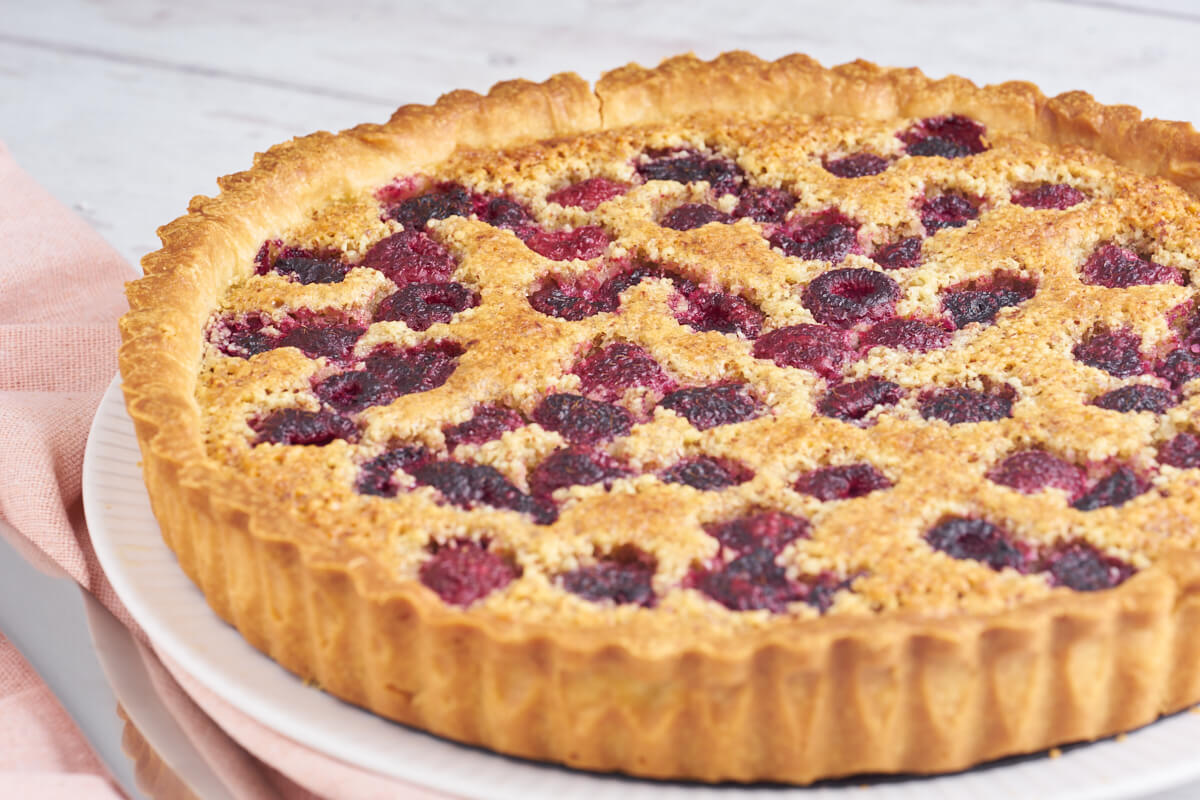 Recipe for frangipane tart with raspberries
Here's our easy recipe for a delightful summer tart, a raspberry frangipane tart.

We hope you feel like serving this tart to your family or friends because it tastes so delicious. And fortunately, it's also easy to make.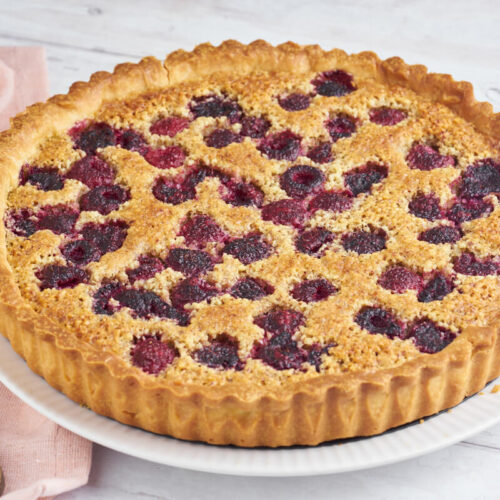 Raspberry frangipane tart
Recipe for raspberry frangipane tart
Easy tart with almonds and fresh raspberries. The base is a crispy shortcrust pastry, and the tart is filled with sweet almond frangipane and, of course, delicious raspberries. Serve it with vanilla ice cream, creme fraiche, or whipped cream.
Ingredients  
Shortcrust pastry
150

g

butter

250

g

all purpose flour

50

g

powdered sugar

1

pinch

salt

1

egg
Frangipane
100

g

almonds

1

vanilla bean

100

g

butter

soft

100

g

sugar

2

eggs
Instructions 
Shortcrust Pastry
Start by making the shortcrust pastry since it needs to chill in the refrigerator before baking.

Crumble the butter into the flour. You can do this quickly using a food processor. Add powdered sugar and salt, and quickly gather the dough with one egg. It's essential not to knead the dough; it should just come together.

150 g butter,

250 g all purpose flour,

50 g powdered sugar,

1 pinch salt,

1 egg

Roll out the dough between two sheets of parchment paper, and place it in the refrigerator for 30-60 minutes.

Preheat the oven to 190 degrees Celsius (375 degrees Fahrenheit) using the top and bottom heat function.

Remove the shortcrust pastry from the refrigerator and place it in a greased 25 cm (approximately 10 inches) diameter tart pan. Prick many holes in the base with a fork to allow steam to escape. Place a piece of parchment paper on top of the pastry and fill the tart with baking beads, dried beans, or rice, and blind-bake the tart for 20 minutes at 190 degrees Celsius (375 degrees Fahrenheit).

While the pastry is blind-baking, prepare the raspberries and frangipane.
Filling
Wash the raspberries and place them on a piece of kitchen paper to drain.

Finely chop the almonds and the seeds from a vanilla bean in a blender or a mini chopper.

100 g almonds,

1 vanilla bean

Whisk the butter and sugar until fluffy with an electric mixer. Then add one egg at a time, beating well after each egg.

100 g butter,

100 g sugar,

2 eggs

Gently fold the almond meal into the mixture of eggs, sugar, and butter.
Assembly
Once the tart base has been blind-baked, remove the baking beads and parchment paper, and fill the tart base with the frangipane mixture. Then place the raspberries on top and gently press them into the frangipane.

Bake the tart for 30 minutes at 190 degrees Celsius (375 degrees Fahrenheit) using the top and bottom heat function.

When the tart is fully baked, remove it from the tart pan and let it cool on a wire rack.

Serve your raspberry tart with vanilla ice cream, crème fraîche, or whipped cream.
Nutrition
Serving:
1
person
Calories:
524
kcal
Carbohydrates:
49
g
Protein:
9
g
Fat:
34
g
Saturated Fat:
17
g
Polyunsaturated Fat:
3
g
Monounsaturated Fat:
11
g
Trans Fat:
1
g
Cholesterol:
129
mg
Sodium:
231
mg
Potassium:
203
mg
Fiber:
4
g
Sugar:
21
g
Vitamin A:
880
IU
Vitamin C:
8
mg
Calcium:
63
mg
Iron:
2
mg
How do you like the recipe?
Have you tried this recipe? We'd love to hear what you think of it. Leave a comment, add a number of stars to the recipe and share your photo on Instagram with #madformadelskere – We love seeing your dishes ♥️
Also, sign up for our Facebook group where you can show pictures of the delicious food you make! You can find the Facebook group here