Classic beef and bacon pizza. One of the best pizzas, if you ask me! Crispy crust and base, plenty of flavor, just as it should be. If you haven't tried making this pizza before, I can only give it my warmest recommendations. Read on and see how easy it is.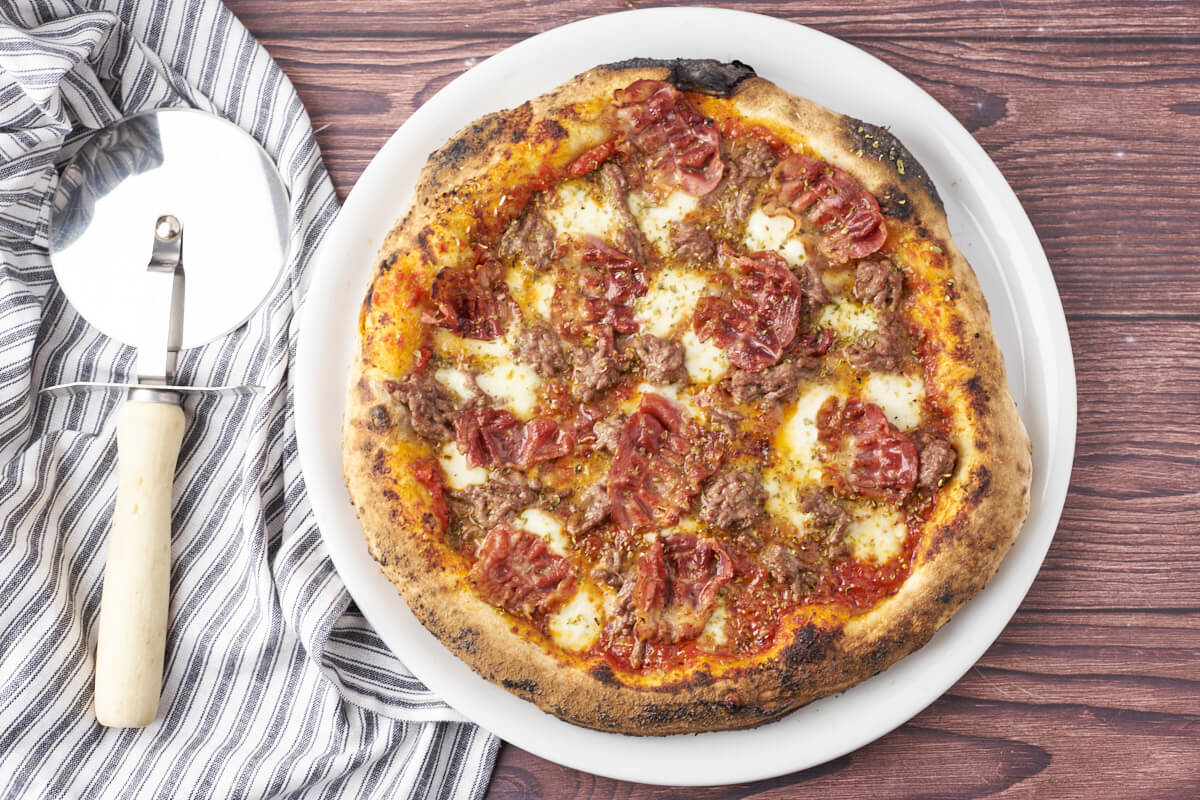 Pizza without filters
I love our pizza oven! Without a doubt, it has been one of the best purchases we've made, alongside my grills. It makes the difference between good and fantastic pizza in how it's cooked. And I must say that in a pizza oven, they just get that much better.

There are many pizza ovens on the market these days, and you should choose one that fits your budget and needs. What they all have in common is that they will provide you with many great dining experiences with your family and friends.

There's a tendency to go overboard with toppings on pizza, but one of the secrets to a good pizza is actually that it doesn't need much, so "less is more," as I also mention in the headline. You should be able to taste the individual ingredients, and with this pizza, it's umami that dominates.

And on a pizza with beef and bacon, there's a lot of umami flavor! Bacon, beef, parmesan, and even the tomato sauce contribute, and together, they create a really delicious pizza with an explosion of flavor. You should, of course, enjoy meat because there isn't much green on it other than a sprinkle of oregano. When we make pizza at home, we usually make around 8 pizzas, so there are leftovers for packed lunches the next day and even an afternoon snack if hunger strikes.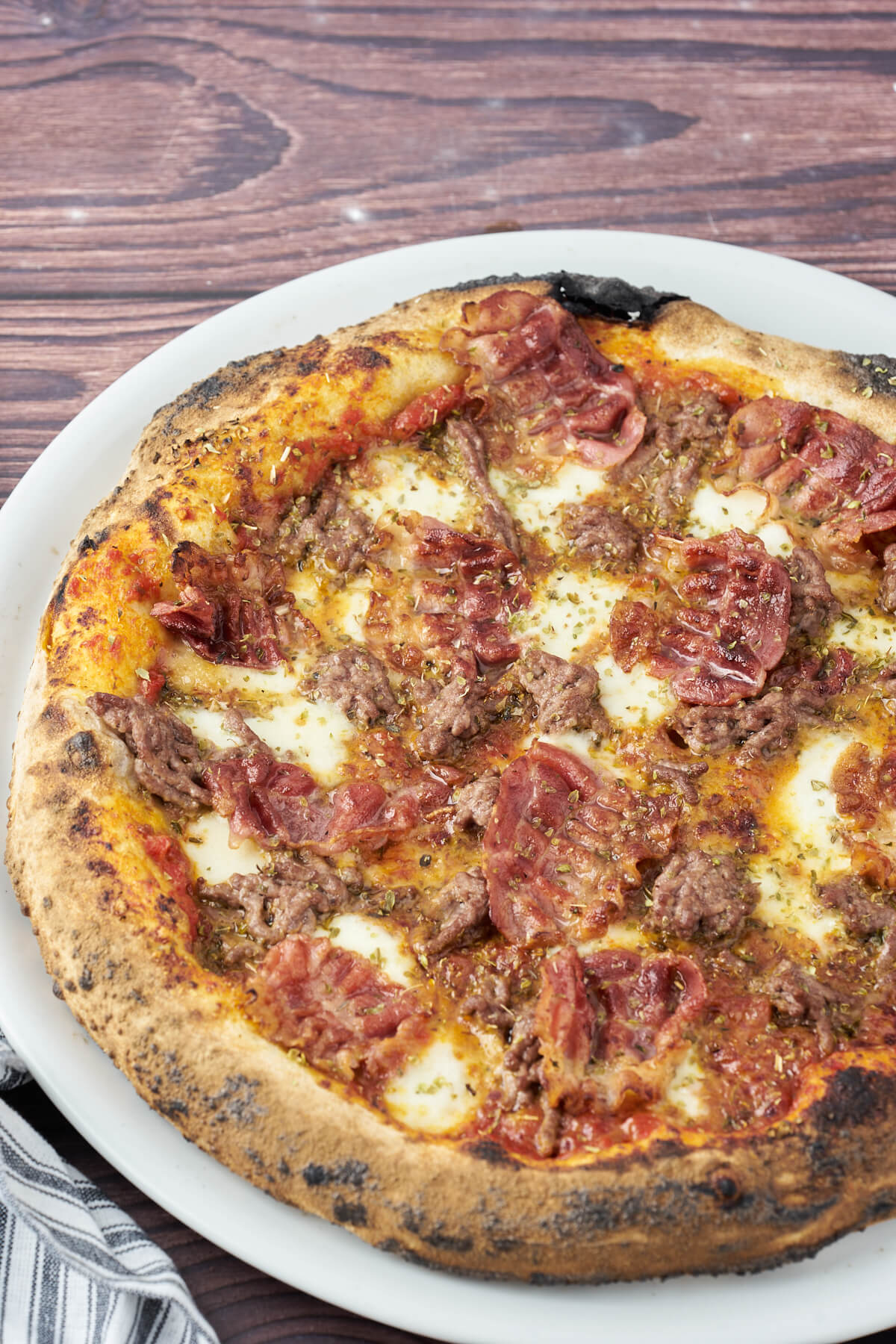 Ingredient notes
Pizza dough – Homemade from scratch is best. But that being said, you can also skip this step and use ready-made dough from the refrigerated section.

Pizza sauce – Homemade is best, and it only requires a few ingredients. It forms the base of the flavor, and a tasty pizza sauce makes all the difference. Find the pizza sauce recipe here.

Beef – It's ground beef; choose the quality and fat percentage you prefer to use.

Bacon – Sliced bacon. Lightly pre-cooked in a pan before placing it on the pizza to remove some of the moisture.

Mozzarella – Fresh mozzarella cut into smaller pieces. If you want it to be really good, use drained mozzarella. You can find it online and in some supermarkets.

Parmesan – Yes, most people might find it a bit strange, but it adds a super delicious flavor to the finished pizza.
How to make beef and bacon pizza?
Here's a brief description of how to make the best beef and bacon pizza. The preparation is in the dough and it's rising. Together with the pizza sauce and pre-cooked bacon, they are prepared before you start baking the pizzas.

Preheat the pizza oven, oven, or grill to the highest heat. Spread an appropriate amount of pizza sauce on the shaped pizza dough, followed by mozzarella and parmesan. Then, place small clumps of ground beef and slices of pre-cooked bacon on the pizza. Finish with a sprinkle of dried oregano and salt.

Now, bake the pizza until it's done and serve immediately.

Find the full recipe further down this page.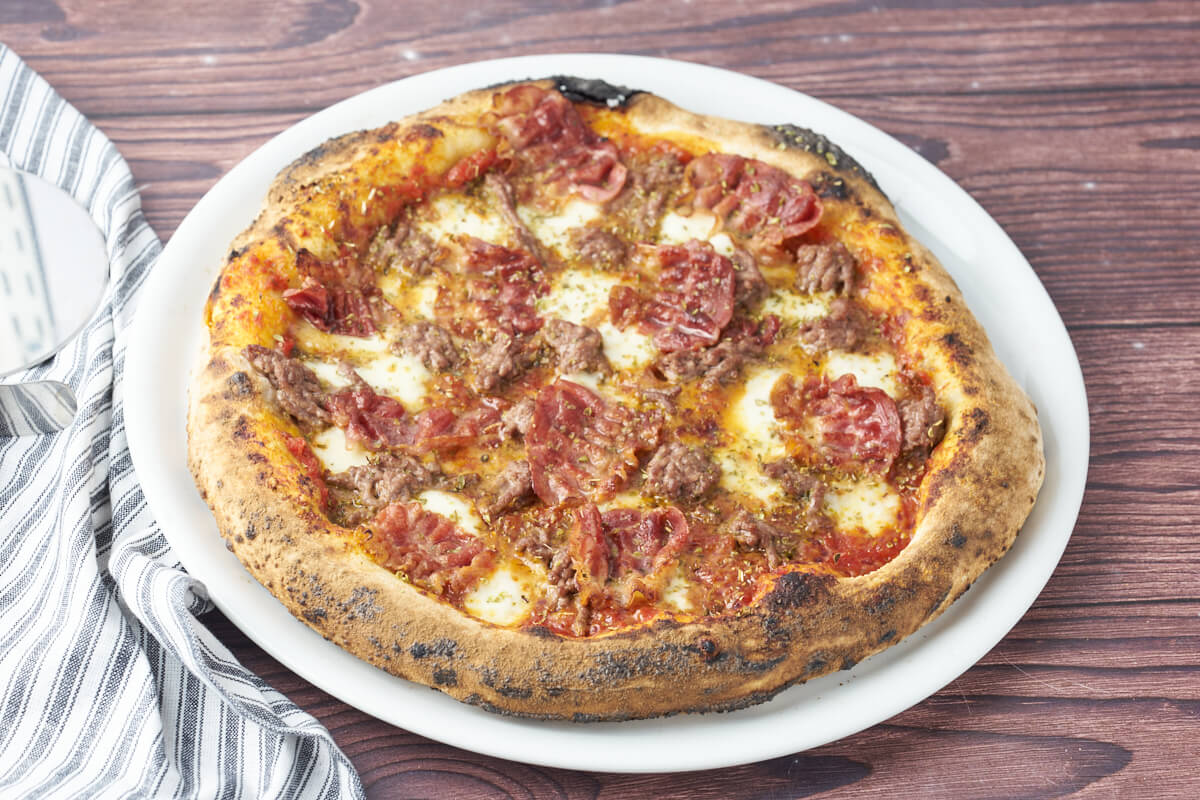 Frequently asked questions
Can you save leftover pizza?
Yes, you can definitely save it. Use it in packed lunches, as an easy lunch the next day, or freeze it.

Can I use pre-made pizza dough?
Yes, you can use pre-made pizza dough. It won't be quite the same, but it's okay if you're in a hurry.
Can I use something other than parmesan?
Yes, you can use other hard, aged cheeses with the same result.
Other Italian recipes you might like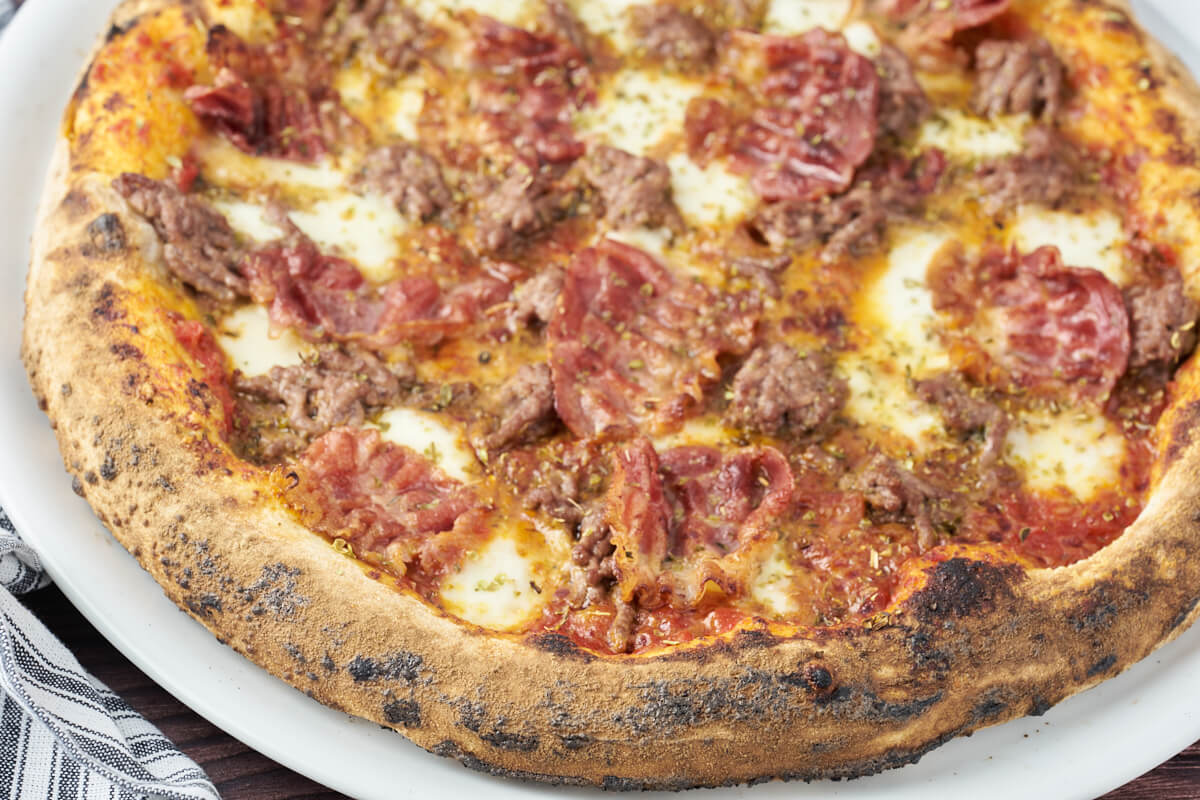 Tips and tricks for the recipe
Use homemade dough for the best results.
Try making your own pizza sauce so you can control the flavor.
Remember to preheat the pizza oven, oven, or grill well in advance, so the pizza stone is piping hot.
Serving suggestions
Serve with a good glass of red wine and more pizza.
Do you love making pizza?

Try to make your own Pizza sauce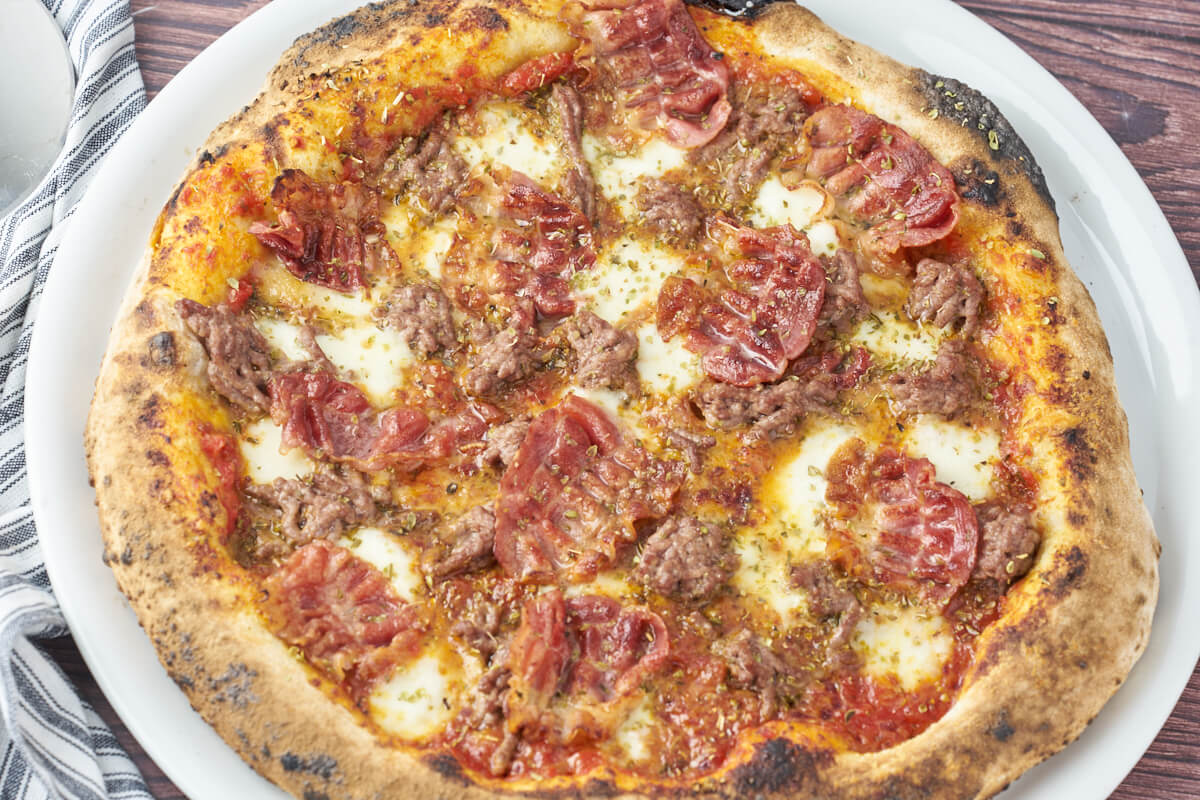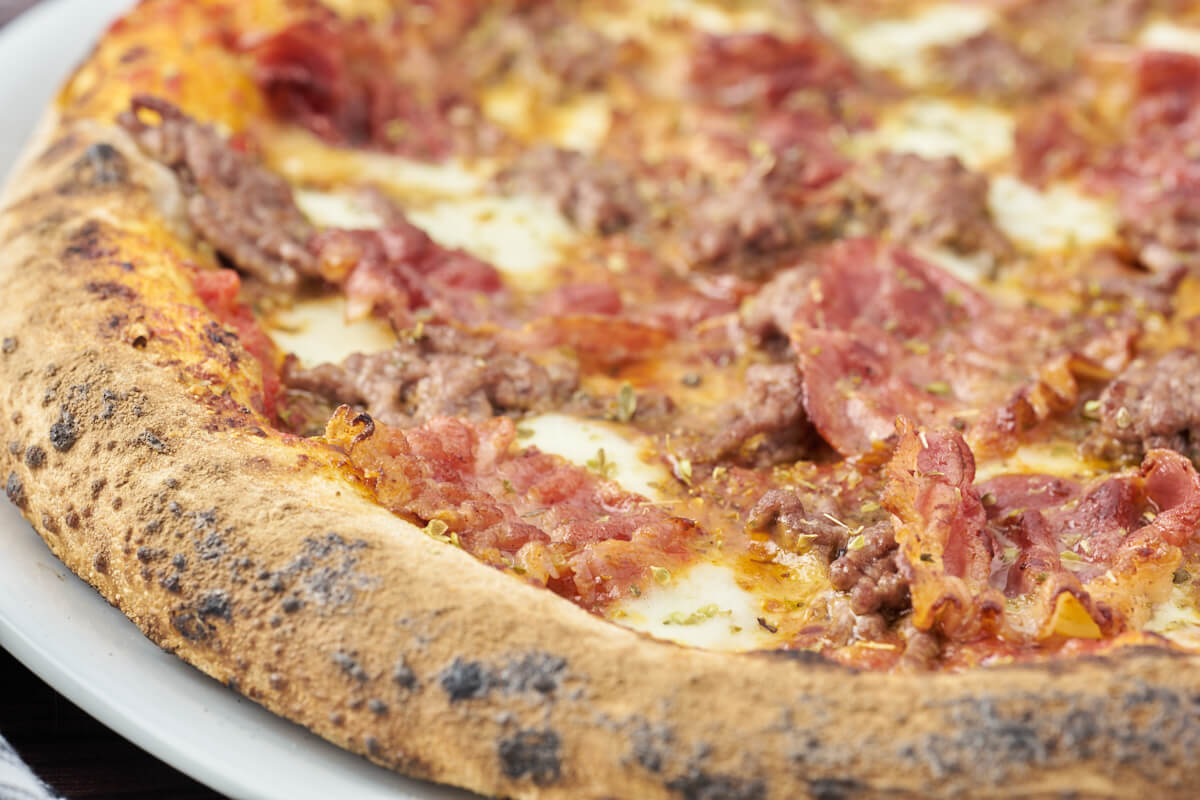 Recipe for pizza with bacon and beef
Here's our recipe for one of the best pizzas for a true meat lover: pizza with beef and bacon.

Lots of flavor combined with a crispy crust and base; it doesn't get much better than this. Try it next time pizza is on the menu.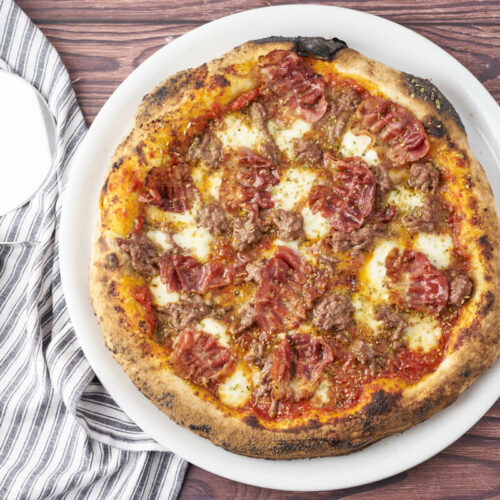 Beef and bacon pizza
Recipe for beef and bacon pizza
A truly classic pizza with a delicious tomato sauce, cheese, beef, and bacon. "Less is more," they say, and that's absolutely right. Not too many ingredients, but the combination for us meat lovers is just perfect!
Ingredients  
Filling:
200

g

bacon

3

dl

pizza sauce

150

g

fresh mozzarella

100

g

parmesan

or to taste

300

g

ground beef

shaped into small clumps

4

tsp

dried oregano

Salt
Instructions 
Once the dough is ready, shape it into pizza-sized portions.

Slice the bacon into halves and lightly pre-cook it in a pan. Let it drain to remove excess fat, and then set it aside.

The reason for doing this is to reduce the amount of moisture on the finished pizza.

Next, evenly distribute the pizza sauce over the pizza bases.

Cut the mozzarella into smaller pieces and spread them over the pizzas, followed by the parmesan.

150 g fresh mozzarella,

100 g parmesan

Then, distribute small pieces of ground beef and bacon slices over the pizzas.

Sprinkle each pizza with approximately 1 tsp of dried oregano and a pinch of salt.

4 tsp dried oregano,

Salt

Now, bake the pizzas one at a time on a hot pizza stone or baking sheet in the oven or on the grill at 250-275 degrees Celsius (482-527 degrees Fahrenheit). It should take about 8-10 minutes, but keep a close eye on them.

In a hot pizza oven, they may only need 2-4 minutes, depending on the temperature; remember to turn them regularly.

Serve the finished pizzas immediately.
Nutrition
Serving:
1
pizza
Calories:
1595
kcal
Carbohydrates:
194
g
Protein:
68
g
Fat:
62
g
Saturated Fat:
25
g
Polyunsaturated Fat:
7
g
Monounsaturated Fat:
20
g
Trans Fat:
1
g
Cholesterol:
133
mg
Sodium:
4200
mg
Potassium:
601
mg
Fiber:
8
g
Sugar:
28
g
Vitamin A:
826
IU
Vitamin C:
5
mg
Calcium:
544
mg
Iron:
14
mg
How do you like the recipe?
Have you tried this recipe? We'd love to hear what you think of it. Leave a comment, add a number of stars to the recipe and share your photo on Instagram with #madformadelskere – We love seeing your dishes ♥️
Also, sign up for our Facebook group where you can show pictures of the delicious food you make! You can find the Facebook group here