We love pasta dishes; they're both easy and absolutely delicious! We often enjoy oven-baked pasta of various kinds, and in this recipe, it's a vegetarian pasta bake with chickpeas and brown lentils. Read on and see how easy it is to make.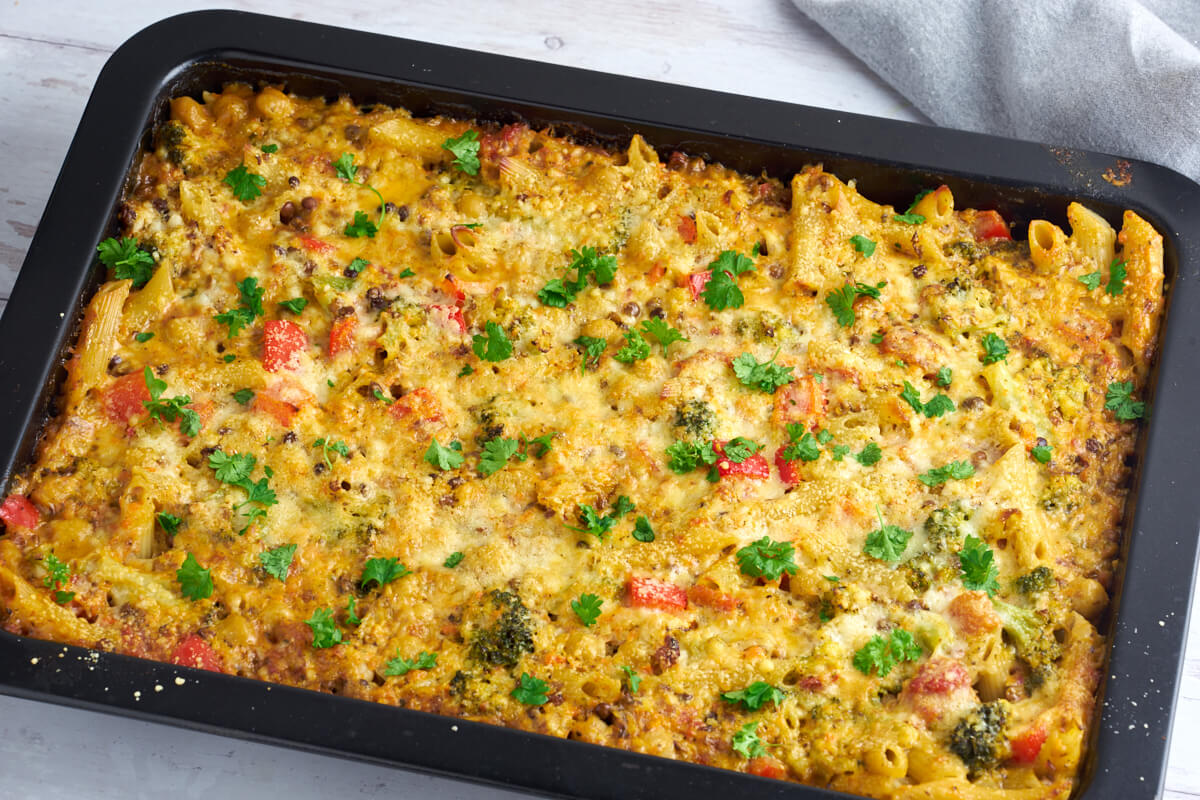 Meat-free dinner loved by the whole family
It's always a bit exciting when introducing new dishes to children. Will they eat it or not? Fortunately, our children are super brave and always willing to try something new.

And they were pleasantly surprised when we served a vegetarian pasta bake with chickpeas, brown lentils, and lots of vegetables.

Pasta bake is both easy and tasty food.

It's so simple to make because the pasta is cooked in the sauce in the oven, so everything just needs to be assembled in the dish, and then it more or less takes care of itself.

You can use the vegetables you like best or leftover vegetables if you have any. It's a great dish for cleaning out the fridge a bit.

Furthermore, it's budget-friendly food that's also quite filling. Chickpeas and lentils are quite inexpensive to buy, and when you get them in cans, they're ready to use immediately. They're a great meat substitute and very filling at the same time.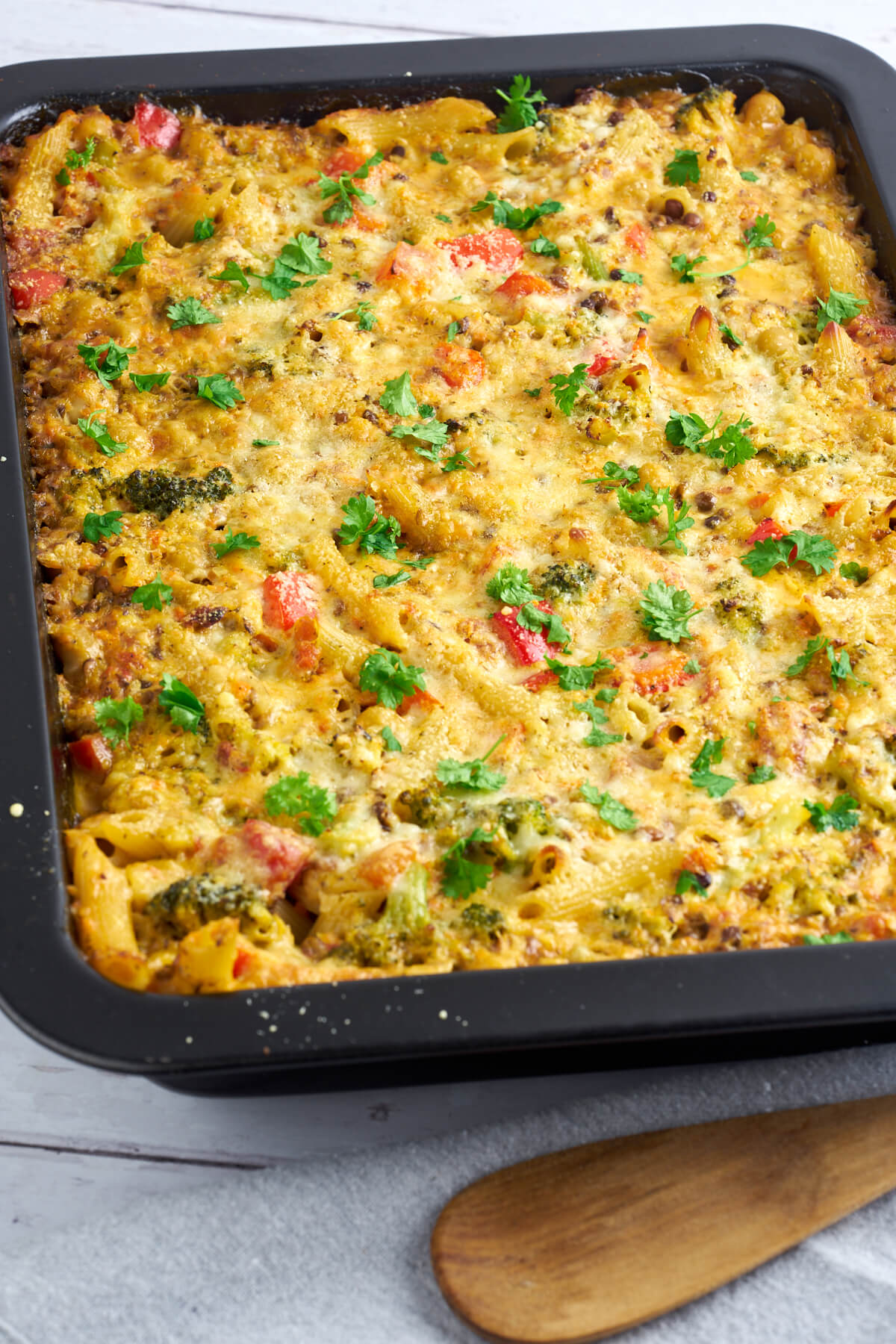 Ingredient notes
Chickpeas and brown lentils – We use chickpeas and brown lentils as the protein in this dish. It's cheap, healthy, and easy, and it tastes delicious in combination with all the other flavors.

Vegetables – For this dish, you can use the vegetables you like best or the children's favorites. Here, we've used carrots, onions, bell peppers, and broccoli, but you can easily swap them out for others. You can also use leftover vegetables you have in the fridge at the end of the week.

Pasta – Here, we use penne pasta, but you can also use twists or other types of pasta depending on your preference.

Canned chopped tomatoes – Chopped tomatoes from a can. It's easy and something we always have in the pantry at home.

Heavy cream – The cream helps make the sauce creamy and delicious. You can also choose alternatives like "cremefine" or other lighter cream substitutes.

Parmesan – Cheese on top of a pasta bake like this is just delightful. You can choose other types of cheese, such as mozzarella, instead.
How to make vegetarian pasta bake?
This meat-free dish is really easy to make and tastes fantastic.

To start, you need to do a bit of preparation. Rinse and drain the chickpeas and lentils, and chop the vegetables.

Then sauté onions and garlic in a bit of oil, and add the carrots. After that, add smoked paprika, oregano, chopped tomatoes, heavy cream, and broth to the pan, and bring the sauce to a boil.

Now, everything needs to be mixed together in the dish, covered with foil, and baked for about 40 minutes before removing the foil and sprinkling the dish with Parmesan. Then, place the dish back in the oven until the cheese is melted, and the dish is ready to be served.

Optionally, sprinkle some parsley on top and serve immediately.

Find the full recipe further down this page.
Frequently asked questions
How do you store the leftovers?
You can store the leftovers in the refrigerator. They can be easily reheated the next day or taken for lunch.
Can I use other vegetables?
Yes, you can use the vegetables you like best or the ones you have in the fridge or freezer.
Can I use something other than chickpeas and brown lentils?
Yes, you can use other types of beans or lentils instead. We prefer ones that come in cans because they're ready to use.
Other vegetarian recipes you might like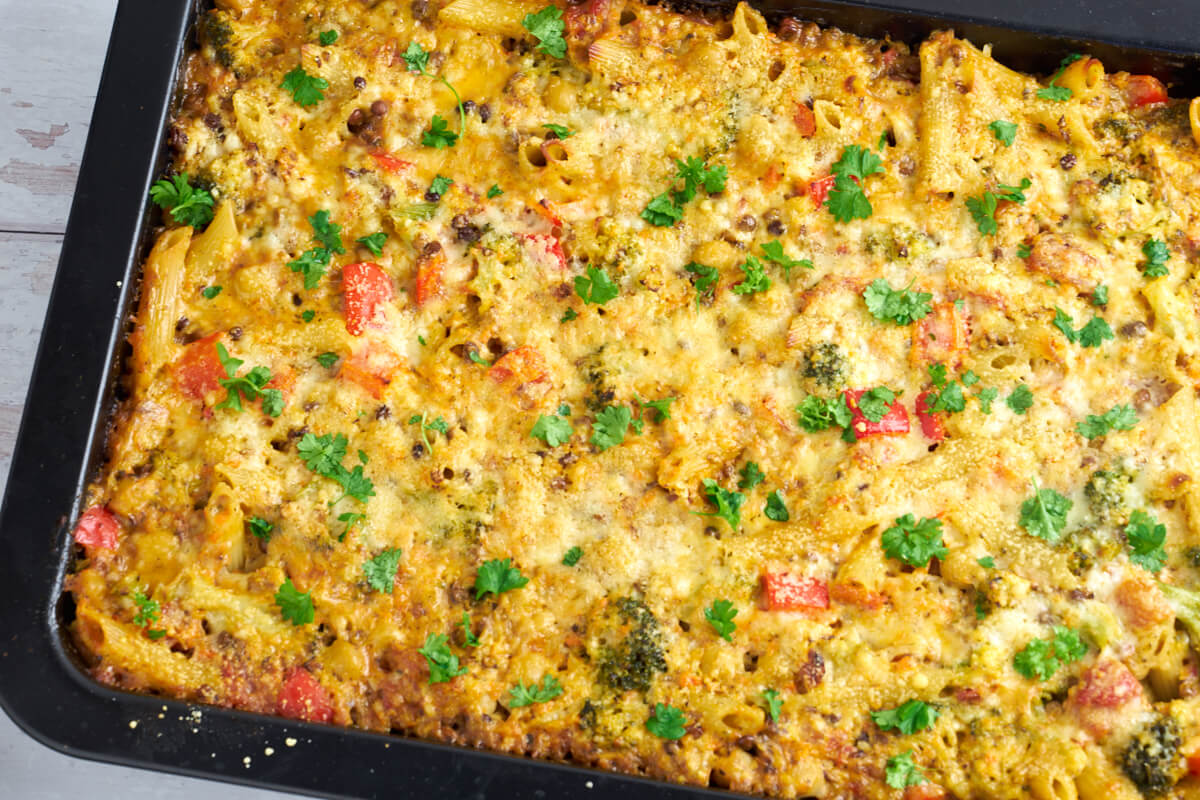 Tips and tricks for the recipe
Use the vegetables that children love or leftovers you have in the fridge. It's a great "clean out the fridge" dish.
Try swapping chickpeas or lentils with other types of canned beans.
Serving suggestions
Enjoy as a complete meal or serve with some delicious bread.
Serve this dish when you want a meat-free day.
Save the leftovers and reheat them the next day.
Do you love pasta?

Try our recipe for Chicken Pesto Pasta salad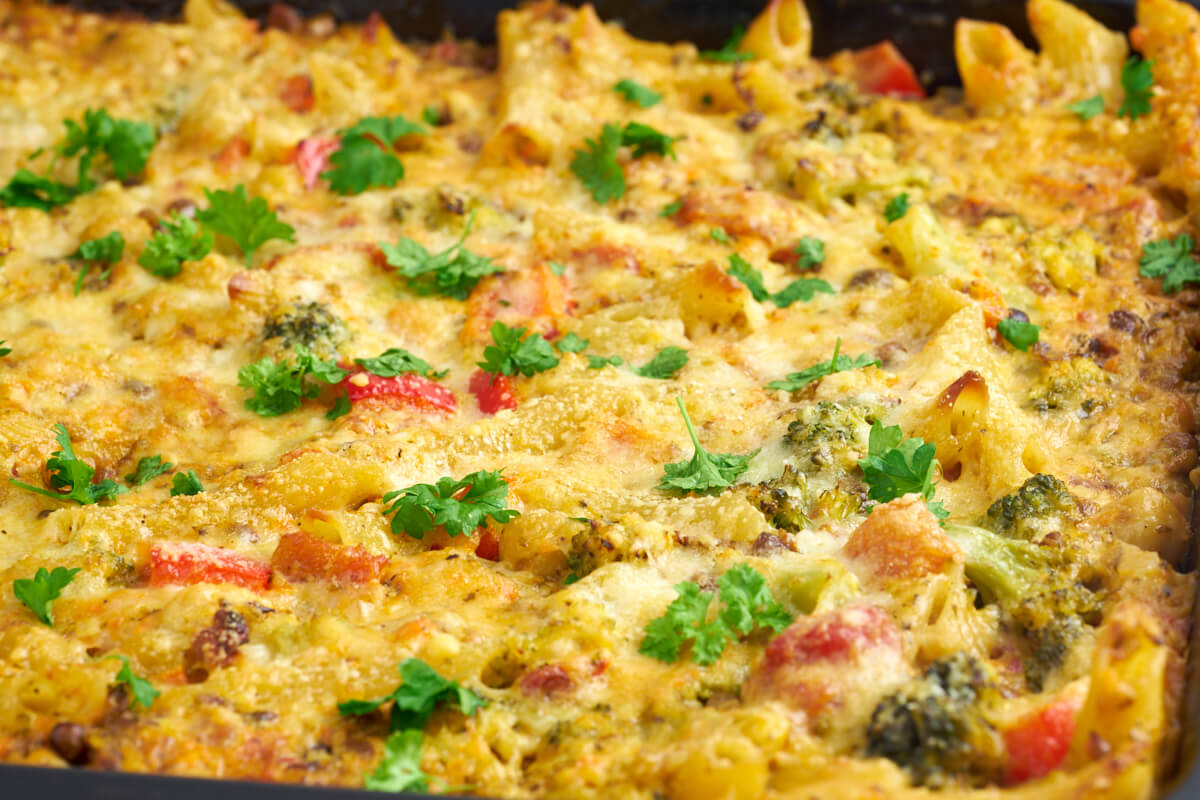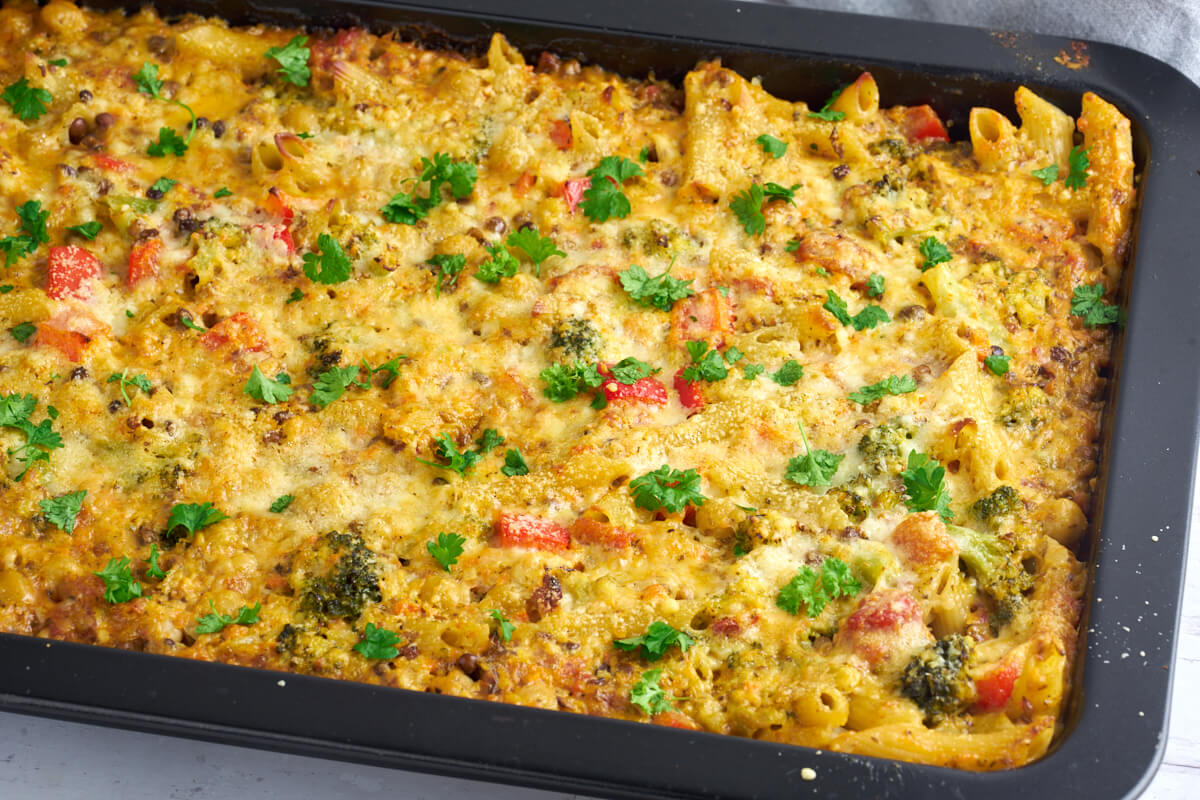 Recipe for oven-baked pasta with vegetables
Here's our recipe for an easy and tasty vegetarian dinner for the whole family. At our home, both adults and kids love it when we serve pasta bake, and this recipe is no exception.

It's perfect for a meatless day when you still want to serve super delicious food for the family. We hope you feel like trying the recipe.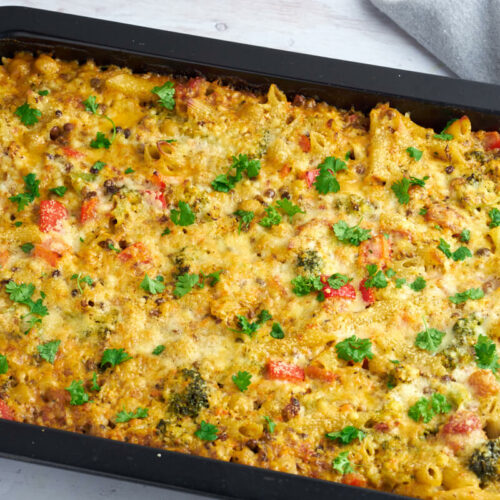 Vegetarian pasta bake
Recipe for vegetarian pasta bake
Easy recipe for family-friendly vegetarian pasta dish with chickpeas and brown lentils. It's a delightful weeknight dish and a simple and delicious meat-free dinner that takes care of itself in the oven until dinnertime. Serve with crunchy vegetables, a green salad, or a bread roll.
Ingredients  
300

g

penne pasta

1

can

chickpeas

drained weight 240 grams

1

can

brown lentils

drained weight 240 grams

2

tbsp

olive oil

2

onions

3

cloves

garlic

4

carrots

1 ½

tsp

salt

Pepper

1

red bell pepper

300

g

broccoli

1

tbsp

oregano

1

tsp

smoked paprika

4

dl

chopped tomatoes

canned

2.5

dl

heavy cream

5

dl

vegetable stock

50

g

parmesan

grana padano, or grated mozzarella

Fresh parsley

for sprinkling on top
Instructions 
Preheat the oven to 210 degrees Celsius (410 degrees Fahrenheit).

Pour the lentils and chickpeas into a sieve and rinse them thoroughly. Let them drain.

1 can chickpeas,

1 can brown lentils

Chop the onions and finely mince the garlic. Peel and grate the carrots using the coarse side of a grater. Dice the red bell pepper. Divide the broccoli into small florets.

2 onions,

3 cloves garlic,

4 carrots,

1 red bell pepper,

300 g broccoli

Heat oil in a pan. Then add the onions and garlic, and sauté over medium heat until the onions are translucent. Add salt, pepper, grated carrots, smoked paprika, and oregano.

2 tbsp olive oil,

1 ½ tsp salt,

Pepper,

1 tsp smoked paprika,

1 tbsp oregano

Next, pour in the chopped tomatoes, heavy cream, and vegetable stock into the pan, and bring the sauce to a boil.

4 dl chopped tomatoes,

2.5 dl heavy cream,

5 dl vegetable stock

Now, spread the uncooked pasta, diced bell pepper, broccoli, lentils, and beans in an ovenproof dish. Pour the sauce from the pan over the mixture. Gently toss it around to ensure even distribution, and make sure the pasta is covered by the liquid.

Cover the dish with aluminum foil and place it in the oven for 35-40 minutes, or until the pasta is cooked through.

Remove the foil from the dish, sprinkle grated parmesan or another type of cheese over the top, and return the dish to the oven for 10 minutes or until the cheese is melted.

Take the dish out, optionally garnish with chopped parsley, and serve with a salad or bread on the side.
Nutrition
How do you like the recipe?
Have you tried this recipe? We'd love to hear what you think of it. Leave a comment, add a number of stars to the recipe and share your photo on Instagram with #madformadelskere – We love seeing your dishes ♥️
Also, sign up for our Facebook group where you can show pictures of the delicious food you make! You can find the Facebook group here