We love baking and cooking with the season's best ingredients, and right now, the pumpkins are just delicious. That's why we're making a lot of dishes with pumpkin, and today we've chosen pumpkin cupcakes with cream cheese frosting. It tastes wonderful and is a lovely activity to do with the kids during the autumn break. Read on to get the recipe.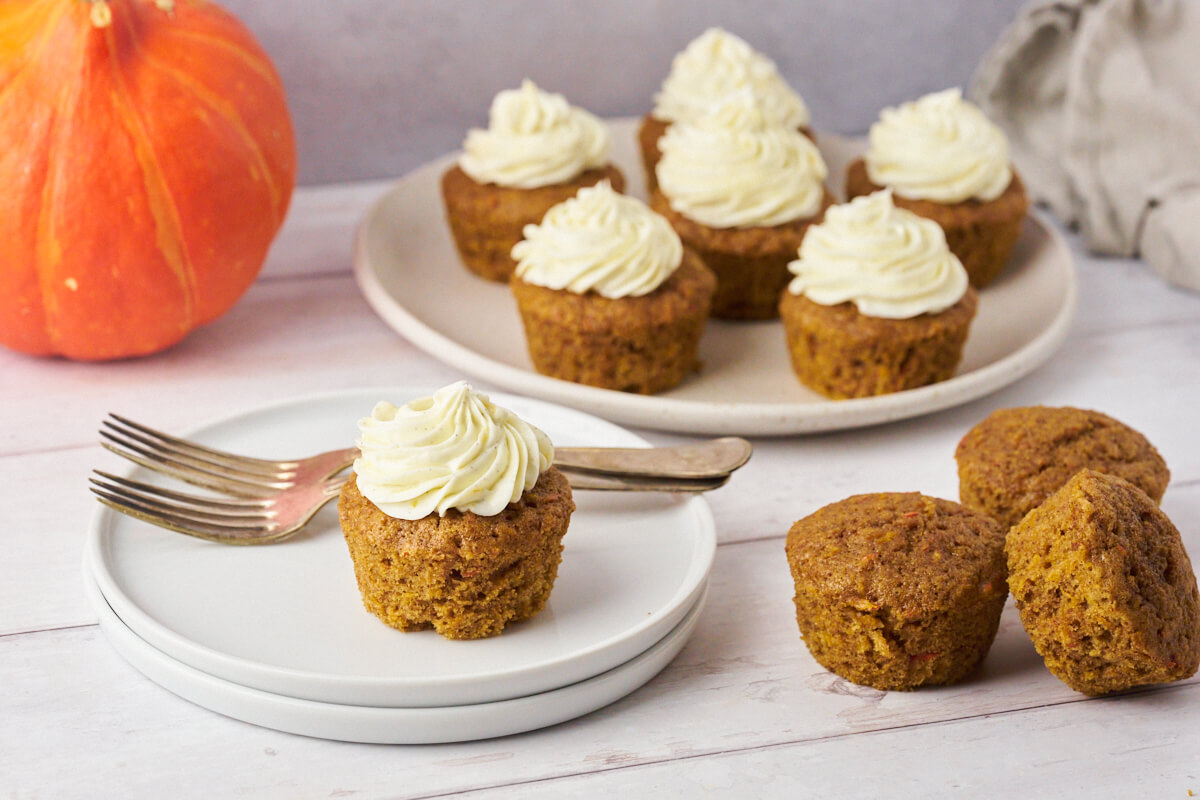 Hokkaido is the autumn's big hit
We eat plenty of Hokkaido pumpkins in the autumn and early winter. They are simply delightful and beautiful, and they taste great in many dishes, including cakes.

Here, we've used the pumpkin in some delicious pumpkin cupcakes with grated Hokkaido pumpkin and a cream cheese frosting on top.

They are easy to make, and kids love decorating them with frosting in different colors and sprinkles.

They are perfect for Halloween and can be decorated as ghosts or pumpkins.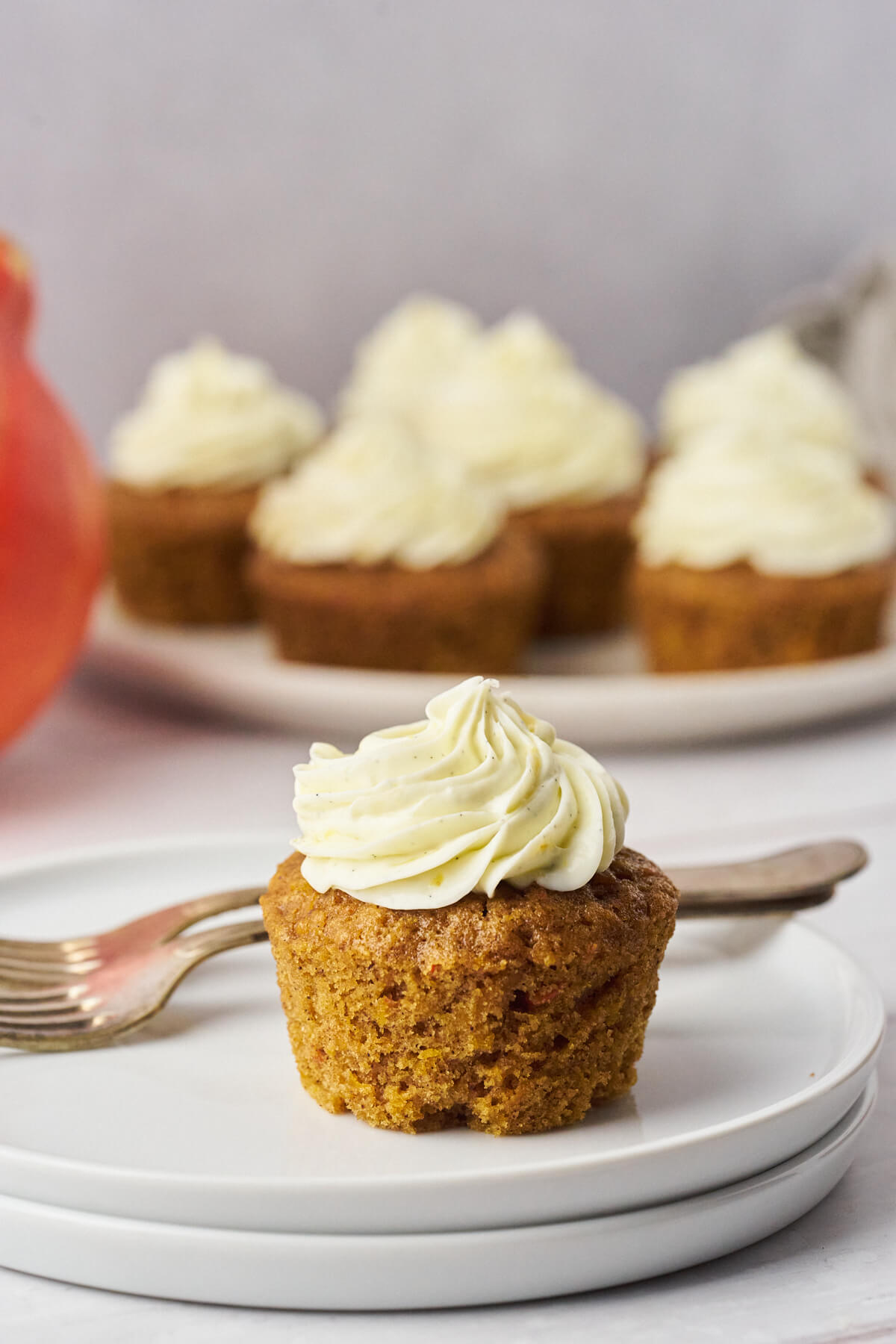 Ingredient notes
For the muffin batter, you will need:

Brown sugar – Provides a rich and deep flavor to the cake.

Butter – Makes the cake delicious and moist. I use unsalted butter, but you can also use salted butter and reduce the amount of salt in the recipe.

Eggs – Regular fresh eggs; you need the whole egg here.

Vanilla – Use vanilla bean seeds or opt for vanilla paste if you prefer. You'll need about 1 teaspoon per vanilla bean. You can also use one tablespoon less brown sugar and instead add one tablespoon of vanilla sugar if that's what you have at home.

Salt – Salt is important in this batter to give it the right flavor and balance.

Cardamom, Cloves, and Cinnamon – Delicious autumn spices that are crucial in these muffins, so don't skip them.

Baking Powder – Important for the muffins to rise properly.

All-purpose Flour – Regular all-purpose flour. Use what you have at home.

Hokkaido Pumpkin – Pumpkin is, of course, the star of this recipe. You can buy Hokkaido pumpkins in most supermarkets during the season. Simply wash the pumpkin well, remove the seeds in the middle, and grate the flesh. You don't need to peel your pumpkin; just buy an organic Hokkaido pumpkin, and you can grate the skin too.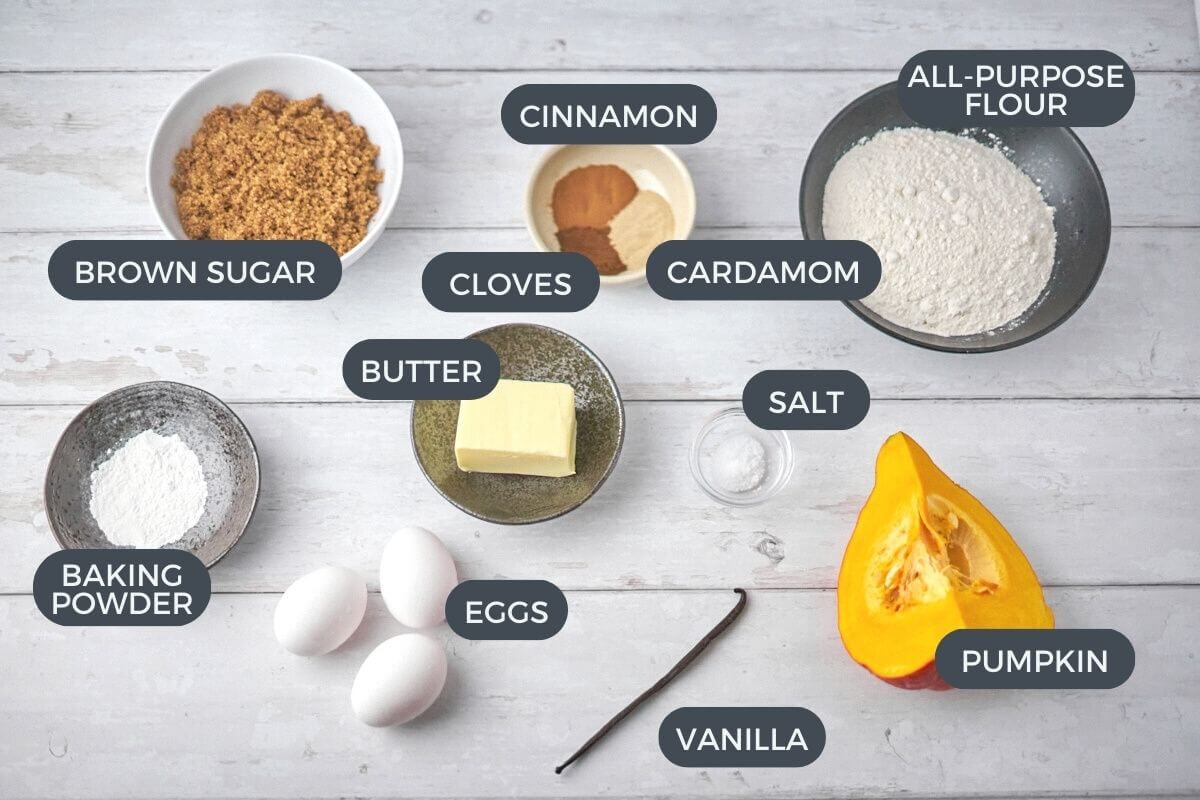 For your cream cheese frosting, you will need (NOTE: the quantities in the picture are different from those in the recipe, as I did not make frosting for all 12 muffins at once. If you follow the recipe at the bottom of the page, you will, of course, have enough frosting for all 12 muffins):

Cream Cheese – For example, Philadelphia or similar. Avoid choosing a light product, as the frosting may become too thin.

Powdered Sugar – Regular powdered sugar to sweeten the cream.

Lemon – I use lemon zest. You can also add a little lemon juice for extra tartness, but be careful not to make the frosting too thin.

Vanilla – The seeds from a vanilla bean or you can use vanilla paste instead. You can also replace one tablespoon of powdered sugar with one tablespoon of vanilla sugar.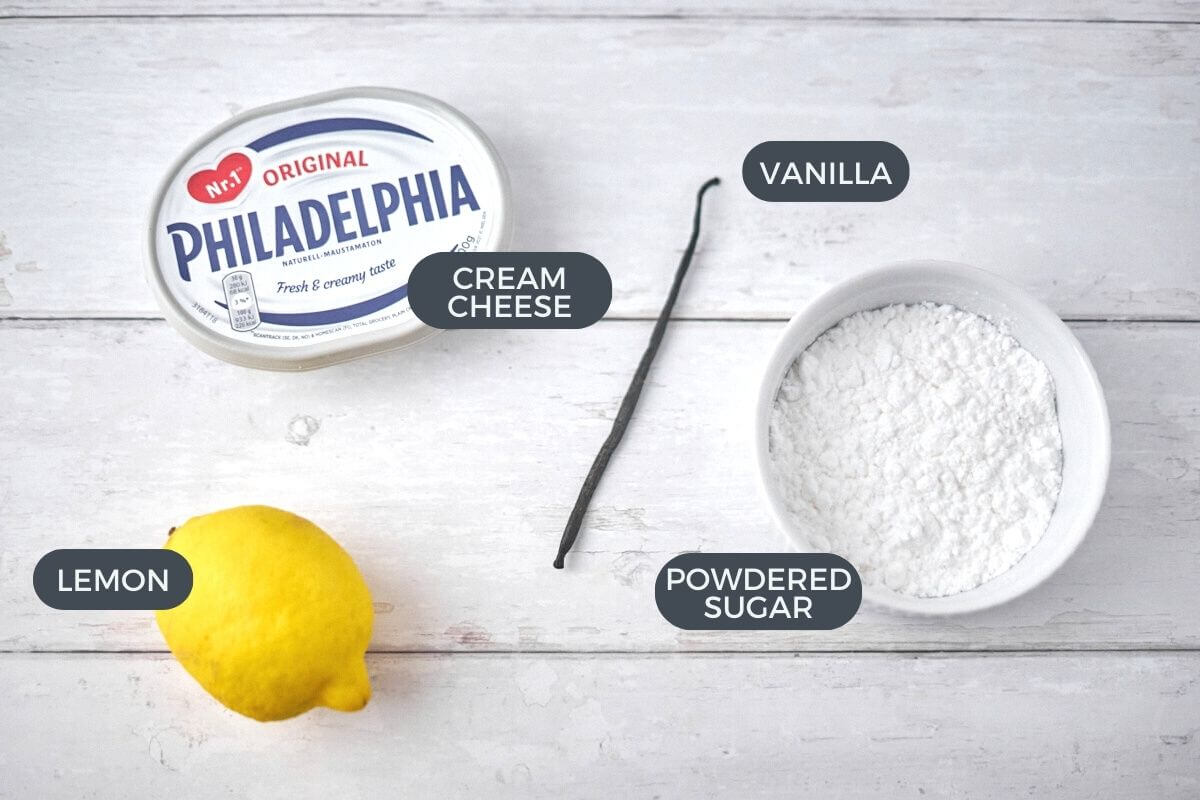 How to make pumpkin cupcakes?
The recipe here is quite simple. If you've ever made carrot cake, it's a similar process.

It's a delicious and spiced cake batter with warm spices, absolutely perfect for autumn, and then a creamy topping with cream cheese. Here's how you do it.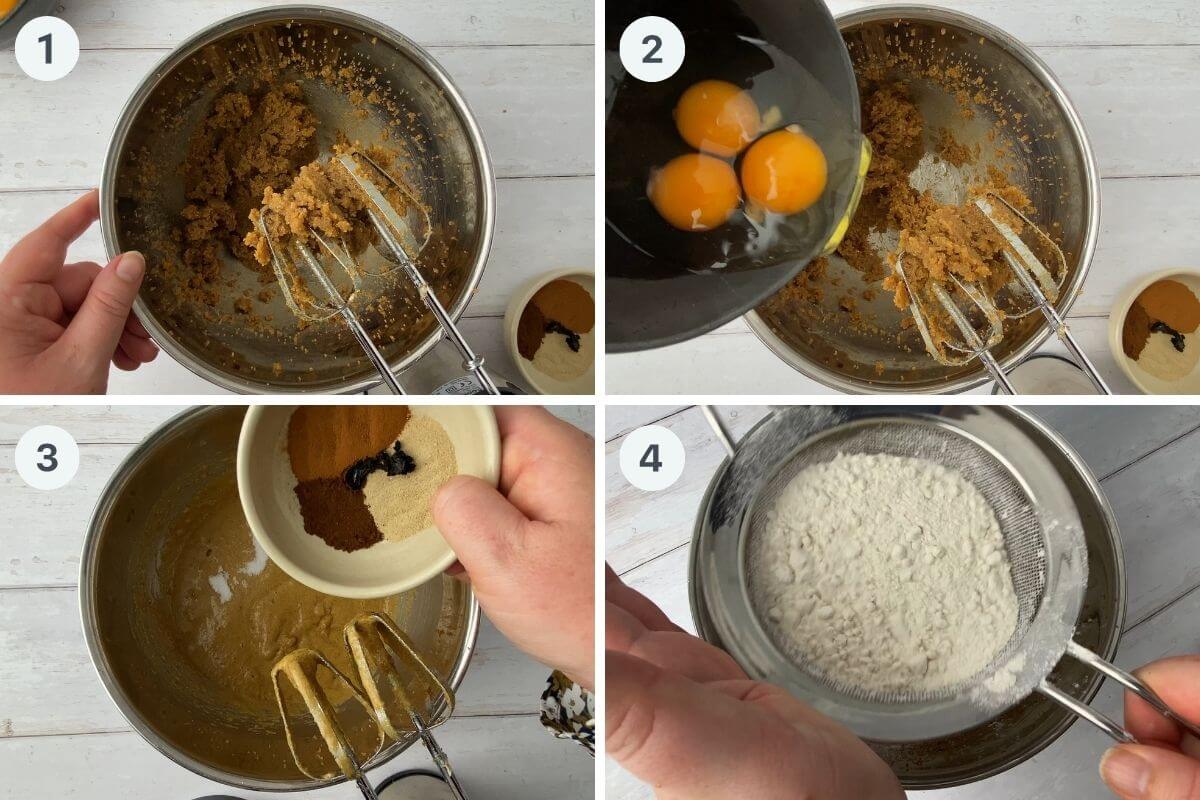 Beat soft butter and brown sugar together with an electric mixer or in a stand mixer.
Beat in the eggs one at a time, and mix well between each egg.
Add salt, cinnamon, cardamom, cloves, and the seeds from the vanilla bean. Mix them into the batter.
Sift baking powder and all-purpose flour into the batter. It's important to sift to avoid lumps in the batter and in the finished muffins.

Grate the Hokkaido pumpkin on the coarse side of a grater and add it to the flour mixture. If there is a lot of liquid in the pumpkin, it's a good idea to squeeze the liquid out of the pumpkin flesh before adding it.
Mix the batter thoroughly until all the flour is incorporated, and the pumpkin is evenly distributed.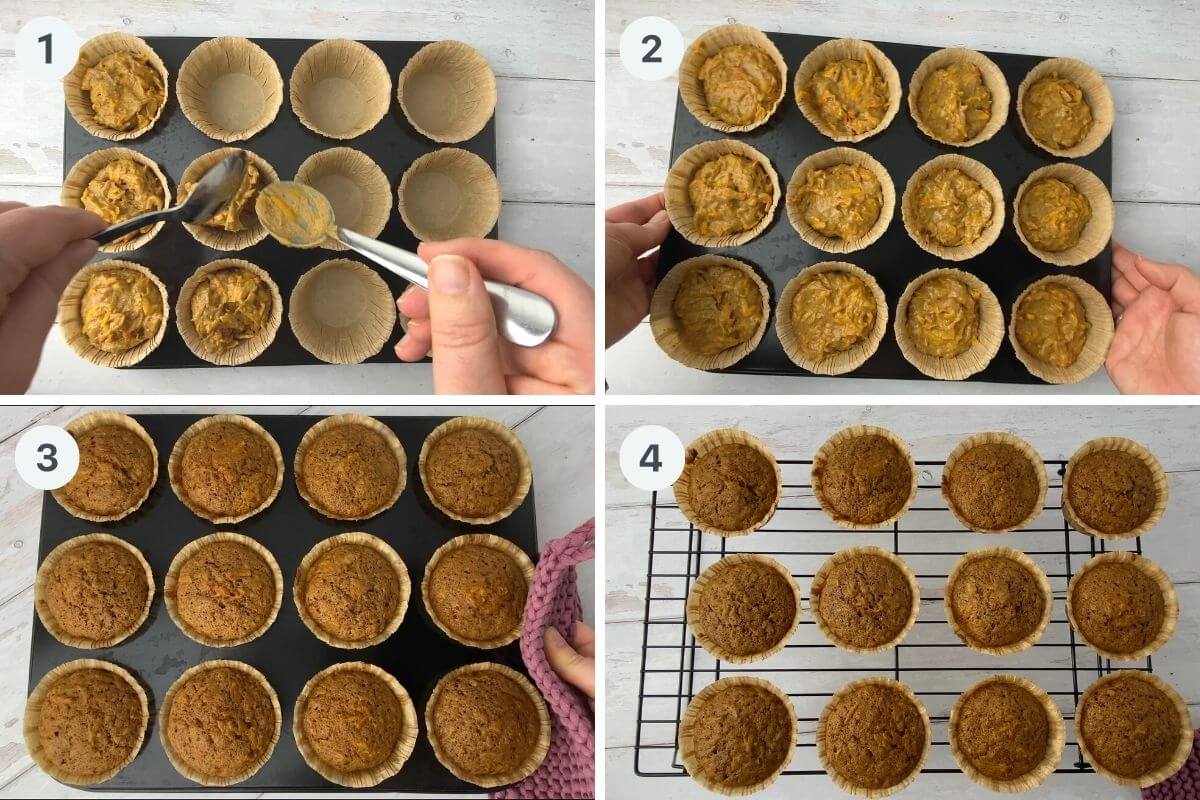 Divide the batter into 12 muffin cups. It's important not to fill the cups all the way to the top since they will rise during baking. Fill them up to about 2/3 full. I find that the amount of batter is perfect for 12 muffins, and I use slightly larger American-style muffin cups. If you use smaller cups, you may get more muffins.
Place your muffins in the oven and bake for about 20 minutes.
Check with a toothpick that no batter sticks when the baking time is up; then, they are done. Remove them from the oven.
After 5 minutes, you can transfer your muffins to a cooling rack to cool down. You can't decorate them with cream cheese frosting until they are cold.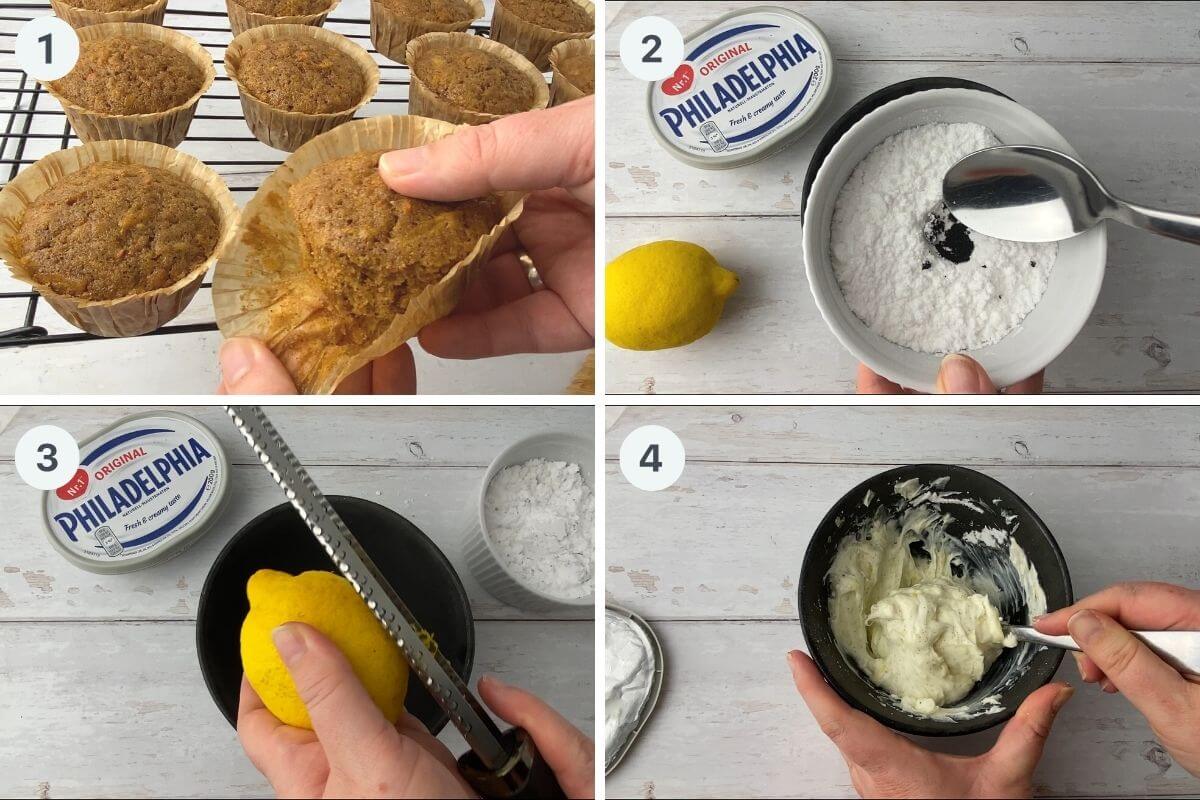 You can choose to remove the muffin liners or leave them on; it's entirely up to you. When I serve them at home with frosting on top, I often remove the liners for easy eating with a fork. If I'm taking them somewhere, I sometimes leave the liners on.
Now, let's make the frosting. Start by mixing the vanilla bean seeds with powdered sugar. NOTE: In the pictures, I'm making frosting for only 8 muffins because we can't eat all 12 at once. Therefore, the quantities in the pictures may look smaller than those in the recipe. When you follow the recipe here on the page, you will, of course, have enough frosting for all 12 muffins.
Finely grate the lemon zest.
Combine cream cheese and powdered sugar with the lemon zest and mix everything well. Don't add more powdered sugar than what's stated in the recipe, as it will make your frosting too thin. You can optionally adjust the frosting by adding a little lemon juice, but again, be cautious not to make it too thin.

Place the cream cheese frosting in a piping bag with a star tip.
Pipe the frosting on top of your muffins, and they are ready to be served.
Find the full recipe further down this page.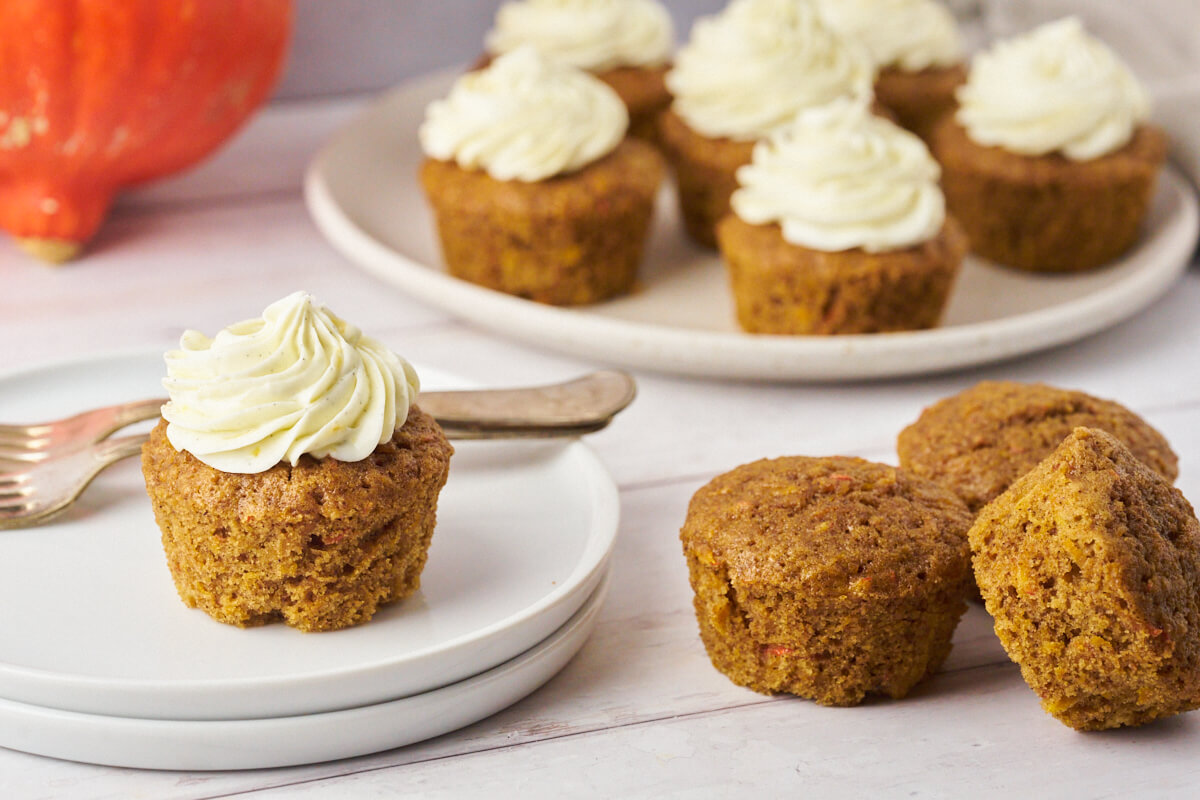 Frequently asked questions
Can pumpkin cupcakes be frozen?
Yes, you can freeze pumpkin muffins. I recommend freezing them without the frosting on top since it doesn't freeze well. Let your muffins thaw before decorating them with frosting.

Other recipes you might like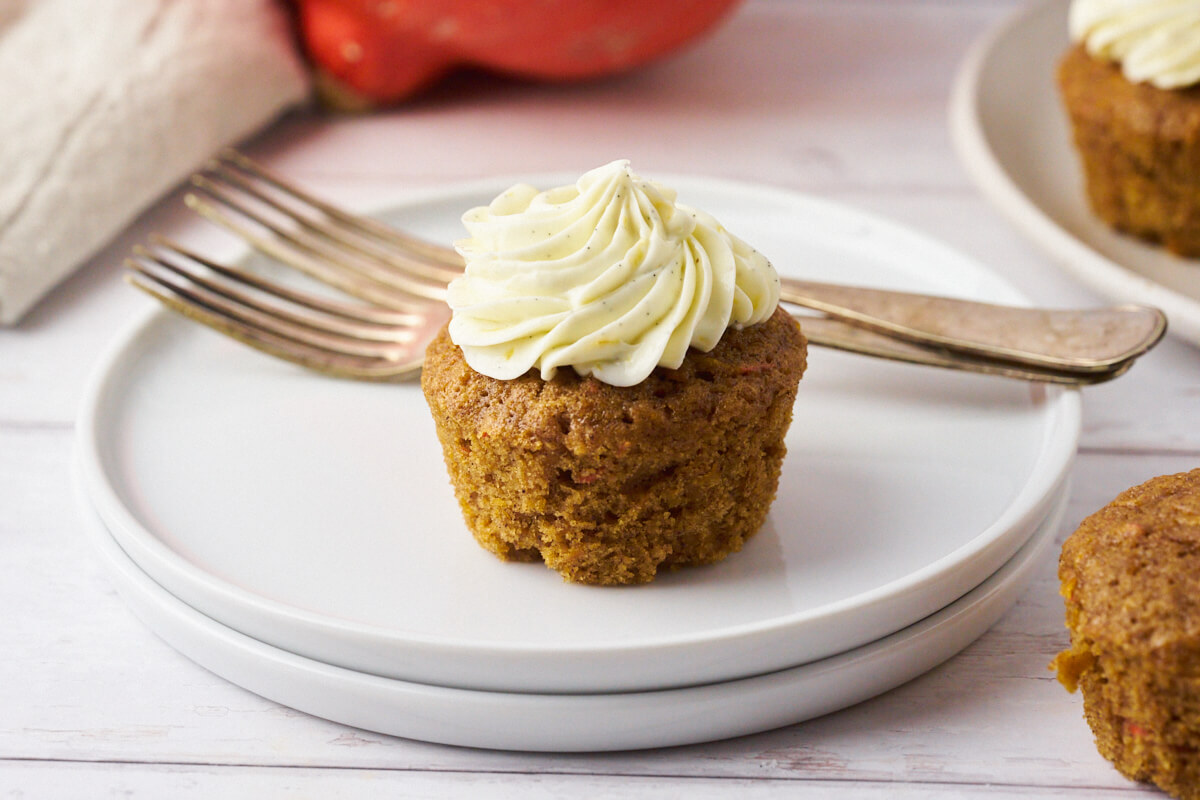 Tips and tricks for the recipe
Is there a lot of liquid in your grated pumpkin flesh? Then, it's a good idea to squeeze it in a clean kitchen towel before adding it to the batter; otherwise, your muffins might become too moist.
Serving suggestions
Serve the pumpkin cupcakes as a delightful autumn treat for afternoon coffee or a nice cup of tea or hot cocoa.
Make them with some spooky decorations for Halloween; they're perfect Halloween muffins, and both adults and kids love them at our house.
Do you have any leftover pumpkin?

Try our recipe for Hokkaido pumpkin fries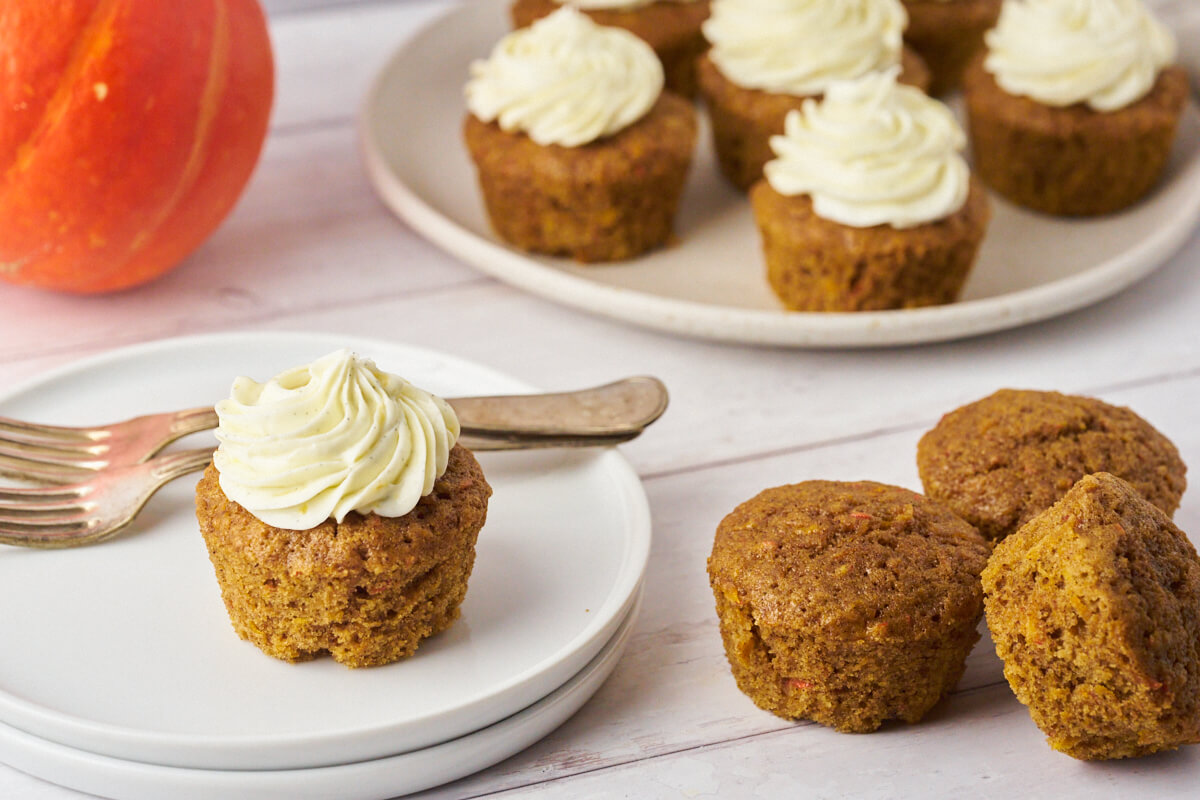 Recipe for Hokkaido Pumpkin Muffins
Here's our recipe for deliciously moist pumpkin muffins with creamy cream cheese frosting.

They taste fantastic, and kids can decorate them however they like. For example, you can add a bit of food coloring to the frosting to make it orange if you're using these muffins for Halloween, or you can decorate with some spooky sprinkles.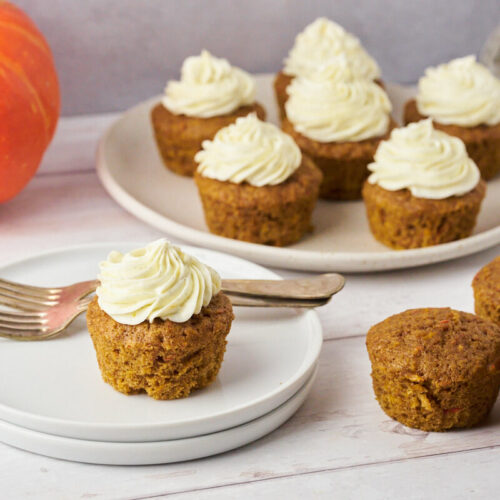 Pumkpin Cupcakes
Recipes for pumpkin cupcakes
Delicious muffins with Hokkaido pumpkin and cream cheese frosting on top. It's a delightful little cupcake that you can serve for Halloween or simply as a lovely treat during the autumn season.
Ingredients  
200

g

brown sugar

90

g

butter

softened

3

eggs

1

vanilla bean

½

tsp

salt

½

tsp

ground cloves

1

tsp

ground cardamom

1

tsp

ground cinnamon

1.5

tsp

baking powder

200

g

all-purpose flour

300

g

Hokkaido pumpkin

coarsely grated
Topping:
300

g

cream cheese

neutral

75

g

powdered sugar

1

vanilla bean

1

lemon

zest from it
Instructions 
Preheat the oven to 180 degrees Celsius (350 degrees Fahrenheit) on conventional oven mode.

Beat the softened butter and brown sugar thoroughly using an electric mixer. Then, add the eggs one at a time, mixing well between each egg. Next, add the salt and all the spices, including the vanilla seeds from the vanilla bean. Sift the baking powder and all-purpose flour into the batter, and add the coarsely grated Hokkaido pumpkin. Mix the batter until it's smooth.

200 g brown sugar,

90 g butter,

3 eggs,

1 vanilla bean,

½ tsp salt,

½ tsp ground cloves,

1 tsp ground cardamom,

1 tsp ground cinnamon,

1.5 tsp baking powder,

200 g all-purpose flour,

300 g Hokkaido pumpkin

Place the batter into muffin cups, filling them about 2/3 full, and bake them in the oven at 180 degrees Celsius (350 degrees Fahrenheit) for 20 minutes. Insert a skewer or fork into them to check that no batter sticks when you remove it.

Allow your muffins to cool completely before decorating them with frosting.
Topping:
Mix cream cheese, powdered sugar, vanilla seeds from the vanilla bean, and lemon zest together. Put the cream cheese mixture in a piping bag with a tip and pipe the frosting, or use a palette knife to spread the frosting on the cakes.

300 g cream cheese,

75 g powdered sugar,

1 vanilla bean,

1 lemon

Serve the cakes immediately or store them in the refrigerator after they are decorated.
Nutrition
Serving:
1
cupcake
Calories:
320
kcal
Carbohydrates:
40
g
Protein:
5
g
Fat:
16
g
Saturated Fat:
9
g
Polyunsaturated Fat:
1
g
Monounsaturated Fat:
4
g
Trans Fat:
0.3
g
Cholesterol:
82
mg
Sodium:
299
mg
Potassium:
194
mg
Fiber:
1
g
Sugar:
24
g
Vitamin A:
927
IU
Vitamin C:
8
mg
Calcium:
90
mg
Iron:
1
mg
How do you like the recipe?
Have you tried this recipe? We'd love to hear what you think of it. Leave a comment, add a number of stars to the recipe and share your photo on Instagram with #madformadelskere – We love seeing your dishes ♥️
Also, sign up for our Facebook group where you can show pictures of the delicious food you make! You can find the Facebook group here