Greek Pastitsio, or Greek lasagna, is simply one of the best dishes! A layer of macaroni with a delicious and flavorful meat sauce, topped with gratinated béchamel sauce, it doesn't get much better than that! Try our recipe for this classic Greek dish here.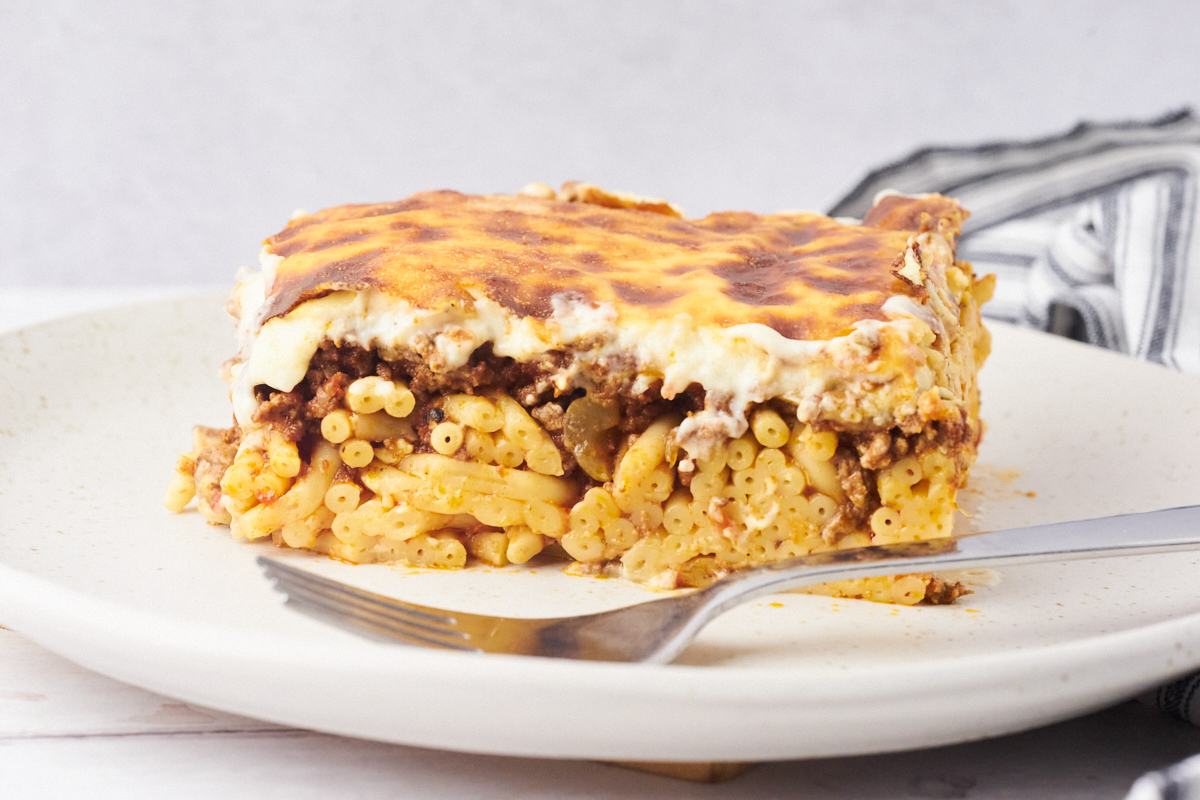 Heading to Greece
I love Greece! The food, the country, the climate, and the smiling and friendly people are some of the things that make Greece one of my favorite travel destinations.

The food itself is something truly special. Plenty of fresh ingredients and spices fused into traditional and historical recipes that date back centuries. What comes out of it, for me, is some of the best dishes in the world. When you mention Greek food, most people immediately think of gyros, and it's also one of my favorites, but there are so many other dishes that deserve recognition.

Pastitsio is Greece's answer to lasagna, but with those unique Greek flavors. I'm thinking mainly of cinnamon, allspice, and cloves, but also oregano. Combined with the other ingredients in the dish, you have a truly delicious meal that can remind you a bit of Moussaka.

If you've never heard of Greek lasagna before but are eager to try making the recipe, you should go for it. It tastes really good, and even though there's a bit of manual labor involved, with the meat sauce, béchamel, etc., it's all worth it when you taste the final result.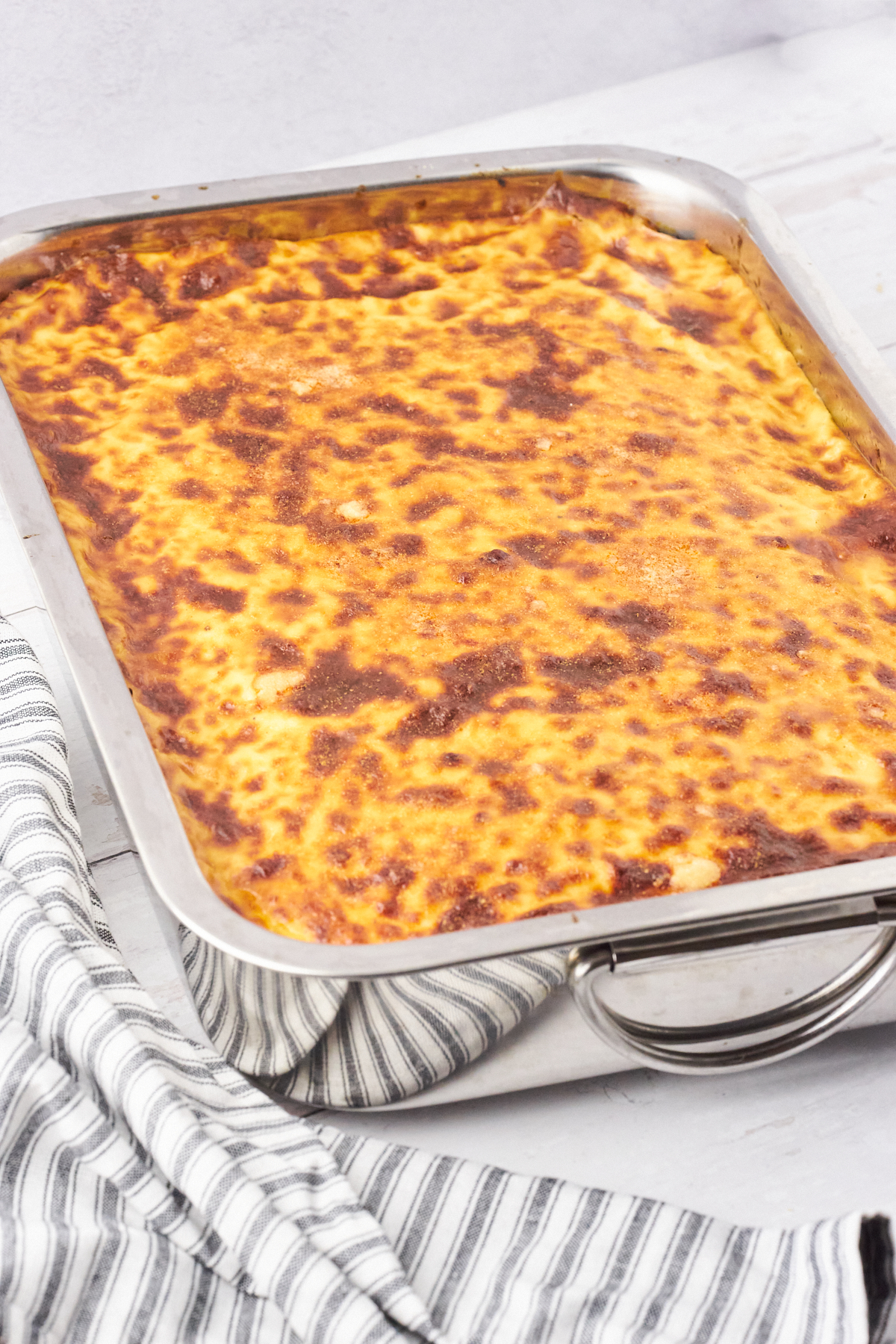 Ingredient notes
There are quite a few ingredients in Pastitsio, and here, I'll briefly go over the most important ones.

Macaroni – I use macaroni; originally, a pasta called pastitsio is used, but macaroni is a fine alternative and is something we can buy here in Denmark.

Kefalotyri/Parmesan – I use Parmesan as a substitute for Greek Kefalotyri cheese. Buy one you can grate yourself; they taste a bit better than the powdered variety.

Egg whites – Egg whites are used to bind the macaroni together in the finished Pastitsio.

Ground beef – Can be replaced with ground lamb. Aim for meat with a fat percentage over 7.

Red wine – Red wine is used a lot in Greek cuisine. It adds depth and acidity to the meat sauce. I would choose a relatively dry red wine.

Spices – Bay leaves, oregano, allspice, cloves, cinnamon sticks. Classic Greek spices that appear in many dishes.

Beef stock cube – Provides good depth and salty flavor. Can be replaced with more salt. I would add an extra 1.5 teaspoons of salt if skipping the stock.

Salt & pepper – Classic seasonings. The meat sauce requires quite a bit of salt, but season to your taste. I season generously because the dish as a whole can handle it.

Sugar – Sugar is needed to balance the acidity from the red wine and tomatoes.

All-purpose flour – A staple for any roux. Use regular all-purpose flour.

Butter – The other part of a roux, with flour being the first. Roux is the base for béchamel sauce.

Nutmeg – Grated or ground. A classic spice for béchamel.

Egg yolks – Egg yolks add richness to the béchamel and help it set when baked.
How to make Pastitsio?
Here's a quick overview of how you can make the best Greek lasagna from scratch.

In a large pot, brown the meat over high heat before adding onions and garlic and sautéing them. Add the rest of the ingredients, and the sauce should simmer without a lid for about 1 hour.

While the meat sauce simmers, cook the macaroni according to the package instructions.

Prepare the béchamel sauce simultaneously. Melt the butter in a saucepan, then add the flour and whisk while gradually adding milk. Add the remaining ingredients, and set the sauce aside.

Grease a large baking dish with oil. Place the cooked macaroni in a bowl and add Parmesan, beaten egg whites, and a few deciliters of meat sauce. Mix thoroughly and spread it in the bottom of the dish.

Next, spread the meat sauce, which should have had the cinnamon sticks and bay leaves removed, evenly over the cooked macaroni. Now, spread the béchamel sauce evenly over the meat sauce layer and finish by sprinkling with grated Parmesan.

Place the dish in the preheated oven and bake for about 1 hour before removing it. Let the finished dish rest before cutting it and serving.

Find the full recipe further down this page.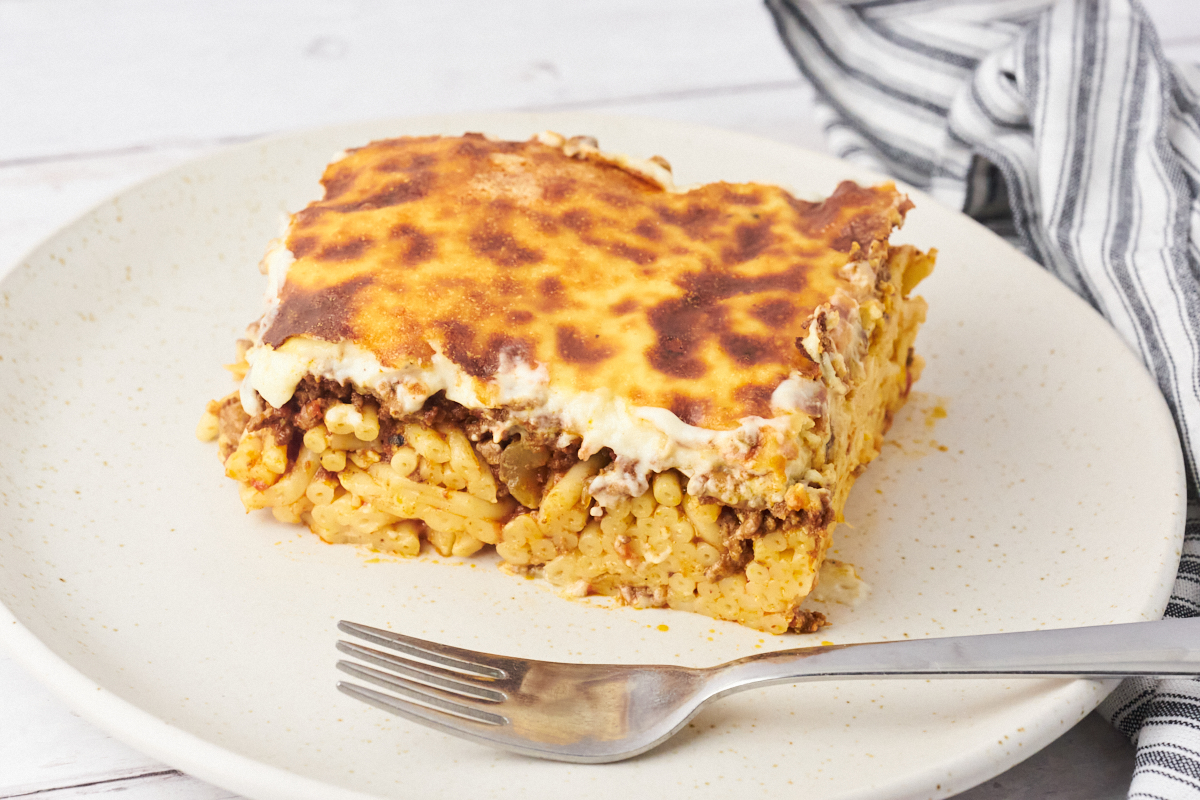 Frequently asked questions
Can you freeze the leftovers?
Yes, it freezes well. Cut it into portions and freeze in small containers.

How do you store the leftovers?
Leftovers can be refrigerated for up to 3 days or frozen for longer shelf life.
Can I use something other than ground beef?
Yes, try using ground lamb if you can find it.
Other greek recipes you might like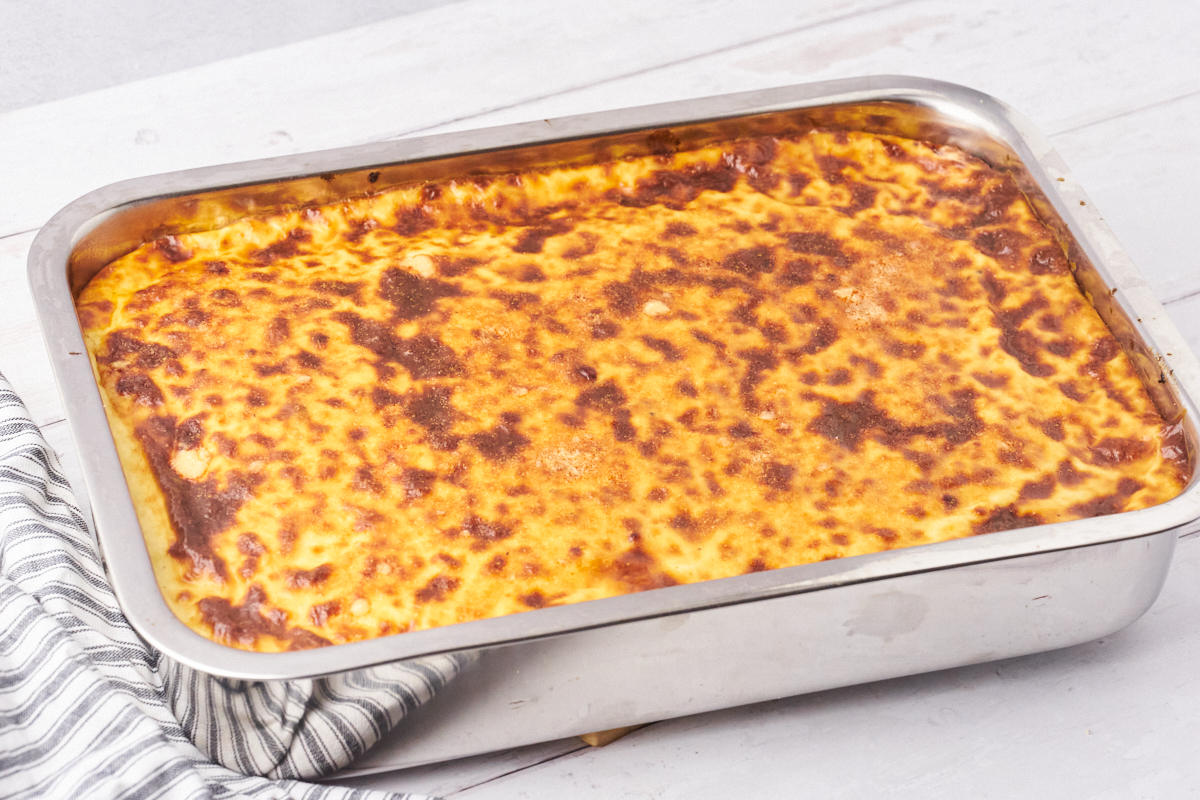 Tips and tricks for the recipe
Let the dish rest before slicing and serving. This allows it to set and become easier to cut.
Taste as you go. The dish can handle more salt than you might think.
Make the Greek meat sauce the day before. It allows the flavors to meld even more.
Serving suggestions
Serve Greek lasagna with a fresh Greek salad.
Do you love this recipe?

You should also try our recipe for greek spinach pie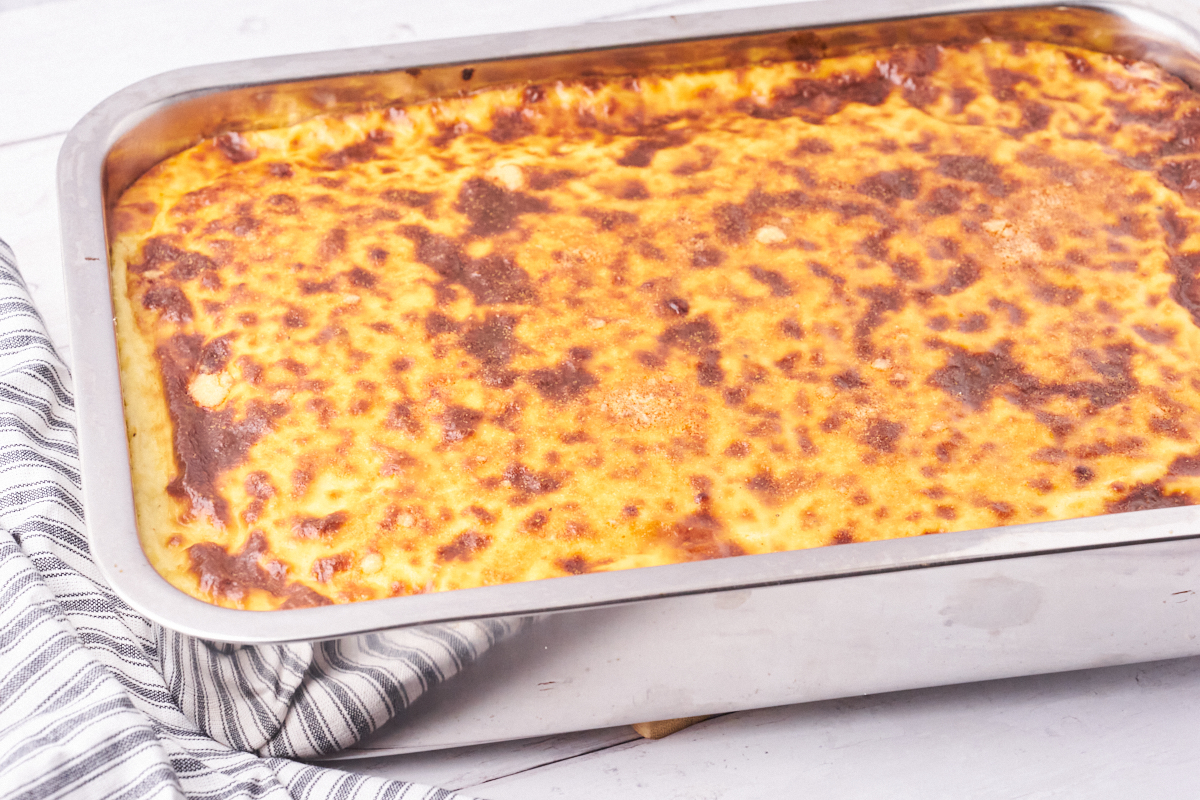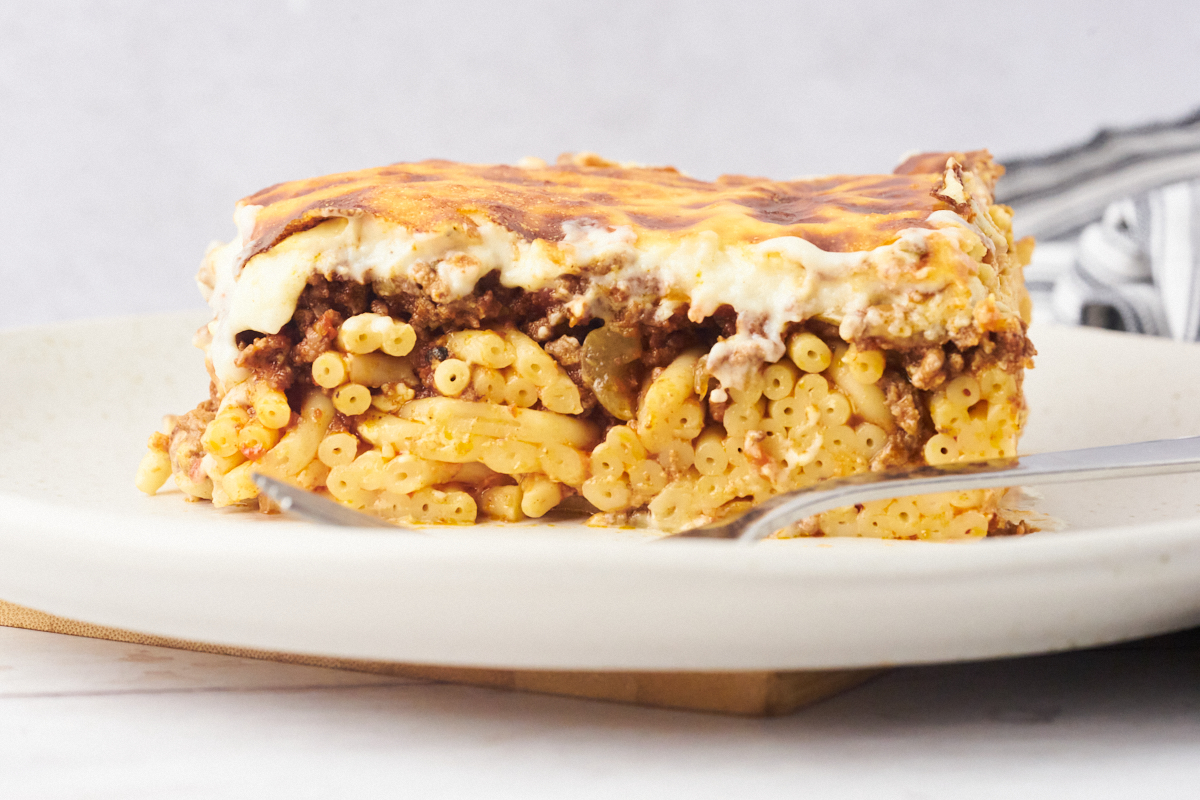 Recipe for Greek Lasagna
Here's our recipe for authentic Greek lasagna. It's bursting with the familiar Greek flavors, and it just tastes great.

If you love Greek food and have never tried Pastitsio, it's time to get into the kitchen and treat your family to the taste of Greece.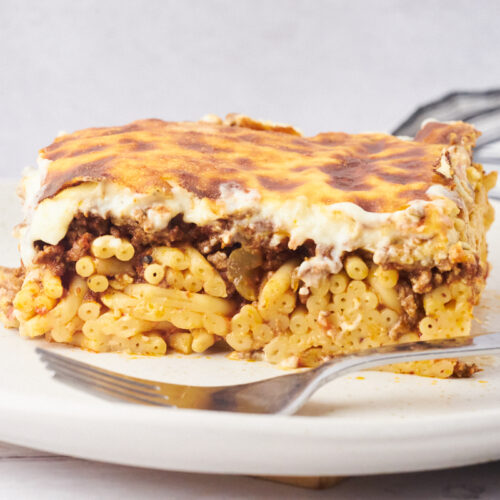 Pastitsio – Greek Lasagna
Recipe for Pastitsio
A classic Greek lasagna with macaroni, flavorful meat sauce, and a delicious creamy béchamel sauce. Serve it with a Greek salad.
Ingredients  
400

g

macaroni

50

g

parmesan cheese

3

egg whites
Meat Sauce:
4

tbsp

olive oil

800

g

ground beef

1

onion

3

cloves

garlic

3

tbsp

tomato paste

2.5

deciliters

red wine

1.5

deciliters

water

2

cans

chopped tomatoes

2

bay leaves

2

tsp

oregano

¼

tsp

ground allspice

¼

tsp

ground cloves

2

cinnamon sticks

1

beef stock cube

2

tsp

sugar

1.5

tsp

salt

or to taste

Pepper
Béchamel:
100

g

all-purpose flour

100

g

butter

100

g

parmesan cheese

¼

tsp

nutmeg

or to taste

1.5

tsp

salt

Pepper

1

liter

milk

possibly a bit extra to thin it if it becomes too thick

3

egg yolks
Instructions 
Meat Sauce:
In a large pot, heat the olive oil. Add the ground meat and brown it over high heat.

4 tbsp olive oil,

800 g ground beef

Once the meat is browned, add the chopped onions and minced garlic. Sauté them with the meat until the onions become translucent. Add the tomato paste and sauté for about 1 minute.

1 onion,

3 cloves garlic,

3 tbsp tomato paste

Then, add the red wine, water, chopped tomatoes, bay leaves, oregano, allspice, cloves, cinnamon sticks, beef stock, salt, pepper, and sugar. Stir and bring it to a boil. Reduce the heat and let the sauce simmer uncovered for about 1 hour over low heat.

2.5 deciliters red wine,

1.5 deciliters water,

2 cans chopped tomatoes,

2 bay leaves,

2 tsp oregano,

¼ tsp ground allspice,

¼ tsp ground cloves,

2 cinnamon sticks,

1 beef stock cube,

1.5 tsp salt,

Pepper,

2 tsp sugar

While the sauce simmers, prepare the béchamel sauce and macaroni.

When the sauce is done simmering, taste it one last time, turn off the heat, and remove the bay leaves and cinnamon sticks.
Béchamel Sauce and Macaroni:
While the sauce is simmering, prepare the béchamel sauce and macaroni:

Bring a pot of generously salted water to a boil. Add the macaroni and cook it according to the package instructions. When it's al dente, drain it in a colander and set it aside.

In another large saucepan with a thick bottom, melt the butter. Add the flour and sauté it over medium heat for about 1 minute. Gradually whisk in the milk.

100 g all-purpose flour,

100 g butter,

1 liter milk

Once all the milk is whisked in and the sauce is thick and creamy, lightly whisk 3 egg yolks in a bowl. Add about 1 deciliter of the hot sauce to the egg yolks while whisking, then pour it back into the sauce while stirring.

Add the Parmesan, salt, pepper, and grated nutmeg to the sauce. Taste it once more. Reduce the heat to low and let it sit until needed.

100 g parmesan cheese,

1.5 tsp salt,

Pepper,

¼ tsp nutmeg
Assembly and Cooking:
Preheat the oven to 190 degrees Celsius (375 degrees Fahrenheit), using both upper and lower heat.

In a large bowl, beat the egg whites. Add the slightly cooled macaroni, about 2 deciliters of the finished meat sauce, and half of the grated Parmesan. Mix it thoroughly. Once mixed, transfer it to an oiled baking dish, approximately 35 x 24 x 7 cm (14 x 9.5 x 2.75 inches).

Spread the remaining meat sauce over the macaroni and level the surface. Now, distribute the béchamel sauce over the meat sauce and level it again. I typically use a pastry scraper for this.

Finish by spreading the remaining grated Parmesan over the béchamel sauce layer. Place the dish in the preheated oven and bake at 190 degrees Celsius (375 degrees Fahrenheit) for 50 minutes to 1 hour. You can increase the heat towards the end if you feel it needs more color on top.

Once it's done, remove it from the oven and let it rest for 30 minutes before cutting and serving.
Notes
Preparation:
Try to time it so that all the individual parts finish at the same time. That being said, you can certainly make the meat sauce the day before to save time.
Nutrition
Serving:
1
person
Calories:
880
kcal
Carbohydrates:
64
g
Protein:
40
g
Fat:
49
g
Saturated Fat:
21
g
Polyunsaturated Fat:
3
g
Monounsaturated Fat:
20
g
Trans Fat:
2
g
Cholesterol:
199
mg
Sodium:
1712
mg
Potassium:
966
mg
Fiber:
4
g
Sugar:
13
g
Vitamin A:
991
IU
Vitamin C:
12
mg
Calcium:
485
mg
Iron:
5
mg
How do you like the recipe?
Have you tried this recipe? We'd love to hear what you think of it. Leave a comment, add a number of stars to the recipe and share your photo on Instagram with #madformadelskere – We love seeing your dishes ♥️
Also, sign up for our Facebook group where you can show pictures of the delicious food you make! You can find the Facebook group here