Soft, sweet, and perfectly caramelized. Here's our recipe for the world's best caramelized onions. They're the prominent accompaniment to a delicious Danish beef patty with new potatoes and plenty of gravy. Read on and see how easy it is to make these sauteed sweet onions.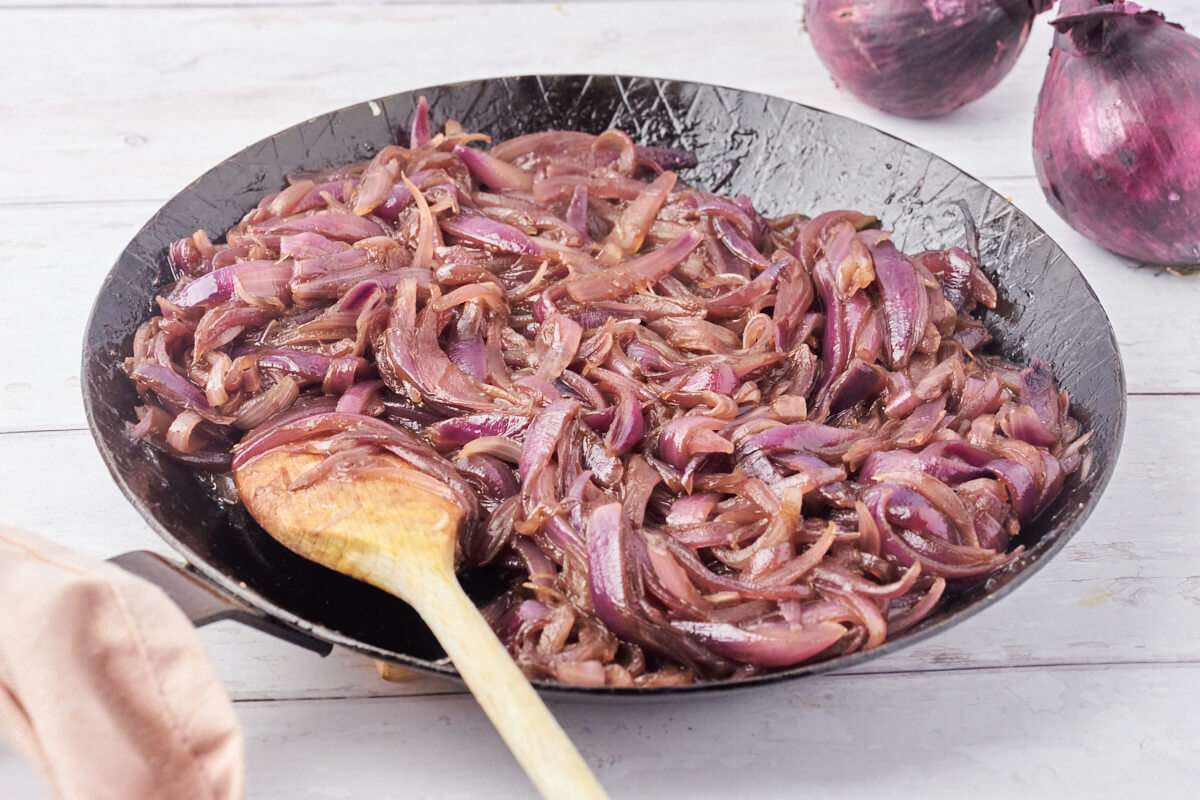 The best sauteed onions
There's something delightful about caramelized onions, from the aroma that fills the kitchen to serving them as a side dish to a tasty Danish beef patty, in a cowboy toast, or as a filling for a good homemade burger.

There are many ways to make sauteed/caramelized onions. The method used here is "low and slow," meaning low temperature and slow cooking. I believe this gives the best result, but if you're in a hurry, you can certainly increase the temperature. Just make sure to keep a close eye on them to prevent burning.

Consider this a basic recipe for caramelized onions, and from here, you can add all sorts of spices and adjust the flavor to your liking. Try adding Thyme!

Thyme loves onions, and adding a teaspoon of dried thyme to the onions at the beginning gives it a whole new version. You can also try adding beer or apple juice and let the liquid evaporate; that also imparts a good flavor.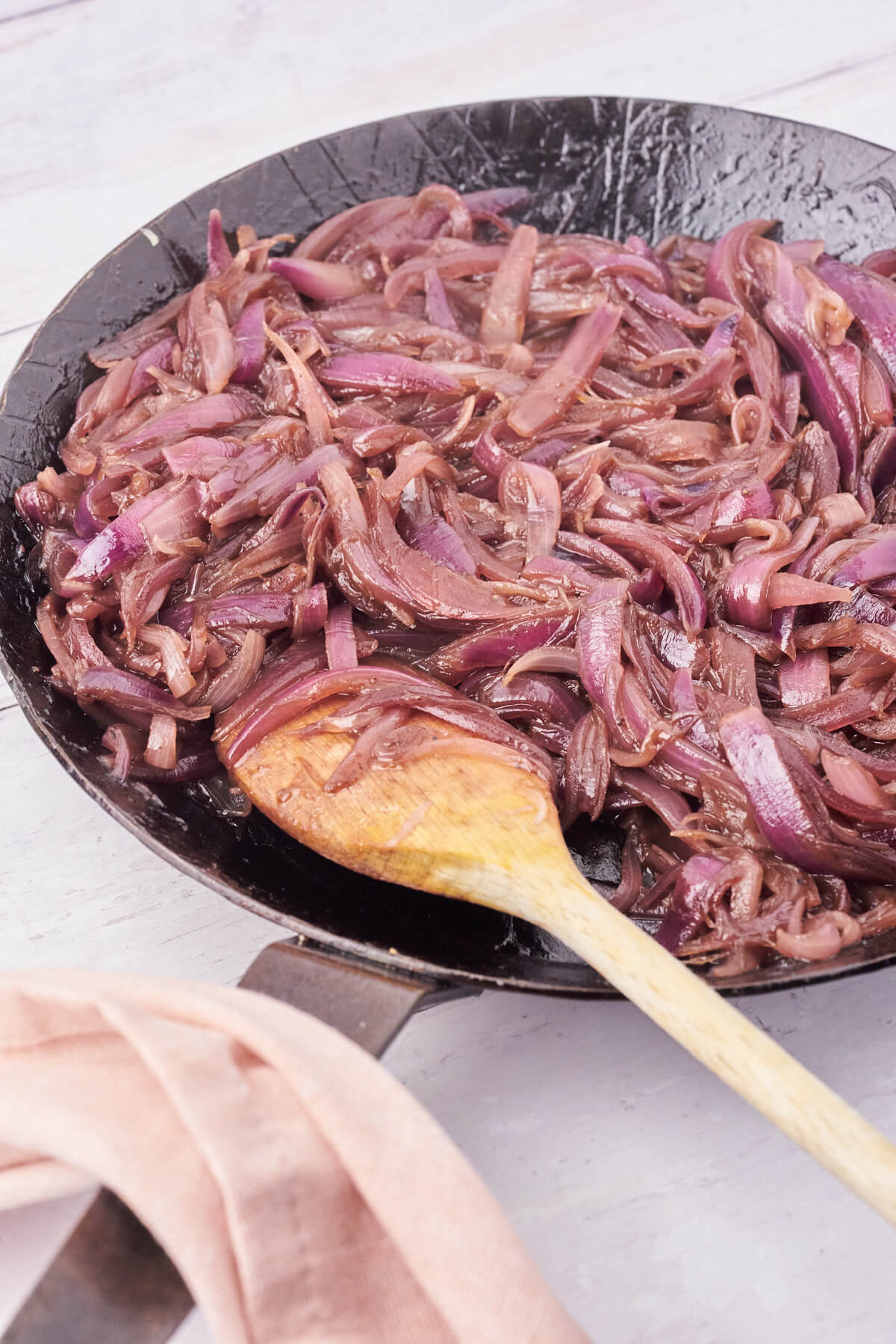 Ingredient notes
Onions – I've used red onions in this recipe, but you can easily use regular onions instead.

Balsamic Vinegar – Balsamic vinegar adds a nice acidity to the onions, which you then balance with brown sugar.

Worcestershire sauce – Worcestershire sauce adds extra flavor.

Brown Sugar – It adds sweetness to the onions and balances the acidity from balsamic vinegar and English sauce.
How to make caramelized onions?
Here's a brief overview of how you can make the best sweet onions in the world. There's a bit of preparation involved in peeling onions, but once that's done, it's smooth sailing!

The peeled and sliced onions are cooked over low heat in a large pan. When the onions start to become translucent, add salt and pepper. Continue sautéing the onions over low heat, then add the rest of the ingredients. Now, cook the onions until they're done and have become fully caramelized.

The onions are now ready to be served. They can be stored in the fridge or frozen for later use.

Find the full recipe further down this page.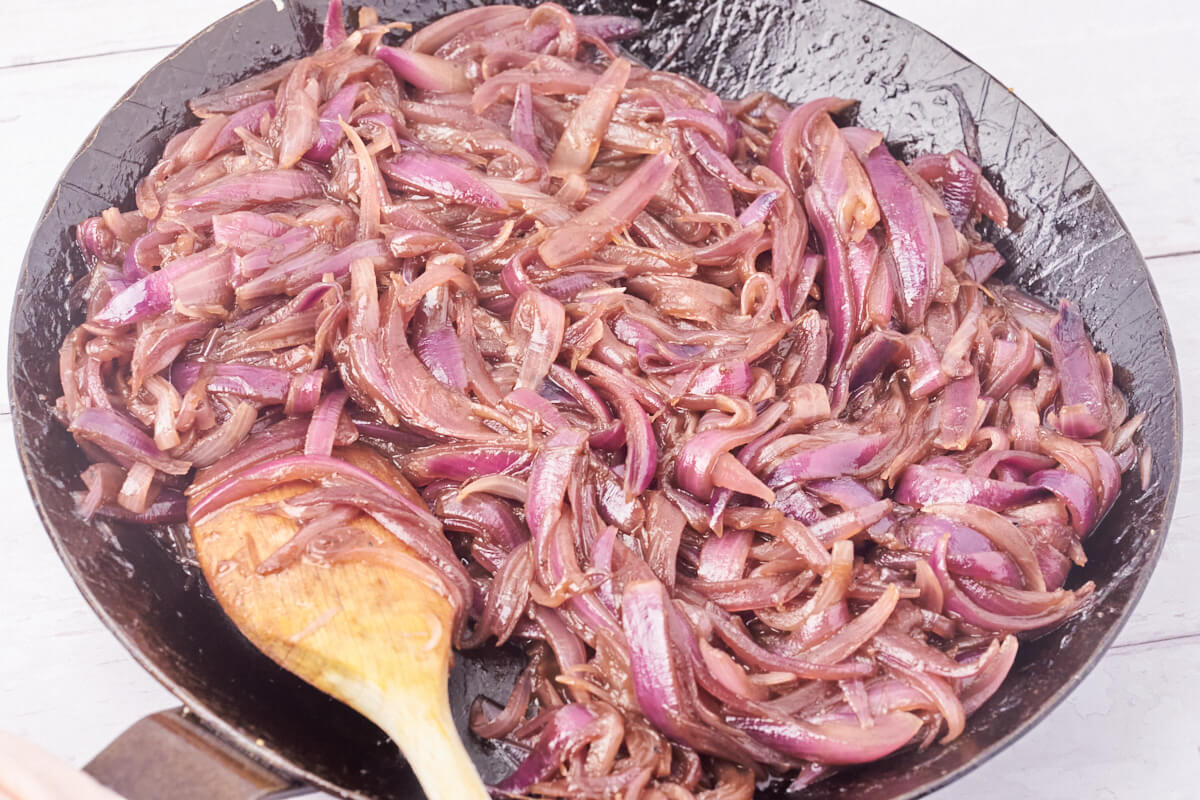 Frequently asked questions
How to store the onions?
The cooked onions should be stored in the refrigerator. They can last for about 4 days, so you can make them well in advance.

Can caramelized onions be frozen?
Yes! Freeze them in small portions, so you can easily take out a bit when needed.
Other side dishes you might like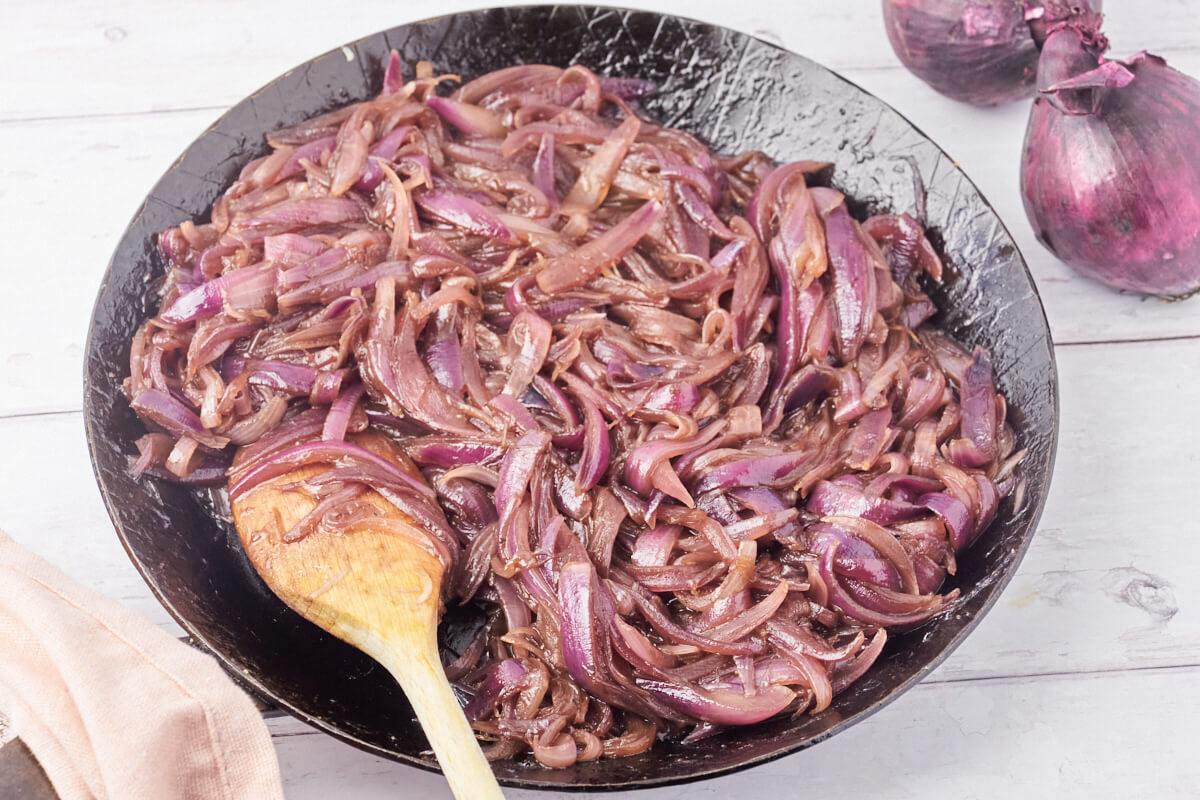 Tips and tricks for the recipe
Making perfect soft onions takes time! Cooking them over low heat for a long time yields the best result. The onions should become translucent, but they shouldn't take on color. Keep a close eye on them and start early. They only get better by simmering over low heat.
Serving suggestions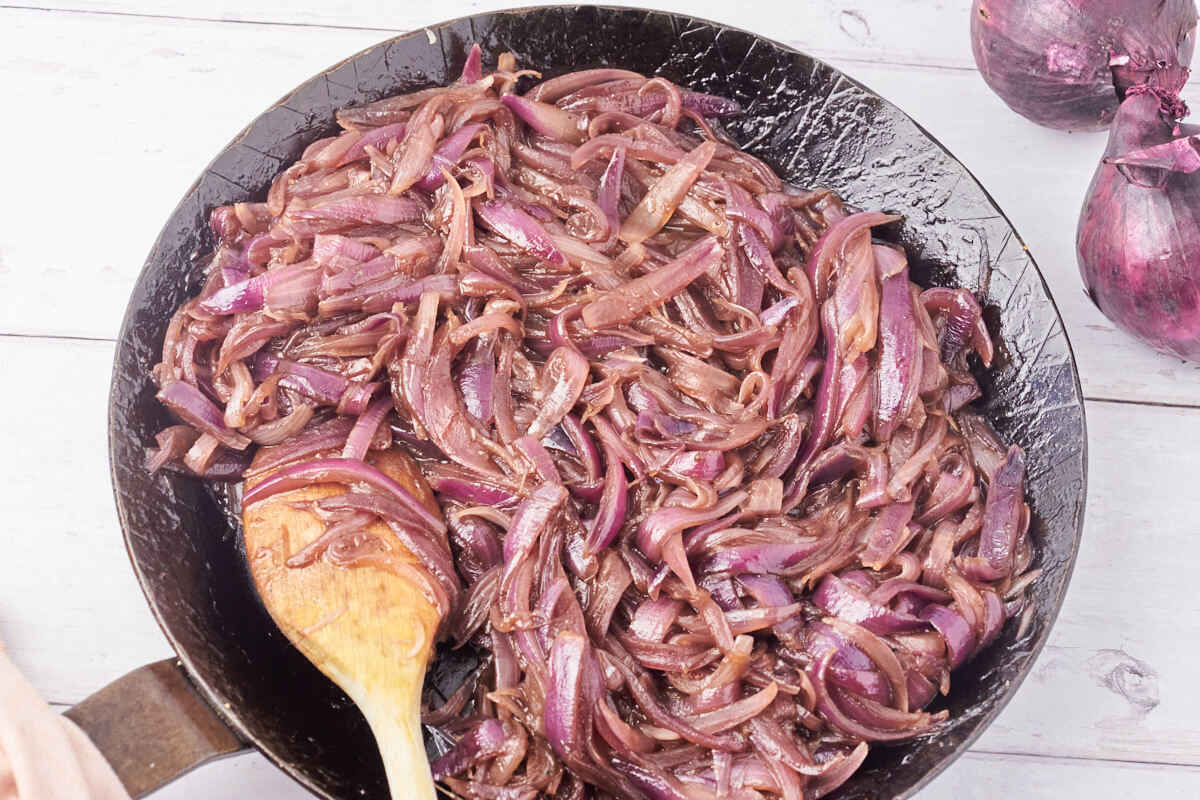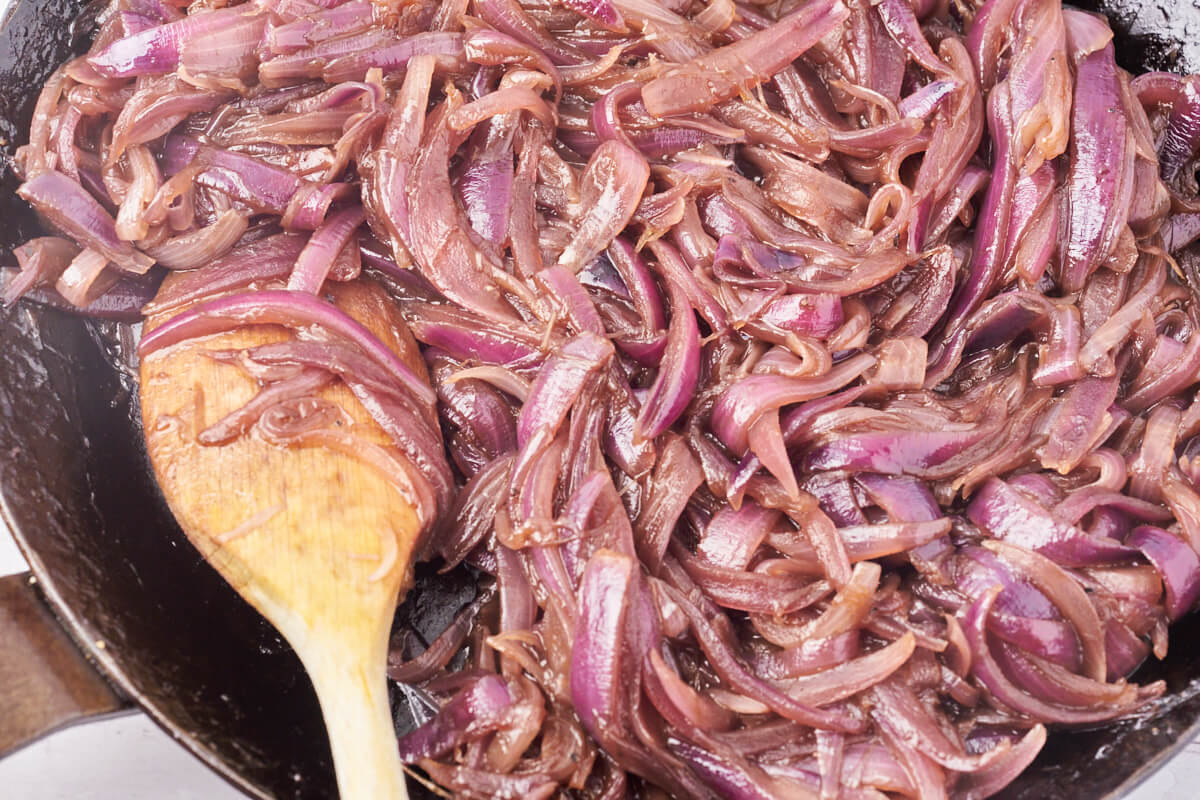 Recipe for soft sweet onions
Here's our recipe for the world's best sweet soft caramelized onions. They're packed with flavor and are a perfect accompaniment to a classic Danish beef patty with all the trimmings.

We hope you're inspired to try the recipe and be sure to make a big batch! They tend to disappear quickly.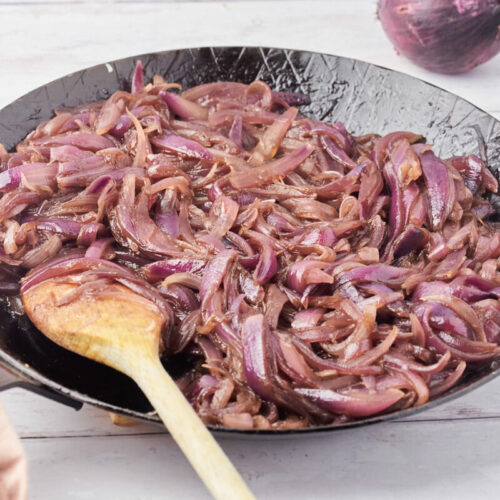 Caramelized onions
Recipe for caramelized onions
The best recipe for soft onions you can imagine. Perfect for a beef patty or in a burger. It's packed with flavor, and you might as well make a double batch while you're at it. For those of us who love soft onions, this recipe hits the mark.
Ingredients  
1

kg

onions

red onions or regular onions

15

g

butter

1

tbsp

oil

1

tsp

salt

Pepper

to taste

2

tbsp

brown sugar

1

tbsp

balsamic vinegar

1

tbsp

Worcestershire sauce
Instructions 
The onions are peeled and halved, then sliced into thin wedges.

In a large pan, heat up the butter and oil over medium heat.

Add the onions to the pan. Reduce the heat slightly and cook the onions for about 20 minutes until they start to become translucent. Be careful not to brown the onions; if that happens, lower the heat.

– Remember to toss the onions around a few times.

After 20 minutes, add salt and pepper. Continue cooking the onions for another approximately 20 minutes.

– Remember to toss the onions around a few times.

After about 20 minutes, add brown sugar, balsamic vinegar, and Worcestershire sauce. Mix everything thoroughly and cook for another approximately 20 minutes. When the time is almost up, increase the heat slightly while stirring.

2 tbsp brown sugar,

1 tbsp balsamic vinegar,

1 tbsp Worcestershire sauce

Once you're satisfied with the caramelization, the onions are done and ready to be served.
Nutrition
Calories:
187
kcal
Carbohydrates:
31
g
Protein:
3
g
Fat:
7
g
Saturated Fat:
2
g
Polyunsaturated Fat:
1
g
Monounsaturated Fat:
3
g
Trans Fat:
0.1
g
Cholesterol:
8
mg
Sodium:
673
mg
Potassium:
412
mg
Fiber:
4
g
Sugar:
17
g
Vitamin A:
102
IU
Vitamin C:
19
mg
Calcium:
69
mg
Iron:
1
mg
How do you like the recipe?
Have you tried this recipe? We'd love to hear what you think of it. Leave a comment, add a number of stars to the recipe and share your photo on Instagram with #madformadelskere – We love seeing your dishes ♥️
Also, sign up for our Facebook group where you can show pictures of the delicious food you make! You can find the Facebook group here