Elderflower cordial tastes like sunshine and summer. It's easy to make and can be easily frozen, allowing you to preserve the taste of summer a bit longer. The cordial is perfect for making soft drinks or can be used in cocktails with gin or rum, such as a delicious elderflower mojito. Find the recipe for homemade elderflower drink here.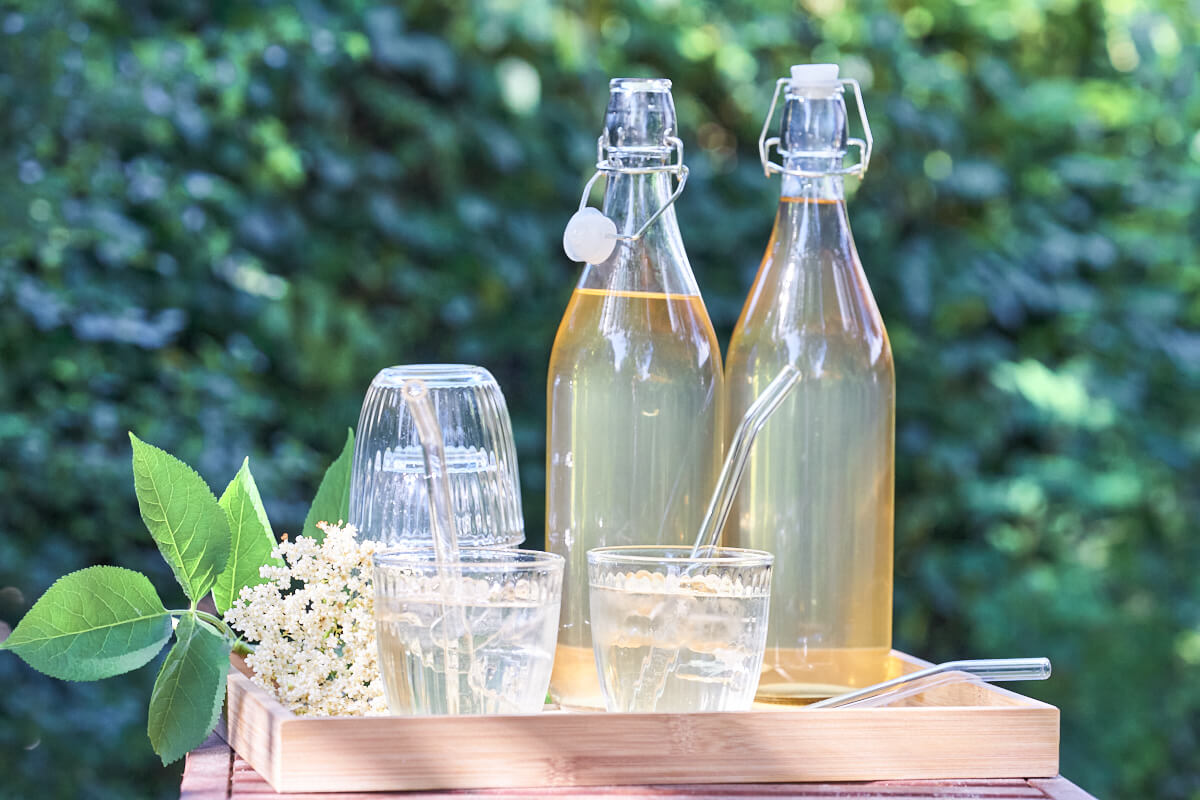 Elderflower Season
Now is the time to go out and pick elderflowers; they are at their peak, and before you know it, they'll be gone. Some years they bloom early, so getting started's essential as not spending too much time contemplating the project.

The cordial can be stored or frozen for later use during the summer. It's wonderful to have for summer ice creams, cakes, and, of course, elderflower soft drinks and cocktails.

You can usually find elderflowers from June to mid-July. Around Midsummer's Eve is generally a great time to harvest them.

Elderflowers can be found almost everywhere – here in the Southern Jutland region in Denmark, we have an abundance of them, and there is plenty for everyone. So get out there and search for good picking spots.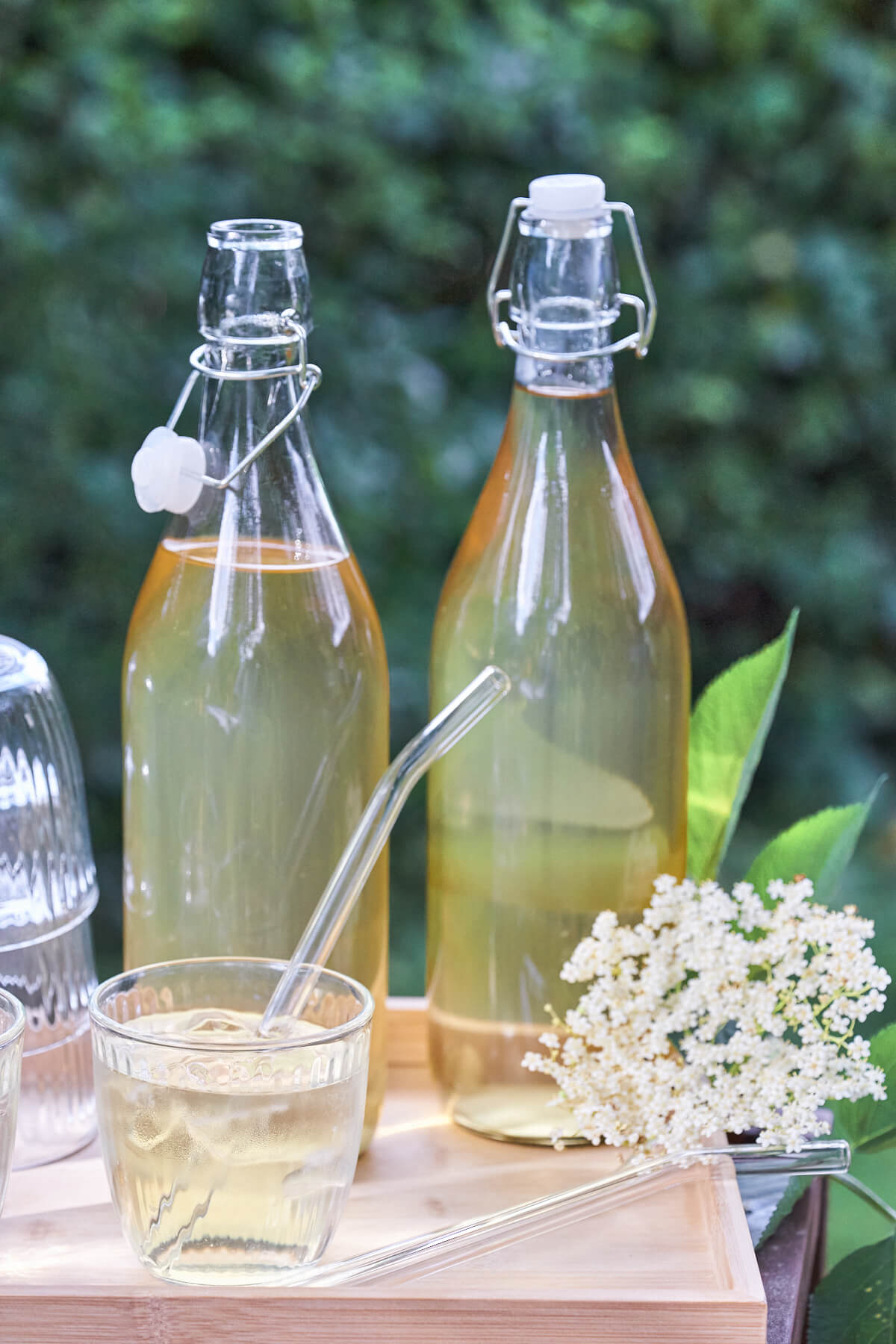 Ingredient notes
Elderflowers – You need to pick them yourself in your garden or in nature. Fortunately, there are usually plenty, so they should be easy to find if you take a walk near where you live.

Lemons – They should be organic lemons since they are used with the peel, and we want to avoid pesticides.

Water – Just regular water.

Sugar – Regular white sugar.

Citric Acid – Purchased in packets at the supermarket, it helps enhance the intense flavor of the syrup.
How to make elderflower cordial?
Fortunately, making elderflower cordial is not difficult; you just need a little patience. The process takes a couple of days.

First, you need to go out and pick the elderflowers.

Then it's quite simple. Place elderflower heads and lemon slices in a pot or bucket. Then boil water, sugar, and citric acid and pour it over the elderflowers and lemon slices in the pot.

The cordial should steep in the refrigerator for a few days. It usually takes 3-4 days. Stir the pot once a day. After that, strain the syrup, and it's ready to be mixed with water and enjoyed.

Find the full recipe further down this page.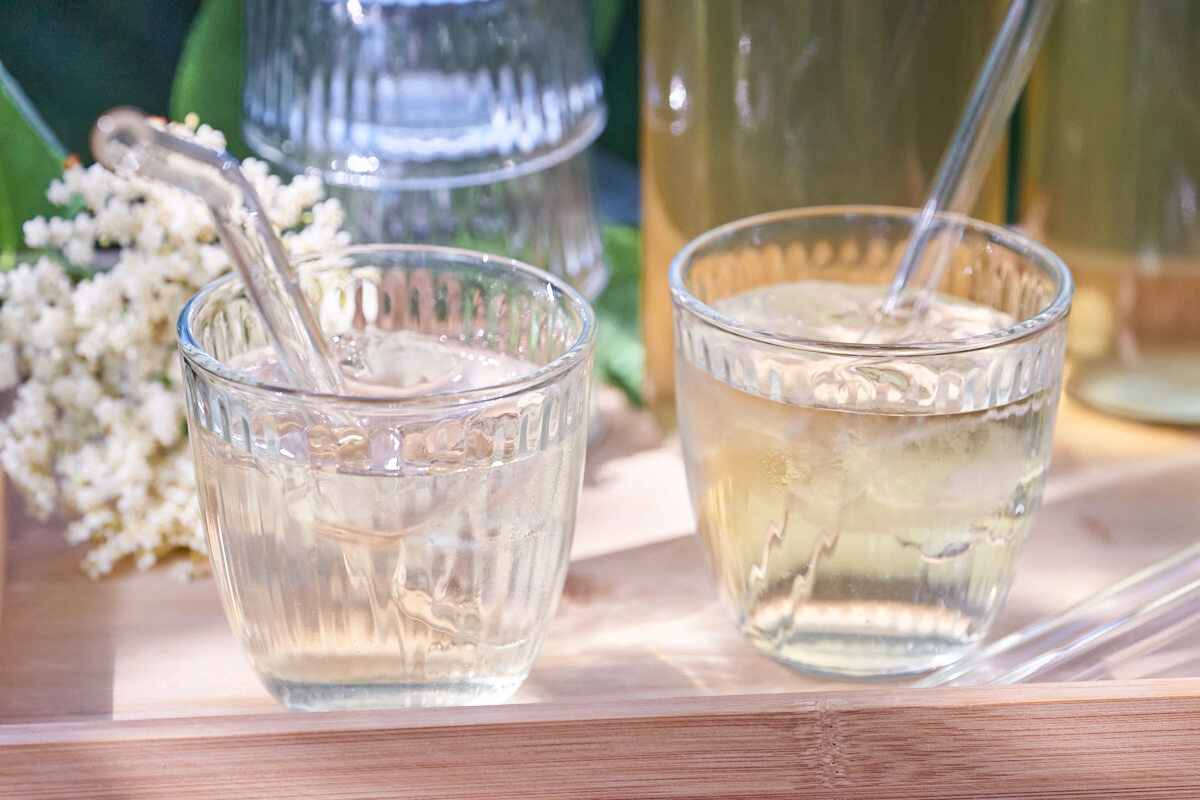 Frequently asked questions
What should I mix the cordial with?
You can mix it with regular water or sparkling water. Use 3-4 parts water to 1 part cordial for a delightful soft drink. You can also mix a little elderflower cordial in a glass of sparkling wine and enjoy a refreshing summer drink.

Can I use the used elderflowers for anything?
After straining the cordial, you should save all the "used" elderflowers and lemons. You can either make a delicious jam by blending everything and then cooking it in a pot with some elderflower cordial and sugar until it reaches a jam-like consistency. Alternatively, you can put everything in a bag in the freezer and use it inside a chicken the next time you grill one. It adds a delightful flavor.

What is the shelf life of homemade elderflower cordial?
If you pour your finished cordial into bottles that have been scalded and rinsed with vodka, it can easily last for several months or longer in the refrigerator. However, I prefer to freeze the finished cordial. A smart trick is to freeze it in ice cube trays or bags, so you can easily add a few cubes to a glass of water, sparkling water, or even Asti when the hot summer days arrive. Then you'll have refreshing cold drinks that taste delightful.

Can you freeze elderflower cordial?
Yes, you can definitely freeze it. Freeze it in plastic bottles, freezer bags, or perhaps in ice cube bags, and you'll have easy access to cold soft drinks throughout the summer.

Other summer recipes you might like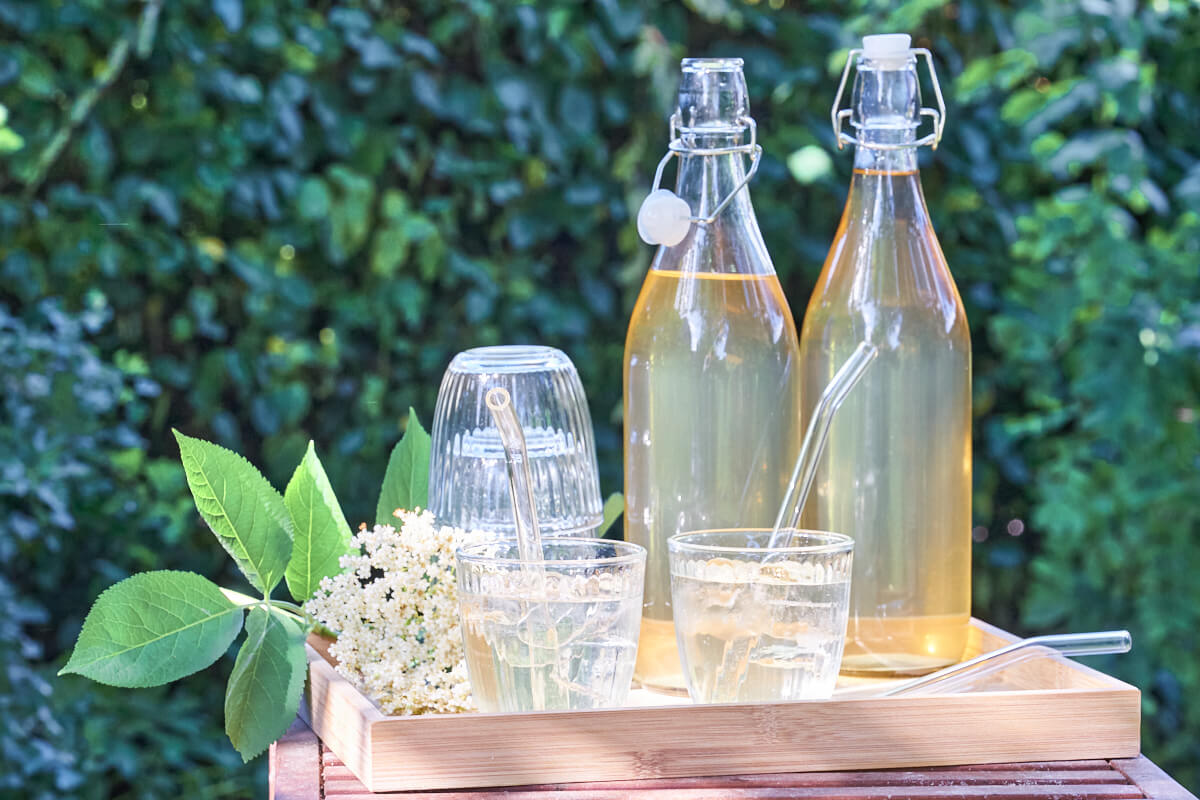 Tips and tricks for the recipe
Simply shake the flower heads a bit to shake off any insects. You can also quickly rinse them, but that does wash away some of the good flavor, so avoid it if possible.
Serving suggestions
Mix with water in a ratio of 1:4 and serve as a soft drink.
Mix with sparkling water for a bubbly summer drink.
Mix with Verdi or Asti for a delicious sparkling elderflower wine.
Freeze in ice cube bags, so you can always add a few cubes to a glass of water, sparkling water, or wine.
Do you love elderflowers too?

If you're in the mood for elderflowers, I would recommend trying deep-frying some of them. Fried elderflowers taste SO good, like sunshine and summer, and you can sprinkle powdered sugar on them.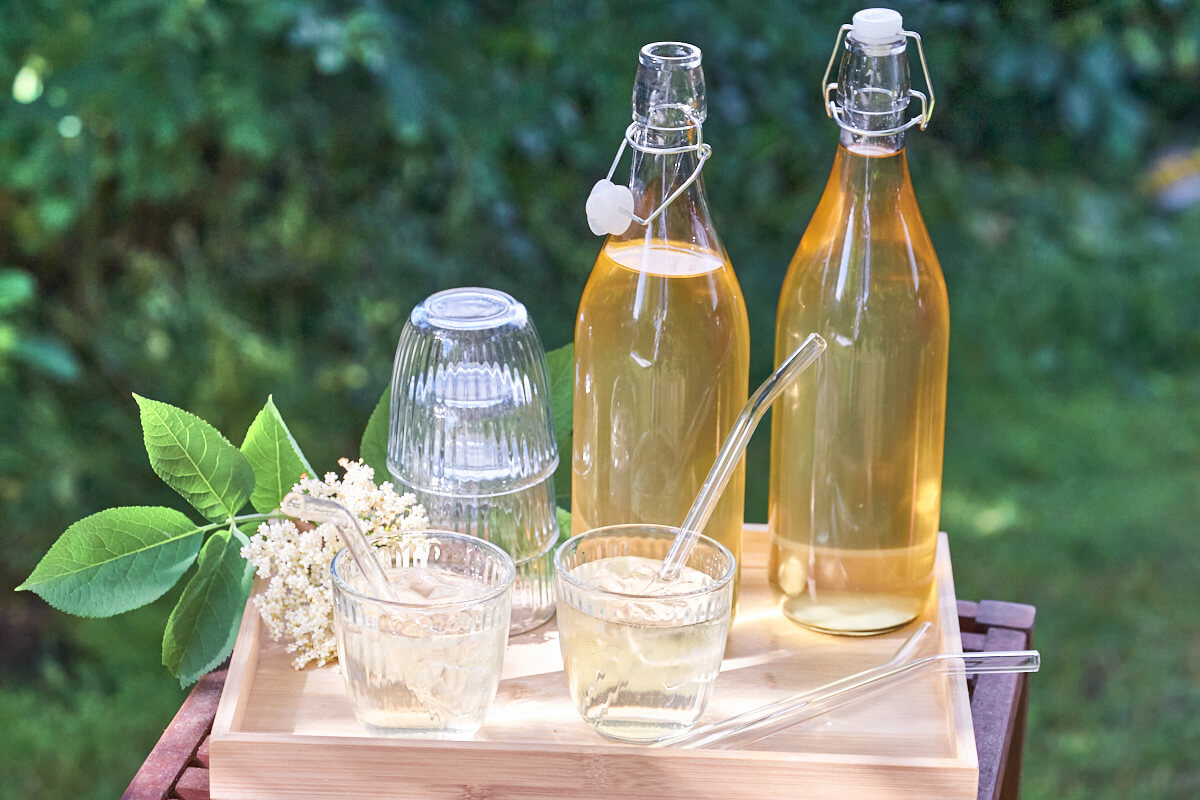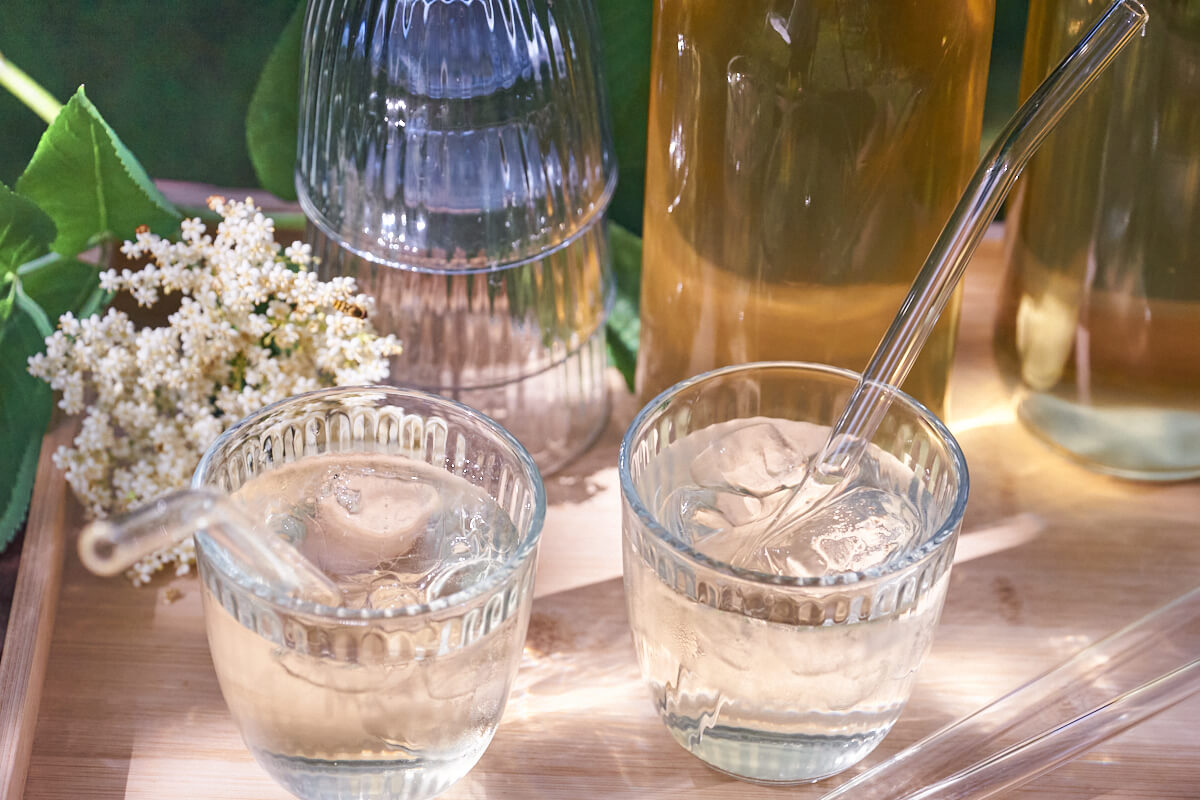 Recipe for Homemade Elderflower Drink
Here is our recipe for elderflower cordial, just the way we like it. It's perfectly sweet with a hint of acidity from the lemons. And it's best enjoyed with water or sparkling water and plenty of ice cubes on the terrace on a hot summer day.

We hope you feel inspired to try the recipe if you want to make your own elderflower drink.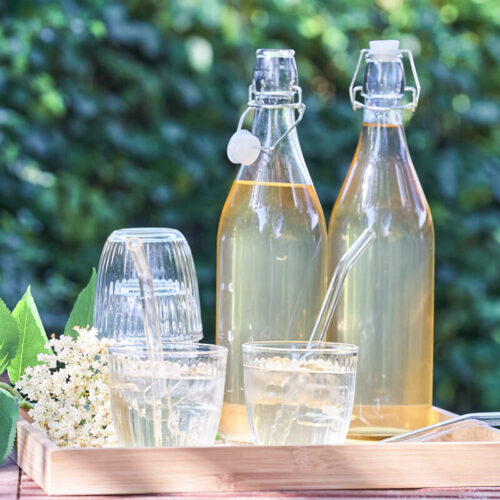 Elderflower cordial
Recipe for elderflower cordial
Classic elderflower syrup that tastes like sunshine and summer. A delicious and easy elderflower drink, also known as Blost, that you can make yourself at the beginning of summer when the elderflowers are in bloom.
Ingredients  
50

elderflower heads

large

2

lemons

organic

1.5

liters

water

1

kg

sugar

40

g

citric acid
Instructions 
Quickly rinse the elderflowers or shake them well to remove any small insects. Trim off the thick stems and place the flowers in a large pot or plastic container.

Slice the lemons and add them to the pot.

Bring the water to a boil, then add the sugar and citric acid, stirring until dissolved. Pour the boiling water over the elderflowers and lemons.

1.5 liters water,

1 kg sugar,

40 g citric acid

Allow the mixture to cool slightly, then place it in the refrigerator for 3-4 days. Stir once a day.

After 4 days, strain the flowers and lemons, so you're left with pure cordial. If you want the cordial to be completely clear, strain it through a cloth.

Pour the cordial into sterilized bottles that have been rinsed with vodka, or freeze it if you're not planning to consume it immediately.
Nutrition
Serving:
1
liter
Calories:
2016
kcal
Carbohydrates:
508
g
Protein:
1
g
Fat:
2
g
Saturated Fat:
0.04
g
Polyunsaturated Fat:
0.1
g
Monounsaturated Fat:
0.01
g
Sodium:
45
mg
Potassium:
159
mg
Fiber:
3
g
Sugar:
502
g
Vitamin A:
24
IU
Vitamin C:
57
mg
Calcium:
56
mg
Iron:
1
mg
How do you like the recipe?
Have you tried this recipe? We'd love to hear what you think of it. Leave a comment, add a number of stars to the recipe and share your photo on Instagram with #madformadelskere – We love seeing your dishes ♥️
Also, sign up for our Facebook group where you can show pictures of the delicious food you make! You can find the Facebook group here