Crispy, soft, and simply delicious. English muffins are the perfect breakfast bread, toasted with a generous layer of butter and a bit of tasty homemade jam – it doesn't get much better than that. If you want to see how easy it is to make the best breakfast muffins, read on.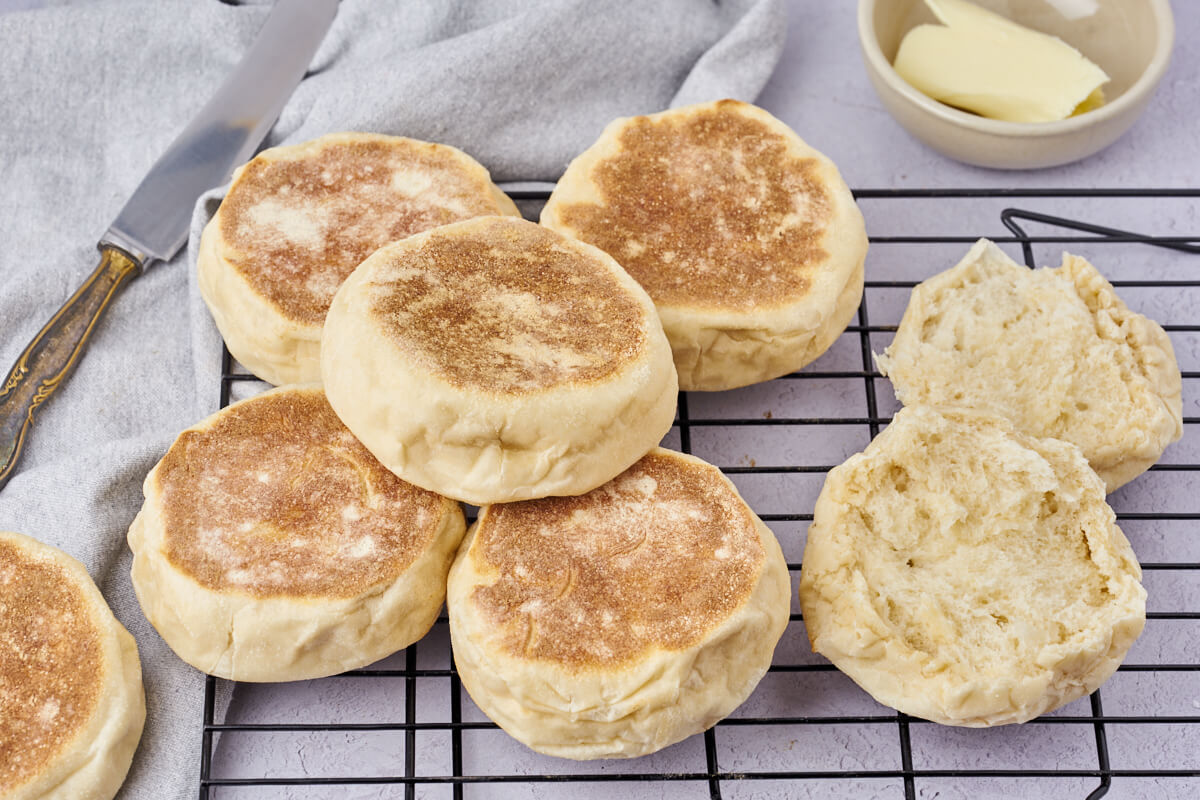 Cozy English breakfast with the family
Breakfast is the most important meal of the day, whether it's on weekdays or weekends. During weekends, there's time to make it extra cozy and prepare some delicious things that can delight both kids and adults at the table.

Bacon, scrambled eggs, bangers, homemade jam, and plenty of warmth and good vibes. That's how I want my children to remember the start of our weekends together. English muffins are a staple on the table when I prepare the "big breakfast," as the kids call it, and there are several good reasons for that. They are easy to make, taste really good, and it's essentially like getting two wonders in one. I appreciate that!

English muffins can also be used for many other delicious dishes beyond just the traditional roll.

They work wonderfully as the bread in classic dishes like Eggs Benedict, Eggs Florentine, or Eggs Royal. They can be served as a delicious lunch option or as an extra special addition to breakfast, especially when the weather, like now, doesn't exactly reflect that it's actually summer and you just need something comforting.

Unlike most other bread rolls, English muffins are not baked in an oven but on a hot skillet without any fat. The surface is dusted with durum flour, which contributes to its classic crispy texture.

Now that you know a bit about English muffins and why we love them for breakfast, it's time to get started and bake a huge batch for the freezer, so there's always something easy to serve for breakfast.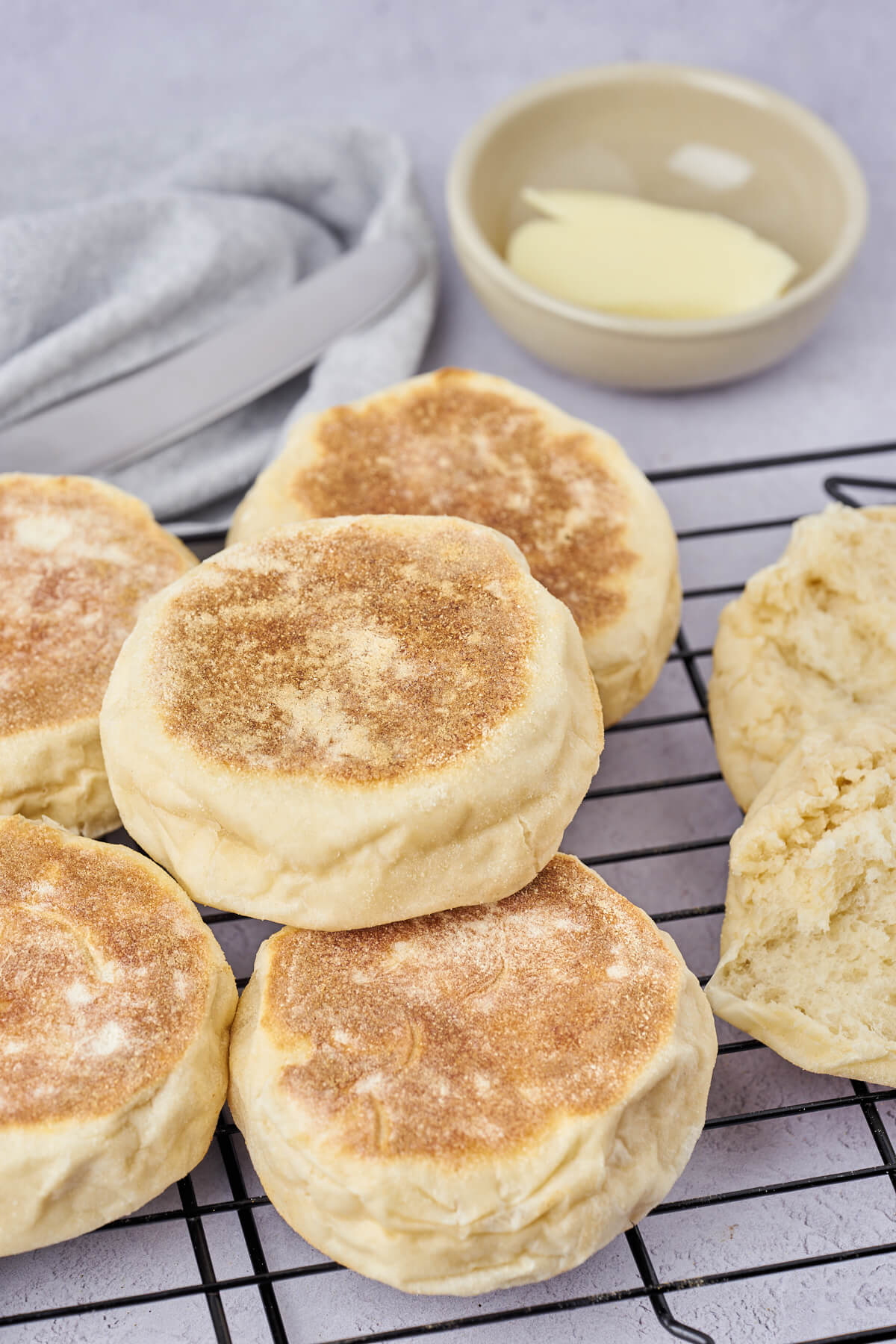 Ingredient notes
All-purpose flour – Preferably with high protein content.

Milk – Milk adds a slightly richer flavor to the muffins. However, traditionally, only water is used. So, if you're lactose intolerant, you can replace it with water.

Water – Water is just part of the liquid. It can be a combination like here, or water alone, or only milk.

Yeast – Regular dry yeast works just fine.

Salt – I use fine salt when baking as it dissolves quickly.

Sugar – A bit of sugar is added to the dough to provide some nourishment for the yeast.

Durum flour – Gives the right texture to the rolls and prevents them from sticking during baking and rising.
How to make English Muffins?
Here's a brief overview of the recipe; the detailed version with baking times and temperatures can be found further down the page.

In a mixing bowl, combine water, milk, and sugar until all the sugar is dissolved. Add all-purpose flour and dry yeast, along with salt and melted butter.

Mix the dough until it's completely smooth and releases from the sides of the bowl. Knead the dough on a surface lightly dusted with flour. Place it back in the bowl, cover it, and let it rise until doubled in size.

Once the dough has risen, divide it into 15 small balls. Shape and place them on proofing baskets or baking sheets sprinkled with durum flour. Flatten the balls slightly, cover, and let them rise again.

Heat a skillet over medium heat on the stovetop. Cook the fully proofed muffins on the skillet without adding any fat, flipping them to cook both sides until they're golden brown and cooked through.

Let them cool on a rack before serving, or freeze them.

Find the full recipe further down this page.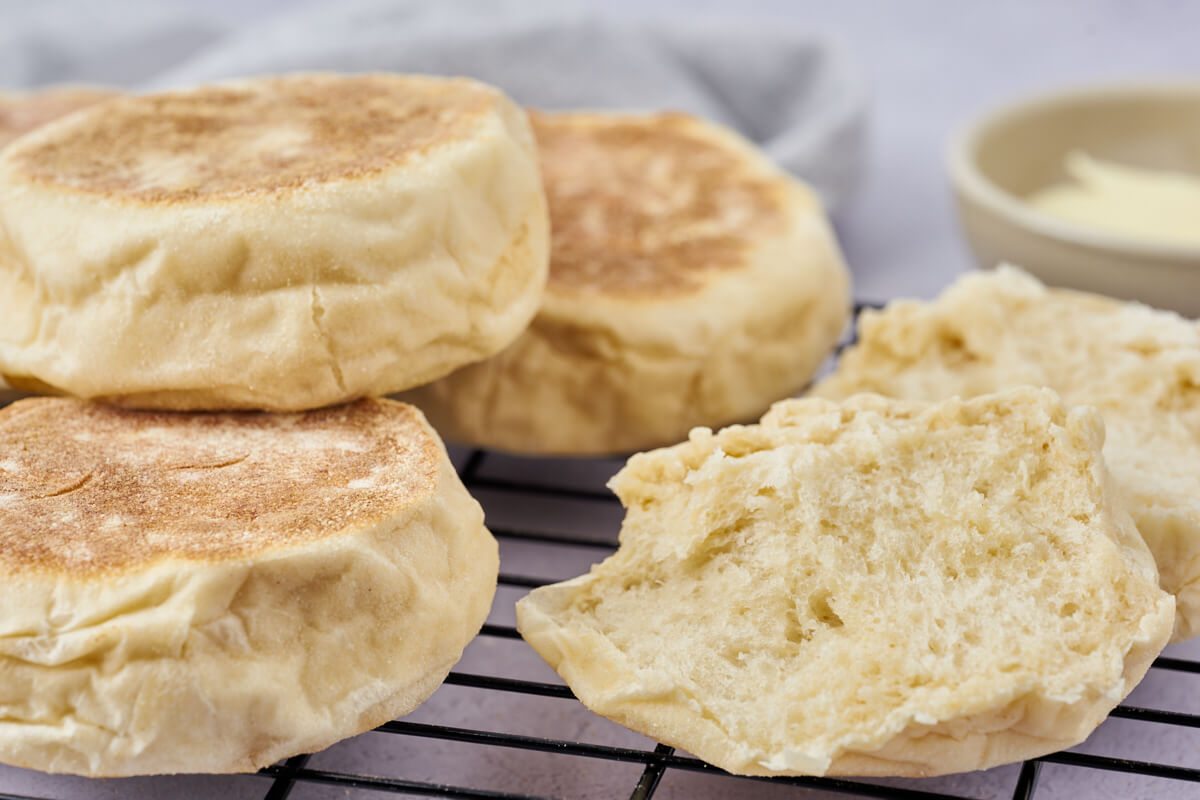 Frequently asked questions
How do you store English muffins?
You can keep them in an airtight bag for a couple of days, or you can freeze them.
Can English muffins be frozen?
Yes, they freeze very well. Our freezer always has a bag, so there's something easy to grab and have for breakfast.
What can I substitute milk with?
You can simply replace milk with water. Milk adds a slightly richer flavor but can easily be omitted.

Other baked goods you might like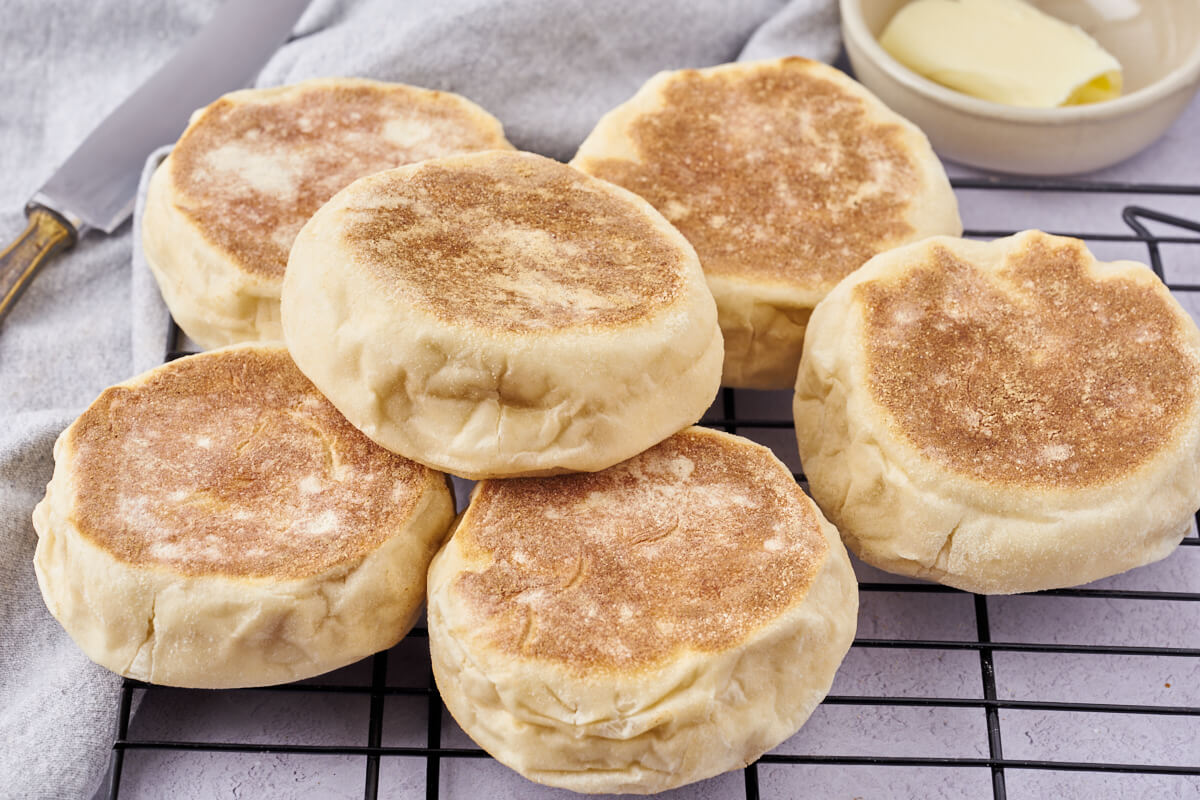 Tips and tricks for the recipe
Make sure to knead the dough thoroughly for the best rising.
When flattening the rolls, it's okay if some durum flour sticks to them; it contributes to the crispy crust and makes them easier to transfer onto the skillet.
When lifting the proofed muffins onto the skillet, handle them gently to retain as much air in the dough as possible, resulting in better-looking finished muffins.
Serving suggestions
Split them open with a fork, toast, and serve with homemade jam.
Use them as the bread for a classic Eggs Benedict or Eggs Royal.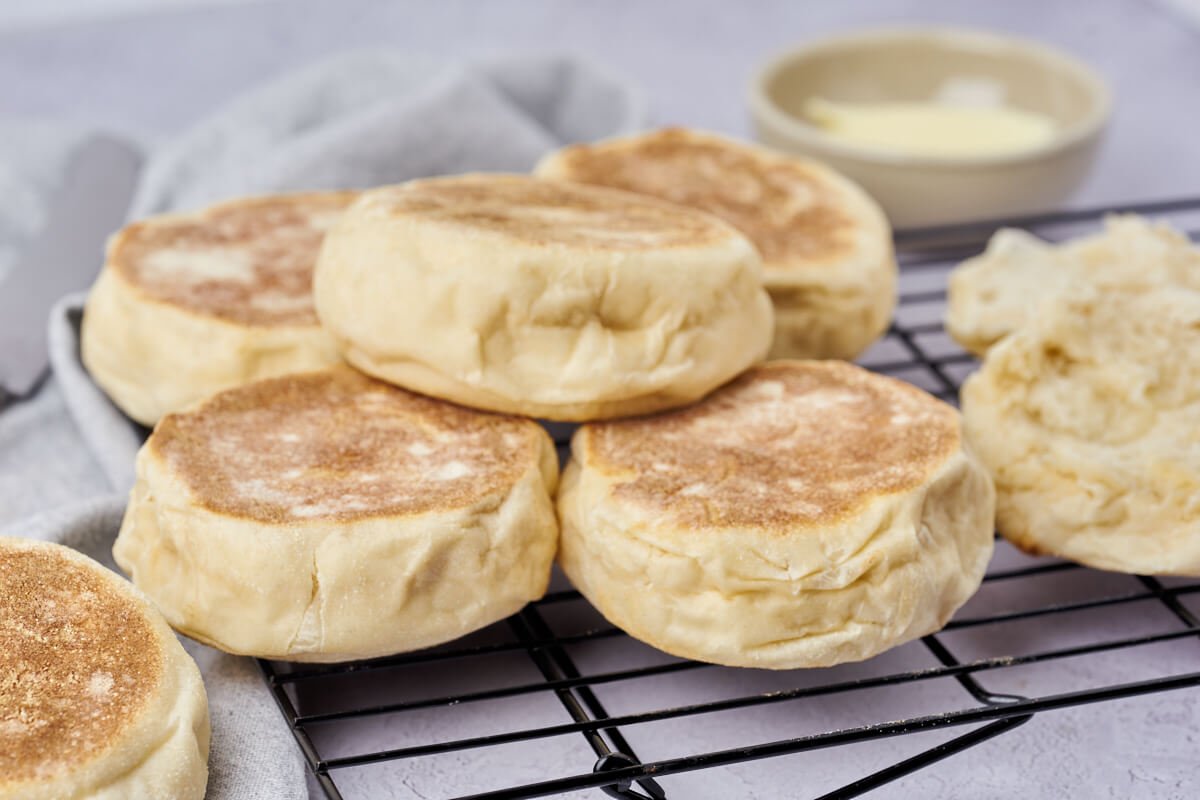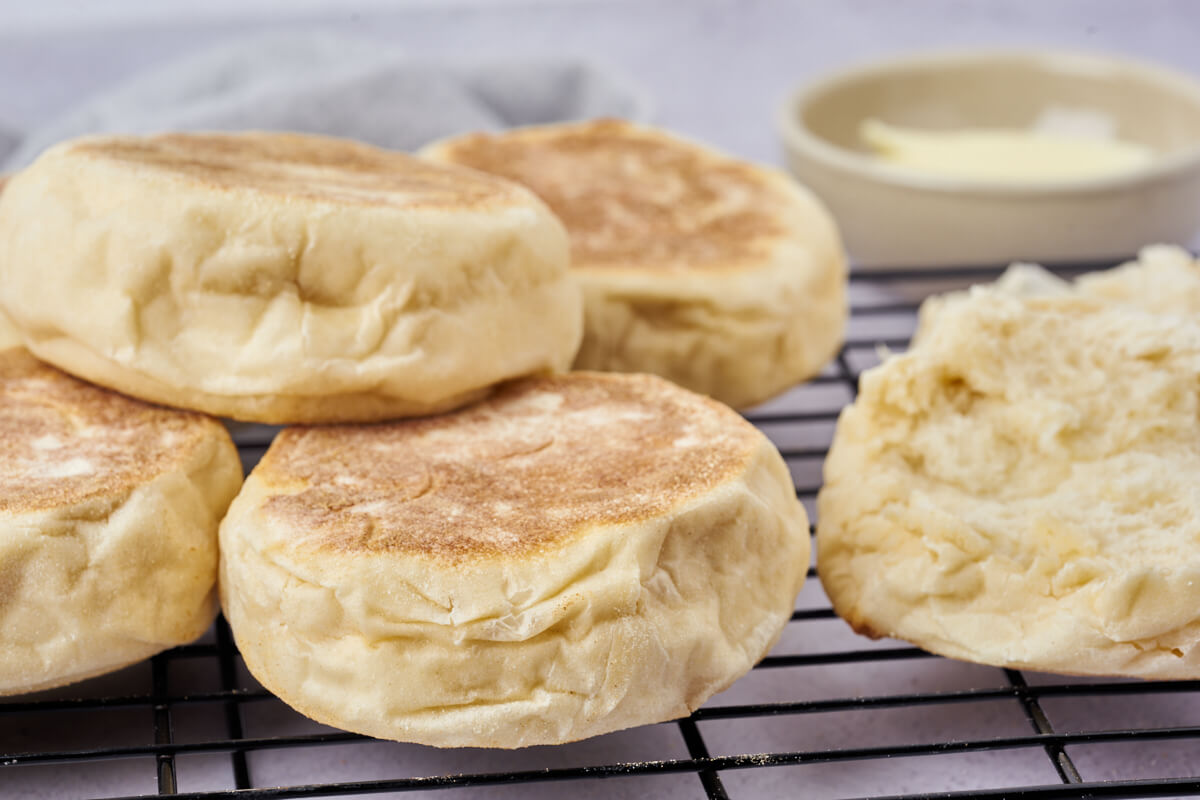 Recipe for the best breakfast muffins
Here's our recipe for easy English muffins with the perfect crispy crust and soft interior.
Serve them as part of your very own English breakfast and treat the family during the weekend. They're easy to make and freeze well, so go ahead and make a big batch.
Please let me know if there's anything else you'd like to know!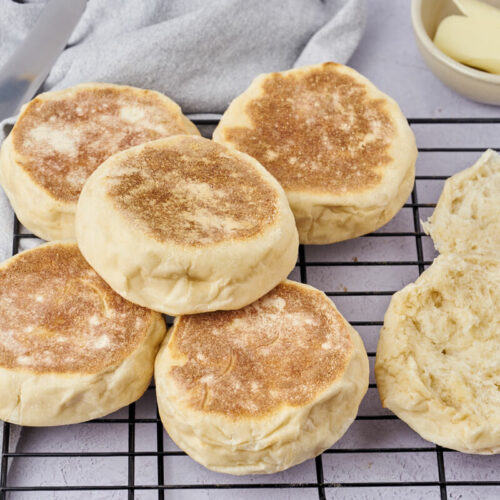 English Muffins
Recipe for English Muffins
Delicious English muffins, which are fluffy yeast rolls cooked on a griddle. They are typically enjoyed for breakfast and can be served with anything from eggs and bacon to salmon and spinach, or with tasty deli meats or spreads.
Ingredients  
625

g

all-purpose flour

2

tsp

dry yeast

1.5

tsp

fine salt

50

g

butter

130

g

water

350

g

milk

preferably whole milk

1.5

tbsp

sugar

Durum wheat flour
Instructions 
Weigh out the all-purpose flour, salt, and dry yeast, and mix them together in a bowl.

625 g all-purpose flour,

2 tsp dry yeast,

1.5 tsp fine salt

Melt the butter in the microwave and set it aside.

In a separate bowl, combine the milk, water, and sugar. Heat it up to around 30 degrees Celsius, or until it's lukewarm, in the microwave. Stir until the sugar is completely dissolved.

130 g water,

350 g milk,

1.5 tbsp sugar

Pour the warm mixture of water, milk, and sugar into the bowl of a stand mixer and add the flour, salt, and dry yeast while stirring.

Gradually add the melted butter and now knead the dough at a medium speed until it completely detaches from the sides of the bowl and the gluten test can be performed.

Place the dough on a lightly floured surface and shape it into a firm ball. Put it back in the mixing bowl, cover it, and let it rise in a warm place until it has doubled in size, about 1 hour.

The rising time can vary depending on the temperature; a good rule of thumb is to take it out when it's doubled in size compared to the starting point.

Now weigh the risen dough and divide it into 15 equal portions. Shape the dough balls and place them on a baking sheet sprinkled with durum wheat flour. Gently press the balls out until they are flat and about 2 cm thick.

Cover them with a damp cloth or plastic wrap and let them rise for about 1 hour, or until they look like the ones in the picture.

Heat a skillet over medium heat; on my stovetop, it's set at 4 (induction stove). Once the skillet is hot, carefully lift the fully proofed dough and place them on the skillet. Cook them for about 6 – 8 minutes on one side before gently flipping and cooking for another 6 – 8 minutes on the other side.

It's important to handle the dough very gently, as otherwise they might flatten during cooking. The finished muffins should end up being approximately 10 cm in diameter and 3-4 cm tall.

If you want to ensure they're fully baked, you can check the core temperature with a meat thermometer; it should reach 199°F (93°C).

Transfer the finished English muffins to a rack to cool completely.
Nutrition
Serving:
1
muffin
Calories:
196
kcal
Carbohydrates:
34
g
Protein:
5
g
Fat:
4
g
Saturated Fat:
2
g
Polyunsaturated Fat:
0.3
g
Monounsaturated Fat:
1
g
Trans Fat:
0.1
g
Cholesterol:
10
mg
Sodium:
264
mg
Potassium:
84
mg
Fiber:
1
g
Sugar:
2
g
Vitamin A:
121
IU
Vitamin C:
0.001
mg
Calcium:
36
mg
Iron:
2
mg
How do you like the recipe?
Have you tried this recipe? We'd love to hear what you think of it. Leave a comment, add a number of stars to the recipe and share your photo on Instagram with #madformadelskere – We love seeing your dishes ♥️
Also, sign up for our Facebook group where you can show pictures of the delicious food you make! You can find the Facebook group here