We love late summer and autumn with all the wonderful ingredients. Plums are one of those things that are super delicious for desserts, and fortunately also something that many people have in their gardens right now. Read along here and get our recipe for a delicious plum trifle with oatmeal crunch and vanilla cream.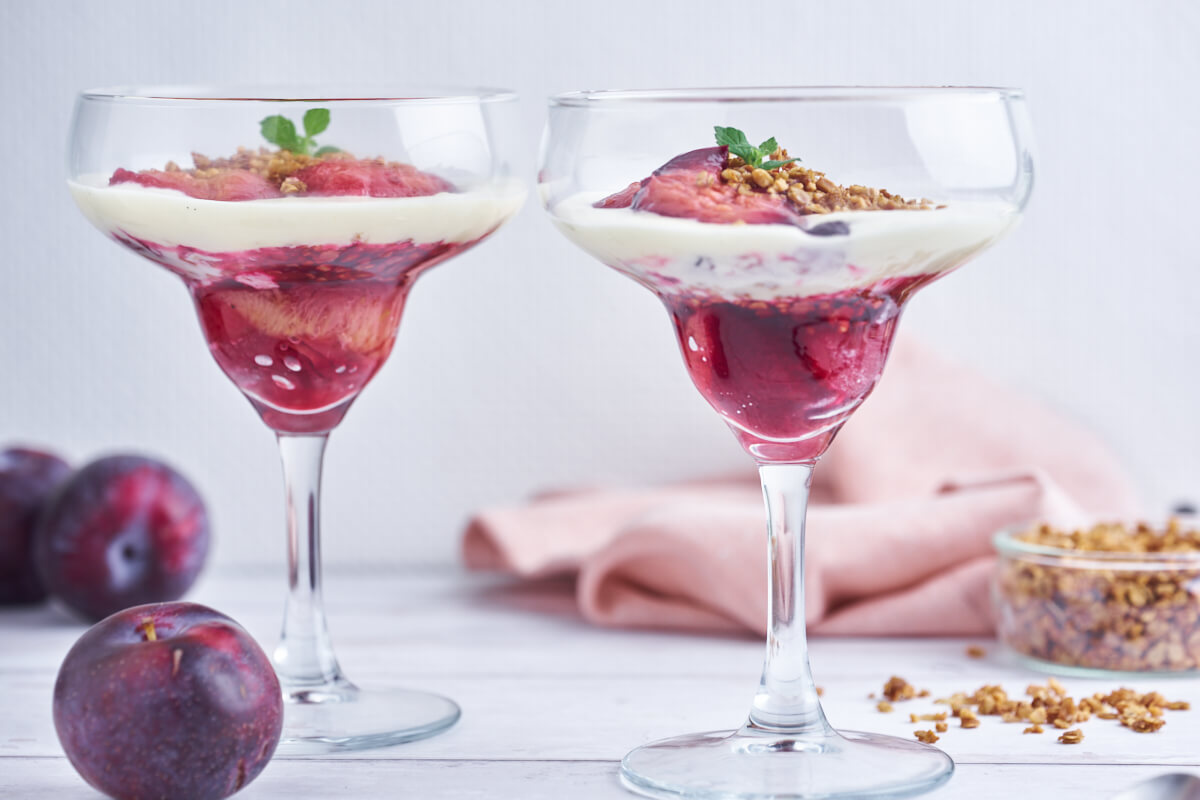 Plum dessert in a glass
We love trifles and desserts in glasses in general. This plum trifle is no exception. So it just tastes super good, and it's beautiful and easy to make.

Unfortunately, we don't have plums in the garden, so we bought the plums used here, but if you have plums in the garden, that is of course preferable.

You can prepare the elements of this dessert in advance. The plums can easily be baked the day before and put in the fridge, and the oatmeal crunch can also be made the day before.

I prefer to make the vanilla cream when the trifle is to be assembled, because it may get a little watery from standing, but a few hours in the fridge should be fine.

The trifle can also be assembled and put in the fridge a few hours before it is to be served.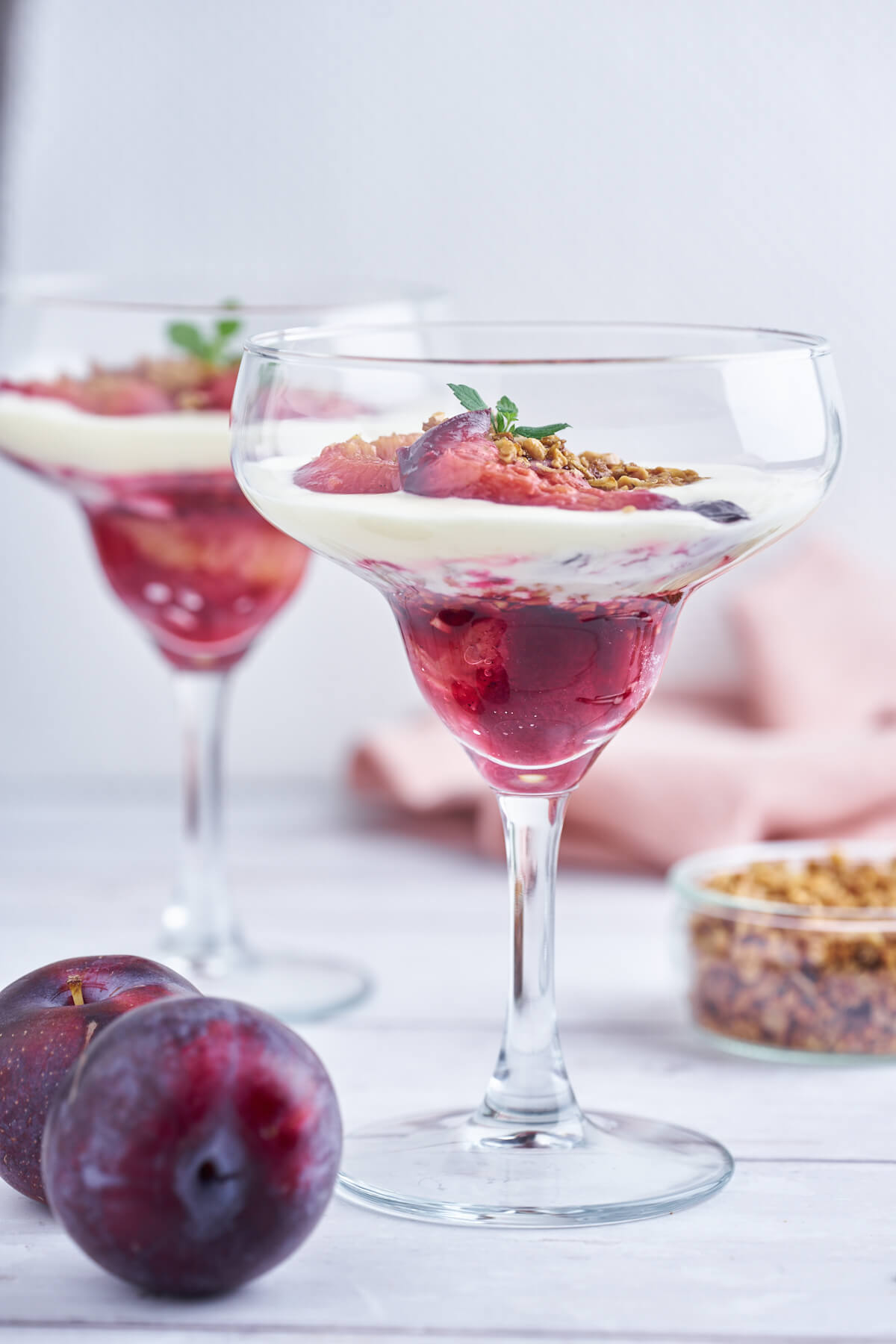 Ingredient notes
Plums – Any kind of plums can be used. If you have plums in the garden, you must of course pick them. We bought them at the supermarket and most places have them in the season.

Oatmeal crunch – We make toasted oatmeal with almonds, but you can also use other kinds of nuts if you like. You can also replace it with a completely traditional Danish apple cake crumble.

Vanilla cream – The vanilla cream is made from egg yolks, sugar, vanilla, and whipping cream. If you want to make it even easier, you can also just use whipped cream with a little vanilla sugar added.
How to make plum trifle?
There are three elements that need to be made in this trifle before it is ready to assemble.

First, there are the baked plums. Here the plums must be cut, sprinkled with a mixture of vanilla, sugar, and lemon zest, and then baked in the oven. When they are baked, they must be cooled down before they are used in the dessert.

The oatmeal crunch is made by first melting butter in a frying pan and then adding sugar, oatmeal, and chopped almonds. The whole thing is roasted until it is golden and crispy, and then cooled down before the dessert must be assembled.

The last element is vanilla cream. It is made by whipping egg yolks, vanilla, and sugar until fluffy, and then mixing it with lightly whipped cream.

Then all that remains is to assemble the dessert in layers and serve it.

Find the full recipe further down this page.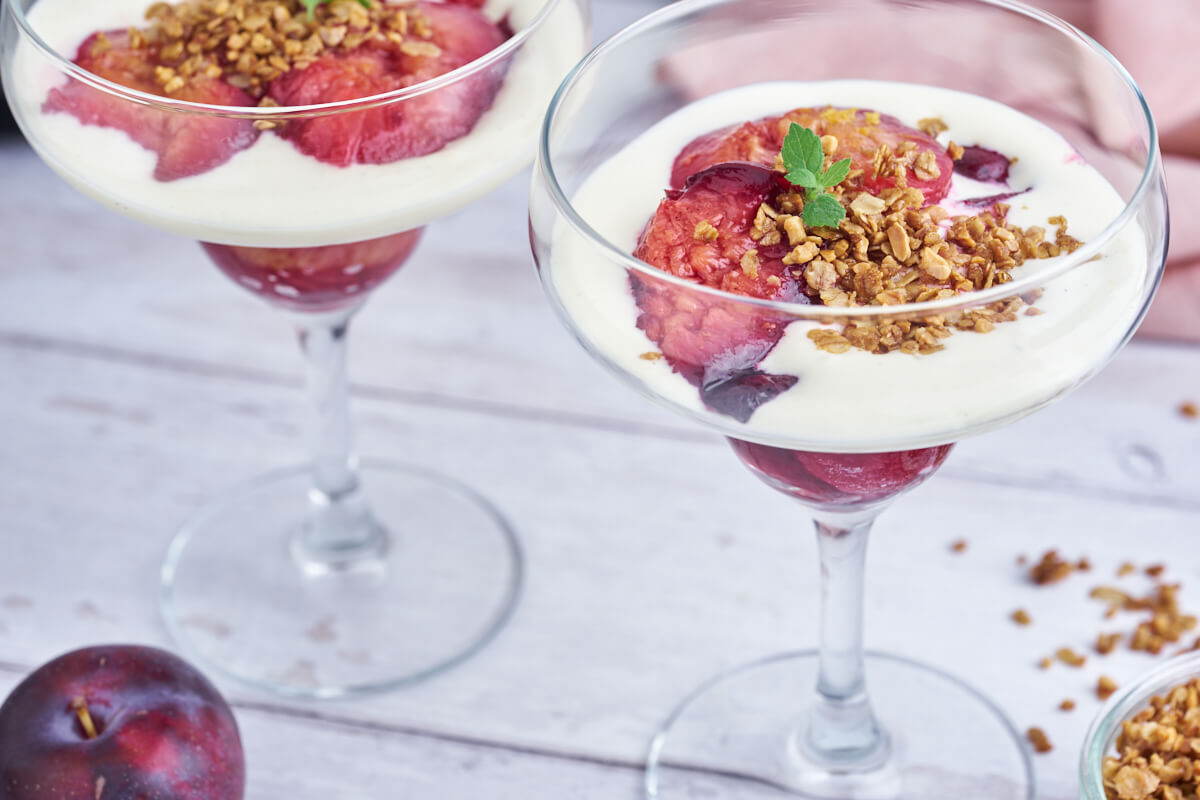 Frequently asked questions
How to store plum trifles?
Once the dessert is assembled, it must be kept in the fridge. If you prepare the individual elements ahead of time, the baked plums and vanilla cream must be left in the fridge, while the oatmeal crunch is stored in an airtight container or in a glass.
What can I substitute vanilla cream with?
If you don't want to use this type of vanilla cream, you can also make the dessert with plain whipped cream with a tablespoon of vanilla sugar.
Can I prepare the dessert ahead of time?
Yes, you can. You can either prepare the elements in advance or make the dessert ready and refrigerate it. I would recommend that you collect the trifle maximum a few hours before it is to be served, or the cream may become a bit thin.

You can make the baked plums the day before and put them in the fridge, and the oatmeal crunch can also easily be made a day or two in advance and put in a glass or an airtight container.
Other Danish dessert recipes you might like
Tips and tricks for a homemade plum trifle
Make the baked plums the day before and put them in the fridge, then they are ready to assemble the dessert. Also, feel free to make the oatmeal crunch the day before.
Save the syrup at the bottom of the dish with the baked plums and use it on top of ice cream, in drinks, or in desserts.
Serving suggestions
Serve the glasses with plum trifle after a nice meal.
Do you want to serve your trifle in a large bowl? Follow the same procedure and instead of arranging it in glasses, you just arrange it in a large glass bowl in layers in the same way.
Do you love desserts with plums? Try our recipe for Baked plums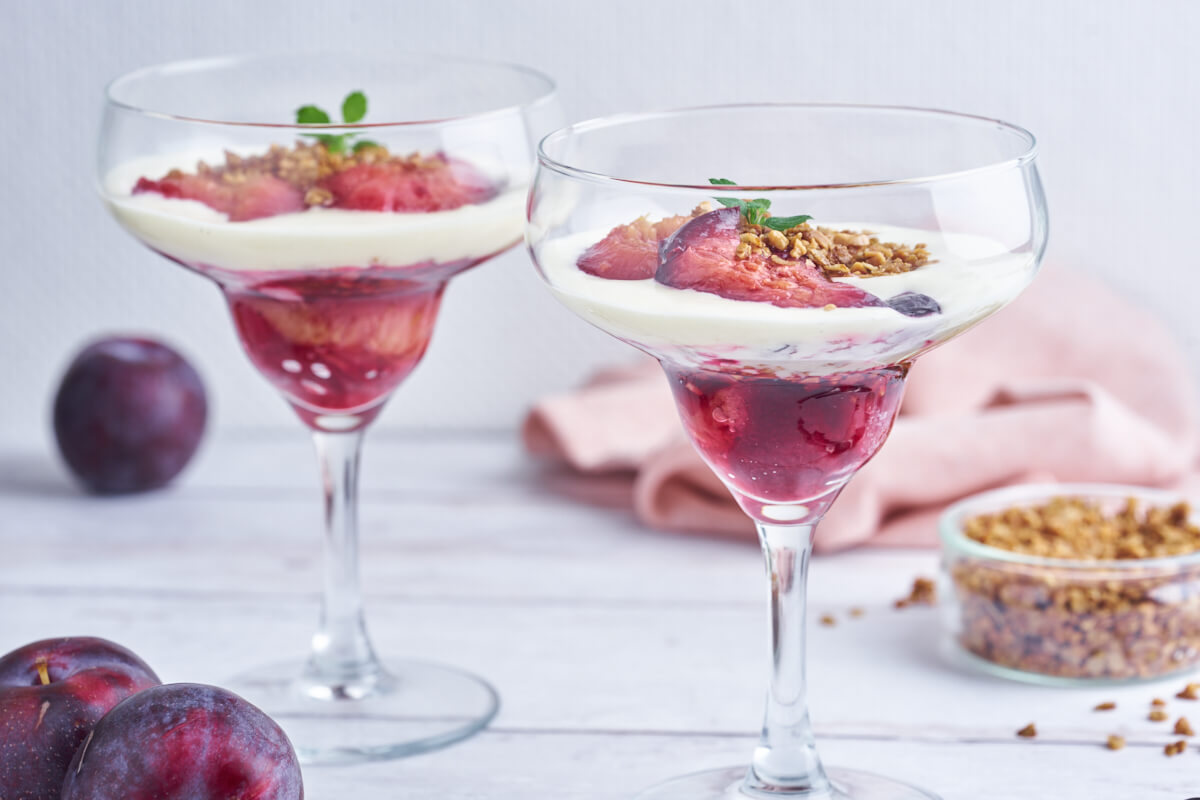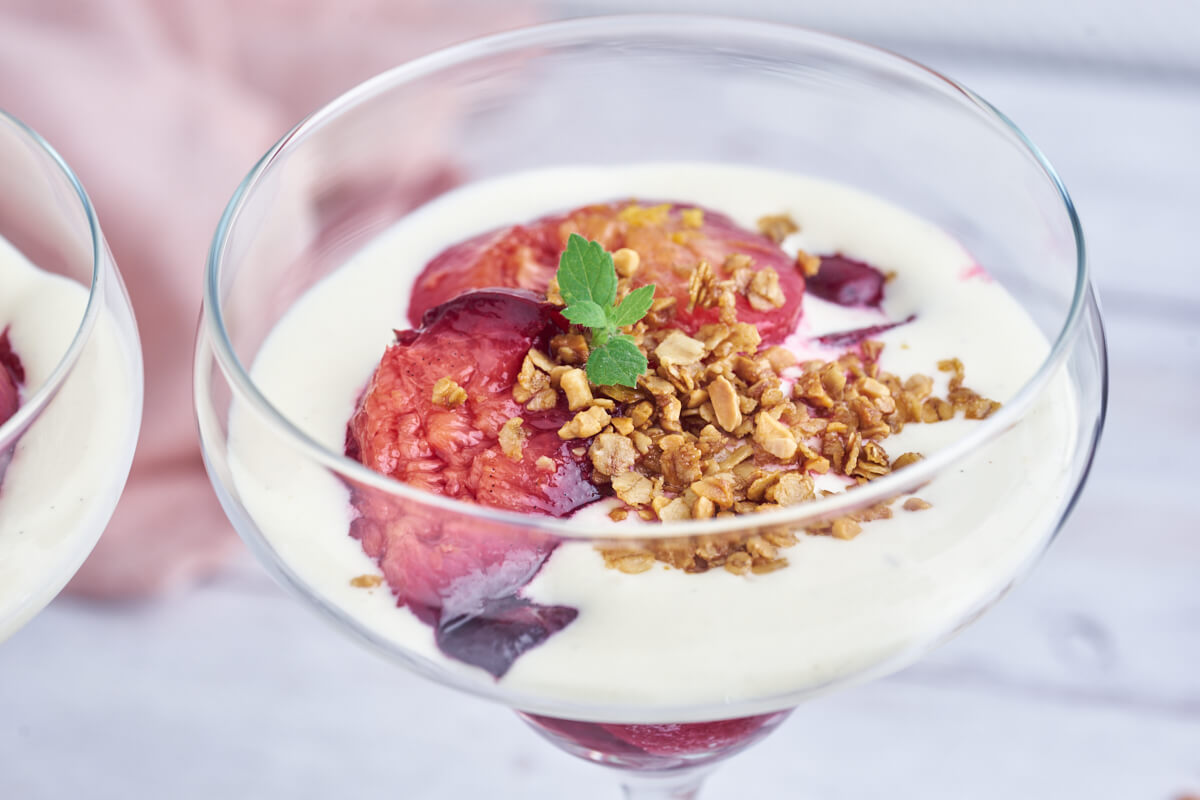 Recipe for the best plum dessert in glasses
Here you get our best recipe for a delicious plum trifle with a crunch of oatmeal and almonds and a wonderful airy vanilla cream. It is a lovely late summer dessert that is wonderful to serve on top of a lovely meal.

We hope you would like to try the recipe, and if you have plums in your garden, it is quite obvious. Otherwise, you can get really nice plums right now in the supermarkets.
Plum trifle
Recipe for plum trifle
Plum trifle with baked plums, vanilla cream, and oatmeal crunch with almonds is a lovely late summer or autumn dessert. You can assemble the dessert a few hours before it is to be served or serve it immediately.
Ingredients  
Baked plums
8

plums

large

1

vanilla bean

50

g

sugar

½

lemon

zest
Oatmeal crunch
25

g

butter

25

g

sugar

50

g

almonds

50

g

oatmeal
Vanilla cream
½

vanilla bean

seeds

2

egg yolks

25

g

sugar

1

dl

whipping cream
Instructions 
Baked plums
Turn on the oven to 200 degrees celcius.

Cut the plums in half and remove the stone. Place the plums in an ovenproof dish with the cutting surface facing up.

Scrape the seeds out of the vanilla bean and finely grate the lemon zest. Mix the vanilla, lemon zest, and sugar together and spread it over the plums. Feel free to also put the empty vanilla pod in the dish, it gives a good flavor to the syrup at the bottom of the dish.

1 vanilla bean,

½ lemon,

50 g sugar

Put the dish with the plums in the oven and bake them for about 20 minutes until they are tender.

Take the dish out of the oven and let the plums cool completely before using them in the trifle.
Oatmeal crunch
Melt the butter in a frying pan over medium heat.

Finely chop the almonds. Add oatmeal, chopped almonds, and sugar to the pan with butter and toast until golden. Stir as you go, and keep an eye on it so it doesn't burn.

50 g almonds,

50 g oatmeal,

25 g sugar

After about 10 minutes, when the oatmeal and almonds are golden, spread it on a piece of baking paper and let it cool down.
Vanilla cream
Beat the egg yolks, vanilla, and sugar into an fluffy eggnog.

½ vanilla bean,

2 egg yolks,

25 g sugar

Whip the cream to a light foam.

Fold the whipped cream and the eggnog together without beating the air out of the cream. I carefully turn the cream around with a silicone spatula.
Serving
Cut the plums into bite-sized pieces and arrange the trifle in layers. First a layer of plums, then a layer of oatmeal crunch, and then vanilla cream. You can repeat and make several layers depending on how big glasses you use.

Serve the trifle immediately or refrigerate until serving.
Nutrition
Serving:
1
person
Calories:
405
kcal
Carbohydrates:
47
g
Protein:
6
g
Fat:
24
g
Saturated Fat:
10
g
Polyunsaturated Fat:
3
g
Monounsaturated Fat:
9
g
Trans Fat:
0.2
g
Cholesterol:
139
mg
Sodium:
52
mg
Potassium:
362
mg
Fiber:
4
g
Sugar:
40
g
Vitamin A:
1112
IU
Vitamin C:
20
mg
Calcium:
76
mg
Iron:
1
mg
How do you like the recipe?
Have you tried this recipe? We'd love to hear what you think of it. Leave a comment, add a number of stars to the recipe and share your photo on Instagram with #madformadelskere – We love seeing your dishes ♥️
Also, sign up for our Facebook group where you can show pictures of the delicious food you make! You can find the Facebook group here