Rhubarb compote is wonderful in both sweet and savory dishes. It can be used in cakes and rhubarb desserts, as a side dish to a pot-roasted chicken, or as a topping for breakfast. Homemade old-fashioned Danish rhubarb compote is easy to make – get our recipe here.
Old-fashioned compote with rhubarb
Rhubarb compote is a small and quick dish that tastes absolutely fantastic and can be eaten with many different things. I love the compote on yogurt, but it is also good as an accompaniment to meat or chicken or in desserts and cakes.

I like the compote with vanilla – vanilla, and rhubarb go really well together, but you can also replace the vanilla with other more flavorful spices or herbs.

For example, try mint, star anise, or ginger. It gives a slightly more pronounced flavor and tastes good in a completely different way. The classic one with vanilla is my favorite, as the rhubarb really shines through.

If you also have rhubarb in the garden, it is completely obvious to make such an old-fashioned rhubarb compote. It is lovely to have in the fridge and can be eaten with many things.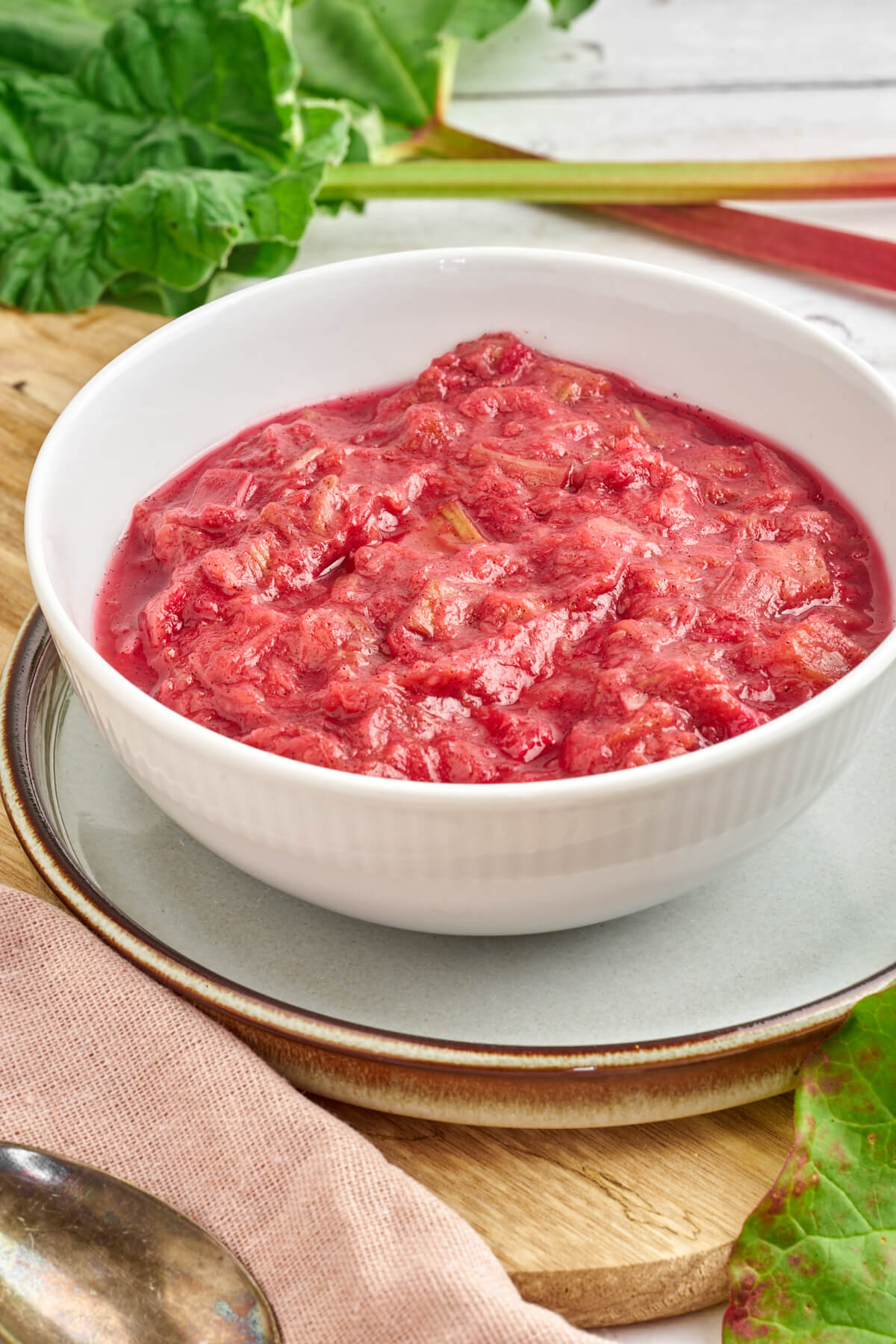 Ingredient notes
Rhubarb – You can use fresh rhubarb from the garden or supermarket, or frozen. You can make the compote with frozen rhubarb; they do not need to be thawed first.

Sugar – Plain white sugar. You can also use cane sugar or replace some of the sugar with brown sugar for a deeper caramelized taste.

Vanilla – Vanilla and rhubarb go well together. You can use seeds from a vanilla pod, or you can use vanilla paste or vanilla powder.
How to make rhubarb compote?
If you have rhubarb in the garden, or perhaps a bag of frozen rhubarb at the bottom of the freezer that needs to be eaten before the harvest is ready again, then this compote is completely obvious to make.

You can make it in less than 10 minutes – everything needs to go in a pot and boil until you think the consistency is right. It doesn't get much easier than that.

Find the full recipe further down this page.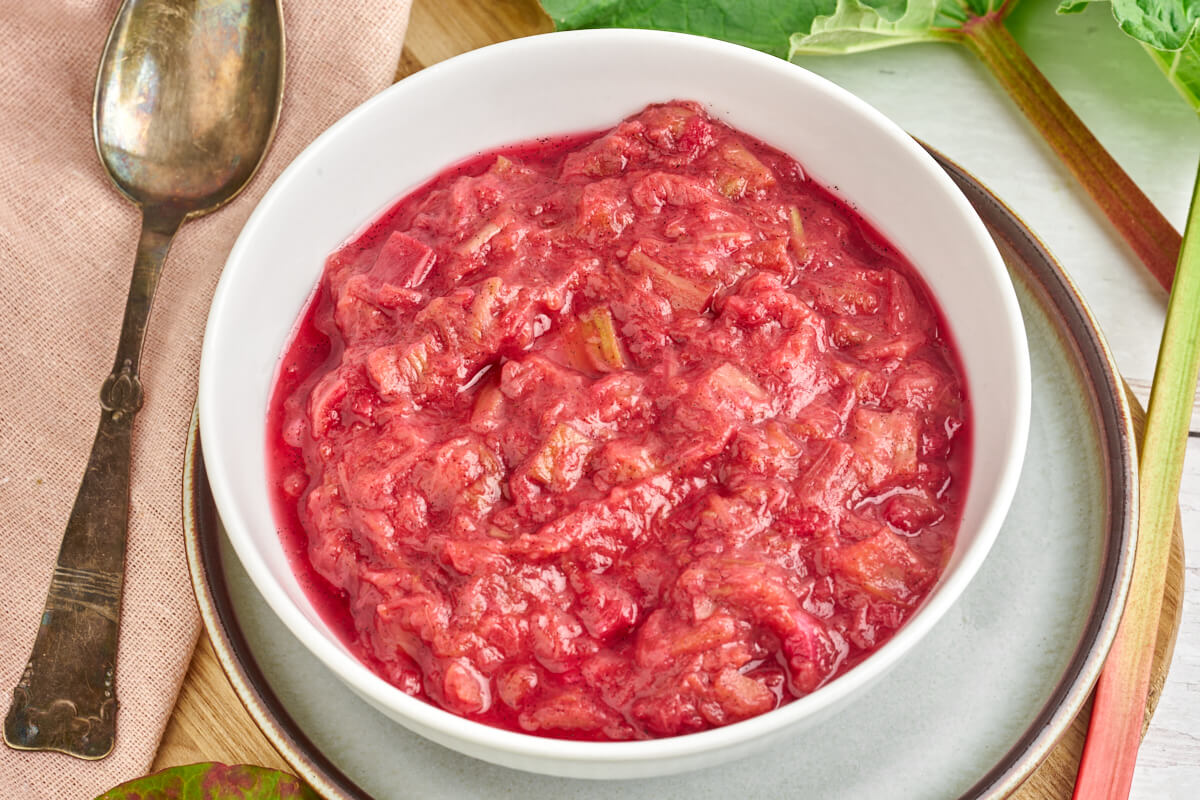 Frequently asked questions
Can I use frozen rhubarb for compote?
You can easily use frozen rhubarb for your compote. The frozen ones may contain a little more liquid, so rinse them briefly and let them drip off in a sieve before putting them in the pot.
Can I make the compote in the oven?
If you want to make your rhubarb compote in the oven, then put your rhubarb pieces, sugar, and vanilla in an ovenproof dish, and cook for about 15 minutes at 200 degrees Celsius. Stir the dish halfway through, and let the compote cool down when it comes out of the oven.
Can I make rhubarb compote without sugar?
You can easily make your compote without sugar. Replace the sugar in the recipe with 2 teaspoons of liquid sweetener and follow the recipe here.
How long can I store the compote?
The compote can easily last for 4-5 days in the fridge. If it needs to last longer, you can rinse the jars in atamon (liquid preservative) before filling the compote in jars and closing the lid tightly until it is ready to be eaten.
Can I freeze the compote?
Yes, you can easily freeze the finished compote. For example, put it in smaller plastic containers and freeze them, so it is easy to take out one portion at a time.
Other rhubarb recipes you might like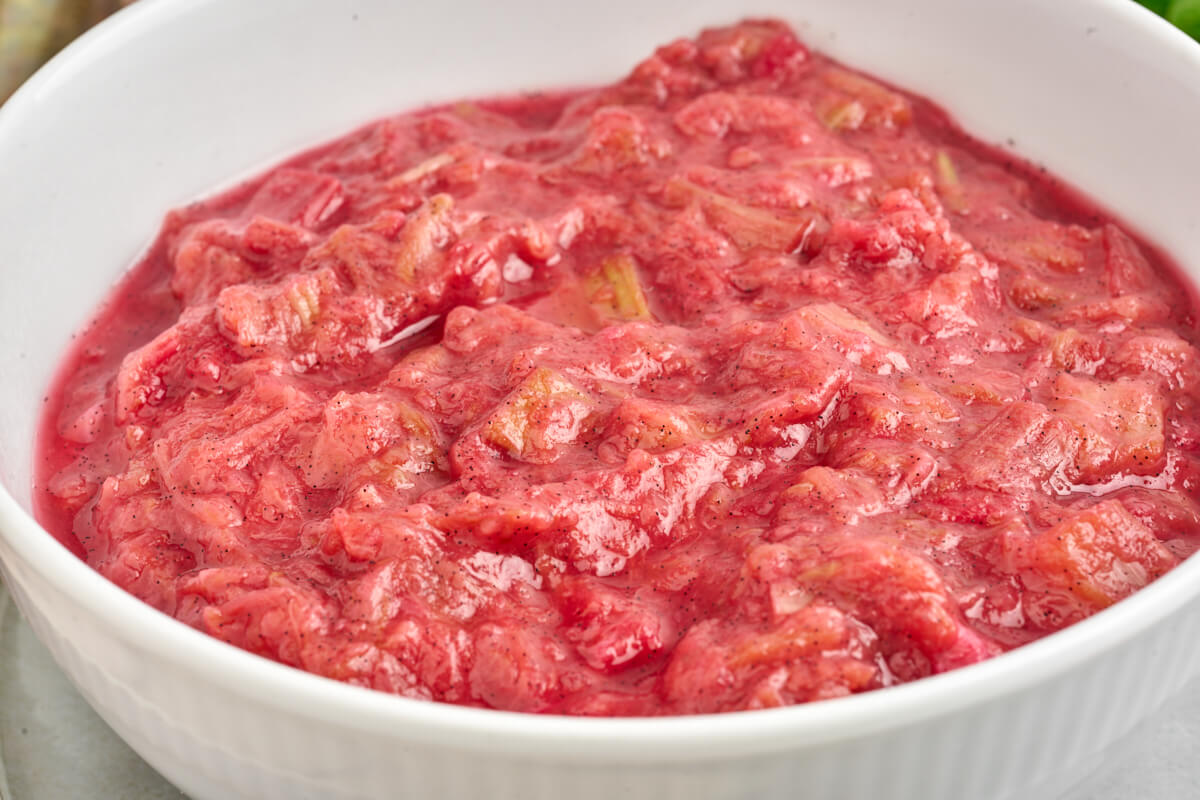 Tips and tricks for the recipe
If you have extra compote left, try making an Old-fashioned rhubarb cake or a Rhubarb trifle with mascarpone cream.
Try adding some finely grated ginger, a couple of star anise, or some finely chopped mint to your rhubarb compote, it gives a delicious flavor.
If you find the consistency is too thick, it can be adjusted with a little water, but that is usually not necessary.
Adjust the amount of sugar when making the compote. There is a big difference in the acidity of rhubarb, so you may need to add a little extra sugar if your rhubarb is very acidic. I like my rhubarb compote to be slightly sour, but it also depends on how it will be served.
Serving suggestions
Eat with yogurt or skyr for breakfast.
Use in a rhubarb cake or a trifle.
Serve with grilled chicken and new potatoes.
Serve the compote with grilled meat on a warm summer day.
Do you love rhubarb compote?

You should really try our recipe for traditional Old-fashioned Danish Rhubarb Cake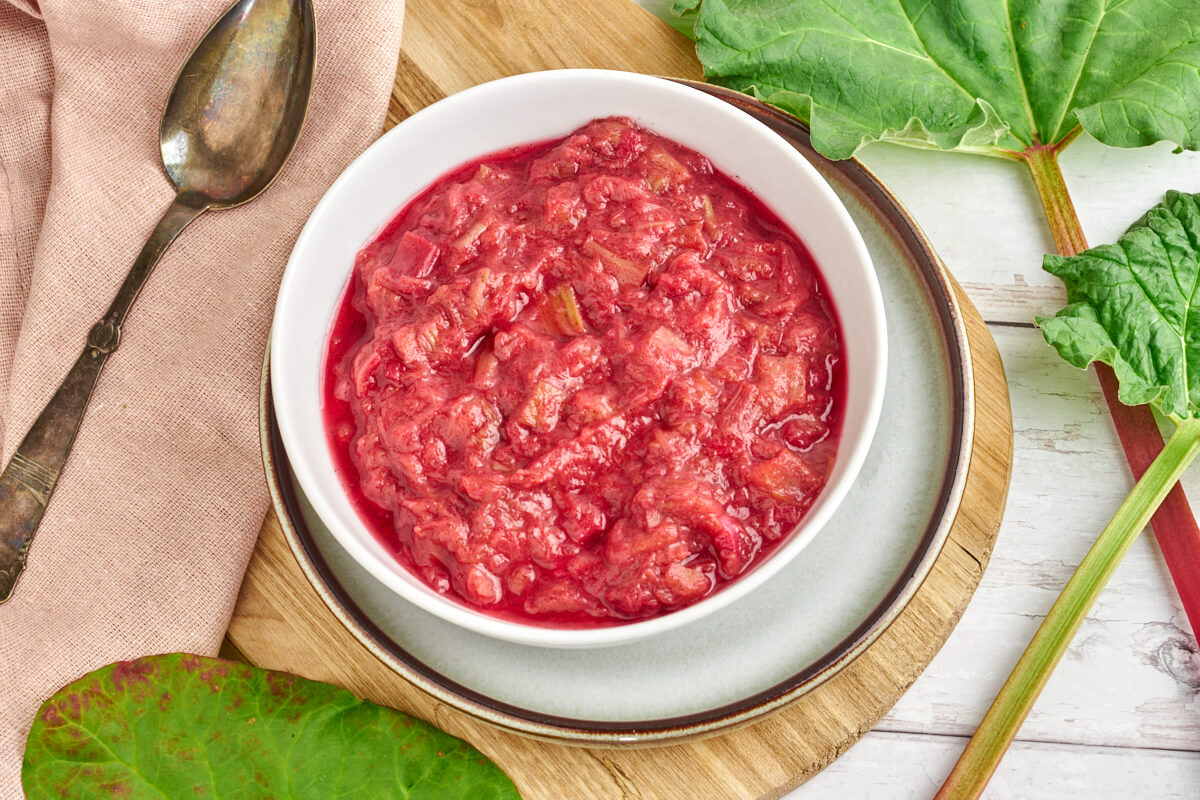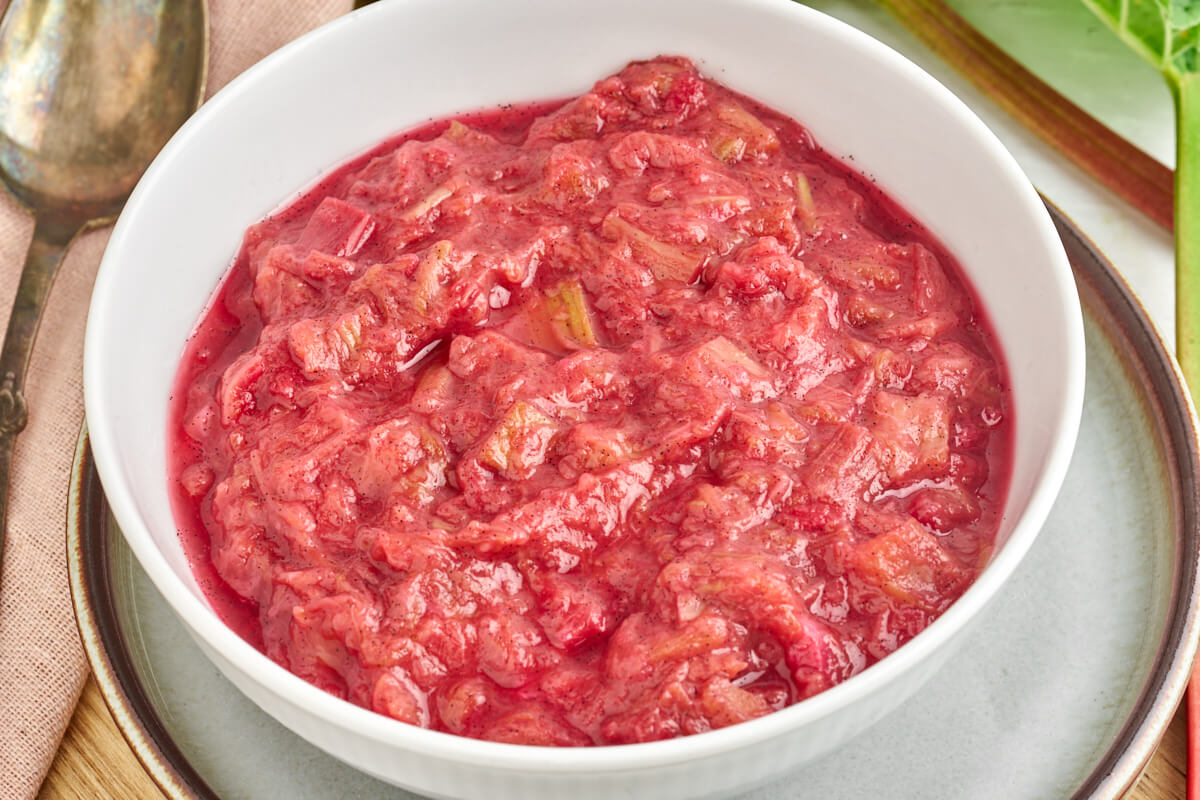 Recipe for homemade stewed rhubarb
This rhubarb compote is easy to make and takes no time. You can always adjust the sweetness by adding a little extra sugar when the cooking time is almost up, I like it to be slightly acidic.

We hope you feel inspired to try this recipe and make a delicious rhubarb compote at home. If you have rhubarb in the garden, it is a perfect use for it, and you can also use frozen rhubarb.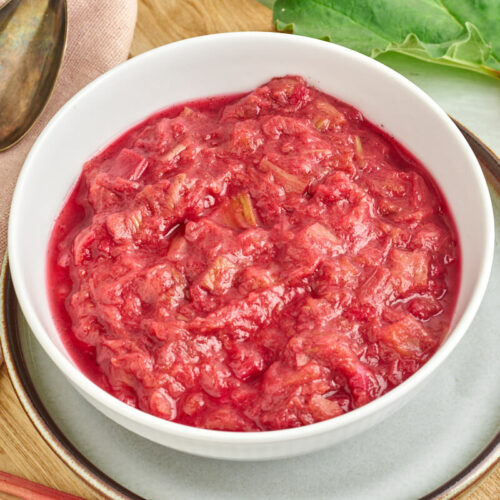 Rhubarb compote
Recipe for rhubarb compote
Here is a quick and easy recipe for a delicious compote with rhubarb and vanilla! This old-fashioned rhubarb compote can be used in cakes and rhubarb desserts, or it can be served with chicken or meat. You can use fresh or frozen rhubarb.
Ingredients  
300

g

rhubarb

50

g

sugar

1

tsp

vanilla paste or 1 vanilla bean
Instructions 
Wash the rhubarb and cut it into 1 cm slices.

Place the rhubarb, sugar, and vanilla in a pot and bring it to a boil while stirring. Let the compote simmer for 5 minutes until the rhubarb is tender and slightly cooked down. It shouldn't be completely cooked through.

Remove the pot from the heat and let it cool slightly before pouring it into clean sterilized jars.
Nutrition
Calories:
69
kcal
Carbohydrates:
17
g
Protein:
1
g
Fat:
0.2
g
Saturated Fat:
0.04
g
Polyunsaturated Fat:
0.1
g
Monounsaturated Fat:
0.03
g
Sodium:
3
mg
Potassium:
216
mg
Fiber:
1
g
Sugar:
14
g
Vitamin A:
77
IU
Vitamin C:
6
mg
Calcium:
65
mg
Iron:
0.2
mg
How do you like the recipe?
Have you tried this recipe? We'd love to hear what you think of it. Leave a comment, add a number of stars to the recipe and share your photo on Instagram with #madformadelskere – We love seeing your dishes ♥️
Also, sign up for our Facebook group where you can show pictures of the delicious food you make! You can find the Facebook group here