Roasted cherry tomatoes with garlic taste amazing! As a side dish to a delicious steak or a small standalone dish with good crusty bread. If you're looking for an easy side dish recipe, you should definitely give this a try. Read on and see how easy it is to make.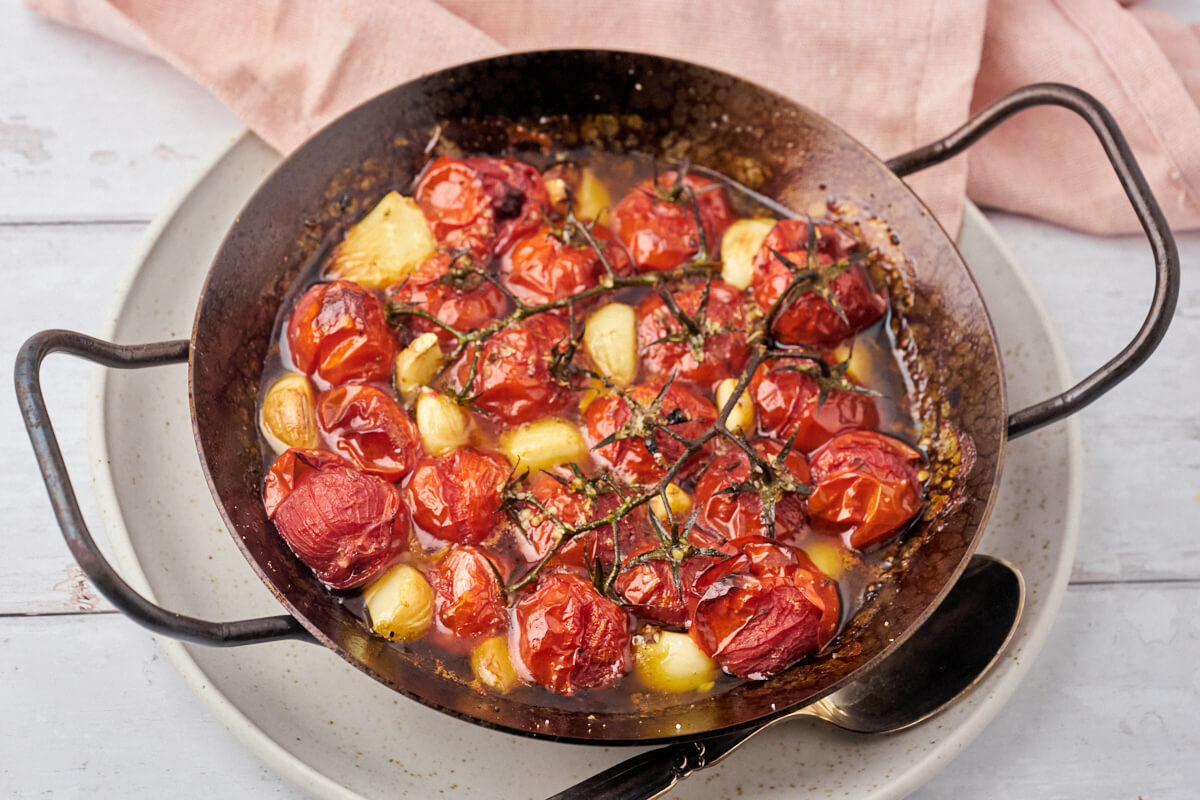 Easy Side Dish with Tomatoes and Garlic
Now that the tomatoes are in the greenhouses, it's all about making the most of them. In our household, that means we make everything from pizza sauce to preserved tomatoes for the winter, but we also love using them right here and now, in all sorts of dishes.

Roasted cherry tomatoes with garlic are one of our favorites. It tastes really good, and as a substitute for a sauce with a good steak and a baguette, it's just perfect. You can also easily enjoy it as a standalone dish with a good loaf of bread to dip into the delicious sauce that forms in the pan. If you want to take it up a notch and make it a bit better, it's recommended to add a dollop of Burrata on top when it comes out of the oven.

Then it's time to toast a couple of slices of bread, and then simply enjoy. Interestingly, our kids actually prefer this over the sauce for many of the dishes that usually require sauce.

If you have your greenhouse full of tomatoes, or just a tray of cherry tomatoes in the fridge, I recommend trying this dish.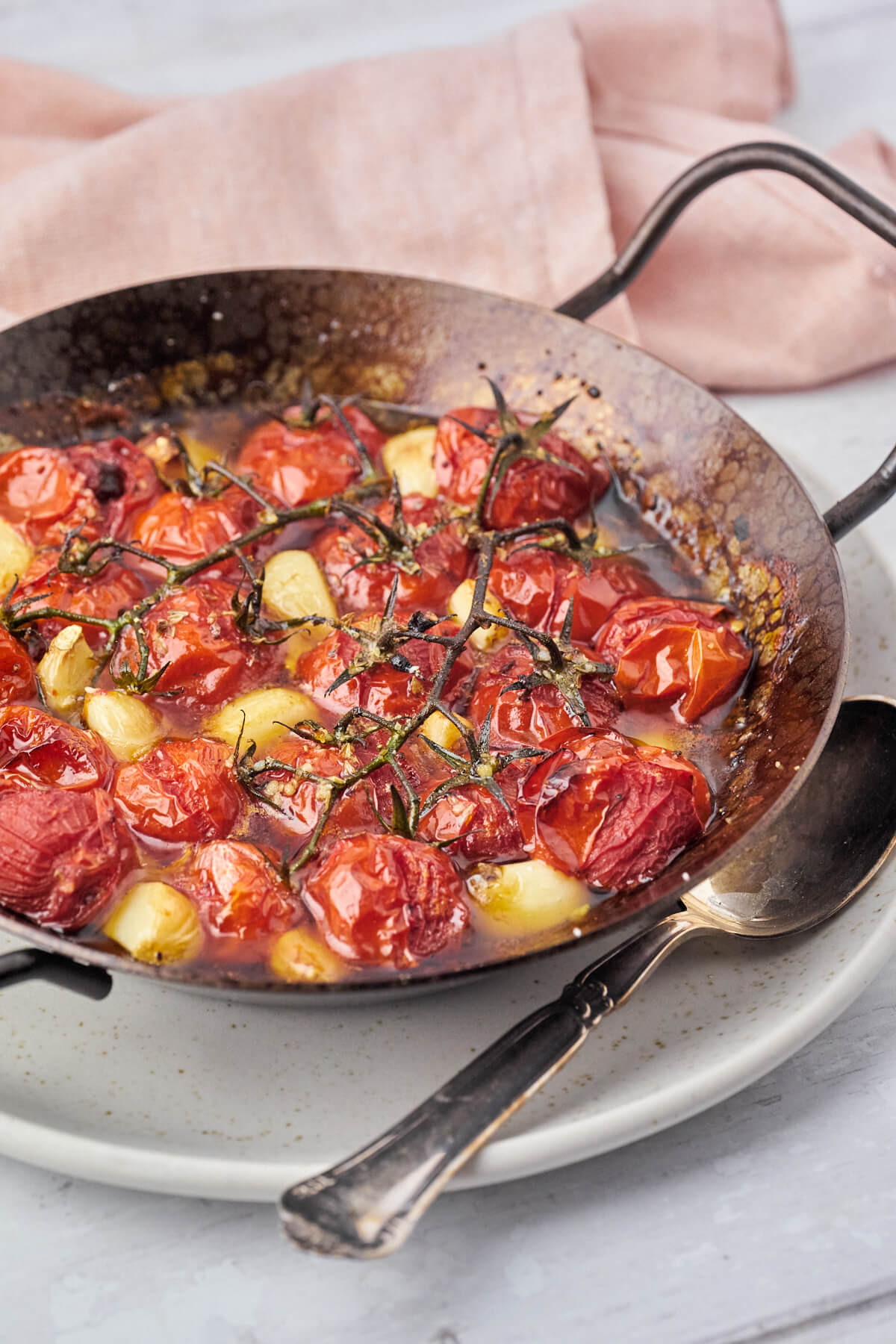 Ingredient notes
Tomatoes – Cherry tomatoes are preferred, but regular small tomatoes can also be used.

Garlic – Plenty of garlic is needed, it provides a wonderfully rich flavor and becomes beautifully creamy and delicious when roasted.

Olive Oil – The olive oil combines with the tomato juices to create the sauce/gravy at the bottom of the pan.

Salt & Pepper – Simple but very important.
How to make roasted cherry tomatoes with garlic?
Here's a brief description of how to make these roasted tomatoes. There isn't much preparation; the tomatoes just need to be rinsed and the garlic needs to be peeled.

Then, place them in a small oven-safe pan or a baking dish around 20 x 20 cm (8 x 8 inches), and put them in a preheated oven to bake for about 45 minutes or until the garlic is completely soft and creamy.

Serve it as a side dish to a good steak, a sirloin roast, or as a standalone dish with a good bread.

Find the full recipe further down this page.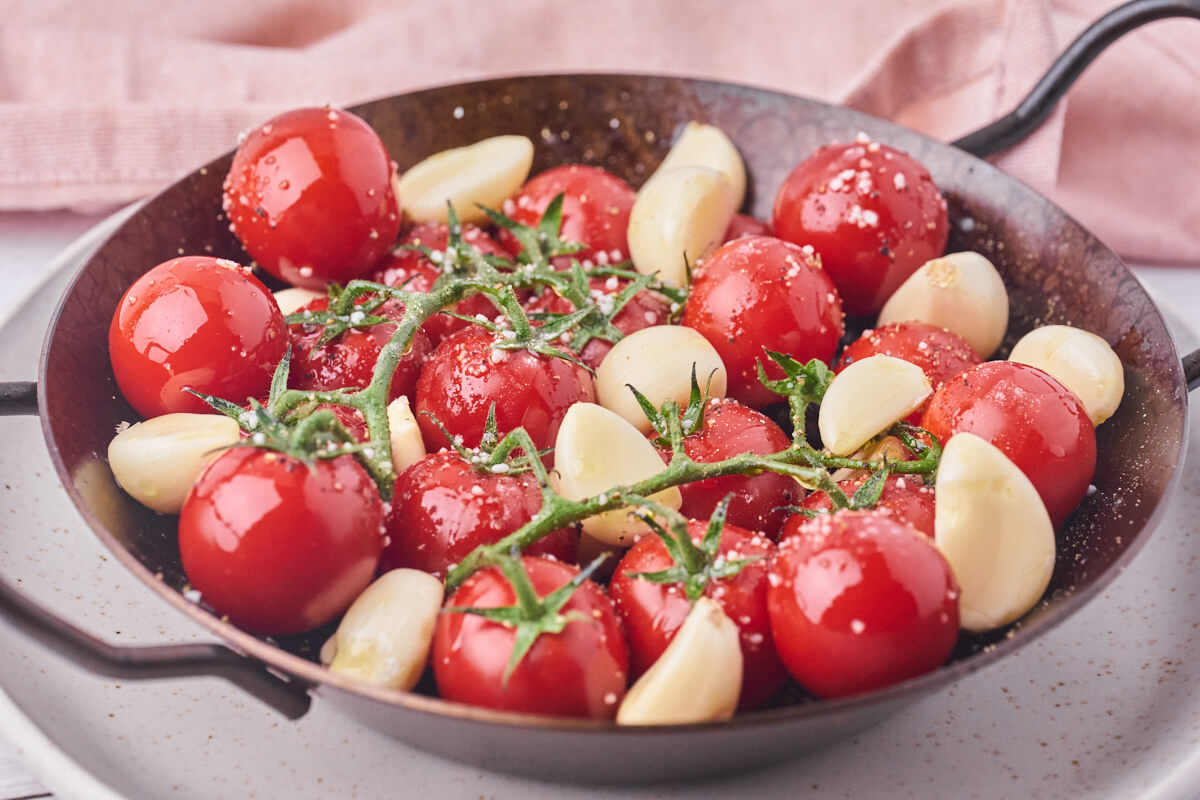 Frequently asked questions
How do you store the leftovers?
The leftovers can be stored in the refrigerator for 2-3 days.

Can roasted tomatoes be frozen?
Yes, they can be frozen. Discard the stems if they're attached and place them in an airtight container. Freeze them and save them for later.
Can I use something other than cherry tomatoes?
Yes, regular small tomatoes can also be used.
Can I use something other than olive oil?
Yes, I also use canola oil occasionally, and it works well too.
Other tomato recipes you might like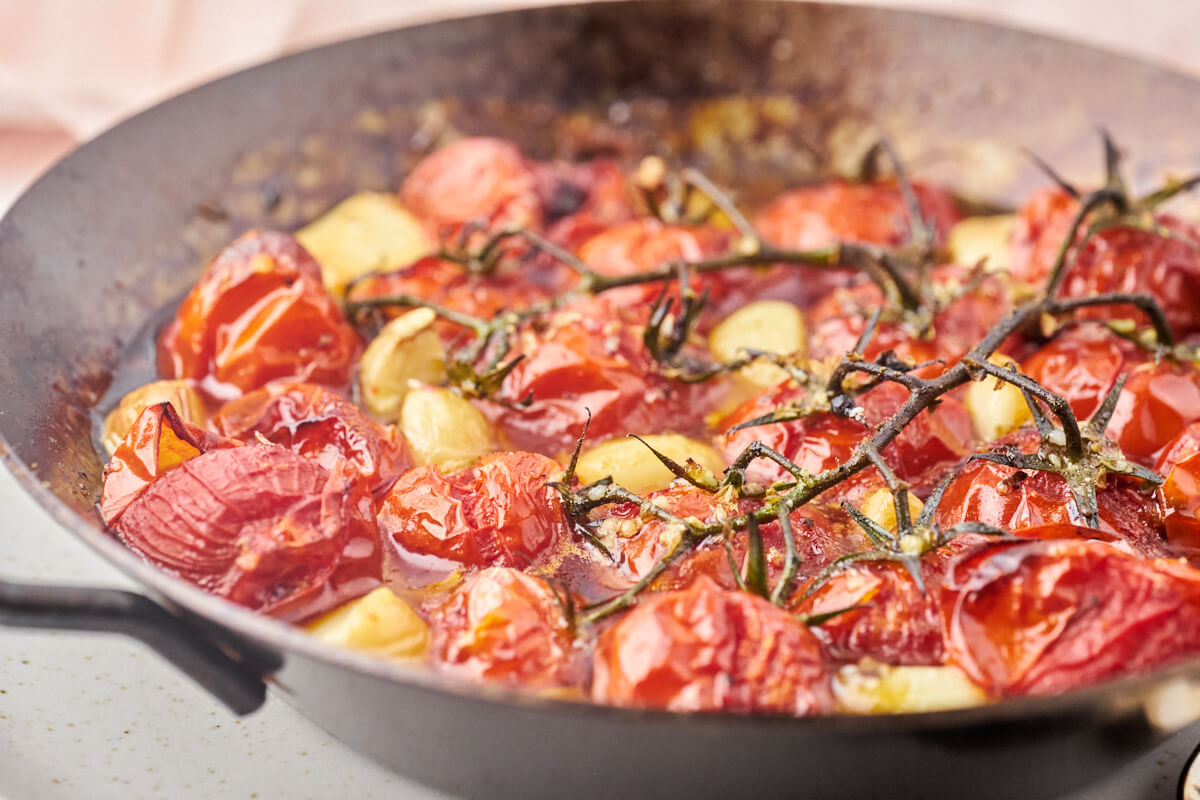 Tips and tricks for the recipe
Make sure to let the tomatoes drain well.
Use good quality oil for better results.
Consider making this on the grill if you're already grilling.
Add some chopped onions and strips of bell pepper, it's also delicious.
Blend the leftovers and use them in tomato soup.
Discard the stems, blend everything, and use it as a tasty pizza or pasta sauce.
Serving suggestions
Serve as a side dish with a good steak or a sirloin roast.
Add Burrata on top when it comes out of the oven and serve it with some slices of toasted bread as a standalone dish.
Do you have your greenhouse filled with tomatoes?

Try our recipe for Tomato soup with fresh tomatoes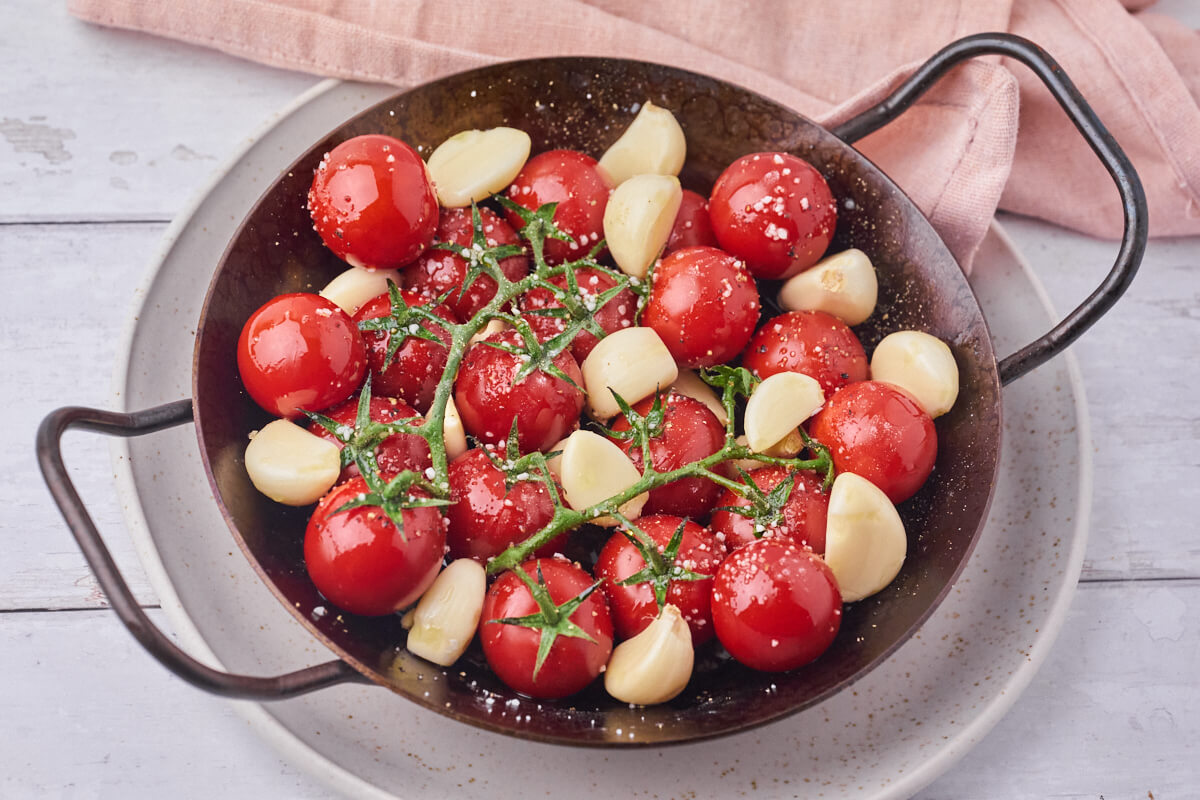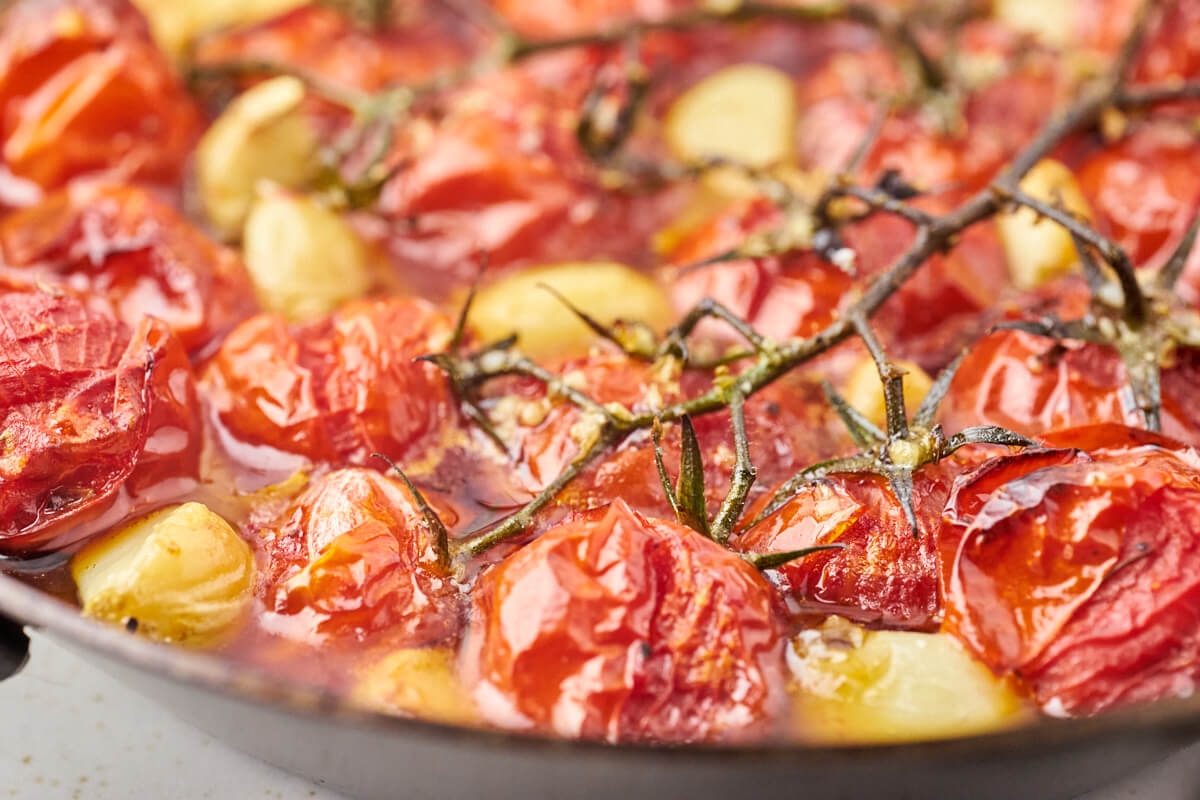 Recipe for oven roasted garlic and tomatoes
Here's our recipe for an easy and delicious side dish. It tastes like sunshine and summer, and can also be served as a standalone dish.

So the next time you're serving a steak, or simply craving a tasty bite for lunch, give this recipe a try.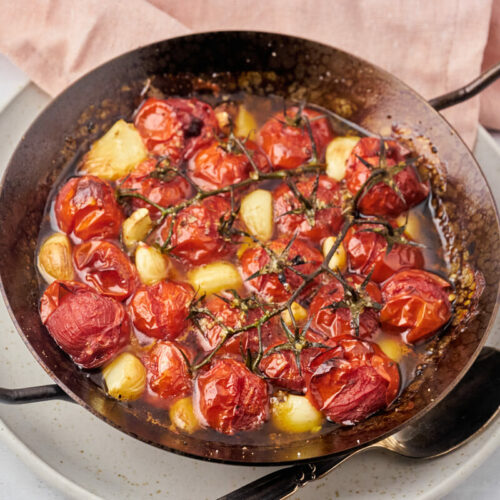 Roasted cherry tomatoes with garlic
Recipe for roasted cherry tomatoes with garlic
Easy and delicious side dish for dinner, whether it's steak, fish, or chicken. It tastes wonderful and is delightful, especially in the summer when the greenhouse is filled with delicious cherry tomatoes.
Ingredients  
400

g

cherry tomatoes

or other small tomatoes

10

cloves

garlic

or to taste

1

dl

olive oil

Salt

to taste

Pepper

to taste
Instructions 
Preheat the oven to 200 degrees Celsius (392 degrees Fahrenheit) normal heat.

Rinse the tomatoes and let them drain. Peel the garlic cloves and set them aside.

400 g cherry tomatoes,

10 cloves garlic

In a cast-iron pan or an ovenproof dish, place the tomatoes followed by the peeled garlic cloves. Pour the olive oil over them and sprinkle with salt and pepper.

1 dl olive oil,

Salt,

Pepper

Now place the dish in the oven and bake at 200 degrees Celsius (392 degrees Fahrenheit) for about 45 minutes.

Once the garlic cloves are completely tender, remove the dish from the oven and serve the dish immediately.
Nutrition
Serving:
1
person
Calories:
250
kcal
Carbohydrates:
6
g
Protein:
1
g
Fat:
25
g
Saturated Fat:
3
g
Polyunsaturated Fat:
3
g
Monounsaturated Fat:
18
g
Sodium:
13
mg
Potassium:
248
mg
Fiber:
1
g
Sugar:
3
g
Vitamin A:
490
IU
Vitamin C:
25
mg
Calcium:
25
mg
Iron:
1
mg
How do you like the recipe?
Have you tried this recipe? We'd love to hear what you think of it. Leave a comment, add a number of stars to the recipe and share your photo on Instagram with #madformadelskere – We love seeing your dishes ♥️
Also, sign up for our Facebook group where you can show pictures of the delicious food you make! You can find the Facebook group here